Hope you had a great holy weekend, and that you were the April fooler, not the fool.
Jonathan Swan is taking a well-deserved break, so he left the keys with a rookie today. I always appreciate your links and thoughts: mike@axios.com, or just reply to this email.
Please have your friends and colleagues join the weekly Sneak conversation with this one-click sign-up.
Situational awareness: President Trump tweeted today that that "there will not be a deal on legalizing the status on young adult immigrants known as Dreamers, declaring that the U.S.-Mexico border is becoming more dangerous." (Reuters)
https://www.axios.com/newsletters/axios-sneak-peek-6f33434e-cb09-40a6-860f-d3bf7ef37fa9.html?chunk=0#story0
1 big thing ... Strategy spoiler: April's two big fights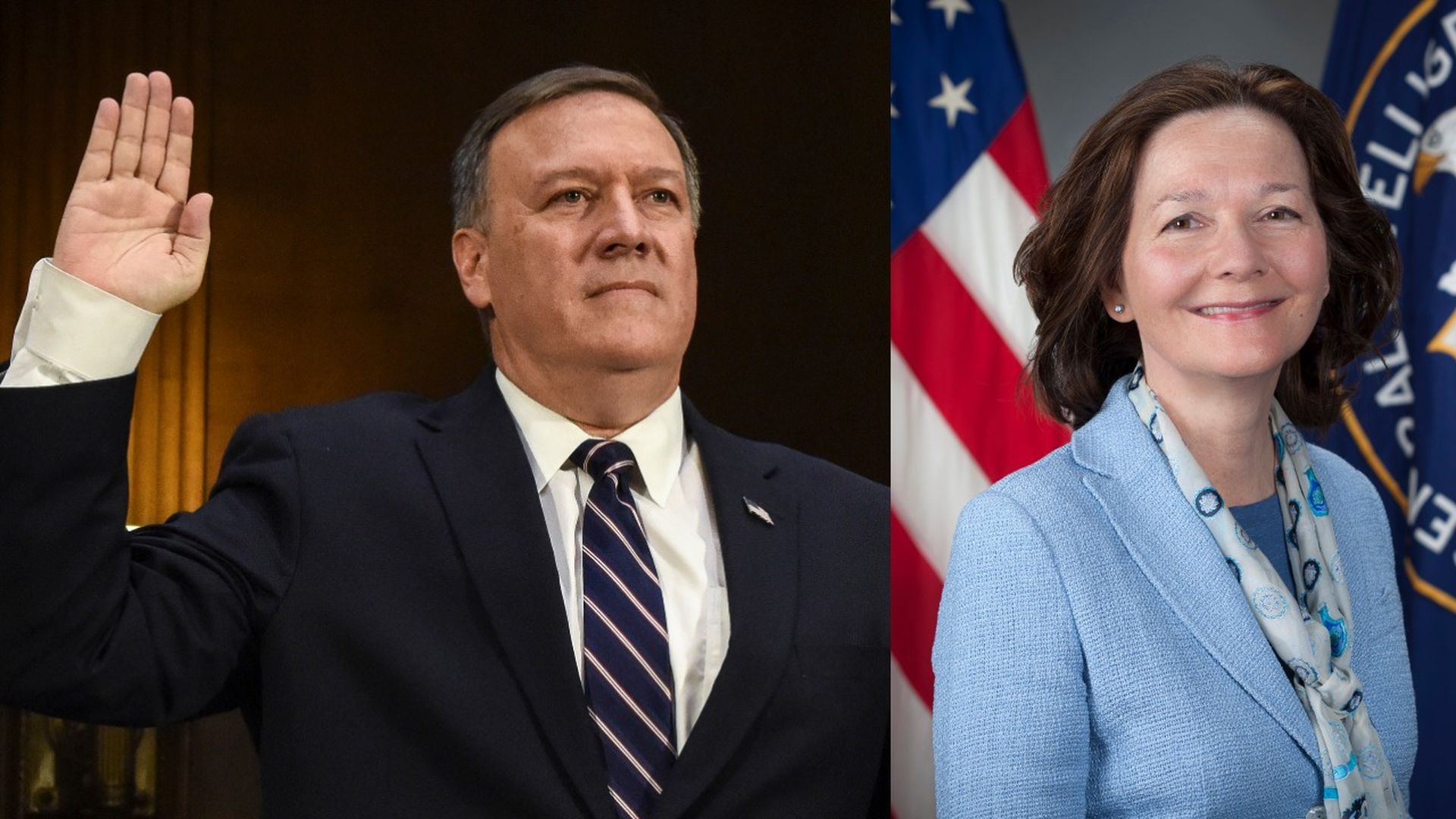 At his confirmation hearing for Secretary of State, CIA Director Mike Pompeo will vow to rebuild Foggy Bottom — implicitly conceding shortcomings by his predecessor, Rex Tillerson.
In several meetings Pompeo has attended at State, he started sending the message that he wants to rebuild the relationship between the secretary's seventh-floor office and the rank and file.
In the other big spring fight that'll consume both ends of Pennsylvania Avenue, look for Democrats to aggressively challenge Deputy CIA Director Gina Haspel in her confirmation hearing to succeed Pompeo.
Dems plan to push Haspel, who in 33 years with the agency has served as station chief in world danger spots, on her involvement in past interrogation programs denounced as torture.
Dems will also try to extract the declassification of new documents about "black sites."
J. Michael Allen, a Bush 43 national-security official who's now a Beacon Global Strategies managing director, told me: "She has a career of down range experience. She needs to draw upon that and come out forcefully and define herself."
The big picture: Dems plan to use these hearings to uncork numerous frustrations with President Trump and his administration — including/especially questions about Russia, and objections to incoming national security adviser John Bolton, who isn't subject to confirmation.
Pompeo's hearing before the Senate Foreign Relations Committee hasn't been announced, but sources expect it April 12.
Remember: 15 Senate Dems supported Pompeo's nomination for CIA director, making it harder for them to turn on him now.
Haspel's hearing before the Senate Intelligence Committee will take longer to set because she's not currently in the cabinet, giving Pompeo a head start on disclosures and background checks. But the White House will push for a quick hearing.
One Republican, Sen. Rand Paul of Kentucky, has already announced he'll oppose both nominations: "President Trump sought to break with the foreign policy mistakes of the last two administrations. Yet now he picks ... people who embody them, defend them, and, I'm afraid, will repeat them."
Inside the strategies:
Pompeo can be expected to argue that he improved morale at the CIA, empowering officers to do their jobs, and will be supportive of the rank-and-file officials in "the building."
Look for Pompeo to emphasize the diplomatic elements of his current job, including intense, difficult conversations around the world.
A source said that on torture allegations, Haspel "will have to walk the line, show Dems that it will never happen again and maybe express her discomfort with it all — but not outright admit it was torture which hangs out to dry the CIA, her people."
The White House expects Haspel to be a strong witness, and think Dems could overplay their hands in attacking her.
https://www.axios.com/newsletters/axios-sneak-peek-6f33434e-cb09-40a6-860f-d3bf7ef37fa9.html?chunk=1#story1
2. First look: Don Jr. ramps up midterm travel
Donald Trump Jr. is ramping up his efforts for the midterms, a source tells me:
Don Jr., a favorite of outdoors enthusiasts, was a draw in 2016. Now Republicans are betting (hoping?) that he'll be equally effective for the midterms. 
The president's eldest son will focus on helping members who would benefit from his involvement and have been helpful to POTUS and his agenda. 
Two of the first stops on his dance card:
Don Jr. will headline an event for Greg Pence, the vice president's brother who's running for U.S. House in Indiana. Wayne Berman and Tommy Hicks are hosting the April 23 event in New York City.
Don Jr. just confirmed for an event benefiting Rep. Lee Zeldin (R-N.Y.) that top GOP fundraiser Steve Louro is hosting in early August on Long Island.
https://www.axios.com/newsletters/axios-sneak-peek-6f33434e-cb09-40a6-860f-d3bf7ef37fa9.html?chunk=2#story2
3. How Trump got crushed on the budget
Here's how badly President Trump was defeated in his goal of reining in federal spending, as narrated by Axios' David Nather:
Why it matters: Trump's budget proposal called for deep spending cuts, except for a big increase in defense. Instead, as this visual shows, the omnibus spending bill he signed boosts spending in all major categories, including defense — leading to the $1.3 trillion budget Trump complained about.
https://www.axios.com/newsletters/axios-sneak-peek-6f33434e-cb09-40a6-860f-d3bf7ef37fa9.html?chunk=3#story3
4. Dem challenge: unifying tax, health messages
Dems are watching President Trump's health care approval numbers increase among voters — just as many Americans are seeing bumps in their paychecks from the GOP tax law, Axios' Alexi McCammond reports for Sneak:
Ahead of the 2018 midterms, Democrats — often criticized for not having a unified message — are now being advised to tie taxes and health care together when campaigning.
State of play ... A senior Democratic aide told Axios: "Anything middle class voters are seeing extra in their paychecks from the GOP tax scam will be offset by higher health care premiums and costs, so we will encourage Members to highlight that early and often."
Hear new details from Alexi tomorrow at 5:55 a.m., during the Axios "1 Big Thing" on MSNBC's "First Look," leading in to "Morning Joe."
https://www.axios.com/newsletters/axios-sneak-peek-6f33434e-cb09-40a6-860f-d3bf7ef37fa9.html?chunk=4#story4
5. Capitol Hill's election-year checklist
Axios' Caitlin Owens emails a cheat sheet for Sneakers:
"Spoke to a senior Senate aide who said they're probably mostly done except for confirmations of noms and judges. Every time Trump fires someone and then appoints a controversial replacement, it's a big deal in the Senate —likely full 30 hours of floor time. Judges are also a big deal, especially if Kennedy retires."
"There will probably be a C.R. in September, maybe an omni December-ish. Also likely is finishing the banking bill and doing an opioids bill. Then they'll have to deal with some smaller, more routine items like an FAA extension, National Defense Authorization (NDAA), tax extenders, flood insurance, and VA Choice."
"My sources are saying the farm bill is unlikely to happen — there are already problems. They're mixed on whether a water resources bill seems realistic."
"The bottom line: No one's thinking anything major will get done (unless you count opioids) besides judges and nominations — which, to Republicans, judges are huge. Beyond that, it's more like cleaning house."
https://www.axios.com/newsletters/axios-sneak-peek-6f33434e-cb09-40a6-860f-d3bf7ef37fa9.html?chunk=5#story5
6. Bite of the day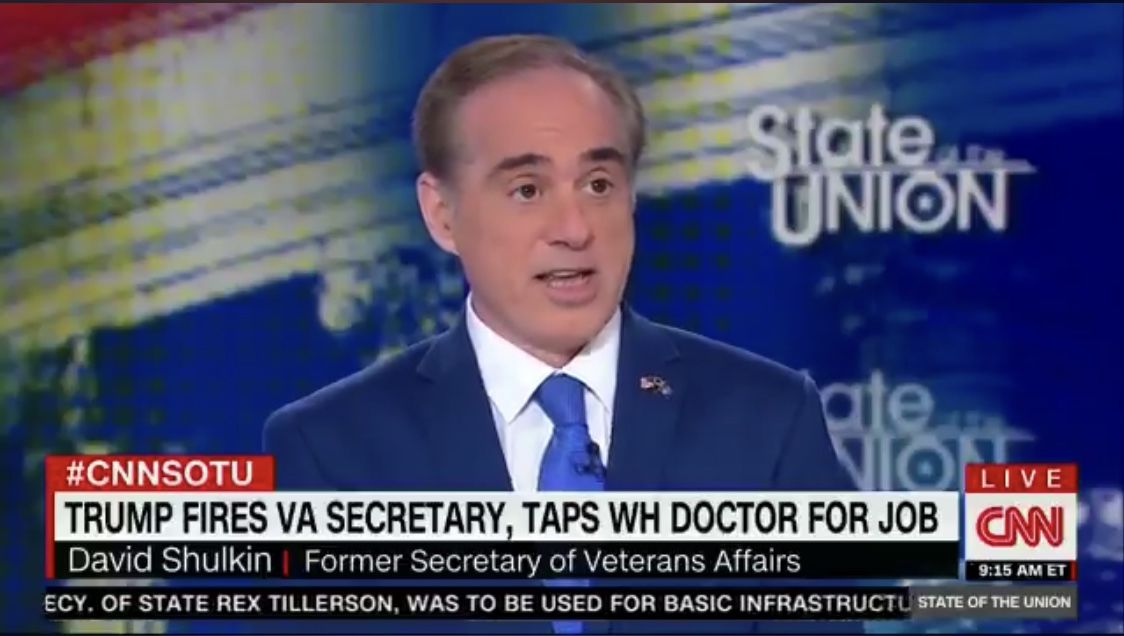 Screenshot from CNN
I did not resign.
— Former V.A. Secretary David Shulkin, when CNN's Jake Tapper asked on "State of the Union" if Shulkin had resigned or been fired
Go deeper: Axios' Erica Pandey has the best of this week's shows.
https://www.axios.com/newsletters/axios-sneak-peek-6f33434e-cb09-40a6-860f-d3bf7ef37fa9.html?chunk=6#story6
7. Sneak Peek diary: Tax cut sell continues
Tomorrow, Speaker Ryan will tout the tax cut during a visit to Southwest Airlines' HQ in Dallas. Ryan will answer Qs at an employee town hall, livestreaming here at 3:25 p.m. ET.
Corry Bliss, executive director of American Action Network and the Congressional Leadership Fund, tells candidates: "It is incumbent on every member of the Republican Party to continue selling the tax plan. Everything else is a waste of time and money."
Also this week, Ryan plans a push on workforce development, the House GOP's next legislative focus:
On Tuesday, Ryan will join a town hall with Catholic Charities Fort Worth clients, mentors and supporters (10:45 a.m. CT; open to press) to discuss strategies for helping Americans escape poverty.
From AP's national news calendar:
Congress on break until week of April 9.
Tuesday: President Trump holds a Baltic summit with the leaders of Estonia, Latvia and Lithuania.
https://www.axios.com/newsletters/axios-sneak-peek-6f33434e-cb09-40a6-860f-d3bf7ef37fa9.html?chunk=7#story7
8. Tillerson scrubbed from State website
"The 'Secretary of State Tillerson' link at the top of the department's homepage disappeared overnight Saturday and was replaced with a generic 'Secretary of State' tab," AP's Matt Lee reports:
"When clicked, it leads to a page that informs visitors in a brief statement that Deputy Secretary of State John Sullivan 'became acting Secretary of State on April 1, 2018.'"
"The link to Tillerson's biography as the 69th secretary of state briefly returned a 'We're sorry, that page can't be found' message. After being notified of the message, the State Department restored the link."
https://www.axios.com/newsletters/axios-sneak-peek-6f33434e-cb09-40a6-860f-d3bf7ef37fa9.html?chunk=8#story8
9. 🐣 1 fun thing: A new sport at the egg roll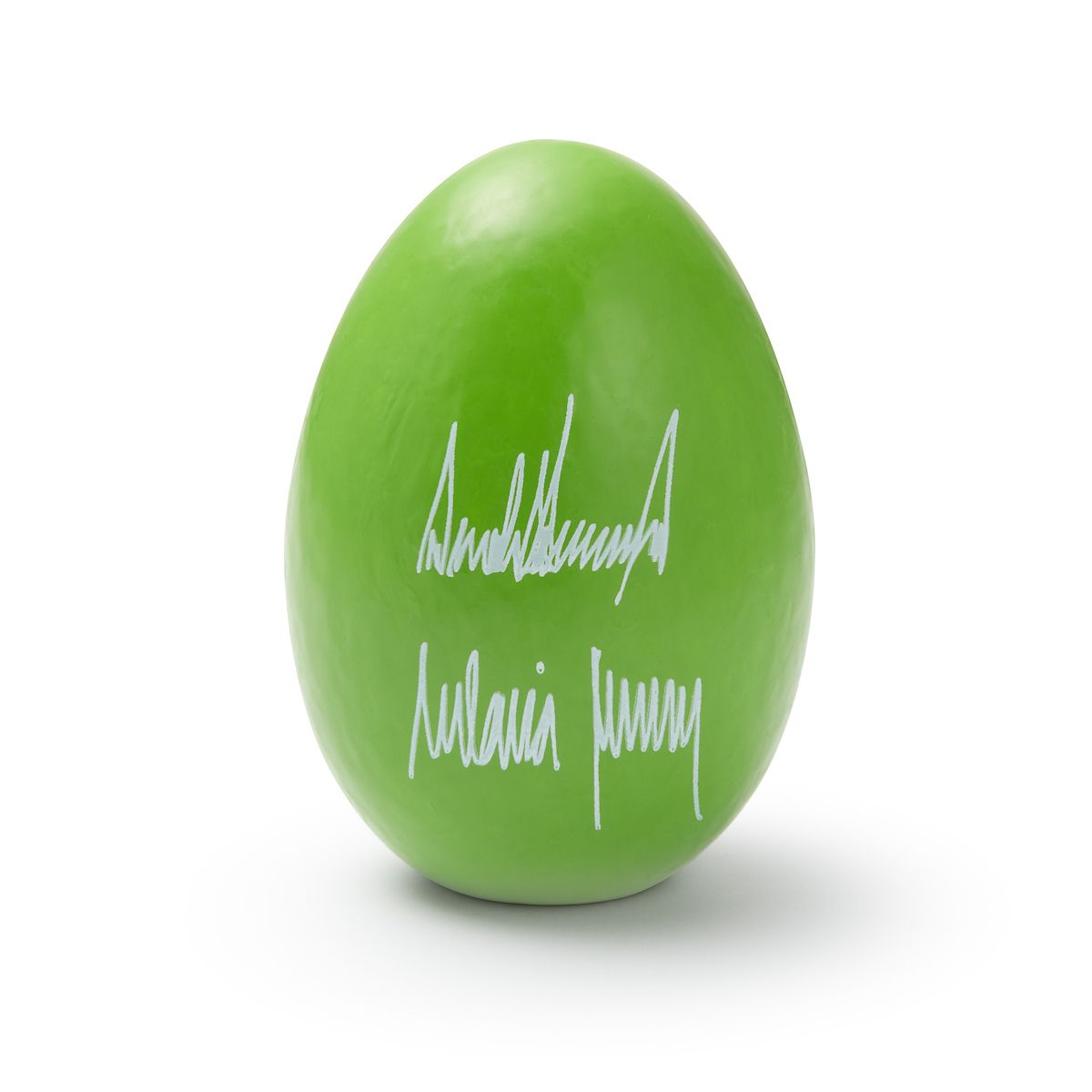 The President and First Lady signed the back of this year's wooden White House Easter egg. (Courtesy White House Historical Association)
When the First Lady's Office released the festivities list for the nearly 30,000 attendees expected at tomorrow's Easter Egg Roll, there was an addition to the usual lineup:
"Bowling on the South Lawn — a special addition by the First Lady. " 
Here are the activity stations:
State Egg Display (on Ellipse)
Reading Nook
Cards for Troops
Lawn Bowling
Photo Opportunities, including mini podiums and a giant frame for families
Egg and cookie decorating stations
Egg hunts
Coloring wall
Tennis court activities
Costumed characters
Go deeper: