Welcome to Sneak Peek, our weekly lookahead for both ends of Pennsylvania Avenue, plus my best scoops. I'd love your tips and feedback: jonathan@axios.com. And please urge your friends and colleagues to join the conversation by signing up for Sneak Peek.
Situational awareness: Office of George H.W. Bush on his wife Barbara — "Following a recent series of hospitalizations, and after consulting her family and doctors, Mrs. Bush, now age 92, has decided not to seek additional medical treatment and will instead focus on comfort care."
https://www.axios.com/newsletters/axios-sneak-peek-6921ef50-6eff-43f1-91e7-23101007457a.html?chunk=0#story0
1 big thing: Trump's French Flip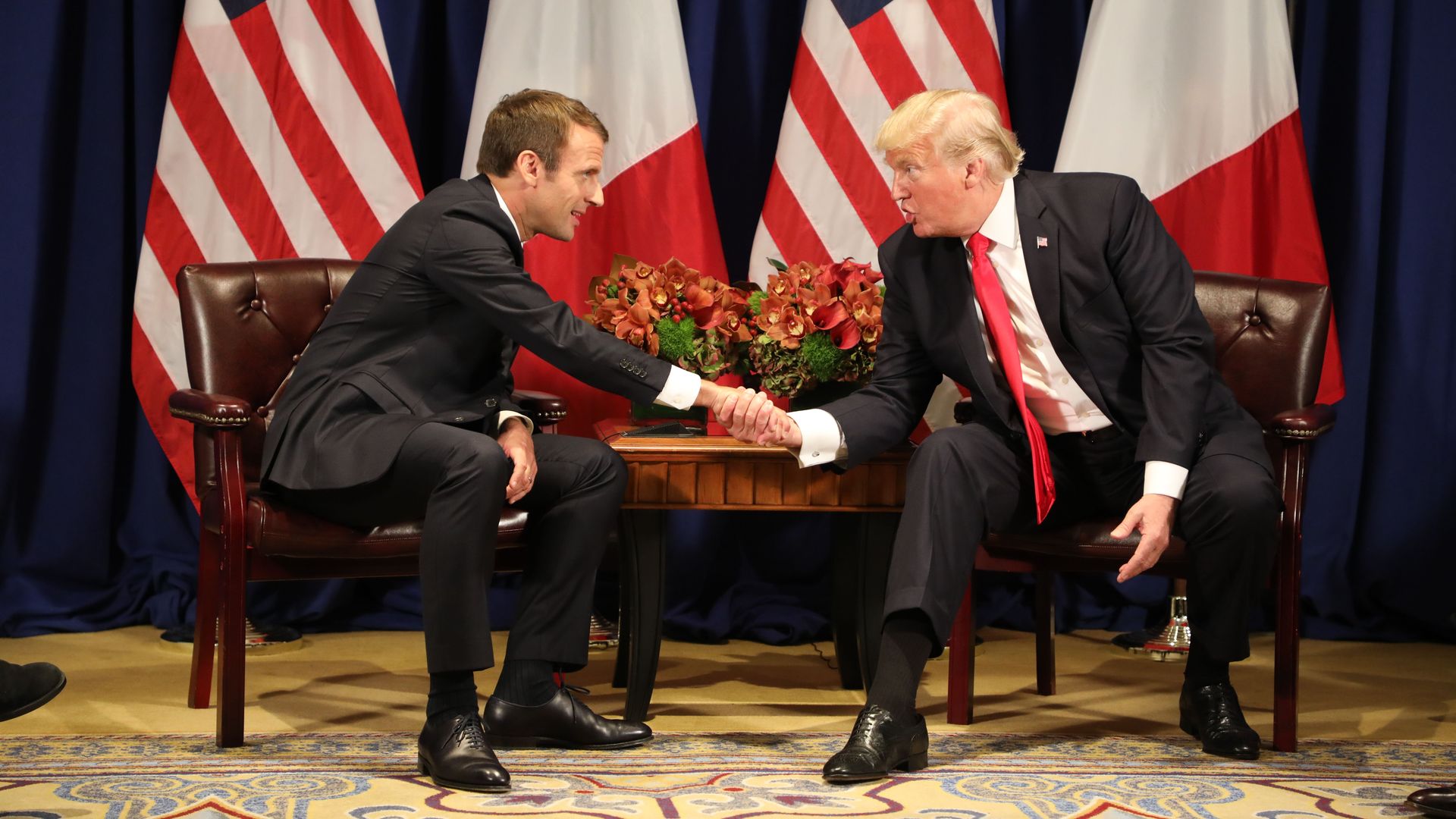 Globally consequential news, breaking moments ago: French President Emmanuel Macron claimed in a television interview that France has convinced President Trump that it is "necessary" to remain in Syria "long-term," according to the AFP.
"Ten days ago, President Trump was saying the United States of America had a duty to disengage from Syria," said Macron, according to Agence France-Presse White House correspondent Jérôme Cartillier.
"We convinced him it was necessary to stay. I assure you, we have convinced him that it is necessary to stay for the long-term."
Why this matters: If Trump follows through on this alleged commitment to Macron, it would be one of the biggest and most abrupt foreign policy reversals in his presidency. Trump has demanded for months — over the objections of his national security team — that his administration withdraw U.S. troops from Syria.
Trump thinks Syria is a "dump" that probably can't be fixed — though he'd be happy to let Russia try. He thinks it's a waste of lives and money and that the U.S. gets "nothing" for its involvement in Syria, according to multiple sources familiar with his thinking.
However, when Trump sees the images of gassed children, he flips in the other direction and issues missiles to Syria — as he did on Friday and last year when news reports and allied intelligence indicated Assad had used chemical weapons to murder Syrian civilians.
But, but, but: Trump's apparent reversal on Syria wouldn't be the first time he's backflipped on the foreign policy instincts he trumpeted during the campaign. Last year, Trump told his aides over and over that he wanted to get out of Afghanistan — citing the same arguments he used for Syria and previously to argue that the Iraq War was a waste of lives and money. But his national security team, led by Defense Secretary James Mattis, ultimately persuaded Trump to keep America in Afghanistan.
WH response: I've asked the White House whether it's true that Macron persuaded Trump to stay the course in Syria. We will update you when we hear back. (Though we suspect Trump may tweet before that happens!)
https://www.axios.com/newsletters/axios-sneak-peek-6921ef50-6eff-43f1-91e7-23101007457a.html?chunk=1#story1
2. Scoop: "Why would Mike do that?"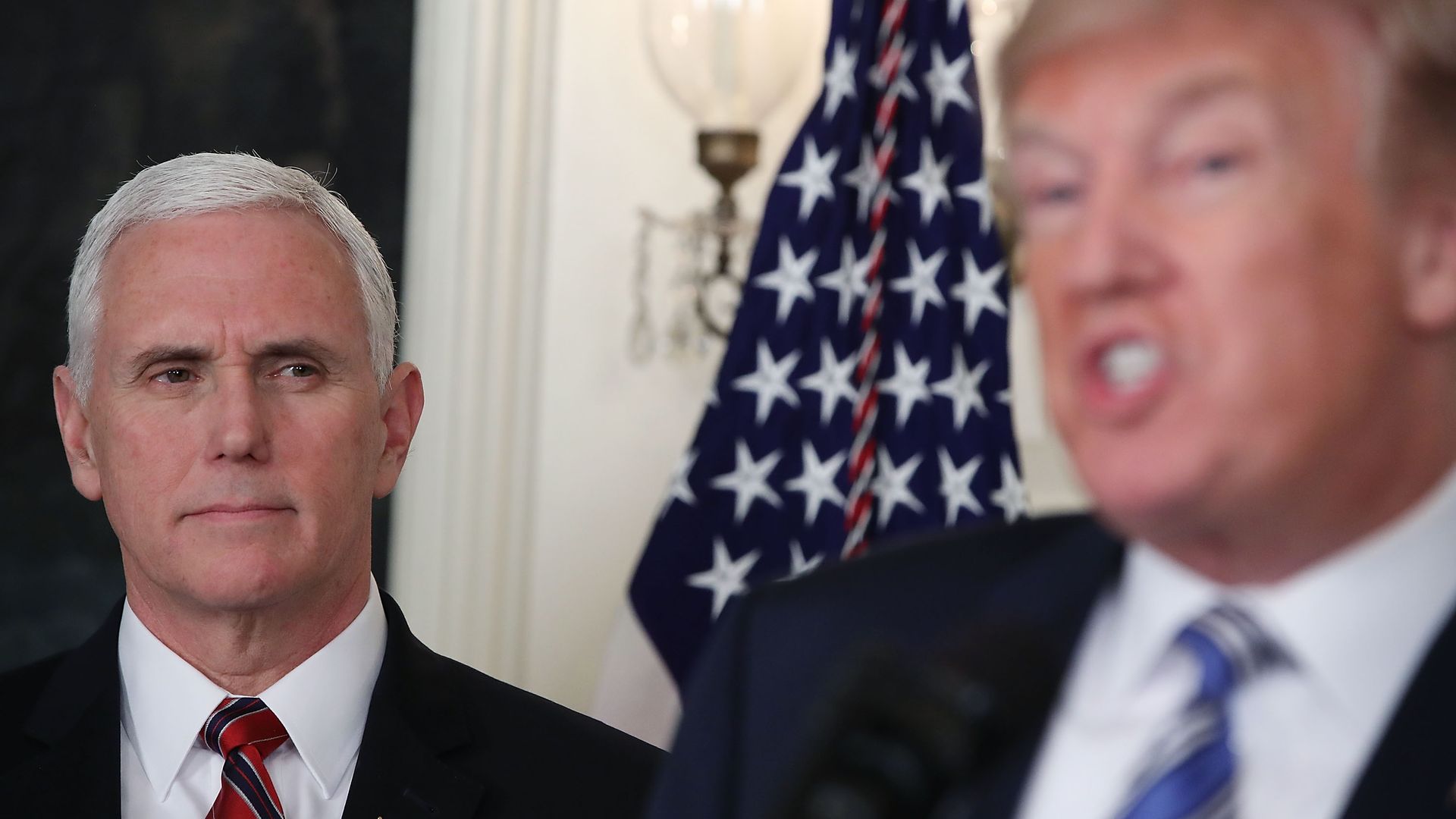 The White House kept it quiet until now, but on Friday the President nearly blocked the Vice President from getting his chosen national security adviser.
Why this matters: It's a highly unusual event, as Trump typically gives Pence a long leash on personnel appointments. This is the first time the President has tried to block Pence from filling a senior staff position. The scene also highlights — once again — the extraordinary importance Trump places on personal loyalty.
Inside the West Wing: Trump was furious when he learned Pence was bringing on Nikki Haley's deputy Jon Lerner, according to three sources familiar with the events. The President believed Lerner was a card-carrying member of the "Never Trump" movement because Lerner crafted brutal attack ads for Club for Growth's multimillion-dollar anti-Trump blitz during the Republican primaries.
"Why would Mike do that?" Trump wondered aloud about Pence's decision, according to two sources briefed on the President's private conversations.
Behind the scenes: Trump told Kelly to get rid of Lerner. On Friday, as turmoil unfolded, Pence's team was on the plane to Peru for the Summit of the Americas. Pence's team got wind of what was happening, and when Pence landed he called the President and talked him around on Lerner, according to administration officials familiar with the situation. Trump was in the Oval when Pence called.
Senior officials, including White House Counsel Don McGahn, were concerned about the logistics of Lerner dividing his time between Haley and Pence. The story in the Washington Post that broke the news of Lerner's appointment took White House officials by surprise.
Other officials question Lerner's qualifications, describing him to Axios as a politico and a pollster, with little foreign policy experience. Pence's team argued internally that he'd done a great job for the past year working for Haley, has previously advised members of Congress on foreign policy and would be well-supported in Pence's office by subject matter experts.
The sources said Kelly told colleagues that Pence's chief of staff Nick Ayers, who orchestrated the appointment, had not "fully informed" him of Lerner's anti-Trump history. Ayers and Lerner have worked together in the past for Haley, among other campaigns.
The pushback: Ayers has told associates, however, that he briefed Kelly on Lerner and also looped in other senior officials including Haley, John Bolton and Mike Pompeo. Lerner's been serving as Haley's deputy and was in the room for a sensitive Syria briefing in the Situation Room on Thursday.
What's next: Pence and his team appear to have averted what would've been the VP's first personnel crisis. In the Pence team's eyes, it was a "minor confusion" that never should've escalated to the President and could've been resolved almost instantly had the Pence team not been on a plane when the drama was unfolding.
https://www.axios.com/newsletters/axios-sneak-peek-6921ef50-6eff-43f1-91e7-23101007457a.html?chunk=2#story2
3. What's next for Assad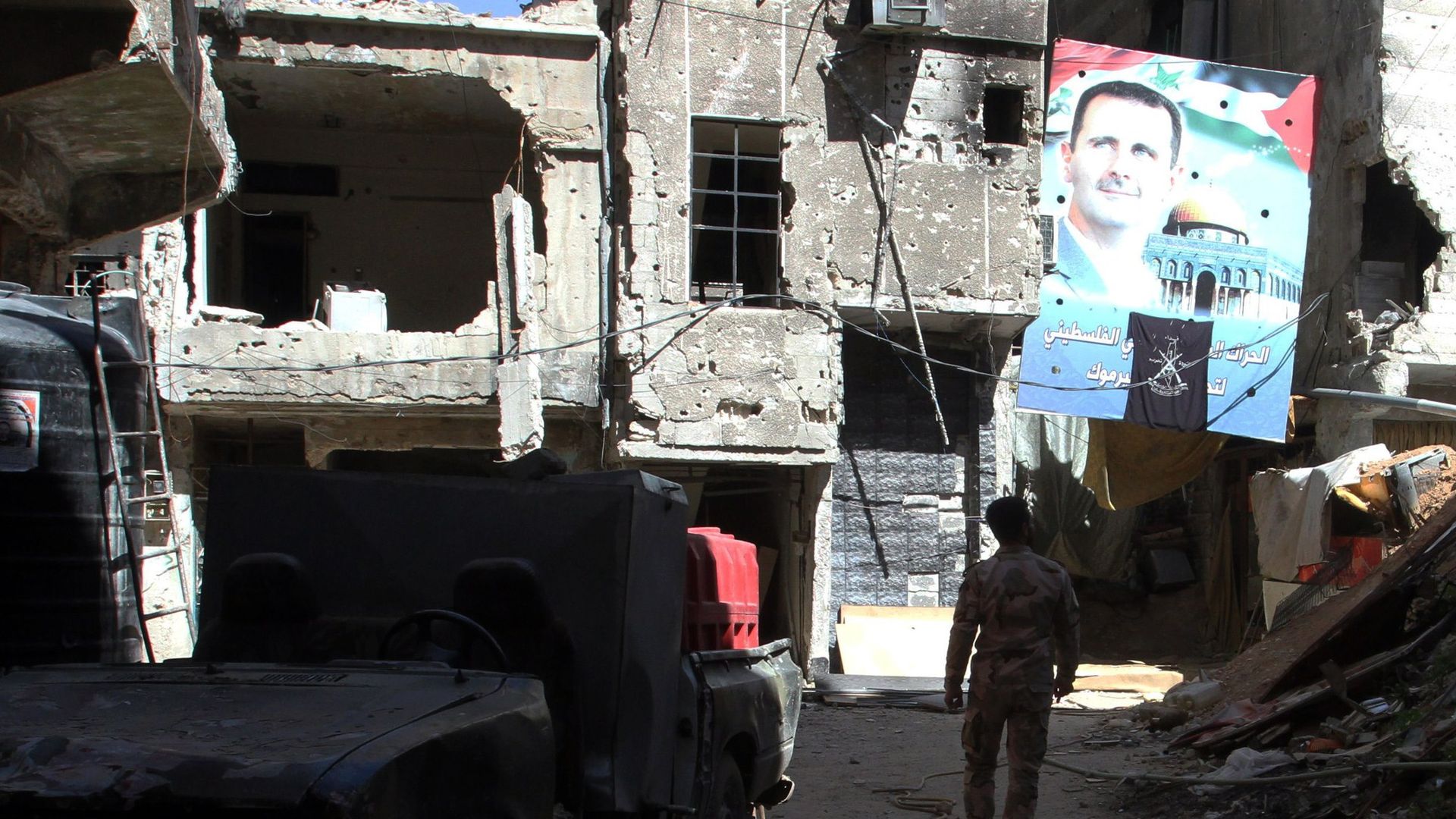 Trump declared "Mission Accomplished!" on Saturday and administration officials are trying to distance him from George W. Bush's embarrassing declaration about the Iraq War in 2003. Officials are saying Trump only meant that the narrow mission on Friday night — of destroying Syrian chemical weapons facilities — succeeded.
The backdrop: Two stories, published in the wake of Trump's bombing, cast harsh light on the big picture in Syria:
Wall Street Journal: "Syrian armed forces on Sunday unleashed airstrikes against rebels and shelled what rescue workers said were civilian homes, demonstrating President Bashar al-Assad's undiminished ability to wage the civil war a day after a U.S.-led missile attack."
Washington Post: "U.S.-led strikes against Syrian chemical weapons facilities prompted defiant celebrations in Damascus on Saturday as it became clear that the limited attack posed no immediate threat to President Bashar al-Assad's hold on power and would likely have no impact on the trajectory of the Syrian war."
The bottom line: Assad looks perfectly safe in his Russo-Iranian cocoon.
What's next: On CBS' "Face the Nation" today, Nikki Haley told host Margaret Brennan that the Trump administration will be imposing additional sanctions against Russia.
"Secretary Mnuchin will be announcing those on Monday if he hasn't already and they will go directly to any sort of companies that were dealing with equipment related to Assad and chemical weapons use."
https://www.axios.com/newsletters/axios-sneak-peek-6921ef50-6eff-43f1-91e7-23101007457a.html?chunk=3#story3
4. America's MIA strategy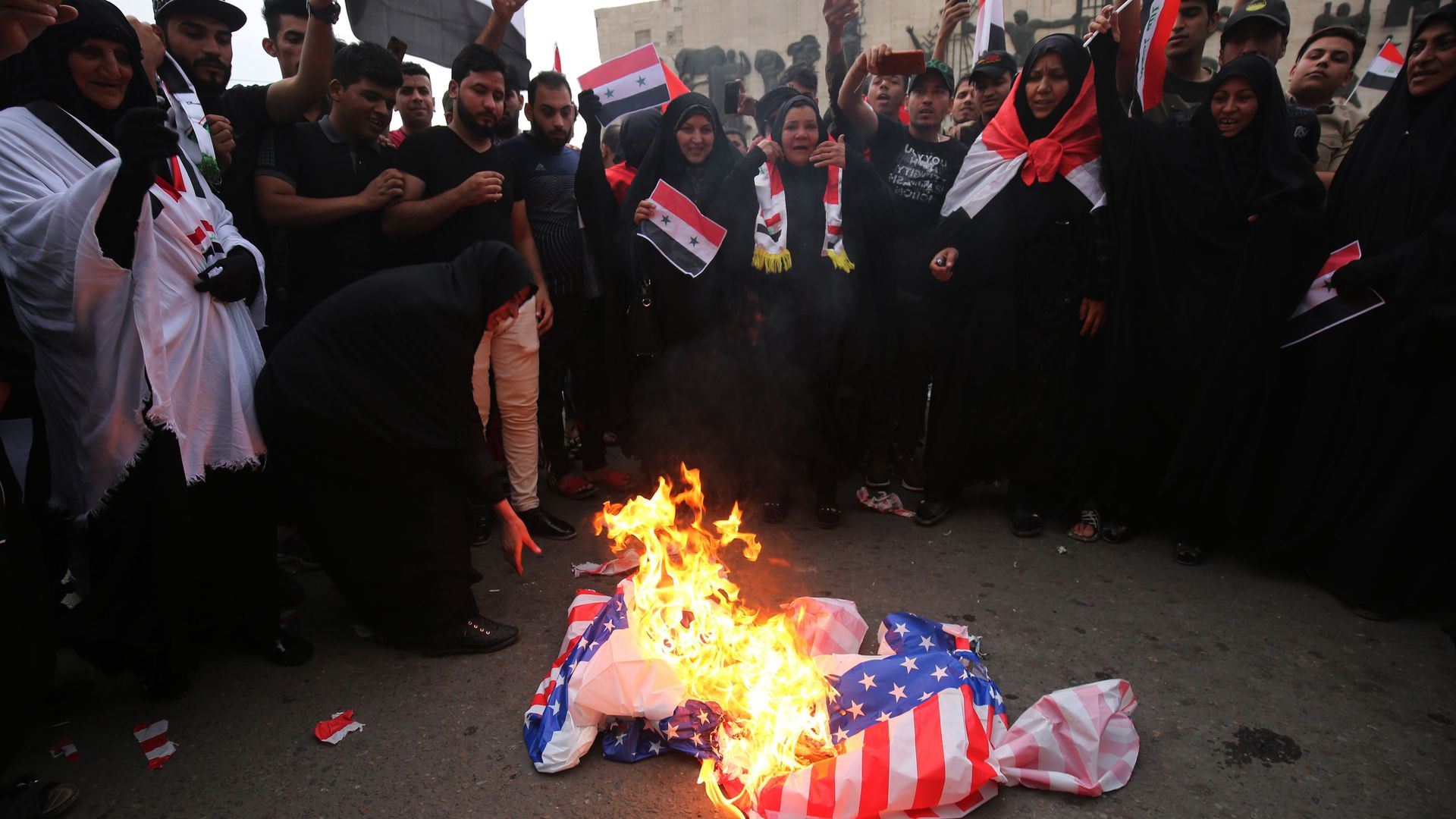 A Republican foreign policy expert, who asked for anonymity so he could speak with brutal candor, describes the big picture American involvement in Syria — from Obama through Trump — as "a succession of failures divorced from reality."
The source, who has decades of experience analyzing the region, emails Axios this devastating indictment of the U.S. Syria "strategy" — or lack thereof — under successive administrations:
"Syria is a microcosm of U.S. foreign policy in general. We never had a coherent strategy beyond simplistic generalities, childishly selecting our goals based on what we wanted, not what was necessary, or even possible. The inevitable result was failure. Wobbly Assad won, powerful us lost. Rust-bucket Russia accomplished its goals, triumphant us achieved none."
"The Obama Administration bears the principal responsibility for Syria and Libya but not for Iraq and Afghanistan or the succession of failures elsewhere. Timid intervention did not work for the former; full-scale intervention did not work for the latter. "
"But the military are not miracle-workers. These failures sprang from cobbled-together strategies based on comforting illusions that have repeatedly proven not to be true, with objectives shaped not by the constraints of reality but the indulgent selection from an a la carte menu. There is little evidence that repeated failure has had a significant impact on policymakers or specialists."
"There is a price to be paid for incompetence. Few now fear us; fewer respect us. As our opponents increase in number and strength, the prospect of defeat at their hands will grow. But the more immediate result will be irrelevance."
https://www.axios.com/newsletters/axios-sneak-peek-6921ef50-6eff-43f1-91e7-23101007457a.html?chunk=4#story4
5. Sneak Peek diary
Tax filing deadline is Tuesday. So the Trump administration and congressional Republicans plan to use this week to sell their tax reform plan and move legislation — that will likely never pass the Senate — to reform the IRS.
The House will vote on two bills to redesign the IRS. The Senate probably won't touch either this year.
The Senate expects to vote on "The Tribal Labor Sovereignty Act" — a law pushed by Kansas Sen. Jerry Moran, and supported by more than 160 Native American tribes. The law would give tribal governments the right to determine their own employment practices. Opponents condemn the law for exempting Native American casinos from a federal labor law that, among other things, allows workers to unionize.
President Trump will spend most of his week in Florida, according to a White House official:
Monday: Trump hosts a tax event with small businesses in Florida.
Tuesday and Wednesday: The President and First Lady host the Japanese Prime Minister Shinzo Abe and his wife at Mar-a-Lago.
Thursday: Trump visits Joint Interagency Task Force South.
https://www.axios.com/newsletters/axios-sneak-peek-6921ef50-6eff-43f1-91e7-23101007457a.html?chunk=5#story5
6. 1 nostalgic thing: Barbara Bush and the politics of broccoli
We're deeply saddened by the news that former First Lady Barbara Bush's health is failing. She's won legions of fans not just for her poise and grace but also for her extremely sharp wit and penchant for the hilarious.
One of the best examples came in March of 1990, shortly after news broke that then-President George H. W. Bush banned broccoli from Air Force One. In the wake of the scandal — and during a slow news day, the L.A. Times pointed out — the California Broccoli Shippers sent ten tons of the calcium-rich vegetable to the White House.
Barbara Bush met them on the White House lawn, and hoisted up a ribbon-bedecked bouquet of the vegetable (Katerina Ang of Dow Jones has a photo here).
"[V]irtually the entire news-starved White House press corps arrayed itself on the sunny South Lawn to stare at three cardboard boxes of high-in-fiber, loaded-with-vitamins California produce," the L.A. Times reported.
More, from the LAT:
"Millie [the Bushes' English Springer Spaniel] and I thank you for the broccoli. We'll eat it," Mrs. Bush said of the three boxes of green veggies that arrived at the White House. But, as for her husband, the President: "If his own blessed mother can't make him eat broccoli, I give up." For her part, "I am never going to eat pork rinds, ever," she said, referring to a high-salt snack food with which the President makes a point of being photographed during political campaigns but otherwise almost never eats.