Axios Sneak Peek
January 14, 2021
Welcome to Sneak Peek, anchored by Alayna Treene, Hans Nichols and Kadia Goba.
🚨 Breaking: "Amtrak Joe" will no longer take the train to his inauguration, because of security concerns, CNN scoops.
⚡ Situational awareness: Rep. Seth Moulton (D-Mass.), a Marine combat veteran, noted today there are now more U.S. troops in Washington than in Afghanistan.
Today's newsletter — edited by Glen Johnson — is 928 words, a 3.5-minute read.
1 big thing: GOP voters choose Trump — again
Republicans across the U.S. are siding with President Trump over Senate Majority Leader Mitch McConnell — big time — in a new Axios-Ipsos poll.
Big majorities of Republicans still think Trump was right to challenge his election loss, support him, don't blame him for the Capitol mob and want him to be the Republican nominee in 2024, Margaret Talev and David Nather write.
Why it matters: The survey shows why Trump could run again in 2024 (and possibly win) if he isn't convicted — or banned from holding federal office — by the Senate. It also shows the peril and opportunity for institutionalists like McConnell trying to reclaim the GOP.
In addition, it helps explain why a majority of House Republicans voted against certifying the election, and against impeachment.
Between the lines: There's a deep schism in the GOP, with a 56% majority considering themselves "traditional" Republicans and 36% calling themselves Trump Republicans.
The former is often called establishment Republicans. CNN's Chris Cuomo derisively labels the latter group "Retrumplicans."
The two groups hold widely different views on removing the president from office, contesting the election and the future of the party. But the Trump Republicans behave with far more unity and intensity.
Just 1% of Trump Republicans — versus about one-in-four traditional Republicans — think Trump should be removed from office.
Traditional Republicans are split over whether the party is better because of Trump; 96% of Trump Republicans say it is.
Trump Republicans are more than twice as likely as traditional Republicans to want him as their 2024 nominee and twice as likely to support the protesters.
Traditional Republicans are five times as likely to disapprove of the president's behavior.
Be smart: The Trump Republicans are still large enough of a group to either stay and dominate primary politics or walk away if Trump is cast out, which would weaken the GOP's force posture against Democrats.
What they're saying: "The monopoly Trump's had on the Republican base for the last four years is a little more frayed than any time in recent history," said pollster Chris Jackson, senior vice president for Ipsos Public Affairs. "A substantial chunk doesn't necessarily think their future goes with Donald Trump.
"The big question is, is having a small-but-committed base going to be more valuable than a large-but-less-committed base?"
Methodology: This Axios/Ipsos Poll was conducted Jan. 11-13, 2021, by Ipsos' KnowledgePanel®. This poll is based on a nationally representative probability sample of 1,019 general population adults age 18 or older.
The margin of sampling error for the full sample is +/- 3.4 percentage points.
2. Romney's rising star (with Democrats)
Utah's Mitt Romney is at the bottom of the barrel when it comes to how fellow Republicans view him. But the GOP's 2012 presidential nominee is crushing it with Democrats, the Axios-Ipsos poll found.
A clear majority of Democrats (62%) approve of his behavior — nearly twice his approval rating among Republicans.
Romney has been an outspoken critic of Trump's efforts to overturn the election and incite protesters to violence at the Capitol.
He also was the only GOP senator to vote to convict in Trump's first impeachment.
Some Democrats like former Secretary of State Madeleine Albright have also given him belated props for saying in 2012 that Russia was the United States' greatest geopolitical foe.
3. Capitol assault only one reason Trump impeached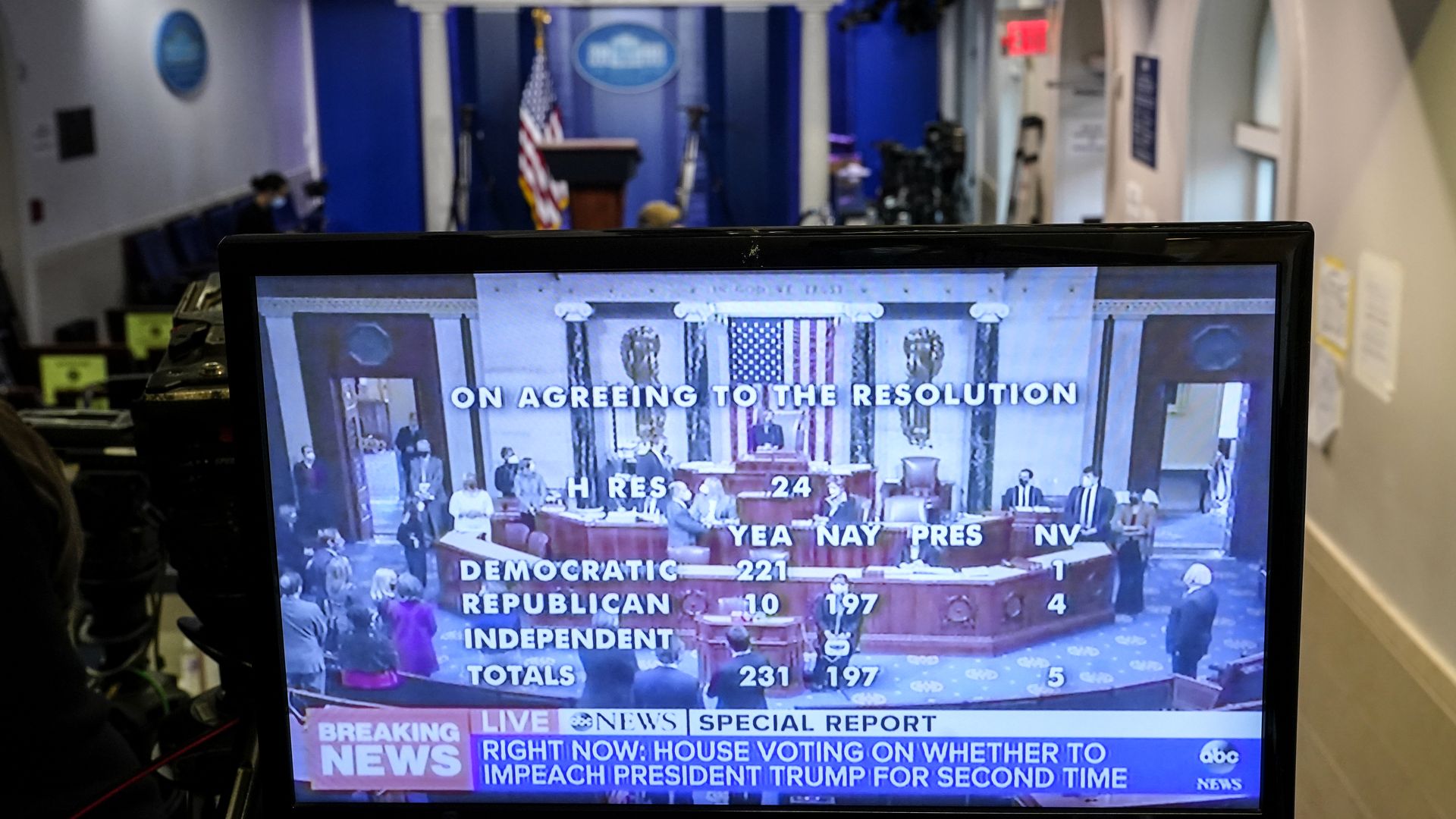 Trump didn't earn his historic second impeachment just by inciting a riot on a single day. He laid its foundation event by event during the two months preceding it, Axios' Alayna Treene and Jonathan Swan report.
Why it matters: Uneasiness built to rage among some Republicans as the president challenged the election results, blocked important legislative accomplishments and cost the party its hold on the Senate.
Trump turned on McConnell — who loyally defended him for four years — for recognizing Joe Biden as the president-elect. The Senate majority leader did it only after the Electoral College ratified his win.
The president threatened to shut down the government over the holidays by demanding $2,000 stimulus checks, setting McConnell's caucus upon itself.
Those same senators also had to override Trump's veto of a massive annual defense spending bill after he demanded they eliminate a social media regulation unrelated to national security.
Along the way, the president spent more time attacking GOP officials in Georgia than Jon Ossoff and Raphael Warnock, the two Democrats whose wins cost the Republicans their Senate majority.
The pot-stirring culminated in Trump's mafioso-style phone call with Georgia Secretary of State Brad Raffensperger, during which the president asked him to "find" a winning margin of votes.
The last straw was the insurrection at the Capitol, which followed the president's inflammatory speech to a pro-Trump rally.
The end result was another impeachment. Ten House Republicans, many of whom relied on Trump to get elected, voted with the Democrats.
Given the swelling support for impeachment among Republicans, including McConnell, Trump could make history again by becoming the first president to be convicted by the Senate after leaving office.
4. 💰💰Trump Twitter ban curbs K Street cottage industry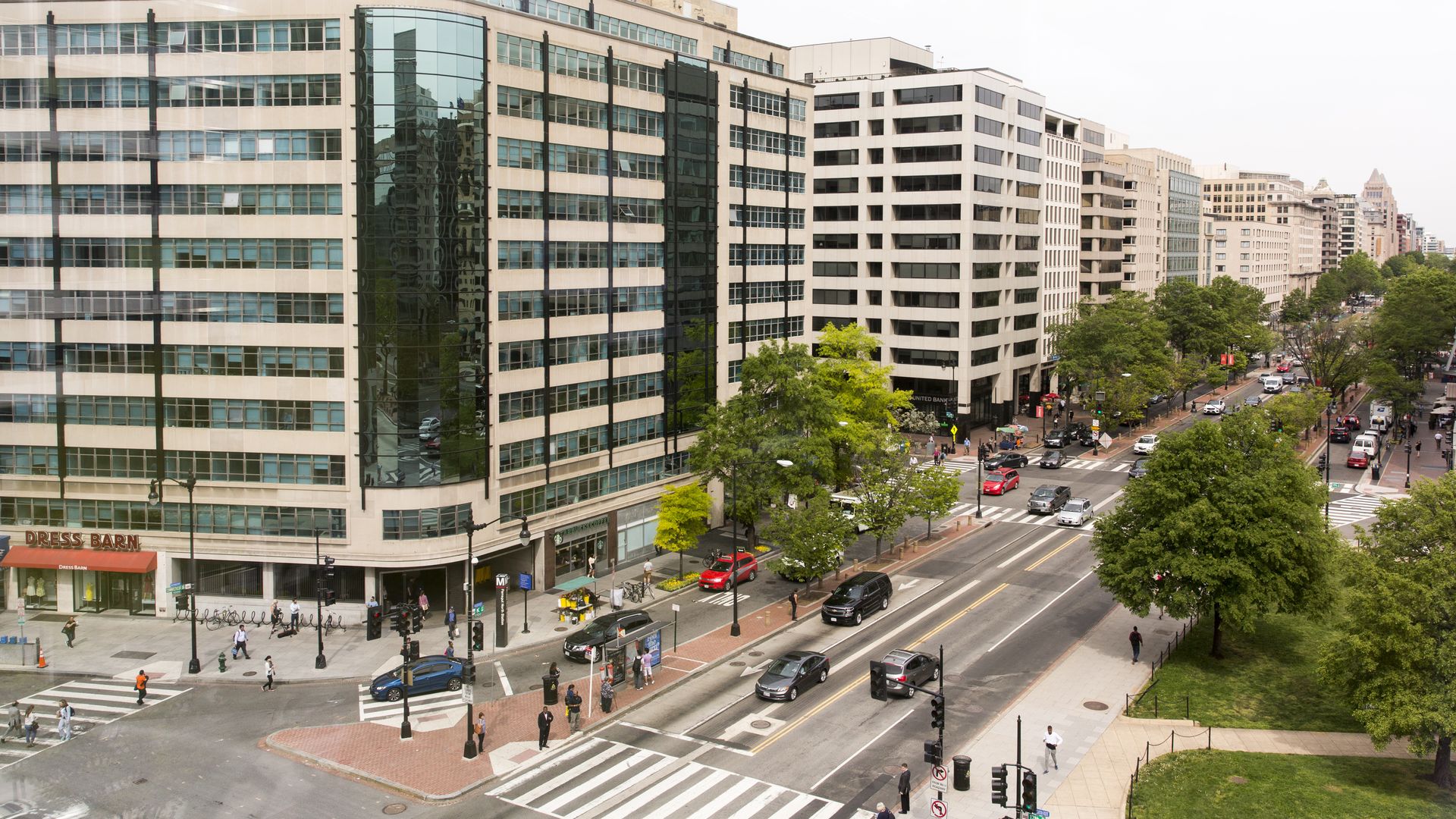 Banning Trump from Twitter didn't just cut his personal communications channel but curbed a cottage industry of lobbyists and consultants who monetized their ability to get clients into his Twitterverse, reports Axios' Lachlan Markay.
Why it matters: Trump's social media fixation offered K Street a unique way to get issues either noticed by the one person in Washington who really mattered, or amplified by those who'd built their own broad followings through connections to him.
One connected Republican consultant told Axios the prominent connection between Trump and Twitter caused the influence industry to focus on it "instead of more traditional means of communications, like placing op-eds."
It wasn't just the influence industry. Officials in Trump's own administration worked to ensure the president was tagged in tweets about their policy work.
5. Pic du jour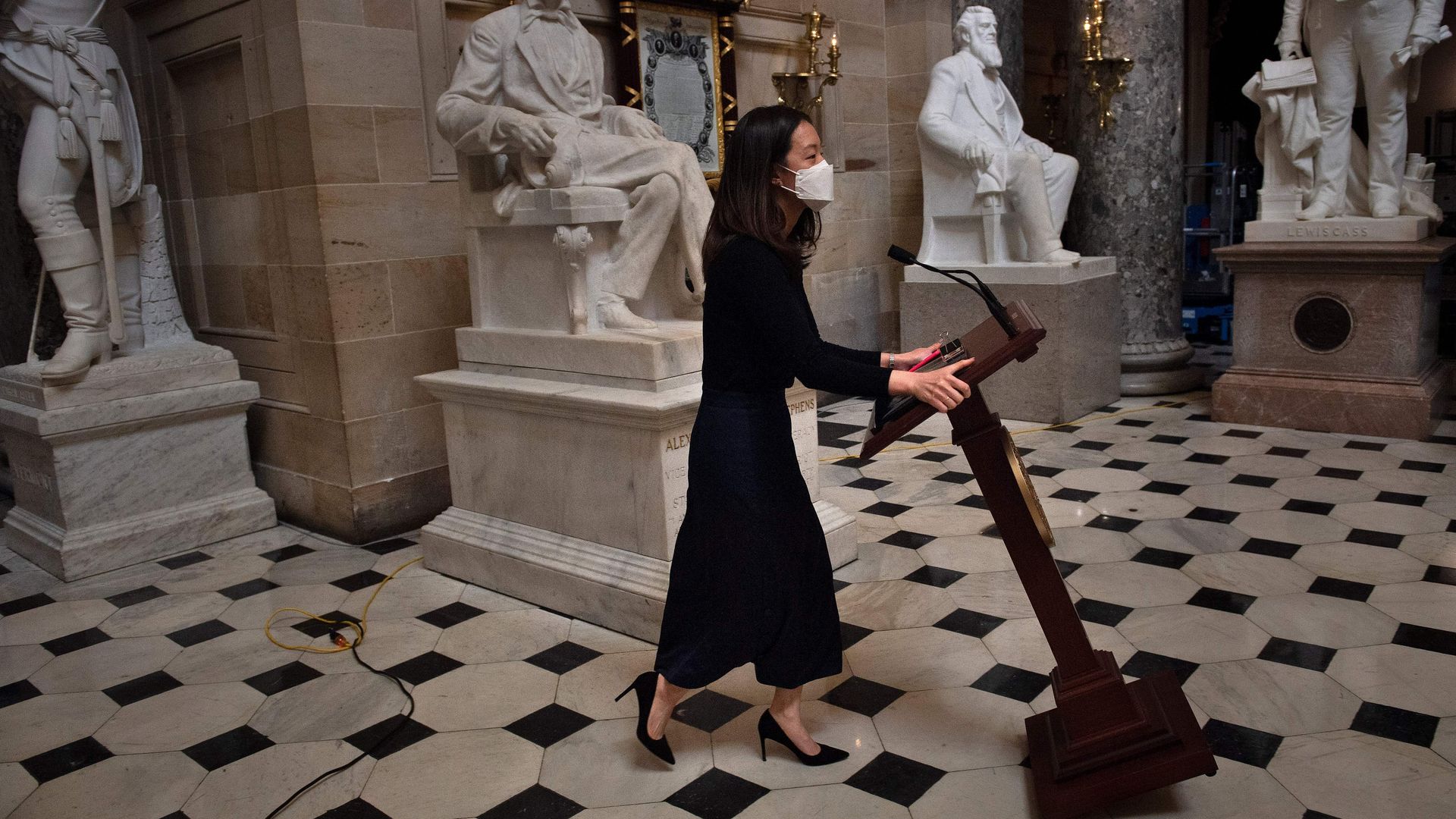 A week after a Capitol invader walked off with Nancy Pelosi's lectern, a House aide wheeled it back through Statuary Hall — unblemished.
👋 Thanks for reading Sneak. If you haven't signed up for this or other Axios newsletters, you can by clicking on this link.