Axios Sneak Peek
June 29, 2023
Welcome back to Sneak. Smart Brevity™ count: 1,063 words ... 4 minutes.
⚡ Situational awareness: Florida Gov. Ron DeSantis told Fox News he would be in favor of eliminating the departments of Education, Commerce and Energy as well as the IRS if elected president.
1 big thing: Biden makes peace with "Bidenomics"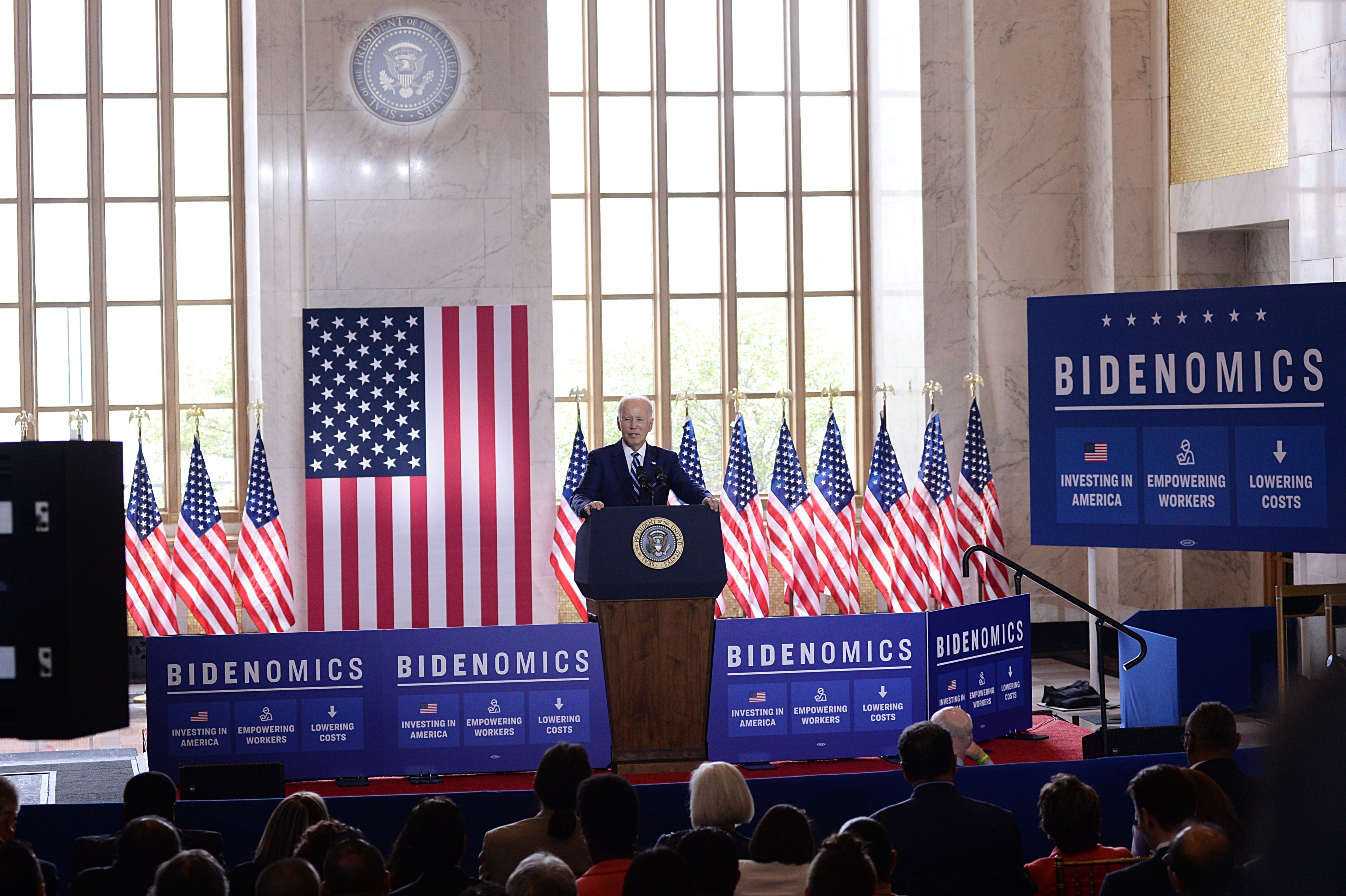 President Biden has finally stopped worrying and learned to love "Bidenomics," less than two weeks after joking to an audience of union workers: "I don't know what the hell that is."
Why it matters: Biden's embrace of a term he's expressed some ambivalence about will fully align him with a White House communications shop that wants to run on the president's economic record and legislative accomplishments in 2024, Axios' Hans Nichols writes.
Biden's top advisers have made a strategic decision to own the economy, calculating that Republicans will try to blame them for a slowdown regardless if it's real or imaginary.
With the debt ceiling raised and the Fed's rate-hiking plans out of Biden's control, the battle over the economy in the next 16 months will be about perceptions.
What they're saying: "Bidenomics is working," the president declared in a speech today in Chicago, where he's expected to accept the Democratic nomination in a little over a year. "The trickle-down approach failed the middle class."
Driving the news: Biden began a day that was supposed to be dedicated to owning his economic achievements by quibbling with reporters on the origins of the term "Bidenomics."
"You guys branded it. I didn't," he said over the whine of Marine One's engines. "I never called it Bidenomics."
"Let's get it straight: The first time it was used was in the Wall Street Journal. OK? I don't go around beating my chest, 'Bidenomics,'" Biden said, repeating his case for the word's etymology.
The intrigue: The Wall Street Journal's Greg Ip used the term in a neutral way on April 7, 2021, writing that "while the successor to neoliberalism lacks a label, Bidenomics will do for now."
But the White House thinks the term came into the public domain via C-SPAN, courtesy of an insult from then-House Minority Leader Kevin McCarthy (R-Calif.) in May 2021.
Republicans are determined not to let the term be redefined, with McCarthy tweeting a ripoff of a White House graphic today that reads: "Bidenomics is about blind faith in government spending and regulations."
The big picture: There are two undeniable — and contradictory — realities about the U.S. economy in 2023: The numbers are impressive, but Americans aren't feeling it.
The so-called "misery index" — a mix of unemployment rate and inflation — has dropped significantly over the last year.
And yet only 1 in 4 Americans report that the country's economic conditions are in good shape, according to a May poll from AP-NORC.
What we're watching: Those two dynamics will make the battle for the economy in 2024 largely a communication fight, in which both sides won't be shy about cherry-picking data.
2. 🔎 Trump's shifting defenses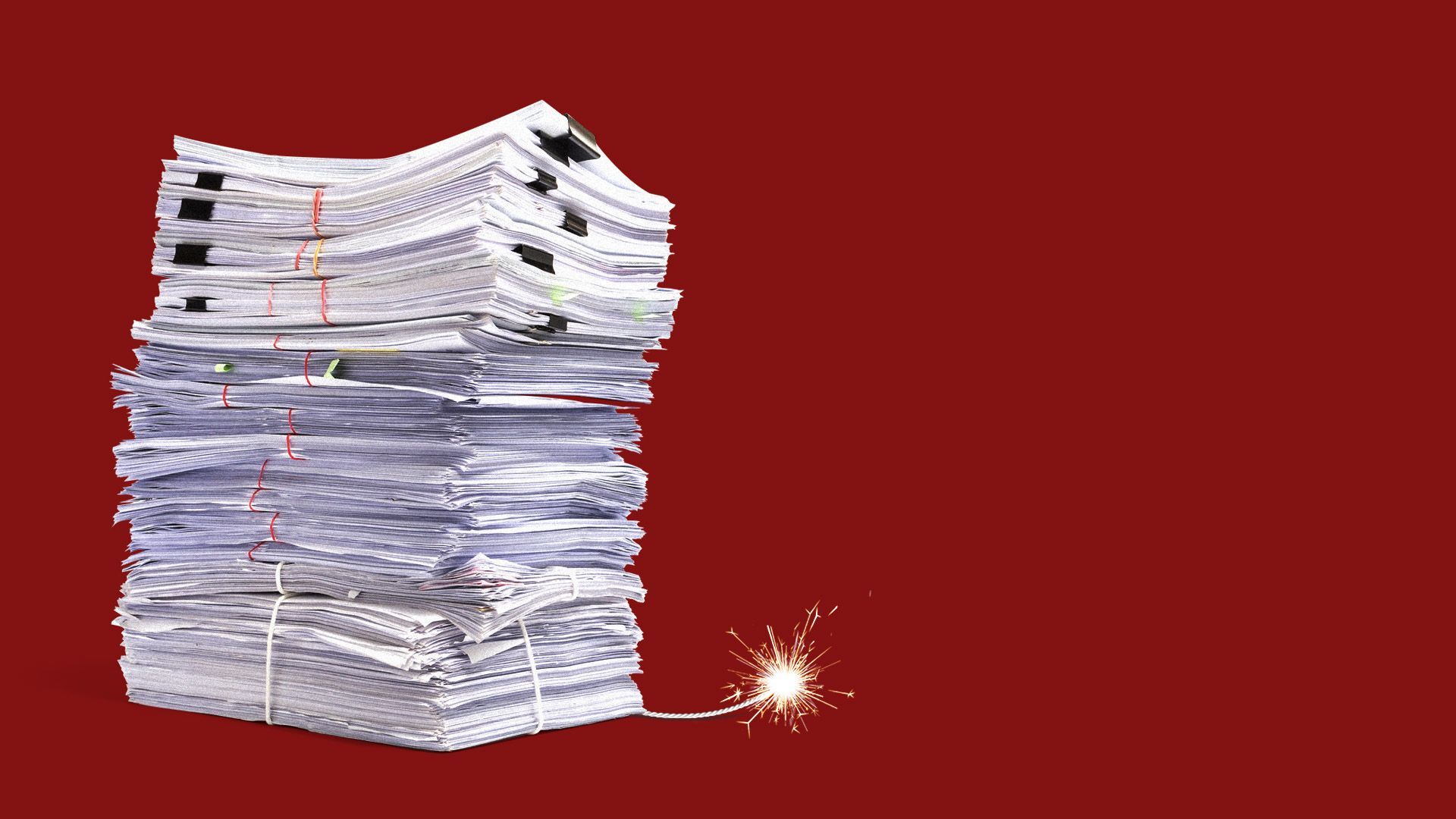 Former President Trump is throwing all sorts of defenses at the wall to see what sticks after he was indicted over his retention of classified documents, Axios' Erin Doherty reports.
Why it matters: "There is nothing juries hate more than criminal defendants who keep changing their story as to why they did something," national security attorney Bradley Moss told Axios.
"Bravado": After an explosive audio recording captured him referencing "highly confidential" and "secret information" at his Bedminster golf club in New Jersey, Trump told Semafor and ABC News yesterday that he was exaggerating: "I was talking and just holding up papers and talking about them, but I had no documents. I didn't have any documents."
Logistics: This month, Trump defended not turning over the classified documents after a grand jury subpoena, claiming he still had to sort through the boxes: "These boxes were interspersed with all sorts of things, golf shirts, clothing, pants, shoes, there were many things," Trump told Fox News.
Presidential Records Act: Trump has repeatedly claimed he had every right to take the documents under this post-Watergate law that created a distinction between "presidential records" and "personal records." But legal experts say there is no way the classified national security documents Trump retained could be interpreted as "personal."
3. 📊 Polls du jour: Swing-state split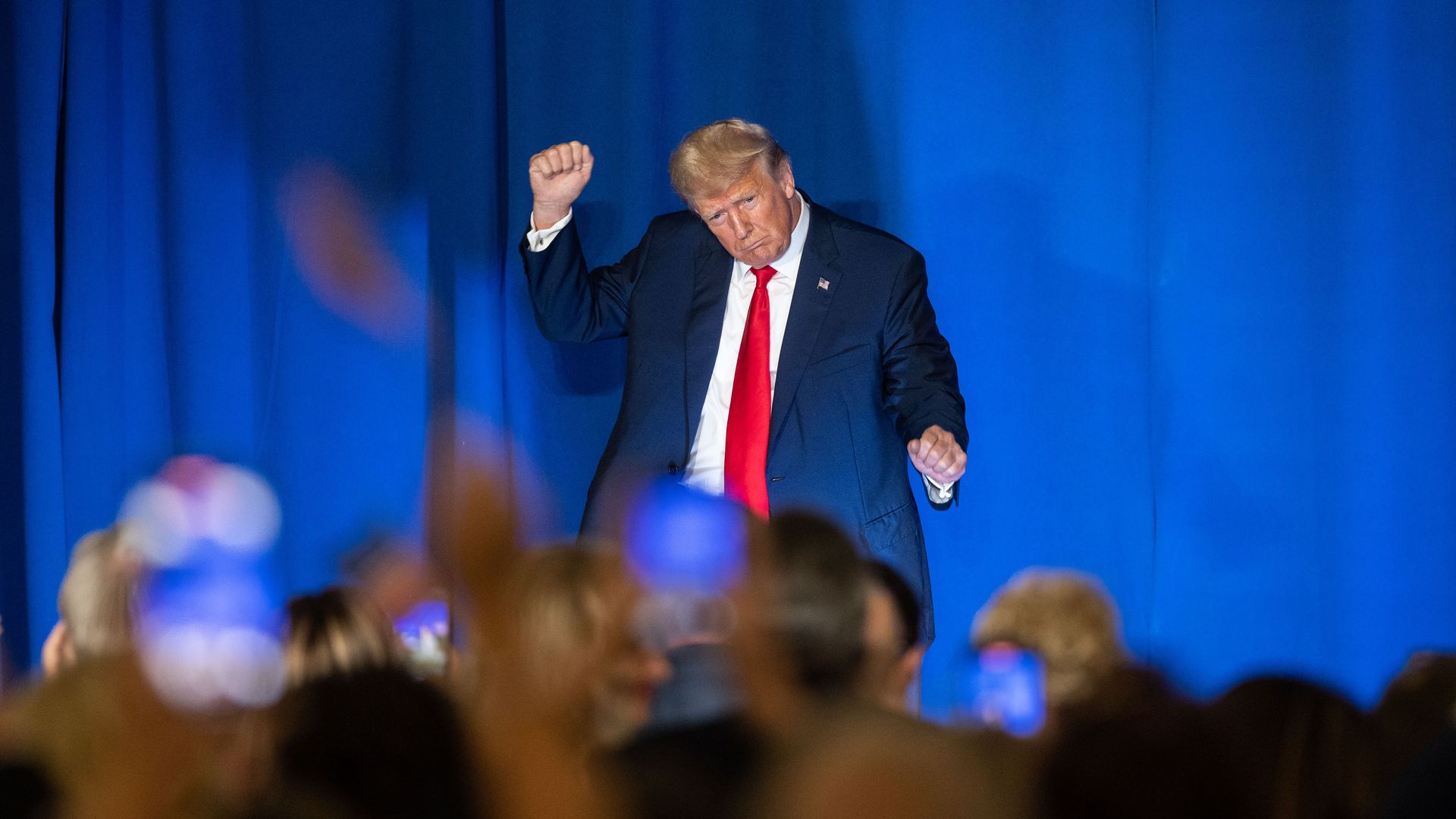 Choose your news: Two major polls out today have Biden and Trump trending in opposite directions in Wisconsin and Pennsylvania, two battleground states critical to Biden's 2020 election victory.
In Wisconsin, Biden leads Trump 52% to 43%, according to a poll by Marquette University Law School. The poll shows Trump is virtually tied for the GOP nomination with DeSantis, who trails Biden 49% to 47% in a hypothetical general election.
In Pennsylvania, Trump leads Biden 47% to 46% — including 51% to 37% with independents, according to a Quinnipiac University poll. Trump has a lead of nearly 25 points for the GOP nomination, trouncing DeSantis 49% to 25%.
4. 💣 GOP's ugly online primary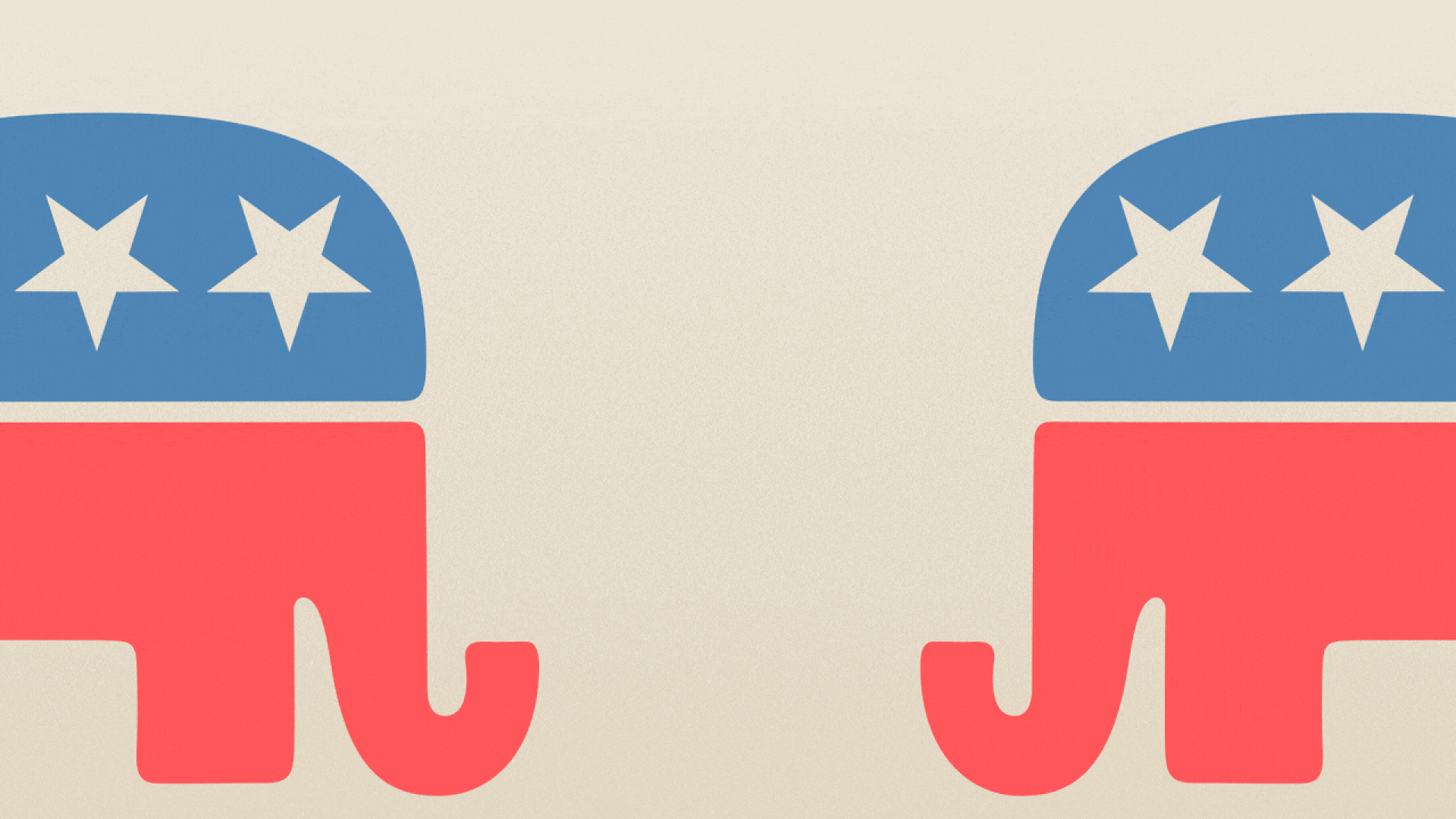 A prominent conservative influencer is accusing the Trump campaign of leaking his racist and antisemitic text messages from 2019 and 2020, calling it a "smear campaign" in retaliation for his vocal support of DeSantis.
"The only reason my private messages — messages I exchanged with 'Trump supporters' from a different, dumb season of my life — are being used against me is that I've become the most effective critic of Trump since jumping off the Trump train," Pedro Gonzalez tweeted.
Gonzalez's posts on Twitter are frequently promoted by the DeSantis campaign, the pro-DeSantis super PAC Never Back Down, and other supporters of the Florida governor.
Why it matters: The oppo dump published in Breitbart yesterday quickly lit up Republican circles.
It's perhaps the clearest evidence yet of how intensely personal the online feud between Trump and DeSantis surrogates — many of whom traveled in the same MAGA circles prior to this election cycle — has become.
Breitbart masked the identities of the people participating in the racist conversations with Gonzalez, but claimed they have all "turned on" the pro-DeSantis influencer and approved the release of the messages.
5. 🇷🇺 Parting shot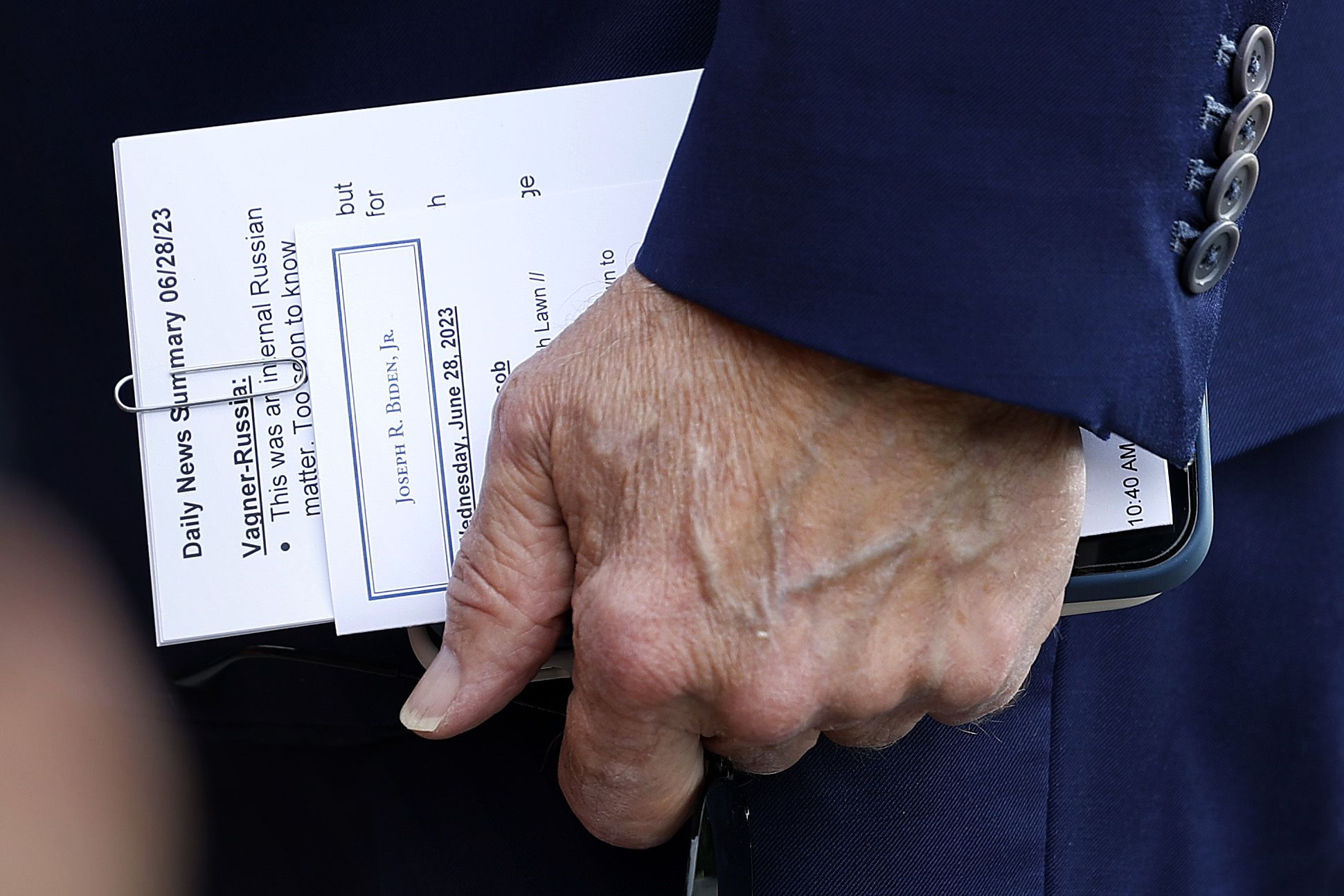 Carrying notes that stressed last weekend's Wagner rebellion was "an internal Russian matter," Biden told reporters today that Vladimir Putin is "clearly losing the war in Iraq."
It was the second time in 24 hours Biden mistakenly referred to Ukraine as Iraq, after doing so at a fundraiser in Maryland last night.
📬 Thanks for reading tonight. This newsletter was copy edited by Kathie Bozanich.