September 15, 2022
Welcome back to Sneak. Smart Brevity™ count: 940 words ... 3.5 minutes.
🚨 Situational awareness: A federal judge has appointed a special master to review documents seized at Mar-a-Lago, defying objections from the Justice Department.
1 big thing — Scoop: Biden officials to discuss migrant "litigation options"
Cabinet heads and White House officials will meet tomorrow morning to discuss a range of pressing immigration issues — including "litigation options" to respond to GOP governors transporting unauthorized immigrants from the border to other parts of the country, according to planning documents viewed by Axios' Stef Kight.
Why it matters: News that Florida Gov. Ron DeSantis chartered two planes to fly roughly 50 migrants to Martha's Vineyard has triggered a wave of backlash from Democrats and immigration advocates, with many condemning the move as political and inhumane.
Driving the news: One asylum-seeker, Katiuska from Caracas, Venezuela, told Axios Boston co-author Steph Solis — who spent today on the ground in Martha's Vineyard — that she was told the group was going to New York City. Others said they believed they were heading to Boston.
GOP Govs. Greg Abbott of Texas and Doug Ducey of Arizona have for months been busing thousands of migrants and asylum-seekers from their border states to Washington, D.C., New York and Chicago, which are all run by Democratic mayors.
Abbott also claimed responsibility today for sending two busloads of migrants and asylum-seekers to Vice President Kamala Harris' home in D.C.
The big picture: Immigration has proven to be a major logistical and political headache for the Biden administration, providing fodder for Republicans who have seized on the border crisis to hammer Democrats ahead of the midterms.
The actions by DeSantis and other Republican governors are viewed as publicity stunts intended to draw attention to Biden's handling of the border crisis, rather than provide solutions that would address the realities of the strained immigration system.
Border officials are now encountering an average of 8,500 migrants and asylum-seekers a day — a strikingly high number, according to government data provided to Axios.
Behind the scenes: While details of what might be proposed in the meeting — which was scheduled before the DeSantis move — are unclear, it is expected to bring together high-level officials at the White House and the departments of Homeland Security, State, Justice and Defense, including secretaries.
Intra-agency immigration meetings are held regularly, a senior administration official noted to Axios, regardless of whether the issue is dominating the political conversation.
"This should not be about political stunts. It should be about how the whole of government gets the 8,500 encounters a day down," another administration official told Axios, expressing frustration about the focus on DeSantis' actions.
The intrigue: The Trump White House proposed transporting detained immigrants to "sanctuary cities" in 2018 and 2019, but was rebuffed by the legal department at Immigration and Customs Enforcement.
2. 👀 Views from the border
Members of Congress who represent border districts almost universally condemned DeSantis' move in conversations with Axios, though some highlighted that Biden's broader failures on immigration policy are the bigger story, Axios' Alayna Treene and Stef report:
Rep. Veronica Escobar (D-Texas): "DeSantis has taken it to a new low, lying to people in the way that he's lied to them. It really says a whole lot more about what … a soulless human being he is. You know the people who frequently like to have scripture on the lips and hate in their heart? He reminds me of them."
Rep. Raúl Grijalva (D-Ariz.): "It's grandstanding. It doesn't deal with the issue. There's no solution being offered. There's no words of compromise. ... [T]hese people trapped in this situation become cannon fodder as symbols of 'look what's going on.'"
Rep. Tony Gonzales (R-Texas): "I get why the governors are doing it. I get why the mayor of El Paso is doing it. It is a political ploy. It makes headlines. Anytime you're using people as political ploys, it's dangerous. This really needs to fall on the administration."
Rep. Henry Cuellar (D-Texas): "The border is not secure and we need to be doing more to dissuade migrants from coming to the United States. I don't necessarily agree with the politics of the stunt, but we need to address the influx. Our whole country is now feeling the effects of open borders."
3. 🐘 McCarthy's pet project
A super PAC connected to House Minority Leader Kevin McCarthy (R-Calif.) is pouring $1 million into a Rhode Island district that President Biden won by 14 points in 2020, Axios' Andrew Solender reports.
Why it matters: Republican candidate Allan Fung exemplifies what House Republicans have pointed to as their greatest asset this cycle and what sets them apart from their more embattled Senate counterparts: recruitment.
A moderate former gubernatorial nominee, mayor and son of immigrants, Fung is widely viewed as the golden boy of the GOP's candidate slate this year.
McCarthy made headlines in August by visiting the district for a fundraiser with Fung.
What to watch: Rep. Jim Langevin (D-R.I.), who won Rhode Island's 2nd District by 17 points in 2020, is retiring this year. Election forecaster Cook Political Report rates the district as a toss-up, though others say it leans Democratic.
4. 🗳️ Focus groups: Biden's N.C. bounceback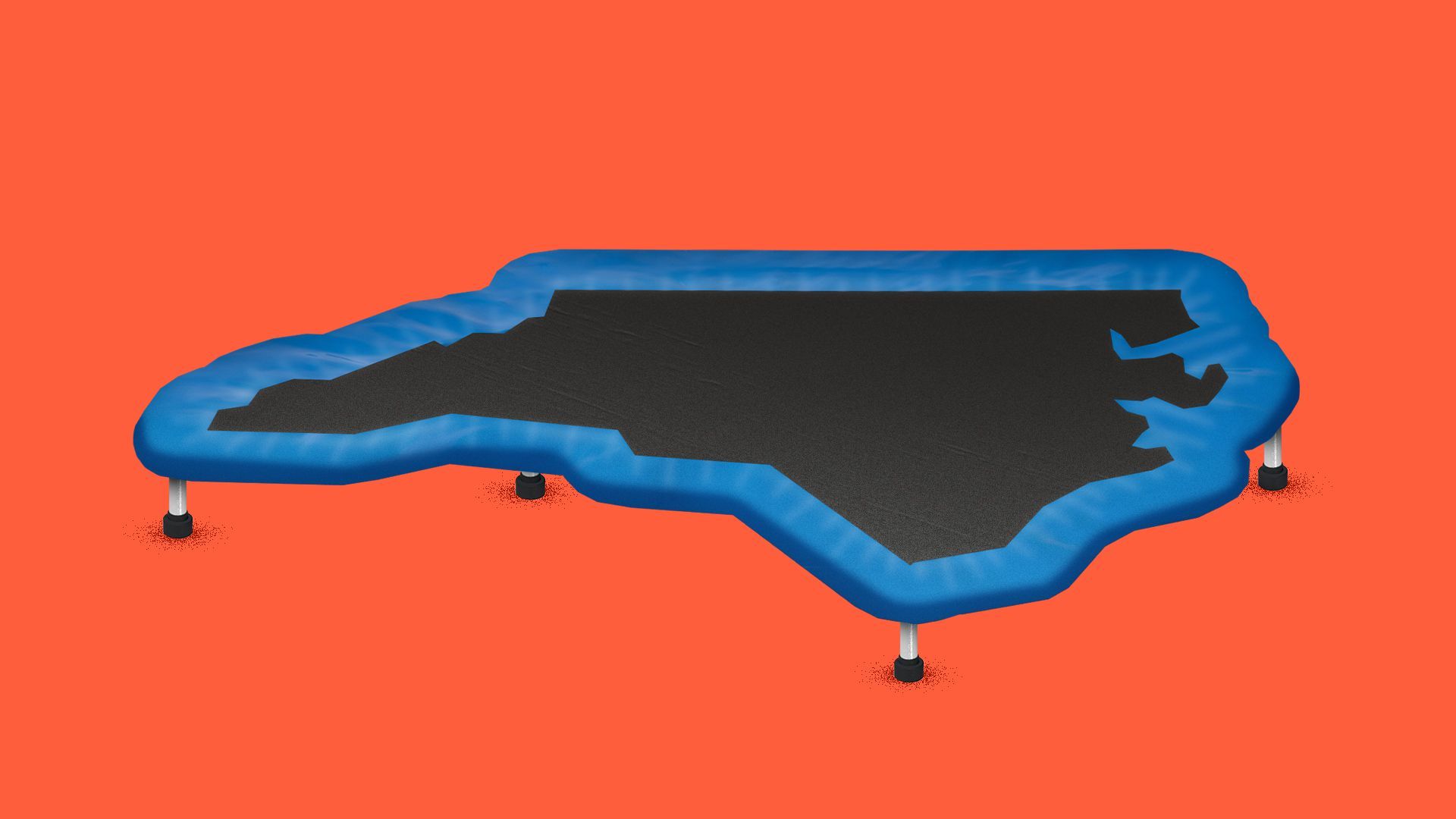 Some North Carolina swing voters who'd lost faith in President Biden are expressing a renewed affinity for his leadership, Axios' Alexi McCammond writes from our latest Engagious/Schlesinger focus groups.
Why it matters: Democrats' passage of the Inflation Reduction Act, big drops in gas prices after spikes earlier this year, and the cooling of inflation (before this week's unexpectedly hot reading) are giving Biden what amounts to a second chance.
The landmark climate, health care and tax package was passed just weeks before the president delivered on something else his base voters have been waiting for: canceling student loan debt.
"We're starting to see what he promised us, at least a little bit," said Kayla L.
5. 🗣️ Tweet du jour
📬 Thanks for reading this week. We'll be back Sunday. This newsletter was edited by Zachary Basu and copy edited by Sheryl Miller.