Axios Sneak Peek
August 09, 2022
Welcome back to Sneak. Smart Brevity™ count: 1,018 words ... 4 minutes.
👀 Situational awareness: A viral ad in which former Vice President Dick Cheney attacks former President Trump as a "coward" will begin airing on Fox News tomorrow, a week before his daughter Rep. Liz Cheney (R-Wyo.) faces a Trump-backed primary challenge, Axios' Alayna Treene reports.
1 big thing: 🚨 Trump's FBI nightmare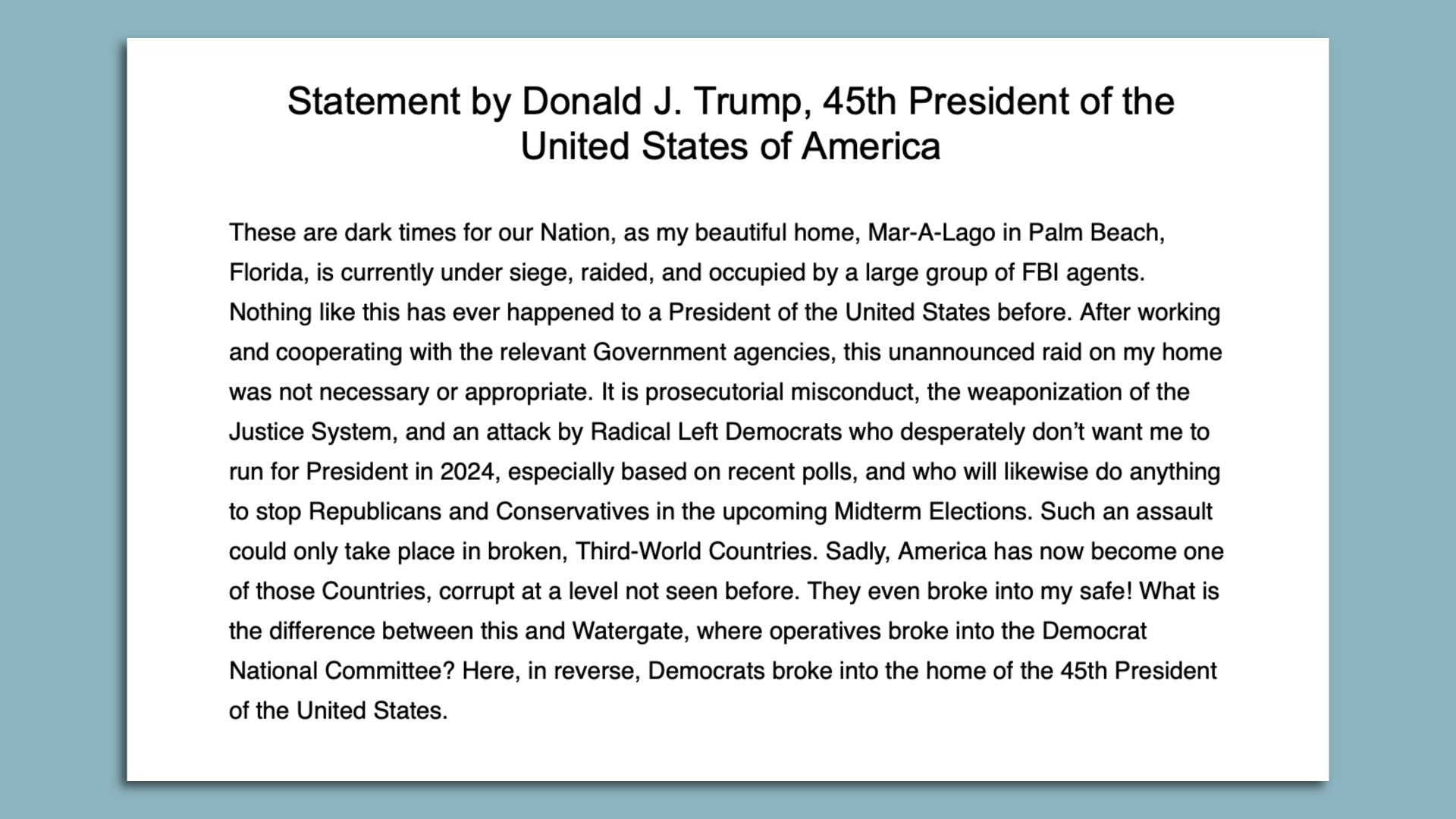 The FBI today searched Mar-a-Lago — a stunning escalation of a federal investigation into a former president with no historical parallels.
In a blistering statement, Trump — who called it a "raid" — accused Democrats of weaponizing the justice system to undermine Republicans in the midterms and stop him from running in 2024.
"They even broke into my safe!" he wrote. The FBI and Justice Department had yet to issue a statement or confirm details of the search by the time this newsletter was sent.
Driving the news: Two sources familiar with the matter told Axios' Jonathan Swan it was their understanding that the search was related to documents Trump took from the White House that may have been classified.
Trump was not in Florida when the search took place, another source familiar with the matter told Axios' Alayna Treene.
Flashback: The National Archives in January retrieved 15 boxes of documents and other items from Mar-a-Lago — including correspondence with North Korean leader Kim Jong Un and other world leaders — that should have been handed over when Trump's presidency ended.
Between the lines: The FBI cannot execute a search warrant without approval from a federal judge. That means the Justice Department — which is engaged in multiple investigations into Trump and his allies — has probable cause that a crime was committed and that evidence exists at Mar-a-Lago.
Trump is also under federal scrutiny for his efforts to overturn the 2020 election, in addition to various criminal and civil investigations at the state level.
The big picture: This unprecedented development — and the closely watched prosecutorial steps that will follow — has the potential to tear the country apart. Trump remains the dominant force in the Republican Party and the favorite to win the GOP presidential nomination in 2024.
Trump allies will seize on the search to accuse the Biden Justice Department of a political "witch hunt."
DOJ typically does not carry out politically sensitive law enforcement activity close to an election, though the timeframe for that guidance is ambiguous. The midterms are in 92 days.
U.S. Attorney General Merrick Garland rarely discusses Trump investigations, but he stressed last week that no one — including the former president — is above the law.
The bottom line: "Taken together, this is one of the most significant, sensitive, and politically explosive actions the US Justice Department and FBI has ever taken — one of a tiny handful of times it's ever investigated a president," tweeted journalist and historian Garrett Graff.
2. 🗳️ Election ref races intensify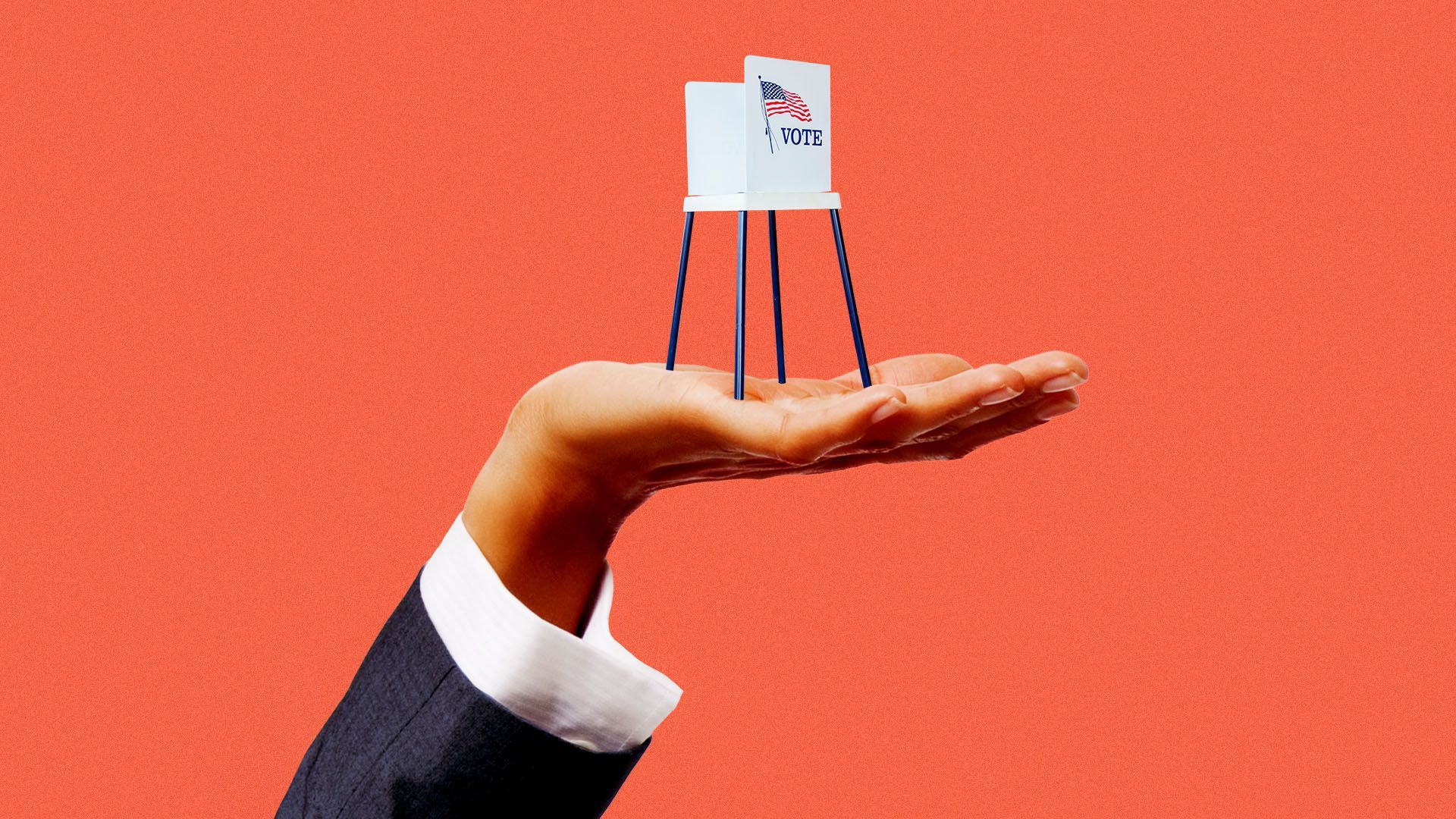 Tomorrow's GOP primary in Wisconsin illustrates why Democrats are intensifying their focus on secretary of state contests — as well as arguments that they are the guardians against the potential subversion of the 2024 election results, Axios' Alexi McCammond reports.
Driving the news: All three Republicans seeking the nomination in the Badger State have endorsed changing state election laws based on arguments the 2020 process was somehow flawed.
They've proposed eliminating a bipartisan elections commission (established by Republicans in 2016) and giving that power to the secretary of state.
Minnesota, Connecticut and Vermont also are hosting primaries tomorrow.
Why it matters: These once-overlooked races are being flooded with more money and attention as both major parties see the stakes for 2024.
The big picture: There are 27 secretaries of state contests on U.S. ballots this year — for 13 offices held by Democrats, 13 held by Republicans and one — in North Dakota — held by an independent.
The other battleground state contests include Nevada, New Mexico, Michigan, Georgia, Colorado and Arizona.
Zoom in: In Wisconsin, Doug La Follette, the Democratic incumbent seeking re-election, was first elected to the post in 1974 and has held it for most of the nearly half-century since.
He told Axios that around the country, "the secretary of state's office is coming into focus as the newest battleground to save democracy."
3. 🗺️ Illegal midterm maps tip scales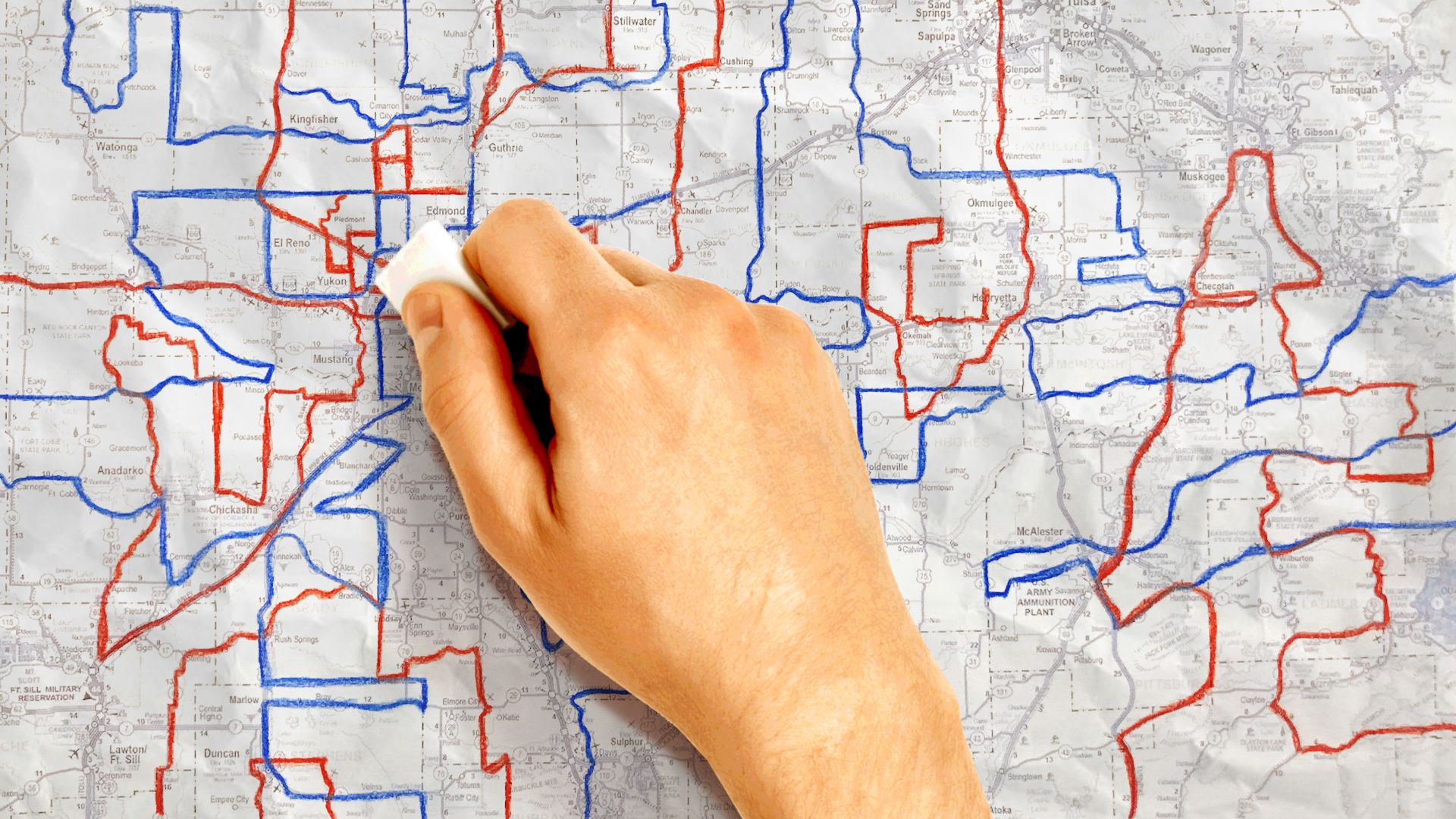 Four states that account for nearly 10% of U.S. House seats — Alabama, Georgia, Louisiana and Ohio — are using congressional maps this fall that judges either rejected or determined could be litigated if there was time for a trial, the New York Times' Michael Wines reports.
In most cases, the maps were found to be illegally drawn along racial or partisan lines.
The big picture: The trend has largely been driven by the Supreme Court's embrace of an informal and vague legal doctrine — known as the Purcell principle — that advises judges not to interfere with election procedures too close to the vote.
Why it matters: In an already-difficult election year for Democrats, Republicans are likely to win an additional five to seven House seats as a result of the gerrymandered maps, according to Cook Political Report's Dave Wasserman.
"We're seeing a revolution in courts' willingness to allow elections to go forward under illegal or unconstitutional rules," UCLA law professor Rick Hasen told the Times.
"And that's creating a situation in which states are getting one free illegal election before they have to change their rules."
Editor's note: This item has been updated to clarify that Georgia's map was not found to be illegal, but that a judge determined there was enough evidence to proceed to a trial.
4. 🐘 Charted: GOP's state-level dominance
Republicans have maintained control over more state legislative seats than Democrats for more than a decade straight, according to data from the National Conference of State Legislatures and Ballotpedia.
Why it matters: State legislatures have the power to shape voting rules, gun control laws, abortion access and other issues that often have a more direct impact on Americans than federal policies, Axios' Stef Kight writes.
5. 🎩 Tweet du jour: Hawley's hat tip
📬 Thanks for reading tonight. Send us tips or feedback by hitting reply to this newsletter or emailing [email protected]