Axios Sneak Peek
September 07, 2022
Welcome back from August recess. The Senate is in session, Britain has a historically diverse new government and the midterms are nine weeks from today.
Smart Brevity™ count: 1,130 words ... 4.5 minutes.
🗳️ Join Axios' Alexi McCammond and Alayna Treene in D.C. next Tuesday for an event exploring the state of voter access with White House adviser Keisha Lance Bottoms, NAACP Legal Defense Fund former president and director-counsel Sherrilyn Ifill and All Voting is Local executive director Hannah Fried. Register here to attend in person or virtually.
1 big thing — Scoop: Inside McCarthy's "Commitment to America"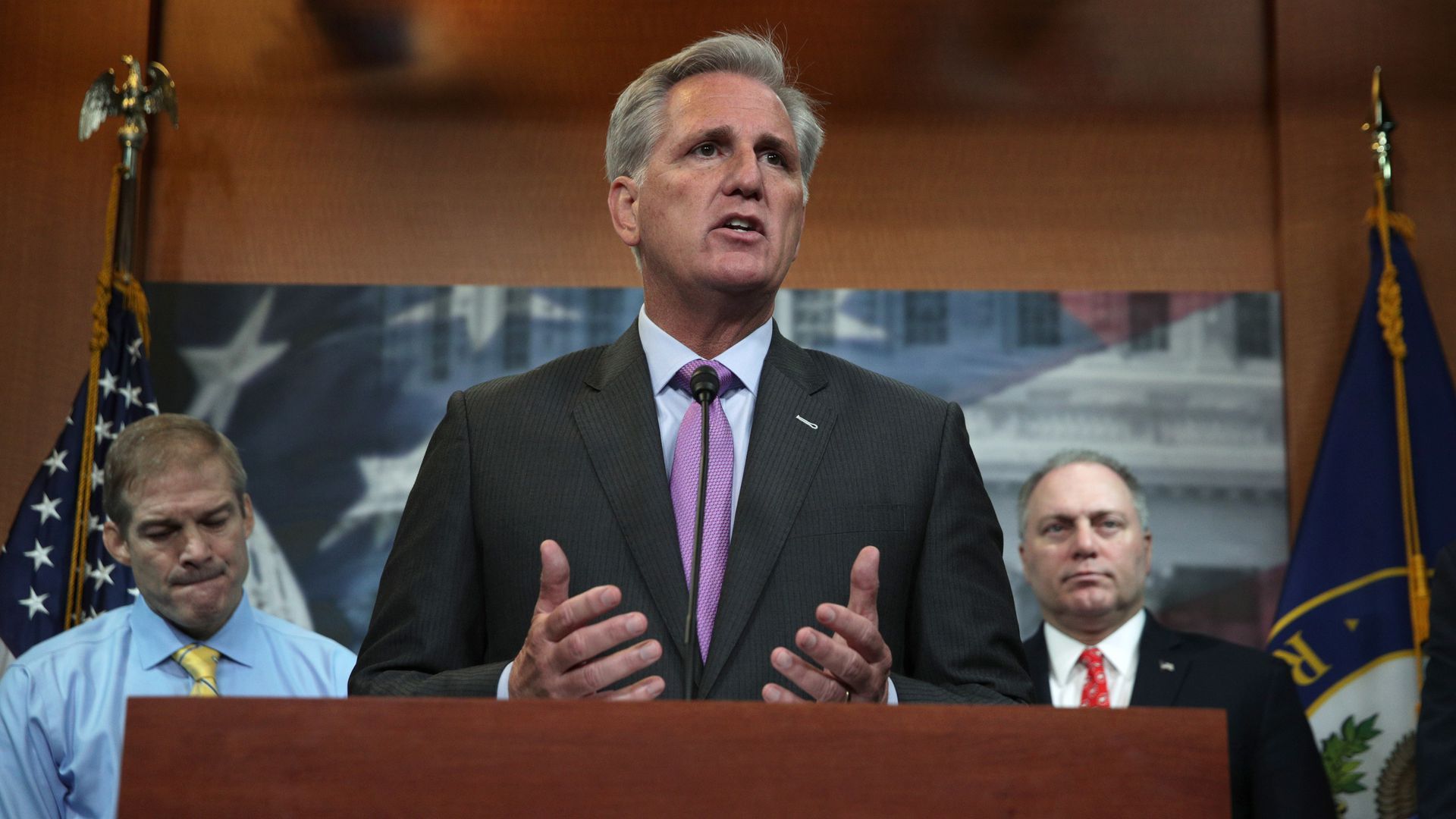 House Minority Leader Kevin McCarthy (R-Calif.) will formally unveil a four-part "Commitment to America" in Pittsburgh on Sept. 19 to tell voters why they should vote for Republicans — not just against Democrats — in November, Axios' Andrew Solender and Alayna Treene report.
Why it matters: Remember the GOP's "Contract with America" in 1994? It made promises on cutting taxes and government and other conservative ideals and was released six weeks before President Clinton's first midterms. Republicans enjoyed massive wins that year and flipped control of the House and Senate.
What we're hearing: This document will be much smaller. It aims to give Republicans a unified message to run on in the final stretch before November, saying they are committed to:
Worth noting: The document does not reference former President Trump's false claims about the 2020 election, which are supported by hundreds of GOP nominees across the country, according to a new FiveThirtyEight analysis.
Between the lines: No one is predicting 1994-level margins of victory for the GOP this year. And McCarthy's strategy of taking back the majority differs vastly from that of Senate Minority Leader Mitch McConnell (R-Ky.), who has refused to release a legislative agenda and prefers to focus instead on Democrats' failures.
State of play: The agenda reflects collaboration among not just leadership but the entire Republican conference.
"I've had a piece of putting this together," said Rep. Andrew Garbarino (R-N.Y.). "You'll have everybody from the most conservative district to the most swingiest district all pushing the same thing. So that should fire everybody up."
The bottom line: Rep. Don Bacon (R-Neb.), who told Axios he plans to participate in the rollout, said he's hopeful it will blunt recent Democratic momentum and put Republicans on a surer footing to retake control of the House.
2. ⚖️ Barr's DOJ advice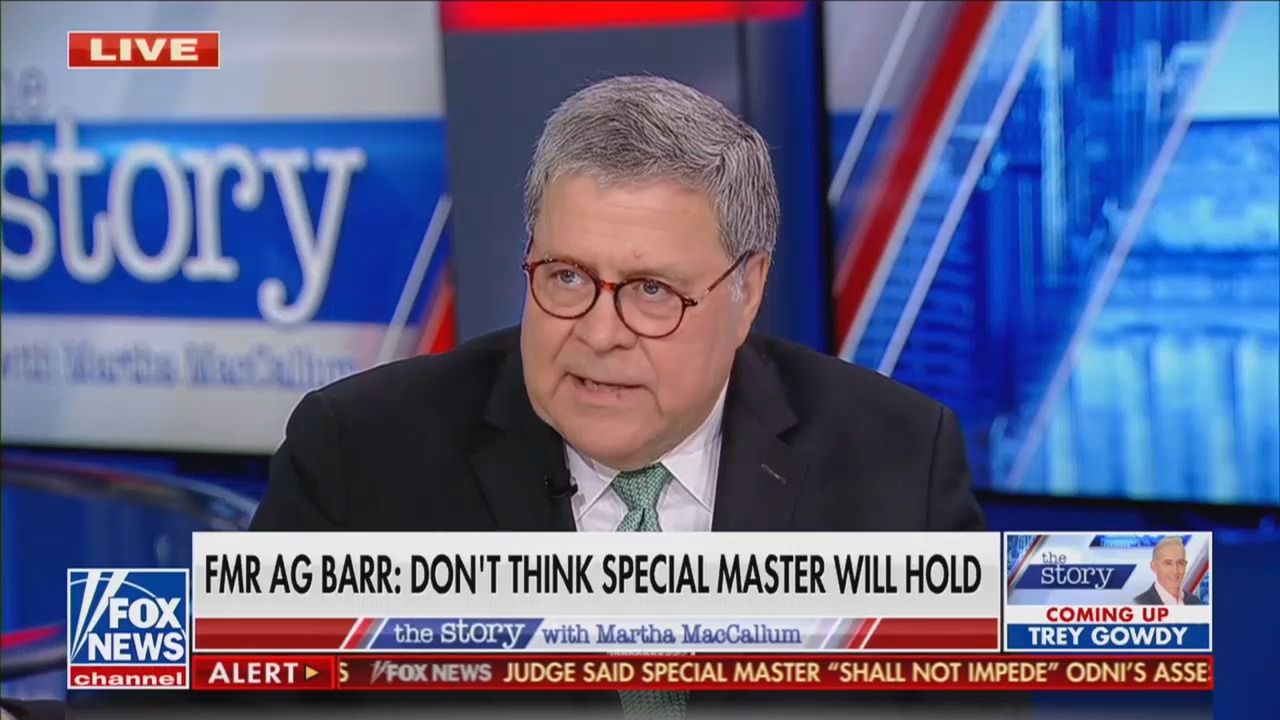 Former Attorney General Bill Barr has emerged as a surprise critic of former President Trump's case in the Mar-a-Lago classified documents investigation.
Why it matters: For years, Barr was pilloried by Democrats as a Trump loyalist who eroded Department of Justice independence while in office. This has made his searing criticism of Trump's defense — broadcast on numerous occasions on Fox News — even more potent.
Driving the news: Barr, like many legal experts, was baffled by a federal judge's decision over the weekend to order the appointment of an independent "special master" to review the 11,000+ records the FBI seized in its search of Trump's residence at Mar-a-Lago.
Barr called on DOJ to appeal the decision, slamming the judge's opinion as "deeply flawed in a number of ways" and predicting it would be overturned.
Asked on Fox about Trump attacking him as a RINO (Republican in Name Only), Barr laughed heartily and responded:
"A RINO for him is anyone that disagrees with him that the election was stolen. That's a RINO. As someone who handed out Barry Goldwater literature when I was 14 years old on the Upper West Side, it's a little silly."
⚡ Breaking: The Washington Post is reporting that documents on a foreign government's nuclear capabilities and top-secret U.S. operations were among those seized at Mar-a-Lago.
3. 🐘 Scoop: Hogan's "tough on crime" salvo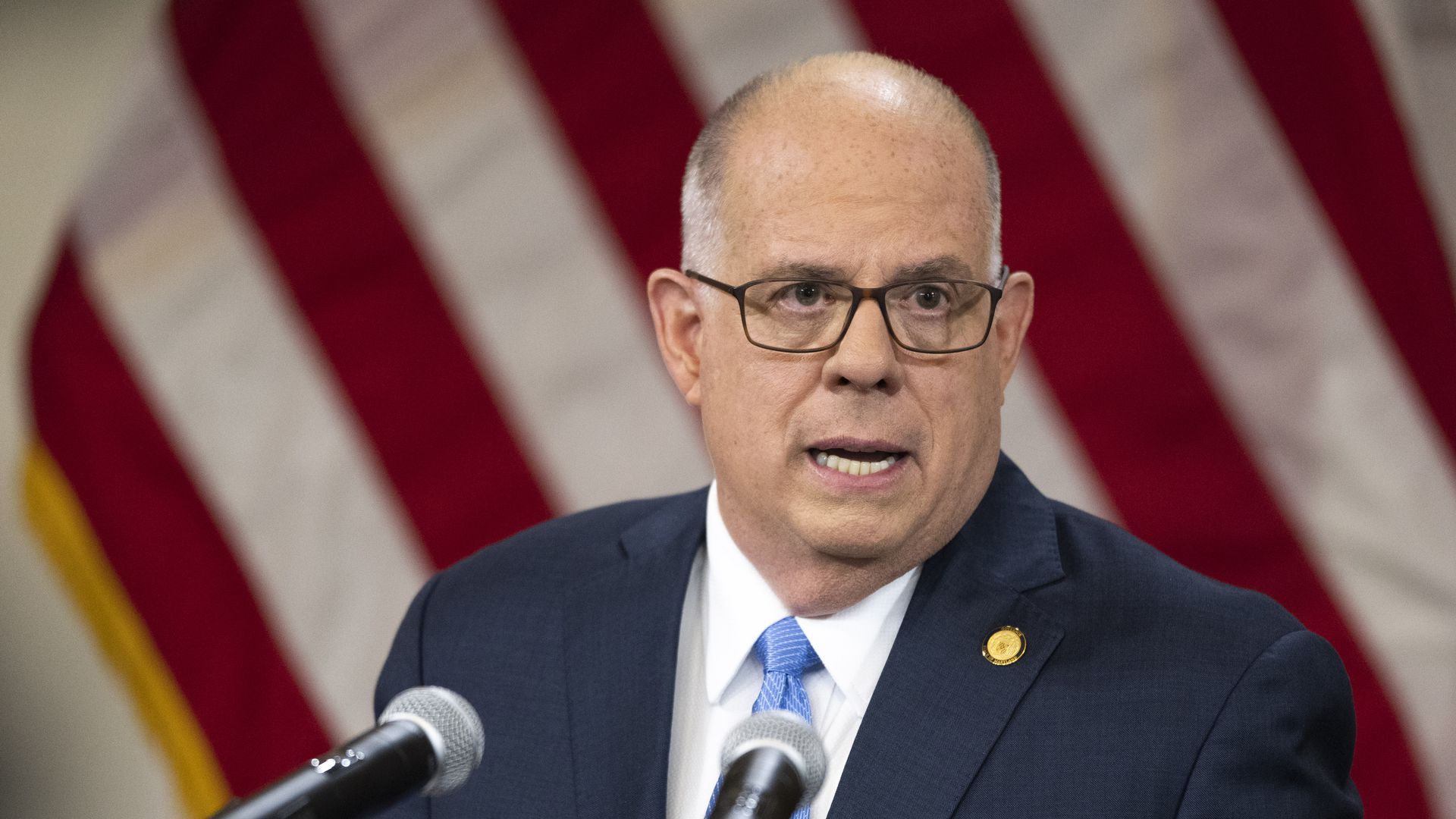 As elements of his party feud over the FBI's search of Mar-a-Lago, Maryland's Republican Gov. Larry Hogan is using his final weeks in office to launch a new "tough on crime" offensive, Alayna reports.
Why it matters: Hogan is seeking to chart a political future as a mainstream alternative to Trump by campaigning for and donating the maximum amounts to "pro-law enforcement" gubernatorial candidates in four key states.
The potential 2024 presidential candidate's new efforts in Oregon, Georgia, Nevada and New Mexico come as Trump and his allies have rallied around calls to defund or abolish federal law enforcement agencies after the FBI search.
After several years in which Republicans used the progressive "defund the police" slogan to attack Democrats as weak on crime, the pro-Trump dynamic has complicated GOP messaging in the final weeks of midterm campaigning.
What they're saying: "At a time of rising crime, Republicans must be the party of law and order and supporting law enforcement. It's absurd and dangerous that some Republicans would betray those principles and adopt the failed rhetoric of the far-left," Hogan told Axios.
4. 👀 Pompeo: "We've got a team in Iowa"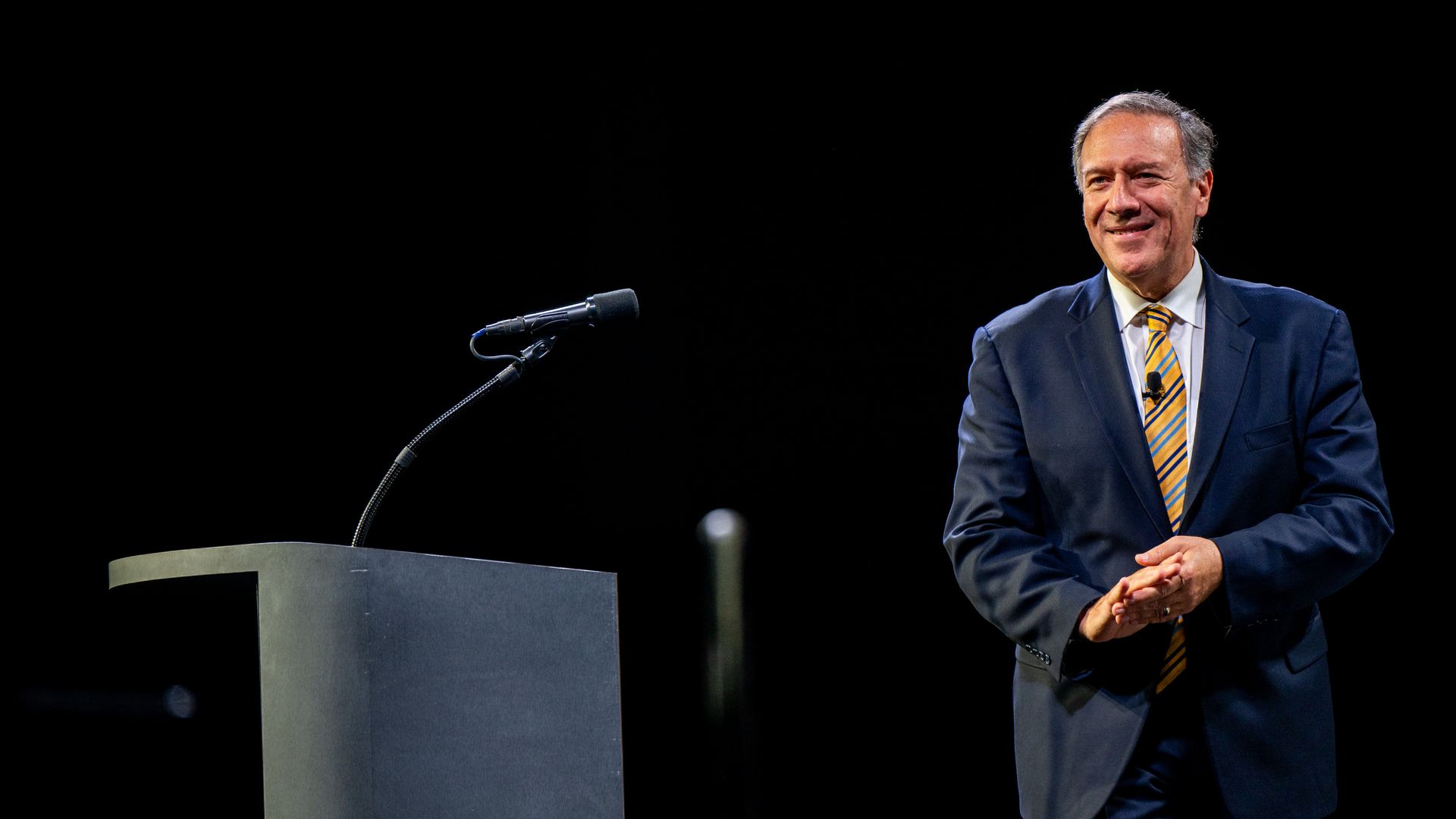 Former Secretary of State Mike Pompeo — who is also making no secret of his 2024 presidential ambitions — created rare daylight between himself and Trump in a wide-ranging interview with RealClearPolitics' Philip Wegmann:
China: Pompeo gave President Biden a rare B+ on his policies toward Beijing, praising the administration for pursuing key elements of the "strategic framework" he left behind.
Mar-a-Lago probe: "Anybody who takes classified information outside of the places it is supposed to be, should give that information back," the former CIA chief told Wegmann — though he also called the FBI's search of Trump's Florida residence "an overtly political act."
Trump's GOP attacks: Pompeo dismissed the recent baseless allegations by his former boss that Senate Minority Leader Mitch McConnell and his wife, former Transportation Secretary Elaine Chao, were working to "get rich on China."
5. 🌎 Pics du jour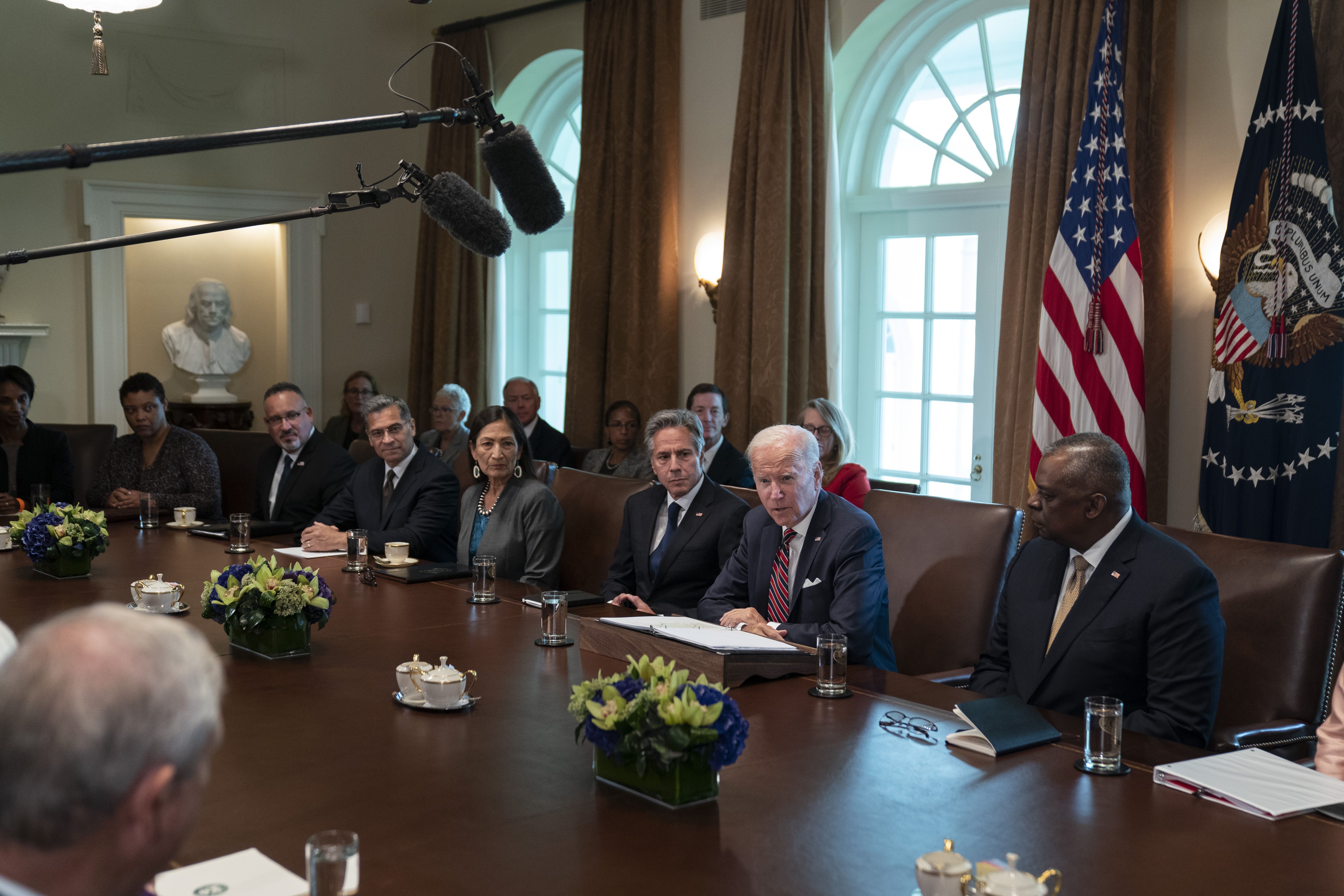 Above: President Biden assembled his Cabinet today to discuss how his administration would implement his signature legislative achievements passed in the final months before the midterms.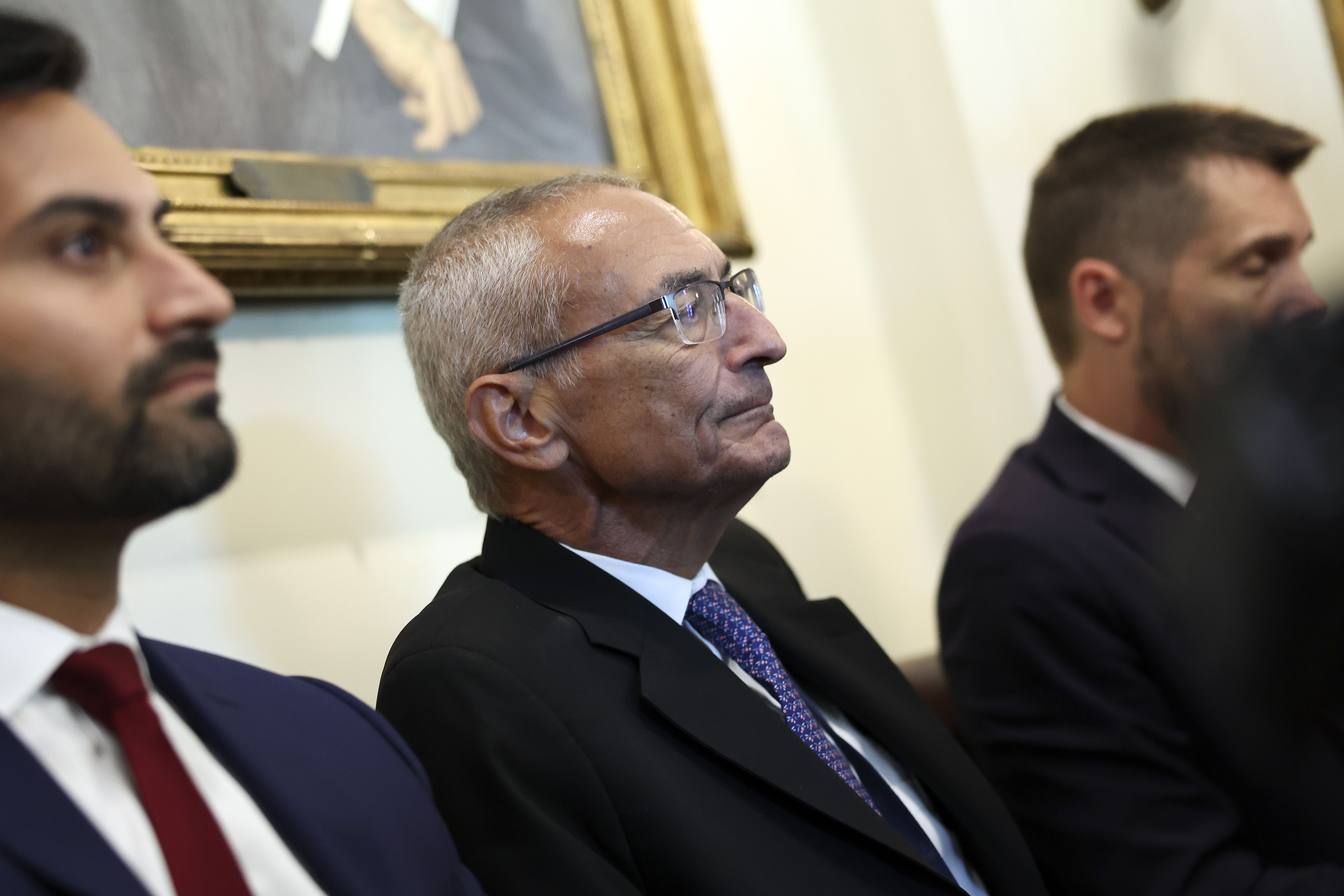 The newest face: Senior adviser John Podesta, who has been tapped to oversee roughly $370 billion in clean energy and climate-related investments passed in the Inflation Reduction Act.
📬 Thanks for reading! Send us feedback by hitting reply to this newsletter or emailing [email protected]