Axios Sneak Peek
May 10, 2020
Welcome to Sneak Peek, our weekly lookahead from both ends of Pennsylvania Avenue, plus our best scoops.
Tell your friends to sign up free for their weekly Sneak Peek.
🎥 On the next episode of "Axios on HBO," Vice President Mike Pence tells Axios' Mike Allen that he'd be "happy" to see former national security adviser Michael Flynn back in the government. See a clip.
Catch the full interview, plus much more, on Monday at 11pm ET/PT on all HBO platforms.
Tonight's newsletter is 1,721 words, a 6.5-minute read.
1 big thing: The next front in Trump's Biden attacks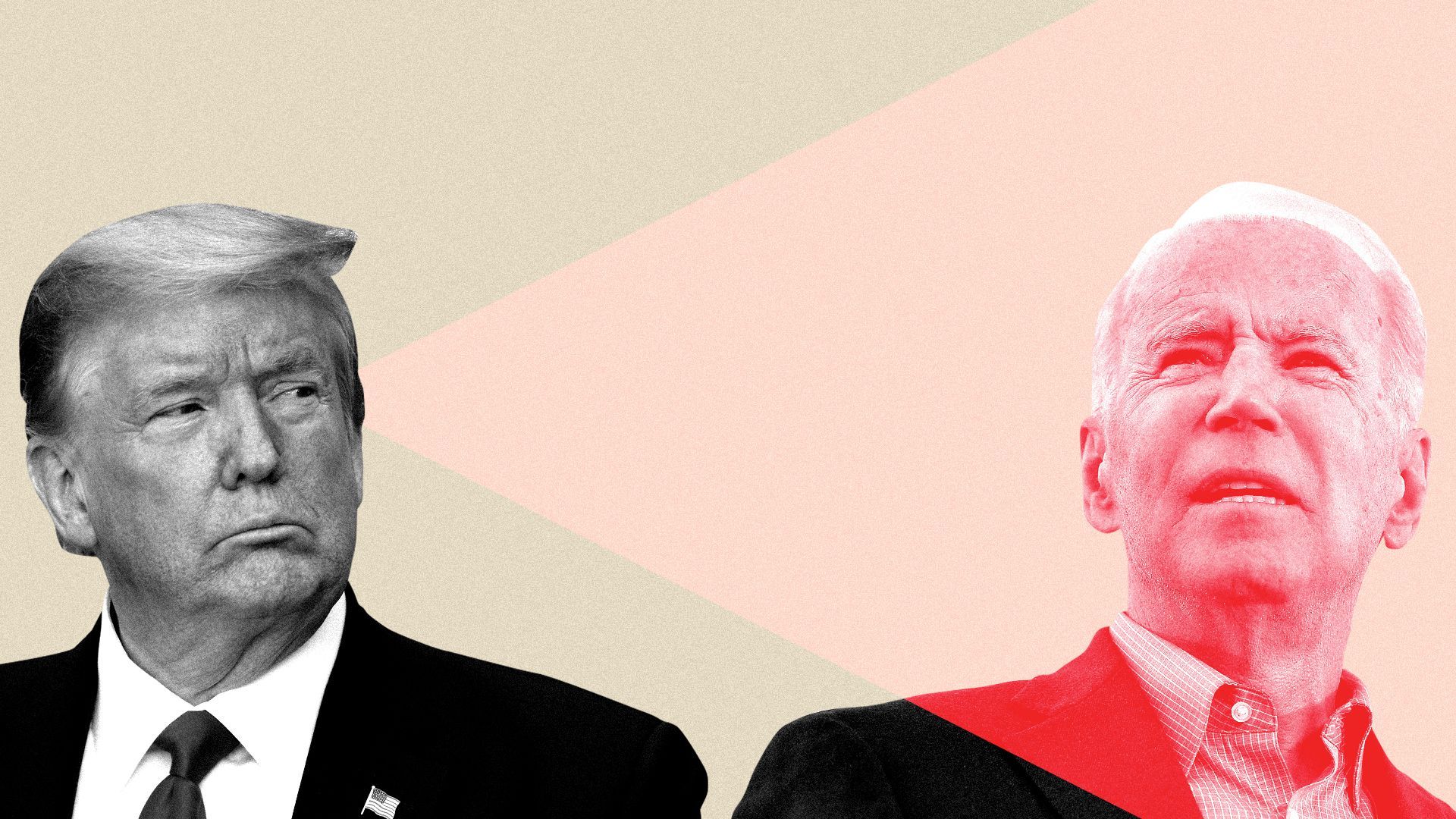 After weeks of holding back, President Trump's re-election campaign will unleash a series of tailored, swing-state attacks against Joe Biden, targeting him in Florida, Pennsylvania and the industrial Midwest, campaign officials tell Axios' Alayna Treene.
Why it matters: The pandemic forced a pause, and a lighter touch, on Trump's original attack plan against his presumed general election opponent, according to people familiar with internal conversations.
Advisers warned against too much overt negative campaigning at a time when thousands of Americans are dying and voters want the president focused on running the country.
"A lot of people have told the president to be careful, or risk seeming tone deaf to the needs of the country right now," a Trump administration official told Alayna.
But a few factors have informed the campaign's attack plans: Some states are reopening, Biden's poll numbers are strong, the economy is awful, and the U.S. has the world's worst reported coronavirus death toll. So the campaign is looking to change the subject.
Details: According to Alayna's sources, the campaign will launch state-specific attacks targeting Biden's record on three areas: Cuba, fracking and trade.
Extensive polling has shaped the strategy.
In Florida, the campaign will hammer Biden's recent comments saying he would restore Obama-era relations with Cuba.
"That would only make it easier for Cuba to help prop up [Venezuelan President Nicolás] Maduro if they were able to refill their coffers with American money," one official said. "You try to sell that idea to Cuban Americans and Venezuelan Americans in Florida. Go ahead and try!"
Biden told CBS Miami that Cuba is "having great difficulty propping up Maduro" and added that the U.S. could still sanction Cuba.
Reality check: The Maduro government has proved quite durable, despite a failed attempt to overthrow him in April 2019 and a battery of sanctions from the Trump administration. Its staying power is thanks in large part to support from the Kremlin.
In Pennsylvania, the campaign plans to attack Biden for what it calls "his embrace of the Green New Deal," which they will argue "piles endless regulations" on small businesses and stunts job creation, the officials told Axios.
"Tell that to people in Pennsylvania, with regard to the natural gas and fracking industry in the state, and how many jobs they depend on for that," an official said.
Reality check: While the Biden campaign calls the GND "a crucial framework for meeting the climate challenges we face," he hasn't actually endorsed it. Biden has said that as president, he would end subsidies for fossil fuels.
In the industrial Midwest: Trump's campaign will highlight Biden's support for the North American Free Trade Agreement as a senator and backing of the Trans-Pacific Partnership as Obama's vice president.
"He is going to try to campaign as 'Joe Lunchbox from Scranton, Pa.' But he will be exposed as 'NAFTA Joe,'" one official said.
Many voters throughout the Midwest and in rural America feel free-trade deals have hurt the U.S. and contributed to factory closings and overseas competition. This issue was a core part of Trump's 2016 victories in the Rust Belt.
Yes, but: Bernie Sanders also attacked Biden's trade record during the Michigan primary election, and he lost by a wide margin.
The big picture: This targeted approach comes on top of a national strategy, as Axios has reported, to brand Biden as soft on China.
The campaign dropped its first anti-Biden China ad earlier this week, and one official told Axios that Trump campaign manager Brad Parscale had "flipped the switch." "It's go-time," the official said.
The other side: None of this surprises Biden's campaign, which argues that Trump is vulnerable for mishandling the coronavirus pandemic and weakened because he can no longer brag about the economy.
Biden campaign spokesperson Andrew Bates tells Axios: "Donald Trump so abysmally failed our nation on the coronavirus that almost 80,000 Americans have lost their lives, and the historic economic recovery Trump inherited from the Obama-Biden Administration is now spiraling toward a depression."
"There's no desperate ad Trump can dream up that's more horrifying than what his failed leadership is putting the American people through."
The bottom line: The offensive comes as new polls show Trump trailing Biden in key swing states, including Florida, Michigan, Pennsylvania and Wisconsin.
2. What to watch from the White House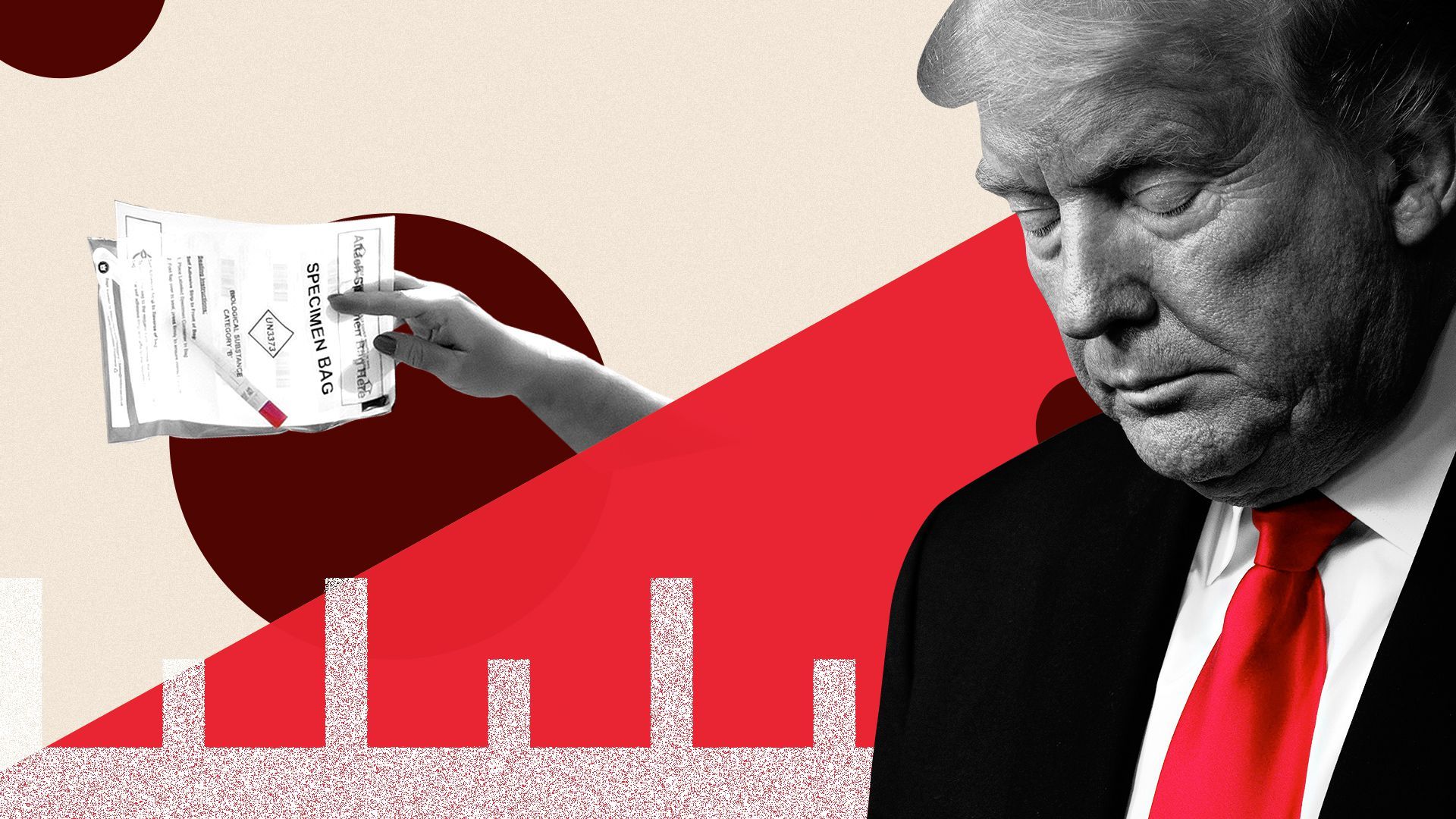 The White House will try to push two main themes this week: "preparedness and confidence," per a senior official.
The big picture: President Trump's aides plan to hold several events to try to persuade the public that they're ready for a likely second wave of the virus this fall. In particular, they'll focus on testing capacity and access to personal protective equipment.
"Testing messaging will reflect how much we've ramped up our testing to meet states' needs and feel confident about our testing capacity going into the fall," said one senior White House official.
"The secondary message will be the American people can have confidence as they begin to go back out into the public square," the official added. "We will have governors in to highlight their safe reopen plans. We'll also highlight private-sector efforts to get the country to reopen safely."
Governors expected to visit Trump at the White House this week include North Dakota's Republican Gov. Doug Burgum and Colorado's Democratic Gov. Jared Polis. (Politico's Playbook was first to report these coming visits.)
Between the lines: The Trump administration was slow to get testing up and running, and many parts of the country still lack the testing capacity that public health experts say is needed to safely reopen. But they've scaled up capacity substantially in recent weeks.
The bottom line: Trump and some of his top advisers have grown impatient with the shutdown. Americans are overwhelmingly reluctant about going back to ordinary life, and the Trump administration will try to persuade them it can be done safely.
Yes, but: In many parts of the country, these fears are well-founded, and the virus' U.S. death toll is closing in on 80,000. And despite Trump's wishful musings that the virus will disappear on its own, public health experts say no end is in sight without a vaccine.
3. Inside House Dems' whopping $1.2 trillion+ package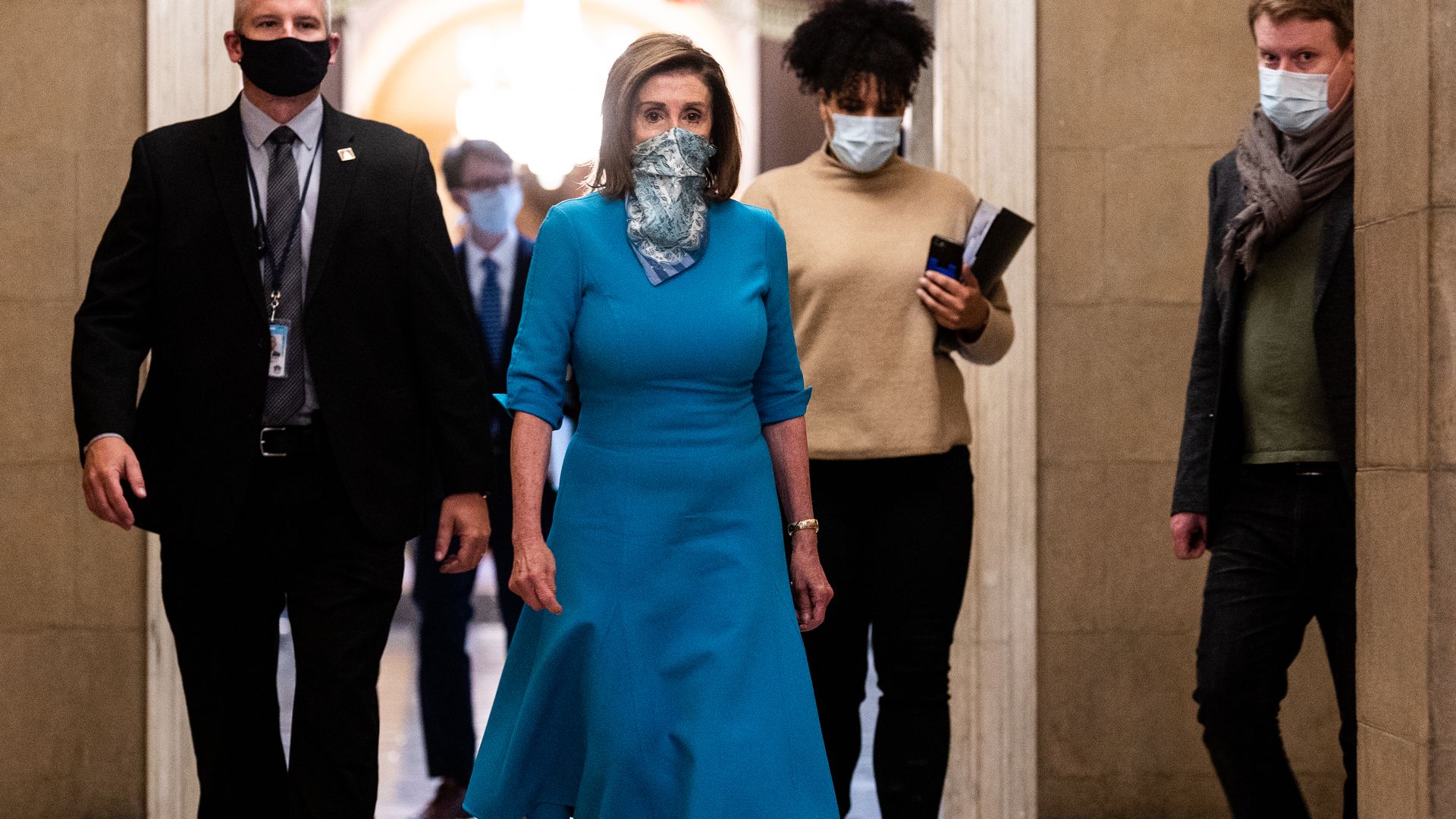 House Democrats could bring their phase 4 coronavirus relief package (CARES 2) to the floor for a vote as early as this week — but, for now at least, it's going nowhere, Alayna reports.
State of play: Democrats have crafted a $1.2 trillion+ package without input from the White House or Hill Republicans, congressional aides familiar with their plans tell Alayna.
GOP leadership says it's still waiting for billions of aid allocated in the first $2.2 trillion CARES Act to go out the door.
The White House says it wants to evaluate the economic impact of reopening before passing another large stimulus package.
But House Democrats see the proposal as a way to lay down a marker of their priorities and prod congressional Republicans and the White House toward more economic relief for individuals, state and local governments, and the U.S. Postal Service.
Speaker Nancy Pelosi (D-Calif.) and her caucus also want to show voters that they're still working, despite members remaining in their districts.
Those optics could be important politically given the Senate's decision to return to Washington last week. (House Republicans have been chiding Democrats for staying home in their districts when, they say, they should be at work.)
Details: The legislation, which is still being drafted and is subject to change, is expected to include:
Roughly $1 trillion for state and local governments. They want to split this money into separate revenue streams to ensure each community can access it.
More money for hospitals and COVID-19 testing.
Roughly $25 billion to keep the U.S. Postal Service afloat.
Expanded nutritional benefits, Medicaid funding and unemployment insurance.
Another round of direct payments to Americans.
House leadership is also working on narrowing down the guidelines for how these funds are allocated to ensure that people aren't "double dipping" into the different pots of money, a senior Democratic aide told Axios.
For example, they do not want someone who is receiving more unemployment money to also receive another stimulus check and other benefits.
"We're trying to limit the amount of overlap so people aren't abusing the system," the aide said.
The package will not include liability protection for businesses, which Senate Majority Leader Mitch McConnell (R-Ky.) said is a top priority for Republicans.
It also will not include a payroll tax cut, something President Trump has insisted on.
House Democrats have said both of these proposals are nonstarters.
The backdrop: This comes as the pandemic continues to choke the U.S. economy — which shed 20.5 million jobs in April as unemployment hit 14.7%.
Go deeper: The coronavirus is outlasting the stimulus
4. Sneak Peek diary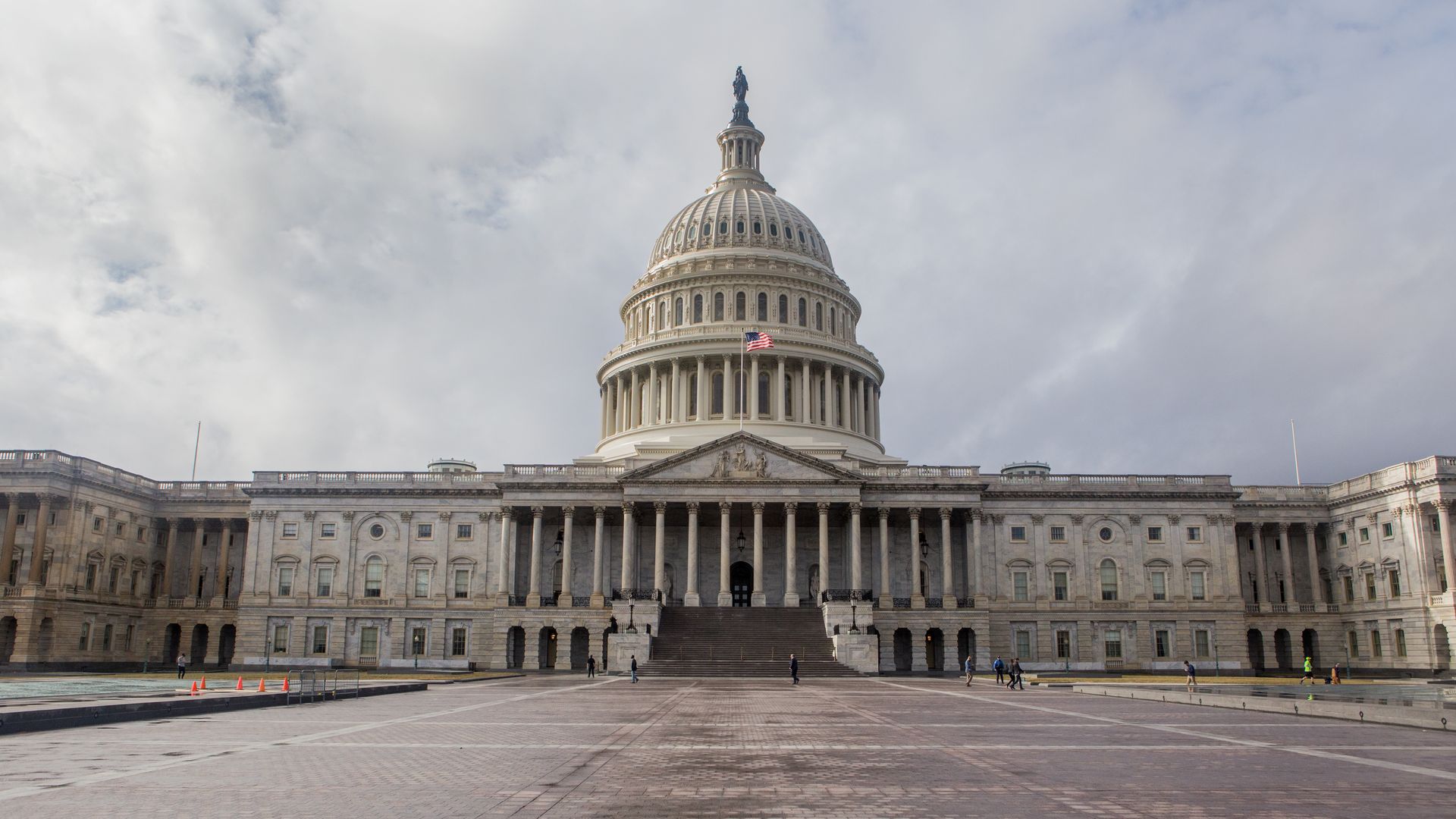 The House is expected to return to Capitol Hill as early as this week to consider a fourth coronavirus relief package (see item 3), Alayna reports.
The House is also expected to consider new legislation to let members vote remotely. Most House Republicans oppose this measure.
The Senate will vote on the following nominees, per McConnell's spokesperson:
Brian Montgomery as Deputy Secretary of Housing and Urban Development
Troy Edgar as Chief Financial Officer of the Department of Homeland Security
The Senate and House have two much-anticipated hearings:
Tuesday: Anthony Fauci, director of the National Institute of Allergy and Infectious Diseases; CDC director Robert Redfield; Assistant Secretary of Health Adm. Brett Giroir; and FDA commissioner Stephen Hahn will testify via videoconference before the Senate Committee on Health, Education, Labor, and Pensions.

Fauci, Redfield and Hahn are all self-quarantining after coming in "low risk" contact with a White House staffer who tested positive for the virus.

Thursday: Rick Bright, a former HHS official who filed a whistleblower complaint alleging the agency failed to take early action to mitigate the threat of COVID-19, will testify before the House Energy Subcommittee on Health.
President Trump's schedule, per a White House official:
Trump is expected to travel to Pennsylvania this week.
He will also welcome North Dakota Gov. Doug Burgum and Colorado Gov. Jared Polis.
Bonus: Secretary of State Mike Pompeo will travel to Israel on Wednesday, his first trip abroad since the beginning of the coronavirus pandemic.
The Supreme Court will hear arguments virtually in the following cases:
Monday: Exemptions for religious employers in discrimination lawsuits.
Tuesday: President Trump's financial records.
Wednesday: Whether presidential electors must cast their Electoral College ballots for the candidate who wins the popular vote in their state.
5. Happy Mother's Day, MUM!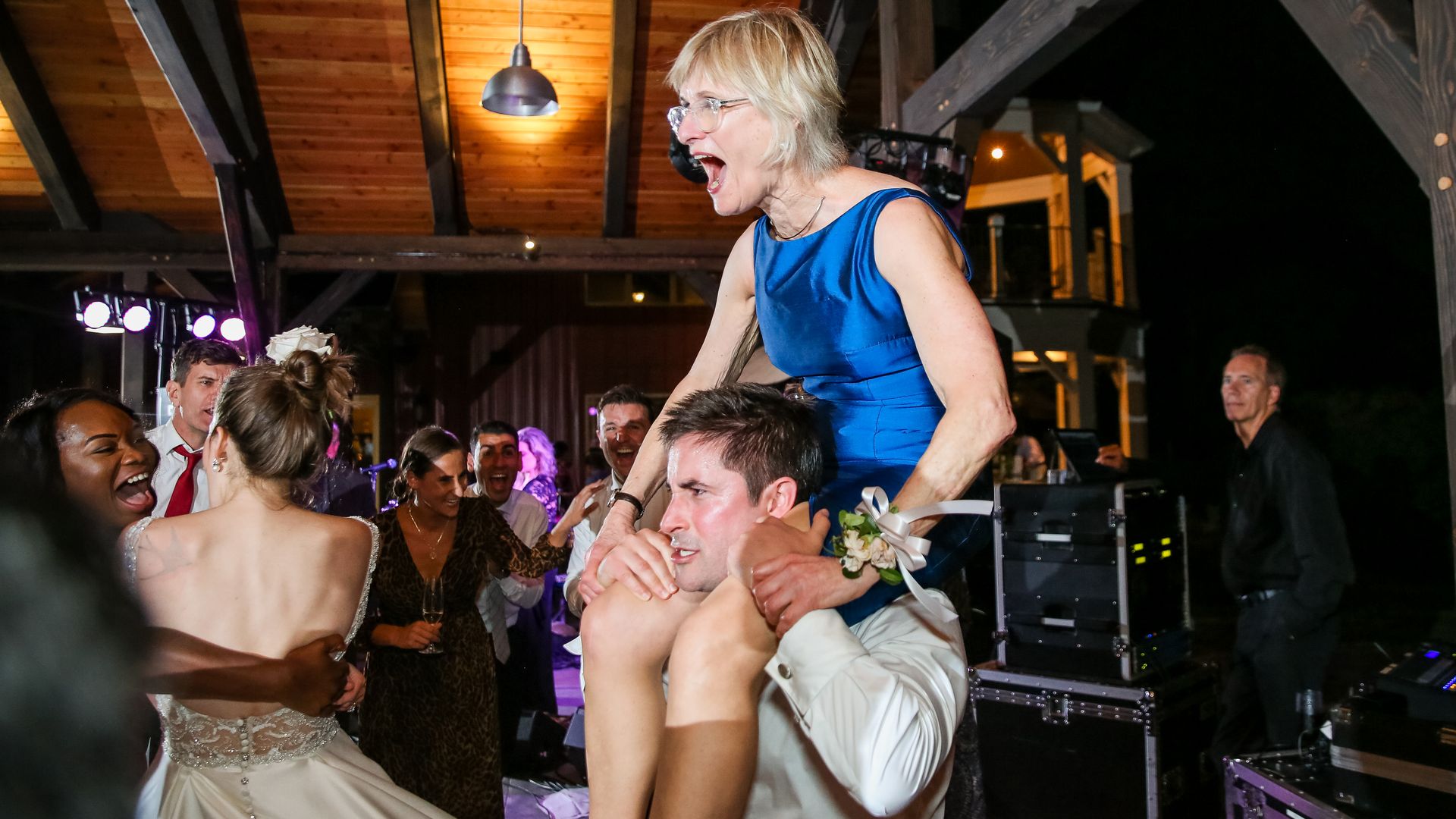 Happy Mother's Day to my mum, Lee, who I will never be able to properly thank for everything she's done for me. I've adapted to most American spellings, but mum would never allow me to spell it MOM. She's balanced a successful pediatric practice with raising three challenging kids, all with patience, grace and a good sense of humor (as you can see in this picture from my wedding). I love you, Mama!