Axios Sneak Peek
March 11, 2018
Welcome to Sneak Peek, our weekly lookahead for both ends of Pennsylvania Avenue, plus my best scoops. I'd love your tips and feedback: [email protected]. And please urge your friends and colleagues to join the conversation by signing up for Sneak Peek.
1 big thing ... Scoop: Trump privately trashes Rick Saccone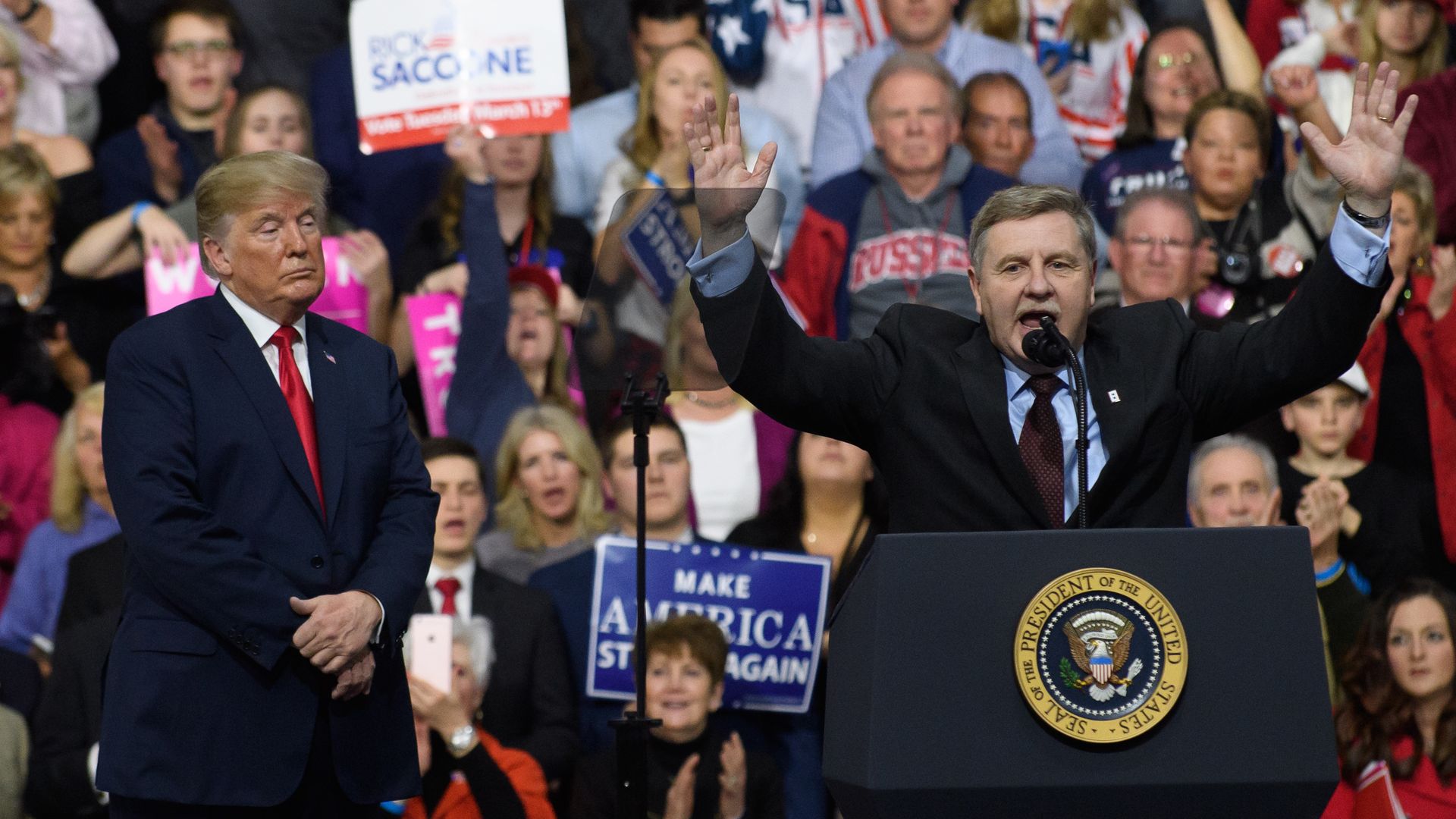 There's a reason Trump said hardly anything about Republican candidate Rick Saccone during a rally in Pennsylvania on Saturday night that was supposed to promote his candidacy. The reason: Trump thinks Saccone is a terrible, "weak" candidate, according to four sources who've spoken to the president about him.
Trump held that opinion of Saccone before leaving for the rally, and I've not been able to establish whether his time on the ground with the candidate changed his mind.
Trump isn't the only top Republican who's found Saccone underwhelming. The widely-held view from Republican officials: Democrat Conor Lamb is a far superior candidate to Saccone and running a far better campaign. Lamb is running effectively as Republican Lite. He's pro-gun and says he personally opposes to abortion (though he supports abortion rights).
The thing that most irks senior Republicans involved in the race: Saccone has been a lousy fundraiser. Lamb has outraised Saccone by a staggering margin — nearly 500 percent.
I spoke on Saturday to Corry Bliss, who runs the outside groups linked to Paul Ryan and may have as much as $140 million to spend on the midterm elections.
"The lesson of this race is that campaigns and candidates matter," Bliss told me. "In this environment, when one campaign out-raises and runs circles around the other, that creates a number of challenges that are tough to overcome."
The election is on Tuesday.
Why this matters: Forecaster Nate Silver tweeted today: "Stating the hopefully-obvious, but the fact that PA-18 is competitive is a really bad sign for Republicans. It voted for Trump by 20 points and Romney by 17. The previous Republican incumbent there (Tim Murphy) didn't even have a Democratic challenger in 2014 or 2016 & won by 28 points the last time he did, in 2012."
Polls suggest a tight race —

RealClearPolitics calls the contest a "Toss Up"

— and even a narrow victory by Saccone would be a massive swing against Republicans.
Should Saccone lose, Republicans will be quick to describe his loss as meaningless and will argue it's not a bellwether for November's elections. They'll say he was a terrible candidate and that his loss should be a wake-up call to other Republican candidates who may be getting lazy about their fundraising.
Bottom line: Cook Political Report's Amy Walter emailed me this quick analysis: "My short answer is that one should never read too much into any one race but this is more than Saccone. This is a red congressional district that should go for the generic Republican. But the environment today is much worse than 'normal' for Republicans. That's not because of Saccone or Lamb, but because of Trump."
2. Scoop: Trump finally losing patience with VA Sec. Shulkin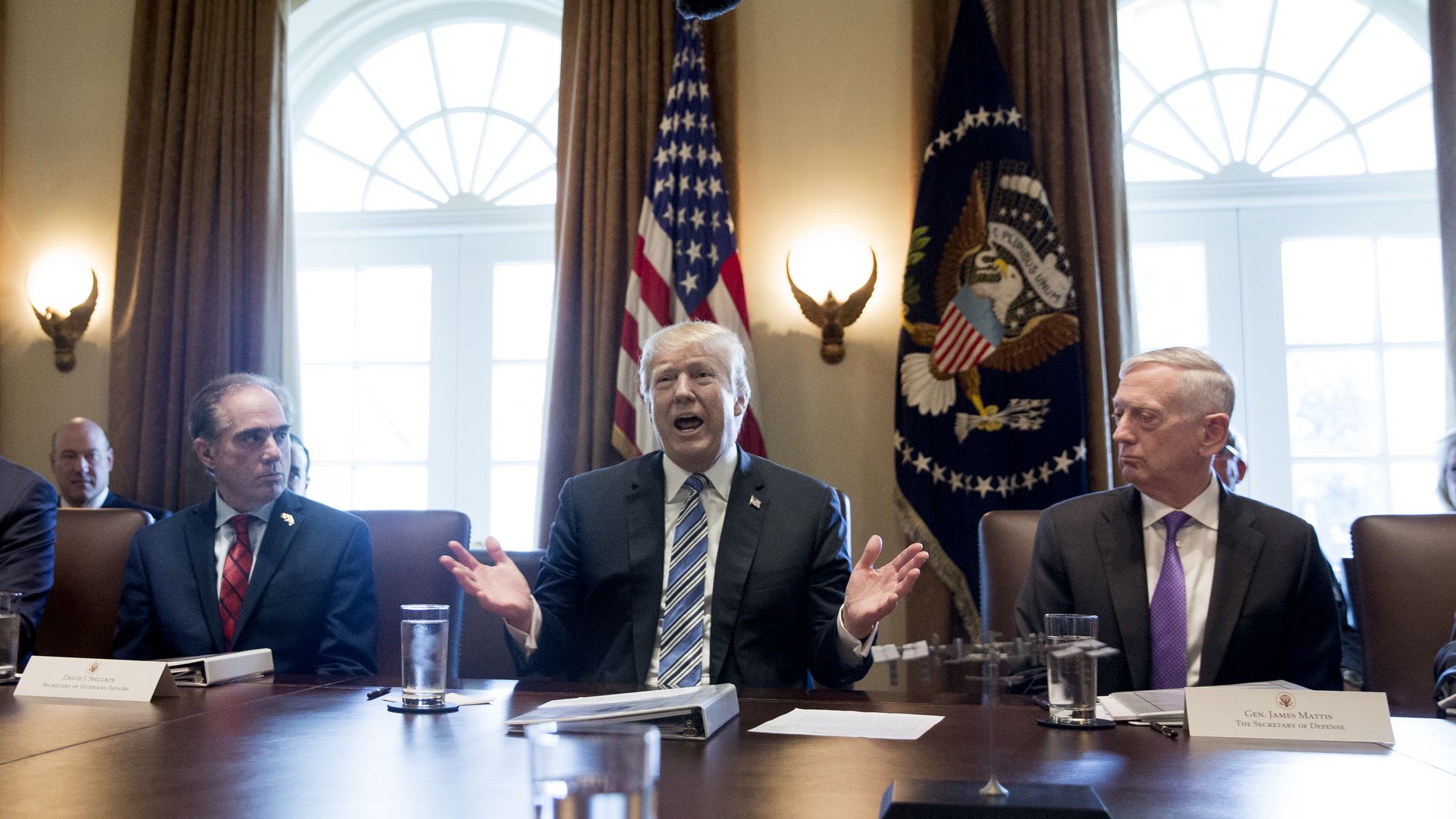 It took a few weeks to land on his radar, but President Trump now views Veterans Affairs Sec. David Shulkin as a major problem. Trump has been telling associates he doesn't know what's happened at the VA, but he doesn't like what he's hearing and he may have to fire Shulkin if the situation further deteriorates.
The short version: After the VA's inspector general reported that Shulkin used taxpayer dollars to pay for his wife to go to Europe, the VA secretary has been telling anyone who will listen that Trump appointees in his agency are conspiring to undermine him. He started handling his own media relations because he doesn't trust the agency's communications staff.
Behind the scenes last week, chief of staff John Kelly met with Shulkin at the White House on Monday afternoon. Shulkin brought along his deputy Tom Bowman and his chief of staff Peter O'Rourke, according to three sources with direct knowledge.
Kelly told Shulkin he's got to end the drama at the VA and stop fighting with his staff. Kelly's sick and tired of Shulkin freelancing and talking directly to the press. He wants Shulkin to just shut up and stop causing drama, those sources say.
Kelly's bottom line message to Shulkin: Continue your mission and get back to work. We can't keep going on like this. (But Kelly did tell Shulkin he'd help him deal with the personnel problems at the VA.)
Right after his meeting with Kelly, Shulkin was brought into the Oval Office to talk to Trump. The conversation quickly turned to discussing important legislation to reform the VA health care system.
Trump surprised Shulkin by dialing in Fox & Friends host Pete Hegseth on speaker phone to get his opinion of the legislation, according to two sources with knowledge of the conversation.
The Trump administration is debating a few different bills and trying to reconcile them. Conservatives prefer a bill pushed by Sen. Jerry Moran, while moderates prefer legislation pushed by Sen. Johnny Isakson.
The Hegseth call put Shulkin in an awkward spot, according to those sources. Hegseth competed for Shulkin's job and favors more aggressive reform for the VA. Trump talks to Hegseth regularly and enjoys watching him on Fox and Friends.
What came next shocked Kelly: After visiting the White House, Shulkin spoke to The New York Times. He declared victory, announced he had the power to can insubordinate political appointees, and said he had the White House's full support.
From the WH's perspective: They agreed to work with Shulkin on fixing his staff problems, but he went directly to the media and declared victory.
In response to my questions, Shulkin's Strategic Communications Advisor Ashleigh Barry emailed the following quote from the Secretary: "The meeting with the President and VA Chief of Staff was productive, supportive and focused solely on moving forward in the best interest of our Veterans." Barry added: "we will not be providing further comment."
Go deeper: Read my full report.
3. Trump's giddy spree
His staff have whiplash, but Donald Trump is having the time of his life. He had one of his most joyous weeks of his presidency last week.
While senior officials and cabinet secretaries were struggling to keep up — and many eventually threw up their hands when they realized they couldn't keep track of what was going on with tariffs and North Korea — Trump was careening around the building, acting as his own chief of staff, chief strategist, cable news producer, and communications director all rolled into one.
Sources who've spoken with the president in the past few days describe him as "giddy" — a man who has finally fully indulged his itch to break free of John Kelly's restraints.
Trump is playing out the Corey Lewandowski campaign version of his presidency: "Let Trump Be Trump."
What's next? We have no earthly idea. And nor do Trump's closest confidants, senior staff, Republican leaders on Capitol Hill, or, we strongly suspect, Trump himself.
4. What Trump told Netanyahu on the Iran deal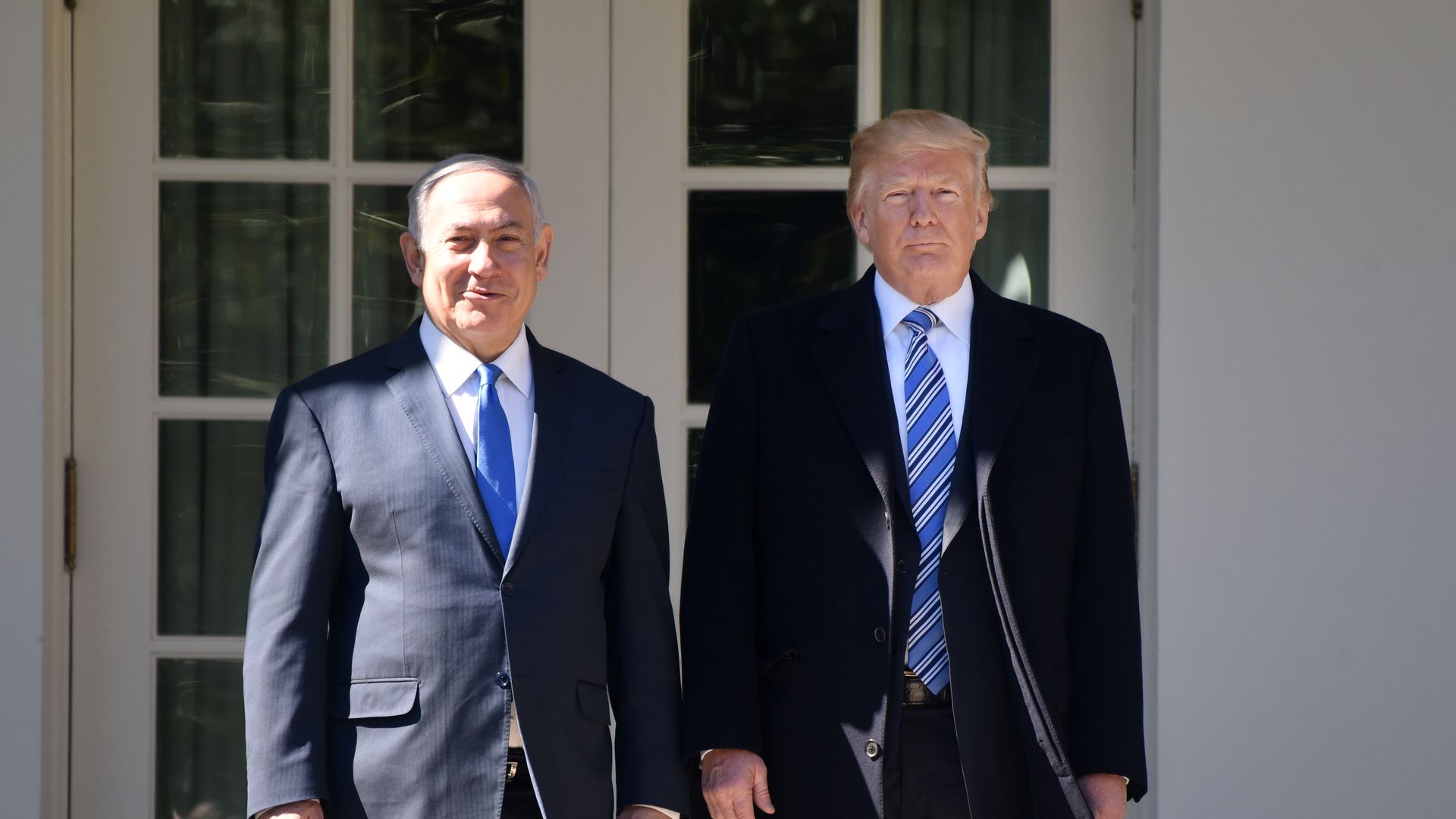 President Trump told Israeli Prime Minister Netanyahu last Monday at the White House that he won't show flexibility in negotiations with France, Germany and the U.K. on amending the Iran nuclear deal, my colleague Barak Ravid scooped today for Axios and Israel's Channel 10 News.
Israeli officials say Trump told Netanyahu the Europeans have only proposed "cosmetic changes" that he doesn't find satisfactory. Trump said he demands "significant changes" in the Iran deal itself and not simply the addition of a supplemental agreement between the U.S. and the European countries, according to the officials.
The bottom line: Trump stressed that if his demands are not met, the U.S. will withdraw from the deal.
Go Deeper: Read Barak's full report.
Barak also reported today that Netanyahu has informed his cabinet that Trump does not currently have a concrete Middle East peace plan:
"There is no concrete U.S. peace plan on the table at the moment. I am not saying there couldn't be one in the future, but right now there is none."
— Netanyahu to his cabinet.
5. Sneak Peek diary
The Senate expects to vote this week on: legislation rolling back some of the regulations in the Dodd-Frank financial reform law, and the nomination of Kevin McAleenan to be Commissioner of U.S. Customs and Border Protection.
The Senate is then expected to move to an anti-sex trafficking bill pushed by Ohio Sen. Rob Portman, though it's unclear when they'll vote on it.
The House expects to vote Tuesday on its version of "Right to Try" legislation. The bill, per the WSJ, "would enable a terminally ill patient to use an unproven, investigational drug in an effort to save that person's life." The Senate has already passed its version of the bill and Trump backed the legislation in his State of the Union address
On Wednesday, the House will vote on its version of a bill to make schools safer against gun violence. The White House has also been pushing this type of legislation, and the Senate has its own version.
President Trump's schedule, per White House officials:
Monday: The President celebrates the Houston Astros, 2017 World Series champions.
Tuesday: The President travels to California to view prototypes of his "big beautiful wall." He also has a fundraiser, and will speak to the military.
Wednesday: The President travels to Missouri where he's expected to appear at Boeing's St. Louis plant "to sell tax cuts and economic growth," according to the St. Louis Post-Dispatch.
Thursday: The President welcomes the Prime Minister of Ireland to the White House. Trump also attends a St. Patrick's Day lunch hosted by Paul Ryan, and Trump and the First Lady attend the Shamrock Bowl presentation by the Prime Minister of Ireland.
6. 1 familiar thing: LBJ on loyalty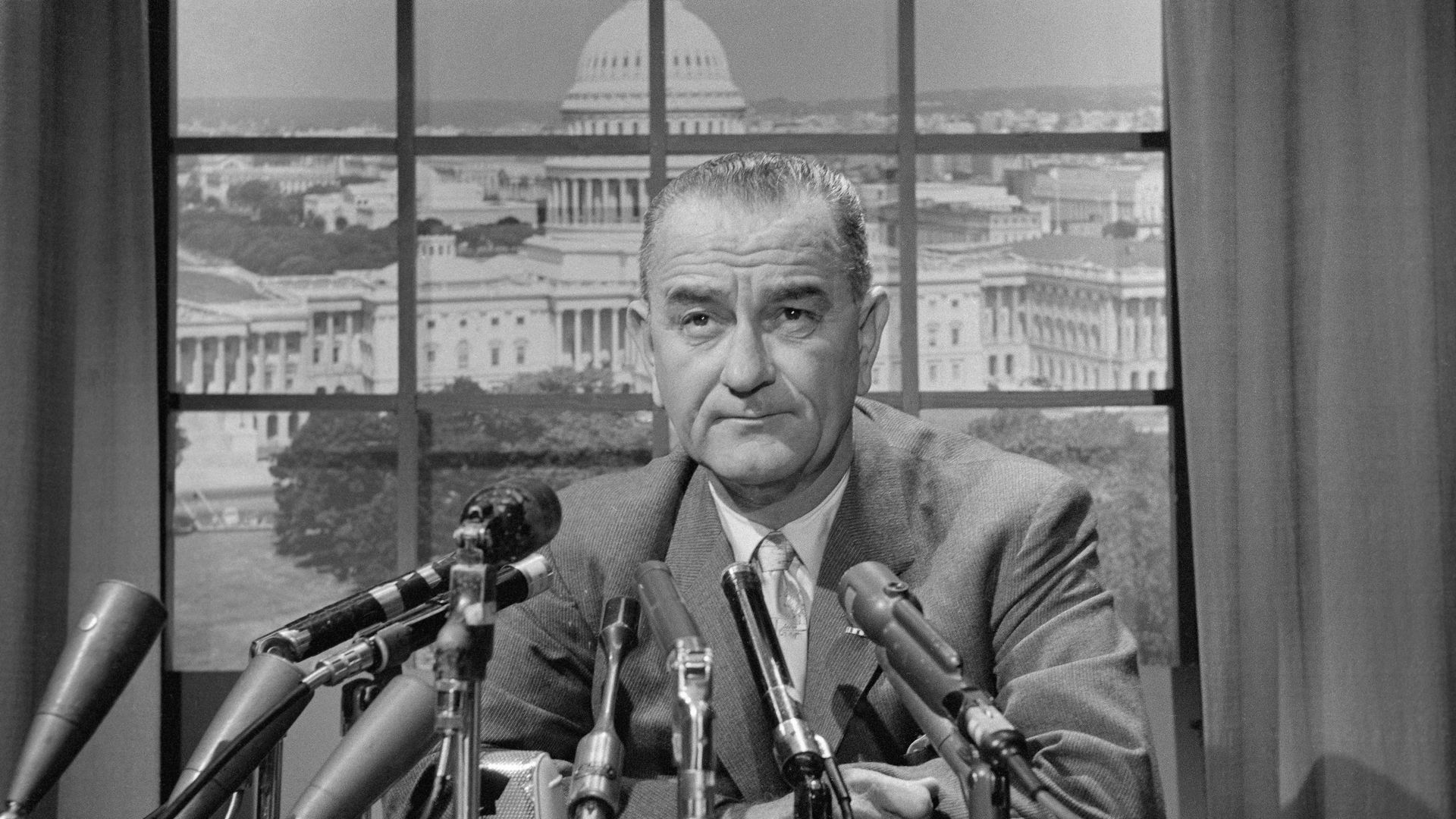 I've been re-reading David Halberstam's "The Best and the Brightest" and his description of Lyndon B. Johnson's view of loyalty sounds exactly how White House aides describe Donald J. Trump's views on the subject.
Here's Halberstam on LBJ:
"He was a relentless man who pushed himself and all others with the same severity, and demanded, above all other qualities, total loyalty, not loyalty in the traditional sense, not positive loyalty as John Foster Dulles had demanded, but total loyalty, not just to office or party or concept, but loyalty first and foremost to Lyndon Johnson... One reason for the long and intimate friendship between Johnson and Abe Fortas was the fact that despite the Johnson inner circle's doubts about the political acumen of Fortas, he was one of the few major Democratic doyens of Washington who was loyal to no other major Washington figure. He was Lyndon's man. Lyndon of course liked to personalize things: his people, his staff, his boys, his bombers...
"He was ill at ease with abstract loyalty, loyalty to issue, to concept, to cause..."
Why this matters: One reason Trump will never forgive Attorney General Jeff Sessions for recusing himself is because he will never respect that the AG says his ultimate loyalty lies with institutions and norms, not Trump. The president wants everyone who works "for him" — including members of what he calls the "Trump Justice Department" — to be loyal to him personally, above all else.