Axios Sneak Peek
January 14, 2018
Welcome to Sneak Peek, our weekly lookahead for both ends of Pennsylvania Avenue. I'd love your tips and feedback: [email protected]. And please urge your friends and colleagues to join the conversation by signing up for Sneak Peek.
1 big thing: Trump softens on NAFTA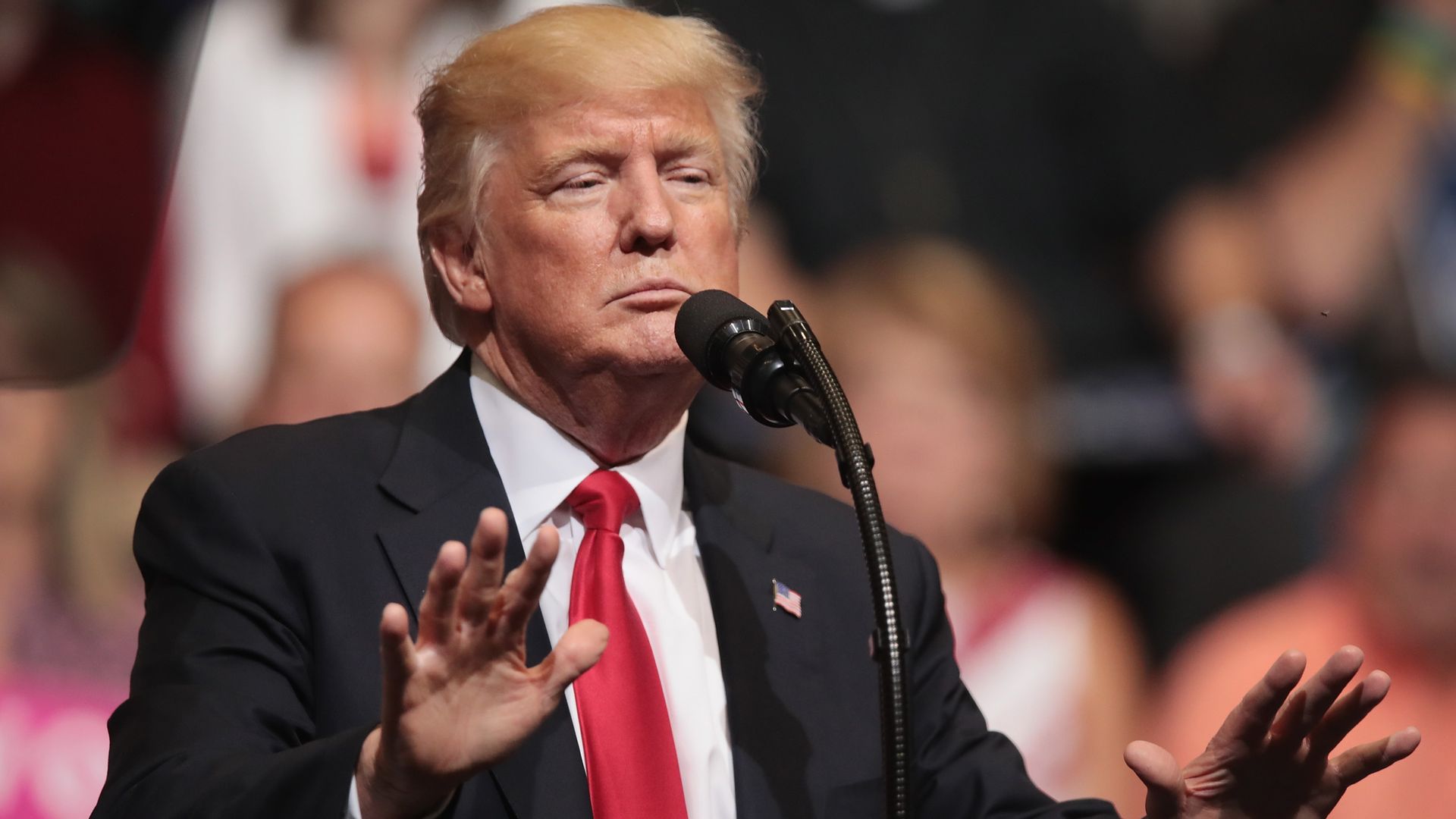 The White House will never admit this publicly, but the president is developing a softer attitude towards the North American Free Trade Agreement (NAFTA). Five sources who've spoken privately with Trump about NAFTA say he's taking more seriously the risks of withdrawing the U.S. from the trade deal with Canada and Mexico.
A conga-line of Republican senators have met with the president and explained to him why they consider NAFTA so important to their states. Two arguments have helped change Trump's thinking:
Withdrawing from NAFTA might interrupt the stock market's record-breaking run under his presidency. When it comes to bragging rights, Trump views the Dow Jones Industrial average as a useful substitute for his poll numbers. Though he told the WSJ that he thought U.S. markets would go up if he terminated NAFTA, sources who've spoken with the president say that privately he's less certain of that — and is loathe to jeopardize the stock market's record-breaking streak.
Withdrawing from NAFTA would harm farmers and agricultural communities — whom Trump considers "my people."
Trump made two telling comments this week, which were buried under the deluge of porn star and "shithole" news:
He told a group of farmers in Nashville — an audience adorned with "I support NAFTA" pins — "On NAFTA, I'm working very hard to get a better deal for our country and for our farmers and for our manufacturers...It's not the easiest negotiation, but we're going to make it fair for you people again." That's a much gentler tone than Trump usually uses to discuss the deal.
He told the WSJ this: "I would rather be able to negotiate [NAFTA]. We've made a lot of headway. We're moving along nicely. Bob Lighthizer and others are working very hard, and we'll see what happens."
Why this matters: The White House will never publicly admit Trump is shying away from terminating NAFTA because a key part of his and Lighthizer's negotiating strategy is to convince Canada and Mexico that he's about to withdraw. Trump has even discussed issuing a six-month NAFTA withdrawal notice as a way to gain leverage. But from our vantage point — at least under this president — NAFTA has never looked safer.
One cautionary note: With this president, nothing is ever off the table. And nobody close to Trump ever feels 100 percent secure when it comes to trade.
2. Inside the real trade fight
The Trump administration is at war with itself over a highly controversial plan to impose massive tariffs on steel and aluminum. Using an arcane law, the plan would describe the global glut of both metals as a national security threat to the United States.
Trump's senior advisers — Gary Cohn, Steven Mnuchin, Rob Porter, James Mattis and Rex Tillerson — think it would be a calamity if the president uses this law, called Section 232, to introduce steel and aluminum tariffs. They argue it would alienate allies in Europe and Canada, blow up the World Trade Organization, and send shockwaves through global markets.
Meanwhile, trade advisor Peter Navarro and Commerce Secretary Wilbur Ross support the potential tariffs, arguing the American steel industry will collapse without them. Their voices are lonely ones, but still quite powerful — in large part because they validate Trump's deeply held convictions.
The clock has started: On Thursday, Ross formally submitted to Trump the results of his department's "investigation into the effect of steel mill product imports on U.S. national security." That starts a 90-day clock for the president to decide whether to take action.
In the meantime, some of Trump's advisers hope the administration can take sufficiently aggressive actions against China — using a trade law known as Section 301 — to satiate the president's protectionist impulses.
Given Trump's unpredictability, it's impossible to guess whether that strategy will work. But here's what might help: according to sources familiar with his thinking, Trump's top trade negotiator, Robert Lighthizer, isn't as committed to the 232 strategy as most believe. He's much more focused on targeted actions against China, which he views as the ultimate economic threat to the U.S.
Potential punitive steps against China could include wide-ranging tariffs on Chinese-made products (especially consumer electronics) or new legal limits on China's ability to invest in American companies in order to steal sensitive IP.
Our tip: A not-insignificant proportion of the steel and aluminum problems — global overcapacity — can be traced back to China and its transshipments. Some administration officials believe that appropriately targeted action on those could minimize damage from broader actions and still be considered consistent with the overall strategy of countering Chinese economic aggression.
3. The president's private schedule becomes super secret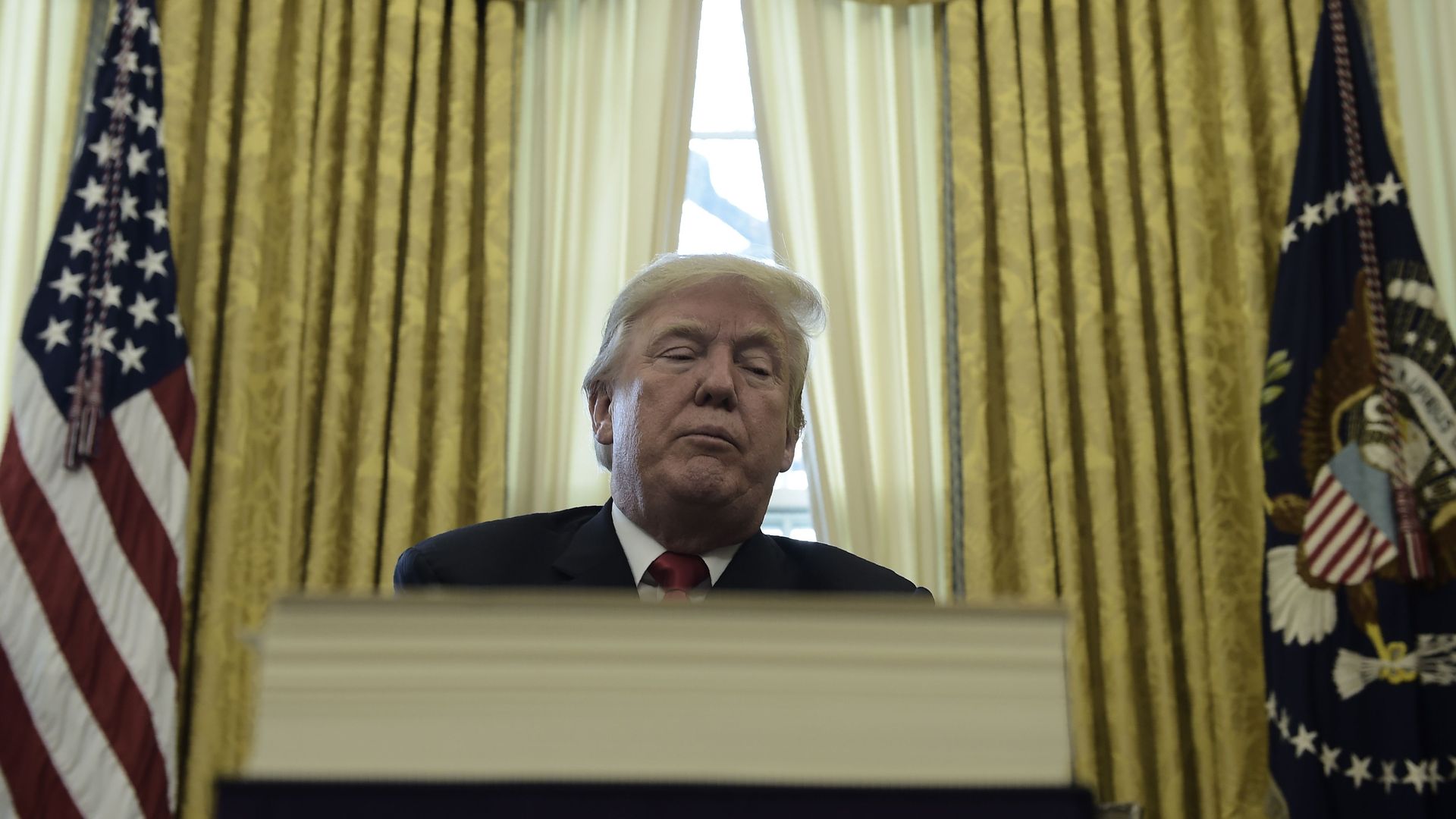 White House Chief of Staff John Kelly apparently wasn't thrilled about my story last Sunday revealing the president's liberal use of "Executive Time" — a three hour block carved into his private schedule every morning for tweeting, watching TV and making phone calls.
Since then, the White House has implemented new security measures on the president's real schedule, so I'll share less detail with you this week.
Here's what we know so far for POTUS:
Monday: Hold for travel to Washington D.C.
Tuesday: Trump to meet with the president of Kazakhstan.
Wednesday: The President will attend the Congressional Gold Medal ceremony honoring Sen. Bob Dole.
Thursday: In the morning, Trump will meet with senior military leadership at the Pentagon. There's a "TBD" travel to Pennsylvania.
Friday: The president hosts a March for Life event; and there's a "TBD" travel to Florida.
And for Congress:
House and Senate Republicans need to come up with a plan to avoid a government shutdown on Friday.
The Senate expects to vote Tuesday on 702/FISA reauthorization — national security legislation to enable foreign spying to prevent terrorism.
Steve Bannon and Corey Lewandowski will appear before the House Intelligence Committee this week discussing Russia and the Trump campaign
4. The Trump admin's "evil genius" idea
The Trump administration's most audacious legislative idea ever will never see the light — but it shows how this White House has been looking for ways to salt the earth for its Democratic successors.
The theory: Last year, the head of the White House Domestic Policy Council, Andrew Bremberg, told senior administration officials and Hill staff about an idea he had to tie the hands of future Democratic presidents. The idea would be for Trump to introduce a series of hardcore left-wing regulations — e.g. on climate change, the environment, labor and health care. Then, the Republican-controlled Congress would disapprove of these regulations using a law called the Congressional Review Act. That would bar future administrations introducing "substantially similar" regulations.
Why it won't happen: Trump administration officials are no longer seriously entertaining this idea, largely because Bremberg and others have recognized that it's politically infeasible. Republicans only have a one-vote margin in the Senate, and there's no way Mitch McConnell would waste precious floor time on such a moonshot.
But there are two reasons Bremberg and some senior players in the conservative legal community took this idea seriously:
It could be good politics. If the plan was executed quickly and perfectly — within the space of a week, for example — congressional Republicans could take a victory lap, saying they've prevented future presidents from regulating the heck out of the economy like Obama.
It could be a policy win for Hill Republicans, who would say they're giving some predictability to the business community about future executive actions.
In their first year of controlling Washington, Republicans have used the CRA more than a dozen times to undo regulations.
Why this matters: Though a top Republican source calls it "an evil genius idea that unfortunately will never happen," it shows that this White House is equal parts creative and devious, with top aides already looking to hamstring their Democratic successors.
5. Government shutdown watch
Unless Congress passes a funding bill before Friday, the government will shut down.
Here's what we expect this week, based on conversations with senior House and Senate aides:
Congress will likely — at the last minute, of course — pass a short-term  funding bill, known as a Continuing Resolution (CR), to keep the government open while they keep negotiating on the big ticket items.
There'll be no immigration deal before the deadline. Democrats and Republicans are far from agreeing on a DACA deal, and the president is still raging after Lindsey Graham, Dick Durbin and others presented him with what he considers a completely unacceptable "bipartisan deal."
A new group of Republicans and Democrats — top House and Senate members Kevin McCarthy, Steny Hoyer, Dick Durbin and John Cornyn — have started meeting to hash out an immigration deal that works for the president. These discussions are very preliminary, and will continue this week.
Inside the GOP messaging strategy: Democrats don't want to support a government funding bill unless it has a DACA fix. So, Republicans will try to brand Democrats as the shutdown party — saying they're holding the government hostage, including disaster relief payments, essential services, and troop funding — all in the service of "illegal immigration."
6. 1 fun thing: Shithole translation challenge
Foreign media outlets are having trouble translating "shithole," the word of the week, into their languages. Here's how a few outlets have tried to describe the uniquely American obscenity: