Axios Sneak Peek
October 06, 2019
Welcome to Sneak Peek, our weekly lookahead for both ends of Pennsylvania Avenue, plus our best scoops.
Situational awareness: I'm married! And I picked the worst possible time for a honeymoon.
I want to thank my colleagues, Alayna Treene and Margaret Talev, who did an awesome job in my absence.
OK, back to work...
Tonight's newsletter is 1,741 words, a 6.5-minute read.
1 big thing: Scoop — Trump's impeachment concern: Bad for resume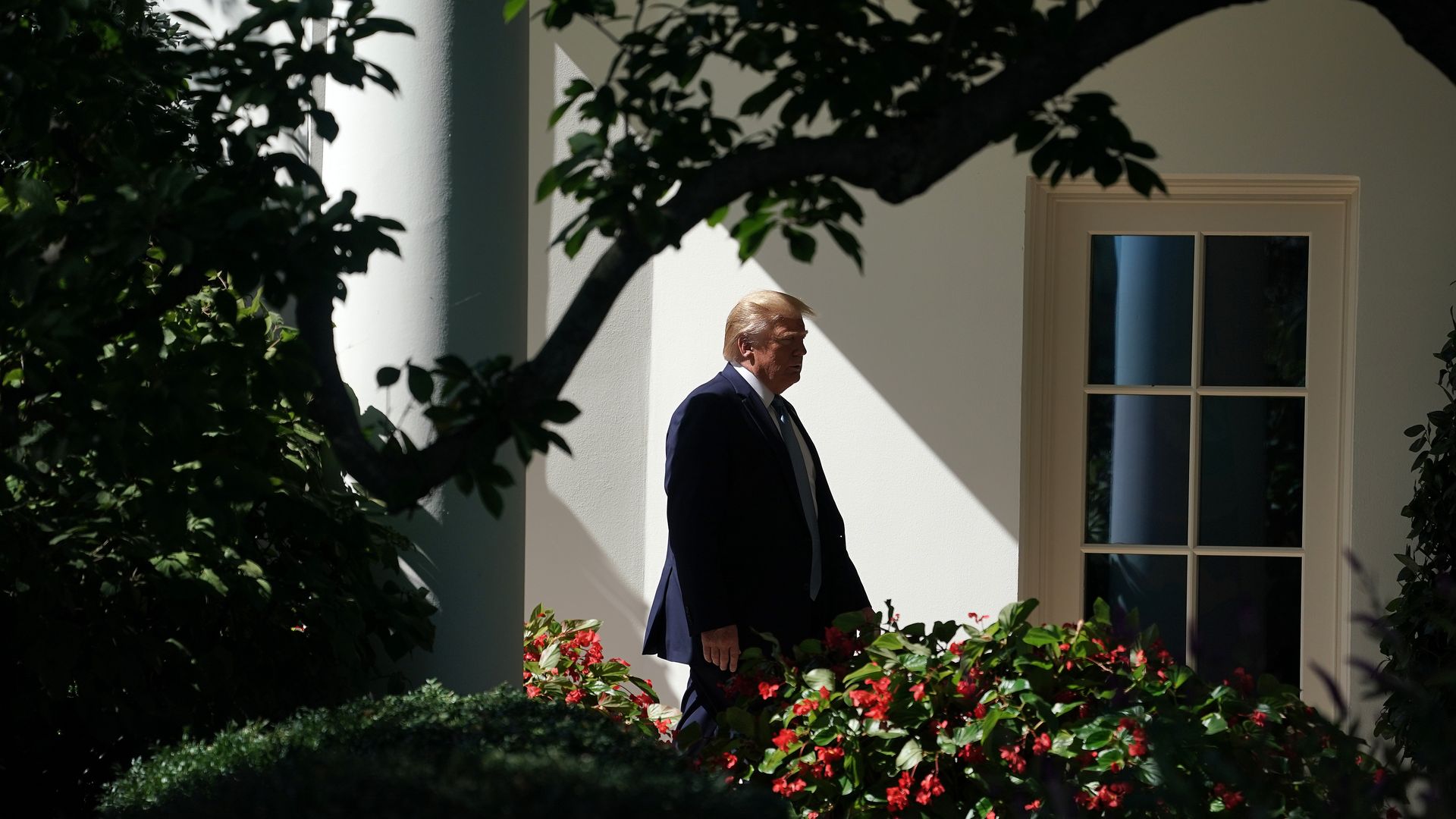 President Trump has told friends and allies he worries about the stain impeachment will leave on his legacy.
In a phone call with House Republicans on Friday, Trump articulated why he really doesn't want this. Impeachment, Trump said, is a "bad thing to have on your resume," according to a source on the call. Two other sources on the call confirmed the substance of the comment, but one said they recalled Trump phrasing it as "you don't want it [impeachment] on your resume."
After making the resume remark, Trump added, "But it's going to make Kevin speaker," these sources said, a reference to House Minority Leader Kevin McCarthy's upside.
Why it matters: These two Trump quotes might seem like throwaways on what was a lengthy and discursive call with allies. But sources who have discussed impeachment candidly with the president say these comments perfectly encapsulate how Trump feels about it: He believes it could help him get re-elected and win back the House. But he doesn't want the history books recording Donald Trump as an impeached president.
Between the lines: Some prominent political analysts, including the New York Times' Ross Douthat, have speculated that the president might welcome articles of impeachment. Sources close to the president say this interpretation is dead wrong. Trump adamantly does not want to be impeached — because he cares, above all, about his legacy.
Behind the scenes: Many of Trump's advisers, both inside and out of the White House, have given him their unpleasant prediction that he will almost certainly be impeached by the House of Representatives. But they have also told him they believe there is almost no chance the Senate convicts him.
One person who spoke to Trump in the past 10 days said he seemed resistant to that prediction and said he thought he could stop Nancy Pelosi from getting the votes to impeach. The source said Trump seemed confident that he could pile enough pressure onto House Democrats in "Trump districts" (where he won in 2016 but Democrats took back in 2018) that those incumbents would cave on Pelosi.
But a second person who spoke to Trump in the last few days said the president "was not in denial" and understood that the House is probably going to impeach him.
Trump's re-election campaign and the RNC are reportedly spending $10 million on advertising targeting Joe Biden and Democrats supporting impeachment.
And Vice President Mike Pence will be piling additional pressure onto Democrats in Trump districts, where, per the NYT, "Mr. Pence's aides have argued that ... impeachment lacks strong support, especially when compared with kitchen-table issues."
2. Scoop: Mulvaney predicts post-impeachment landslide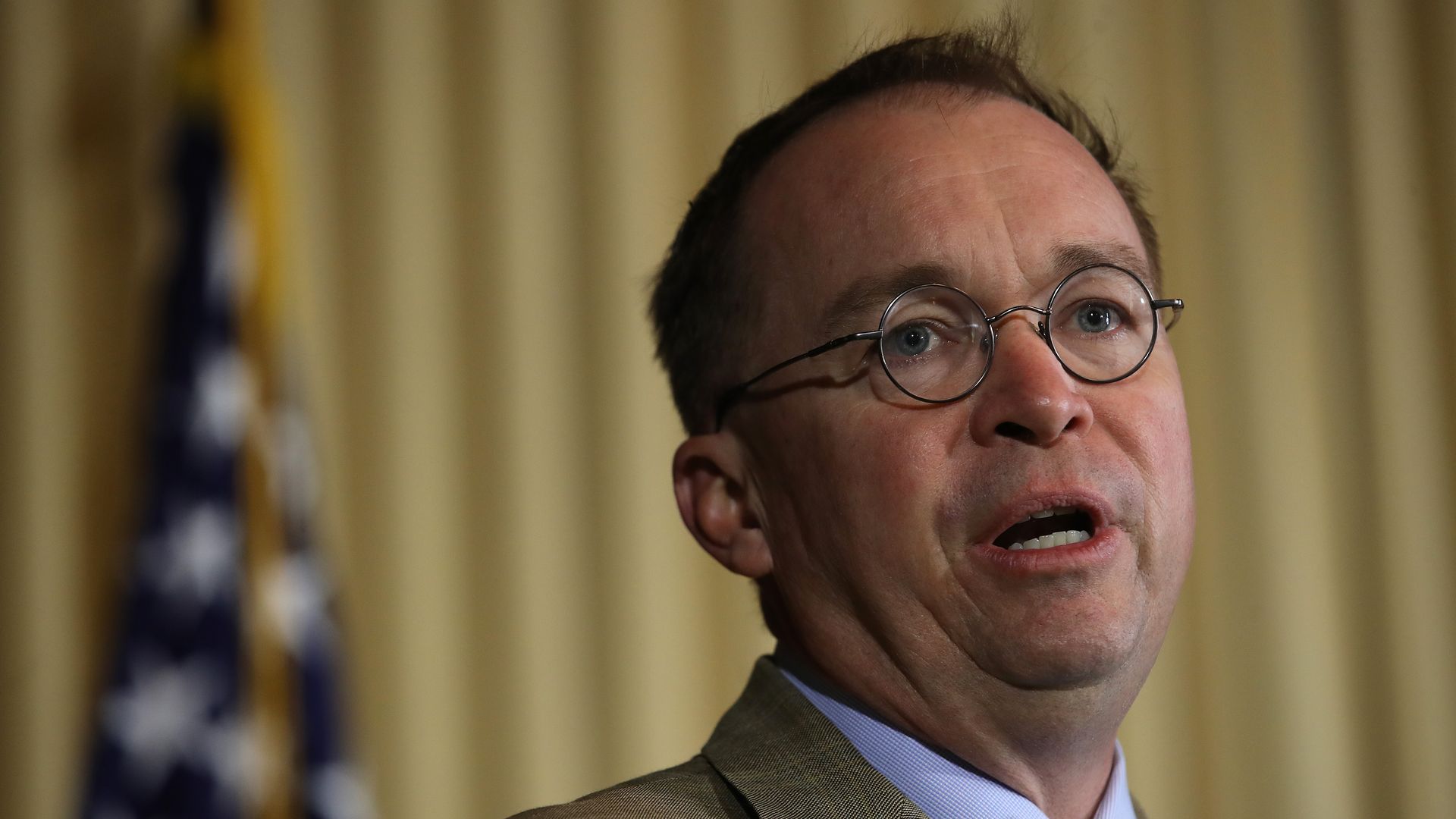 In numerous recent conversations with colleagues, including last week's senior staff meeting, White House acting Chief of Staff Mick Mulvaney has said he thinks President Trump could win 45 states in 2020 after the impeachment process — a magnitude of landslide that few if any independent pollsters would dare predict.
Mulvaney did not stipulate which 5 states he thought Trump would still lose when he made these comments, a source who heard them said.
Between the lines: People who've heard Mulvaney make this remark say he wasn't joking or even exaggerating. He appears to genuinely believe that impeachment will have a profoundly positive effect on Trump's political fortunes, according to 3 sources who have heard Mulvaney make the 45-state prediction.
Mulvaney also believes that the longer the impeachment process drags on, the better it is, politically, for Trump, these sources added.
Mulvaney's view appears to be based more on instinct than polling data. I have seen no polling that supports his prediction, and at this early stage, responsible polling analysts are extremely wary of predicting which party will benefit more from impeachment in 2020.
But it's possible Mulvaney is echoing the ebullience emanating from the Trump campaign. They are raising breathtaking sums online by telling supporters to give money to help Trump fight the Democrats trying to impeach him.
The big picture: Mulvaney's view is far from a consensus in Trump's orbit — some see considerable peril and downside political risk for the president as the impeachment inquiry moves forward — but his voice is one that the president hears every day and could bolster how Trump views the political dynamics of impeachment.
3. SCOTUS preview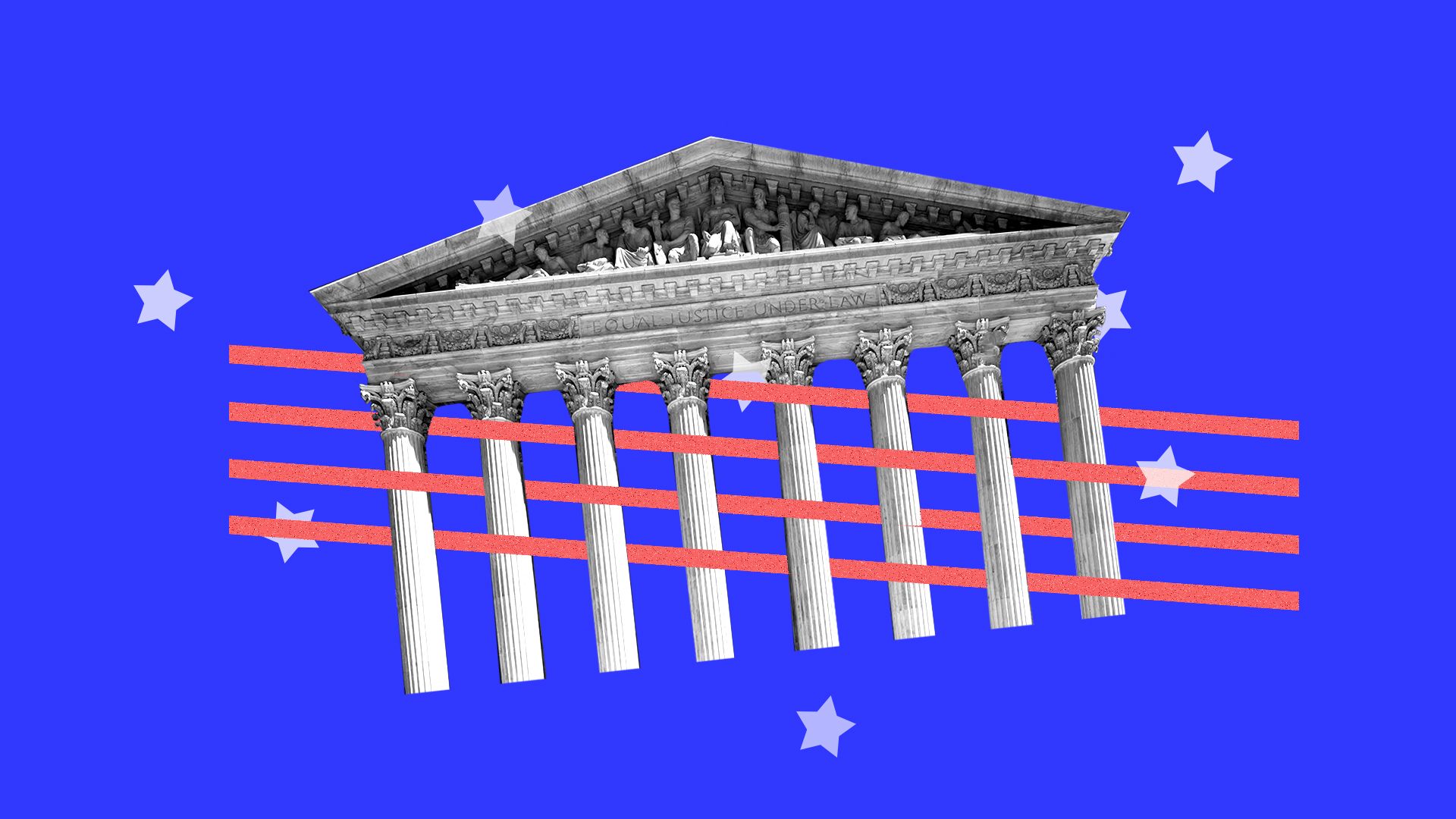 The Supreme Court is wasting no time diving into the thick of 2020 politics.
Starting Tuesday, the court will begin debate on whether employers can fire someone for being gay or transgender, Axios' Sam Baker writes.
Why it matters: It's the first in a slew of polarizing issues the court will decide over the next 9 months. And Justice Brett Kavanaugh, a polarizing figure himself, will be at the center of it all.
The big picture: The court is slated to hear 3 related cases about LGBTQ rights — one of the specific areas where Kavanaugh's replacement of former Justice Anthony Kennedy may make the most difference.
Federal law prohibits workplace discrimination "because of sex."
The court will consider the cases of 2 men who say they were fired because they were gay, and a trans woman who was fired after she began transitioning.
4. Business leaders spooked by Trump's manufacturing slump
American manufacturers rode a wave of optimism after President Trump took office, clinging to his promises to revive the industry and bring back jobs.
But now the politically important sector is being choked by his trade war with China, and business leaders tell Axios that the tariffs threaten to upend the economy if not addressed soon, Axios' Courtenay Brown and Alayna report.
Driving the news: The manufacturing sector added 18,000 jobs in September of last year, following a steady rise in employment.
But just one year later, the pace of gains has slowed: Last month, the sector cut thousands of jobs for the 2nd time this year.
A closely watched index that tracks the health of the industry also showed that manufacturing is in the worst shape since before President Trump took office — contracting for 2 straight months. The last time the sector contracted was in 2016.
And while President Trump has blamed the Federal Reserve for the slump, and White House economic adviser Larry Kudlow punted responsibility to Europe, business groups and manufacturers say there's no question Trump's trade war is the real problem.
White House spokesperson Judd Deere told Axios: "The fundamentals of the economy are strong because of this president's pro-growth policies, and the White House does not see an imminent economic downturn." 
"Talks with China are continuing this week, but there is no doubt that President Trump will continue to use every available tool to level the playing field and reduce barriers to the export of our goods and services."
5. Trump allies' new joker defense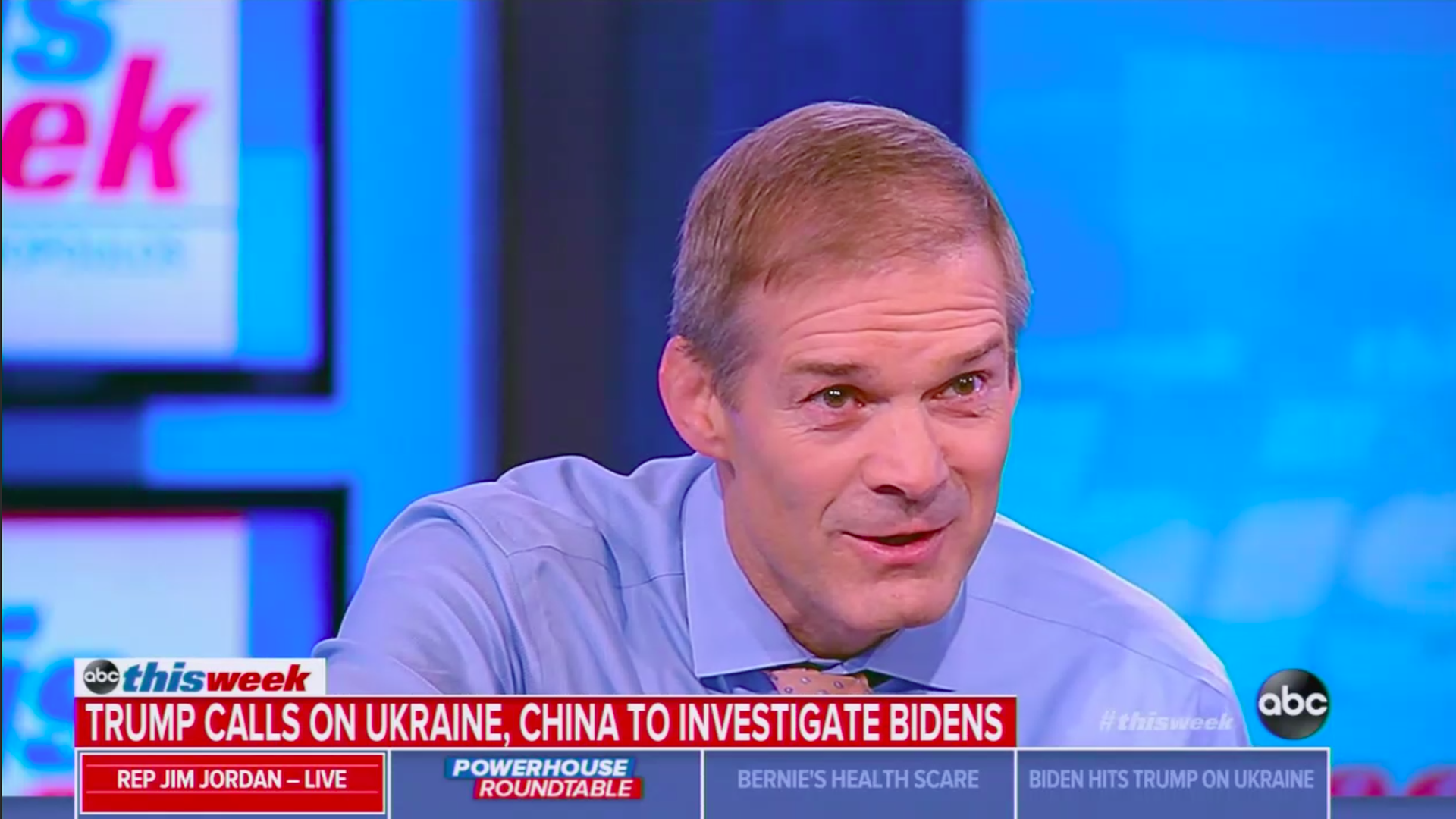 Some of President Trump's defenders are testing a new line: that Trump was just joking last week and/or baiting the press when he said China should investigate Joe Biden and his son.
The trend:
Sen. Marco Rubio to reporters on Friday: "I don't think it's a real request. I think he did it to get you guys. I think he did it to provoke you."
Rep. Jim Jordan on ABC's "This Week": "You really think he was serious? ... I think he's getting the press all spun up about this."
Sen. Roy Blunt on CBS' "Face the Nation": "I doubt if the China comment was serious. ... I don't know what the president was thinking, but I know he loves to bait the press, and he does that almost every day." 
Why it matters: Republicans have struggled to find a unifying message in response to Trump's China remarks, which were criticized heavily by lawmakers on both sides of the aisle.
Between the lines: The only problem for these Republicans is neither the president nor the White House has endorsed their theory that Trump was joking when he said China should investigate the Bidens.
Alayna reached out to the White House this morning to ask if Trump's position is now that he was joking about China. The officials did not respond to her request for comment.
6. Sneak Peek diary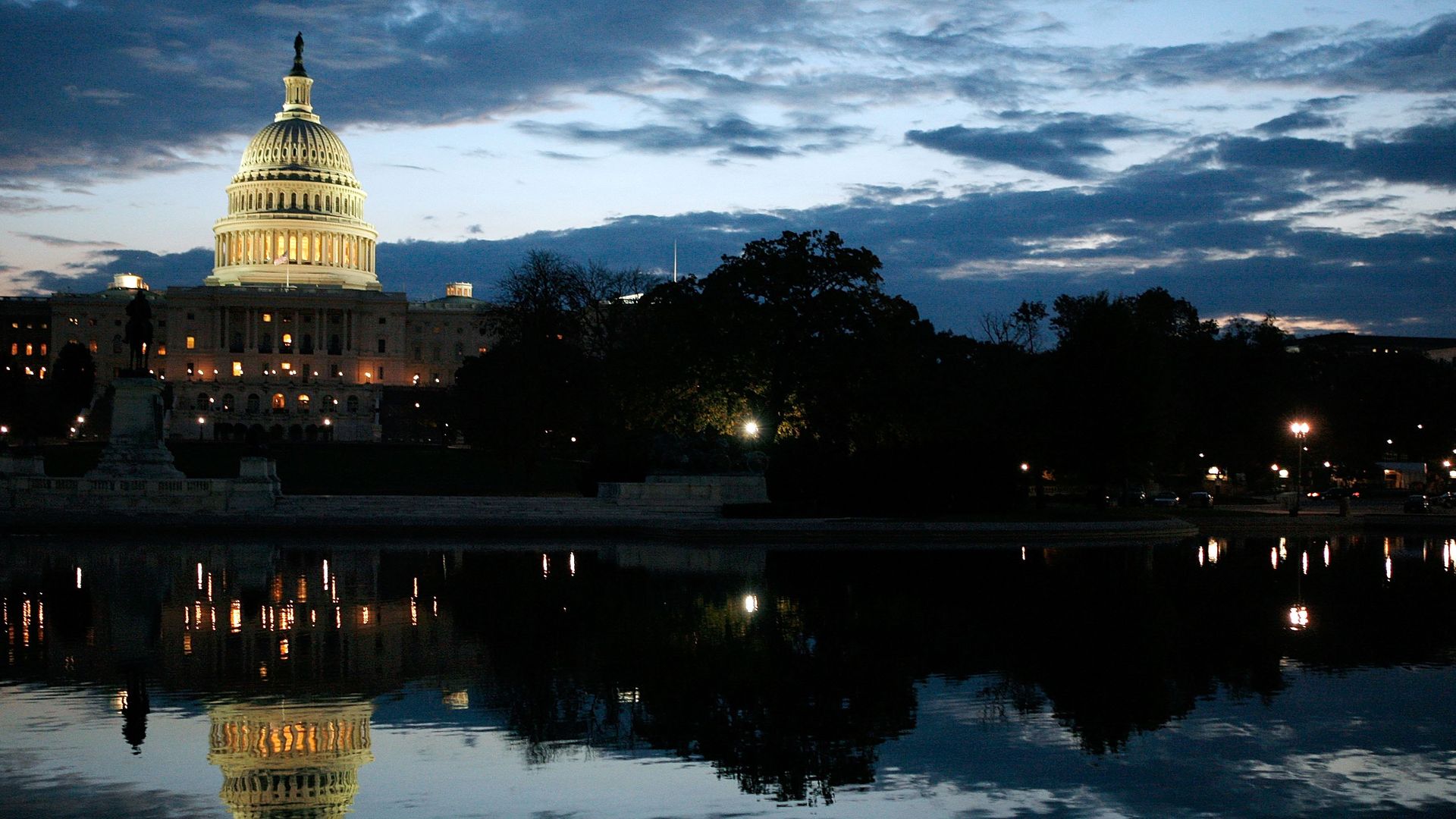 The House and Senate are on recess until Oct. 15.
However, the House Intelligence, Oversight and Foreign Affairs committees have confirmed that the following officials will appear for hearings in relation to their investigation of Trump and Ukraine, per a committee aide:
Tuesday: U.S. Ambassador to the European Union Gordon Sondland.
Friday: Former U.S. Ambassador to Ukraine Marie Yovanovitch.
President Trump's schedule, per a White House official:
Monday: Trump will have lunch with Secretary of State Mike Pompeo. He will also get briefed by senior military leaders. Later, Trump and Melania will have dinner with senior military leaders and spouses.
Tuesday: Trump will have lunch with Mike Pence. He will also present the Presidential Medal of Freedom to Edwin Meese.
Thursday: Trump will deliver remarks at a rally in Minneapolis.
Friday: Trump will participate in a photo opportunity with the little league baseball and softball World Series Championship teams.
7. 1 war thing: Trump turns to Breitbart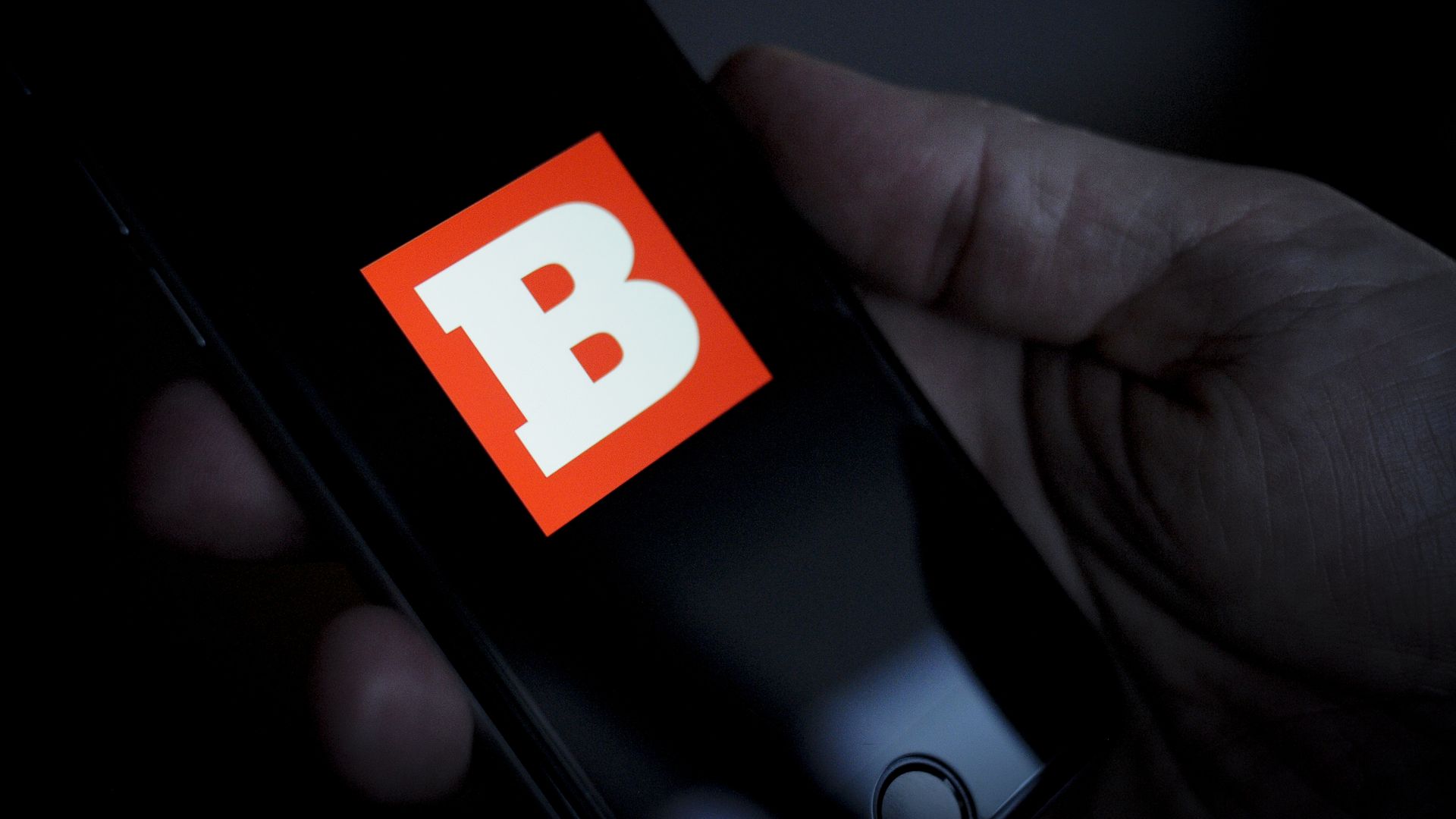 With the exception of a small band of true believers like Sean Hannity and Judge Jeanine Pirro, President Trump has grown disillusioned with Fox News and often complains the network doesn't have his back.
Trump still watches Fox religiously, but he views such wobbliness as a particular problem during tough times like impeachment, sources close to him say.
Into this breach has stepped more fervently loyal outlets, like Breitbart News. The website, often led by its Washington editor Matt Boyle and editor-in-chief Alex Marlow, has gone into 24-7 campaign mode against Trump's impeachment. A representative Breitbart headline: "While Democrats pursue impeachment, President Trump builds impressive record of accomplishments."
The president has been lapping up Breitbart's coverage — to such an extent that "Saturday Night Live" made fun of Trumpworld's Breitbart habit in their cold open last night. In a meeting with Mike Pence, Rudy Giuliani pulls out a "Breitbart Office Poll" that "says 121% of people want Biden impeached."
The big picture: The entire Biden-Ukraine narrative began with "Secret Empires," a book by Breitbart's senior contributor Peter Schweizer. Ahead of the last election, Schweizer published "Clinton Cash," which portrayed Bill and Hillary Clinton as corrupt grifters and set the tone of some influential coverage in 2016. (Trump promoted Schweizer's book on Twitter yesterday.)
What we're seeing:
Trump has promoted Breitbart multiple times as a source of polling. In one of Trump's favored Breitbart polls — which bear no relation to public opinion — 97.83% of respondents say they "stand with President Trump" against impeachment.
Republican lawmakers have been using Breitbart as a key platform in their campaign against impeachment.
And it's not just ultra-conservative, Freedom Caucus types. Establishment Republicans including members of leadership like Minority Leader Kevin McCarthy (who has given Breitbart multiple "exclusives") and Minority Whip Steve Scalise have been appearing on Breitbart's radio shows.
Senior White House official Stephen Miller will be appearing on Breitbart's radio show tonight.
Flashback: We're coming up on 2 years since Steve Bannon was forced out of Breitbart and publicly trashed by the president. The ultra-right-wing website spent some time on the outs from the White House as a result of Bannon's exile, but it's now back as one of Trump's go-to outlets.