June 23, 2022
Welcome back to Sneak. Smart Brevity™ count: 842 words ... 3 minutes.
1 big thing: Biden's border moment
A migrant woman tried to take her own life this month while waiting in a shelter in Mexico for a U.S. asylum decision — the first known suicide attempt of Joe Biden's presidency under the Trump-era "Remain in Mexico" program he was forced to restart, Axios' Stef Kight has learned.
What we're watching: Biden officials are awaiting a U.S. Supreme Court decision they hope will allow them to end a program that advocates say places migrants at risk. The ruling could come as soon as tomorrow.
The big picture: "[S]ituations like this highlight the endemic flaws" of the Migrant Protection Protocols (MPP) program, a Department of Homeland Security spokesperson told Axios.
While the administration has said it would improve protections for enrollees in MPP, this incident reflects the stresses migrants still endure while waiting — and holes in a system intended to catch red-flag cases.
Between the lines: MPP is one of several Trump-era immigration policies that Biden had tried to disband — such as the Title 42 public health order — but kept in place due to court intervention or potential backlash from within his party.
Zoom in: MPP has been lambasted by Democrats, international organizations such as the UN International Organization for Migration (IOM) and immigration advocates for putting migrants at risk.
As it continues efforts to end MPP, the Biden administration has promised to make the program safer. It has used MPP less aggressively than the previous administration, offered vaccines and exempted some vulnerable migrants.
Still, some migrants placed in the program continue to face physical and psychological danger.
Details: The woman who attempted suicide has since been treated in a hospital and brought into the U.S. under medical parole, according to an internal U.S. document viewed by Axios.
The woman had a history of mental health issues, including previously attempting suicide, Jeremy MacGillivray, deputy chief at IOM Mexico, told Axios.
MacGillivray said screening protocols in the U.S. should be strengthened to prevent people with similar mental health situations from being forced into the program.
What they're saying: "DHS is aware of this incident and acted quickly to remove the individual from MPP once notified of the situation," a DHS spokesperson told Axios.
"The department is hopeful that the Supreme Court will overturn the lower courts' rulings and allow DHS the discretion to end MPP."
If you or someone you know may be considering suicide, contact the National Suicide Prevention Lifeline at 1-800-273-8255 (En Español: 1-888-628-9454; Deaf and Hard of Hearing: dial 711 then 1-800-273-8255) or the Crisis Text Line by texting HOME to 741741.
2. 👀 DOJ widens Jan. 6 probe
The Justice Department has expanded its criminal inquiry into the Trump-backed plan to organize fake slates of electors in states that the former president lost to Joe Biden, the Washington Post first reported.
At least three people connected to the scheme — which was the focus of the House Jan. 6 committee's fourth hearing yesterday — received grand jury subpoenas today.
Among them were Brad Carver, a Republican official who claimed to be a Trump elector in Georgia, and Thomas Lane, who worked on behalf of the Trump campaign in Arizona and Nevada.
Sean Flynn, a Trump campaign aide in Michigan, was also subpoenaed, according to the New York Times.
Between the lines: Until now, the DOJ's investigation "seemed to primarily involve talking to people in Republican circles who knew of the scheme and objected," the Post writes.
"[T]he subpoenas issued Wednesday suggest the Justice Department is now moving to question at least some of those who allegedly agreed to pursue the effort."
👀 What to watch: The Jan. 6 committee's fifth hearing tomorrow will focus on Trump's efforts to pressure the Justice Department to investigate his false claims of voter fraud.
It will be the last hearing until July, with the committee planning to regroup to discuss how to incorporate the deluge of new evidence it's received since the hearings began.
3. ⛽ Dems pan Biden's gas tax holiday
Democrats in Congress balked today at President Biden's proposal to suspend the federal gas tax, with House Transportation Chair Peter DeFazio (D-Ore.) warning it would "achieve only minuscule relief" while undermining the bipartisan infrastructure law.
"We will see where the consensus lies on a path forward for the president's proposal," Speaker Nancy Pelosi said in her own lukewarm statement.
Flashback: Former President Obama boasted in his 2020 memoir about opposing a gas tax holiday during his 2008 primary against Hillary Clinton, calling it a "gimmick" with only "superficial appeal."
4. 🐘 '24 watch: DeSantis surges in betting markets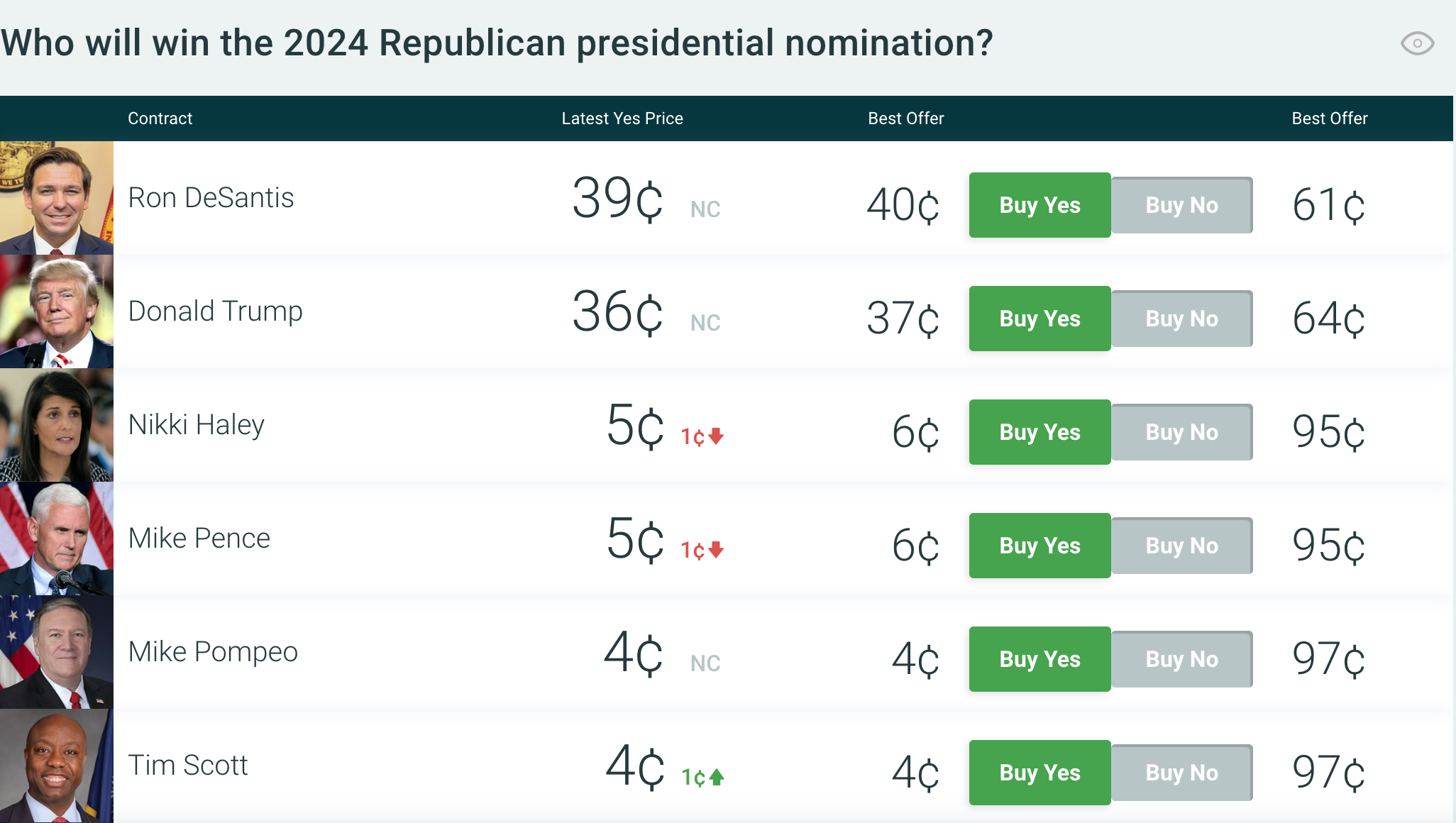 Florida Gov. Ron DeSantis surpassed former President Trump as political gamblers' favorite to win the 2024 GOP nomination for the first time earlier this month, according to the betting site PredictIt.
5. 🏈 Parting shot
NFL commissioner Roger Goodell defended the league's handling of workplace misconduct allegations against the Washington Commanders during virtual testimony today before the House Oversight Committee.
The committee announced it would subpoena Commanders owner Dan Snyder after he declined to testify voluntarily.
📬 Thanks for reading! Send us feedback by replying to this newsletter or emailing us at [email protected]