Axios Sneak Peek
August 02, 2022
Welcome back to Sneak. Smart Brevity™ count: 1,051 words ... 4 minutes.
🤔 Situational awareness: Former President Trump has caused new chaos in tomorrow's GOP primary for Missouri Senate by endorsing "ERIC" — leaving out a last name. Both Attorney General Eric Schmitt and former Gov. Eric Greitens have claimed the endorsement.
1 big thing: Corporate America strikes back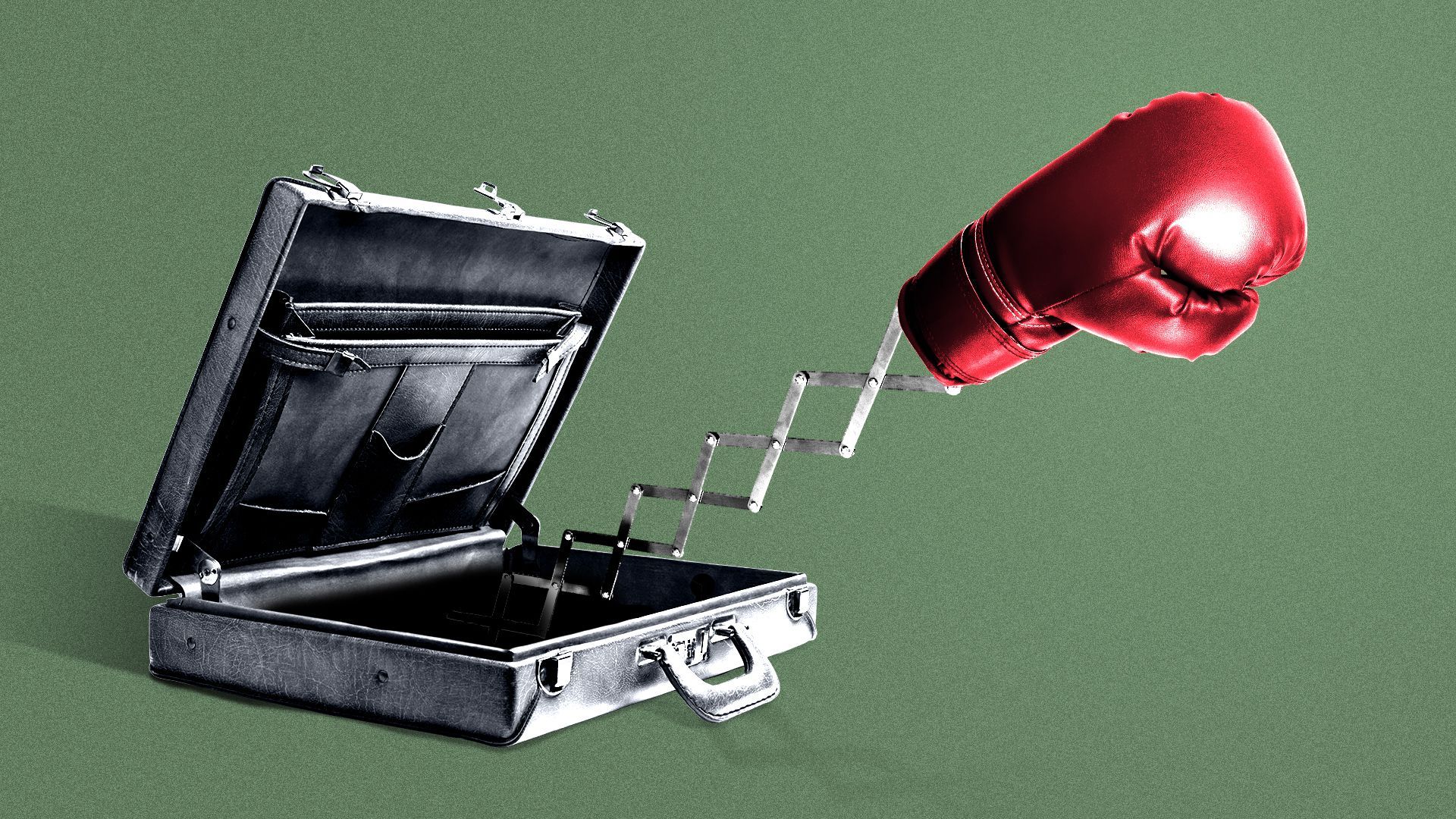 Corporate America has launched a two-pronged, eleventh-hour assault on Democrats' reconciliation package by targeting Sen. Kyrsten Sinema (D-Ariz.), the one person that big business hopes can stop — or modify — the $740 billion bill, Axios' Hans Nichols reports.
Why it matters: If successful, the barrage of paid media and personal phone calls will knock out the main provision that terrifies the business community: a 15% minimum book tax that will cost the biggest 150 U.S. companies some $313 billion over 10 years.
State of play: The clock is ticking to persuade Sinema to play her hand — and potentially force Senate Majority Leader Chuck Schumer (D-N.Y.) and Sen. Joe Manchin (D-W.Va.) back to the drawing board on how to pay for the $370 billion in new climate spending.
"She's feeling the pressure to vote yes on something," Danny Seiden, president and CEO of the Arizona Chamber of Commerce, told Axios. "I hope that she gets this deal opened back up."
"It really hits Arizona businesses hard," he said. "Arizona has done a fantastic job growing our manufacturing sectors."
Driving the news: The National Association of Manufacturers and the Arizona Chamber have launched a six-figure digital and TV ad buy — compressed into one week — to saturate the Phoenix and Tucson media markets.
"Taxes won't strengthen supply chains, promote energy security or fill vacant jobs," the narrator says. "Say 'No' to taxes that would devastate Arizona manufacturers."
The U.S. Chamber of Commerce is also taking out a full-page ad in both the Arizona Republic and Arizona Daily Star making a policy argument against the corporate minimum tax.
Local business leaders have been calling Sinema directly to explain how the tax increase could affect hiring in Arizona.
The big picture: After news of the secret Schumer-Manchin deal broke last Wednesday, corporations realized their balance sheets were in peril. CEOs and private equity titans quickly turned their attention to Sinema, who is reserving her options to modify the bill.
The 15% minimum tax would mostly hit big manufacturers who use tax deductions and credits for capital investments and R&D to minimize their overall tax bill, according to the Wall Street Journal.
The intrigue: Opponents of the legislation don't need Sinema to strangle the bill.
They just need her to raise specific objections to some of its key planks, causing the legislative Jenga tower — which raises money from big business, private equity and the pharmaceutical industry to fund climate and health care priorities — to collapse under the weight of its own ambitions.
Today, Manchin again expressed confidence that Sinema, whom he called a "friend of mine," would ultimately support the framework.
"She's been very adamant in this bill on no tax increases," Manchin told reporters today. "I take that very seriously."
Between the lines: Manchin and other Democrats are couching their new tax provisions as a simple matter of closing loopholes. But one senator's loopholes are another's important incentives.
2. U.S. kills al-Qaeda leader in Kabul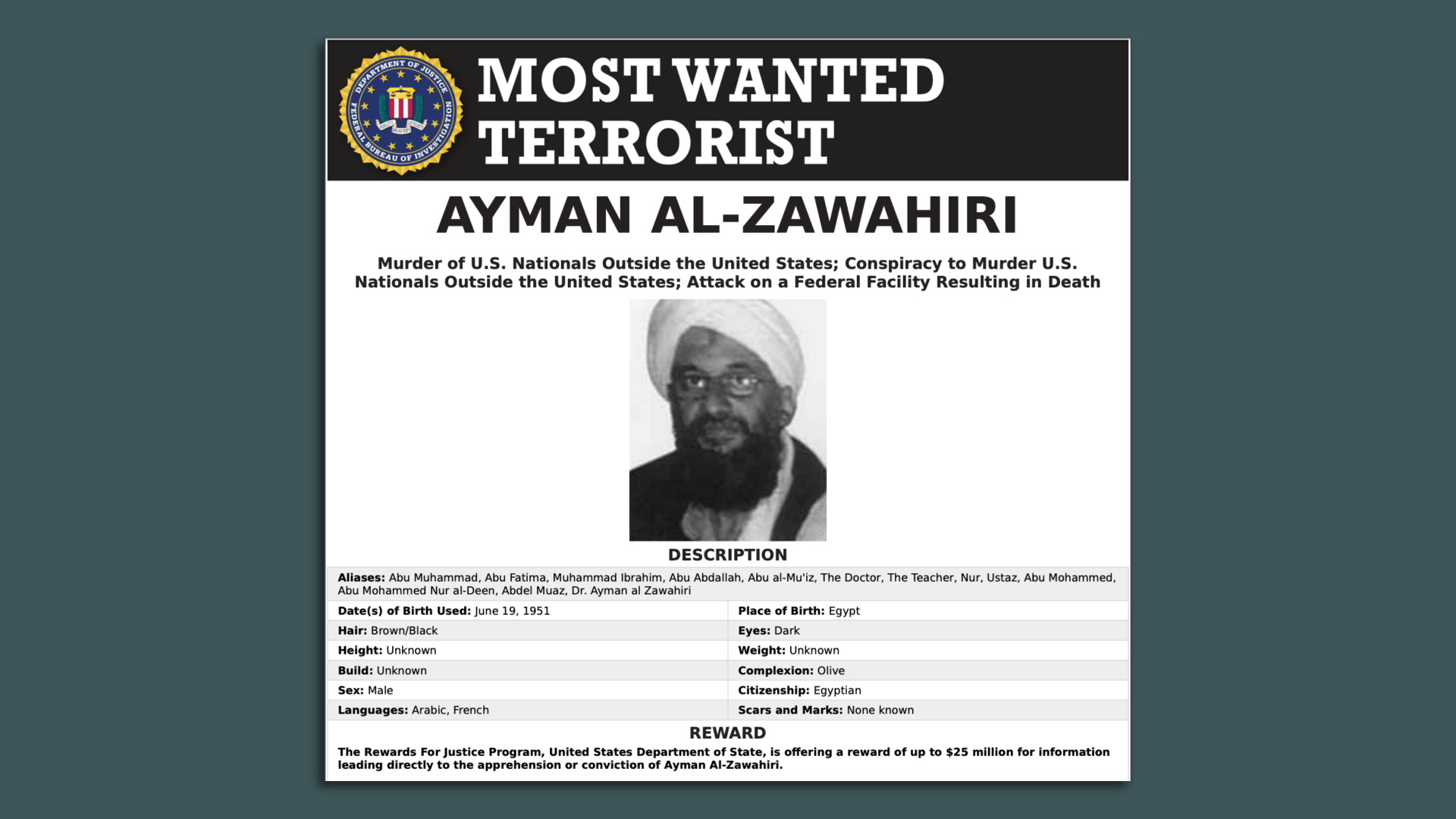 A U.S. drone strike in Afghanistan over the weekend killed al-Qaeda leader Ayman al-Zawahiri, Osama bin Laden's former deputy and an architect behind 9/11.
"We make it clear again tonight that no matter how long it takes, no matter where you hide — if you are a threat to our people, the United States will find you and take you out," President Biden said in remarks from the White House Blue Room Balcony.
Why it matters: The CIA operation has delivered the most significant blow to al-Qaeda since bin Laden's death and provides a fresh vote of confidence in the "over-the-horizon" counterterrorism capabilities that Biden touted after the U.S. withdrew from Afghanistan.
Yes, but: Senior Taliban officials were aware of Zawahiri's presence in Kabul, raising new concerns about the Afghan government's links to al-Qaeda and its formal pledge not to harbor terrorists, according to a senior U.S. official.
3. 🌵 Election denial spending spree
The Trump-endorsed, election-denying candidate for Arizona secretary of state has raised more money than any of his competitors, Axios' Stef Kight writes from a new Brennan Center analysis.
That includes hundreds of thousands of dollars from out-of-state donors.
Why it matters: Arizona has become ground zero for election denialism, a phenomenon that will be put to the test in tomorrow's GOP primaries for governor, secretary of state and key down-ballot races.
What's happening: Mark Finchem, an Arizona state lawmaker and conspiracy theorist who marched to the Capitol on Jan. 6, is a member of a coalition of over a dozen election-denying "America First" candidates for secretary of state.
Finchem has raised $1.2 million so far and is polling in first place among GOP voters who have made up their mind.
Zoom out: Overall, Arizona secretary of state candidates had brought in nearly $4 million through June, compared with $2.6 million for the same period in 2018.
Keep reading.
4. ⚖️ Longest Jan. 6 sentence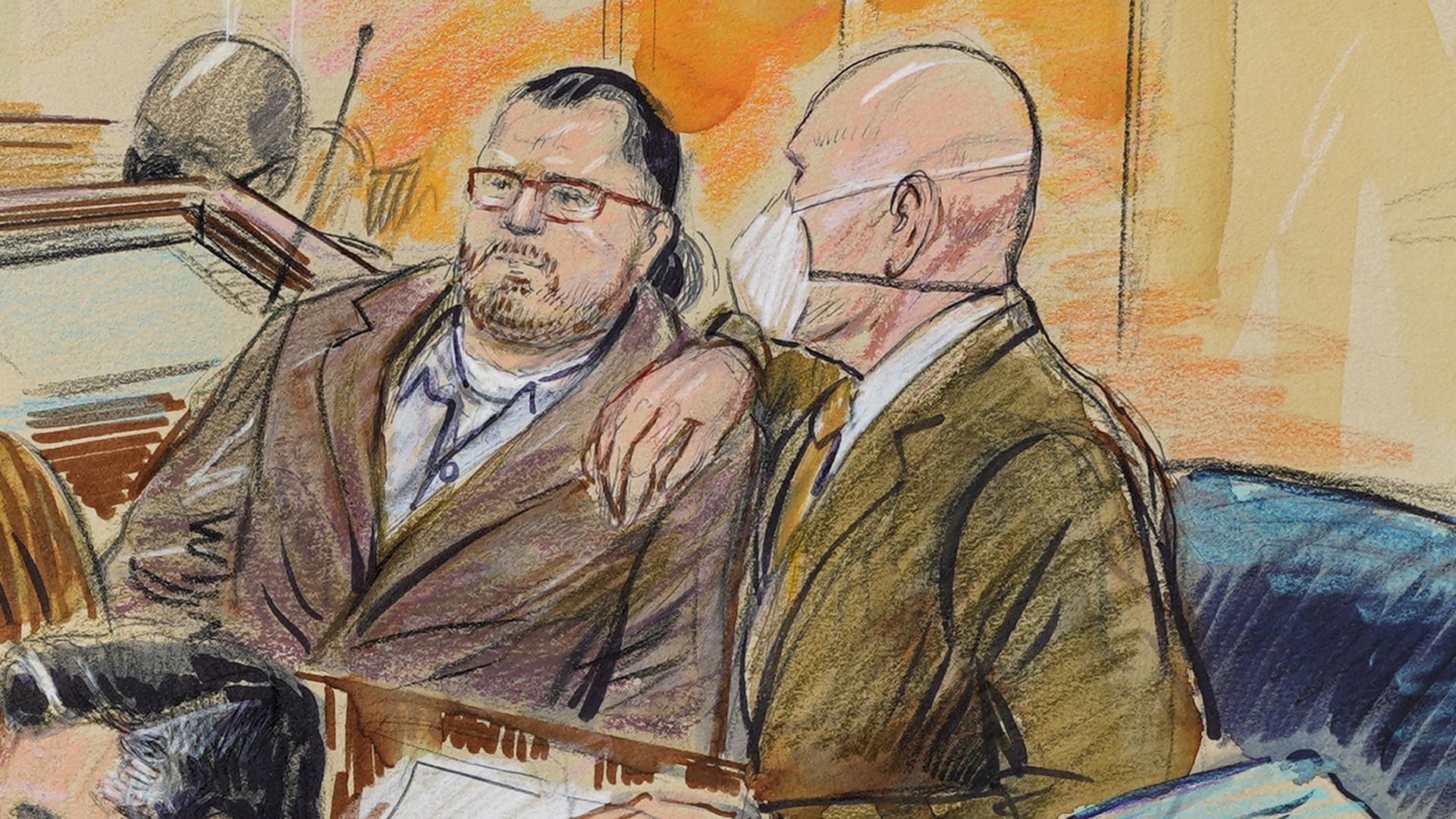 Guy Reffitt, a recruiter for the right-wing Three Percenters militia who brought a gun to the Capitol on Jan. 6, was sentenced to 87 months in prison for his "central role" leading a mob during the insurrection.
Why it matters: The seven-year sentence is the longest yet for any of the hundreds of rioters charged in the Justice Department's sweeping Jan. 6 investigation — and the first for a defendant who opted to go to trial instead of accepting a plea deal.
5. 🇨🇳 Flashback: Pelosi's "martyrs of democracy"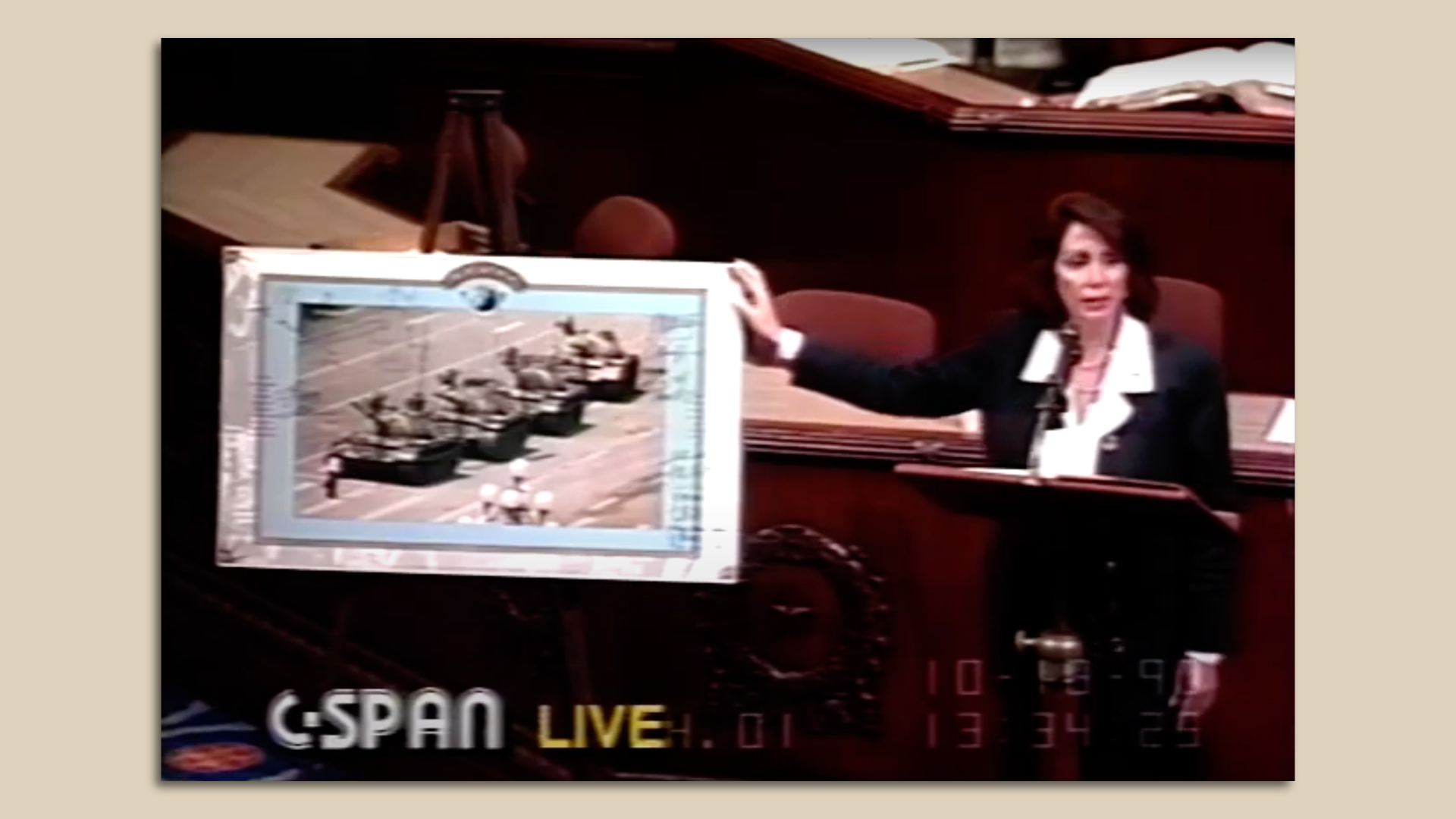 With House Speaker Nancy Pelosi's rumored arrival in Taiwan tomorrow morning dominating global headlines, CSPAN's Howard Mortman dug up a 1990 speech that shows why she's long been a thorn in Beijing's side:
"It has been said that one picture is worth a thousand words. In this case, one picture is worth a thousand deaths," Pelosi says in her remarks, pointing to the famous "Tank Man" photo from the 1989 Tiananmen Square massacre.
"They were killed for having a dream. We cannot forget the martyrs of democracy."
Go deeper: White House expects military "provocations" from China if Pelosi visits Taiwan
📬 Thanks for reading! Tell your friends and family to sign up here for any of Axios' free local and national newsletters.