September 23, 2022
Welcome back to Sneak. Smart Brevity™ count: 953 words ... 3.5 minutes.
⚡ Situational awareness: Cook Political Report moved the Arizona Senate race from "toss up" to "lean Democrat," citing Axios' scoop on the McConnell-aligned Senate Leadership Fund canceling $9.6 million in TV ads for Republican nominee Blake Masters in his race against Mark Kelly.
1 big thing: GOP's crime cudgel
Democrats are pouring millions into a last-minute effort to neutralize their vulnerabilities on crime — an issue they admit has driven a flood of effective Republican attacks in key contests, Axios' Lachlan Markay, Andrew Solender and Josh Kraushaar report.
Why it matters: The dynamic comes after a summer in which GOP attacks on inflation lost some potency and Democrats harnessed a ripple of much-needed momentum from pro-abortion rights sentiment.
Driving the news: After months of wrangling with progressives, the House today passed four policing bills, including grants for small local police departments to help with recruitment and training and legislation to fund technology to help close unsolved cases.
Vulnerable Democrats expressed hope that the package would help them deflect GOP attacks on crime. "It's just one more piece of evidence that all those attacks are insane," said Rep. Dan Kildee (D-Mich.).
"I think it's helpful to [swing seat Democrats], and I think they have to talk about it every place they go," said Rep. Cheri Bustos (D-Ill.), who also took a swipe at "members of our party who vilify police officers as a whole."
What's happening: In Wisconsin, a barrage of new ads from Republicans' top Senate super PAC have hit Democratic nominee Mandela Barnes over his support for ending cash bail.
In Pennsylvania, Republican Mehmet Oz has hammered his Senate opponent, Lt. Gov. John Fetterman, over his record of pushing for clemency while leading Pennsylvania's Board of Pardons.
The Republican Governors Association has released ads over the past week hitting Democratic incumbents in Wisconsin and New Mexico on crime.
The Congressional Leadership Fund, Republicans' top House super PAC, has run ads in at least 10 races over the last two weeks focused on crime and police funding.
The other side: Recognizing the party's vulnerability on crime, the political arm of Third Way, a centrist Democratic group, says it's kicking off millions in ad spending defending frontline Democrats on the issue.
The group, Shield PAC, plans to drop about $700,000 apiece into at least seven House races.
Between the lines: The Democratic Congressional Campaign Committee has been working with candidates this year to try to neutralize those sorts of attacks.
Key to the party's tactics are "validators," or law enforcement officers who can be featured in ads pushing back on "defund" attacks, according to a DCCC strategy memo circulated to candidates early this year.
A host of Democratic House candidates have heeded the advice, featuring local law enforcement officials in ads throughout the summer.
2. 📺 First look: Dems flip script in Wisconsin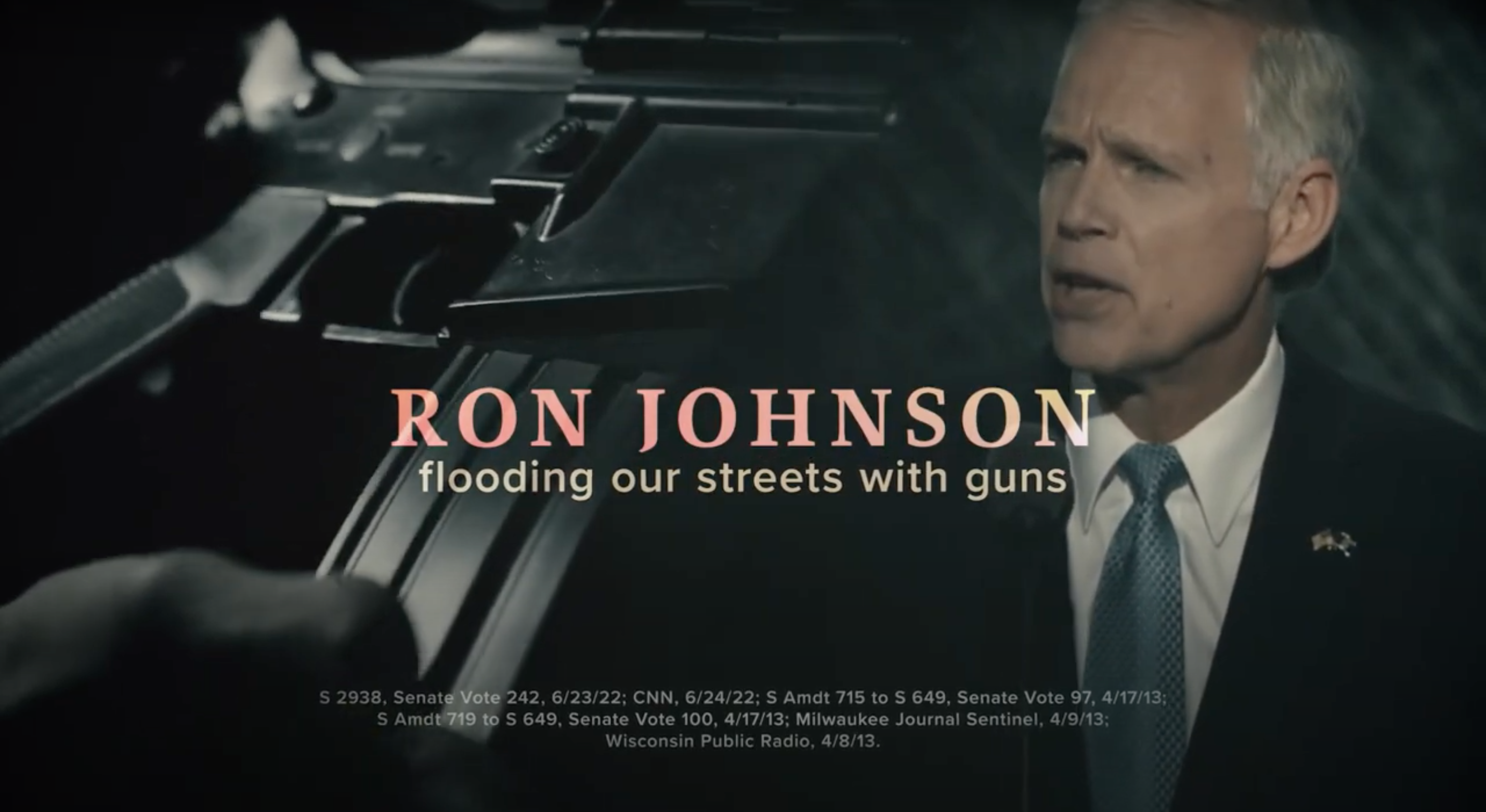 Everytown for Gun Safety Victory Fund is spending $1 million on new TV ads urging Wisconsin voters to oust Sen. Ron Johnson (R-Wis.), accusing him of enabling rising crime and gun violence, Axios' Sophia Cai has learned.
The new ad buy from Everytown — the gun safety group founded by former New York City Mayor Michael Bloomberg — marks the first time the group has spent in a U.S. Senate race this cycle, with more to follow.
3. 🚨 Special master to Trump: Put up or shut up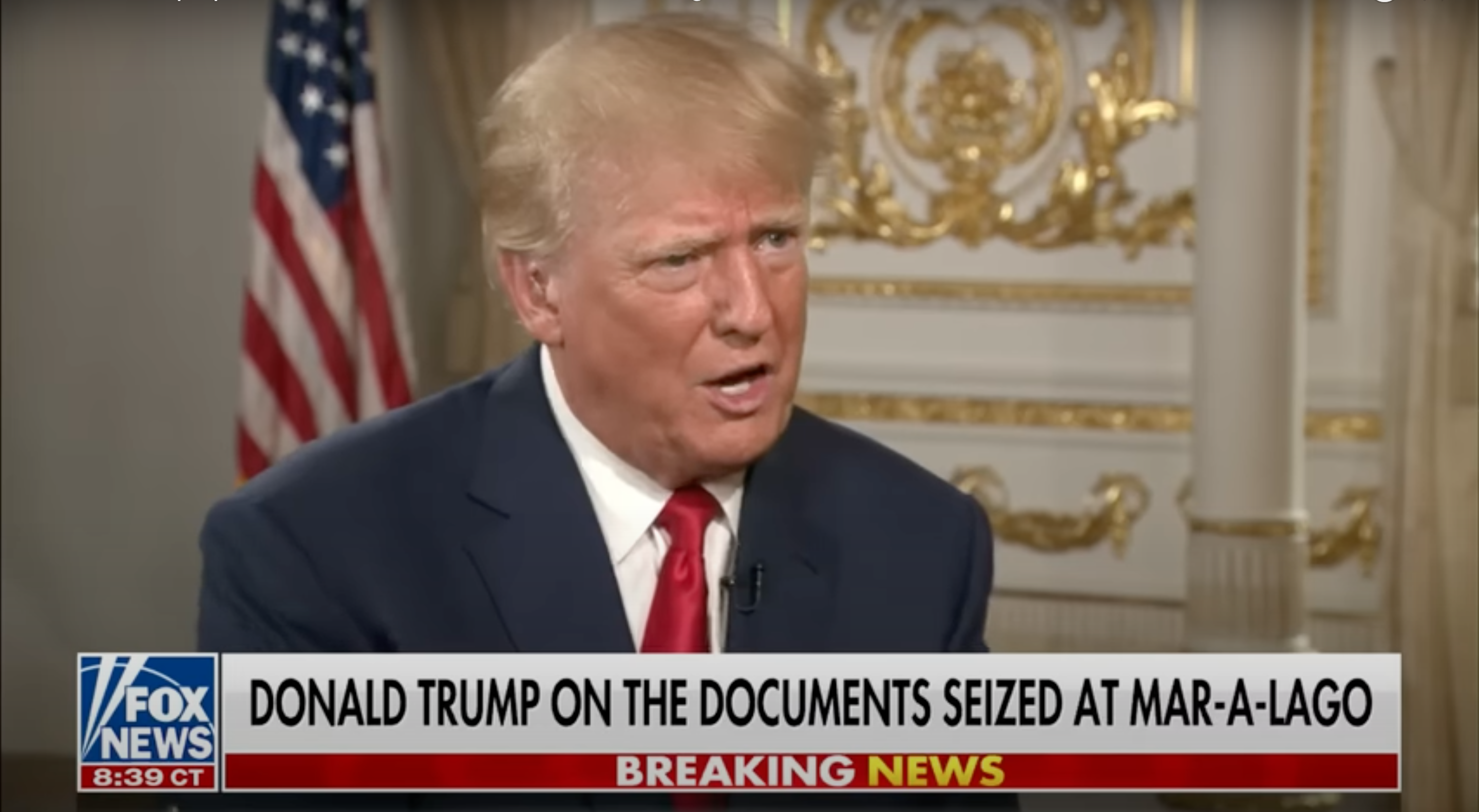 The special master former President Trump asked to oversee the classified documents investigation is demanding his lawyers submit a list of items from the FBI's inventory that he asserts were not seized from Mar-a-Lago.
Why it matters: Trump has repeatedly suggested on social media and in TV interviews — but never in court — that the FBI planted evidence during its search of is Florida home.
Judge Raymond Dearie is giving Trump's legal team until Sept. 30 to definitively say, under oath, whether the former president actually believes his own claims and has any evidence to support them.
"This submission shall be Plaintiff's final opportunity to raise any factual dispute as to the completeness and accuracy of the Detailed Property Inventory," Dearie wrote in a filing today.
Zoom out: Top Senate Republicans rebuffed Trump's claim on Fox News' "Hannity" last night that he could declassify documents simply by "thinking about it," distancing themselves from one of his more far-fetched defenses.
4. 🏳️ Republicans pull ads from Ohio Trump district
The National Republican Congressional Committee has withdrawn about $1 million in ad reservations for Ohio Republican J.R. Majewski, a MAGA-aligned candidate who was at the Capitol during the Jan. 6 riots, Josh has learned.
The move suggests Republicans are all but surrendering the redrawn district — which backed former President Trump by three points in 2020 — to Democratic Rep. Marcy Kaptur.
Why it matters: The GOP is now at risk of squandering another easy pickup because Republican primary voters nominated an extreme candidate.
Meanwhile: Ohio's Republican Gov. Mike DeWine and Senate nominee J.D. Vance have declined invitations to debate their Democratic opponents, Mary Jane Sanese reports for Axios Columbus.
5. 🇺🇸 Tweet du jour
📬 Thanks for reading this week. This newsletter was edited by Zachary Basu and copy edited by Kathie Bozanich.