May 27, 2018
Welcome to Sneak Peek, our weekly lookahead for both ends of Pennsylvania Avenue, plus my best scoops. I'd love your tips and feedback: [email protected]. And please urge your friends and colleagues to join the conversation by signing up for Sneak Peek.
1 big thing: An extraordinary Oval Office leak
Shortly after word leaked that Kelly Sadler had taken a nasty shot at John McCain, President Trump convened a meeting in the Oval Office for a tiny group of communications staffers, according to sources familiar with the gathering. Sadler, Mercedes Schlapp, Raj Shah, and John Kelly all gathered in front of the Resolute Desk for a conversation with Trump about the leaking problem. They were the only people in the room, though the door to the outer Oval was open. 
The president told Sadler she wouldn't be fired for her remark. He added, separately in the conversation, that he's no fan of McCain. Then Trump, who had grown obsessed with the leaking problem, told Sadler he wanted to know who the leakers were.
Sadler then stunned the room: To be completely honest, she said, she thought one of the worst leakers was Schlapp, her boss. Schlapp pushed back aggressively and defended herself in the room. And in follow up conversations after the meeting, some of Schlapp's colleagues also came to her defense. (In a prior meeting, she had said, "You can put this on the record: I stand with Kelly Sadler"). Sadler went on to name other people she also suspected of being leakers.
The allegation — like a previous internal meeting to deal with leaking — ultimately got leaked to us.
Be smart: Trump administration officials have told me that "X is a leaker" has in this White House become synonymous with "I don't like X." Everyone knows the leaker accusation has become the most powerful weapon you can wield against somebody you don't like, especially to Trump.
No one ever says "X leaked Y, and here's the evidence." It's just "X is a leaker."
If White House officials had a shred of evidence their colleagues were leakers then the colleagues would be perp walked off the premises immediately. Now, saying it in front of Trump is taking it to the next level.
2. Scoop: Kudlow fears Trump auto tariffs could kill jobs
Two of Trump's top economic advisers, including Larry Kudlow, fear that one of the proposals closest to his heart — automobile tariffs — would kill American jobs. And his lawyers aren't sure the national security argument underpinning the idea is solid.
Meanwhile, U.S. allies and free traders have been freaking out over a Trump request to use a "national security" law — the same one he used to impose massive steel and aluminum tariffs — to put new tariffs of as much as 25% on automobile imports.
Between the lines: The proposal for these tariffs didn't emerge from a policy process assessing the economic or geopolitical pros and cons of such an approach — they came from the president's hard-wired instincts.
"He's been talking about auto tariffs for over a year, but until now advisors had managed to convince him the costs outweighed any benefit," said a source familiar with the internal conversations. "But, at least as a matter of public posturing, he has now thrown caution to the wind."
Here's what I've learned, from sources with knowledge of the sensitive discussions inside the Trump administration:
Kudlow, director of the National Economic Council, told colleagues in an internal meeting that these tariffs would hurt American consumers and probably have a negative effect on American jobs, according to two sources familiar with the conversations.
He pointed out that foreign automakers employ Americans in states like Alabama and Kentucky. And he said domestic auto dealers, factories and auto servicing businesses in the U.S. would potentially be hurt by these tariffs.
Kevin Hassett, the chairman of Trump's Council of Economic Advisers, shares Kudlow's concerns about the auto tariffs, according to a source familiar with his thinking. But Trump's hardline trade adviser Peter Navarro thinks the tariffs are a great idea. 
Trump's recent conversation with Japanese Prime Minister Shinzo Abe was much tougher than is publicly understood, according to two sources with knowledge of the discussion. Trump is furious about the way Japan has been treating American car companies, and believes Abe hasn't done nearly enough to change the situation.
Why this matters: Auto tariffs would have massive consequences for the global economy. But they're far from a lock. And they're not imminent — the White House Counsel's Office has told the Trump team the process will take months to sort through. 
The big unanswered question, per a top trade lawyer: "Will the Commerce Department formally initiate this soon? All we have so far is a press release. Until we see a formal federal register notice and timeline for hearing/etc, few observers will think it's "real." 
"This is why the market reaction is so muted," he added. "Everyone thinks this is just a BS NAFTA negotiating ploy. If the federal register notice is published and NAFTA is punted ... Hoo boy!"
3. South Korea's "first responder" role
Shortly after Trump announced he was canceling the summit with Kim Jong-un — and before Trump publicly signaled the summit might still happen after all — I received a prescient email from John Park, the director of the Korea Working Group at the Harvard Kennedy School.
Park is impeccably connected in South Korea and his email is worth reproducing in full:
"[South Korean President Moon Jae-in] has initiated a very bold game plan and has assumed a lot of the risk for Kim and Trump to have their summit and produce a joint declaration.  Moon needs this particular outcome to move forward with implementation of the Panmunjom Declaration — i.e. have more control over fate of the Korean Peninsula."
"Trump and Kim both benefit from a summit as well.  There will be more bumps along the way — 'on-again, off-again' drama — but Moon has done a lot of the heavy lifting in addressing the big deal-breaker items."
"A win for Moon is facilitating the

launch

of a 'denuclearization mechanism,' because it creates a political opening for forward movement on the other mechanisms — permanent peace mechanism and inter-Korean transportation infrastructure development mechanism — in the Panmunjom Declaration."
"Behind the scenes, Moon and his team have been acting like first responders to help both Trump and Kim get to Singapore.  They'll continue to patch things up between the two leaders when egos are bruised.  (When the U.S. needs to be reassured on a particular issue, Moon Blue House discreetly coordinates with Kim regime to produce a statement or action that goes a long way in reassuring)."
"Bottom line: the Singapore summit is not a guaranteed event.  However, the chances of the summit happening are much higher than the political risk marketplace's consensus view because of the Moon Blue House's discreet activist role."
The latest, per WaPo's Anna Fifield, reporting from Seoul: "A team of U.S. officials crossed into North Korea on Sunday for talks to prepare for a summit between President Trump and Kim Jong Un, as both sides press ahead with arrangements despite the question marks hanging over the meeting..."
"Sung Kim, a former U.S. ambassador to South Korea and former nuclear negotiator with the North, has been called in from his posting as envoy to the Philippines to lead the preparations, according to a person familiar with the arrangements."
4. Trump plunges into midterms
Trump is getting back on the campaign trail, hitting rallies in the states where he's still fairly popular, and raising money for select Republican candidates heading into November's midterm elections. He's been doing this sporadically since inauguration, but the pace is quickening.
This week Trump hits two states for campaign-style events:
He flies to Nashville on Tuesday for a political rally and a fundraiser for Marsha Blackburn, who's running for the Senate in Tennessee.
On Thursday, Trump holds fundraisers in Dallas and Houston.
What's next: I've been told we'll see incrementally more campaigning for the president from June until November, but we shouldn't expect every week to look as heavy on political travel as this one.
So far, Mike Pence has been doing the vast bulk of midterms travel for the administration, and the VP will continue hitting Republican House districts and fundraisers around the country while Trump will likely focus on larger rallies in states where he remains relatively popular.
Some vulnerable Republican House candidates have told Trump's advisers that it would be harmful, not helpful, if the president visited their districts.
Another campaign trail figure to watch — as Axios first reported — is Donald Trump Jr., who plans to hold rallies to support Republican candidates in midterm Senate races. The states he's most focused on: West Virginia, Missouri, Montana and Indiana.
5. Sneak Peek diary
The House and Senate are on break until the week of June 4.
President Trump's schedule:
Monday: Trump participates in a Memorial Day Wreath Laying Ceremony.
Tuesday: Trump has lunch with VP Mike Pence and the Secretary of Housing and Urban Development Ben Carson. The president also meets with the Secretary of Health and Human Services, Alex Azar, and the Director of the National Institutes of Health, Francis Collins. Trump then travels to Nashville for a political rally and fundraiser.
Wednesday: Trump meets with the Secretary of State Mike Pompeo. He also participates in the White House Sports and Fitness Day event.
Thursday: Trump travels to Houston and Dallas for political fundraisers.
Friday: Trump meets with Pompeo again.
6. 1 timely thing: Jake Tapper's Twitter feed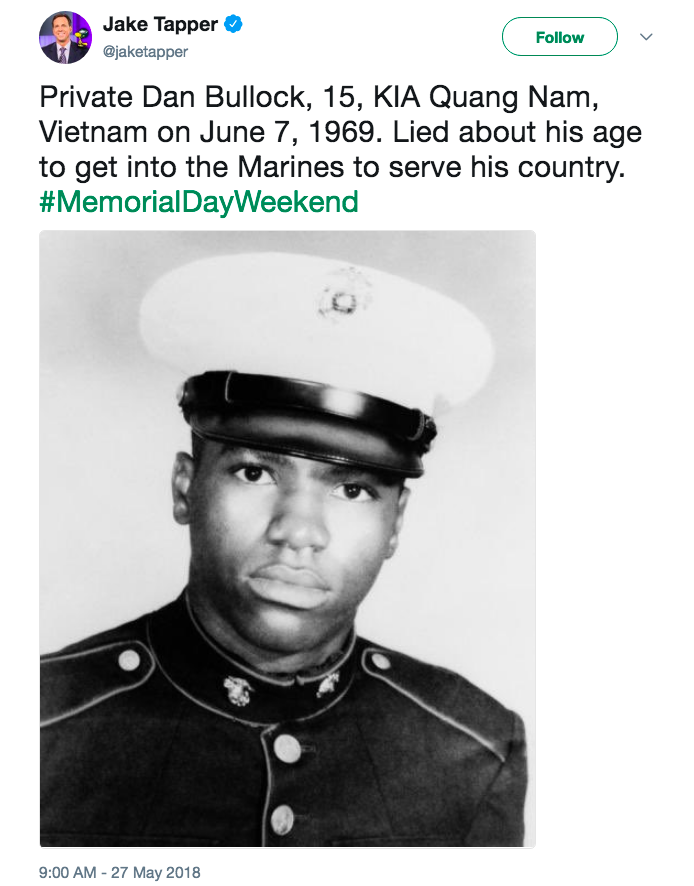 I was searching for a story to share that would be worthy of Memorial Day weekend, but I'd rather point you to CNN anchor Jake Tapper's Twitter feed.
Tapper, who has spent countless hours interviewing veterans and telling their stories in print and on television, has spent the day tweeting pictures and thumbnail sketches of American heroes who've died in the past century's wars.