Axios Sneak Peek
June 01, 2022
Welcome back to Sneak. Smart Brevity™ count: 1,036 words ... 4 minutes.
⚡ Situational awareness: Daniel Goldman, House Democrats' lead counsel in the first impeachment of former President Trump, is planning to run for Congress in New York's crowded 10th Congressional District, Axios' Hans Nichols and Jonathan Swan scooped.
🇺🇦 Breaking: President Biden announced in a New York Times op-ed — titled "What America Will and Will Not Do in Ukraine" — that the U.S. will provide Ukraine with advanced rocket systems to "more precisely strike key targets on the battlefield."
1 big thing — Scoop: GOP plots '23 probes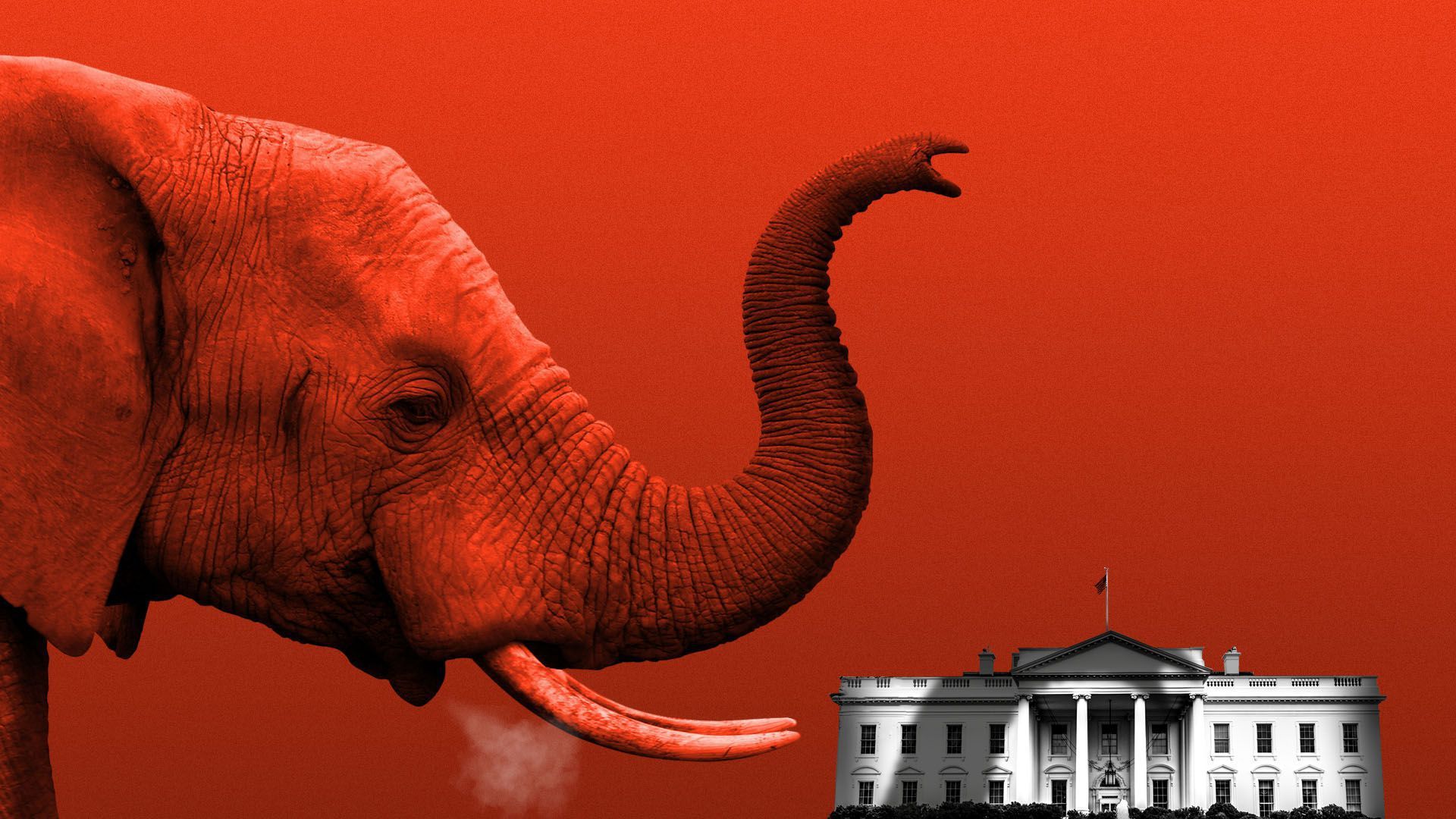 House and Senate Republicans are privately honing tools and targets for aggressive investigations of the Biden administration — and even some private companies — if they win control in the midterms, Axios' Lachlan Markay has learned.
Why it matters: If the GOP gets control in 2023, leaders want to kick off high-profile investigations as soon as the new Congress is seated, organizers tell us. Republicans plan to draw on investigative power from allies across Washington.
Behind the scenes: Top Republican congressional aides huddled this month with conservative think-tank leaders on Maryland's Eastern Shore to work through tactics and messaging for Biden administration probes.
"You've got to do four years of oversight in two years," said one of the organizers, Mike Howell, who leads Heritage Foundation's Oversight Project. "That's going to be an immense lift. And it means that they cannot wait to get these committees situated."
Howell added that the new majority also might take on tech giants that are considered political adversaries.
"Big Tech is in the crosshairs," the Heritage official said. "They're going to be subject to document requests and subpoenas and depositions."
He promised "a whole bevy of new tactics and techniques, which were once thought out of bounds."
The players: The retreat was hosted by Heritage, the Conservative Partnership Institute and the American Accountability Foundation, a nonprofit run by Trump administration alumni.
Attendees included aides to top Republicans on the Oversight, Transportation and Infrastructure, and Ways and Means committees, as well as a senior aide to Rep. Jim Banks (R-Ind.), a key party leader.
Aides to Sen. Pat Toomey of Pennsylvania, who's the top Republican on the Banking Committee, and Sens. Rick Scott (R-Fla.) and Mike Braun (R-Ind.) also attended.
What's next: With Democrats controlling both ends of Pennsylvania Avenue, Republicans complain that Biden has escaped the scrutiny that dogged the Trump and Obama administrations.
Probes of President Biden will go far beyond his son Hunter, who has long been on House leaders' target list. The party also plans to go after the administration's immigration policy and infrastructure spending — and bring heat on Cabinet members and nominees.
At the retreat, Gene Hamilton — a former senior aide in Trump's Justice Department, and a board member of the America First Legal Foundation — briefed staffers on how to use the federal court system to conduct research.
Others mapped how to coordinate congressional oversight with outside research and investigative groups.
2. 🔁 Bookmark: Trump endorsement tracker
Eight Republican candidates endorsed by former President Trump have lost in competitive GOP primaries so far this cycle, while 19 have won, according to an analysis by Axios' Andrew Solender.
Why it matters: Many of the candidates Trump endorses run uncontested or in non-competitive primaries, allowing him to pad his résumé.
But seven Trump-candidates were defeated in Republican primaries this month alone, including four high-profile challengers in Georgia who were crushed by incumbents.
The string of losses has punctured perceptions of Trump's dominance over the GOP for the first time in years, raising questions about the competition he could face in a 2024 Republican presidential primary.
3. Trump claims GOP fraud in Georgia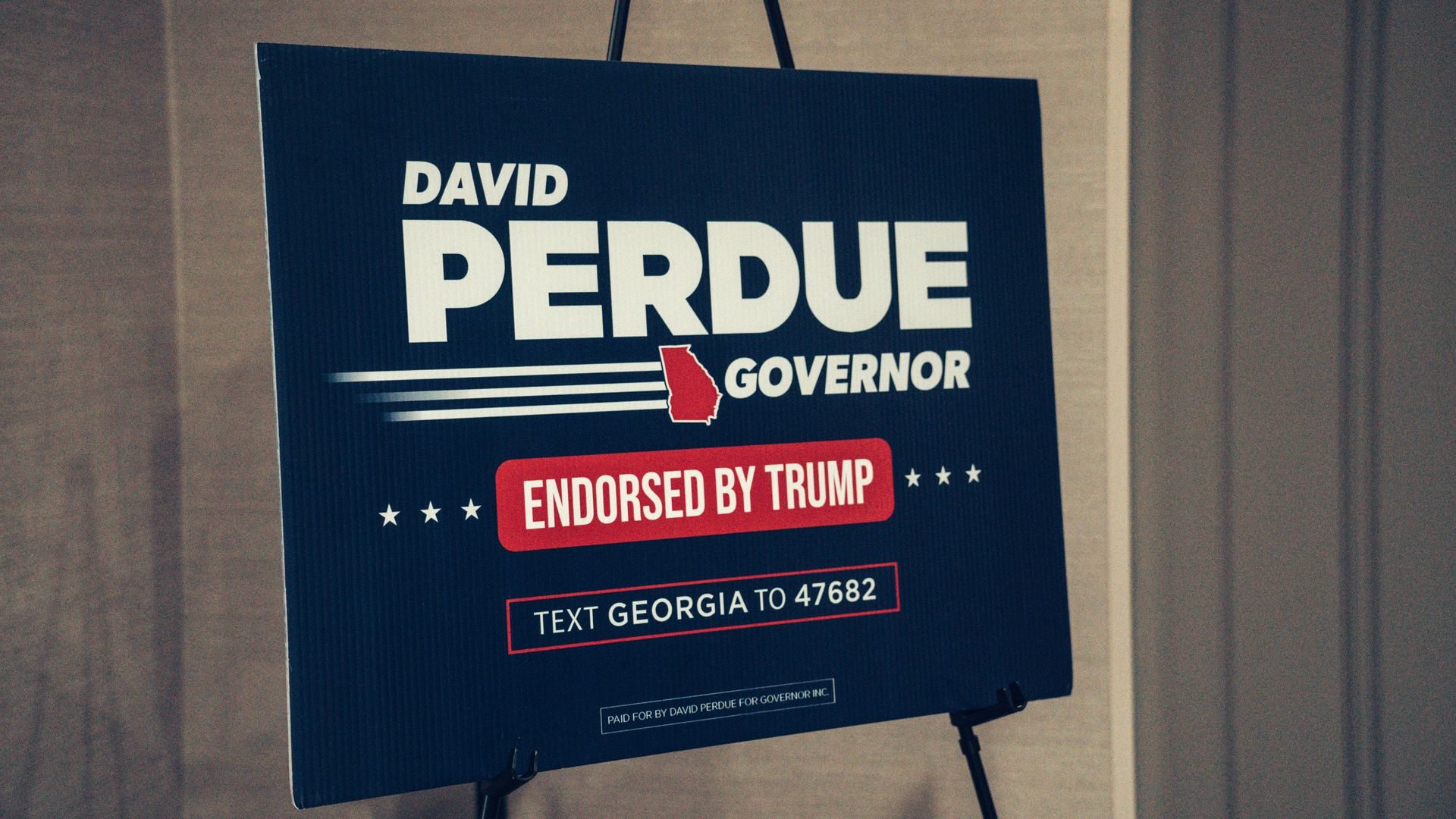 Trump promoted an article today by a far-right commentator claiming the GOP primary in Georgia — in which Gov. Brian Kemp defeated Trump-endorsed David Perdue by over 50 points — was "rigged."
The crux of the argument: "Nobody in any election in America gets 74% of the votes. Ever. It doesn't happen. Obvious fraud."
Reality check, via WashPost's Aaron Blake: "[A] 2009 study found that only around 1 in 10 Senate incumbents took less than 75 percent of the vote in their primaries. ... Trump also got at least 74 percent of the vote in nearly 1,100 counties in the 2020 general election."
👀 Trend to watch: An AP analysis of early-voting data in Georgia found 37,000 people who voted in the state's Democratic primary two years ago cast ballots in this year's Republican primary.
"Crossover voting, also known as strategic voting, is not exclusive to Georgia this primary season as voters across the political spectrum work to stop Trump-backed extremists from winning control of state and federal governments."
4. "Core four" emerges on gun talks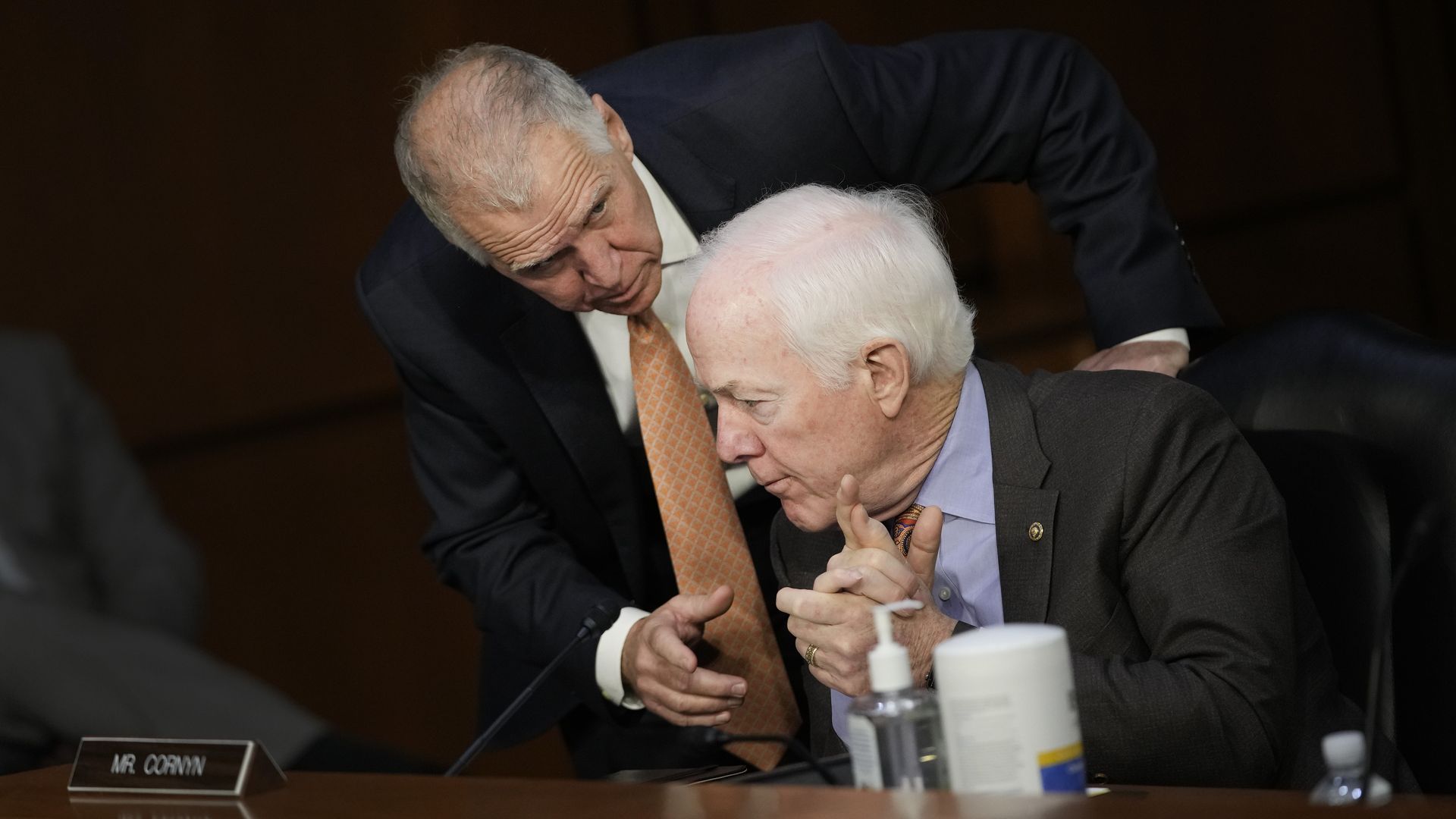 Sens. Chris Murphy (D-Conn.), John Cornyn (R-Texas), Kyrsten Sinema (D-Ariz.) and Thom Tillis (R-N.C.) met virtually via Zoom today to discuss a legislative response to the school shooting in Uvalde, Texas.
The talks have so far centered largely on mental health, with gun reform and school safety likely to be smaller components of any bill, two sources familiar with the meeting told Axios' Alayna Treene.
Senate Minority Leader Mitch McConnell told reporters in Kentucky that he hopes senators can come together to "target the problem, which is mental illness and school safety."
McConnell, who has directed Cornyn to work with Democrats on a "bipartisan solution," did not mention guns.
What to watch: The "core four" is expected to meet virtually with members of a broader bipartisan group — including Sens. Joe Manchin (D-W.Va.), Richard Blumenthal (D-Conn.), Martin Heinrich (D-N.M.), Lindsey Graham (R-S.C.), Susan Collins (R-Maine) and retiring Sen. Pat Toomey (R-Pa.) — later this week.
The group's goal is to reach a compromise before the Senate returns from its Memorial Day recess on June 6.
5. Parting shot: KJP hosts K-pop sensation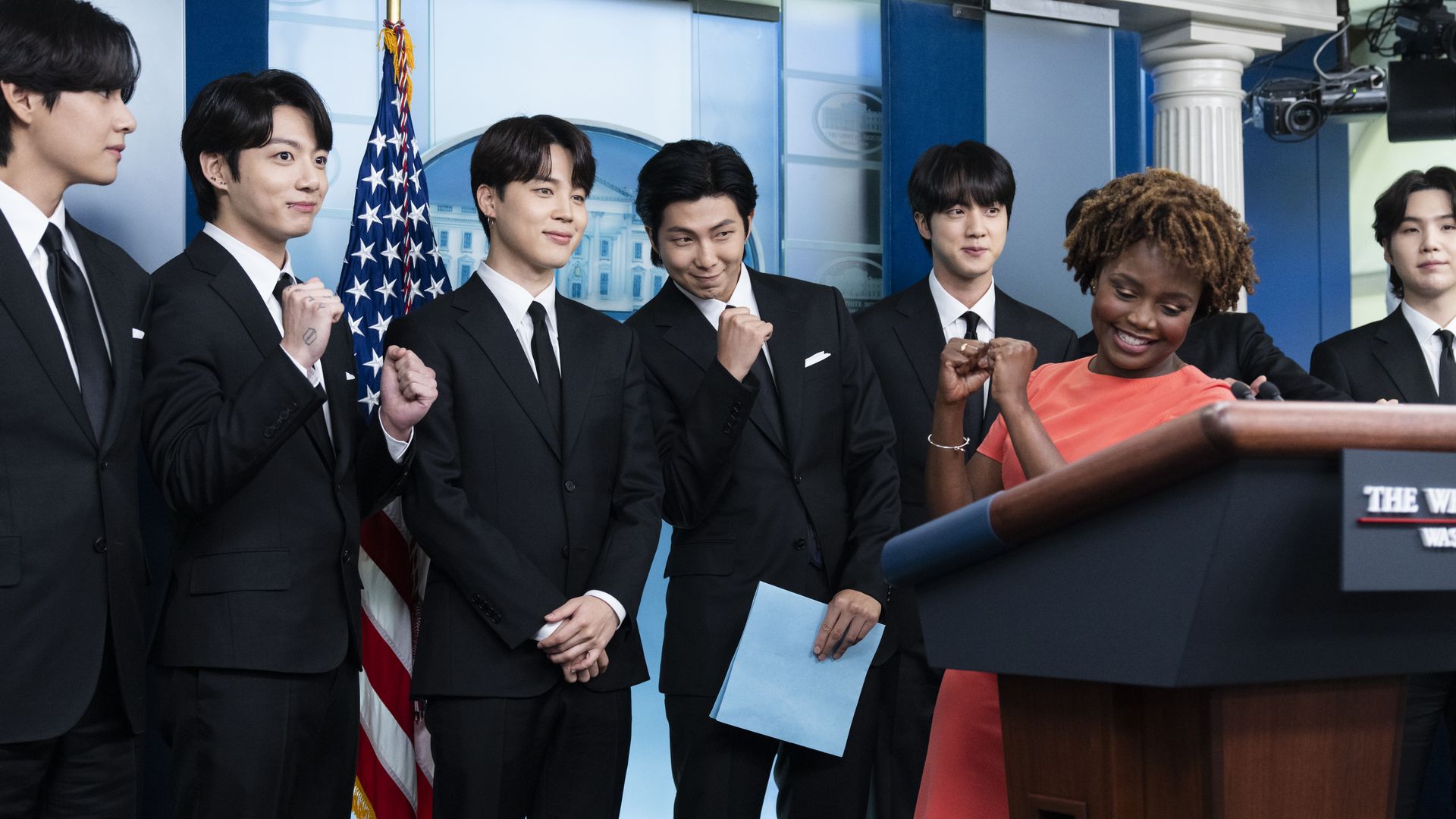 More than 310,000 people tuned in simultaneously to the official White House livestream of today's press briefing with Korean boy band BTS, who met with President Biden to discuss Asian inclusion and the rise in anti-Asian hate crimes.
Context: BTS is a global phenomenon with a more engaged following than any other entity on Twitter — and it isn't even close. Go deeper.
📬 Thanks for starting your short week with us! Tell your friends and family they can sign up for any of Axios' free newsletters here.