April 19, 2020
Welcome to Sneak Peek, our weekly lookahead from both ends of Pennsylvania Avenue, plus our best scoops.
I'm Alayna Treene, an Axios White House reporter, filling in for Jonathan Swan tonight.
Tell your friends to sign up free for their weekly Sneak Peek!
Situational awareness: More than 10 people have died in a shooting in Nova Scotia, per the Washington Post.
Tonight's newsletter is 1,821 words, a 7-minute read.
1 big thing: Your future foretold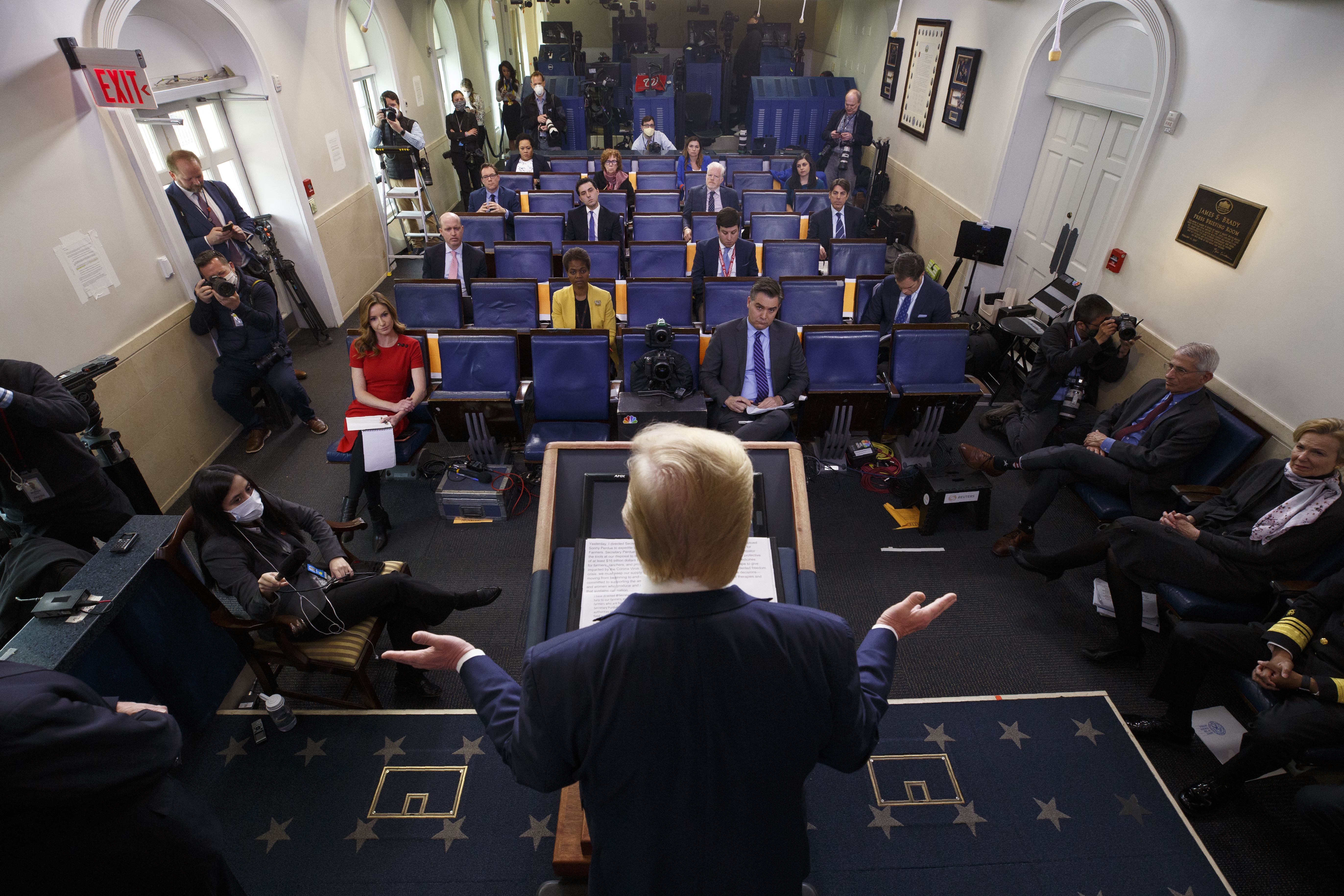 Even if you believe every optimistic scenario about how the coming months could unfold, America is still looking at a hole in our finances and society that could take generations to dig out of, Jim VandeHei and Mike Allen report.
Why it matters: President Trump and his top officials keep telling viewers that the economy will come roaring back within months of getting the virus under control. But the long-term price of the pandemic is just barely beginning to emerge.
Consider these projections, just three months into the crisis — with untold months of twists and pain ahead:
Between Congress and the Federal Reserve, the U.S. government has already committed more than $6 trillion "to try to stop an economic calamity — with just limited success," the Washington Post reports.
And that total is already rising: The White House and Congress are close to agreeing on an aid package of as much as $500 billion.
Even before the virus crisis, the U.S. was on track for a once-unthinkable $1 trillion budget deficit. Now, Morgan Stanley and Goldman Sachs both estimate that could be $4 trillion — the most, relative to the size of the economy, since World War II.
Business borrowing also is setting records: Companies including ExxonMobil and Walgreens, "which binged on debt over the past decade, now are exhausting their credit lines and tapping bondholders for even more cash," the WashPost points out.
Wall Street banks warn the pandemic could cost the global economy more than $5 trillion of growth over the next two years, which is "like losing Japan," as Bloomberg put it.
States and cities are losing tax money, producing an additional, closer-to-home disaster, as Stef Kight and Dan Primack reported.
On top of all that is the human cost:
Goldman Sachs said in a new forecast last week that the unemployment rate is expected to approach 15% this summer — a sign that the administration's "months not years" formulation for a recovery could be a pipe dream.
Columbia University researchers say that under the dire but not unthinkable forecast of 30% unemployment, the U.S. poverty rate would increase from 12% to 19%, the worst in at least 53 years.
And you can add in the opportunity cost of businesses that weren't started, or didn't grow, or didn't get additional funding, during this season when so much of American business was on hold.
The bottom line: When the health crisis ends, the effort to rebuild America will just be beginning.
An additional danger: the possibility of multiple waves of the virus, requiring cities, states, even regions to go to ground for weeks at a time.
2. Breaking: Congress, White House near deal
Lawmakers on both sides of Pennsylvania Avenue could reach a deal by the end of the night on a new coronavirus spending package that will deliver billions more of emergency funding for small businesses, hospitals and testing.
Driving the news: The bill is expected to include at least $300 billion more for the Paycheck Protection Program (PPP) that dried up this week, up from Republicans' original ask of $250 billion.
The White House has also agreed to include some of Democrats' demands, including $75 billion for hospitals, $50 billion for the Economic Injury Disaster Loan program, and $25 billion to expand coronavirus testing.
Democrats still want another $150 billion for state and local governments, but during a conference call with President Trump and Treasury Secretary Steven Mnuchin this afternoon, Senate Majority Leader Mitch McConnell told Senate Republicans that that money would not be in the package, per a Senate Republican leadership aide.
The thinking among some Trump administration officials is that many states should be reopening their governments soon and that additional funding could deter them from doing so.
There are also smaller details within the bill that still need to be hammered out, two senior Democratic aides said, including specifics on how the money will be spent and who has access to the funding.
Mnuchin says he thinks the final bill could be signed into law on Wednesday.
"I'm hopeful that we can reach an agreement, that the Senate can pass this tomorrow and that the House can take it up on Tuesday," Mnuchin told Jake Tapper on CNN's "State of the Union" earlier today.
Democrats involved in the negotiations are more skeptical, saying they're hopeful a deal will be struck either tonight or tomorrow and that they expect it to pass both chambers by the end of the week.
House Democrats don't expect to vote until Wednesday at the earliest.
Behind the scenes: Mnuchin and his staff have been in intense negotiations with aides to Senate Minority Leader Chuck Schumer and House Speaker Nancy Pelosi all weekend, and those talks will continue late into the night, according to three sources involved in the negotiations.
White House Chief of Staff Mark Meadows has joined those calls on occasion.
House and Senate Republicans have so far played a more outside role in the talks, instead relaying to Mnuchin and his team what they will and will not support.
3. Battle lines drawn over next stimulus bill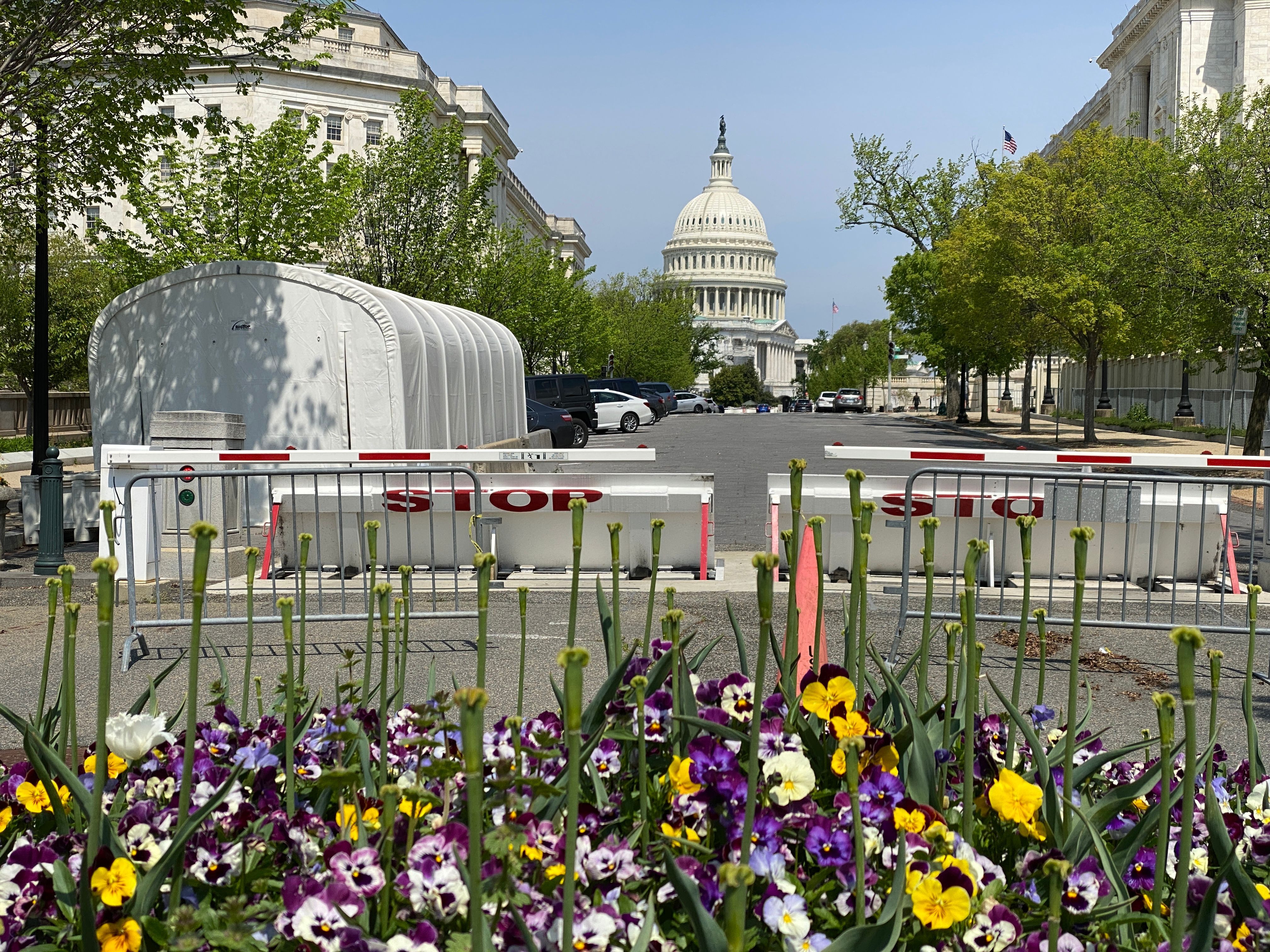 Now that the interim coronavirus funding bill is approaching the finish line, a heated debate over a much bigger phase 4 rescue package has picked back up, according to conversations with multiple House and Senate aides.
At the forefront of the discussion is filling what Democrats see as the gaps in the interim bill — the biggest being more money for the states.
Sens. Bob Menendez (D-N.J.) and Bill Cassidy (R-La.) proposed a $500 billion fund Sunday night for state and local governments to be included in the next stimulus bill.
What they're saying: The interim bill "is only gonna cover a very short list of discrete things, so there's more work," a House Democratic aide told Axios.
"The second biggest microphone in the country right now after Donald Trump is the governors. And the governors are asking for more state and local funding. So it puts Trump and the Republicans in a difficult place when you've got bipartisan pressure to support this," a senior Democratic aide said.
But Trump administration officials think a broader stimulus deal is weeks, if not months, away — and some say these types of programs might not be needed by then if state economies are opened up again.
"I would put the skids on [phase 4 talks] because right now we've provided what we need to. We're replenishing the funds that need to be replenished, as of Monday," a senior White House official told Axios.
"The ink isn't even dry on these other packages, and the money isn't even out the door yet. Let's focus on these current programs first," a Trump administration official said. "Plus, we're already seeing some states open back up. This is premature."
The bottom line: The earliest a phase 4 bill could be passed is May 4, when the House and Senate are slated to return to the Hill.
4. Scoop: Look who's talking to Biden
Sen. Amy Klobuchar is the next guest on Joe Biden's podcast "Here's the Deal," which was previewed by Axios before it comes out tomorrow.
Klobuchar talks about her reading habits during the coronavirus lockdown, what inspired her to get into politics, and her friendship with John McCain, Axios' Alexi McCammond reports.
Why it matters: You can't have conversations with Democratic operatives and strategists without hearing Klobuchar's name come up as a potential vice presidential pick for Biden — who's already publicly committed to selecting a woman.
This is the fifth episode of "Here's the Deal."
Michigan Gov. Gretchen Whitmer — also speculated to be of interest for the VP list — was Biden's guest for the second episode.
The big picture: Klobuchar is still making time to campaign for Biden while she's working on vote-by-mail legislation to help protect the November election from a global pandemic that's keeping Americans at home.
What to watch: A source familiar told Axios that Klobuchar will be hosting two to three virtual fundraisers for Biden over the next couple of weeks.
And this week she's expected to send an email on her behalf for Biden's campaign to her fundraising list, per a source familiar, following Elizabeth Warren who did the same last week.
She's also joining a Women for Biden virtual event this week.
5. Trail pic of the week
Senate Minority Leader Chuck Schumer and Rep. Alexandria Ocasio-Cortez speak at a press conference in Queens, one of the cities hit hardest by the coronavirus.
Earlier this week, AOC left the door open to a possible 2022 primary run against Schumer.
Asked about her comments on CNN today, Schumer said, "Look, throughout my career, I have done my job. I'm totally focused on this COVID. We are the epicenter. And I have found, throughout my career, you do your job well, everything else works out OK."
6. Branding Biden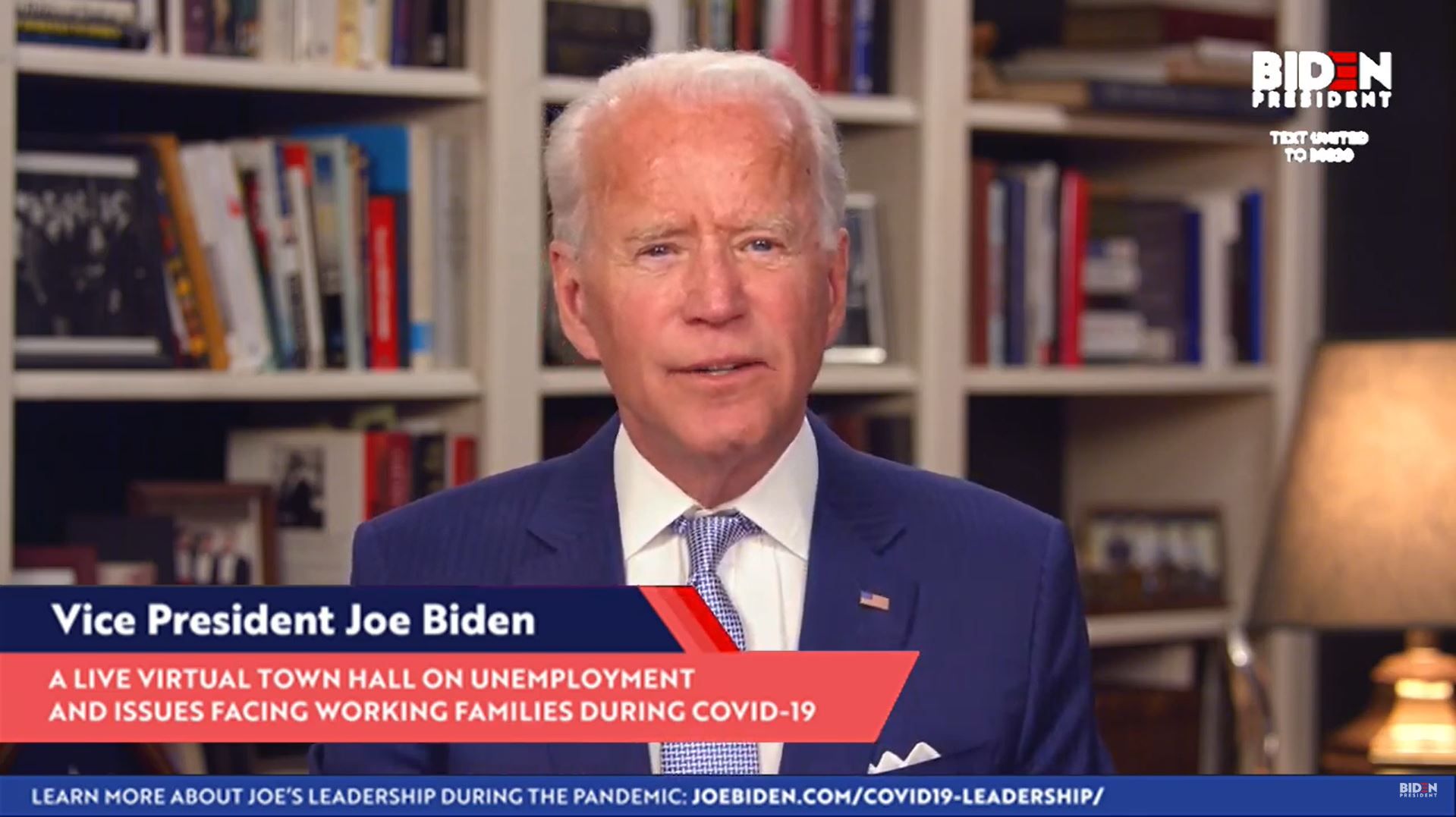 President Trump continues to market test ways to rattle and ridicule Joe Biden as he did with schoolyard taunts for Marco Rubio ("little," "sweaty"), Jeb Bush ("low energy") and Hillary Clinton ("corrupt"). 
The latest: As Jonathan Swan reported in Sneak Peek last week, GOP polling found that Biden's past comments on China are ripe for political exploitation.
America First Action, the pro-Trump super PAC, went on the air last week with a "BeijingBiden" attack.
Look for the Trump team to stir in frequent references to "Biden's 50 years in Washington." (He was sworn in as a senator from Delaware 47 years ago, when he had just turned 30.)
An outside Trump adviser told Mike Allen the hit on Biden as China-friendly and a career politician "tie together in a beautiful bow," since the political establishment favored engagement with China throughout Biden's time in Washington.
Trump, friends say, is licking his chops at the idea of debating Biden.
"Watch the 2016 debates with 2020 eyes," the adviser said, arguing that Trump will be at least as ruthless with Biden as he was with Hillary Clinton.
The hypocrisy will not slow this one down:
Watch for reprisals of "Sleepy Joe," as Trump, age 73, argues that Biden is slowing down at 77.
Trump sources also say that he'll pursue a "Sugar Daddy" line of attack on Biden for the business dealings of his son Hunter — and not just in Ukraine.
The other side: Biden national press secretary TJ Ducklo responded: "Joe Biden warned him not to take Beijing's word. Now, the death toll is north of 30,000 and over 22 million Americans are out of work, and there's still no coherent national response."
"Clever nicknames and attacks he's tried for a year that got zero traction won't distract from this inescapable truth that Americans live with each and every day: Donald Trump's inaction during this crisis is among the worst failures by an American president in our country's history."
7. Sneak Peek diary
The House is on recess until at least May 4, however, members are expected to be called back to Washington this week for a recorded vote on the interim stimulus bill, House Majority Leader Steny Hoyer (D-Md.) said Sunday night.
House Democrats will hold a conference call on Monday afternoon.
The Senate is also on an extended recess through May 4, and hopes to pass the interim funding bill in a pro forma session. But some worry a senator may object to the bill, which would require members to return to the Hill for a formal vote.
A pro forma session is scheduled for tomorrow afternoon.
The White House did not provide a copy of President Trump's schedule, but the daily coronavirus task force briefings are expected to continue, per a White House official.
On Tuesday, Vice President Mike Pence will visit a manufacturing facility in Madison, Wisconsin, that is producing ventilators.
8. Graphic du jour
From today's "Meet the Press with Chuck Todd" ...