Axios Sneak Peek
October 21, 2018
Welcome to Sneak Peek, our weekly lookahead for both ends of Pennsylvania Avenue, plus my best scoops. I'd love your tips and feedback: [email protected]. And please urge your friends and colleagues to sign up for Sneak Peek.
1 big thing ... "He wants them to suffer more": Inside Trump's China bet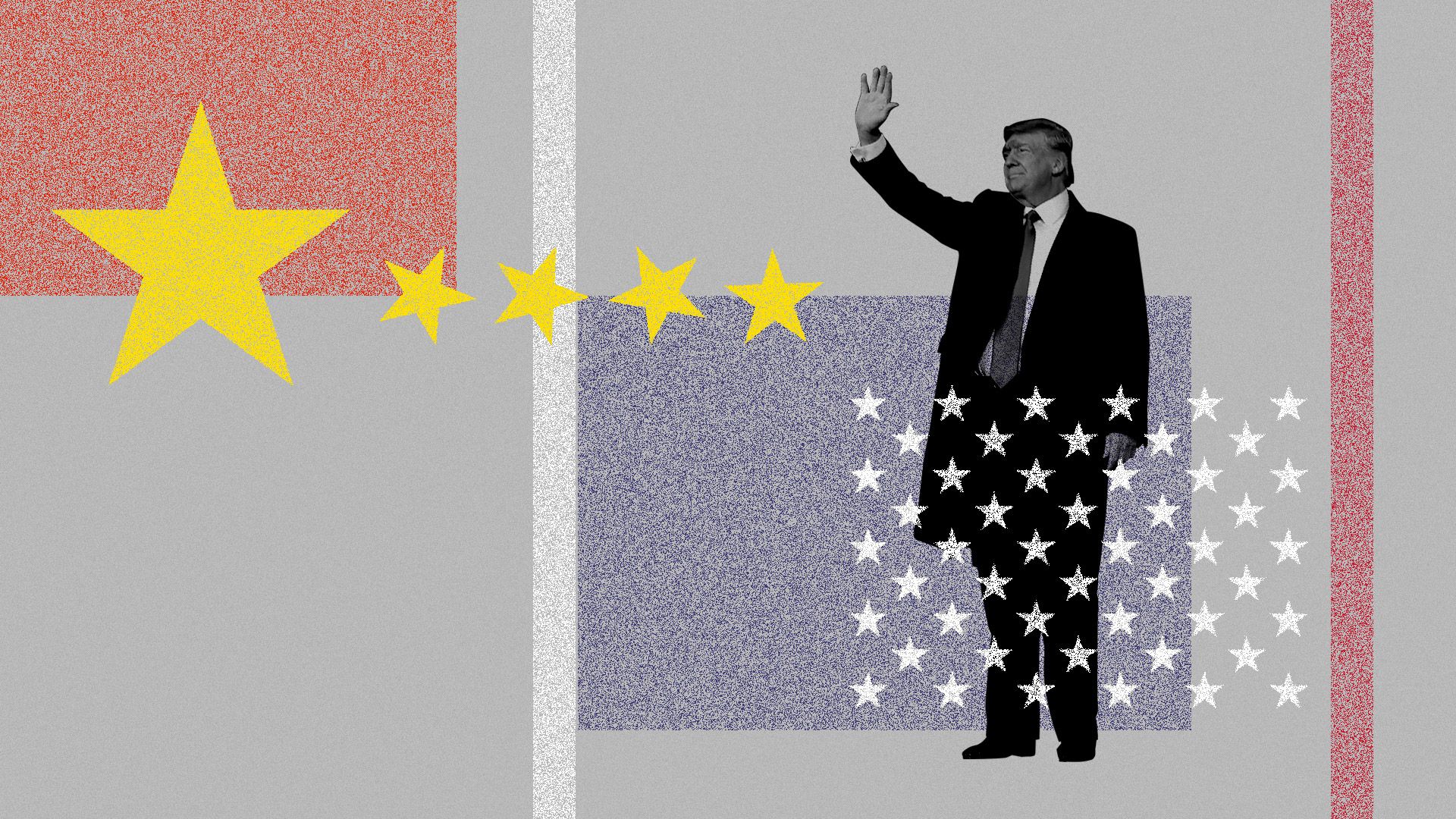 President Trump has no intention of easing his tariffs on China, according to three sources with knowledge of his private conversations. Instead, these sources say he wants the Chinese leaders to feel more pain from his tariffs — which he believes need more time to fully kick in.
"He wants them to suffer more" from tariffs on $200 billion of Chinese goods, said a source with direct knowledge of Trump's thinking, and the president believes the longer his tariffs last, the more leverage he'll have.
Why this matters: Trump's trade war with China is at the "beginning of the beginning," according to a source familiar with Trump's conversations. And his team doesn't expect much from the tentatively planned meeting between Trump and Chinese President Xi Jinping on the sidelines of the G20 summit in Buenos Aires next month.
The Trump economic team has done no substantive planning so far for the bilateral meeting's agenda, largely because the purpose of the meeting is for Trump and Xi to reconnect, eyeball each other, and feel each other out amid their escalating trade war.
"It's a heads of state meeting, not a trade meeting," a source with direct knowledge told Axios.
Between the lines: "Trump is thinking about this meeting as a personal reconnection with President Xi, not a meeting that's going to evolve into detailed discussions," said a source familiar with Trump's thinking. "The sides are very far apart. ... Right now, there's not the common basis for proceeding."
Trump isn't focused on the details of a potential China deal. He's focused on creating more leverage, according to another source who recently discussed the U.S.-China standoff with the president.
Behind the scenes: Trump has privately boasted that his China tariffs have driven down the country's stock market. Experts say the trade war has hurt market sentiment, but the stock market has never been a reliable barometer of Chinese economic strength.
The generic point Trump makes to aides, per a source with direct knowledge: "'We are strong and they are weak.' ... He believes more pressure will bring them to the table to make a deal."
Treasury officials have had contact with key Chinese negotiator Liu He's camp to exchange information. There's been nothing close to real negotiation, according to sources briefed on them. "There is some contact with mid-level Chinese, but not much. ... I wouldn't overestimate the planning process," a U.S. official with direct knowledge told me.
Treasury Secretary Steven Mnuchin's team has told the Chinese there's no point in them floating plans to buy U.S. products as the key priorities — structural issues like IP theft and market access — must be addressed.
Treasury officials have told the Chinese that the list of U.S. requirements hasn't changed from the summer, according to sources briefed on their conversations.
The bottom line: All signs suggest the trade war between the U.S. and China is just getting started. I've asked sources close to Trump whether he's ever expressed any private concerns over whether his tariffs could backfire due to Chinese retaliation against American consumers or companies. Nobody I've spoken to has heard Trump express anything along these lines. He's all in.
2. The big picture: Trump's hostile reset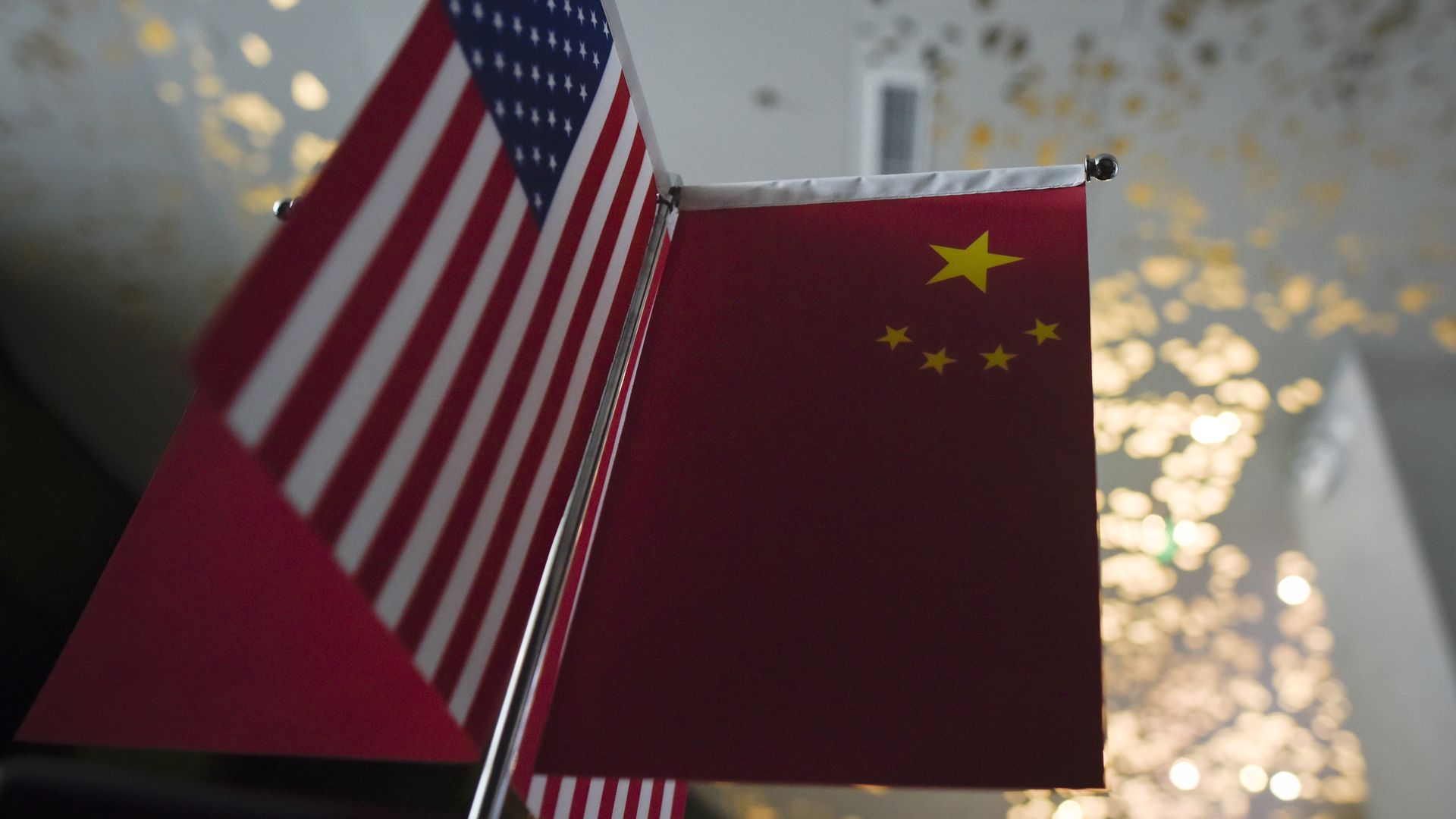 Bill Bishop, who writes the superb Axios China newsletter, explains the bigger picture of how Trump is altering the U.S.-China relationship.
"The trade war is just one dimension of the fundamental resetting of the U.S.-China relationship that Trump and the empowered and unleashed national security bureaucracy is undertaking."
"And even if there is a trade deal some time in the future the other issues, like Taiwan, South China Sea, interference/influence, basically everything Pence laid out — have little prospect of resolution."
"Where I think Trump is wrong is in his belief the Chinese will cave. Xi and the Party have spent years hardening their system to deal with an economic downturn and foreign threats, and they will take a lot of pain before they cave to the U.S., especially since the top of their system has finally come around to believing Trump and the U.S. have as their real goal the thwarting of 'China's rise.'"
The bottom line: "As best as I can tell from my own work and a lot of conversations on this subject, the Chinese expected this kind of broader competition and contention with the U.S., but not for at least another 5-10 years. So they would prefer to find ways to defer and play for time, but they will eat what they have to now if Trump forces them to."
3. The White House's next steps on opioids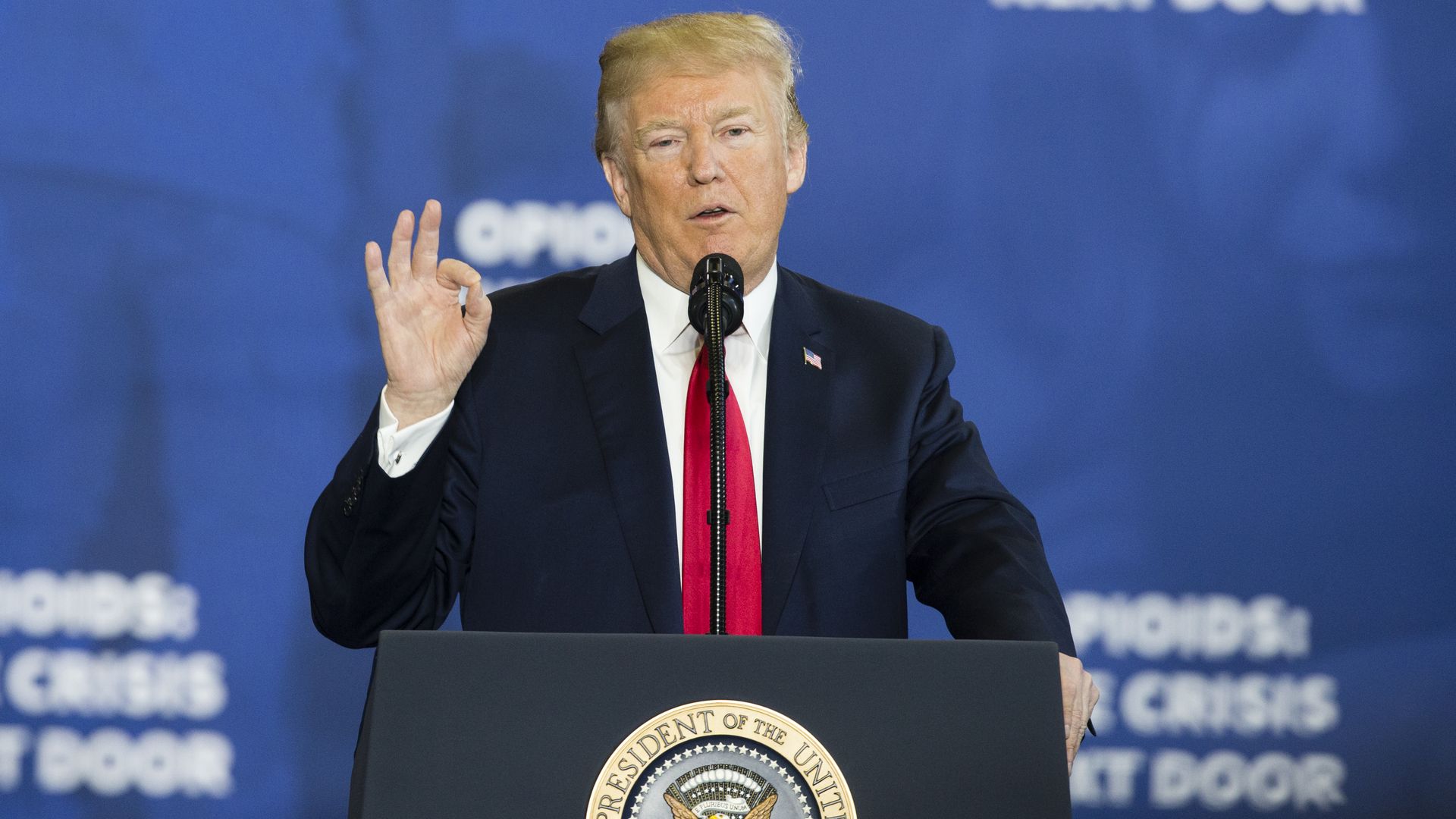 The White House will roll out the next phase of its response to the opioid crisis this week, roughly a year after President Trump's high-profile declaration that the epidemic constitutes a public-health emergency, Axios' Sam Baker and I report.
Details: On Wednesday, Trump will sign Congress' recently passed opioids legislation, which, among other things, eases limits on Medicaid funding for addiction treatment and expands access to medication-assisted treatments similar to methadone.
He'll be joined in the East Room by roughly 20 other organizations announcing their own initiatives, senior White House counselor Kellyanne Conway said in an interview.
Health insurer Cigna will roll out a new initiative for veterans, and Adapt Pharma will announce it's donating doses of Narcan, the overdose-revival drug, to every public library and YMCA in the country, Conway said.
Where it stands: Congress and the Trump administration have steered billions of dollars to help with the crisis, and most of that work has been bipartisan, highlighted by the fact the bill Trump is signing passed the Senate 98-1.
But overdose deaths are still climbing — as they were well before Trump took office — though Conway said the administration is encouraged by the declining rate of growth in overdose deaths.
"This crisis could well get worse before it gets better. We're trying to bend the curve in the right direction," Conway said.
What's next: The White House's anti-opioids advertising campaign is continuing, and First Lady Melania Trump is also slated to speak at Wednesday's event. Conway said opioids are the one public policy issue that the Trumps work on together.
Yes, but: Many public-health experts are skeptical these ads will make a big difference. The most important thing, they say, is more money for treatment programs. Congress and the White House have provided more than $6 billion so far, but the crisis is still far from over.
4. Fed up: Jerome Powell's rough road
The life of Federal Reserve Chairman Jerome Powell is going from bad to worse. Trump is furious that Powell is raising interest rates quickly and even called the Fed the "biggest threat" to a booming economy.
According to a source familiar with Trump's thinking, the president feels the only way to get his message to Powell is by bashing him in the media. And I've heard nothing to suggest Trump will back off these attacks.
Another problem for the Fed: Trump's nominee for the central bank's board of governors, Nellie Liang, has significant problems with Republicans and may not even make it to the Senate floor for a vote.
A number of key Republican senators, including Pat Toomey on the Senate Banking Committee, have expressed doubts about her.
Liang favors strong regulations on banks and is a Democrat. It's unclear whether she can even make it out of committee.
The bottom line: "There's a better chance of seeing Elvis than of seeing her on the Fed," a source close to Republican leadership told me. Mitch McConnell is "not going to call a vote on somebody who has no support among Republicans. That's not how Mitch works."
5. Members of Congress break from Trump on Khashoggi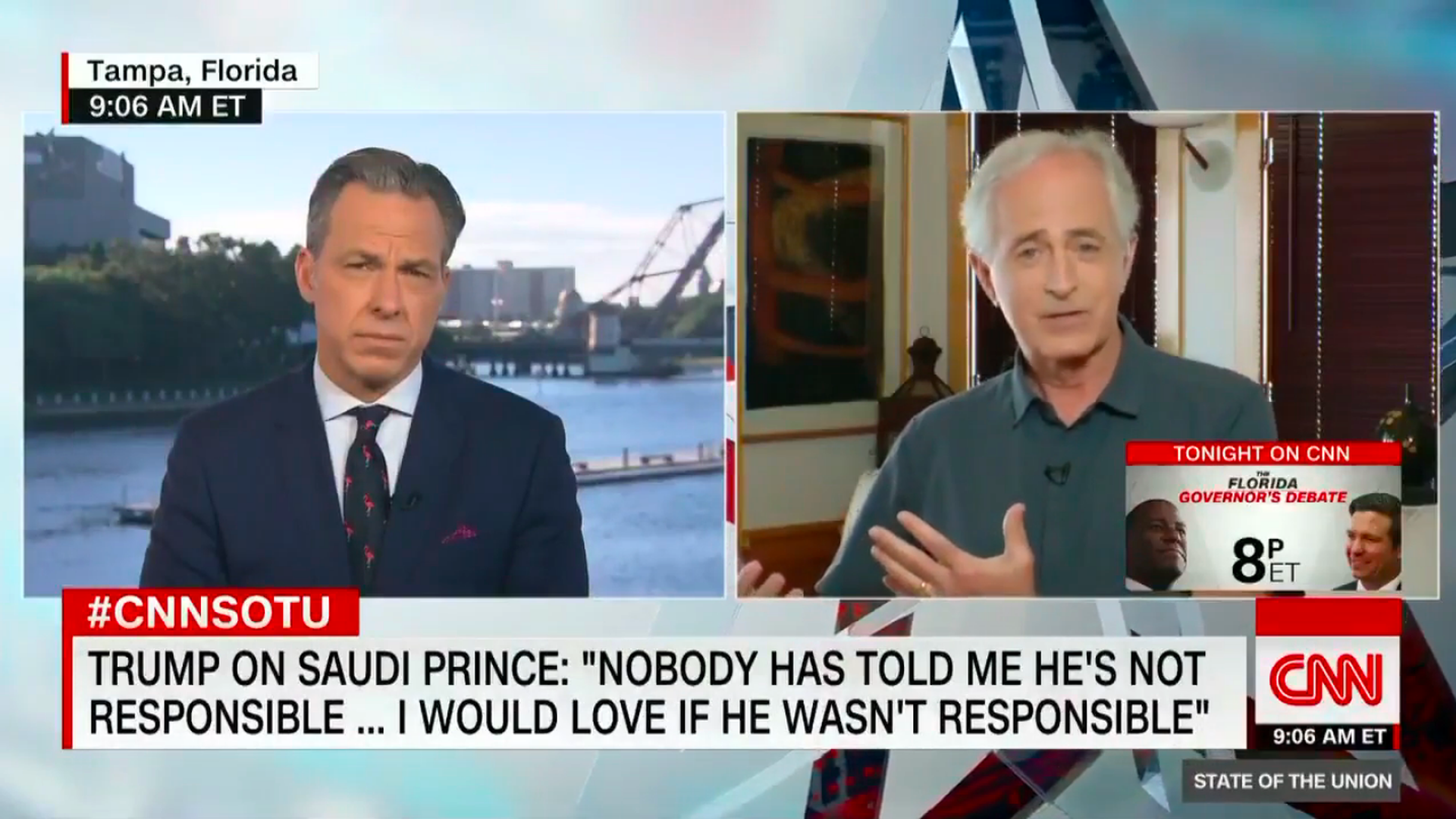 On the Sunday shows this morning, bipartisan members of Congress took a much more skeptical line on Saudi Arabia's explanation of Jamal Khashoggi's killing than any statement from President Trump over the last 48 hours, reports Axios' Zach Basu.
Sen. Bob Corker discussed Crown Prince Mohammed bin Salman's potential involvement on CNN's "State of the Union": "If he's gone forth and murdered this journalist he's now crossed the line and there has to be a punishment and a price paid for that. And, again, I'm not rushing to judgment. Do I think he did it? Yes, I think he did it."
Sen. Rand Paul told "Fox News Sunday" that the United States "really needs to discontinue [its] arms sales to Saudi Arabia."
Sen. Dick Durbin called for Saudi Arabia's ambassador to the United States to be expelled from Washington "until there is a completion of a third-party investigation" on NBC's "Meet the Press."
Rep. Adam Schiff said Khashoggi's death "ought to be a relationship-altering event for the U.S. and Saudi Arabia" on ABC's "This Week."
Flashback: On Friday, President Trump called the Saudis' explanation "credible" at a roundtable in Arizona.
The president expressed more slightly more skepticism about MBS' involvement in an interview with The Washington Post that published late last night: "Nobody has told me he's responsible. Nobody has told me he's not responsible. We haven't reached that point. ... I would love if he wasn't responsible."
The bottom line for many in Congress, summed up by Sen. Ben Sasse on CNN: "You don't bring a bone saw to an accidental fist fight."
6. Sneak Peek diary
The House and Senate are on recess until the midterm elections.
President Trump's schedule, per a White House official:
Monday: Trump has lunch with Vice President Mike Pence, then hosts a roundtable with supporters followed by a campaign rally in Houston, Texas.
Tuesday: Trump addresses the "White House State Leadership Day Conference" for Alaskan, Californian, and Hawaiian local officials. He'll also get briefed by senior military leaders and have dinner with senior military leaders.
Wednesday: Trump will sign the bipartisan opioids legislation and address an event commemorating the signing at the White House. He'll later do a campaign rally in Mosinee, Wisconsin.
Friday: Trump has lunch with Secretary of State Mike Pompeo and there's a hold for travel to North Carolina.
7. 1 inflationary thing: Trump's magic math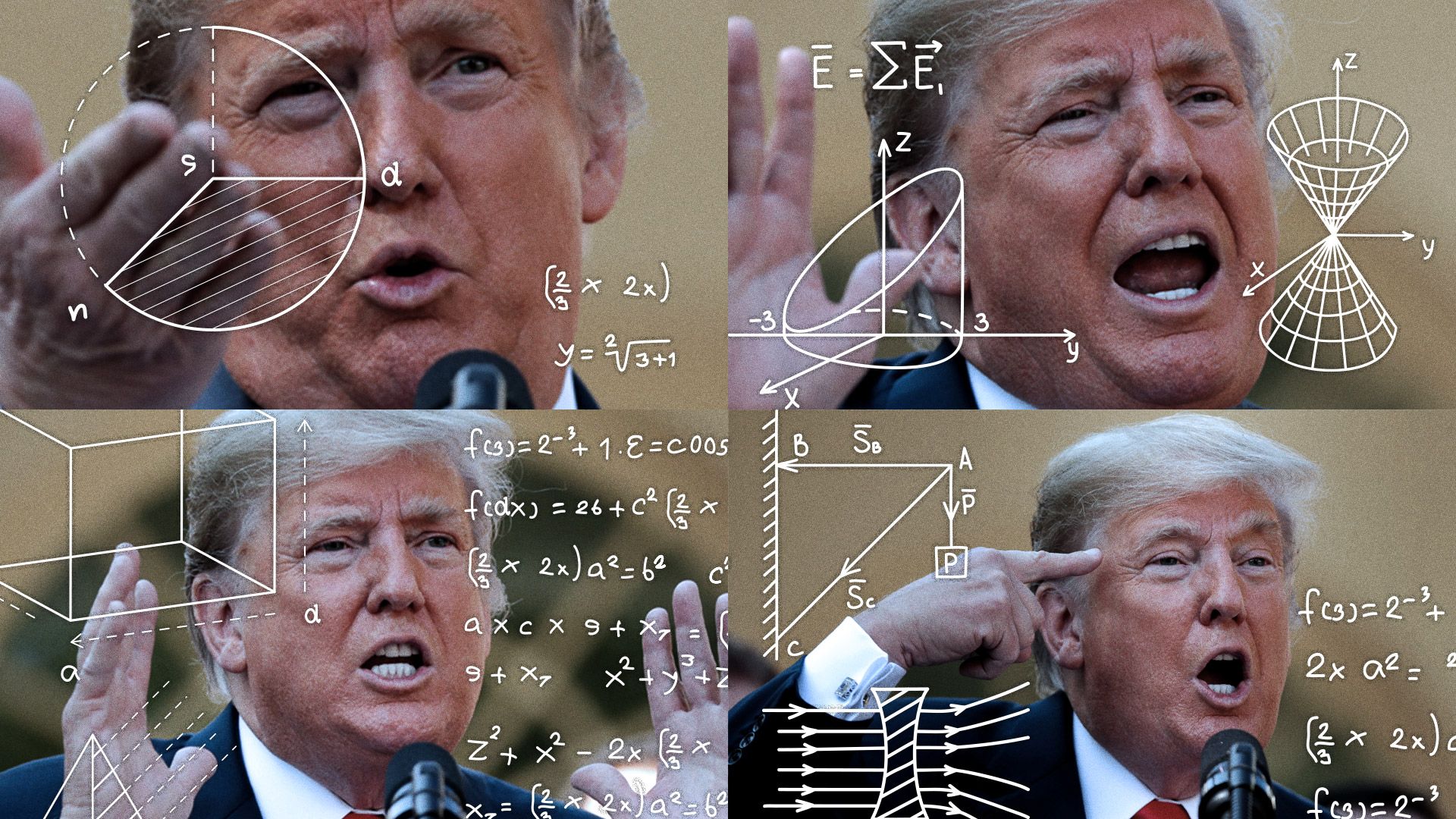 In a 2007 deposition, Donald Trump said his estimates of his net worth go "up and down with the markets and with attitudes and with feelings, even my own feelings..."
Why it matters: Now that he's president of the United States, Trump appears to be taking a similar feelings-based method to assessing the number of U.S. jobs gained from his arms deal with Saudi Arabia.
The Toronto Star's Daniel Dale points out:
On March 20, during the Crown Prince's visit, Trump claimed the Saudi purchases of U.S. weapons he arranged would generate "over 40,000 jobs in the United States."
Last Saturday, Oct. 13, when Trump was asked if he's considering punishing Saudi Arabia for murdering Washington Post columnist Jamal Khashoggi, Trump mentioned the same arms deal as the reason he was reluctant to stop the arms sales. That time, he said the deal created 450,000 jobs.
On Wednesday, Oct. 17, during a Fox Business interview, Trump inflated the statistic to 500,000 jobs.
On Friday, at lunchtime during a water rights memorandum signing, Trump increased the jobs number to 600,000.
A few hours later, on Friday evening at Luke Air Force Base in Arizona, Trump said the deal was worth 600,000 jobs for the military but "over a million jobs" in total.
The bottom line: From which source did Trump get these rapidly inflating statistics? I asked the White House press office. No response by deadline.