Axios Sneak Peek
July 23, 2017
Welcome to Sneak Peek, our weekly lookahead for both ends of Pennsylvania Avenue. I'd love your tips and feedback: [email protected]. And please urge your friends and colleagues to join the conversation by signing up for Sneak Peek.
1 big thing: the life of Reince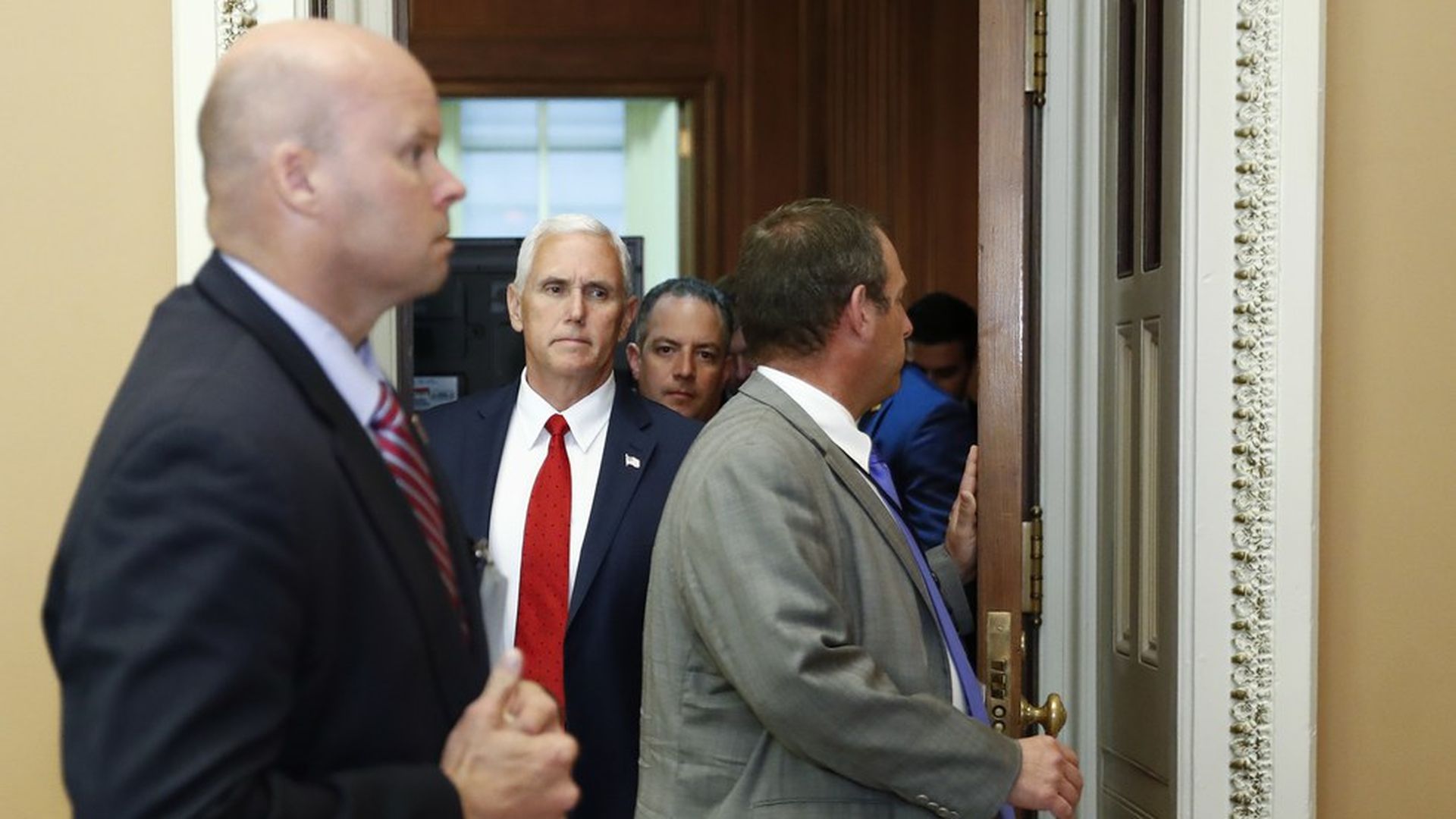 A much-discussed question at the top of the White House: just what magnitude of indignity would it take for Chief of Staff Reince Priebus to resign?
President Trump knew that appointing Anthony Scaramucci as communications director would humiliate Reince, who fought hard against it. Scaramucci was smuggled into the meeting with the President on Thursday so Reince wouldn't know about it. Trump had already taken pains to hide the discussions from his Chief of Staff, knowing Reince would try to foil the move. Trump also knew that inserting a line in the press release saying Scaramucci would report directly to the President — doing an end-run around Reince — was perhaps an unendurable public humiliation.
If we've learned anything so far about this President, it's that in real life he actually hates saying "you're fired."
So what might it take for Reince to quit?
Reince has very few true allies inside the building. At this point, they don't stretch much further than his personal assistant and the RNC holdovers on the press team.
At the senior level, the only WH official who will go to the mat for Reince's survival is Steve Bannon. They've become allies of convenience in a feud against Jared and Ivanka ("Jivanka," as Bannon calls them to associates.) Jared and Ivanka distrust Reince, think he's incompetent, and want him gone ASAP.
Still, there's no obvious replacement, though a number of names have been tossed around. (This is why I've never written a Reince-is-terminal story in this newsletter.)
One speculative question: What does Reince do if Scaramucci fires any of his people on the press team? Does the Chief of Staff take up the fight with the President? And what happens if he doesn't get his way? On CBS's "Face the Nation," Scaramucci said he plans to tell the team at a Monday staff meeting that they will all be fired if they don't stop leaking.
Our thought bubble: Reince has redefined what it means to be the White House Chief of Staff — and not in a good way. It's unclear at this point how he survives much longer, and the breeziness with which the President humiliates him has even his enemies wincing in sympathy.
2. Crunch time for health care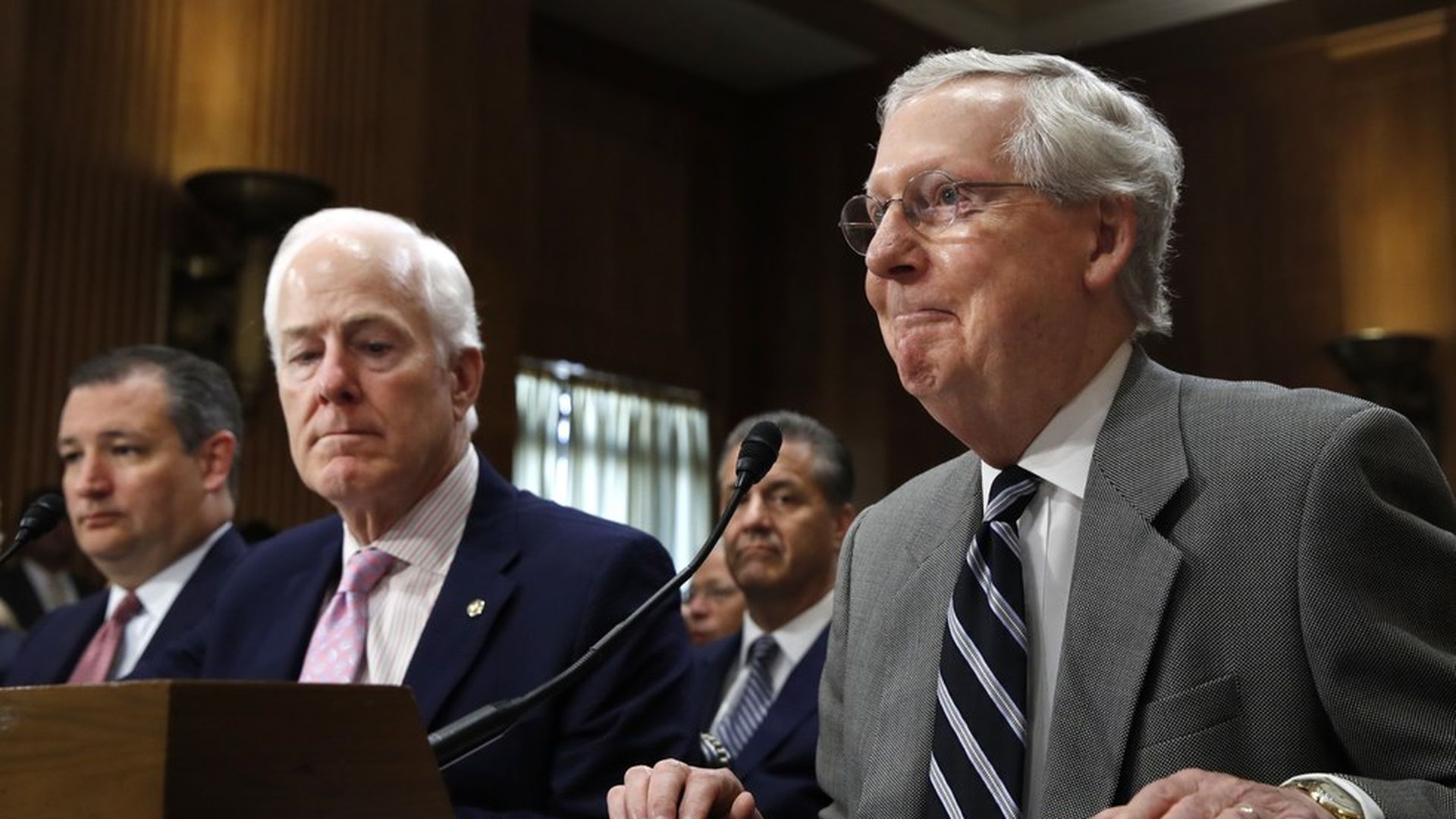 Senate Republicans are (finally) expected to vote this week for the motion to take up the bill to repeal and replace the Affordable Care Act. Watch for a Tuesday afternoon vote, though that timing could shift.
The situation looks dicey for Mitch McConnell and the Trump administration. They're still shy of the 50 votes they need to even get the Senate to debate the health care bill.
But after talking to Senate and White House sources through the weekend, here's why I think there's a chance that the motion-to-proceed vote succeeds:
It's a herculean task, but we shouldn't assume the margin for error is one vote. Don't count out John McCain, who is fighting brain cancer, showing up for a dramatic moment.
McConnell and the White House have been offering more money for moderates, so we'd be surprised if senators Portman, Hoeven, Murkowski, and Capito vote against the motion to allow the bill to be debated. Mike Pence spent time with Portman in Ohio on Saturday and Trump will spend time with Capito on Monday in West Virginia.
That leaves Rand Paul, Mike Lee, Susan Collins and Dean Heller as the four toughest votes. (The reason I think it's possible the two conservatives, Lee and Paul, vote to put the bill on the floor is because they could say they'll vote for the motion to proceed so long as the first vote after that is on the 2015 repeal bill. They could then say that under no circumstances will they vote for a watered-down bill.)
Susan Collins will be very tough to get, perhaps impossible. Heller is considered gettable.
Anti-abortion measures will likely stay in the bill, despite the Senate parliamentarian ruling them out last week. Social conservative groups still back the vote to proceed on the bill because the White House has told them they have replacement language ready that solves the parliamentarian's concerns.
3. The shows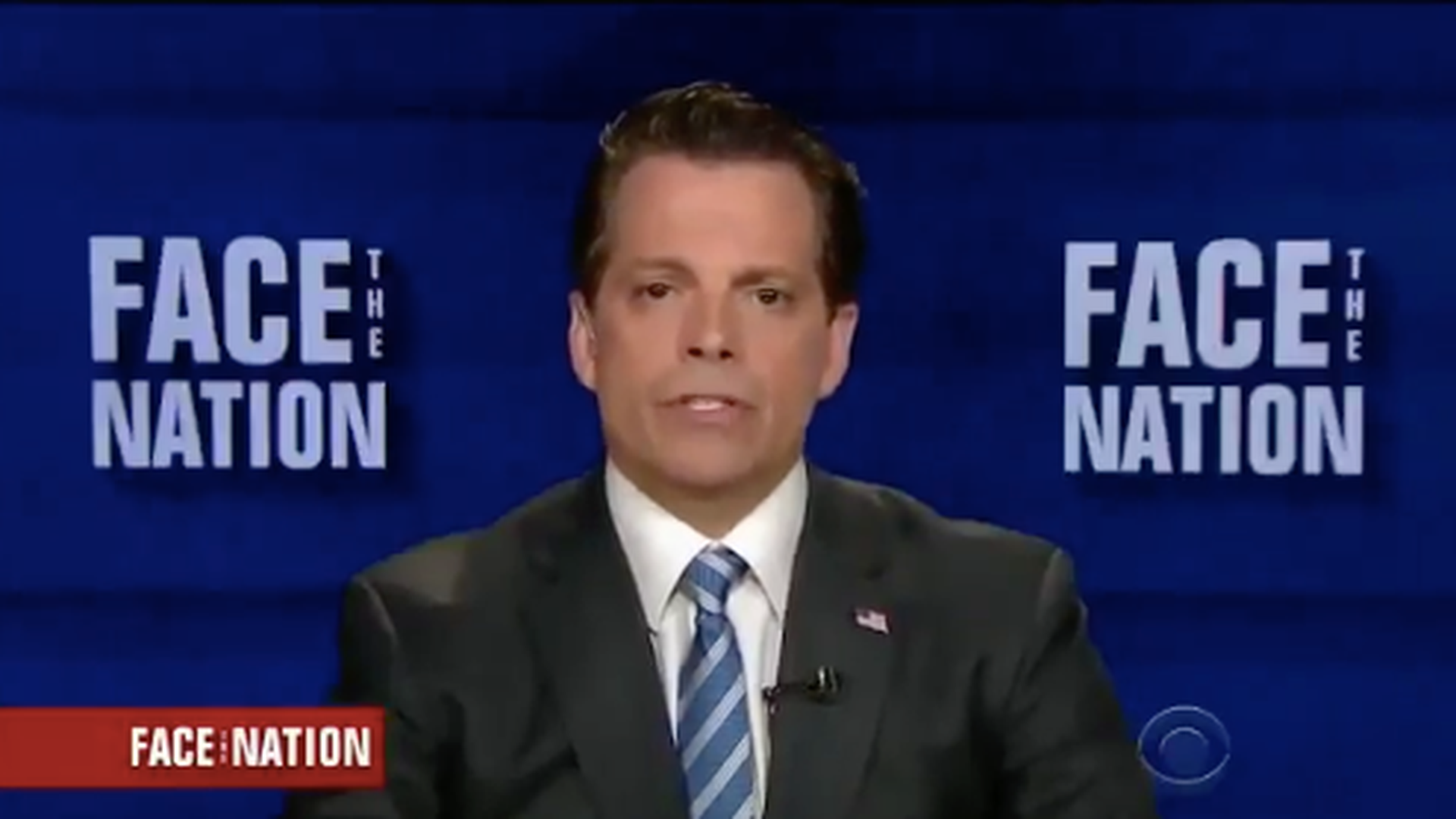 Sunday highlights reel, with Scaramucci repping the Trump administration across the networks:
On Trump's tweet about pardons (in relation to the Russia investigation) — to John Dickerson on CBS's "Face the Nation": "I think that unfortunately he may have had a conversation in the Oval Office or somewhere about it. And then people rush out to leak that information to people...he's not going to pardon anybody."
On Scaramucci's past tweets contradicting Trump, e.g. on gun control — to Chris Wallace on "Fox News Sunday": "When I made the decision to take this job, my politics and my political ideas do not matter at all. What matters is that I am supporting — subordinating all of that to the president's agenda."
On whether Trump believes the Russian government hacked to influence the election — to Jake Tapper on CNN's "State of the Union": "[The President] basically said to me, hey, you know, this is — maybe they did it. Maybe they didn't do it."
4. Sneak Peek diary
The House has a busy week, with members scheduled to be voting all five days, according to a leadership source. Bills on the floor include funding bills for the Pentagon and Veterans Affairs, and a bipartisan GI bill, which the AP described as "the biggest expansion of college aid for military veterans in a decade..."
The most politically-contentious bill of the week:
The Russia-Iran sanctions package (which will now have North Korean sanctions added to it.) Paul Ryan and House Foreign Affairs chair Ed Royce didn't give Trump what he really wanted — which was the flexibility to lift those sanctions without going to Congress.
The question everyone is asking: will Trump sign a bill that ties his hands in negotiations with Putin, or will he veto it and risk having Congress humiliate him by overriding his veto?
The White House communications team is sending muddled messages: Sarah Huckabee Sanders told George Stephanopoulos on ABC's "This Week," today, that "we support where the legislation is now." Scaramucci, however, told Jake Tapper on CNN's "State of the Union" that the President "hasn't made the decision yet to sign that bill one way or the other."
What the West Wing will be monitoring this week:
Jared Kushner will testify in closed-door hearings before the Senate Intel Committee on Monday and House Intel on Tuesday. He's said he'll share everything he knows about the meetings he took with Russian ambassador Sergey Kislyak and the head of a Russian bank who has a close relationship with Vladimir Putin.
CNN reports that the Senate Judiciary Committee has cut a deal with Don Jr. and Manafort: The two men will give records to the committee, whose members will interview them behind closed doors before any public session. (CNN reported dates haven't been set yet for those interviews.)
Into Israel's storm:
President Trump's Special Representative for International Negotiations Jason Greenblatt departed for Israel tonight to support efforts to reduce tensions in the region. We will keep you updated on Mr. Greenblatt's itinerary as we continue to monitor events on the ground, and he will be closely coordinating with Jared Kushner's office and the NSC, as well as Ambassador David Friedman and the State Department.
"President Trump and his administration are closely following unfolding events in the region," a senior administration official said. "The United States utterly condemns the recent terrorist violence including the horrific attack Friday night that killed three people at their Shabbat dinner table in Halamish and sends condolences to the families of the innocent victims. We are engaged in discussions with the relevant parties and are committed to finding a resolution to the ongoing security issues."
5. 1 fun thing: the Mooch 😘 emoji
A White House official, who shall remain nameless, has minted an emoji shorthand to refer to Anthony Scaramucci in the official's text message conversations with outside advisers. They now refer to him as: 😘. (It commemorates the kiss he blew to the White House press corps after his debut briefing.)
Scaramucci has plenty of company. Bannon allies have long referred to Gary Cohn as "Globalist Gary" or in text chains they use the emoji shorthand: 🌎. Some use a reindeer shorthand — 🦌— for Reince Priebus, whom they call "the prancer." (I've never quite understood that one.)