November 23, 2022
Welcome back to Sneak. Smart Brevity™ count: 972 words ... 3.5 minutes.
1 big thing: GOP's subpoena test
House Republicans will soon inherit a legacy of subpoena defiance and delay that many of them cheered on while Democrats pursued sprawling investigations into the Trump administration, Axios' Sophia Cai reports.
Driving the news: The Supreme Court today delivered the final blow to former President Trump's long-running efforts to block a House committee from obtaining key tax and financial records.
Legal stonewalling that began in early 2019 will finally come to an end — but with just 41 days left of the House Democratic majority.
Trump and his allies' combative relationship with congressional oversight only hardened through two impeachments and the formation of the House Jan. 6 committee, which has faced resistance even with Trump no longer in office.
Why it matters: An increased appetite to litigate subpoenas — if shared by the Biden administration and GOP targets in the private sector — will further test the legislative branch's standing as a co-equal branch of government.
The big picture: House Republicans are leaning hard into plans for oversight and investigations, even more so than their legislative agenda.
At a press conference at the southern border today, House GOP Leader Kevin McCarthy (R-Calif.) called on Homeland Security Secretary Alejandro Mayorkas to resign or potentially face an impeachment inquiry.
Other GOP targets for investigations and subpoenas include Hunter Biden, Big Tech companies and financial giants pushing environmental, social and governance (ESG) investing.
What we're watching: Law firms are broadly advising prospective clients on what to expect and how to prepare. Several lawyers tell Axios they anticipate both government and private-sector clients will push back on requests from Congress more than in years past.
"Over the past two years, we've seen more federal litigation around congressional subpoenas than I've seen at any point in my career, " Alyssa Cunha, co-chair of WilmerHale's congressional investigations practice, told Axios.
"There has been an increasing appetite to litigate these matters over the last number of years, and on the right issues, I don't see that trend abating," said Rafi Prober, co-head of Akin Gump's congressional investigations practice.
The focus on popular issues like ESG is "going to position corporations involved in a congressional investigation between Congress and their shareholders," Jim Flood, chair of the government relations group at Crowell & Moring, told Axios.
That's likely to "increase the probability that they will want to litigate congressional subpoenas and push back on congressional committees," Flood predicted.
2. ⚖️ Trump's bad day in court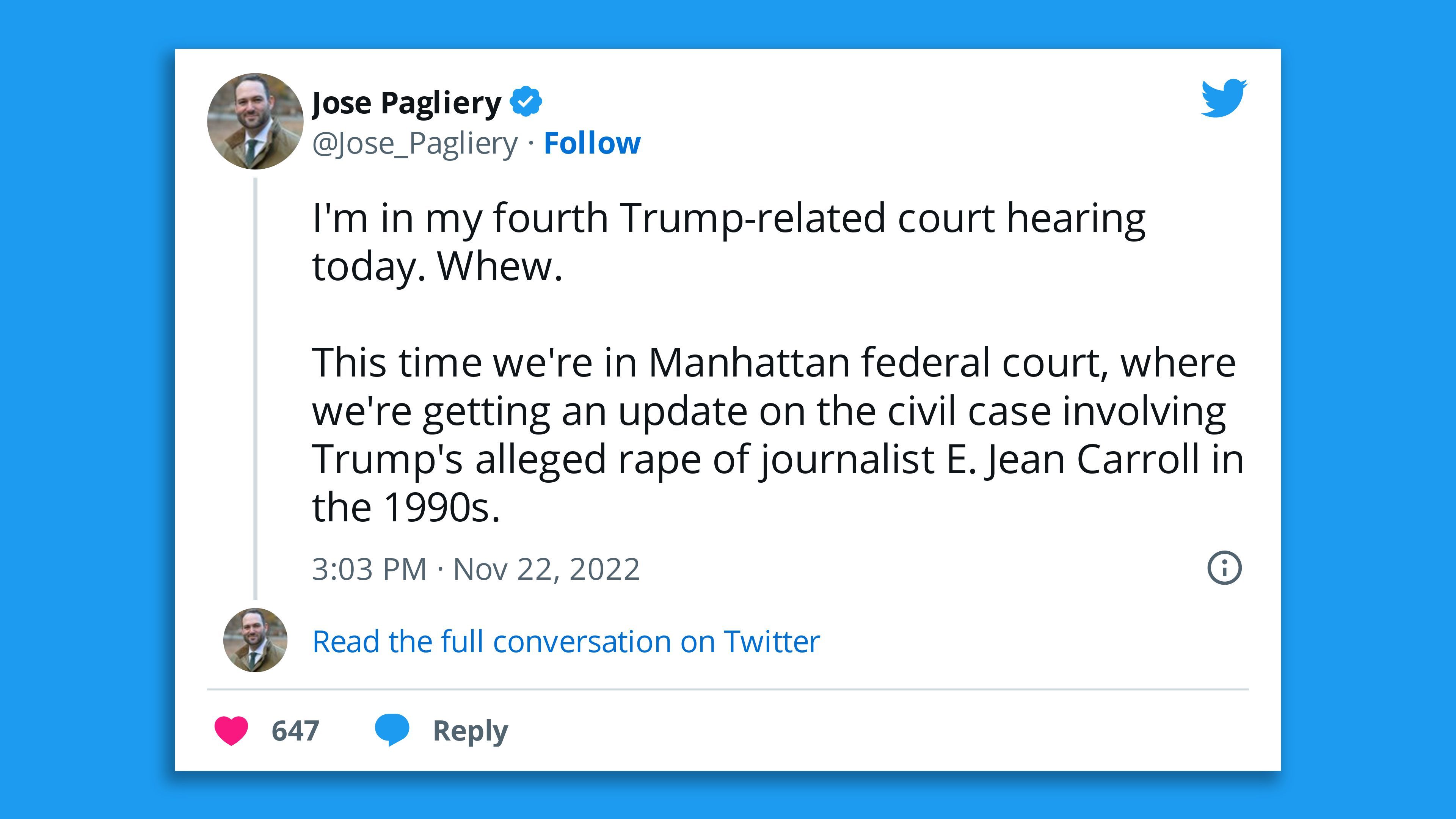 The Supreme Court's terse denial of Trump's request to shield his tax records from Congress is far from the only legal setback the former president faced today:
In Atlanta, a federal appeals panel signaled it would throw out a judge's appointment of a special master to review government documents the FBI seized from Mar-a-Lago in August, questioning whether Trump was seeking special treatment.
In Manhattan's civil courthouse, a judge set an October 2023 trial date for the New York attorney general's $250 million fraud lawsuit against Trump, his eldest children and his company.
In Manhattan's criminal courthouse, an outside accountant on the witness stand threatened to undermine the Trump Organization's defense in its criminal fraud trial, which saw prosecutors rest their case earlier than expected.
⚡ Also today: Sen. Lindsey Graham (R-S.C.) testified before the Fulton County special grand jury investigating efforts to overturn the 2020 election in Georgia.
3. 📍 Memo: House Dems eyes lost ground
House Democrats are already sizing up the 2024 election map, circling Republicans in districts that mostly voted for President Biden as their top early targets, Axios' Andrew Solender reports.
Why it matters: The early primer of the 2024 battleground could influence how certain House Republicans vote and comport themselves, as well as where presidential candidates spend their time and parties focus their resources.
Driving the news: A memo from House Majority PAC, House Democrats' main super PAC, lists 19 districts that it says are "the path to retaking the Majority."
The list includes every district that voted for President Biden in 2020 but had been called for Republicans as of Sunday, plus three seats that narrowly went for Trump in 2020.
Among the targets are some Biden-district GOP incumbents who secured easy victories this year, including Rep. Brian Fitzpatrick (R-Pa.), who won by nearly 10 points, and Rep. Young Kim (R-Calif.), who won by almost 14 points.
The list is likely to be expanded — the memo calls the targets "initial, but not comprehensive" — but it shows where Democrats see their best opportunities.
What we're watching: Whether Democrats make another run at taking down far-right Rep. Lauren Boebert (R-Colo.), who is on track to win her Trump +5 district by just a few hundred votes over Democrat Adam Frisch.
4. ☀️ '24 watch: Florida floats law change for DeSantis
The Republican leaders of Florida's state legislature, which now boasts a GOP supermajority, expressed willingness to change state law to allow Florida Gov. Ron DeSantis to run for president in 2024 without first resigning his position, Politico reports.
Why it matters: The move would lower the risk for DeSantis to enter what could be a crowded primary, in which a bruising confrontation with Trump is a near-certainty. DeSantis is unlikely to make a final decision until after the legislative session set to begin in March, per Politico.
👀 Latest: Republicans nationwide are evenly split, 44%-44%, on whether they'd prefer DeSantis or Trump to win the GOP nomination in 2024, according to a new Quinnipiac poll.
5. 💉 Fauci's swan song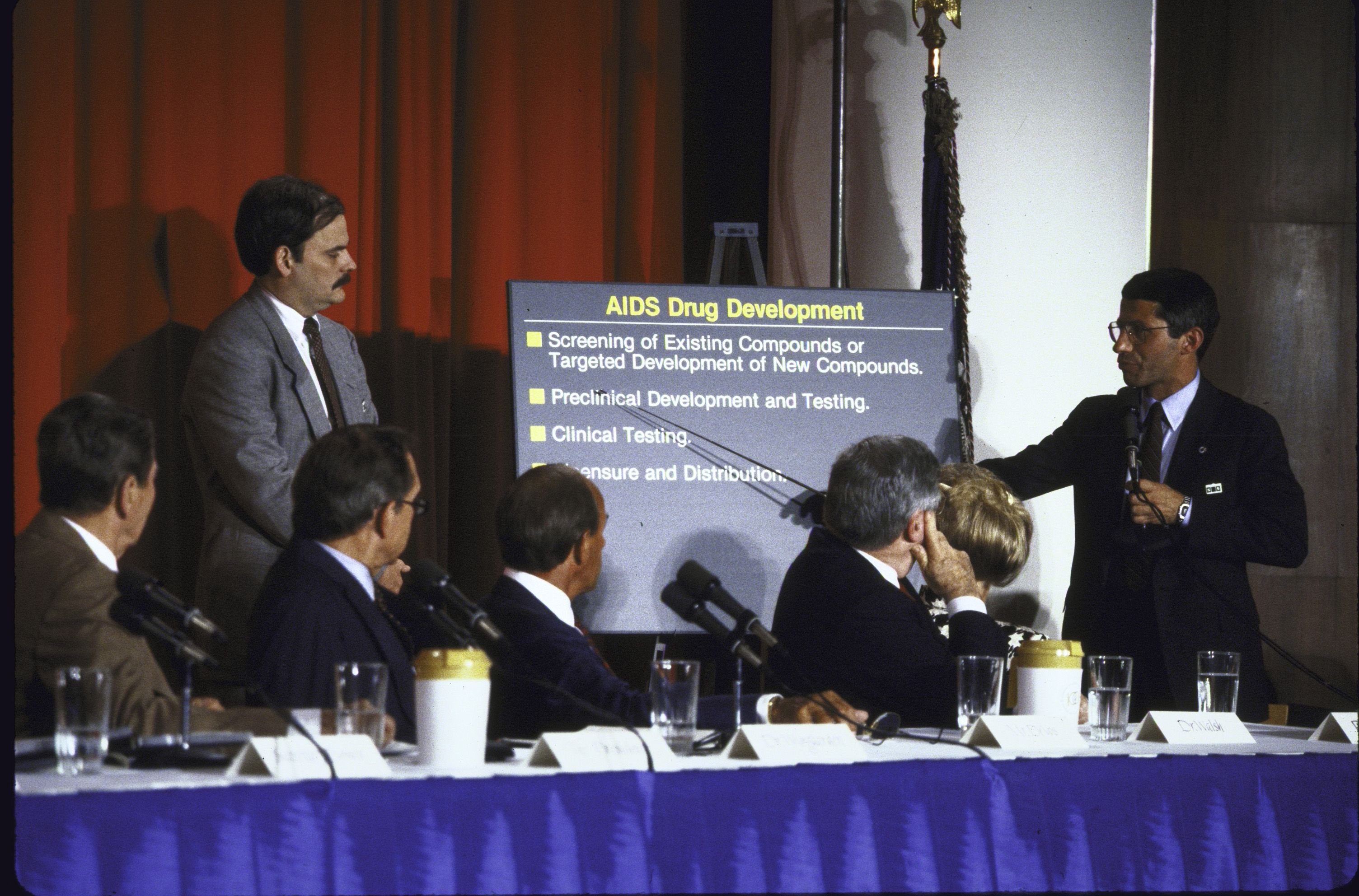 Above: Anthony Fauci (right) in 1987 discusses the AIDS crisis with President Reagan (left) and other members of the President's Commission on the HIV Pandemic.
Below: The retiring Fauci delivers his final White House briefing — though he may return for GOP-led congressional hearings — after serving in government for more than 50 years.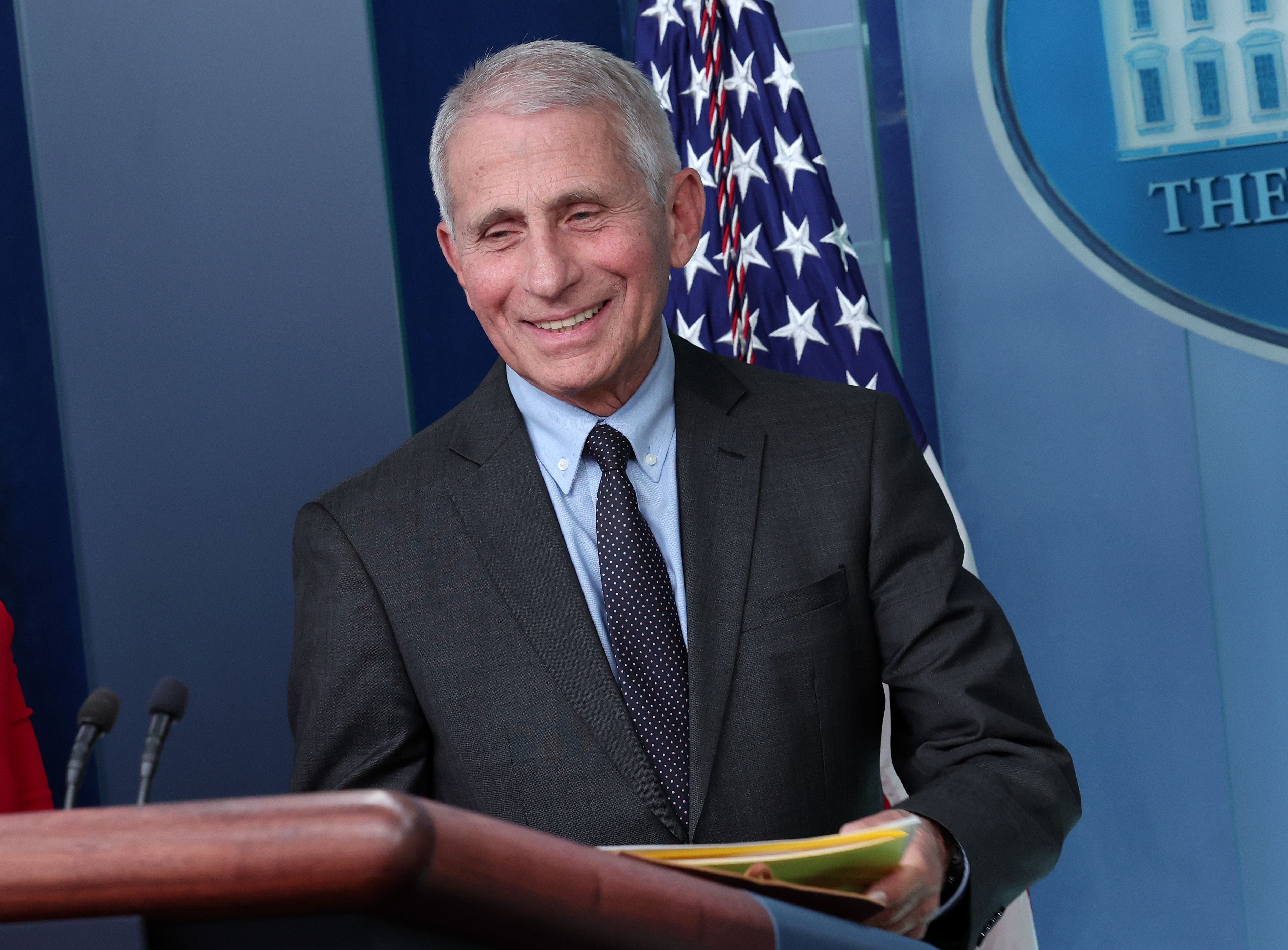 📬 Thanks for reading. This newsletter was edited by Zachary Basu and copy edited by Kathie Bozanich.