May 26, 2022
Welcome back to Sneak. Smart Brevity™ count: 966 words ... 3.5 minutes.
💰 Breaking: A "dark money" group aligned with Senate Minority Leader Mitch McConnell is gearing up for a $43 million summer spending blitz targeting five competitive Senate seats, Axios' Lachlan Markey scooped.
1 big thing: Why this time could be different
Nihilism about the Senate's ability to do anything after yet another horrific mass shooting — this one taking the lives of 19 children and two teachers in Uvalde, Texas — permeated social media and the halls of Congress today.
But there are at least five reasons to believe the dam may finally be ready to break, Axios' Alayna Treene writes:
1. The majority of Americans support background checks.
Polls consistently show most Americans believe current gun laws aren't strong enough, with upward of 90% of voters favoring universal background checks.
Most recently, 59% of registered voters said it's important for lawmakers to pass stricter gun legislation, according to a Morning Consult/Politico poll taken just days before Tuesday's shooting.
2. The National Rifle Association is weakened.
3. Children were murdered. Again.
Lawmakers and others on Capitol Hill were visibly emotional today when discussing the shooting.
The tragedy at Robb Elementary School is the worst school shooting since the Sandy Hook massacre 10 years ago, which spurred historic momentum for Congress to act. While those efforts ultimately failed, the parallels are not lost on members.
4. It happened in Republicans' backyard.
Some Democrats are hoping Sen. John Cornyn (R-Texas) will be a leader on this issue — and potentially even the point person for bipartisan talks — given the shooting happened in his home state.
Cornyn, an influential member of leadership who will likely run to replace Mitch McConnell as GOP leader one day, has shown compassion and willingness to work with Democrats on similar issues before.
"He's from Texas. A [former state district] judge. Has been involved in the background check, in trying to make the system work better," Sen. Tim Kaine (D-Va.) told reporters.
"He would be enormously influential if he were to point the way toward a solution," Kaine added.
5. Key bipartisan players are talking again.
Sen. Chris Murphy (D-Conn.) spoke with both Susan Collins (R-Maine), who is interested in "red flag" laws, and retiring Sen. Pat Toomey (R-Pa.), who has been at the center of a bipartisan effort with Sen. Joe Manchin (D-W.Va.) to expand background checks.
Sen. Kyrsten Sinema (D-Ariz.), who took the rare step of addressing reporters in the Capitol today, said she plans to renew negotiations with her colleagues in both parties.
Republicans — including Sens. Mitt Romney (R-Utah), Rick Scott (R-Fla.), Roy Blunt (R-Mo.), Rob Portman (R-Ohio) and Kevin Cramer (R-N.D.) — signaled openness to potential background check or federal red-flag bills.
The bottom line: For all the justified pessimism stemming from past failures to act, all that matters in the Senate right now is counting to 10.
Wrangling 10 Senate Republicans to overcome the filibuster is no small feat and something Democrats have consistently struggled with for the past year and a half.
But Schumer has made his path forward clear and is ready to give senators breathing room one more time to find a bipartisan compromise that can win 60 votes.
2. "Red flag" momentum
Sen. Rick Scott (R-Fla.), chairman of Senate Republicans' campaign arm, told Axios he's "OK with" supporting a red flag law at the federal level — though he generally thinks it should be left up to the states.
A previous red flag proposal by Scott, Sens. Marco Rubio (R-Fla.), Jack Reed (D-R.I.) and Angus King (I-Maine) would dedicate Justice Department funds to incentivize states to adopt laws similar to Florida's.
Sens. Richard Blumenthal (D-Conn.) and Lindsey Graham (R-S.C.) — who also proposed a red-flag measure in 2019 following mass shootings in Texas and Ohio — have revived talks on their bill.
What's next: Schumer wants members — specifically Republicans — to use a motion to proceed on the House-passed Domestic Terrorism Prevention Act tomorrow to hold amendment votes on gun-related legislation.
The vote on the bill, which is opposed by Republicans, was initially planned in response to the mass shooting in Buffalo, New York.
As of now, the Senate is still scheduled to break tomorrow for its 10-day recess, though Schumer may keep members in town over the weekend to keep working on potential gun reform.
Go deeper: The full state of play on bipartisan "red flag" talks
3. Beto's four "solutions"
Speaking to reporters after publicly confronting Texas Gov. Greg Abbott today, a furious Beto O'Rourke rattled off four "solutions" to the mass shooting epidemic that he said have "broad bipartisan support right now":
"We could get that done if we had a governor who cared more about the people of Texas than he does his own political career or his fealty to the NRA. And if you need any proof of that, check the schedule for the NRA convention this Friday, right here in the state of Texas."
— Beto O'Rourke, Democratic candidate for Texas governor
4. Charted: NRA influence
5. 🌵 Tweet du jour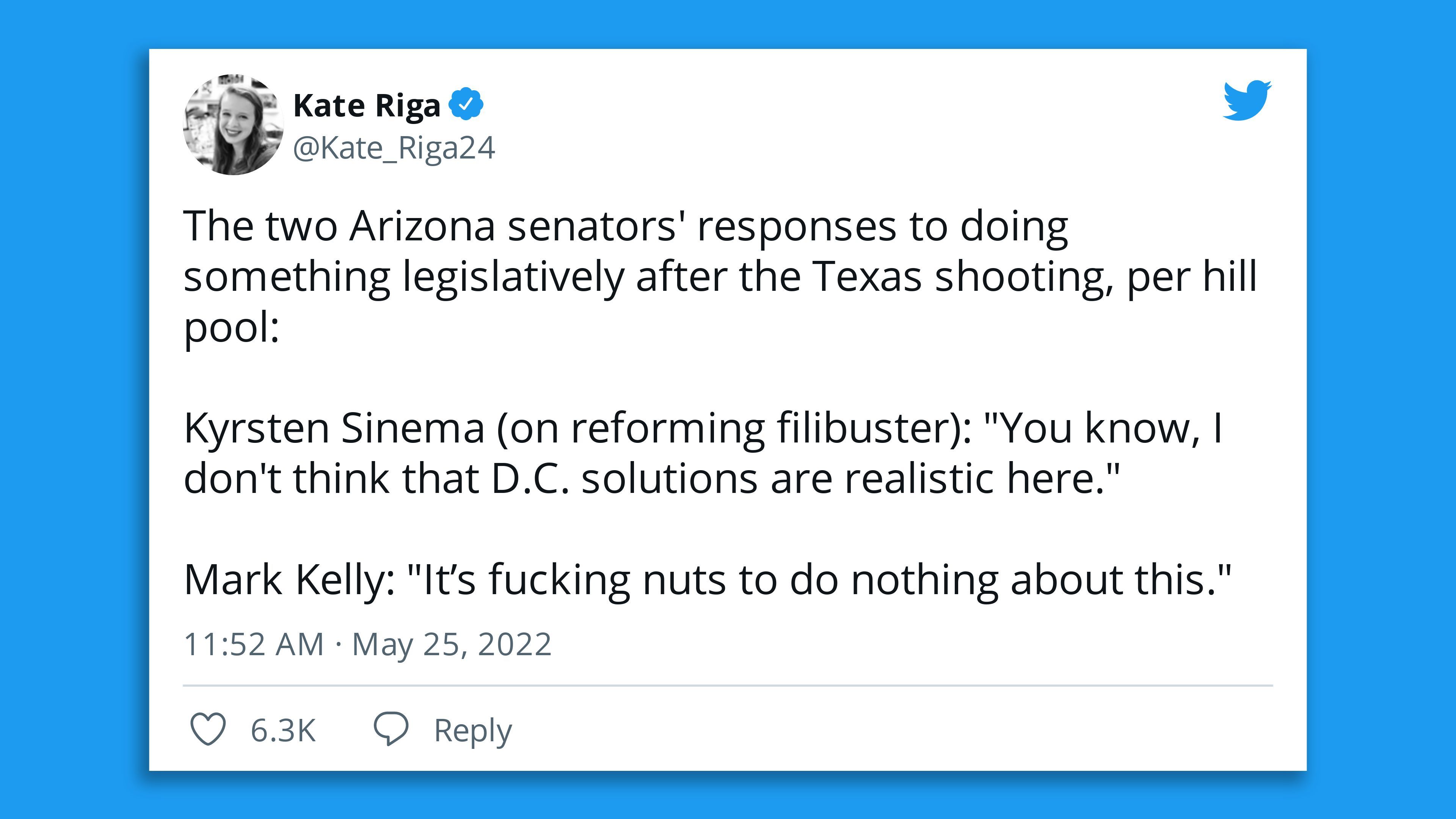 Sen. Mark Kelly (D-Ariz.) and his wife, former Rep. Gabby Giffords (D-Ariz.), founded a gun control nonprofit after Giffords was nearly assassinated by a gunman in 2011.
📬 Thanks for reading Sneak! Hit reply to this email to send us your feedback, and tell your friends and family they can subscribe to Sneak or any of Axios' other free newsletters through this link.
Editor's note: This story has been updated to correct the spelling of former Rep. Gabby Giffords' first name.