May 11, 2022
Welcome back to Sneak.
📅 Join Axios' Ashley Gold and Margaret Talev on Thursday at 8am ET for an event unpacking the arguments of lawmakers and industry players on both sides of tech's antitrust debate. Guests include Rep. Pramila Jayapal (D-Wash.), Rep. Eric Swalwell (D-Calif.) and Federal Trade Commission commissioner Noah J. Phillips. Register here to attend in-person or virtually.
Smart Brevity™ count: 953 words ... 3.5 minutes. Edited by Glen Johnson.
1 big thing: Senate GOP stranglehold
The Senate Republicans' unified opposition is, for the second time this week, forcing Democrats to recalibrate strategy for trying to pass their major legislative priorities, Axios' Alayna Treene reports.
Driving the news: Senate Majority Leader Chuck Schumer wants to hold a vote to pass a $10 billion coronavirus relief package. Republicans won't allow it without a prior vote on blocking a repeal of the Title 42 immigration ban.
In a twist, the Republican approach may also offer an exit strategy not just for the administration but vulnerable Democrats up for re-election.
If successful, it would maintain Title 42 — something some administration officials and senators support — past its planned May 23 repeal.
It also would give Senate Democrats in border states — particularly those like Mark Kelly of Arizona — a chance to vote against lifting the ban.
That would play well with many of their primary and general election voters.
Why it matters: A united front is nothing new for the Republican minority.
But nearly 18 months into Joe Biden's presidency, it's shaping his successes and failures as much as any internal disagreements by Democrats in the 50-50 Senate.
2. Biden's blame game
President Biden is blaming three culprits when it comes to controlling inflation: Vladimir Putin, the pandemic and congressional Republicans. The problem is: He doesn't control any of them.
Why it matters: By conceding he's mostly powerless to meaningfully reduce inflation, Biden is bracing the country for higher prices. He's also trying to make a case for the Democratic Party — and the remainder of his term — in this fall's pivotal midterm elections, writes Axios' Hans Nichols.
Working down a logic train in his inflation speech today, the president wanted to convince voters about who's to blame for soaring prices — whether it's national gasoline at an all-time high of $4.37/gallon or food prices soaring with each checkout.
"It is a lot better that he is de facto admitting this than overpromising and underdelivering about a low inflation rate by Election Day," said Jason Furman, a Harvard economist and chair of the Council of Economic Advisers under President Obama.
"The president is largely powerless to bring down inflation."
Driving the news: During his remarks, Biden plainly acknowledged "some of the roots of the inflation are outside of our control."
He spoke a day before the release of the April Consumer Price Index, in which economists expect an 8.1% inflation rate.
As for direct causes, Biden cited Putin's invasion of Ukraine and supply-chain snarls caused by the pandemic as the "two major contributors to inflation."
He also singled out Republicans for their tax plans, saving particular scorn for Sen. Rick Scott (R-Fla.). The president also blamed "ultra-MAGA Republicans" for blocking his Build Back Better plan, which he claims would lower prices.
3. Ukraine's success fuels Putin threat
The head of the U.S. intelligence community warned today there's no "viable" prospect for peace negotiations in Ukraine in the near term, predicting a protracted "war of attrition" that's likely to become "more unpredictable and escalatory."
Why it matters: The U.S. is doubling down on helping Ukraine defeat Russia on the battlefield but with little clarity about how the war ends. That means the mammoth $40 billion package of additional security and financial assistance set to pass the House tonight is unlikely to be the last, write Axios' Zachary Basu and Alayna.
The big picture: Out of nearly a dozen Republican and Democratic senators Axios spoke to today, not one said they believe the U.S. is in a "proxy war" with Russia.
But growing U.S. involvement in the war — through billions of dollars in weapons and intelligence-sharing — could foster a greater risk of a humiliated and desperate Vladimir Putin lashing out.
Director of National Intelligence Avril Haines testified today the Russian president would likely only use nuclear weapons "if he perceived an existential threat to the Russian state or regime."
"We're supporting Ukraine, but we also don't want to ultimately end up in World War III, and we don't want to have a situation in which actors are using nuclear weapons," Haines told the Senate Armed Services Committee.
Between the lines: "One of the difficulties of this situation is that the better the Ukrainians do, the more dangerous Putin is," Sen. Angus King (I-Maine), a member of the Senate Armed Services and Intelligence committees, told Axios.
4. Worthy of your time
🕵 Sen. Chuck Grassley (R-Iowa) released an investigation by his staff that concluded Eric Garcetti, mayor of Los Angeles and President Biden's nominee for ambassador to India, "likely knew or should have known" of sexual harassment and racist comments by a top former adviser, Hans also reported.
🗣 Twitter co-founder Jack Dorsey says he agrees with Elon Musk that former President Trump should have his Twitter account reinstated if Musk's $44 billion bid to buy the company is successful, Axios' Dan Primack reports.
📌 State Democratic parties in Senate battleground states like New Hampshire, Georgia and Pennsylvania are mobilizing around the issue of abortion in the form of press conferences, rallies and op-eds, Axios' Sophia Cai reports in the remainder of tonight's Sneak roundup.
💰 Six Republican senators wrote to the Treasury Department asking it to extend sanctions on Russia's central bank to a credit card system that they say could be used to circumvent U.S. sanctions and the suspension of American-based credit card services.
💵 Economist Lisa Cook is poised to become the first Black woman to serve on the Federal Reserve Board after Senate Democrats advanced her nomination by a vote of 50-49.
5. Pic du jour
Photographers used a flag-draped backdrop to frame their photos outside the Senate Chamber.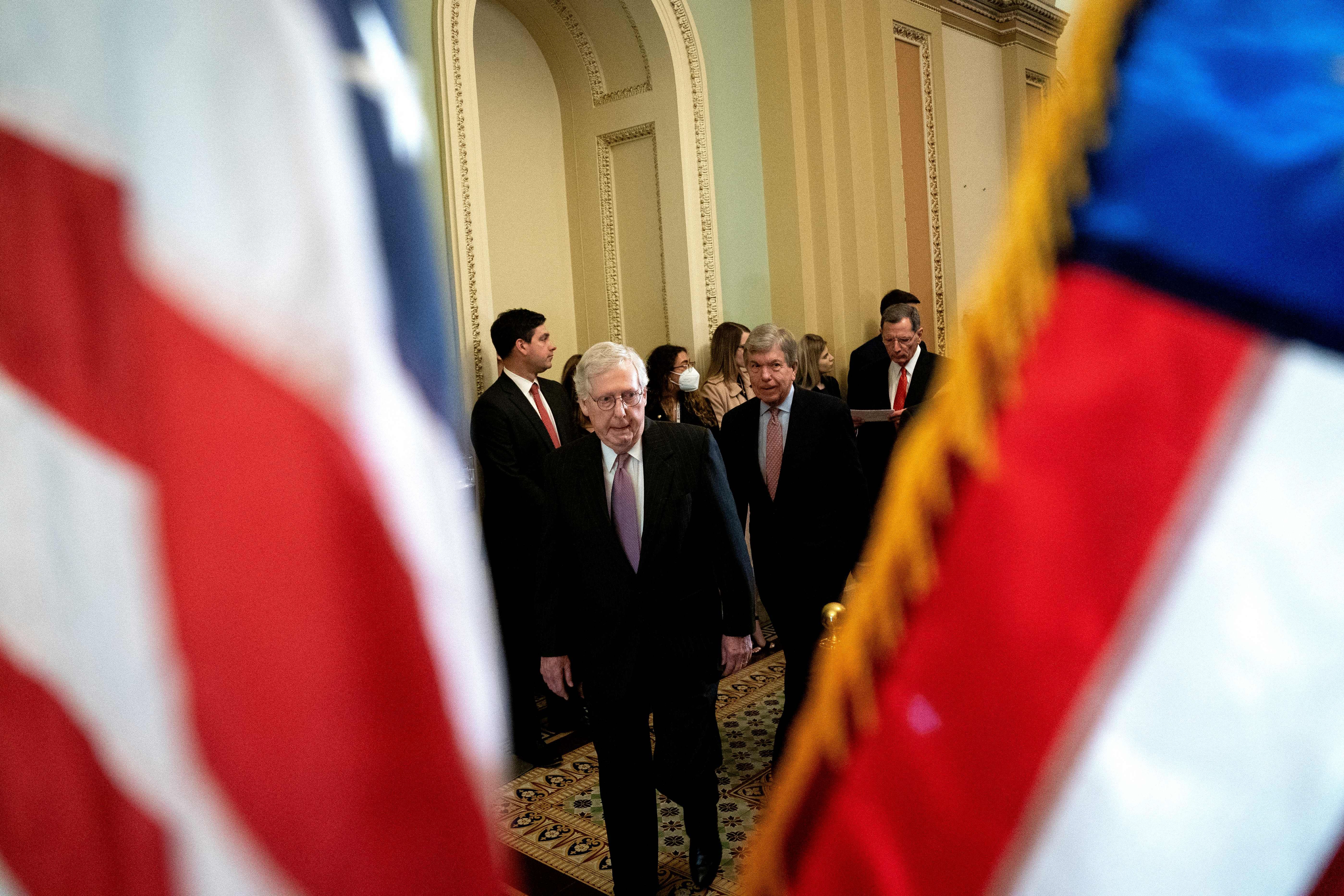 📬 Thanks for reading tonight! Please tell your family, friends and colleagues they can subscribe to Sneak or any of Axios' other free local and national newsletters through this link.