Axios Sneak Peek
October 06, 2021
Welcome back to Sneak. A lone Iowan took on the Social Network.
Smart Brevity™ count: 1,375 words ... 5 minutes. Edited by Glen Johnson.
1 big thing: Biden's drive to make amends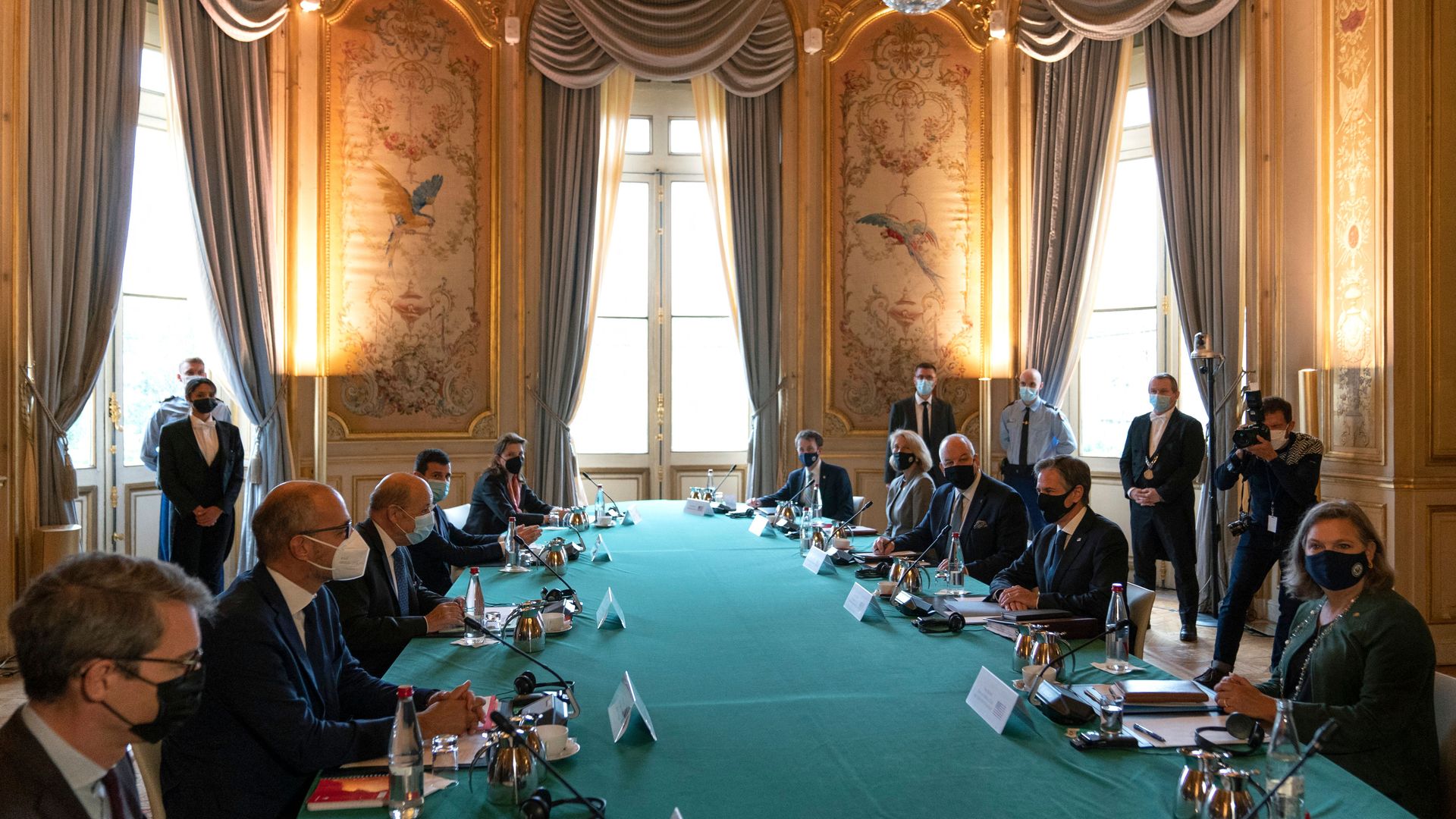 President Biden knows his administration messed up with French President Emmanuel Macron and is scrambling to make amends, three sources familiar with the internal deliberations told Axios' Zachary Basu and Jonathan Swan.
Why it matters: The White House's secret deal with Australia last month left the French feeling betrayed and blindsided, and furious about the loss of a $60 billion submarine contract. Secretary of State Tony Blinken visited Macron on Tuesday; national security adviser Jake Sullivan is on his way to Paris too.
Biden and his aides have acknowledged they were mistaken to leave it to the Australians to tell the French they were killing their submarine deal and negotiating with the Americans and Brits instead.
Top Biden officials also know it will take some time to regain the trust of one of America's first allies, after Macron took the extraordinary step last month of recalling his ambassador for the first time in U.S. history.
The ambassador, Philippe Etienne, has since returned to Washington.
Driving the news: Blinken participated in a flurry of meetings in Paris on Tuesday, walking and talking for more than an hour through the ornate halls of the foreign ministry with his French counterpart, Jean-Yves Le Drian.
Le Drian captured international headlines last month when he accused the AUKUS allies — the new U.S.-British-Australian security partnership — of a "stab in the back" and compared Biden to former President Trump.
Blinken then crossed the Seine to meet with Macron and his diplomatic adviser at the Élysée Palace. The secretary expressed support for Macron's push to strengthen Europe's defense capabilities.
That is a Macron priority and one of the first moves Team Biden has made to make amends with the French.
Back in Washington, Etienne returned to a White House invitation from Sullivan, followed by meetings with Blinken and several of Biden's top Senate allies.
The White House also announced Sullivan will travel to France this week to meet with his French counterpart.
Also on the agenda: preparing for a meeting between Biden and Macron — now official — on the sidelines of the G20 summit in Rome on Oct. 30-31.
Behind the scenes: Blinken, a fluent French speaker who spent more than 10 years living in Paris, has been at the forefront of efforts to repair the breach of trust.
Blinken has been in constant touch with senior French officials to hear out their concerns, including a number of calls that have not been read out publicly, according to a senior State Department official.
2. Why Trump wants to tweet
Donald Trump's post-presidential online engagement is hitting new lows, according to exclusive data from SocialFlow provided to Axios' Neal Rothschild. It helps explain why the former president recently asked a federal judge to have Twitter restore his signature account.
Why it matters: Trump has tried press releases styled as tweets, launched his own "platform" and held campaign-style rallies, yet the numbers suggest his social media megaphone has no true replacement.
While Trump content consumption predictably went down during the winter and spring, after he left office, his profile has dropped even further in recent months.
Clicks to Trump content dropped 37% in August and September compared to the two months prior, according to the data. It measures clicks from social media posts referred from SocialFlow's network of publishers.
The decline marked a 50% dip compared to March — the first month Trump free-fell from the news after February's impeachment trial.
What's going on: The decrease is partly explained by the fact that Trump is being written about less — there were 26% fewer stories during the last two months, compared to March and April, according to exclusive data supplied to Axios by NewsWhip.
But interest in those Trump stories also is going down. Per article, they are averaging 28% less engagement on social media in August and September, the data shows.
The latest: Last week, Trump filed a motion asking that a federal judge force Twitter to reinstate his account, which has been banned for nine months.
In July, Trump filed lawsuits against the CEOs of Facebook, Google and Twitter over censorship claims.
He is eligible to return to Facebook in 2023, when his two-year suspension expires.
Between the lines: Much of Trump's post-presidential interest has come from his feud with Rep. Liz Cheney (R-Wyo.).
The biggest day of Trump content consumption since February was May 12, the day Cheney was removed from House GOP leadership, according to SocialFlow data.
The biggest of the last couple months was Sept. 9, the day Trump endorsed Cheney's primary opponent Harriet Hageman and Cheney responded, "Bring it."
3. The Pandora Papers PR war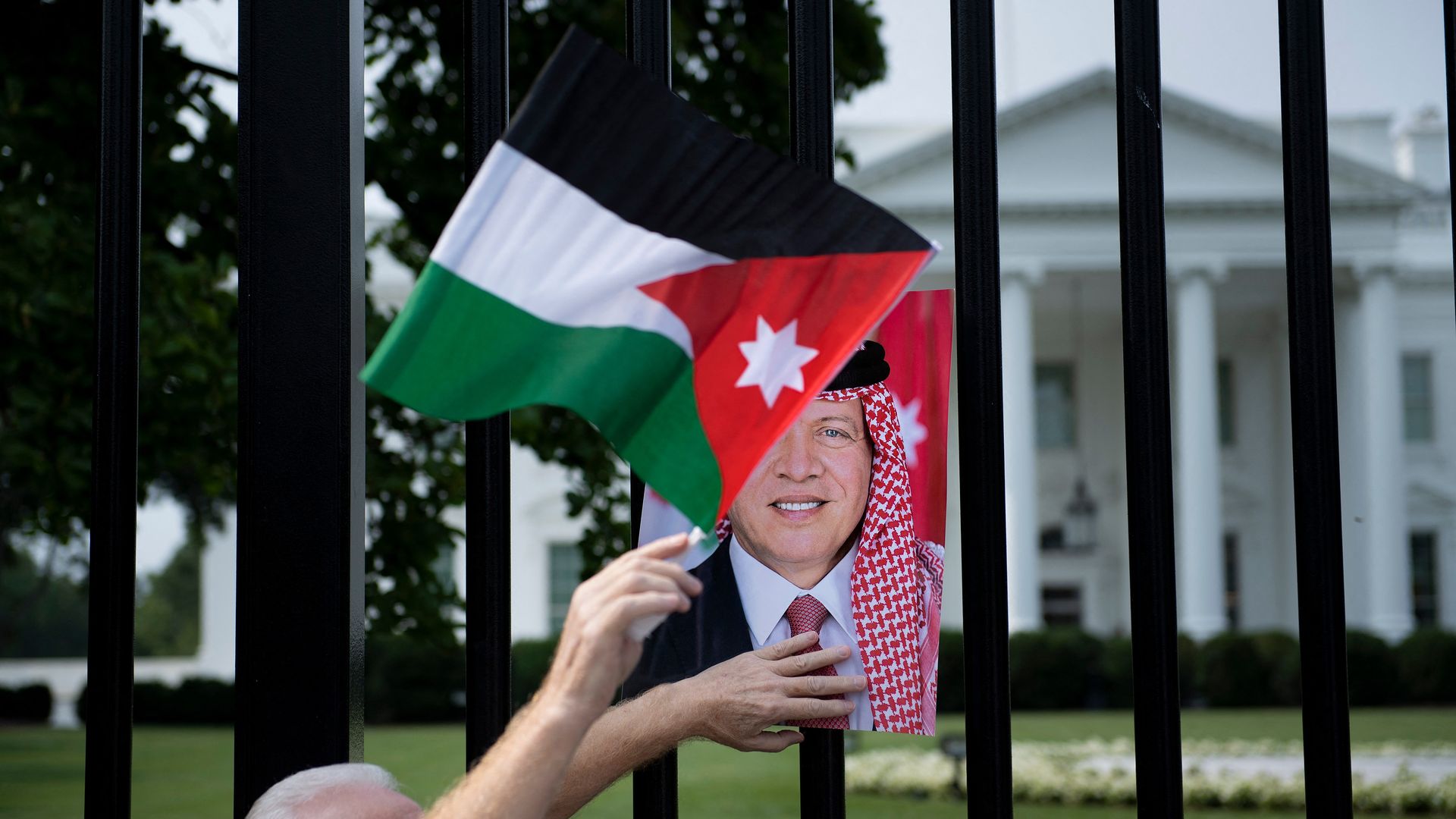 In the days before the Pandora Papers exposed details of his foreign real estate holdings, King Abdullah II of Jordan retained a white-shoe law firm from the U.S. with an eye toward potential defamation claims, records reviewed by Zach and Axios' Lachlan Markay show.
Why it matters: The records provide a glimpse into how some of the world's most powerful people have braced for fallout from a massive media investigation. It's exposed the ways the ultra-wealthy manage — and, in some cases, conceal — their substantial assets.
What's new: A week before a consortium of news organizations began publishing stories based on the Pandora Papers leak, Jordan's Royal Hashemite Court inked a contract with the prominent law firm DLA Piper.
Under the agreement, detailed in Foreign Agents Registration Act filings unearthed by OpenSecrets, DLA Piper will provide "legal advice related to potential defamation and other legal remedies associated with inquiries and/or articles concerning His Majesty King Abdullah II from media outlets."
It's enlisted Mary Elizabeth Gately, a partner at the firm and co-head of its Washington, D.C., litigation group, who charges $1,335 per hour, according to FARA records.
Gately did not respond to inquiries from Axios about her work. King Abdullah's office also did not respond to a request for comment left through its website.
When outlets including the Washington Post and the International Consortium of Investigative Journalists published stories about Abdullah's finances, DLA Piper provided a response.
In denied "any implication that there is something improper about [Abdullah's] ownership of property through companies in offshore jurisdictions."
The big picture: The Pandora Papers investigation revealed extensive details about hidden assets owned by wealthy individuals around the world, including elected officials and heads of state.
It's already spurred calls in the U.S. to crack down on opaque international financial flows.
"Disclosures within the Pandora Papers are the clearest demonstration yet of the historic threat posed by foreign corruption," Reps. John Curtis (R-Utah) and Tom Malinowski (D-N.J.), the co-chairs of the Congressional Caucus against Foreign Corruption and Kleptocracy, wrote in a joint statement on Tuesday.
"Billions of dollars of dirty money belonging to adversarial actors are flooding the United States, undermining our national security," they wrote. "It is imperative that we take all necessary measures to stem this tide."
4. By the numbers: Blue and red walls
Democratic groups are flooding the airwaves — and outspending conservative organizations — to support the president's Build Back Better agenda, according to data compiled by AdImpact and reviewed by Lachlan and Axios' Hans Nichols.
The big picture: Liberal and conservative groups have spent a combined $56 million on TV and digital advertising since Sept. 1. The liberals' goal: convincing lawmakers to back the $3.5 trillion reconciliation package aimed at combating climate change and expanding the social safety net.
The conservative aim has been to pressure Democrats to vote against it.
The parties have been touting their ad buys in the media, as they signal to lawmakers they will be given some protective air cover in next year's midterms, or face targeted attacks because of their positions.
By the numbers: Building Back Together, an outside group that takes unlimited donations and works closely with the White House, is the biggest spender on the Democratic side.
It has spent $8 million, part of the Democrats' $36.8 million in total spending.
For conservatives, a new group, Common Sense Leadership Fund, led by Kevin McLaughlin, former executive director of the National Republican Senatorial Committee, has spent $9.4 million.
In total, conservative groups have placed about $19.1 million on broadcast, cable, satellite TV, as well as digital and radio platforms, from Sept. 1–Oct. 5.
5. Pic du jour: Truth to power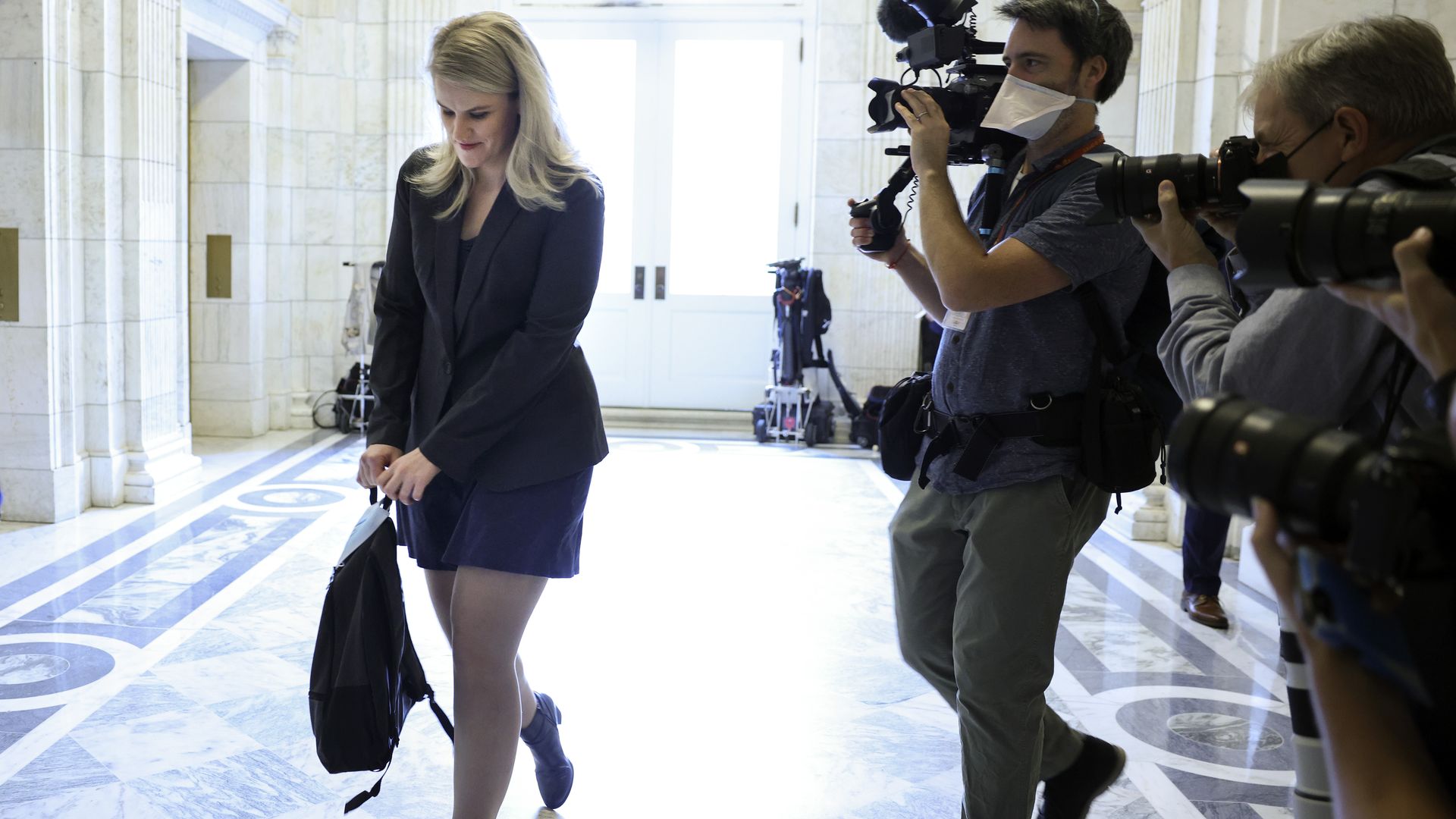 Former Facebook employee Frances Haugen arrives to testify before a Senate committee.
📬 Thanks for reading. A reminder that your family, friends and colleagues can subscribe to Sneak or any of Axios' other free newsletters through this link.