August 03, 2022
Welcome back to Sneak. Smart Brevity™ count: 1,016 words ... 4 minutes.
⚡ Breaking: The Senate voted 86-11 to pass legislation expanding health care and disability payments to roughly 3.5 million veterans who have been exposed to burn pits, after Republicans temporarily blocked the bill last week.
🗳️ Situational awareness: Pivotal primaries are taking place in Arizona, Michigan, Missouri, Kansas and Washington. What we're watching.
1 big thing — Scoop: Senate eyes changes to gay marriage bill
Senators are working behind the scenes on changes to a House-passed bill codifying marriage equality in order to get it across the finish line, Axios' Andrew Solender reports.
Why it matters: The legislation has been mired in uncertainty since landing in the upper chamber, with just a handful of GOP senators openly stating they plan to vote for the bill — short of the 10 needed to break a filibuster.
Most Republicans have withheld how they plan to vote, and frustrations over Democrats' steaming ahead on a major reconciliation package now threaten to boil over into other bipartisan legislation.
Even Sen. Ron Johnson (R-Wis.), who appeared to voice support for the bill last month, suggested in an interview with Axios that he's not a firm "yes" vote: "I've never said I would support it. I said I didn't see a reason to oppose it."
Driving the news: Sen. Tammy Baldwin (D-Wis.) is working with fellow bill-sponsor Sen. Susan Collins (R-Maine) to "build more support with Republicans," Baldwin's office told Axios.
Specifically, they are discussing providing "more clarity that the legislation would not take away any religious liberty or conscience protections."
What they're saying: Republican senators and aides told Axios a conference-wide discussion is underway about either proposing new language to the bill or pushing for a vote on an amendment.
"We want to make sure that there's no infringement on your individual right or any entity's individual right to express their own beliefs from a religion standpoint," Sen. Rick Scott (R-Fla.) told Axios.
Sen. Mitt Romney (R-Utah), a key undecided vote, told Axios he's "looking at protections for religion" as he mulls whether to vote for the bill.
State of play: The bill is not expected to be considered until after the August recess, as the Senate spends the next week focused on Democrats' reconciliation package and other legislation.
Sen. Lisa Murkowski (R-Alaska), a key vote on the measure, told Axios: "I'm not thinking about that right now. I'm thinking about the things ... that we're going to be doing this week."
The big question: Whether there is still enough precious Senate floor time to get this done.
"Once you get into September, you've got to fund the government and you've got a bunch of other fiscal year-end issues you've got to deal with," Senate Minority Whip John Thune (R-S.D.) told Axios.
Be smart: Adding new language to the bill could prolong the process by requiring another House vote.
"I don't believe it will be passed [in the Senate] in its current form," said Sen. Thom Tillis (R-N.C.), one of the bill's supporters, noting that an altered bill would "have to take another trip back over to the House."
2. 👀 Minnesota Dems leading calls for Biden replacement
Two members of Congress from Minnesota have become the most prominent federally elected Democrats to say they do not want President Biden to run for a second term in 2024:
Rep. Dean Phillips told a local radio show last week: "I think the country would be well served by a new generation of compelling, well-prepared, dynamic Democrats who step up," after replying "no" to the question of whether he would support Biden in 2024.
Rep. Angie Craig told MinnPost today: "I think Dean Phillips and I are in lockstep and alignment with that, and I'm going to do everything in my power as a member of Congress to make sure that we have a new generation of leadership."
The big picture: Only 26% of Democratic voters said the party should renominate Biden — who turns 80 in November — in a recent New York Times/Siena poll.
3. 🇹🇼 GOP splits on Pelosi visit
"I'm going to say four words you never hear from me," Sen. Roy Blunt (R-Mo.), the No. 4-ranking Senate Republican, told reporters at a leadership press conference:
"Speaker Pelosi was right."
What's happening: 26 Senate Republicans — just over half the GOP conference — issued a joint statement in support of Pelosi's visit to Taiwan, which has drawn a furious reaction from Beijing.
Some, like Minority Leader Mitch McConnell, used Pelosi's visit as an opportunity to attack the Biden administration for discouraging her from going.
But the GOP is far from united: Sen. Mitt Romney (R-Utah) called the trip "ill-advised," saying it could push China to provide military aid to Russia at a time the U.S. should be focused on supporting Ukraine.
Former President Trump wrote on Truth Social that "the China mess is the last thing [Pelosi] should be involved in," with Rep. Marjorie Taylor Greene (R-Ga.) and other MAGA loyalists echoing his criticism.
And unlike former Speaker Newt Gingrich's bipartisan delegation to Taipei in 1997, no congressional Republicans joined Pelosi on the trip.
4. 🌆 Rare Biden-Harris endorsement
President Biden and Vice President Harris issued a rare joint endorsement today, supporting Rep. Karen Bass (D-Calif.) against billionaire businessman Rick Caruso in the open Los Angeles mayoral race, Axios' Alexi McCammond reports.
The intrigue: Harris and Bass are both from California but reportedly became "frenemies" during the VP search.
Tensions grew when several negative stories about Bass — detailing her ties to Cuba and her past praise for the Church of Scientology — emerged while she was under consideration to be Biden's running mate.
Bass' team had the impression that veterans of the Harris campaign were responsible for the leaks, according to the book "This Will Not Pass" by The New York Times' Jonathan Martin and Alex Burns.
5. ✈️ Plane spotters go mainstream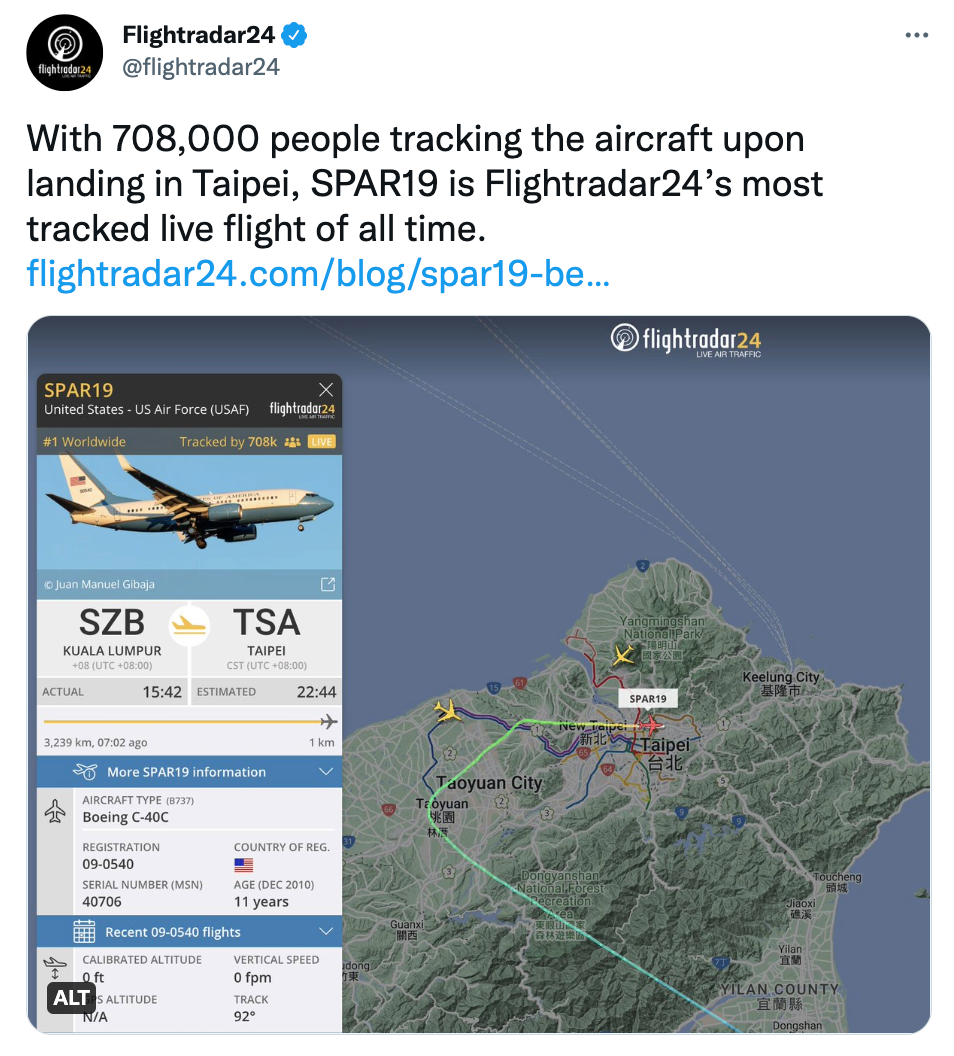 More than 700,000 people used FlightRadar24, a real-time flight tracking service, to lock onto the Air Force C-40 carrying Pelosi as she approached Taipei Songshan Airport at around 10:40 pm local time.
📬 Thanks for reading! Send us feedback by hitting reply to this newsletter.