June 06, 2021
Welcome back to Sneak. Congress is returning and we're here for it.
Smart Brevity™ count: 1,749 words ... 6.5 minutes. Edited by Margaret Talev and Glen Johnson.
1 big thing: Exclusive — Zelensky "surprised" and "disappointed" by Biden pipeline move
Ukrainian President Volodymyr Zelensky tells Axios' Jonathan Swan that he learned through the press — not any direct heads-up — that President Biden had decided to stop trying to block a Russian pipeline that Ukraine sees as a dire national security threat.
Driving the news: Zelensky used an hourlong Zoom interview on Friday to beseech Biden to meet with him face to face before a June 16 summit with Russian President Vladimir Putin, Swan and Axios' Dave Lawler write — offering to join him "at any moment and at any spot on the planet."
The embattled leader spoke of Putin's psychological pressure campaign; his own anger-turned-disappointment at the U.S.; and his hope that Biden, whom he compares to basketball great Michael Jordan, can still outmaneuver Russia and rescue Ukraine.
Why it matters: Russian gas currently flows through Ukraine en route to Europe. Nord Stream 2, a Russia-to-Germany natural gas pipeline, would allow Russia to circumvent and isolate Kyiv, Ukraine's capital. Zelensky said the U.S. is the only power capable of stopping Russia.
"This is a weapon, a real weapon ... in the hands of the Russian Federation," he said. "It is not very understandable ... that the bullets to this weapon can possibly be provided by such a great country as the United States."
What they're saying: "The State Department has regularly engaged with Ukrainian officials regarding Nord Stream 2. Prior to the transmission of the most recent report to Congress, the State Department notified the Ukrainian ambassador in Washington and senior officials in Kyiv, including the president's chief of staff, of the contents of the report," a White House spokesperson told Axios. 
"The administration is committed to continuing to consult with Ukraine as we press Germany to address the risks Nord Stream 2 poses to Ukraine and European energy security. We also welcome Ukraine's direct engagement with the German government about their concerns."
Where things stand: Putin announced Friday the first of two lines is complete and said energy giant Gazprom is "ready to start filling Nord Stream 2 with gas."
The White House has called the pipeline "a Kremlin geopolitical project that threatens European energy security." But Biden nonetheless backed off U.S. sanctions on the company working to finish the pipeline.
Behind the scenes: Zelensky says Biden had offered him "direct signals" that the U.S. was prepared to block the pipeline. Then came the news that Biden would be waiving the sanctions.
Zelensky said he had to listen to a White House press briefing to obtain an explanation: The administration said the pipeline was already nearly complete and cited the importance of good relations with Germany.
Zelensky said he understands the importance of that relationship, but he asked: "How many Ukrainian lives does the relationship between the United States and Germany cost?"
Zelensky says he is "positive" Biden could still stop the pipeline. "I still believe, after all, that Biden is a Jordan in politics," he said.
He recalled how Michael Jordan would lull opponents into a "false sense of victory" then "grab the victory at the very last minute."
"If this is not the case, that will be a great pity, not only for me," he said. "There will be a feeling that in these circumstances Russia will have a great chance to prevail over the United States."
Go deeper: Full interview transcript.
2. New WTO boss opens up about her "impossible job"
Ngozi Okonjo-Iweala, the first woman and first African to become director-general of the World Trade Organization, forged her strength through traumas few political leaders could imagine — let alone endure.
Driving the news: In a remarkable interview with Jonathan for "Axios on HBO" — her first extended, in-person TV interview since taking the job in March — the MIT-trained economist and development expert opens up about a nearly "impossible job" and the experiences that shaped her, including her mother's kidnapping.
The big picture: At the end of their hourlong conversation, Ngozi made a direct plea to Biden and China's President Xi Jinping: "Give the WTO a chance."
Why it matters: You'll hear a lot more about Ngozi in the years ahead. As she admits, she's taken on "almost an impossible job" of reviving the WTO. The institution, which governs the rules of international trade, is badly broken.
Because the organization operates on consensus, all 164 member countries — including the increasingly hostile U.S. and China — need to agree to major reforms.
The WTO hasn't concluded a successful round of trade negotiations in more than 20 years. But it's the only institutional obstacle to uncontrollable trade wars that could easily spiral into more dangerous hostilities.
Details: Ngozi has a resume unlike any of the six men who previously ran the WTO. She grew up during the Nigerian civil war of the late 1960s and her family fled government troops.
She moved to the United States as a teenager, studied at Harvard, got a doctorate from the Massachusetts Institute of Technology. She's often referred to by colleagues as "Dr. Ngozi."
She rose through the ranks of the World Bank, had four children and then left behind a comfortable bureaucratic life in Washington, D.C., to return to Nigeria to serve twice as finance minister and as minister of foreign affairs.
Between the lines: Many rooted for her success. Others wanted to kill her. In 2012, criminals kidnapped her 83-year-old mother at gunpoint in a failed bid to pressure Ngozi to quit her government post. Recalling this experience, her voice cracked.
3. Blinken vows to hold China accountable on COVID-19 origins
Secretary of State Antony Blinken told Mike Allen for "Axios on HBO" that the Biden administration is determined to "get to the bottom" of COVID-19's origins, and said the U.S. will hold China accountable.
"The most important reason we have to get to the bottom of this is that's the only way we're going to be able to prevent the next pandemic or at least do a better job in mitigating it," he said during a wide-ranging interview in the State Department's Benjamin Franklin State Dining Room.
Blinken said China still hasn't "given us the transparency we need," access for international inspectors and experts, or real-time information sharing.
"That has to happen," he added. "(A)t the end of the day, it's profoundly in China's interest to do this, as well."
Blinken said that if China "purports to be a responsible international actor," it will have "to do everything it can to provide all the information it has to make sure we can hopefully prevent this from happening again."
On U.S. companies doing business with China, Blinken said it's "very important" they not "aid and abet ... China's ability to use surveillance technology to repress its own people, or to export that technology to allow other autocratic or authoritarian governments from doing the same thing."
In an executive order issued Friday, Biden expanded the list of Chinese companies whose shares are off-limits to American investors because of connections to China's "military-industrial complex."
4. Crocodiles, snakes and bodies: Migrants' path through Panama
Panama is struggling to handle a surge of migrants crossing the deadly jungles of the Darién Gap separating the country from Colombia — many bound for the U.S., government officials, migration experts and members of Congress tell Axios' Stef Kight.
Why it matters: Vice President Kamala Harris departed today on her first trip to Central America after being tasked with the migration crisis. Most migrants reaching the U.S. border still hail from Mexico, Guatemala, Honduras or El Salvador. But more people than before from farther-flung points are fleeing their homes and trying to enter the U.S.
Lax visa requirements in places like Brazil and Mexico, political and economic turmoil in South America, a still out-of-hand pandemic and hopes of eased enforcement are driving the growing push north.
"The trip through the Darién Gap presents migrants with really unimaginable hardships — thirst and hunger and crocodiles and snakes and armed cocaine traffickers and common thieves," Benjamin Gedan of the Wilson Center, a global policy forum, told Axios.
What they're saying: Reps. Tom Tiffany (R-Wis.) and Burgess Owens (R-Utah) visited the border village of Bajo Chiquito in Panama at the end of May.
"What we saw was people just rolling in, one after another," Tiffany said. "We saw people from Haiti, one person identified himself from Senegal. There was a person from Egypt. People talked about seeing Pakistanis come through."
Local villagers told them about seeing bodies float down the river, both Tiffany and Owens said. Migrants who survived the Darién Gap described "how they walked over bodies, people that just died in the jungle down there," said Tiffany.
Panamanian Foreign Minister Erika Mouynes has begun sounding the alarm, speaking with numerous U.S. and United Nations officials in recent weeks.
In a phone interview, Mouynes told Axios: "All they want is: U.S., U.S., U.S."
By the numbers: More than 5,000 migrants arrived through the Darién Gap in April and again in May, per data from Panama's migration agency — the highest monthly numbers in at least three years.
By comparison, the monthly peak was just shy of 4,000 during the 2019 U.S.-Mexico border surge.
5. Senate returns to recess leftovers
The Senate returns Tuesday to a full slate of negotiations Congress failed to complete before blowing town for Memorial Day, Axios' Alayna Treene writes.
Driving the news: Next steps on a Jan. 6 commission will compete with infrastructure talks, police reform and a China-focused package on U.S. competitiveness.
Infrastructure: Democrats and the White House see this week as their deadline for having a clear direction about where infrastructure talks are going.
Both parties still haven't agreed how to define the term, set the price tag or pay for it. Discussions between Biden and Sen. Shelley Moore Capito (R-W.Va.) aim to move them closer.
China bill: Senate Majority Leader Chuck Schumer (D-N.Y.) is eager to get his $200 billion-plus China package — which has heavy GOP involvement — across the finish line by the end of the week.
Police reform: Sen. Tim Scott (R-S.C.), the lead GOP negotiator, said it's "June-or-bust" to get this done. He and Sen. Cory Booker (D-N.J.) and Rep. Karen Bass (D-Calif.) continued their talks over recess and remain optimistic they can strike a deal.
Negotiators are said to be resolving the last 10% of their differences — including how to address qualified immunity.
Jan. 6 investigations: Sen. Amy Klobuchar (D-Minn.), who chairs the Senate Rules Committee, says the panel and the Senate Homeland Security Committee will release their review of the Jan. 6 insurrection this week.
The next move may have to come from House Speaker Nancy Pelosi (D-Calif.) after Senate Republicans blocked a 9/11-style, bipartisan commission.
Biden has said Congress, not the White House, should take the lead. Democratic leaders are now leaning toward a select committee to investigate what happened.
6. Pics du jour
Vice President Kamala Harris walks toward Air Force Two before departing to Guatemala and, later this week, Mexico.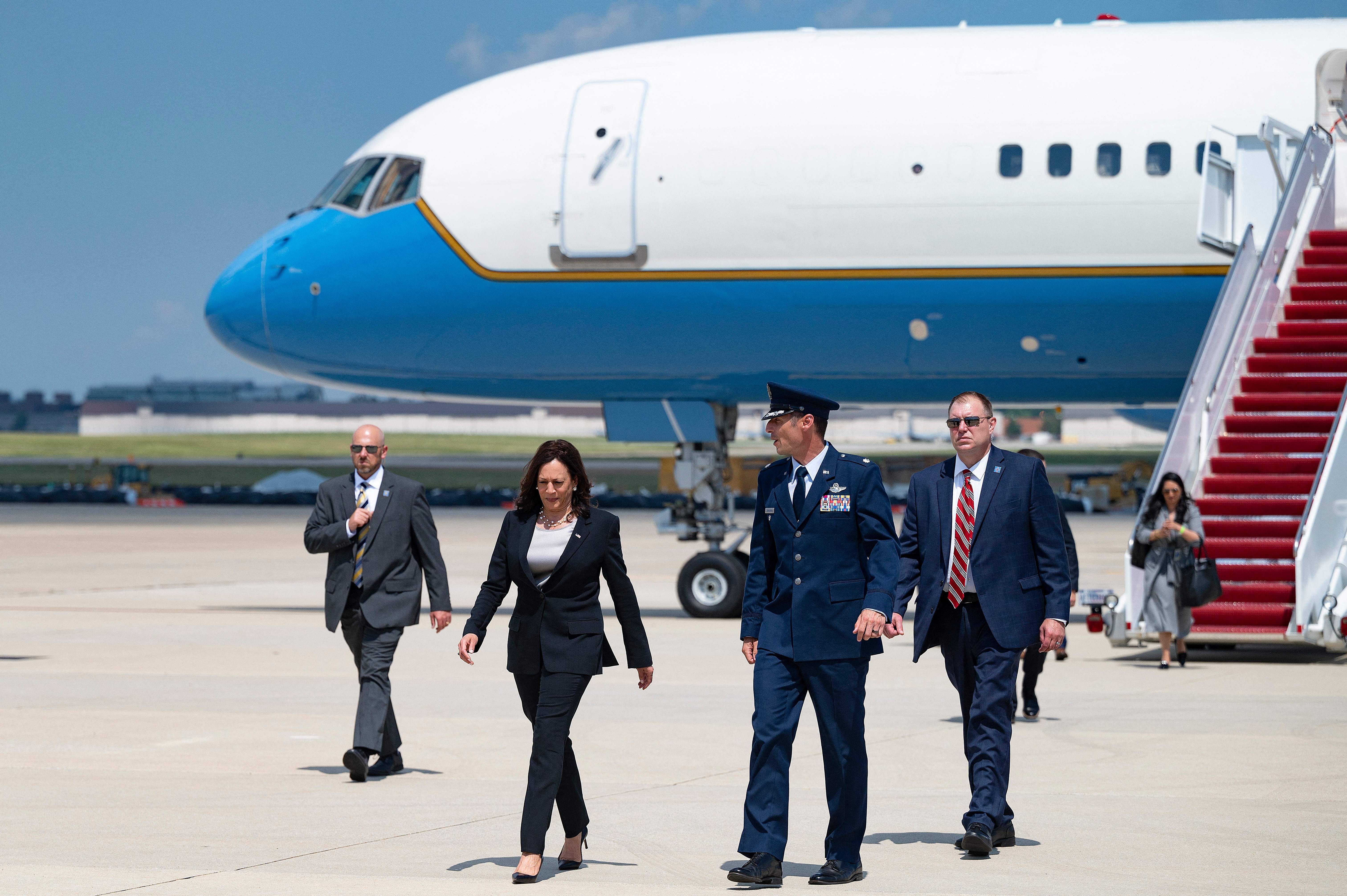 Harris walks away from the plane after it had to return to Joint Base Andrews following a technical glitch about 25 minutes after takeoff.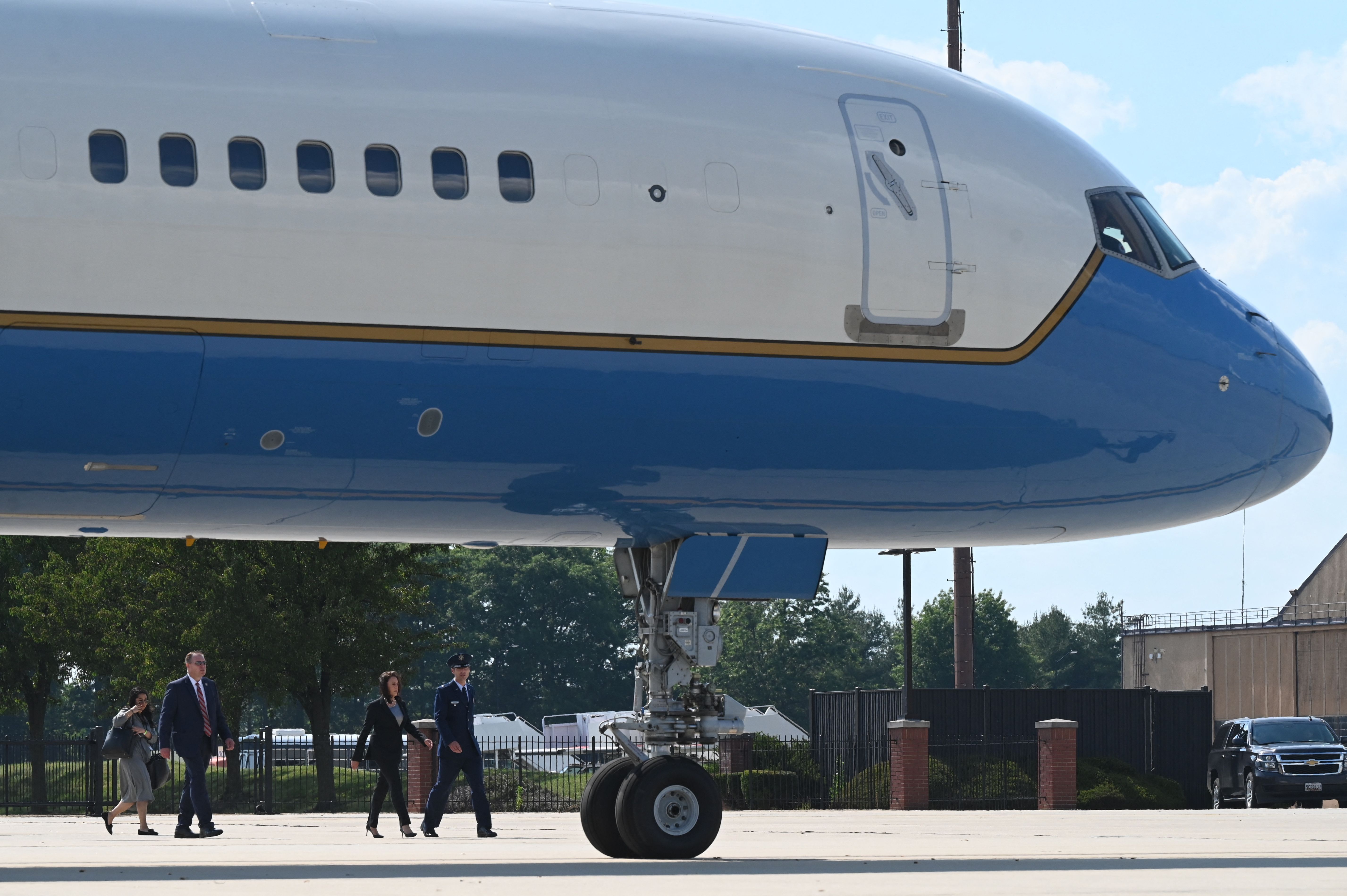 The vice president passed the original jet and departed on a backup plane after a 90-minute delay.
The planes started entering service in 1998 and are due to be retired in 2031, although they have had several recent high-profile glitches involving former Secretary of State John Kerry and other users.
🎉 Thanks for prepping for the week with us. A reminder that your family, friends and co-workers can join the Sneak community with free email delivery through this link. Please pass it on!