Axios Sneak Peek
July 22, 2021
Welcome back to Sneak. The Jan. 6 committee became more select.
🚨 Breaking: President Biden told a CNN town hall audience tonight the world is still wondering about the United States as conspiracy theories abound.
Smart Brevity™ count: 1,509 words ... 5.5 minutes. Edited by Glen Johnson.
1 big thing: Biden pollster's inflation warning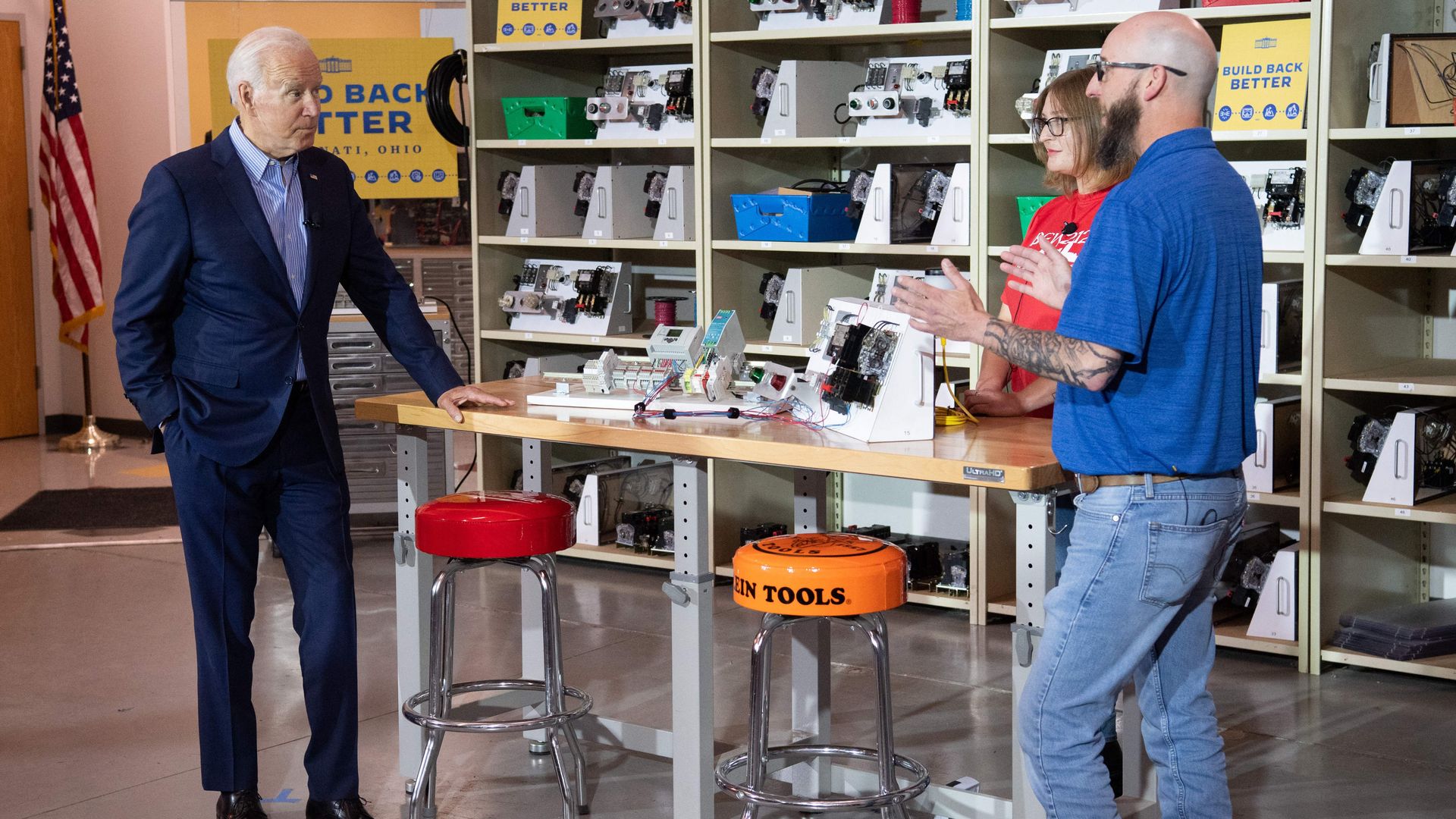 A top party pollster and senior adviser to the Biden political team is urging Democrats to confront the problem of rising prices — which she says is starting to bite with voters, Axios' Jonathan Swan and Hans Nichols write.
Driving the news: Celinda Lake, who polled for the Biden presidential campaign and still advises Team Biden, told Axios that worries about inflation are coming through loud and clear in both public polls and her own focus groups.
"Women voters are really experiencing it, because they're always more focused on kitchen table economics, microeconomics," Lake said.
"The key target vote in the 2022 election is going to be non-college-educated women ... because they are the most undecided."
Lake said Democrats can't afford to ignore the inflation issue or hope it goes away; they need to tackle it head on.
She's advised Democratic elected officials to make clear to voters that they understand their lived experiences of higher costs of health care and daily goods — and that they have ideas for how to make the cost of living more affordable.
The big picture: While the Biden administration has consistently argued that price increases are only short-term, Treasury Secretary Janet Yellen has revised her inflation expectations. She said in June inflation could reach 3%.
Then last week, after June's Consumer Price Index showed a 5.4% increase, Yellen told CNBC the U.S. economy will see "several more months of rapid inflation," which would put annualized inflation well above 3%.
"I think over the medium term, we'll see inflation decline back toward normal levels," she said.
President Biden insisted again tonight that price increases are temporary.
"The vast majority of the experts, including on Wall Street, are suggesting that it's highly unlikely that long-term inflation is going to get out of hand," Biden said during the CNN town hall in Cincinnati. "There will be near-term inflation."
Former Treasury Secretary Larry Summers, who has been warning about inflation since January, also met with White House officials last week.
Despite his concerns, Summers told Axios he doesn't think the $1.2 trillion "hard" infrastructure package being negotiated in Congress will increase inflation.
Between the lines: The White House has subtly altered its communications strategy on inflation in recent weeks. It's gone from mostly avoiding the issue to confronting it directly with coordinated talking points.
Biden's top economic adviser Brian Deese tweeted Monday that the administration's approach to competition policy "will lower costs for families."
2. Infrastructure deal's Democratic opposition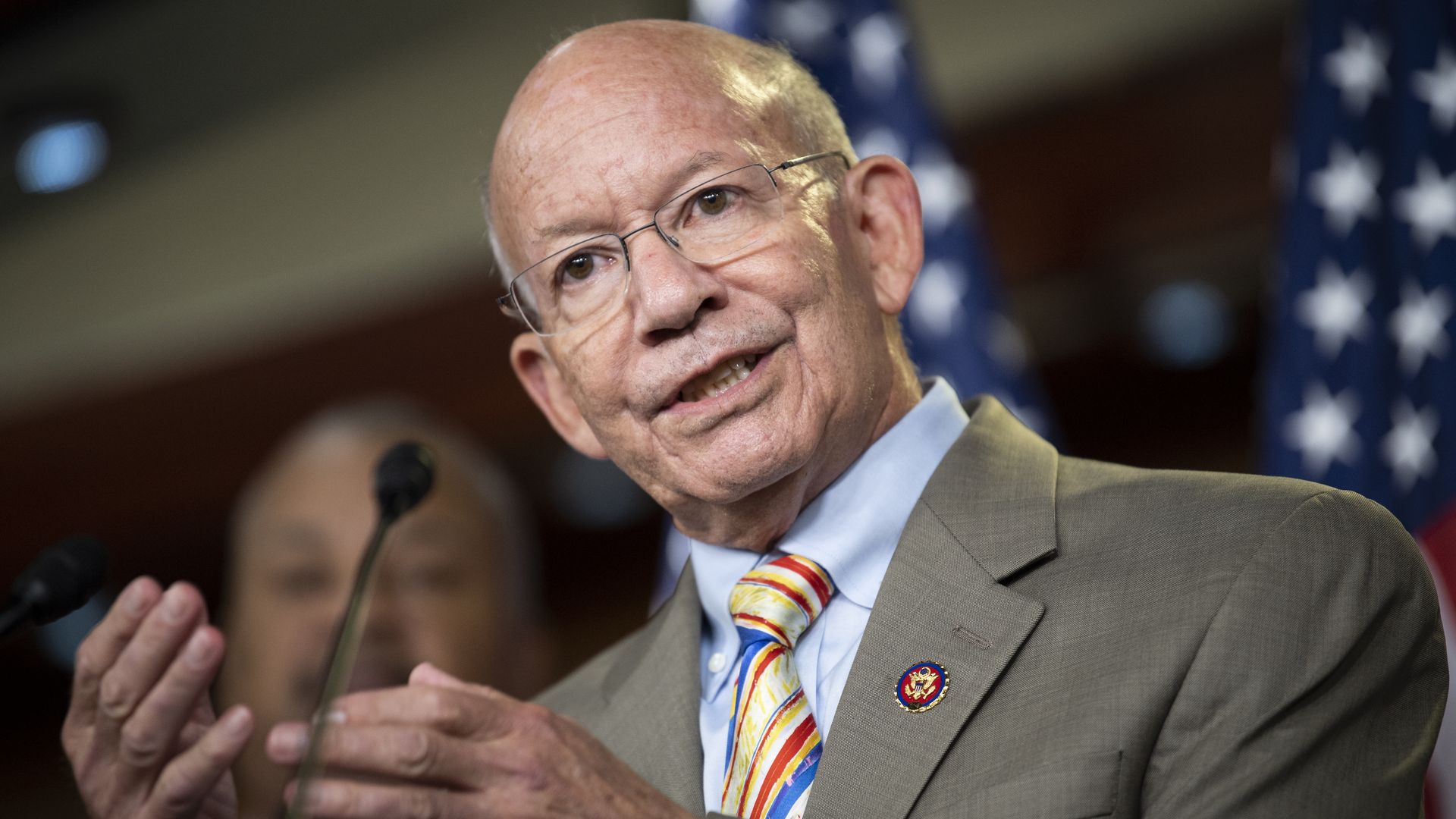 Some progressive House Democrats — and potentially 20 members of the pivotal Transportation and Infrastructure Committee — are signaling they'll vote against the Senate's $1.2 trillion bipartisan infrastructure package, Hans and Axios' Sarah Mucha report.
Why it matters: With just three Democratic votes to spare, House Speaker Nancy Pelosi (D-Calif.) and Biden must take seriously every possible House defection if they hope to pass the Senate package.
"If it comes over in that form and it's take-it-or-leave-it, I'm going to work to defeat it," Rep. Peter DeFazio (D-Ore.), chairman of the T&I Committee, told Axios.
"It'll fail the House of Representatives," he said. "You know, I voted against Obama's [economic] recovery act."
Driving the news: While Senate negotiators are struggling to find a compromise on roughly $579 billion in new spending for "hard" infrastructure, Democrats on DeFazio's committee are signaling the package might have just as much difficulty in the House.
Thirty-two of the committee's 37 members wrote Pelosi and Senate Majority Leader Chuck Schumer (D-N.Y.) today to ask for "a bicameral negotiation prior to the passage of any final infrastructure package."
"We don't want to see our work taken for granted and just be a rubber stamp for the Republicans," Rep. Steve Cohen (D-Tenn.) told Axios. "I would guess there are 20 'no's'" for the Senate bill."
"I am a 'no.' I am," Rep. Henry Johnson (D-Ga.) told Axios.
There's also a broad concern in the House Progressive Caucus, lawmakers said.
Between the lines: The White House is reaching out to wavering lawmakers on DeFazio's committee, as Politico reported, and this afternoon, DeFazio said he received a call from White House counselor Steve Ricchetti, the president's infrastructure point man.
"We're in close touch with the president's colleagues in the House, who he deeply respects and values as core partners," said Andrew Bates, a deputy White House spokesman.
Transportation Secretary Pete Buttigieg also traveled to DeFazio's district last week, where the chairman called it an "honor" to host him.
But today, before he spoke with Ricchetti, DeFazio called White House outreach to his committee members "odd" and hinted that officials were trying to work around him.
3. Congress, Europeans trash pipeline agreement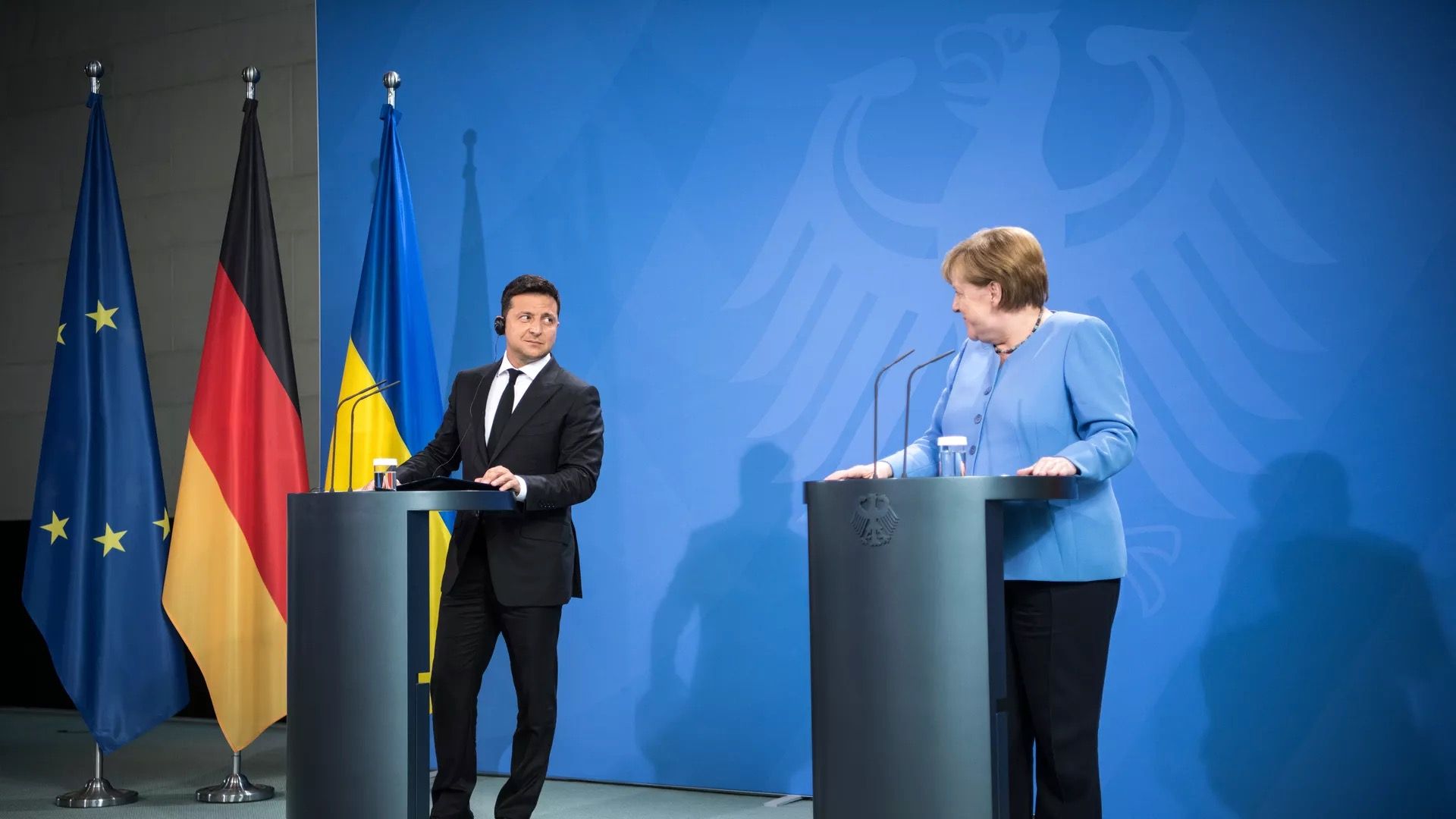 Almost nobody is happy with the U.S.-Germany deal on the Nord Stream 2 pipeline, Axios World author Dave Lawler writes. On the Hill, Republicans like Sen. Ted Cruz express outrage and Democrats like Sen. Tim Kaine voice concern. In Europe, the Ukrainians feel bullied and the Poles disappointed.
The big picture: Ukraine and U.S. allies on the eastern flank of NATO argue the pipeline will make it easier for Moscow to isolate Kyiv and pressure Europe. They say the U.S.-Germany deal doesn't sufficiently address those concerns.
For Russia and Germany, though, the deal is confirmation a natural gas pipeline the Biden White House has called "a Kremlin geopolitical project that threatens European energy security" will be completed.
Driving the news: The Biden administration argued today it was Donald Trump who missed a chance to stop the pipeline by implementing sanctions sooner.
Officials say they secured the best deal they could from Germany on a pipeline 90% complete when they took office.
Germany pledged to "take action at the national level and press for effective measures at the European level, including sanctions," if Russia tries to "use energy as a weapon" or cuts off gas to its neighbor.
That would now be much simpler as Nord Stream 2 circumvents Ukraine, unlike existing pipelines carrying Russian gas to Europe.
Between the lines: The administration was careful to emphasize that Ukraine had been consulted throughout the process. But an adviser to Ukrainian President Volodymyr Zelensky tells Axios the steps announced today fall well short of their expectations, and utterly fail to address Ukraine's security concerns.
Ukraine and Poland also released a joint statement saying the steps were "not sufficient."
Asked by Axios about the Ukrainian objections, a senior administration official insisted the deal would reduce the risk to Ukraine and would hopefully "enable us to move forward with conversations in a number of other areas, including on security, rather than only talking about Nord Stream 2."
4. Web/fundraising email loop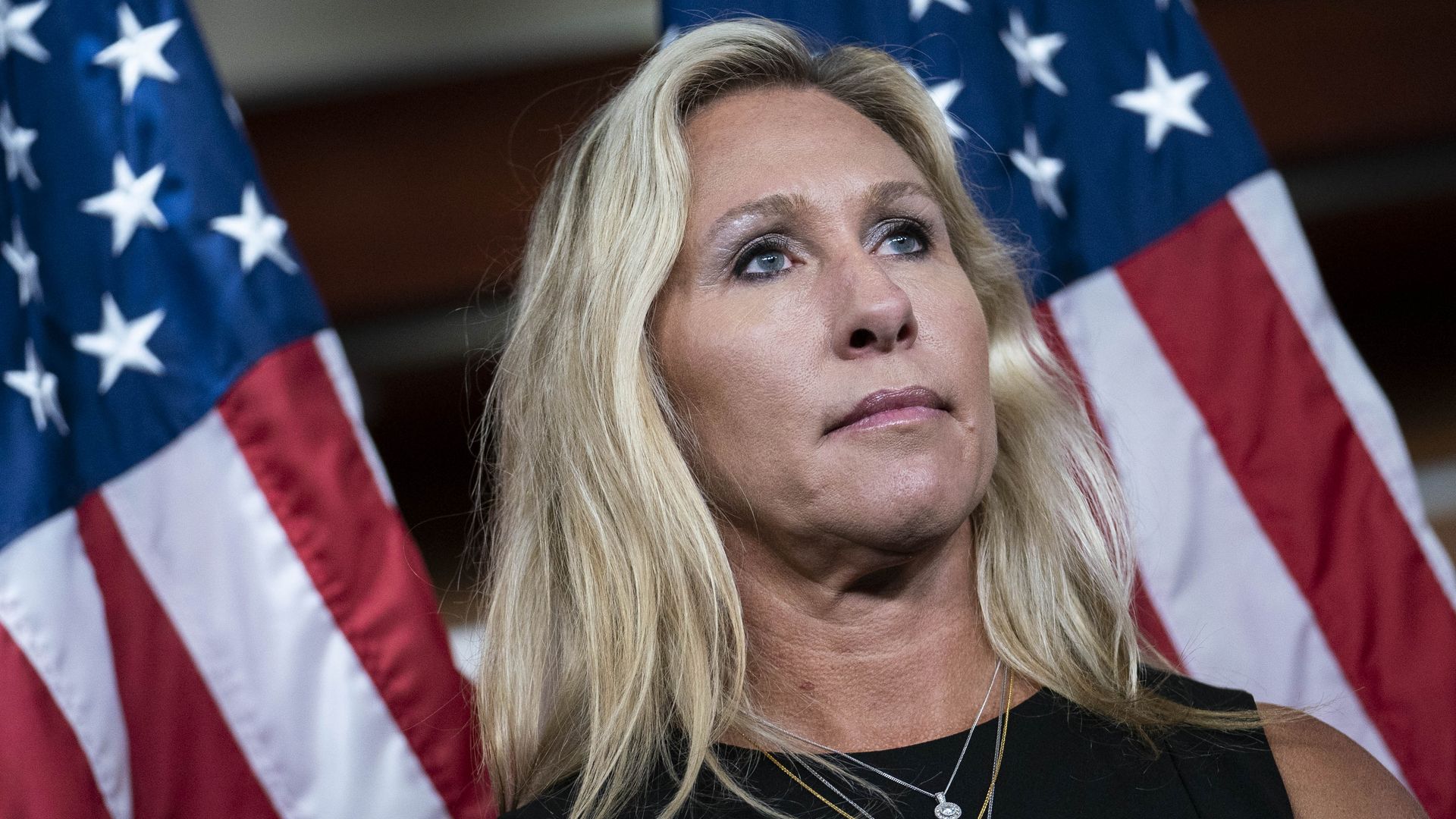 Ideologically driven news outlets are providing a steady stream of funding for like-minded political candidates by harvesting readers' emails and charging campaigns to fundraise from them, an examination by Axios' Lachlan Markay shows.
Why it matters: The mutually beneficial arrangement reinforces the partisan divide. The news sites bombard readers with content attacking political adversaries, and the candidates then step in with a solution: give me money and I'll stop them.
The big picture: The financial incentives for both the news sites and their email advertisers are obvious. But the arrangement also encourages each party to rile up readers with more divisive content.
That keeps eyeballs on the news sites and builds a politically enthusiastic readership more valuable to potential political advertisers.
For the advertisers, indulging the same outrage that drove them to subscribe to a partisan news site's email list is a great way to boost grassroots donations.
How it works: In May, the right-wing website Big League Politics ran a story headlined "BASED: Marjorie Taylor Greene Tells 'Crazy Eyes' AOC to 'Get Rid of Her Diaper' and 'Talk with American Citizens.'"
The post, parroting criticism from Rep. Greene (R-Ga.) against Rep. Alexandria Ocasio-Cortez (D-N.Y.) over the latter's refusal to agree to a debate, soon went out on Big League Politics' email list.
Less than an hour later, the same email subscribers got another message, this one from Greene's campaign. "AOC Chickened Out!" the subject line declared. It hit Ocasio-Cortez for declining the debate, then asked for campaign donations.
Greene's campaign had rented access to the Big League Politics email list. Both hit the same message, earning both revenue for the website and donations for Greene.
Email list rentals are providing substantial revenue to ideologically driven news outlets, and campaigns are increasingly leaning on those websites to market lists of readers who are predisposed to supporting those same candidates.
Large and more established websites such as The Daily Wire and Breitbart on the right and Daily Kos and The Nation on the left have made their email lists available to political campaigns and party organs.
There are also dozens of more obscure news sites that do little beyond aggregating content and farming their supporters off to an email list that can then be marketed to political clients.
5. Pic du jour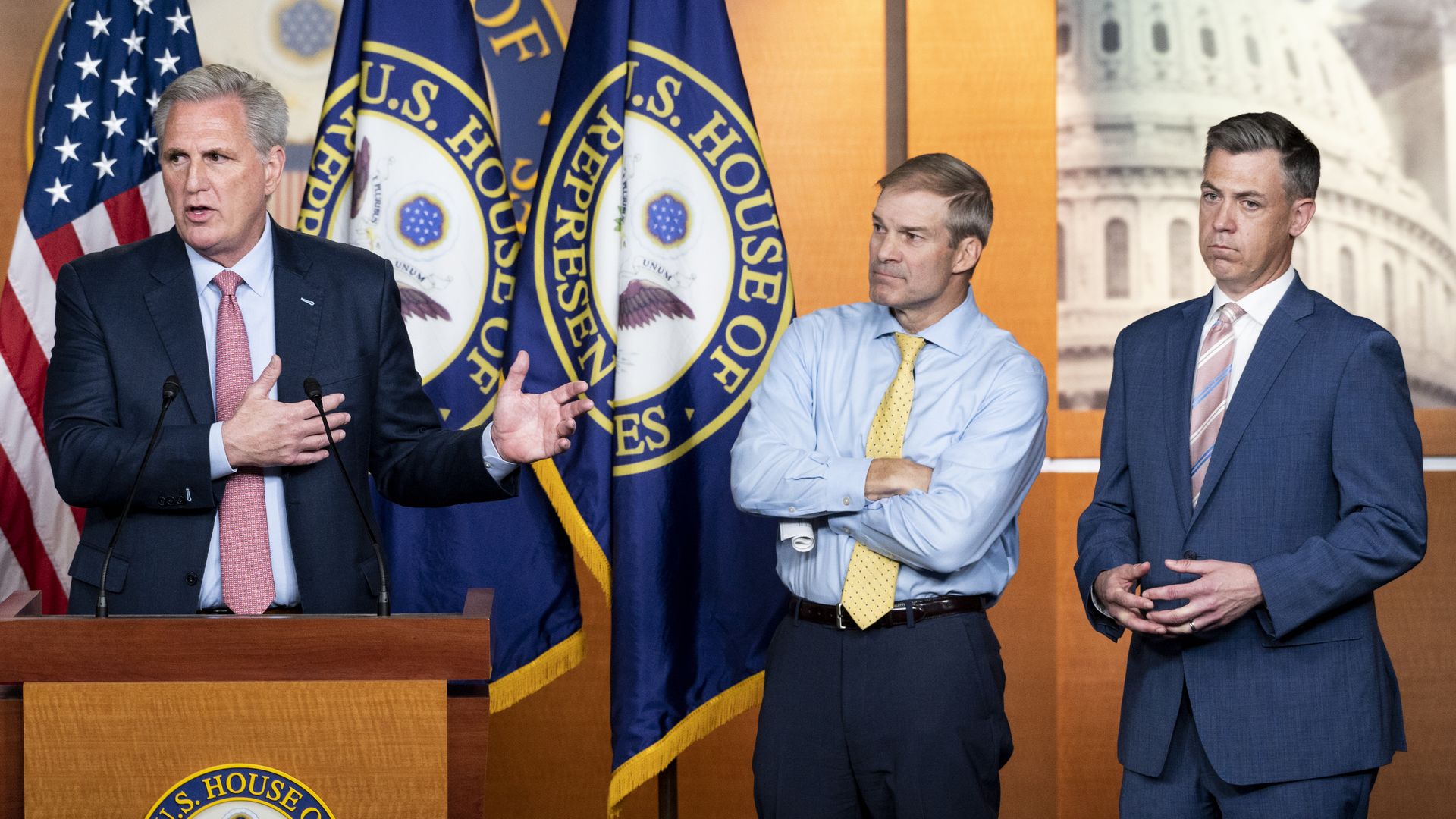 House Minority Leader Kevin McCarthy (R-Calif.) announced his own investigation into the Jan. 6 Capitol insurrection.
He said so after House Speaker Nancy Pelosi (D-Calif.) removed Reps. Jim Jordan (R-Ohio) and Jim Banks (R-Ind.) from her select committee.
🐫 We made it through Hump Day! Thanks for reading. A reminder your family, friends and colleagues can subscribe to this or any of Axios' other free newsletters by clicking here.