November 17, 2022
Welcome back to Sneak. Smart Brevity™ count: 965 words ... 3.5 minutes.
⚡ Situational awareness: Republicans officially clinched the House majority after Rep. Mike Garcia was projected the winner tonight in California's 27th Congressional District.
1 big thing: House Dems' calm before the storm
House Speaker Nancy Pelosi's (D-Calif.) private deliberations on whether to run for minority leader have — for now — frozen a potentially ugly fight that could pull back the curtain on the party's ideological and generational divides, Axios' Andrew Solender and Hans Nichols report.
What we're hearing: Pelosi's longtime deputy, Rep. Steny Hoyer (D-Md.), is keeping his options open regardless of her decision, Axios has learned. If Pelosi leaves but Hoyer tries to stay in leadership, there would be a cut-throat game of musical chairs — with only three leadership seats for four lawmakers.
A decision by Pelosi to stay will also cause consternation in the caucus, but the party's better-than-expected showing — and her reputation for clapping back at Republicans — gives her a strong case to stay for one more term.
Both President Biden and Senate Majority Leader Chuck Schumer (D-N.Y.) have urged her to stay.
Driving the news: Everyone is waiting on Pelosi, according to more than two dozen current and incoming House Democrats who spoke to Axios yesterday. Punchbowl News reports that she could announce her decision this week.
Hoyer has been calling members to congratulate them on their victories.
While he's careful not to ask for their support in any potential leadership contest, the calls serve as a reminder that the 83-year-old Hoyer is interested in the lawmakers' long-term future.
The intrigue: A younger generation of leaders — Reps. Hakeem Jeffries (D-N.Y.), Katherine Clark (D-Mass.) and Pete Aguilar (D-Calif.) — has been patiently waiting in the wings to replace the old trio of Pelosi, Hoyer and House Majority Whip Jim Clyburn (D-S.C.).
In interviews with Axios, Jeffries was the top choice for every member who openly declared a preference for Pelosi's replacement.
Rep. Gregory Meeks (D-N.Y.), a firm Jeffries backer if Pelosi steps down, said he "has the skill set that's necessary to lead the caucus, very similar to Nancy Pelosi."
Rep. Dean Phillips (D-Minn.), who's been vocal about wanting new blood in leadership, went so far as to say Jeffries should run regardless of Pelosi's decision.
Jeffries, for his part, dodged questions about leadership at a press conference yesterday, telling reporters: "I think it's time to make sure that we finish the business of the American people over the next few weeks."
The bottom line: Leadership elections are scheduled for Nov. 30, according to a source familiar with the plans.
If Pelosi does run, even younger moderates who want her to step aside acknowledge she'd likely win easily.
"She'd be running for minority leader, so that's a caucus vote which she will easily secure. She doesn't need my vote," said Rep. Elissa Slotkin (D-Mich.).
2. 🌽 Scoop: New GOP governor chair
The Republican Governors Association has elected Iowa Gov. Kim Reynolds to serve as chair and Tennessee Gov. Bill Lee to serve as vice chair for the 2023 cycle, Axios' Alayna Treene has learned.
Why it matters: Reynolds and Lee, who both cruised to re-election in last week's midterms, will assume control of the organization at a critical moment for the direction of the Republican Party.
Both governors were endorsed by former President Trump, whose role as the GOP's de facto leader is being strongly questioned as he launches his 2024 comeback bid.
Reynolds campaigned with Trump at a rally in Iowa on Nov. 3, days before a midterm election in which many of Trump's favored candidates in competitive races were wiped out.
The intrigue: Outgoing co-chair Arizona Gov. Doug Ducey and other governors attending the RGA conference yesterday gave former New Jersey Gov. Chris Christie a huge ovation after he pinned the blame on Trump for Republican losses in three consecutive elections.
3. 🗣️ Quoted: McConnell's balancing act
Senate Minority Leader Mitch McConnell (R-Ky.), fresh off defeating Sen. Rick Scott (R-Fla.), 37-10, in a leadership challenge, had this to say about Trump's 2024 announcement:
"The way I'm going to go into this president primary season is to stay out of it. I don't have a dog in that fight. I think it's gonna be a highly contested nomination fight, with other candidates entering."
Less than 24 hours earlier, McConnell had offered a Senate post-mortem that blamed Trump-backed candidates for scaring off independents with "negativity and attacks and chaos":
"I think the lesson is pretty clear. Senate races are different. Candidate quality, we recall, I said in August is important. And in most of our states we met that test and a few of them we did not."
4. 🗳️ The "Trump penalty"
Trump's preferred candidates in House races underperformed other Republican candidates by about 5 percentage points, according to an analysis by the New York Times' Nate Cohn.
Another analysis by the American Enterprise Institute's Philip Wallach produced similar figures: In 114 competitive House races, Trump-endorsed candidates underperformed by 5 points.
Why it matters: The "Trump penalty," as Wallach dubbed it, is more evidence that the former president is becoming an electoral liability for Republicans.
As Cohn points out, five of the last six presidential elections have been decided by a margin of less than 5 points.
"The analysis includes only House races, but a five-point MAGA penalty looks about right in the Senate as well," Cohn writes — within the margin of the Arizona and Pennsylvania races that clinched Democrats their majority.
5. 👀 Cover du jour: Murdoch mocks "Florida man"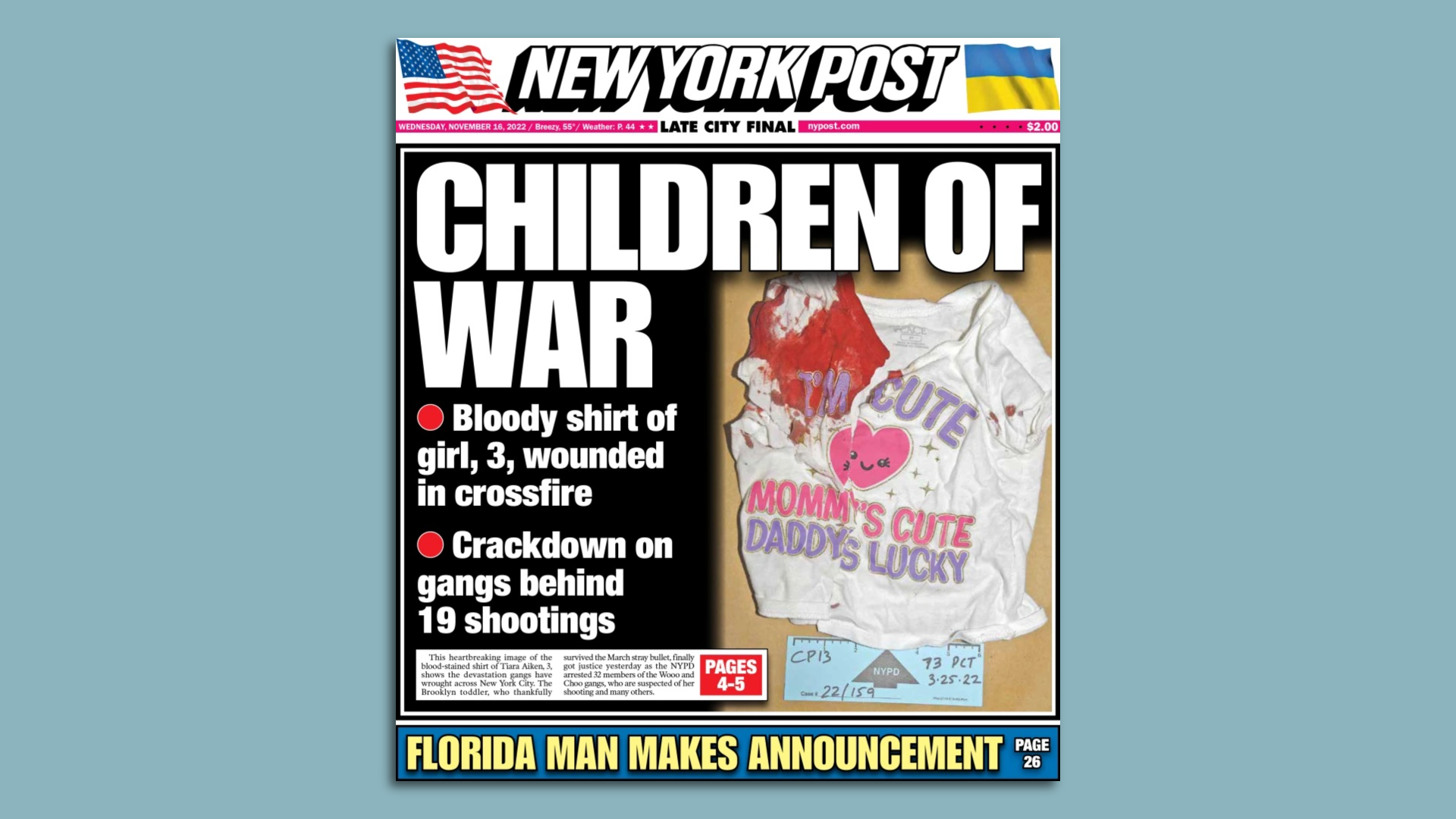 The New York Post banished Trump's 2024 announcement to a five-paragraph corner column on page 26 — mocking him as a "Florida retiree."
Meanwhile, another Florida man and potential 2024 candidate — Gov. Ron DeSantis — called for people to "chill out" after being peppered with questions about the presidential race.
📬 Thanks for reading. This newsletter was edited by Zachary Basu and copy edited by Brad Bonhall.