Axios Sneak Peek
January 07, 2021
Welcome to Sneak Peek, anchored by Alayna Treene, Hans Nichols and Kadia Goba.
🚨Breaking: Jon Ossoff defeated David Perdue in Georgia — returning Senate control to Democrats.
Today's newsletter — edited by Glen Johnson — is 634 words, a 2-minute read.
1 big thing: GOP mulls Trump punishment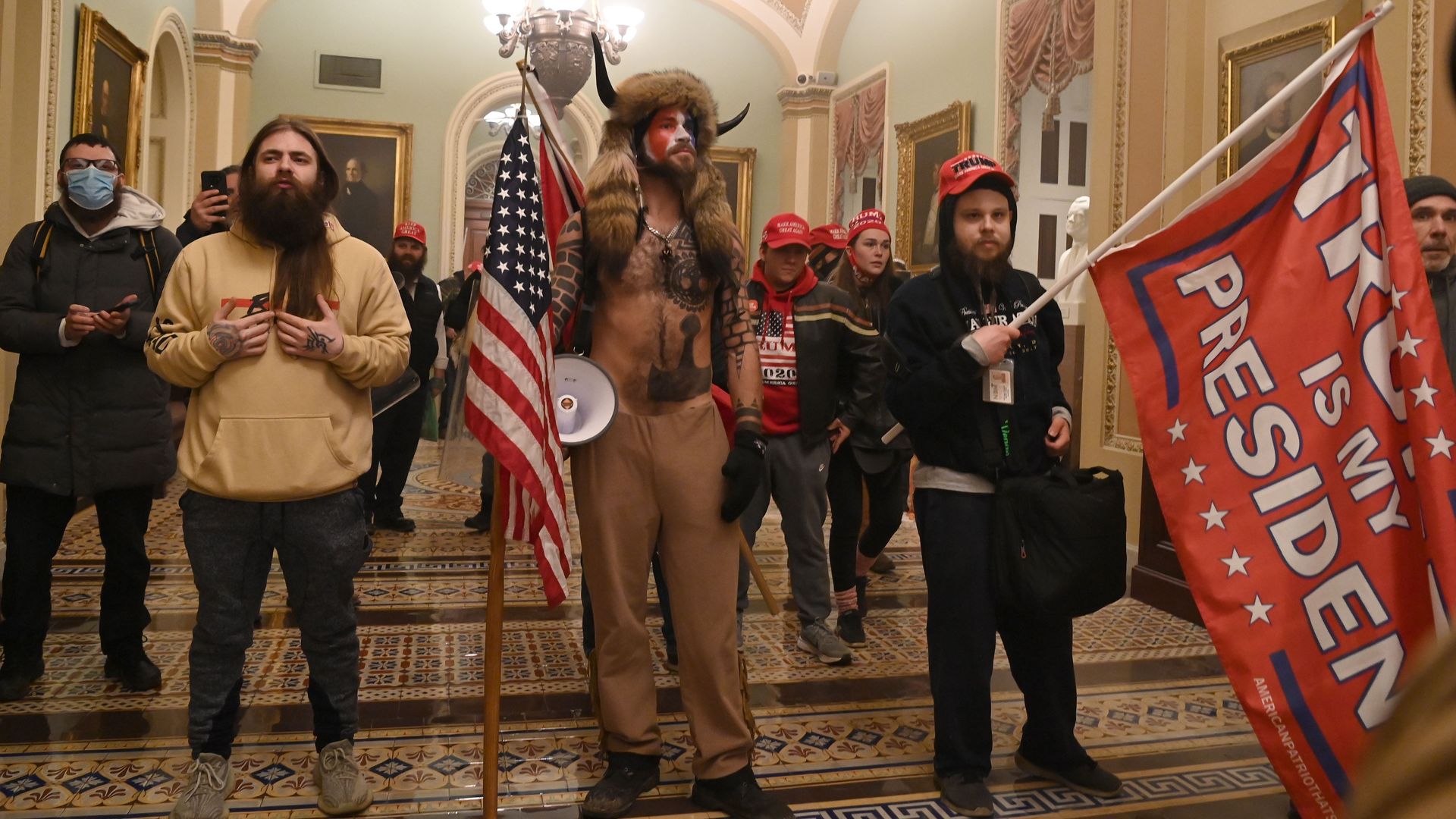 With 13 days left in President Trump's term, confidants and Republican officials are considering drastic steps to stop him, Jonathan Swan and Margaret Talev report.
These measures include censure, impeachment or invoking the 25th Amendment — a move, long dismissed as a liberal fantasy, in which Vice President Pence would step in if  Trump were found to be unable to perform his duties.
This talk is coming from current and former White House and GOP Hill aides, and Republican lobbyists and political consultants — all of whom have either embraced him or quietly tolerated him until now.
Senior State Department officials are encouraging 25th Amendment discussions along with other officials at the White House and other departments, according to two sources involved in the discussions.
State of play: Republicans are furious with the president for what they see as fomenting an attack on American democracy, disgracing their party and invading the sanctity of their chambers on the other end of Pennsylvania Avenue.
There's concern about whether the country can withstand another two weeks with Trump at the helm, and what additional chaos and division could be sowed.
There's also rage inside the GOP at Sens. Josh Hawley, Ted Cruz and others whose plans to object to Biden's certification gave oxygen to Trump, the protests and the notion that Congress could be used to overturn the will of voters.
2. "Shots fired, stay away from the door!"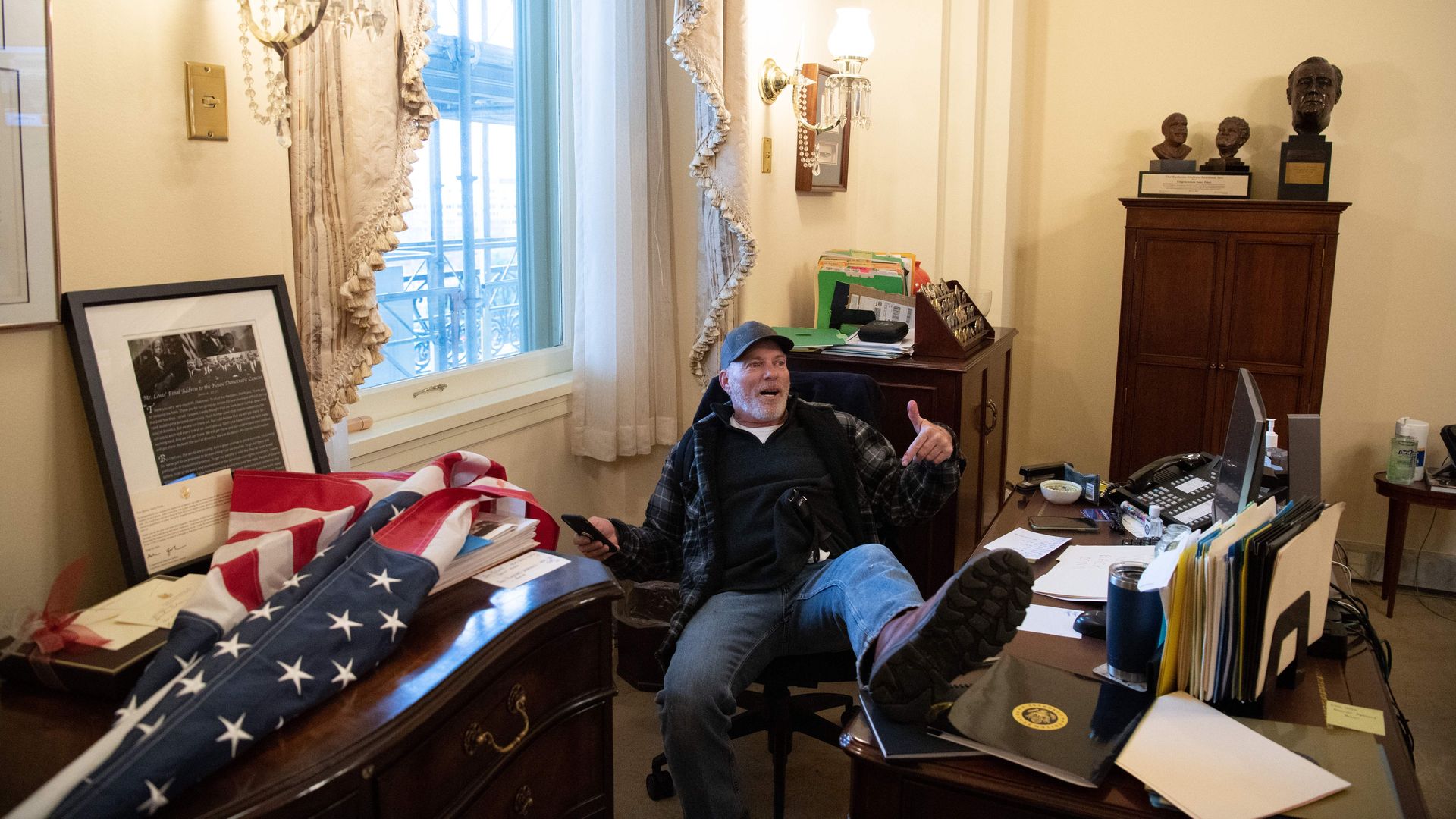 Axios' Kadia Goba and Alayna Treene were in the Capitol today when it got locked down. Here is their first-person account:
Alayna: "At 2:25pm, an officer in a gray suit wearing an orange sash saying "Police" yelled, "Shots fired, stay away from the door." Senators moved away from the perimeter, into the center of the chamber. Most sat at desks."
Kadia: "Police told everyone inside: 'Be prepared to get down.' There was loud banging. A window was bashed. Everyone inside moved to one side of the chamber."
The big picture: Several hours later, we're back in each chamber as lawmakers vow to finish counting the Electoral College votes tonight. We're shaken but OK. We're also seeing democracy and politics in a different light tonight.
3. A day we'll always remember...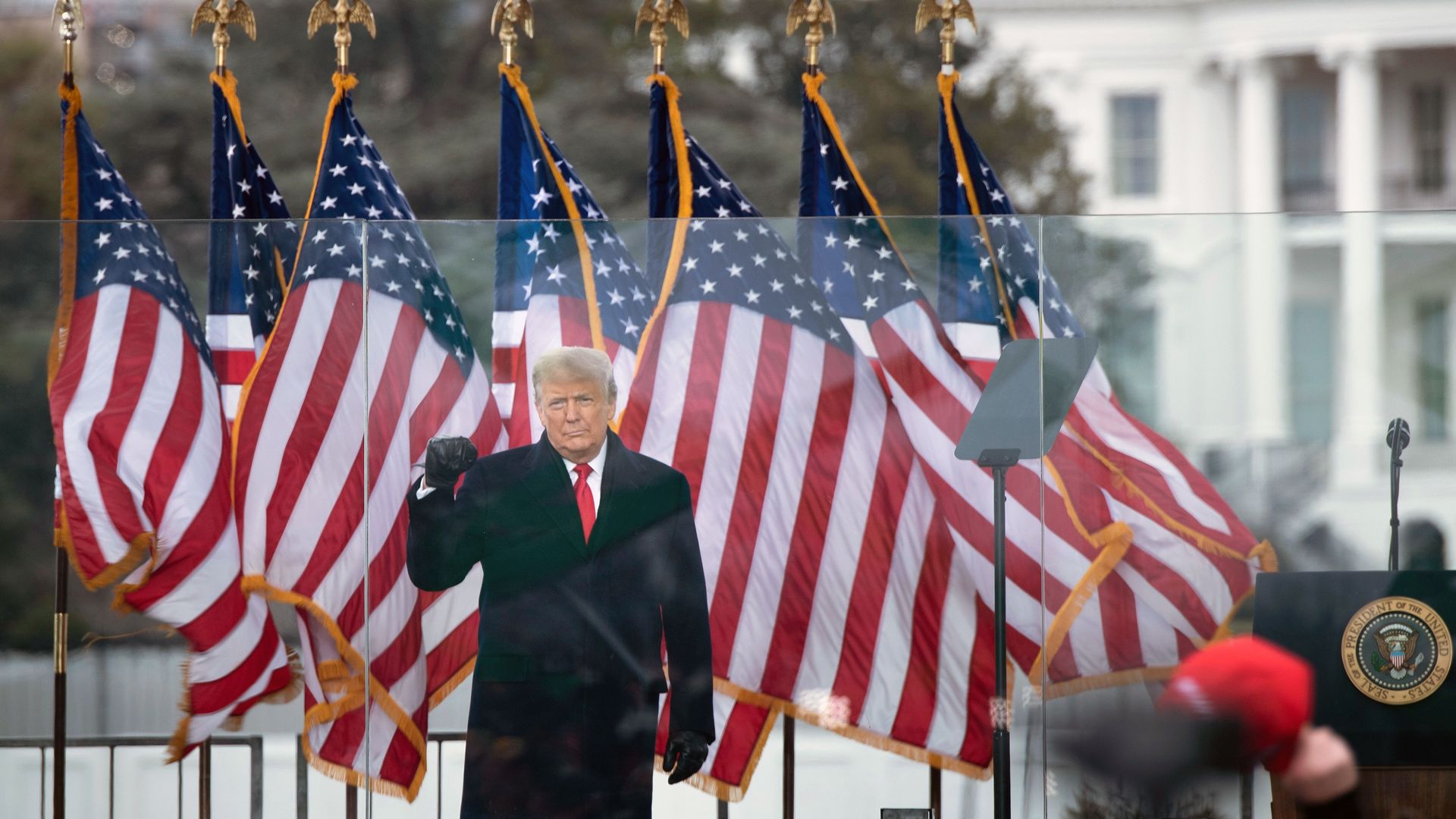 President Trump addressed his supporters from the Ellipse just after noon, setting in motion a historic series of events.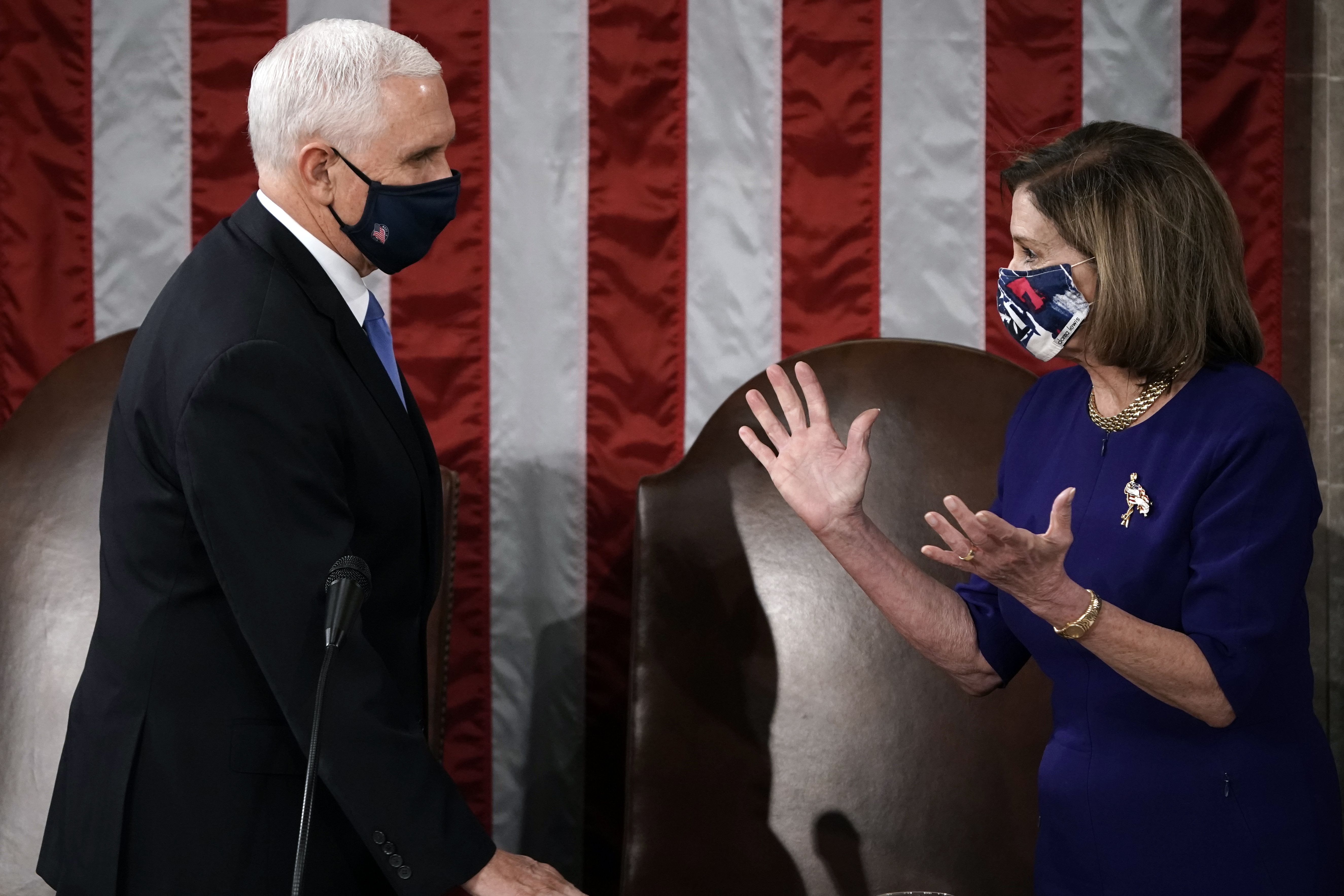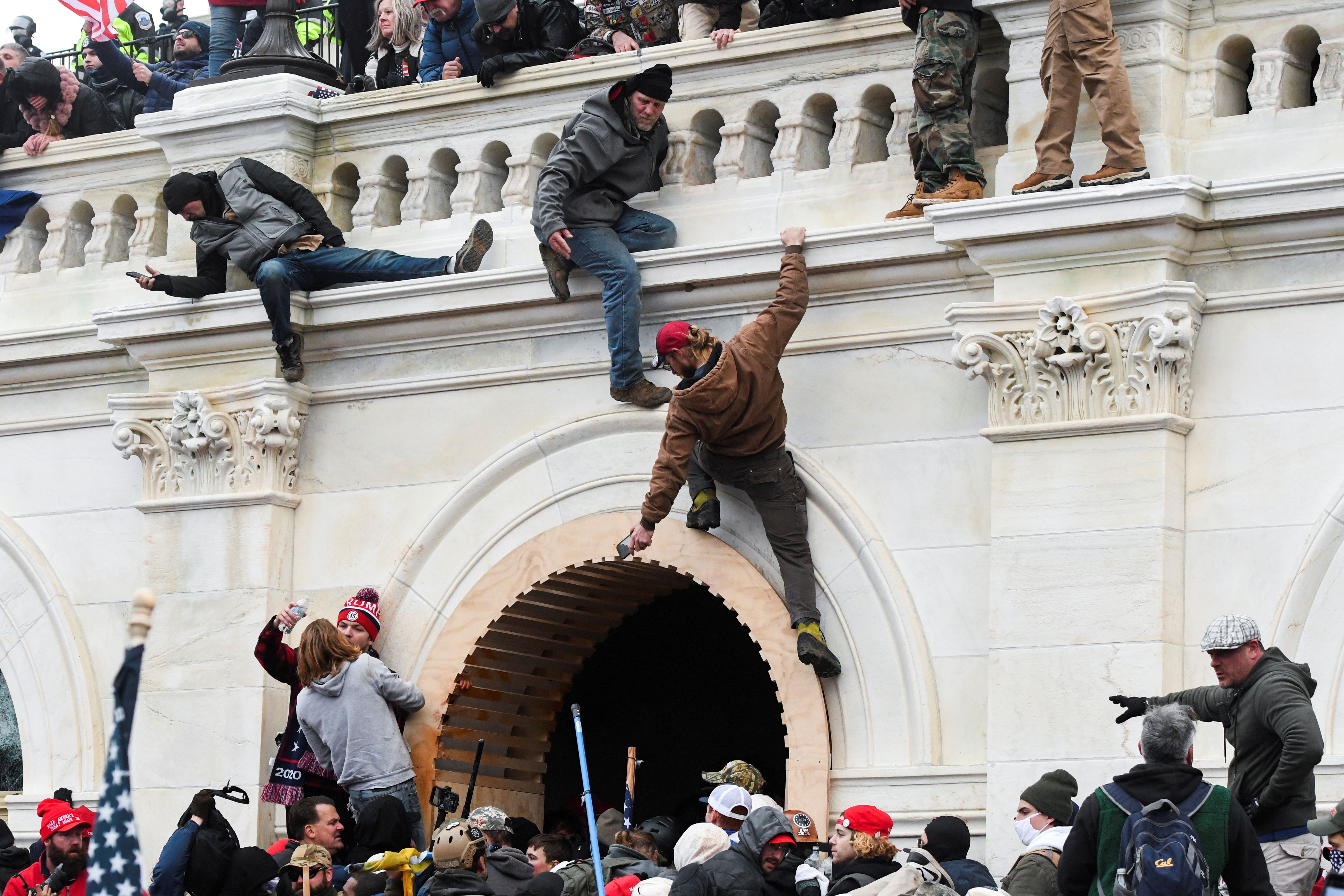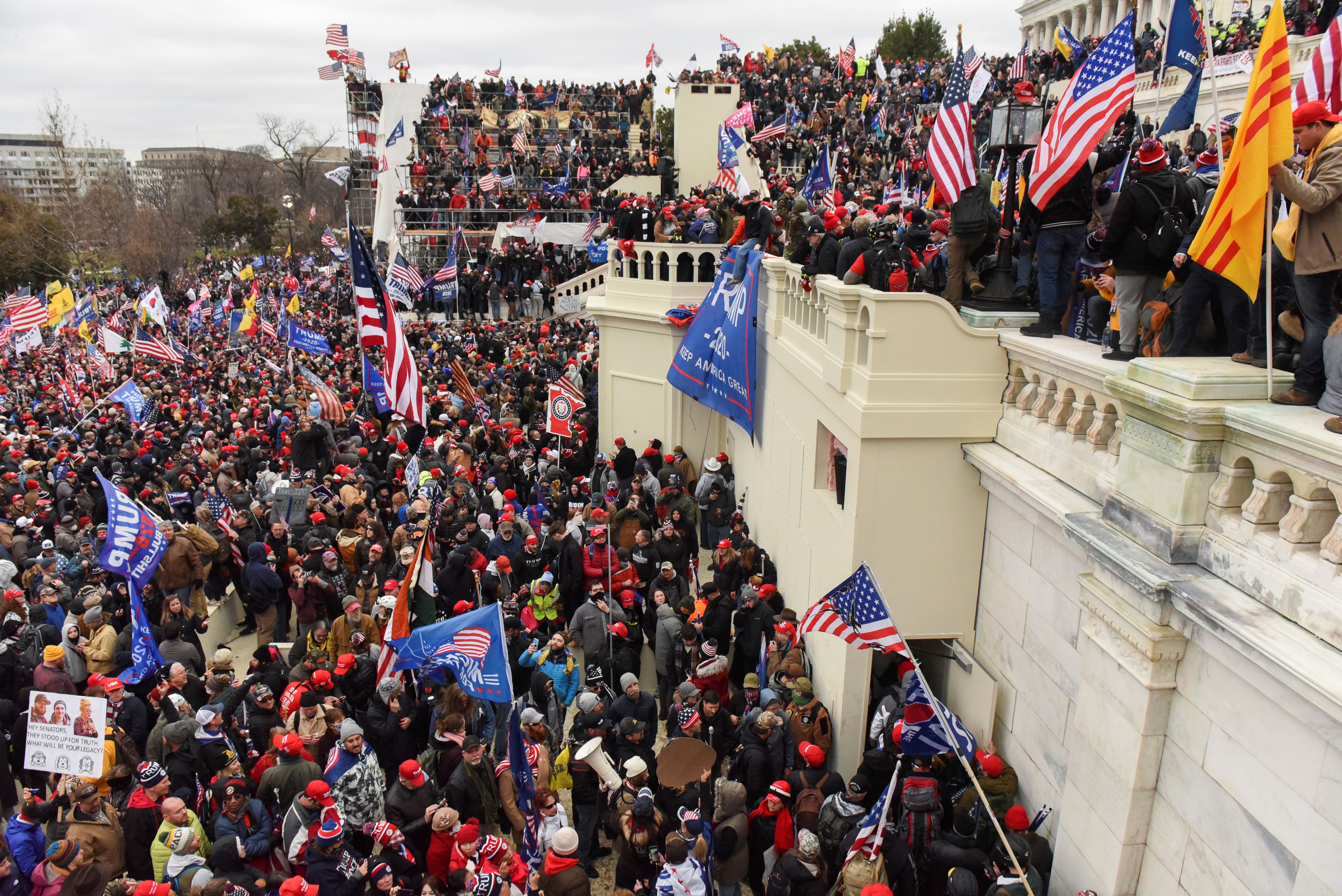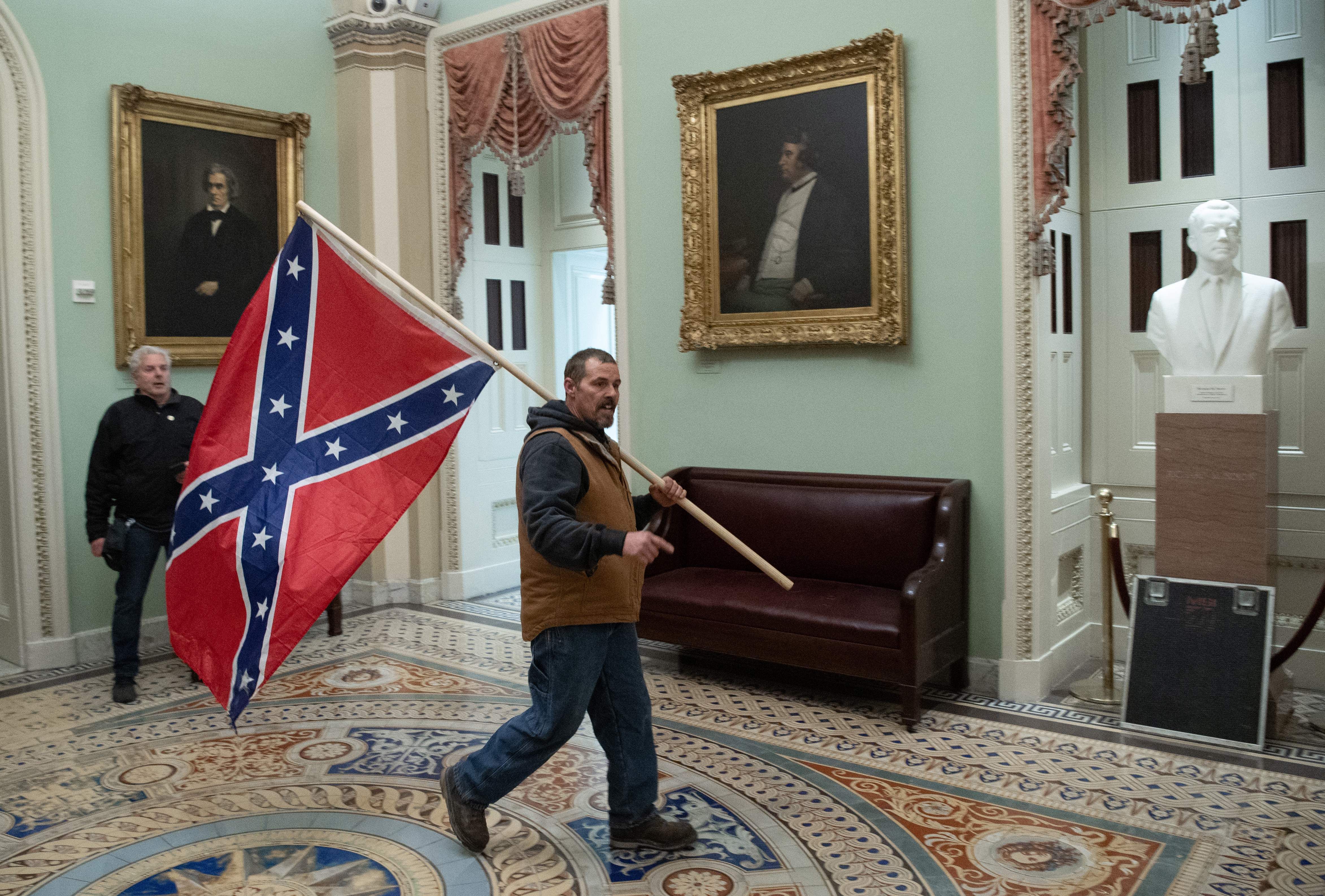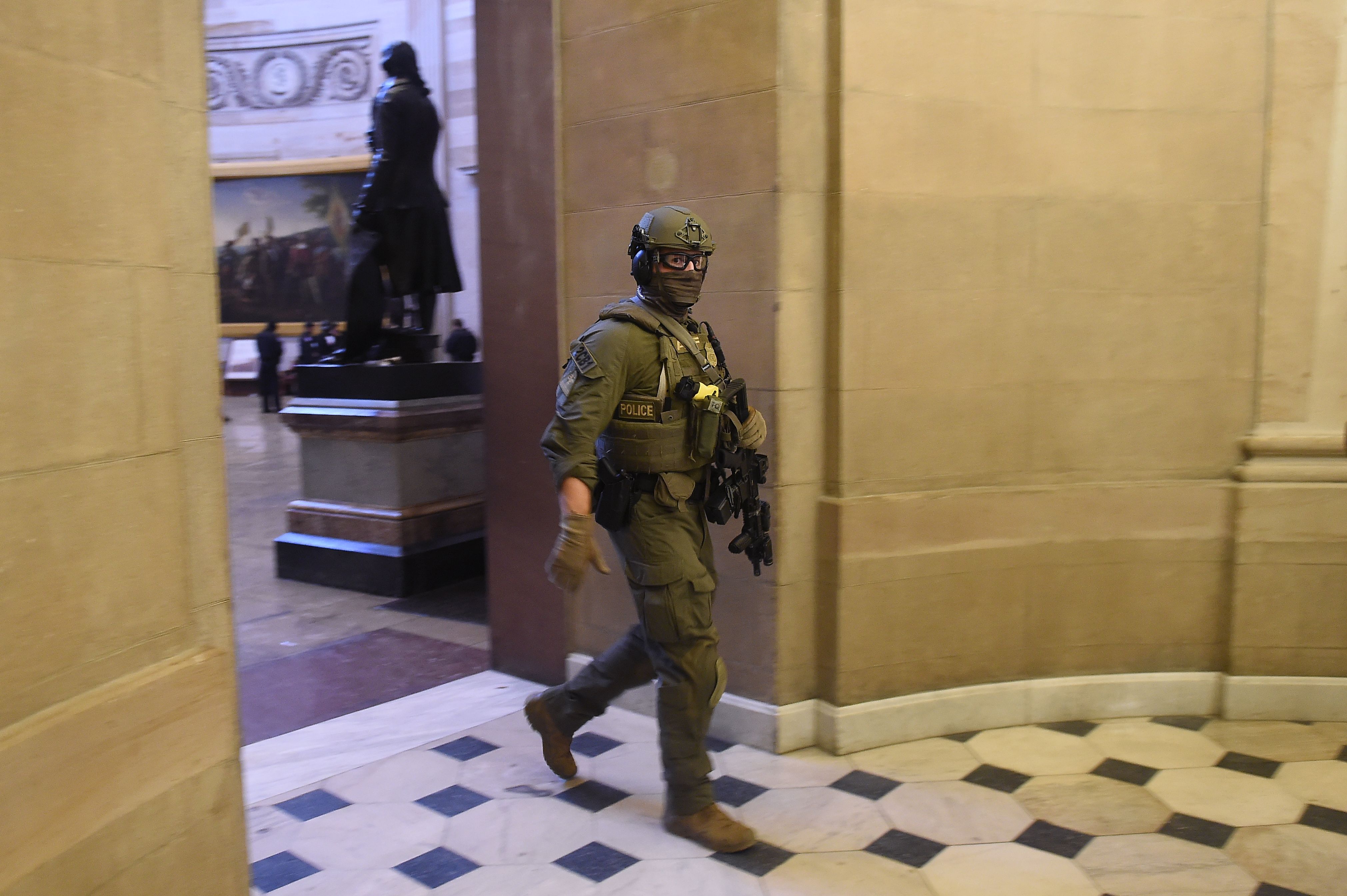 4. A violation beyond the pale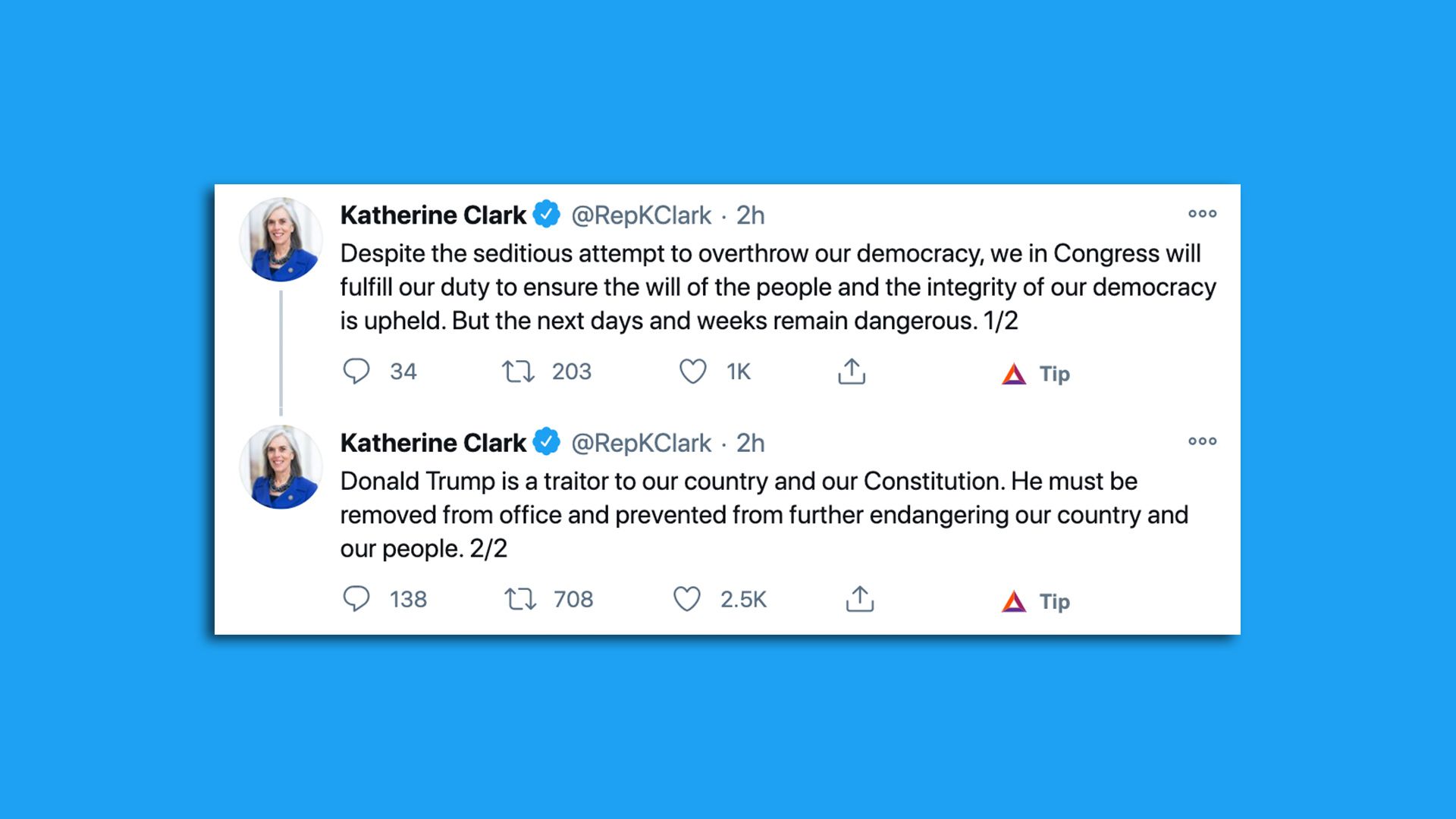 The mob that marauded through the Capitol shattered a sense of decorum that hangs as famously in the building as stately paintings showing the signing of the Constitution and the reading of the Emancipation Proclamation, Axios' Glen Johnson reports.
Why it matters: The Architect of the Capitol carefully tends to the building, knowing its objects and meeting rooms are scenes of history and part of the country's governing continuum.
All that was put at risk as the mob defied metal detectors meant to protect members, staff and tourists, broke through the heavy wooden doors of the House and Senate chambers and forced the vice president and House speaker — second and third in line to the presidency — to retreat for their safety.
On a normal day, members of the House and Senate are lords of the manor, going about their business under the guard of the Capitol Police. Tourists are led by escorts, and journalists move about only while wearing a badge identifying and distinguishing them from staff and other building visitors.
Today's shattering of norms prompted bipartisan criticism, as well as a call for the president's ouster by the leader of a major business group.
Rep. Katherine Clark (D-Mass.), the fourth-ranking member of the House as assistant speaker, called for the invocation of the 25th Amendment.
Rep. Jim Jordan of Ohio, the top Republican on the House Judiciary Committee, said in a statement: "What happened today is wrong and is not what America is about." 
Jay Timmons, president and CEO of the National Association of Manufacturers, took dead aim at the president: "Anyone indulging conspiracy theories to raise campaign dollars is complicit. Vice President Pence, who was evacuated from the Capitol, should seriously consider working with the Cabinet to invoke the 25th Amendment to preserve democracy."
5. Pic du jour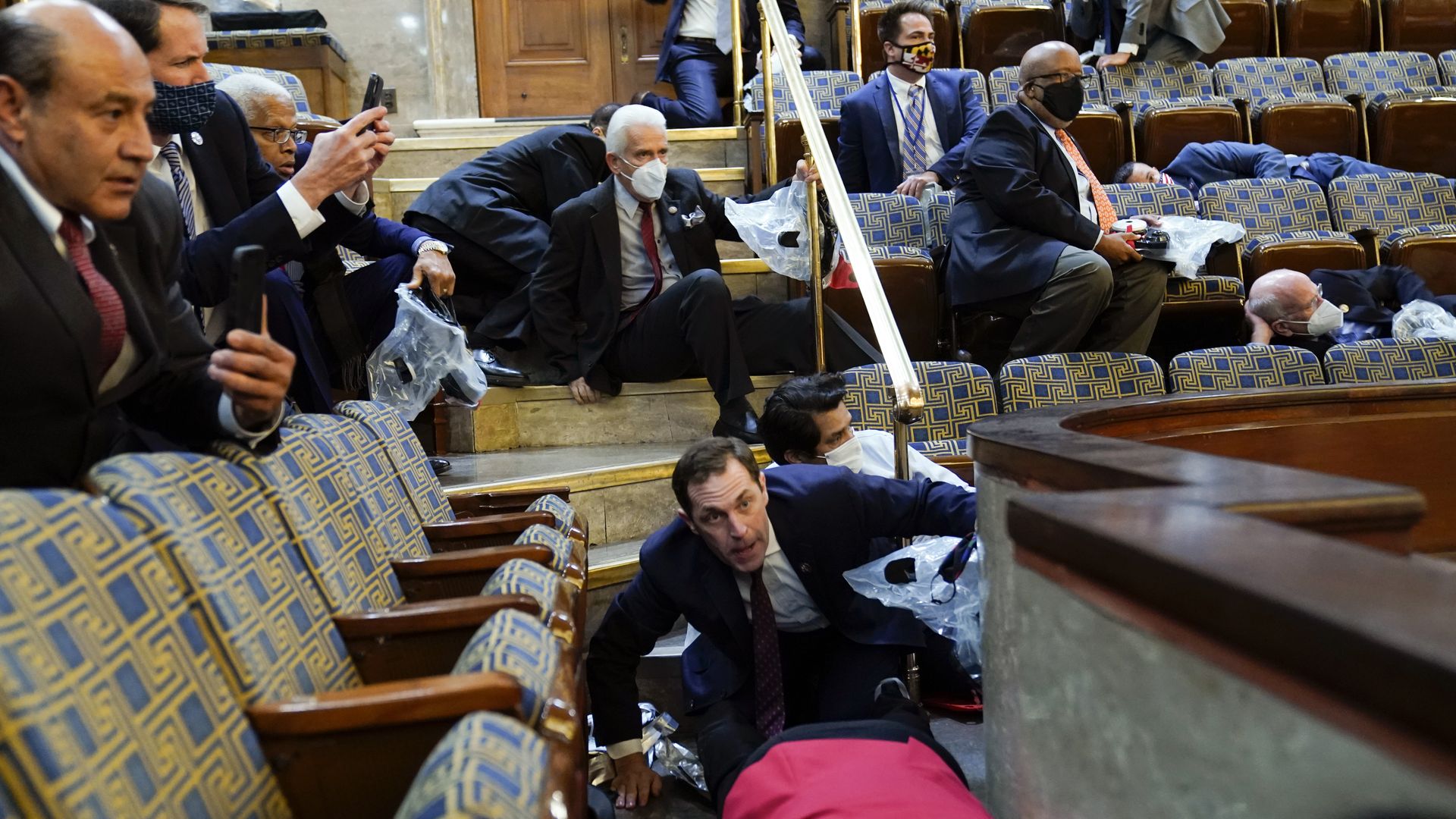 Rep. Jason Crow (lower center), a former Army Ranger and Democrat from Colorado, shelters with others in the gallery as protesters try to break into the House chamber.
📚Years from now, we'll be reading about today in history books. Thanks for relying on Sneak for your first draft. We'll be back tomorrow — count on it.