Axios Sneak Peek
August 14, 2022
Josh Kraushaar here. Thanks for joining Sunday Sneak Peek, a weekly look ahead at the forces shaping American politics.
Smart Brevity™ count: 1,030 words ... 4 minutes.
1 big thing: GOP's New Mexico bet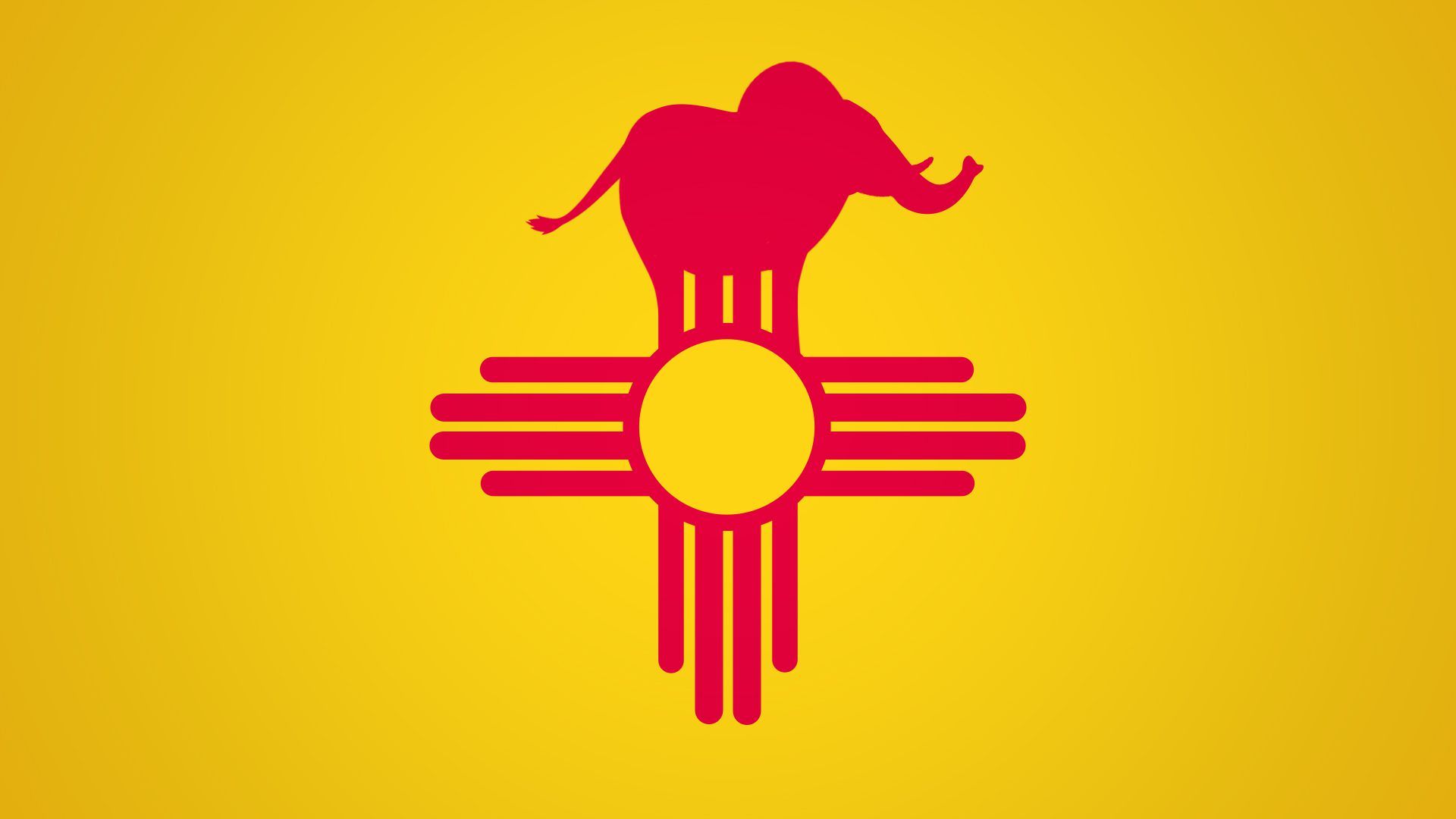 Florida Gov. Ron DeSantis' campaign stop in New Mexico today is worth watching for two reasons:
The state is one of the GOP's best opportunities to flip a Democratic governorship. And the Republican nominee has gotten this far without help from former President Trump, Axios' Russell Contreras and I report.
Why it matters: New Mexico has the largest share of Hispanic voters of any state in the country. Gov. Michelle Lujan Grisham (D) is currently the nation's only Latina governor. But she's unpopular — and with Hispanic voters poised to continue their rightward shift, Republican Mark Ronchetti, a former TV meteorologist, is suddenly in play.
He's well positioned after soundly defeating several MAGA allies in the GOP primary. Real Clear Politics shows Lujan Grisham's polling lead is within the margin of error.
New Mexico is jostling with the traditional battlegrounds of Michigan and Pennsylvania on the GOP radar, after the nomination of weak Republican candidates in those states.
The intrigue: Ronchetti has kept his distance from Trump, who is deeply unpopular in New Mexico, and is betting DeSantis will be a more popular surrogate.
That's a risky bet: Ronchetti is a well-liked meteorologist and self-branded family man. DeSantis' harder-edged rhetoric may turn off some swing voters.
Ronchetti told Axios that Republicans can't win in New Mexico with harsh rhetoric about Hispanics and must focus on issues like crime and the economy to win over the state's swing Latino voters.
"We have a lot of conservatives in this state who are wondering: 'Can we build a movement to do this?'" Ronchetti said. "We can. But don't go out and start thinking that you can exclude people in your party."
🖼️ The big picture: Crime and public safety have emerged as the top issues in the campaign, according to strategists involved in the New Mexico race.
Lujan Grisham this month released an out-of-context campaign ad accusing Ronchetti of wanting to "defund the police," based on debate comments criticizing Lujan Grisham's record of support for law enforcement.
The state's Fraternal Order of Police, which hasn't endorsed in the race, criticized the Democrat for misrepresenting Ronchetti's position.
Between the lines: Lujan Grisham has been beset with low approval ratings and staff upheaval.
She initially drew praise for her handling of the pandemic, but sparked outrage when she wagged her finger at a press conference at residents who weren't wearing masks.
The other side: David Turner, a spokesman for the Democratic Governors Association, said Republicans' claim they can flip New Mexico is "more bluster than substance."
He said the DGA committed $2.5 million to help Lujan Grisham in May, and the group expects her to win re-election.
2. 👀 Manchin, Sinema jeopardize 2024 bids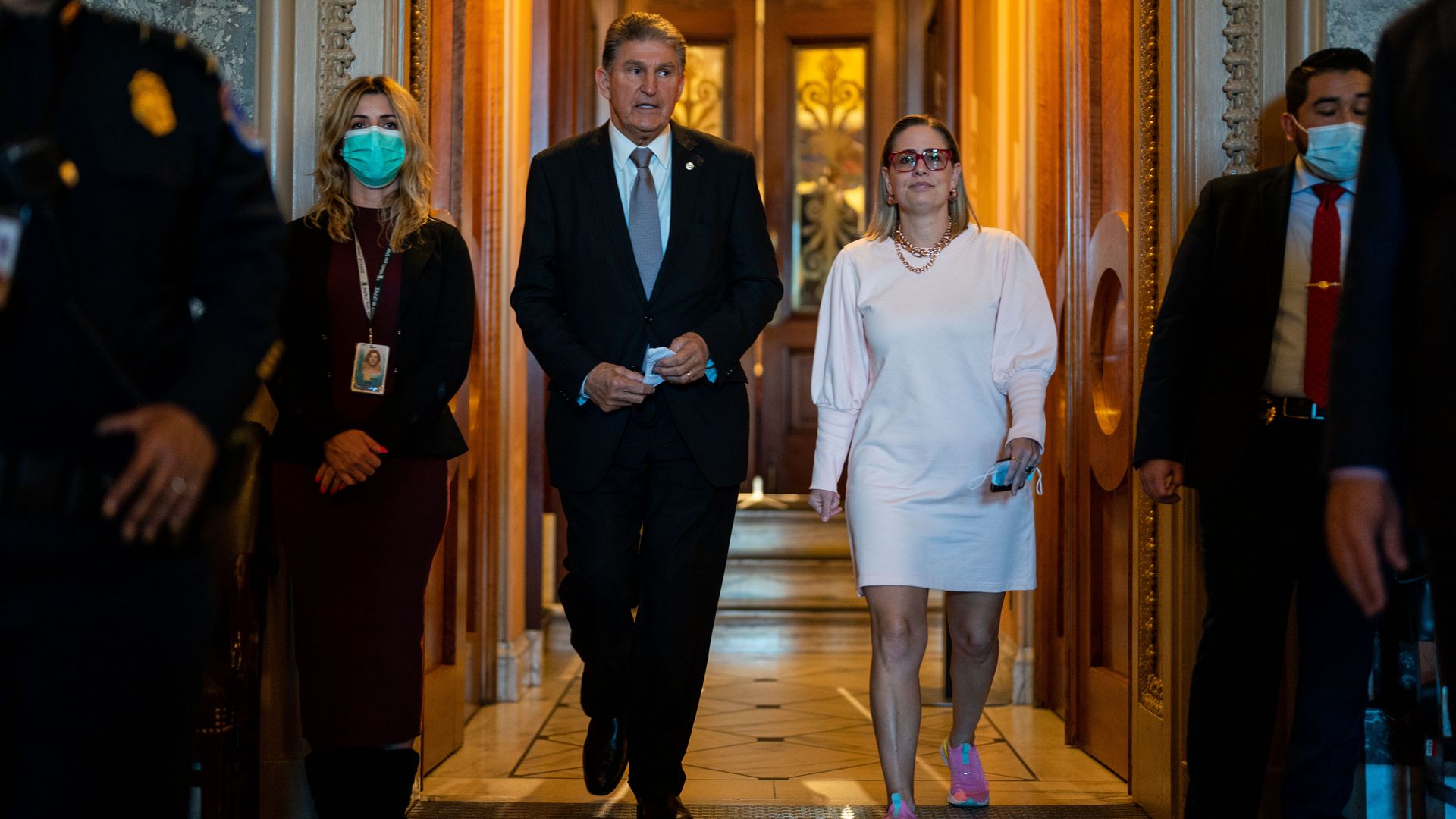 By helping Democrats pass a landmark $750 billion climate, tax and health care bill, Sens. Joe Manchin of West Virginia and Kyrsten Sinema of Arizona have complicated their own re-election fortunes for 2024.
Why it matters: While Democrats have a credible chance to hold onto a narrow Senate majority this year, they're staring at a rough political map in two years, when both of those seats are up — and when the party will also be forced to defend seats in the red states of Montana and Ohio.
The fortunes of battle-tested Democrats, including Sinema and Manchin, will determine the party's ability to hold a long-term Senate majority.
🕶️ What we're watching: Manchin, who enjoyed bipartisan approval as a check against the Biden White House, is now being tagged by Republicans as a supporter of Senate Democratic Leader Chuck Schumer's agenda.
Manchin is already being attacked on TV by a potential GOP challenger, Rep. Alex Mooney, for "destroying" West Virginia's coal industry.
Sinema, who already faced distrust from progressives, ultimately ensured the bill's passage.
Zoom in: Supporting any legislation boosting clean energy won't be an easy sell in coal-producing West Virginia. And Sinema's vote, in tandem with her private equity push, opens up new lines of attack from her political rivals on both the left and right.
3. 📺 Spot of the week: Dem distancing from Biden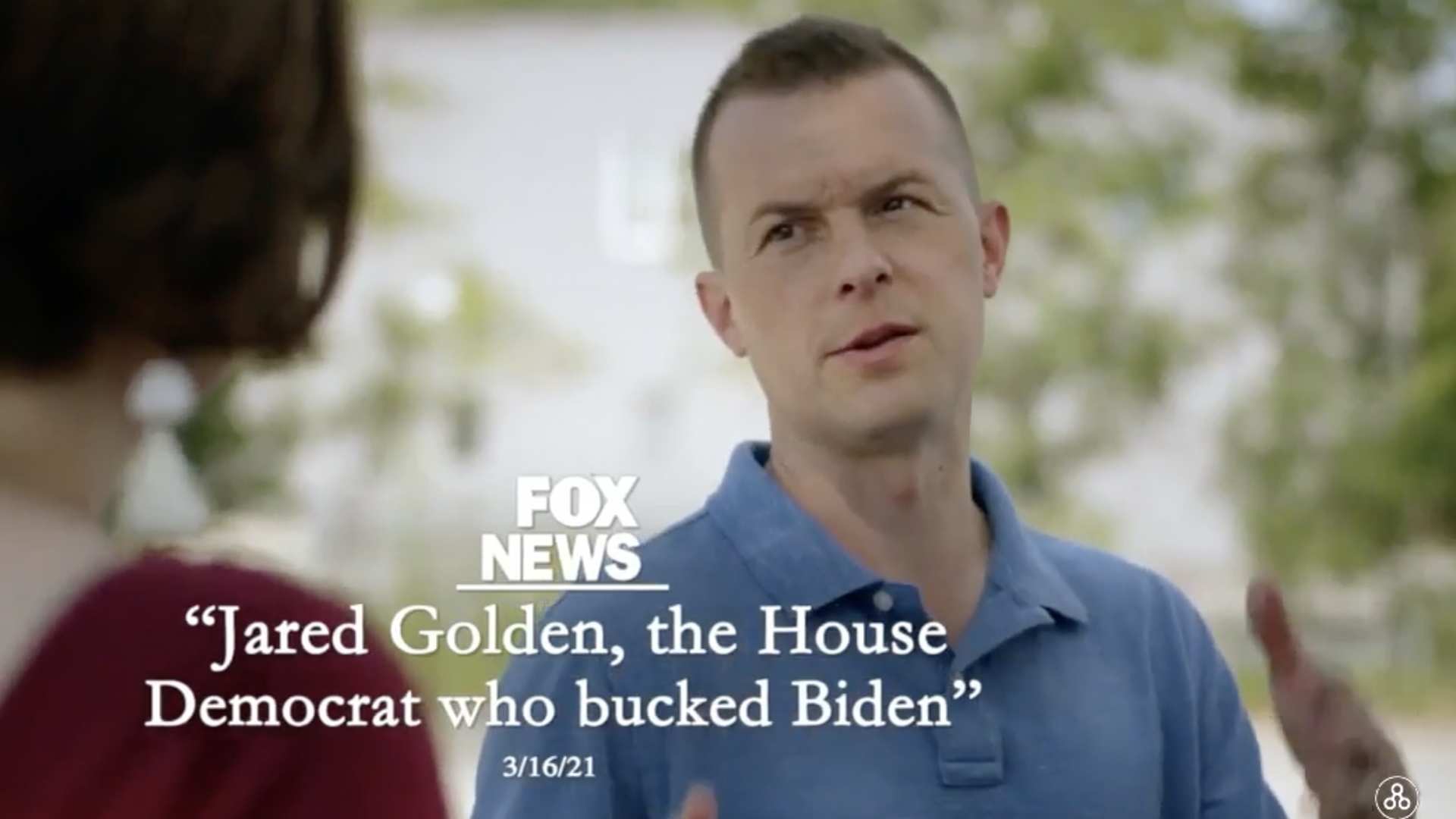 Maine Rep. Jared Golden, one of the few House Democrats representing a district Trump carried, is up with a re-election ad keeping his distance from President Biden.
"In Congress, I'm an independent voice for you, taking on my party to stand up for Maine families," Golden says in the ad as a Fox News headline appears, touting him as a Biden-bucking Democrat.
"I was the only Democrat to vote against trillions of dollars of President Biden's agenda because I knew it would make inflation worse. I stood with law enforcement against defunding the police."
Complicating Golden's independent message is the fact that he voted for Democrats' climate and health-care bill.
In a lengthy Medium post explaining his vote, Golden called the bill "fiscally responsible."
"This isn't Joe Biden's crazy Build Back Better proposal," Golden told the Bangor Daily News.
4. 📊 Poll of the week: Independents rising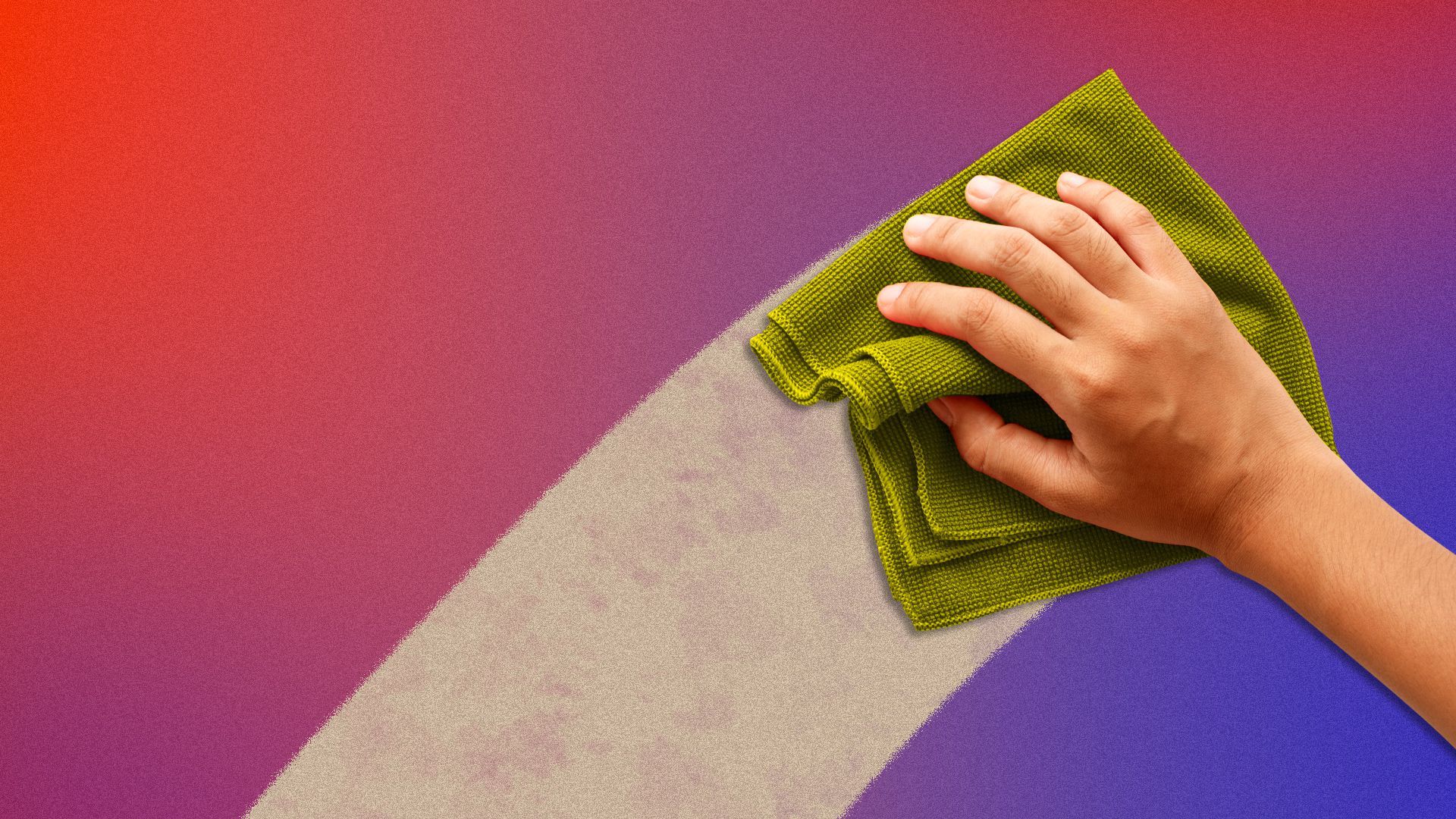 A new Pew Research Center poll finds that more Americans hold negative views of both major parties — a record high in the survey's history.
Over a quarter of respondents (27%) say they view both the Republican and Democratic parties unfavorably. That's up from a mere 6% who disliked both parties in 1994, and up from 18% in 2018.
💡 Why it matters: Partisan voters are increasingly nominating extreme candidates in primaries. But those candidates end up struggling when facing the wider electorate. It's a lesson that the party that effectively appeals to the silent middle will end up winning elections.
Americans ages 18-29 are most likely to hold unfavorable views of both parties. A 37% plurality don't like either party — a larger share than those who identify as Democrats (34%) or Republicans (21%).
Both Democratic and Republican party images are near historic lows.
5. 🗣️ Quote of the week
📬 Thanks for reading. Please invite your friends to sign up here.