May 17, 2020
Welcome to Sneak Peek, our weekly lookahead from both ends of Pennsylvania Avenue, plus our best scoops.
Tell your friends to sign up free for their weekly Sneak Peek.
Tonight's newsletter is 2,090 words, an 8-minute read.
1 big thing: Scoop — Trump leans toward keeping total cut to WHO funding
President Trump is leaning toward preserving his total funding cut for the World Health Organization after being on the brink of announcing he'd restore partial funding to the global health agency, according to three sources familiar with the situation.
A fourth source, a senior administration official, cautioned that the decision-making was fluid and was still subject to change.
Behind the scenes: Trump spent his weekend at Camp David with some of his closest Republican allies in the House of Representatives. A source familiar with the private discussions said that House members at Camp David pressed Trump "to not give a dime to WHO."
A second source familiar with the situation at Camp David qualified the first source's remarks by saying, "That's where the president's head is at as well. So it was more reaffirming his position."
The big picture: Last month, Trump shocked the world by announcing he was freezing U.S. funding to the WHO, pending an investigation into the global health agency and its handling of the coronavirus pandemic. Trump has eviscerated the organization, describing it as controlled by China and grossly negligent in the early days of the outbreak. He has also used the issue to deflect from criticisms of his own handling of the virus.
House Democrats argue that Trump doesn't have the legal authority to unilaterally halt the WHO funding. Speaker Nancy Pelosi has foreshadowed that she'll challenge the decision.
The Trump administration counters that there is no explicit language in Congress' latest spending bill that forces them to give money to the WHO.
Between the lines: Until late last week, Trump was planning to announce that the U.S. would restore partial funding to the WHO. He was amenable to the idea of keeping a small amount of funding — around 10% of the U.S.' current roughly $400 million annual spend — so the U.S. could maintain some influence over the organization.
But on Friday night, Fox News' Tucker Carlson produced a leaked document that altered the decision-making process. Carlson broke the news that the Trump administration was "on the brink of resuming U.S. funding of the World Health Organization."
Carlson aired a draft letter that said despite the WHO's "shortcomings," Trump wanted to see the organization live up to its potential "during this global crisis."
The draft letter went on to say that Trump had decided to "work with the WHO and agree to pay up to what China pays in assessed contributions."
Carlson, who is one of Trump's favorite TV hosts, trashed the WHO and the idea of giving any money to it. Another of Trump's favorite hosts, Fox Business' Lou Dobbs, followed by tweeting the Carlson story and blaming Trump's advisers for the decision.
In a Saturday tweet responding to Dobbs, Trump seemed to signal he was shifting his position: "Lou, this is just one of numerous concepts being considered under which we would pay 10% of what we have been paying over many years, matching much lower China payments. Have not made final decision. All funds are frozen. Thanks!"
2. Why Deborah Birx is the real power doctor
Don't be fooled by the grandmotherly demeanor and whimsical scarf collection. Administration officials say they've been taken aback by Deborah Birx's masterful political skills — including a preternatural ability to get what she wants while telling people what they want to hear.
She's better than any of the other public health officials at talking to Trump.
While MAGA-land has spent weeks trying to get Anthony Fauci fired, Birx has been far more adept at influencing the president and shaping the administration's response to the global coronavirus pandemic.
Behind the scenes: Senior officials said a conversation in the Situation Room several weeks ago crystallized the differences between the White House's top two doctors.
On Good Friday, President Trump polled the doctors about the World Health Organization. In that meeting, he pressed Birx, Fauci and CDC director Robert Redfield for their thoughts on the troubled institution.
The question was a loaded one. The officials in the room were well-aware that Trump was considering taking severe action against the global health agency, which he says is controlled by China.
The Tuesday after the meeting, Trump announced a freeze on U.S. funding of the WHO, pending an investigation into the health agency and its coronavirus response.
In the Situation Room, Birx was very critical of the WHO and its relationship with China. She said the institution badly needed reform, according to two sources in the room. In subsequent TV appearances, however, she sang a different tune. She was far less harsh about the WHO than behind closed doors, according to one official.
Fauci was more ambivalent in the Situation Room meeting. He started out by saying the WHO is an imperfect organization, but he also praised its director-general, Tedros Adhanom Ghebreyesus.
Fauci said Tedros is a good guy and he's known him a long time. The president intervened to ask, but how are they on China? Fauci replied, "The WHO director has a China problem," according to a source in the room.
Another source who was in the room recalled the president responded by saying something to the effect of: "Tony, you're burying the lede here! Come on, Tony!" "Then the whole room laughed," the source said. "At that point, there was a unanimous view that the WHO listens to China too much."
Between the lines: The episode highlights the starkly different approaches Birx and Fauci have taken to wielding influence in the Trump White House. Fauci speaks his mind with little if any considerations of politics. Colleagues say Birx strategically emphasizes the points Trump wants to hear — and she can play multiple angles on any given issue.
Birx is far from a folk hero. Her public praise of the president has drawn her criticism from the left as a brown-noser and a hack. One veteran official, however, described her as a consummate D.C. operator.
For instance, Birx has spoken warmly about her decades-long working relationship with Redfield and praised the CDC. On the other hand, she recently excoriated the quality of the CDC's data in front of the task force. That message, which soon leaked to the media, resonated strongly with Trump, who is irritated by the CDC.
Officials credit Birx for playing an important role in convincing Trump in late March to buck his instincts and extend social distancing guidelines by 30 days. (But he soon undermined that advice by encouraging protesters to "liberate" themselves from their governors' rules.)
"The media is clearly enamored with Fauci, but Dr. Birx is significantly more influential in the West Wing," says one senior White House official. "It's influence not just because she's an operator — she's also a workhorse. She's the person building the models and poring over the data every night to brief POTUS and the task force."
Go deeper: Read my full story on Trump's doctors, with more behind the scenes details
3. Task Force rejiggers for reopening
The White House Coronavirus Task Force is shifting its focus to be more in line with Trump's emphasis on reopening.
Driving the news: On Friday, the task force added officials who are experts on the economy and on vaccines and therapeutics. These included Labor Secretary Eugene Scalia, Agriculture Secretary Sonny Perdue and NIH director Francis Collins.
Behind the scenes: After reading a New York Times article that criticized his decision to shut down the White House Coronavirus Task Force, the president decided to keep it running indefinitely. An aide said that was for public relations purposes.
That said, the task force is not inert. The group has been formulating policy — like the recent CDC guidelines on reopening schools, businesses and mass transit.
4. Dems test Trump's swing-state vulnerability on small-biz pain
For months, Democrats have been attacking President Trump over his national coronavirus response — but a new digital campaign is about to test how much more potent the argument becomes when it's targeted to individual states and communities, Axios' Margaret Talev reports.
Details: The $1.5 million buy from Pacronym, a super PAC with ties to President Obama's former campaign manager and strategist David Plouffe, is running on digital platforms in five battleground states — Arizona, Michigan, North Carolina, Pennsylvania and Wisconsin.
The ads include combinations of videos, graphics and news clips tailored to each state, focusing on how local economies have suffered from the virus response.
They'll run on Facebook, Instagram, Snapchat, Roku TV, Pandora, CBSi and McClatchy over the next two weeks.
The group plans to measure the ads' effectiveness on its Barometer platform.
What they're saying: Shannon Kowalczyk, Pacronym's chief marketing officer, tells Axios in an email that the campaign will amplify "so many stories from around the country of small businesses who are struggling to get relief as large corporations and chains receive bailouts from the Trump administration" and "how that has impacted our local economies."
5. Sneak Peek diary
The House will work remotely through May 27, per a Democratic leadership aide. However, Majority Leader Steny Hoyer said Friday that some members may return to Washington this week for committee meetings, Axios' Alayna Treene reports.
Tuesday: Veterans Affairs Secretary Robert Wilkie will testify before the House appropriations subcommittee about his department's coronavirus response.
Wednesday: The House Education and Labor subcommittee will hold a hearing on protecting workers from the coronavirus.
The Senate will vote on the following nominees, per a spokesperson for Senate Majority Leader Mitch McConnell:
Scott Rash as a U.S. District Judge for the District of Arizona.
James Trainor III as a Member of the Federal Election Commission.
Anna Manasco as a U.S. District Judge for the Northern District of Alabama.
John Heil III as a U.S. District Judge for the Northern, Eastern and Western Districts of Oklahoma.
John Leonard Badalamenti as a District Judge for the Middle District of Florida.
Tuesday: Treasury Secretary Steven Mnuchin and Federal Reserve chair Jerome Powell will testify before the Senate Banking, Housing and Urban Affairs Committee on economic relief during coronavirus.
Wednesday: The Senate Homeland Security and Governmental Affairs Committee will hold a confirmation for Brian Miller, Trump's nominee for special inspector general for pandemic recovery.
President Trump's schedule, per a White House official:
Monday: Trump will participate in a roundtable with "restaurant executives and industry leaders." He will also hold a video teleconference with governors and first lady Melania Trump.
Tuesday: Trump will deliver remarks on farmers, ranchers and the food supply chain. He will also hold a meeting with his Cabinet.
Wednesday: Trump will meet with Arkansas Gov. Asa Hutchinson (R) and Kansas Gov. Laura Kelly (D). Vice President Mike Pence will travel to Orlando, Florida, to meet with Gov. Ron DeSantis (R). He'll also deliver personal protective equipment to a nursing home and attend a roundtable with officials from the tourism and hospitality industry.
6. Don Jr.'s under-the-radar virtual campaign
Donald Trump Jr. has spent his quarantine vacuuming up cash for the GOP.
Here's how the Trump campaign and Congressional candidates have deployed him over the last month:
He's hosted an online show called "Triggered" with conservative celebrities like MMA fighter Tito Ortiz.
He's held "Virtual MAGA Meet Ups" for voters in Wisconsin, Pennsylvania, Georgia, Nevada, California and Florida.
He's held Trump campaign "virtual fundraisers" for donors in Nevada, Arkansas and Florida.
He's held hunting-themed virtual events for supporters in Wisconsin and New Mexico.
The National Republican Senatorial Committee's Jesse Hunt said Don Jr. has been a valuable asset. He's signed fundraising emails for the NRSC, Sen. Mitch McConnell, and Sens. Martha McNally (Ariz.), Thom Tillis (N.C.) and Steve Daines (Mont.).
He's also sent out iPhone videos and taped robocalls for House and Senate candidates.
What's next: On Monday, Don Jr. will launch what's called a "Team Page" on the Republican Party's fundraising platform, WinRed. His page, "Don Jr's #MAGA candidates of the week," will direct his followers to donate to his favored House and Senate candidates. The candidates and the Trump campaign will split the cash.
Don Jr.'s political adviser Andy Surabian said, "The plan every week is for Don to select a House and Senate 'candidate of the week' to promote on his WinRed Team Page."
The first two candidates Don Jr. will trumpet: Sen. David Perdue of Georgia and newly elected Mike Garcia in California's 25th district.
Why it matters: As Joe Biden has admitted, he has some catching up to do when it comes to digital campaigning. The Washington Post's David Weigel recently signed up for alerts from both the Trump and the Biden campaigns, and he concluded that the Trump campaign is running circles around Biden online.
This advantage is understandable given the Trump campaign has a formidable four-year head start.
7. 1 🦊 thing: Inside Matt Whitaker's book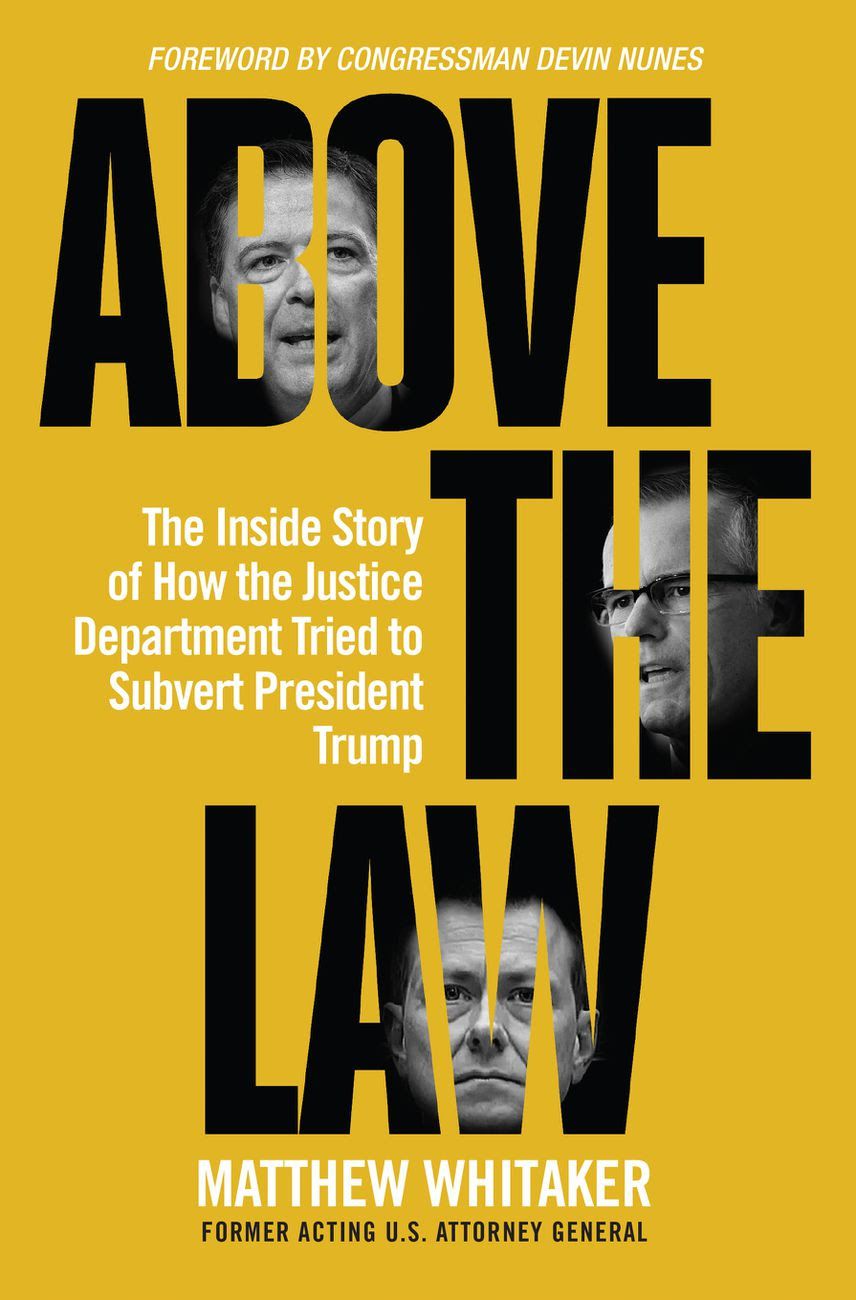 From his new book — which will soon hit the Fox News opinion circuit — here's the former acting attorney general Matt Whitaker musing over why he didn't fire Special Counsel Robert Mueller:
"Should I have fired Mueller once I realized the Special Counsel's office was sitting on its findings long after its determinations had been made? Doing so might have been legally justifiable, but it would have been politically catastrophic for the White House, and, I reasoned, a replacement for Mueller would perhaps even extend the investigation in order to justify his appointment. The President never asked me to fire Mueller, but if he had, I would have advised against it. Would I have liked to rein in the Mueller investigation and save the country millions of wasted taxpayer dollars? Of course, but I doubted it could be done without an even greater uproar and possibly even greater damage to our country. The President and the American people deserved to have this behind them."