August 02, 2020
Welcome to Sneak Peek, our weekly look ahead from both ends of Pennsylvania Avenue, plus our best scoops.
🎥 "Axios on HBO" returns tomorrow night with an exclusive interview with President Trump. I press the president on his handling of the coronavirus pandemic, reported Russian bounties (see clip), the upcoming election and much more.
See a preview here, then tune in for the full interview Monday 11pm ET/PT on all HBO platforms.
Today's newsletter is 1,916 words, a 7-minute read.
1 big thing: Biden's painstaking path to the VP choice
Joe Biden's process for selecting a running mate highlights a fundamental difference between his campaign and the president's re-election effort: Biden is deliberative, while President Trump goes with his gut, write Axios' Hans Nichols and Alexi McCammond.
Why it matters: The way Biden is searching for a vice president suggests a careful and methodical approach, the opposite of Trump's style. But it also reveals a strong fear of the consequences of making the wrong choice.
The big picture: Biden's methodical approach to picking a running mate is driven by caution, governed by a top campaign priority: make sure the running mate doesn't hurt him.
The Biden campaign is determined not to blow his chances by using the wrong metrics — dictated by the controversy du jour or the loudest Democrats on Twitter — to pick his VP.
"I've had enough of those calls to realize they're being pretty methodical, pretty consistent and pretty fair," said one source familiar with the questions Biden's search committee has been asking.
Behind the scenes: According to sources familiar with the process, Biden is relying on three questions to help him arrive at his decision:
Can she do the job?
Can Biden work with her?
Will she be a liability or an asset under the glare of a presidential campaign?
Rep. Jim Clyburn, a Biden whisperer who helped engineer his nomination win, distilled Biden's thinking into three words:
"The decision will be based upon three things and three things only: vetting, polling and, as Joe Biden would put it, who's 'simpatico' with him," he said.
The source who has been on calls with Biden's search committee said none of the interviewers brought up any names of specific women on their own, in order to remain unbiased.
Instead, Biden's search committee asked: Who do you know on the list? Would you like to tell us anything — good, bad or otherwise — about them? What do we need to look out for? Are there any names you haven't heard floated that we should be aware of?
By contrast, Trump's White House is defined by the absence of process. Aides may deliberate certain policy proposals or campaign strategies, but they will almost all acknowledge that Trump's ego is the driving force of his presidency.
He proved that once again last week with his tweet calling for a delay in the election — which, unlike many of the ideas he's floated, Republicans immediately shot down.
After Defense Department officials laid out strategic reasons for withdrawing some 12,000 troops from Germany, Trump undercut them by telling reporters: "We're reducing the force because they're not paying their bills."
Between the lines: The message Biden's team took from the primary is that Democrats just want to win. (Don't forget Biden's pledge to "beat him like a drum" in the election.)
The Biden campaign's internal polling shows voters aren't hyper-enthusiastic about Biden as a candidate, but they are highly motivated to vote Trump out of office, per a source who was briefed on the results.
If the base is as motivated as the campaign assumes it is, it relieves pressure to pick a darling of the progressive movement, like Sen. Elizabeth Warren, according to several Democratic strategists.
Instead, the thinking goes, Biden could pick someone who's lesser-known but could help him win and isn't easily branded by the Trump campaign.
Also cutting against Warren: Democrats would (temporarily) lose her Massachusetts Senate seat, since Republican Gov. Charlie Baker would appoint her replacement.
2. Where the search stands
Biden has said there are at least four Black women on his shortlist. But Sen. Kamala Harris — who was described as a front-runner by several sources familiar with the process — has been facing public and private questions, including over whether she might be too focused on succeeding Biden someday. 
Two Democratic sources familiar with internal dynamics told Axios that some members of the Congressional Black Caucus have been privately lobbying for Rep. Karen Bass, the caucus chair, to be Biden's running mate instead of Harris.
But the New York Times reported that Biden's team is pressing Bass about her visits to Cuba as a young adult during Fidel Castro's reign, and she's already trying to do public cleanup on that issue.
Bass acknowledged to Chuck Todd on NBC's "Meet the Press" Sunday that she may have been naive. And she suggested she regrets calling Castro "comandante en jefe" after his death: "Lesson learned. Wouldn't do that again."
What to watch: Despite the expectations Biden raised by saying he'll make a decision the first week of August, an announcement is unlikely to happen before the second week of August, per another source familiar with the campaign's thinking.
3. Why Biden's VP pick matters to Team Trump
After pausing their multimillion-dollar advertising campaign to review their strategy, the Trump campaign plans to launch new ads on Monday depicting Joe Biden as a puppet "controlled by the radical left," according to two senior campaign officials.
Why it matters: The Trump campaign's most recent internal polls show the "puppet of the left" attack on Biden is beginning to resonate with voters, per two sources briefed on the polling. And it sets the campaign up to attack Biden's vice presidential selection. "The 'radical left' is a placeholder for Biden's VP pick," said one adviser.
Behind the scenes: Trump campaign officials are frustrated that Biden's "very unfavorables" aren't as high as they'd like them. Voters don't intensely despise him the way many despised Hillary Clinton. And several Trump advisers have told me they doubt they can find a line of attack that will make Biden as hated as Clinton was in 2016.
Instead, Team Trump is trying to persuade voters that if they vote for Biden, they're not actually electing this amiable, moderate old man. The only way they believe they can sufficiently toxify Biden is to convince voters that he's an empty vessel to be filled by the policies of the "radical left."
That's why the Trump campaign has made so much of Biden's policy partnerships with Bernie Sanders and Alexandria Ocasio-Cortez.
Between the lines: This strategy makes Biden's VP pick especially important for Team Trump, advisers say. If Biden's running mate is hard to depict as a wild-eyed radical, this empty vessel strategy won't pack the same punch.
But if Biden picks somebody who has higher "very unfavorables" than he does, watch for the Trump campaign to try to persuade the public that this VP bogey-woman is actually the person they are electing president.
Jason Miller, a senior Trump campaign adviser, put it this way: "Biden's VP pick is effectively his political living will, for a candidate who has already said he's merely a transition to the next Democrat and has refused to commit to serving a second term."
The Trump campaign spent much of Saturday attacking Biden for considering Bass to be his VP.
They're attacking Bass because they see an opportunity to tag Biden with views and associations — her public comments sympathetic to Fidel Castro — that are toxic to a substantial number of voters in Florida, a senior Trump campaign source told me.
The Trump campaign held a press call Saturday with Florida Sen. Marco Rubio and Florida Lt. Gov. Jeanette Nuñez to amplify this line of attack.
Response from the Biden campaign: Andrew Bates, director of rapid response, said, "The American people know Joe Biden. And after seven consecutive months of failed leadership during the worst public health crisis in generations, they know that our nation's capacity to join the rest of the world in beating back COVID-19 has been crippled by one overriding burden: Donald Trump."
"That's why the Trump campaign is locked in a sad and pathetic cycle of bimonthly, shambolic message 'resets' — all of which are based on the same recycled lies that voters have seen through countless times before."
4. What's next: COVID stimulus negotiations
Politico's Playbook, which has published numerous scoops from inside the COVID-19 stimulus negotiations, reports the latest from Capitol Hill:
The big picture: "There are a set of policy areas where stumbling blocks remain. Democrats want new money for the Postal Service, new money for elections and nearly $1 trillion for state and local governments. Republicans seem open to USPS money to address operational shortfalls, but they are a hard no on money going to a new mail-in balloting system."
Details: "Dems want $25 billion for the USPS, Republicans think the number is closer to $5 billion. Dems want state and local cash — Republicans have pushed for flexibility with already appropriated money. Republicans likewise will not give on more money for the election."
"[S]tructuring of enhanced unemployment insurance and a liability overhaul remain the two biggest areas that need work for the GOP."
"Republicans have not taken a consistent position on enhanced UI — they floated $600 per week for one week, $200 per week, 70% of wages and 66% of wages. In other words, they are all over the map — and Democrats have rejected each one of their plans, and say they want a UI fix only as part of a big package."
The bottom line: Now that the extra $600 weekly unemployment benefits have expired, lawmakers from both parties feel a sense of urgency to cut a deal. While the White House negotiates with House Democrats, Senate Majority Leader Mitch McConnell plans to run through a series of amendments to see if he can find the sweet spot of agreement on the outstanding issues.
5. Sneak Peek diary
The House is on recess this week, though House Speaker Nancy Pelosi (D-Calif.) plans to stay in D.C. for ongoing coronavirus stimulus negotiations, Axios' Alayna Treene reports.
Majority Leader Steny Hoyer (D-Md.) has reserved the right to call members back to Washington for a vote on a potential stimulus bill.
The Senate will vote this week on the nomination of Mark Menezes to be Deputy Secretary of Energy.
The Senate is also expected to debate an extension of the enhanced unemployment benefits.
The Senate is scheduled to break for August recess on Thursday, though the senators may remain in Washington pending a stimulus deal.
President Trump's schedule, per a White House official:
Monday: Trump will sign an executive order on Hiring American. He will also have lunch with Vice President Mike Pence.
Tuesday: Trump will participate in a signing ceremony for "The Great American Outdoors Act." He will also have lunch with Secretary of State Mike Pompeo.
6. 1 📺 thing: Trump's latest TV star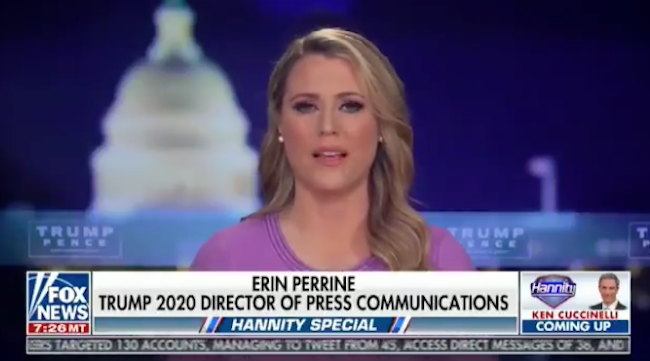 In 2017, it was Sebastian Gorka using his White House perch to attack CNN for its ratings ... on CNN. And in the years since, numerous figures in Trumpworld have won influence and even new jobs by appealing to Trump through his favorite medium: cable news.
The latest example: Erin Perrine, a little-known press official, is quickly becoming one of Trump's favorite campaign voices on television. Several staff in the West Wing and the president have been waxing lyrical about her TV performances. If history is any guide, watch for her influence to rise.
Perrine worked for House Minority Leader Kevin McCarthy before joining the Trump 2020 campaign.
She's been hitting the Fox circuit, including a Friday night appearance on "Hannity."