September 20, 2022
Welcome back to Sneak. The midterms are in 50 days. Smart Brevity™ count: 993 words ... 3.5 minutes.
⚡ Situational awareness: Authorities along the southern border have made more than two million immigration arrests in a single year for the first time, far exceeding last year's record 1.73 million, the Washington Post reports.
👀 Breaking: A Democratic sheriff in Texas has opened an investigation into whether the migrants transported to Martha's Vineyard by Florida Gov. Ron DeSantis were the victims of a crime, the Miami Herald reports.
1 big thing — Scoop: McConnell's closed-door confidence
Senate Minority Leader Mitch McConnell (R-Ky.) expressed cautious optimism in closed-door remarks today to the U.S. Chamber of Commerce that the GOP can win back control of the Senate, Axios' Hans Nichols reports.
Why it matters: McConnell has publicly downplayed expectations for winning the majority, with a prediction in mid-August that the House is more likely than the Senate to change hands. His private confidence reflects some newly found hope among Republicans that their political prospects have improved.
The big picture: National Republican Senatorial Committee chair Sen. Rick Scott (R-Fla.) has long expressed confidence in the party's candidates, some of whom have been criticized by mainstream Republicans for being too flawed or extreme to compete in tight races.
Scott told donors over the weekend in Sea Island, Georgia, that he expects to win 52 seats in November — and that he's aiming even higher.
Democrats have been uniformly upbeat about their prospects all summer, with Democratic Senatorial Campaign Committee chair Gary Peters (D-Mich.) eyeing 52 seats from his Harley Davidson.
Senate Majority Leader Chuck Schumer (D-N.Y.) has put his chances of retaining the majority at 60%, according to Punchbowl News.
Driving the news: In a 45-minute Q&A session at the chamber, McConnell paired his optimism about winning the Senate with a stark warning about what's at stake in the election.
Democrats want to make D.C. and Puerto Rico into states with full voting representation in the Senate and plan to gut the filibuster if they win more seats, McConnell warned.
He explained that he wants the election to be contested on inflation, the southern border, and crime, claiming that Democrats want to deflect and focus on anything else.
McConnell also said he expects the election to be close, with a 50/50 Senate reflecting a 50/50 country that remains starkly divided.
Between the lines: The chamber gave $3 million to the McConnell-aligned Senate Leadership Fund super PAC for the Pennsylvania Senate race earlier this month, as Axios first reported.
Chamber president and CEO Suzanne Clark praised McConnell today for being a "partner and ally" to the business community and called him "a staunch defender of the values we all share."
The intrigue: Some House Republican leaders are openly hostile to the chamber and are helping to midwife a new pro-business group, called the American Free Enterprise Chamber of Commerce, as an alternative.
House Minority Leader Kevin McCarthy (R-Calif.) has said he won't even meet with the chamber if he becomes speaker next year.
The Intercept reported today that if they take back the majority, House Republicans plan to investigate the chamber over its embrace of ESG (environmental, social, and governance) criteria for businesses.
McConnell is taking a different approach and staying closer to the chamber, using his remarks to stress the importance of free trade agreements and downplay the emergence of populism in his party.
2. 🎓 Biden's student loan threat
Conservative groups have launched a national search for prospective plaintiffs to challenge the Biden administration's federal student loan forgiveness order in court, Axios' Sophia Cai reports.
Why it matters: 43 million student borrowers eligible for relief could be stuck in financial limbo if the order becomes embroiled in drawn-out litigation.
What we're watching: The Job Creators Network — a right-leaning small business group that's advocated for lower taxes and fewer regulations — is preparing to file a lawsuit once the Department of Education unveils the website where borrowers can apply.
Americans for Tax Reform president Grover Norquist tells Axios his organization will either file its own lawsuit, team up with conservative think tanks or state attorneys general, or all of the above.
One Oregon man who previously ran for U.S. Senate as a Republican is representing himself in a lawsuit challenging Biden's student loan plan in district court, arguing that the relief will worsen inflation and raise the interest expense on his mortgage.
Between the lines: A key challenge is proving that a plaintiff has the standing to sue in federal court.
The Supreme Court has ruled that merely being a taxpayer does not provide the necessary standing to challenge an allotment of government funds alleged to violate the Constitution.
"[Biden's loan forgiveness plan] is unfair, but you can't take unfair to court," said Job Creators Network president Alfredo Ortiz.
3. 🎓 Charted: Debt divisions
Just 36% of Americans say they're "angry" that people who took out student loans by choice are now receiving forgiveness from the government, according to our Axios-Ipsos Two Americas Index.
The more common objection — shared by 45% of Americans, including 68% of Republicans — is that Biden's plan will exacerbate inflation.
4. 📧 Brace for email flood
Google is launching a pilot program this week to keep political campaign emails from going to users' spam folders, the company told Axios' Ashley Gold.
Why it matters: Gmail users may start seeing many more political emails in their inboxes, partly as a result of Google bowing to pressure from conservatives who claimed the company marked Republican emails as spam more often than others.
5. 🇬🇧 Parting shot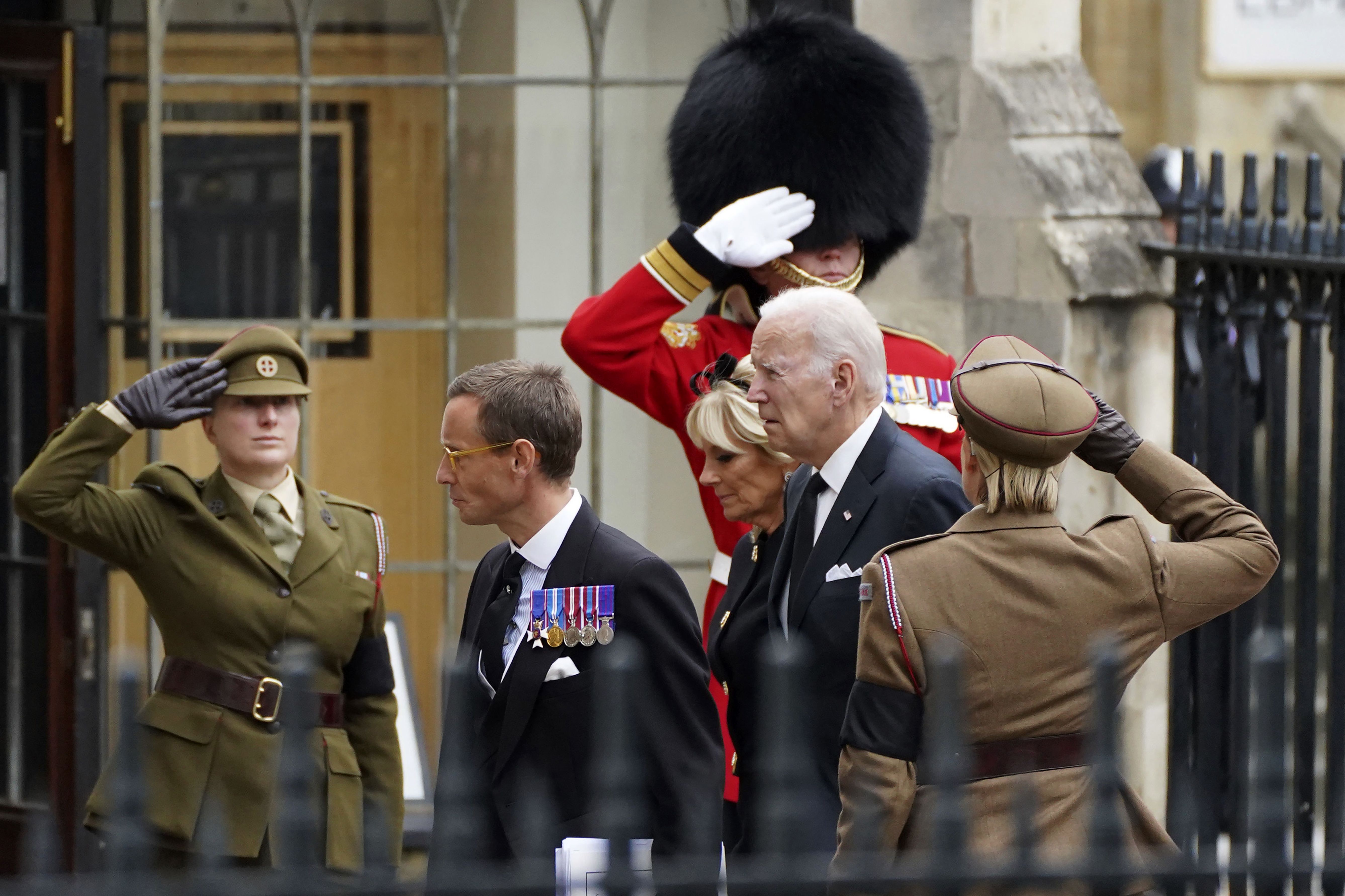 President Biden is already back at the White House after attending today's state funeral for Queen Elizabeth II at Westminster Abbey in London.
📬 Thanks for reading tonight. This newsletter was edited by Zachary Basu and copy edited by Patricia Guadalupe.