Axios Sneak Peek
May 10, 2023
Welcome back to Sneak. Smart Brevity™ count: 1,044 words ... 4 minutes.
1 big thing — Scoop: Manchin's new '24 hint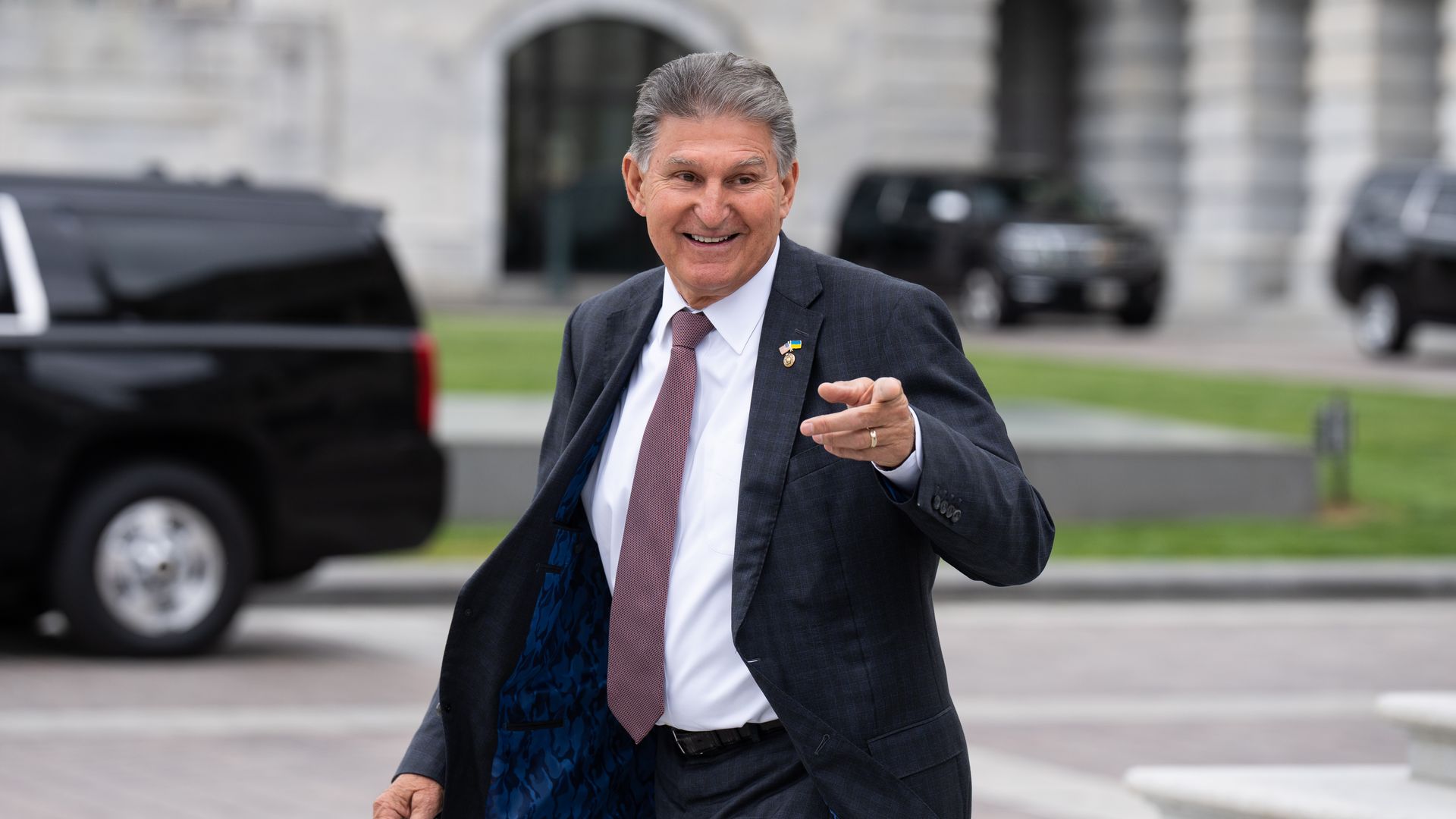 Sen. Joe Manchin (D-W.Va.) may not have announced that he's running as a third-party candidate for president. But he's acting like it, Axios' Hans Nichols reports.
Driving the news: Manchin took time from his busy Senate schedule to tell a gathering of Iowa business and community leaders today in D.C. that he's "fiscally responsible and socially compassionate" — another hint that he's considering a potential third-party presidential bid.
Back in the Senate, he released a statement vowing to oppose all President Biden's EPA nominees over the administration's "radical climate agenda."
Manchin's recent no-mercy campaign against Biden could be related to his potential re-election bid in deep-red West Virginia — but it's also a sign of just how far he's willing to go to blow up the president's plans.
Why it matters: Iowa Democrats are furious with their national party for stripping their first-in-the-nation status on the presidential calendar. But Iowa voters still pride themselves on their ability — if not their right — to judge candidates up close and in-person.
Manchin played to that vanity, explaining his approach to leadership and legislation.
"I believe the government should be your partner. I'm not your provider," he told approximately 170 members of the Greater Des Moines Partnership.
Between the lines: Manchin, perhaps his party's most endangered incumbent, didn't explicitly tell the assembled Iowans he was leaving his party and running for president as an independent.
Asked by Axios about his presidential ambitions, Manchin said. "Honest to God, my main concern: How do we save this nation? How do we bring people together to protect the quality of life, the values that we've had that we were raised with? That's all."
"You have got to fight for the reasonable, responsible middle and no one is doing that," he said. "There's no options."
The big picture: The country is hurtling toward a rematch between Biden and former President Trump, which polls overwhelmingly show most Americans don't want.
The group No Labels is raising money to build a presidential launchpad for a bipartisan ticket, with plans for their own nominating convention in Dallas in April 2024 and a strategy to get onto the ballot in all 50 states.
"We like to say one-ticket, one-time. This is not a third party, it's one Democrat and one Republican," Nancy Jacobson, the co-founder of No Labels, told Axios.
The other side: Prominent Democrats, including the centrist group Third Way, are horrified by the prospect of a third-party candidate and insist it would throw the election to the Republican nominee — potentially Trump.
"We would hope and urge that Manchin makes it clear that he's not interested in this third party bid because it has absolutely no chance of success," said Matt Bennett, co-founder of the centrist group Third Way. "The sooner he makes that clear, the better."
2. ⚖️ Indictment alleges three Santos schemes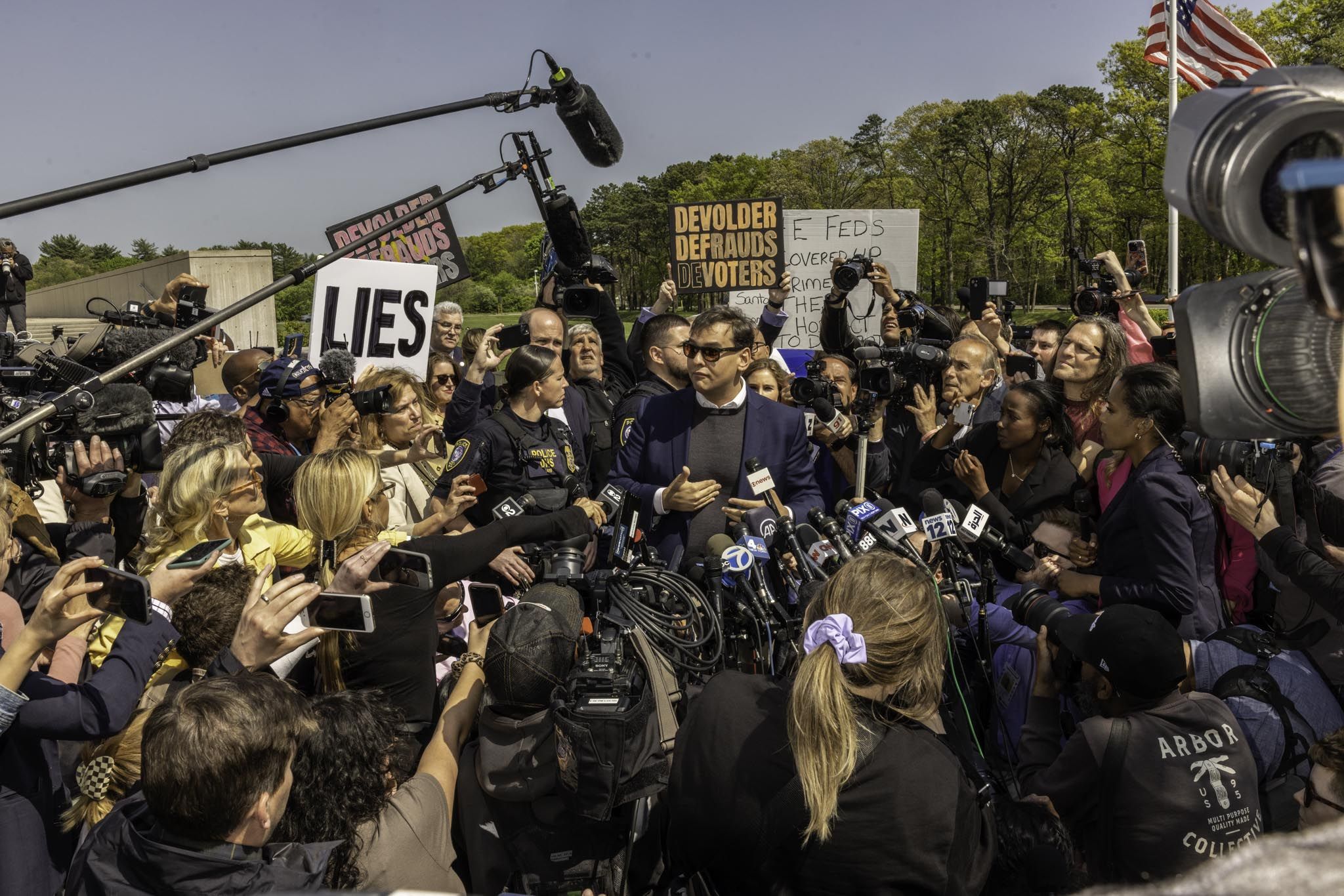 Rep. George Santos (R-N.Y.) pleaded not guilty to a 13-count indictment unsealed in federal court today, which alleged three illegal schemes:
Defrauding campaign donors: Beginning in September 2022, Santos allegedly operated an LLC that he used to transfer campaign contributions into his personal bank accounts. He then allegedly used the funds to make personal purchases, including of designer clothing.
Unemployment insurance fraud: From June 2020 to April 2021, Santos allegedly applied for and received more than $24,000 in unemployment insurance benefits boosted during the pandemic — despite being employed at an investment firm with a salary of $120,000.
False statements to the House: In both 2020 and 2022 campaigns for Congress, Santos allegedly filed disclosures to the House that misrepresented his finances.
Can't make this up: Santos is a co-sponsor of a GOP bill — which the House began voting on today — cracking down on fraudulent COVID-19 unemployment benefits.
The big picture: Despite mounting Republican calls for his resignation or expulsion from Congress, Santos said he looks forward to clearing his name and plans to run for re-election.
What they're saying: "The reality is it's a witch hunt," Santos told reporters after his arraignment — before pivoting to GOP allegations of Biden family corruption.
3. 💰 Moderates eye "low-hanging fruit" on debt ceiling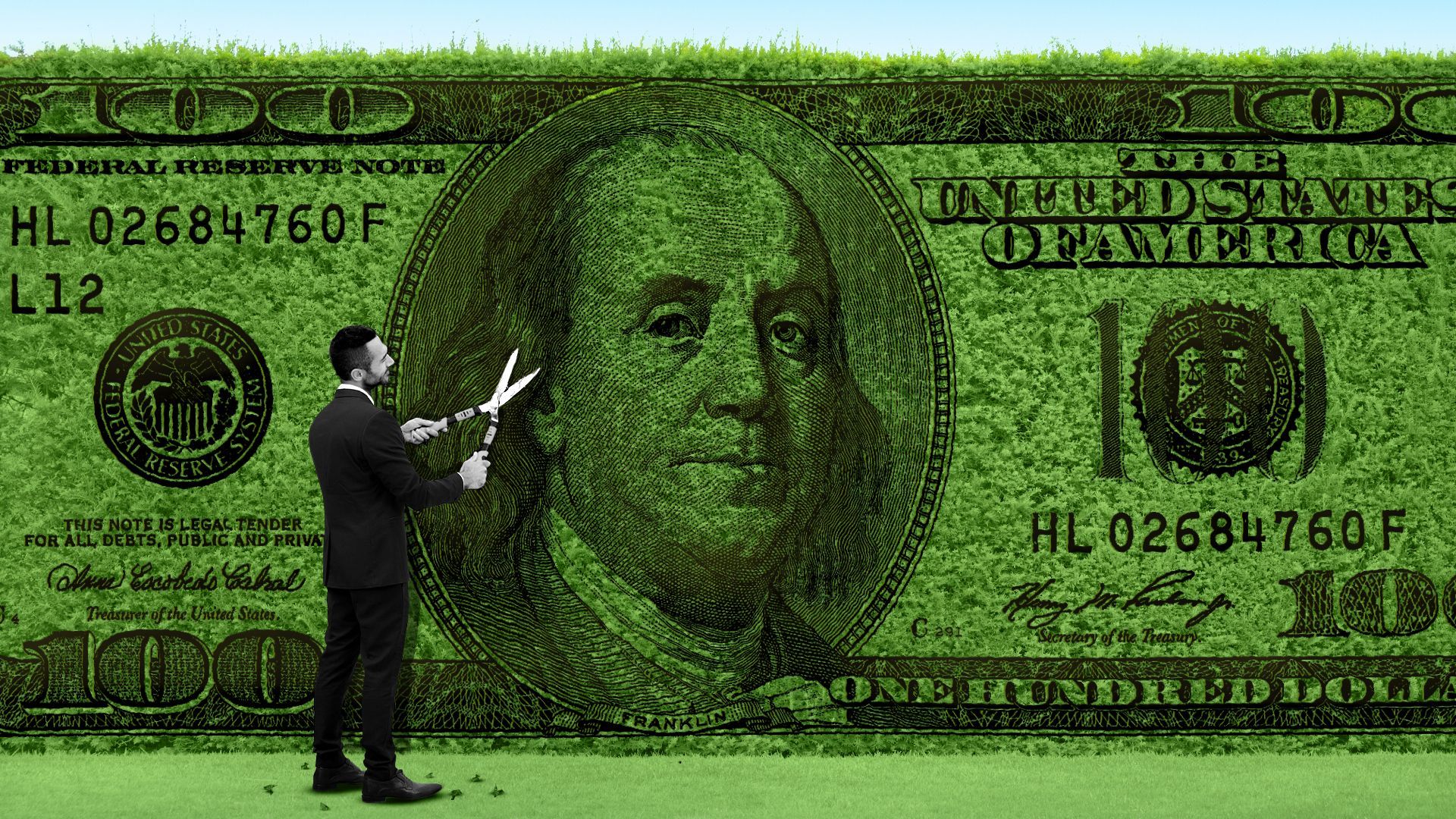 Hard lines are wavering on the debt ceiling as some Democrats embrace negotiating the less toxic elements on the GOP's laundry list of budget cuts, such as clawing back unused COVID funds, Axios' Andrew Solender reports.
What we're hearing: After a months-long stalemate, some Democrats said they would like to see the White House take a more receptive posture to negotiations with House Speaker Kevin McCarthy (R-Calif.) and accept that some concessions will have to be made.
The Biden administration outlined its goals today for energy permitting reform, which could be one area of compromise in budget talks — though the two parties are far apart on the specifics.
Staff for the "Big Four" congressional leaders and White House negotiators met for about two hours at the Capitol today and plan to meet again tomorrow, according to Punchbowl News.
4. 🐘 Republicans shrug after Trump verdict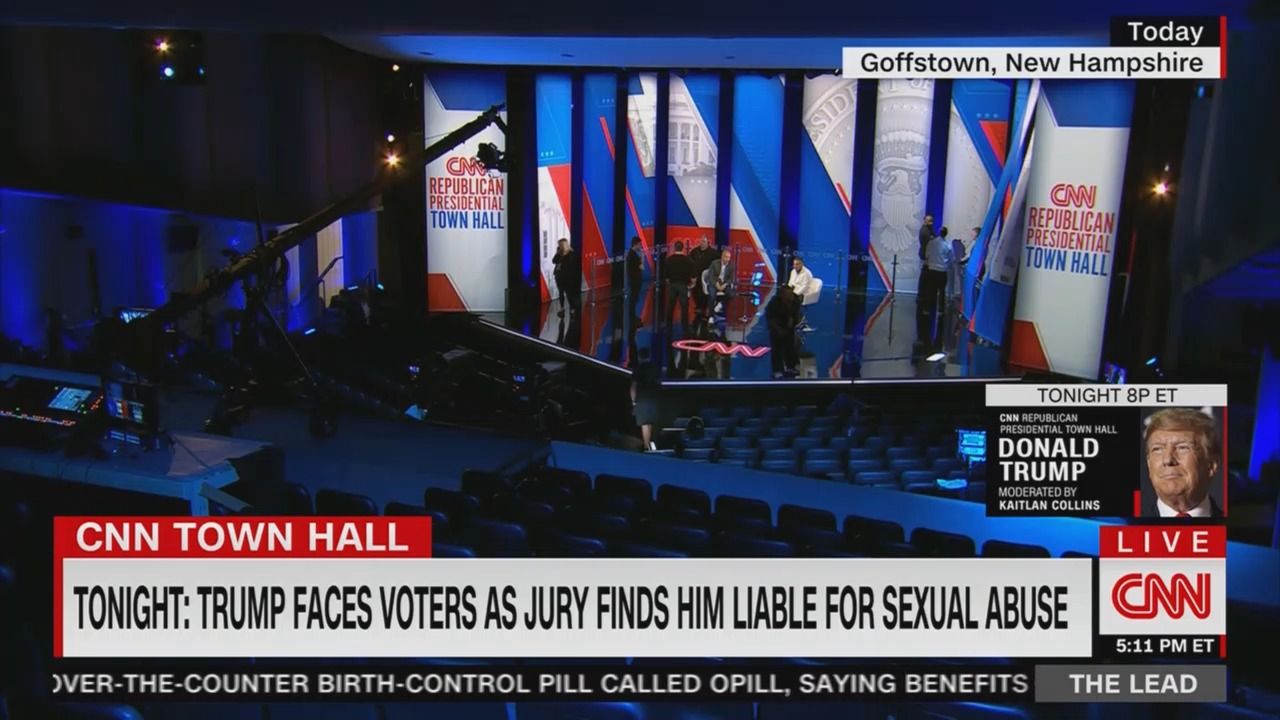 Three quotes from today capture the spectrum of Republican responses to Trump being held liable for sexually abusing and defaming writer E. Jean Carroll:
New Hampshire House Majority Leader Jason Osborne, who has endorsed Florida Gov. Ron DeSantis for president, told NBC News: "It's pretty appalling to me that something like that can happen to a human being in the free world." The victim he was referring to was Trump — not Carroll.
Senate Minority Leader Mitch McConnell (R-Ky.), who is not on speaking terms with Trump but plans to support him if he's the nominee, told reporters: "I don't have any observations about it."
Former New Jersey Gov. Chris Christie, who is running Facebook ads attacking Trump ahead of his CNN town hall tonight, told Fox News: "His response, to me, was ridiculous, that he didn't even know the woman. ... It's one person after another, one woman after another."
Why it matters: Christie is by far the outlier. The vast majority of elected Republicans have responded by downplaying, dismissing or ignoring the verdict.
5. 🏛️ Parting shot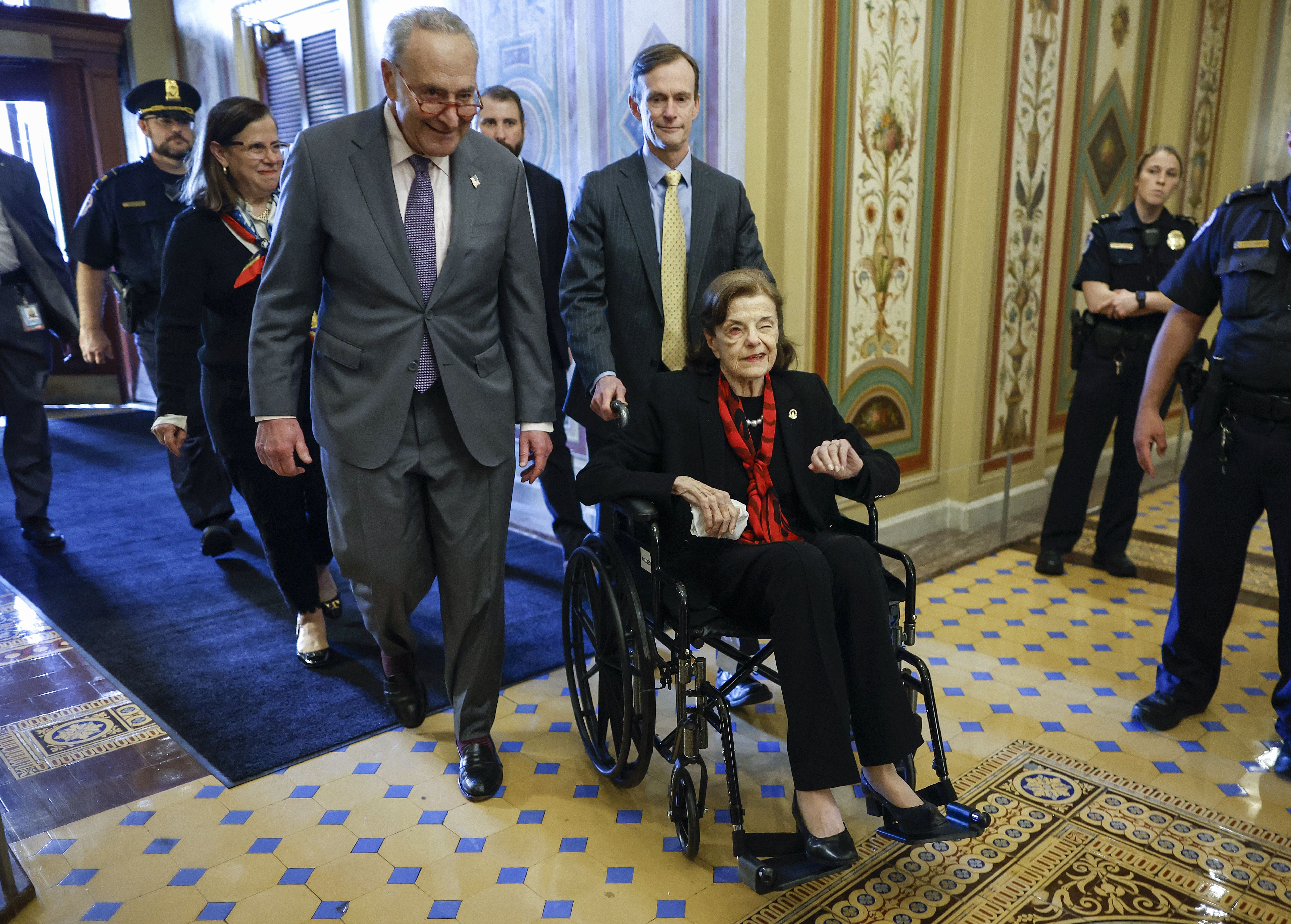 Senate Majority Leader Chuck Schumer (D-N.Y.) greeted Sen. Dianne Feinstein (D-Calif.) as she returned to Congress — and cast her first vote — after a two-month medical absence.
📬 Thanks for reading tonight. This newsletter was copy edited by Kathie Bozanich.