Axios Sneak Peek
May 03, 2020
Welcome to Sneak Peek, our weekly lookahead from both ends of Pennsylvania Avenue, plus our best scoops.
Tell your friends to sign up free for their weekly Sneak Peek!
Tonight's newsletter is 1,478 words, a 5.5-minute read.
1 big thing: Exclusive — How FEMA boss is bracing for COVID-infected hurricane season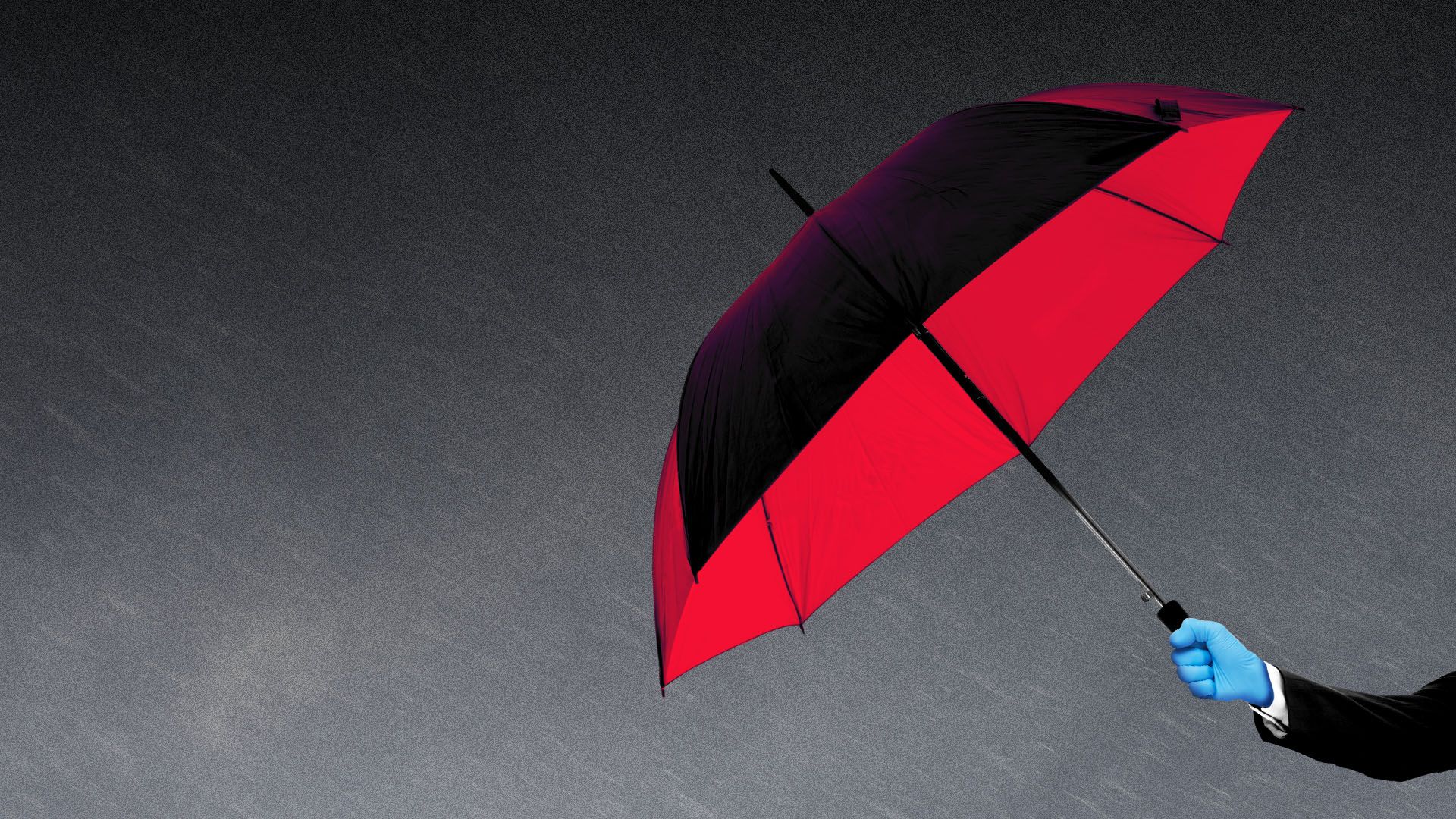 Pete Gaynor, who runs the Federal Emergency Management Agency, is drafting a document whose title sounds like the stuff of horror movies: "COVID-19 Pandemic Operational Guidance for the 2020 Hurricane Season."
"We're doing a lot of things that are not necessarily in any playbook that has existed," Gaynor told me in an interview on Saturday. "In some cases, we write the playbook as we go."
Behind the scenes: In preparing for the June 1 start of the Atlantic hurricane season, Gaynor must consider challenges beyond what predecessors have faced:
How do you evacuate people from hurricane zones while maintaining 6 feet of social distancing?
How much extra shelter space will be needed to house people who can no longer safely crowd into schools, auditoriums and community centers?
How do you protect the most vulnerable people such as the elderly and those with underlying conditions?
Resources already are strained — and so are tensions between many governors and the Trump administration.
The big picture: It's the first time ever that every U.S. state and territory has simultaneously declared a major disaster.
"This pandemic, it is historic, it is unprecedented in many ways for FEMA," Gaynor said.
One nightmarish prospect: "If we have to evacuate a hospital, that hospital typically would just evacuate the patients," Gaynor said. "But now we've got to make sure they evacuate the patients, the medical equipment like ventilators, pharmaceuticals that allow ventilators to be used on patients in ICUs. All those things now make it more difficult, there's no doubt about it."
Natural disasters like floods may mean hospitals have to transfer patients sick with COVID-19 to other facilities that will take them.
"Locals and states really have to understand some of those challenges and plan for that," Gaynor said, adding that FEMA will try to help.
Why it matters: It's not hyperbolic to say that we could face the most dangerous combination of disaster threats in American history this summer.
As Hurricane Katrina tragically proved, one bad hurricane can overwhelm the federal government.
This year, early forecasts indicate that the Atlantic hurricane season may be worse than usual.
Wildfire season is approaching.
Earthquakes and floods are always a threat.
Even if the pandemic subsides over the summer, experts say it may resurge in a second wave as autumn nears — while hurricane season runs through Nov. 30.
Despite all this, Gaynor said he's "highly confident" FEMA can manage this unprecedented summer.
What's next: Gaynor says FEMA is preparing for the worst.
The agency has taken over vacant office space in downtown Washington, D.C., and set up an additional command center — called a "surge" National Response Coordination Center — for staff across the government to handle the non-COVID catastrophes threatening America this summer.
FEMA has ordered 100,000 "human remains pouches" (also known as body bags) that Gaynor hopes he won't need.
Go deeper: Read my full story on FEMA's COVID-affected hurricane preparations in the Axios stream.
2. Inside FBI director Chris Wray's fate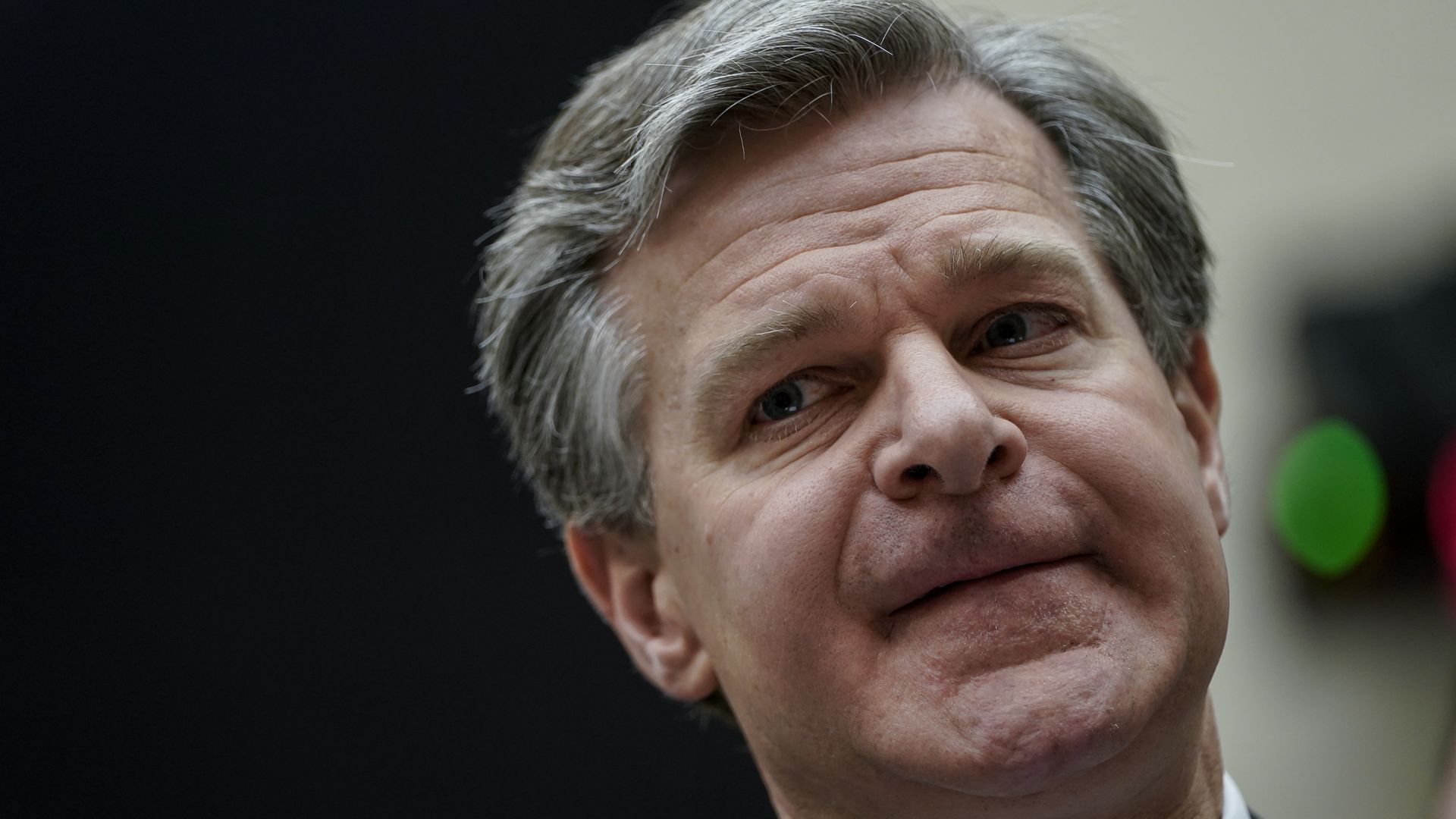 President Trump is not happy with FBI director Christopher Wray and would love to replace him, according to three sources who've discussed the matter with the president.
But Trump has been deferring to Attorney General Bill Barr and is unlikely to remove Wray before the election, these sources said.
Behind the scenes: Trump's dissatisfaction with Wray — whom he nominated for the post in 2017 after firing Jim Comey — is nothing new. A source who has discussed the FBI director repeatedly with the president said Trump "has never felt like Wray was his guy" and does not trust him to "change the culture" of the FBI.
Trump was especially angered by what he views as Wray's reluctance to publicly criticize actions taken by Comey and by Wray's relatively muted reaction to the FBI's misconduct in seeking the surveillance of Trump campaign associate Carter Page.
What's new: Recent revelations in the case of Trump's former national security adviser, Michael Flynn, have heightened discontent with Wray in Trump's inner circle.
Figures close to Trump tell him that Wray cannot be trusted to root out what they view as "corruption" at the highest levels of the FBI.
While interviewing Trump on his eponymous podcast on Friday, pro-Trump commentator Dan Bongino said he doesn't "have a lot of faith" in Wray and asked the president if he trusts Wray to "enact reforms to ensure innocent Americans are not targeted again."
Trump dodged the Wray part of the question and instead pivoted to praising Barr.
Between the lines: Trump hasn't ousted Wray for two main reasons, according to senior administration officials and outside advisers who've discussed Wray's future with Trump.
First, some of Trump's key advisers don't want to kick the hornet's nest so close to an election by firing a second FBI director.
And, second, there isn't an obvious replacement who'd both pass muster on Capitol Hill and be the sort of loyalist Trump wants to run the FBI.
3. Why you shouldn't hold your breath for the next COVID-19 stimulus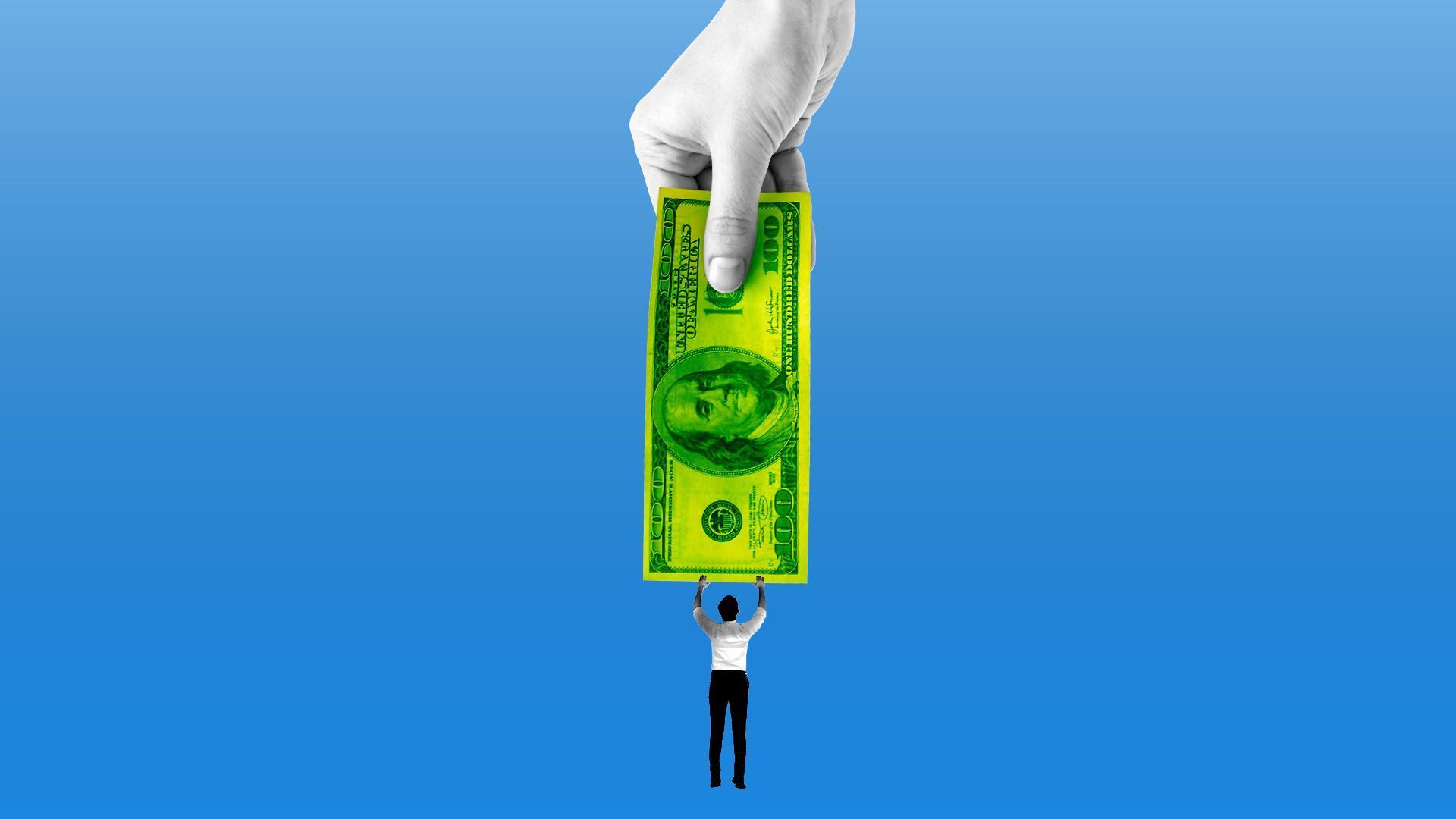 Don't expect fast action on the next coronavirus stimulus package, known on Capitol Hill as "phase 4." Senior sources in the Republican Senate conference tell me that most GOP senators want to wait a bit before passing another big aid bill.
Between the lines: The two parties are miles apart ahead of the next stage of talks.
Mitch McConnell has sounded the alarm about the deficit after $3 trillion so far in virus spending.
In a conference call last week, McConnell urged Republican senators to push back against the White House's impulse to spend trillions on infrastructure.
Democrats want significantly more money to help state and local governments.
And McConnell and House Minority Leader Kevin McCarthy put out a rare joint statement in which they said they won't support another coronavirus bill unless it protects businesses from lawsuits should they choose to reopen during the pandemic.
House Speaker Nancy Pelosi dismissed this idea: "Especially now, we have every reason to protect our workers and our patients in all of this. So we would not be inclined to be supporting any immunity from liability."
Yes, but: On CNN's "State of the Union," this morning, Trump's top economic adviser Larry Kudlow told Jake Tapper, "There's kind of a pause period right now."
Kudlow added: "We have put up $3 trillion of direct federal budget assistance in one way or another. The Federal Reserve has actually put in as much as $4 trillion to $6 trillion. So it's a huge, huge package. Let's see how it's doing as we gradually reopen the economy."
Behind the scenes: One idea that's gathering momentum on the Hill and in the White House: legislation that would encourage American companies to build critical supply chains at home, reducing foreign dependency — especially on pharmaceuticals from China.
In an April 26 Medium post, McCarthy floated some such ideas to hasten the relocation of the drug supply chains:

"[T]he government needs to implement a bold deregulatory agenda that makes it faster and cheaper to build manufacturing plants. Currently, it takes 5 to 7 years to build a plant. ... Our national goal should be to bring that to less than 18 months by streamlining permitting and cutting red tape."
4. New CBS poll: Warren is the Dem voter favorite for Biden's VP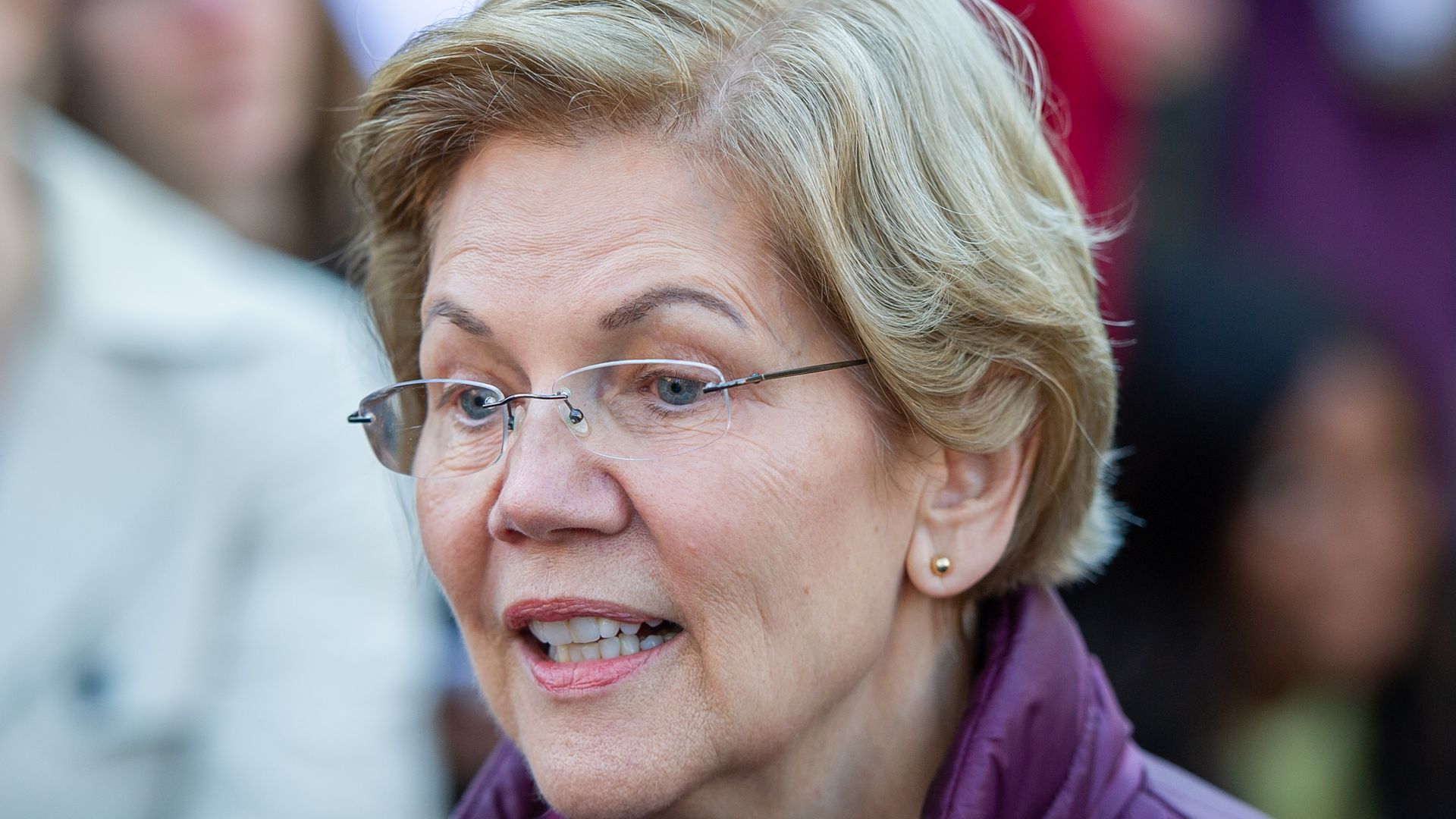 "Elizabeth Warren is well atop Democratic voters' list of those who should be considered for vice president — with 71% saying she should be," CBS News reports.
"Warren also outpaces other possible picks by a wide margin as their first choice for the job: Warren at 36% first choice, to Kamala Harris' 19%, Stacey Abrams at 14%, and Amy Klobuchar at 13%. No one else gets over 4%."
The findings build on this survey we wrote about last month.
Between the lines: Familiarity is "a big factor here, as three of the women who just ran for president are at or near the top of voters' lists. More Democrats express an opinion about Warren, Harris, and Klobuchar than they do about any of the others," per CBS News.
"Aside from the former presidential candidates, Democrats are more aware of Stacey Abrams — whose 2018 gubernatorial campaign in Georgia drew national attention — than of Michigan Governor Gretchen Whitmer, who has been in the news lately during the virus outbreak."
The bottom line: "Warren does very well among those who say economic expertise is a key criteria. She is especially appealing to Democrats who say Biden should pick a liberal or progressive, but even among those who would prefer a moderate running mate, most put her on the list."
Methodology: The CBS News survey was conducted by YouGov using a nationally representative sample of 2,200 U.S. residents interviewed between April 28–May 1. The margin of error is ±2.5 points.
5. Sneak Peek diary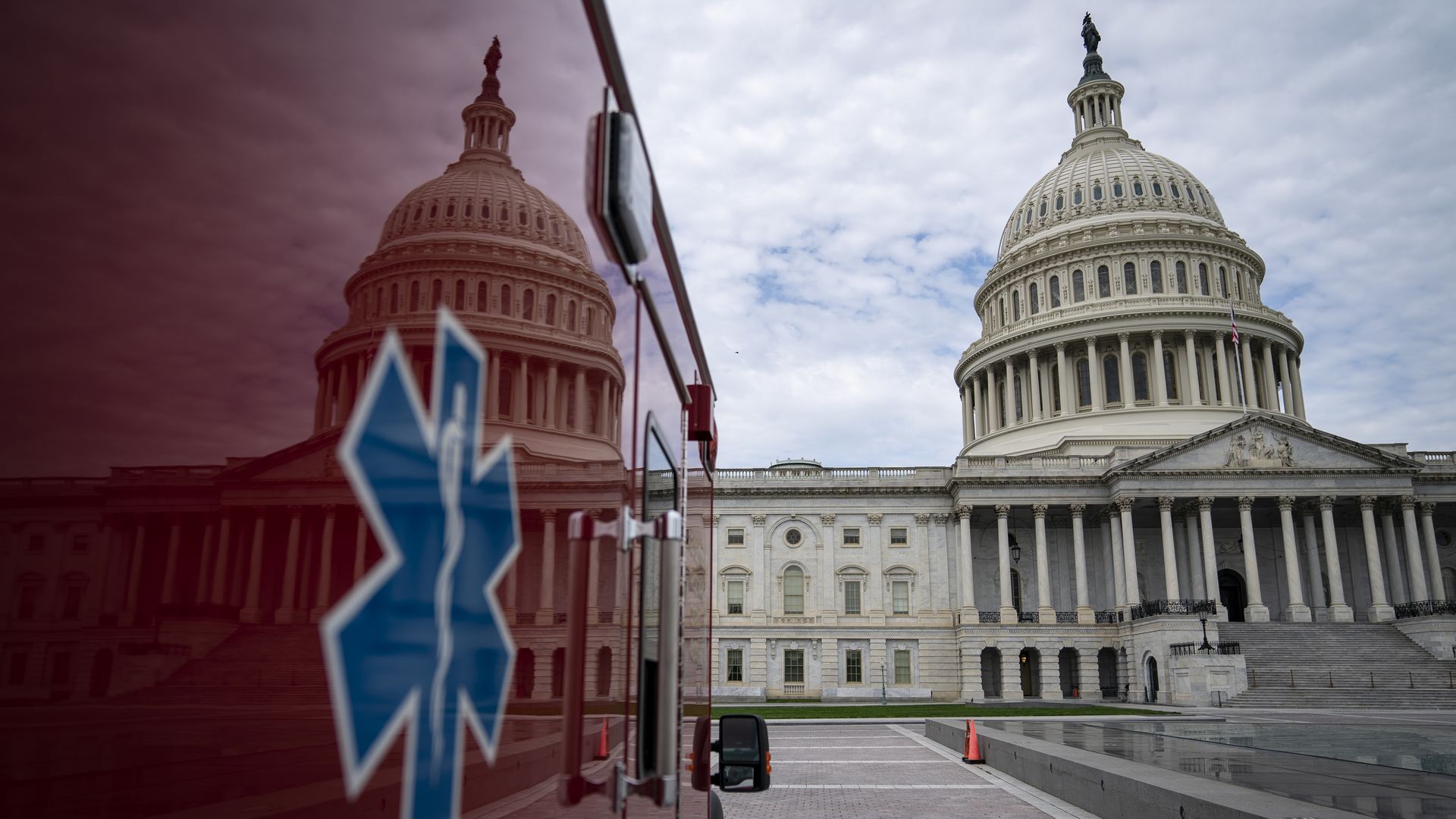 The House is on an extended recess and is expected to return to Capitol Hill when Congress is further along in consideration of a phase 4 coronavirus relief package (CARES 2, as Speaker Nancy Pelosi calls it), Axios' Alayna Treene reports.
Negotiations on remote voting and voting-by-proxy will continue behind the scenes. Several members have asked that it be made a top priority, but many GOP members are against it.
The Senate will reconvene on Monday. According to a spokesperson for Senate Majority Leader Mitch McConnell:
The Senate will consider the nomination of Robert Feitel as Inspector General of the Nuclear Regulatory Commission.
It's possible the Senate will consider legislation to reauthorize the Foreign Intelligence Surveillance Act. 
Several Senate committees will also hold nomination hearings, including:
An Intelligence Committee hearing on Tuesday to consider Rep. John Ratcliffe (R-Texas) for director of national intelligence.
Armed Services Committee hearings to consider Kenneth Braithwaite as Navy secretary and James Anderson as deputy undersecretary for policy at the Department of Defense.
President Trump will travel to Phoenix, Arizona, on Tuesday and deliver remarks at the Honeywell Mask Production Facility.