August 05, 2022
Welcome back to Sneak. Smart Brevity™ count: 1,014 words ... 4 minutes.
1 big thing — Scoop: Saving Liz Cheney
A handful of Republican operatives are quietly mounting a last-ditch effort to rescue Rep. Liz Cheney (R-Wyo.) from a Trump-backed primary challenge, Axios' Lachlan Markay has learned.
Why it matters: The previously unreported effort shows how some Republicans are trying to surreptitiously undercut the former president's revenge campaign, which has so far claimed the political lives of a significant chunk of GOP critics.
Cheney — the vice chair of the House Jan. 6 committee — could be the next casualty. She's facing tough odds in her primary fight this month against Trump-backed challenger Harriet Hageman.
Driving the news: Involved in the effort are Jeff Larson, the chairman of Republican research firm America Rising and a longtime Cheney backer, and Julia Griswold Dailer, a former Trump White House and inauguration committee aide.
Their strategy is two-pronged: Persuade Democrats to cross the aisle and back the Wyoming Republican in this month's open primary, and dent her Trump-endorsed challenger by portraying her as insufficiently loyal to the former president.
What's happening: Two seemingly unrelated political groups recently popped up to try to beat back Hageman's challenge.
The intrigue: Tex McBride, a Wyoming rancher who leads WDFD, told Axios that Larson recruited him for that role.
"They needed somebody that ... has a voice in the state rather than just trying to bring in someone from the outside who nobody knows or trusts," McBride said in an interview.
FCC filings list Griswold Dailer as WDFD's campaign manager. Her phone number is listed in advertising disclosures for both WDFD's and CFSA's Facebook ads.
A source involved in the campaign told Axios that Griswold Dailer is "running the show" for the umbrella effort.
By the numbers: WDFD has reported spending $188,428 in support of Cheney since last month, making it the fourth-largest independent spender in the Wyoming primary race — and the top one backing Cheney.
But far more has been spent attacking Cheney and boosting her rivals: The top group in the race, Wyoming Values, has received $500,000 from Trump's leadership PAC, and spent more than $800,000 opposing Cheney and supporting Hageman.
2. 🥊 Elder Cheney steps in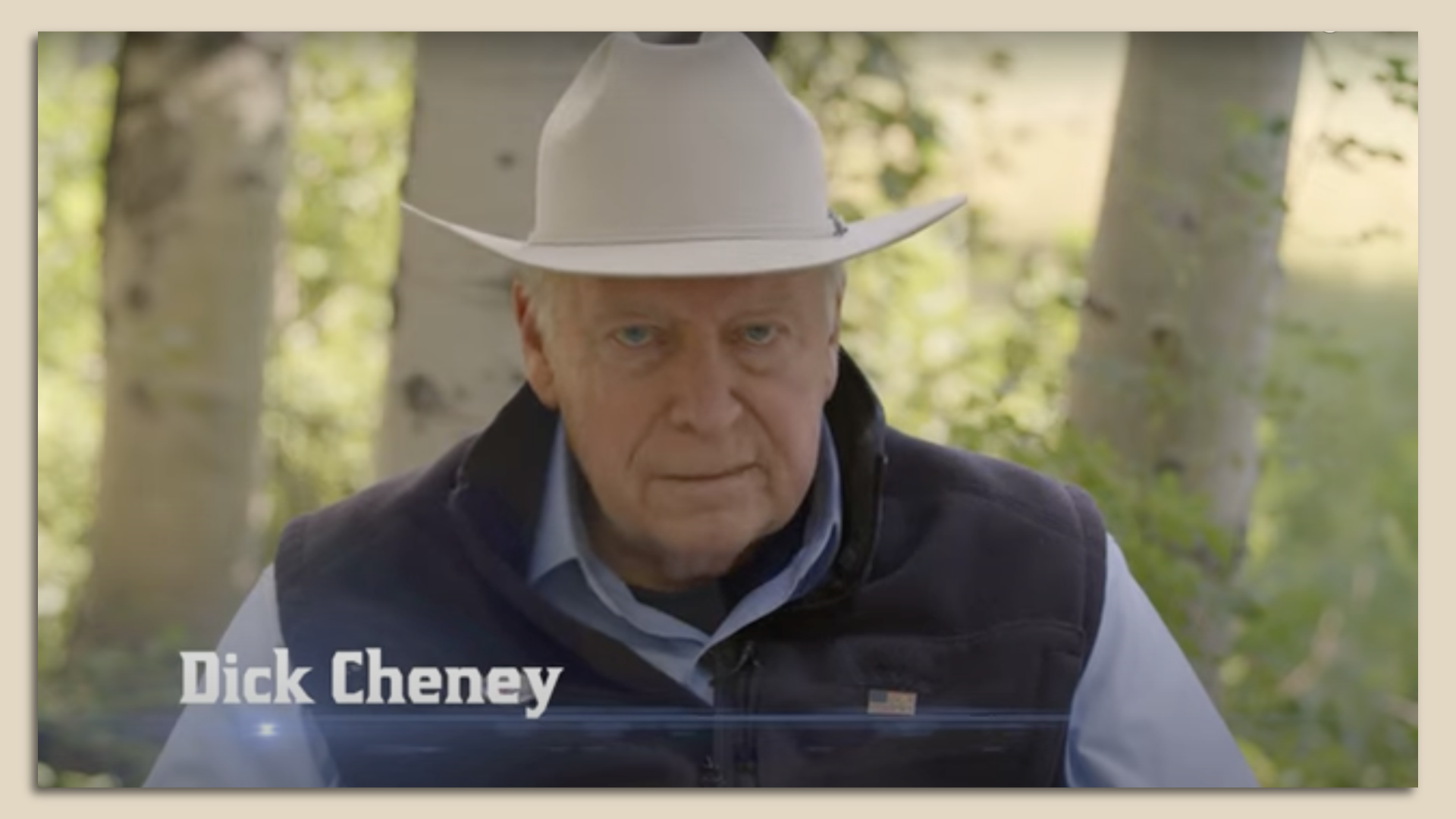 Cheney received another boost today from a familiar face: her father, former Vice President Dick Cheney.
In a 60-second campaign ad titled "He Knows It," the 81-year-old Cheney contends that "there has never been an individual who is a greater threat to our republic than Donald Trump."
"He tried to steal the last election using lies and violence to keep himself in power after the voters had rejected him. He is a coward. A real man wouldn't lie to his supporters. He lost his election and he lost big. I know it, he knows it, and deep down, I think most Republicans know it.
Liz is fearless. ... There is nothing more important she will ever do than lead the effort to make sure Donald Trump is never again near the Oval Office. And she will succeed."
3. 🗳️ Midterm testing ground
A U.S. House special election this month in upstate New York is drawing big money and attention from both major parties as a testing ground for midterm messaging tactics nationwide, Axios' Andrew Solender reports.
Why it matters: The Aug. 23 contest in New York's 19th features two evenly matched candidates in a toss-up district, making it an ideal laboratory to road-test policy and political arguments — on offense and defense — with approaches that can be customized for other races around the country.
Democrat Pat Ryan has focused on issues like abortion, guns and democracy, branding the race as the first federal general election in the post-Roe era.
Republican Marc Molinaro has hammered on inflation, crime and rising gas prices.
What they're saying: Ryan rejects the notion of the race as a referendum on the party in power, telling Axios it's about Republican "extremism."
Despite running in a purple district, Ryan doesn't shy away from proposed reforms such as expanding the court, judicial term limits and nuking the filibuster: "I think we have to have all options on the table."
He also doesn't endorse any restrictions on abortion: "It's the decision of a doctor and a person and a family, and the government doesn't have a place."
The other side: Molinaro is trying to blunt Democrats' attacks on abortion restrictions by casting himself as the reasonable candidate on the issue, telling Axios: "I believe that I fall very much in line with most Americans and most upstate New Yorkers."
Molinaro said he supports state restrictions on abortion, with exceptions for rape, incest and the life of the mother, but believes Congress has a "very, very limited role."
"I don't endorse New York's limitless access," he said. "There ought to be some thoughtful limitations, with an acknowledgement that this is a very sensitive issue."
What we're watching: The Democratic Congressional Campaign Committee plans to go up with a six-figure ad buy in the district "highlighting Republicans' extremism on banning abortion," DCCC spokesperson Nebe Betre told Axios.
4. 💰 Charted: Huge Dem infusion
The Pelosi-aligned House Majority PAC — Democrats' biggest outside group for congressional campaigns — is flooding the airwaves with a $20 million ad buy across 23 media markets, Axios' Alexi McCammond has learned.
5. 🏛️ Parting shot: D-Day approaches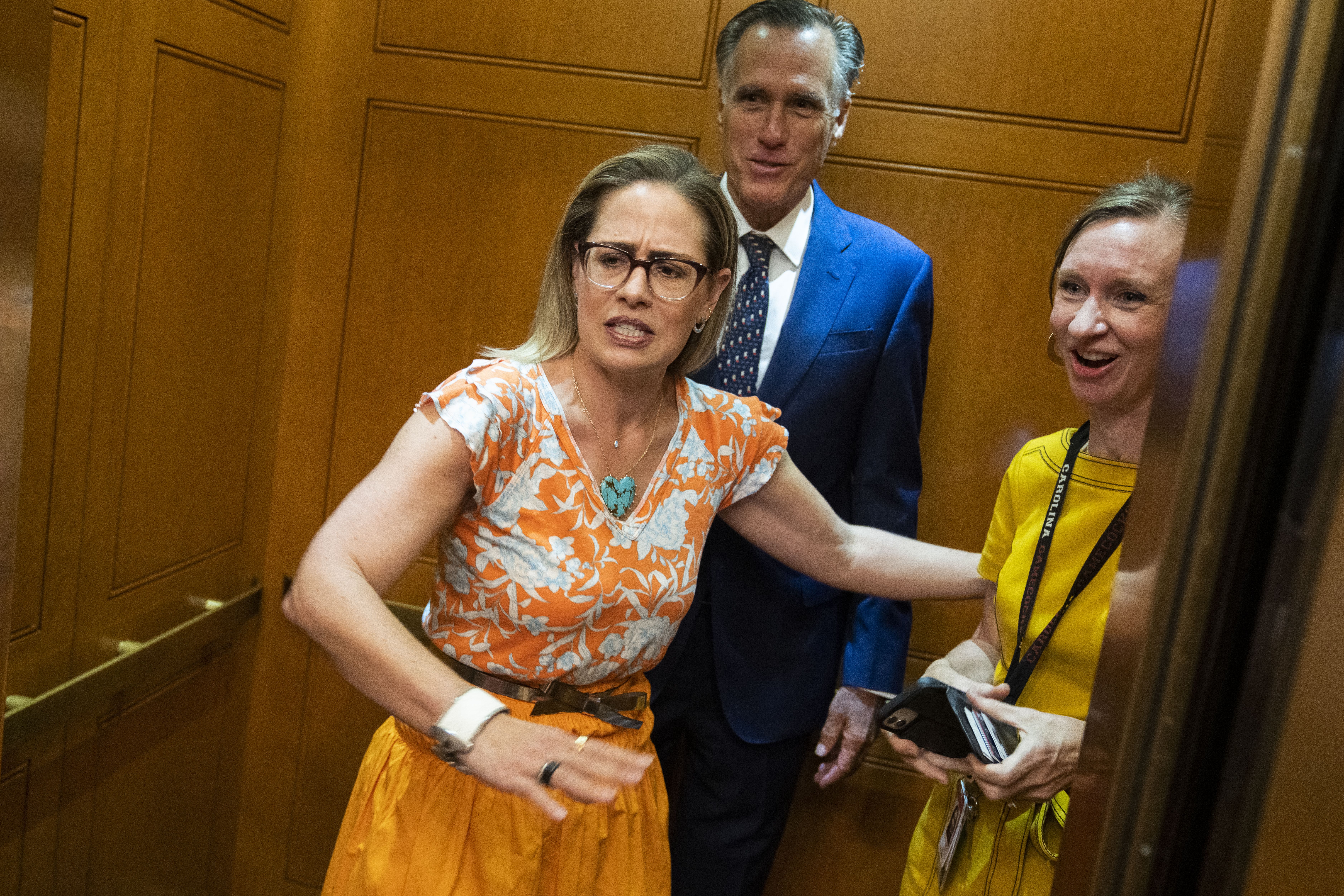 With the Senate officially set to vote Saturday on a motion to proceed to Democrats' reconciliation package, the one potential obstacle — Sen. Kyrsten Sinema (D-Ariz.) — has yet to break her silence.
"Stop it, you guys. I'm not going to talk," she told reporters, shooing them away from an elevator with Sen. Mitt Romney (R-Utah).
📬 Thanks for reading this week! We'll be back Sunday.