September 21, 2022
Welcome back to Sneak. Apologies if you received the newsletter late last night — we had some technical difficulties.
Smart Brevity™ count: 965 words ... 3.5 minutes.
⚡ Situational awareness: The Jan. 6 committee is planning to hold what could be its final public hearing at 1pm ET on Sept. 28.
1 big thing: Trump's special master jam
The special master tapped to review the documents the FBI seized from Mar-a-Lago appeared deeply skeptical of the arguments put forth by former President Trump's legal team in an opening hearing today, Axios' Zachary Basu writes.
Why it matters: What initially looked like a legal victory for Trump — the appointment of a special master he requested, by a federal judge who stunned experts with her ruling — isn't panning out the way he had hoped.
Between the lines: As Axios first reported, lawyers and advisers to Trump believed Judge Raymond Dearie's role on the secretive FISA court — which approved controversial warrants used to surveil former Trump campaign aide Carter Page — made the judge a deep skeptic of the FBI.
Dearie's personal feelings remain unknown; what's not in dispute after today's hearing is that his seven years on the FISA court have given him a deep understanding of classification controls and the importance of the nation's secrets.
The Trump team's bet that Dearie would be slow-moving is also at risk of backfiring: The judge's draft plan for the document review envisions the "inspection and labeling process" being completed by Oct. 7 — less than three weeks away.
That could potentially keep the story in the headlines during a final election stretch that would typically see the Department of Justice go dark on politically sensitive investigations.
Driving the news: Dearie repeatedly pressed Trump's lawyers to provide proof for the former president's claims — made on social media, but never in court — that he declassified the documents long before they were seized from Mar-a-Lago.
"This is not a criminal case. The plaintiff has the burden of establishing his right to relief," Dearie told the courtroom, signaling early on that the Trump team would face an uphill climb.
While the DOJ has pointed to classification markings indicating the documents contained highly sensitive national security secrets, Trump's lawyers have refused to provide evidence of declassification.
They've argued that doing so could mean disclosing Trump's defense to a potential indictment down the road.
What they're saying: "As far as I'm concerned, that's the end of it," Dearie declared after asking Trump's team what they expect him to do. "My view is you can't have your cake and eat it too."
The bottom line: The special master delay and the debate over declassification have not changed the key facts — Trump, as his own lawyers conceded, is staring down the very real threat of an indictment.
2. 🐘 GOP's Cheney grudge
The House is set to vote tomorrow on a bill to reform how Congress certifies presidential elections, but the involvement of the Jan. 6 committee — and in particular Vice Chair Liz Cheney (R-Wyo.) — has triggered GOP opposition, Axios' Andrew Solender reports.
Why it matters: Democrats and some Republicans want to make it harder to force a certification vote after former President Trump persuaded supporters before the Jan. 6 riot that Congress was the last, best hope for overturning the 2020 election.
What they're saying: "It's clear that anything Liz Cheney touches is all about whacking Donald Trump and not about making meaningful changes," said Rep. Jim Banks (R-Ind.), chair of the powerful Republican Study Committee.
Rep. Rodney Davis (R-Ill.) told a reporter that referring to the bill as bipartisan because Cheney supports it is "like me saying a bill is bipartisan because [Republican Rep.] Jeff Van Drew, who used to be a Democrat, is on it."
One senior Republican aide told Axios that GOP opposition to the bill is "not about the substance. It's ... strictly personality."
3. 🌵 Scoop: McConnell-aligned PAC pulls out of Arizona
The Mitch McConnell-aligned Senate Leadership Fund is canceling $9.6 million in television ads for the Arizona Senate race, confident that other outside conservative groups will make up much of the difference for Republican nominee Blake Masters, Axios' Josh Kraushaar reports.
Why it matters: The cancellations mean that the GOP's leading super PAC won't be spending any money in Arizona, one of the most closely watched Senate races in the country.
The big picture: Despite Arizona's battleground status, many Republican officials have been wary about Masters' prospects against Sen. Mark Kelly (D-Ariz.).
Masters is trailing Kelly in public polling, and Republican internal surveys have his unfavorability ratings unusually high for a first-time candidate.
Most of the outside funding for Masters' campaign will now be coming from ideologically aligned groups, not those directly invested in a Republican Senate majority.
4. ✈️ Migrants sue DeSantis
The undocumented migrants flown to Martha's Vineyard, Massachusetts, last week have filed a class action lawsuit against Florida Gov. Ron DeSantis and other Florida officials, Axios' Shawna Chen reports.
The migrants allege they were given misleading information promising cash assistance, employment services and housing assistance — which the complaint calls "bold-faced lies."
The latest: The White House said it is "coordinating closely" with state and local officials in Delaware — where President Biden has a beach house — to prepare for the possible arrival of another plane from Texas carrying migrants.
Asked for his response to GOP governors like DeSantis transporting migrants to other parts of the country, Senate Minority Leader Mitch McConnell (R-Ky.) told reporters: "I personally thought it was a good idea."
5. 🌎 Parting shot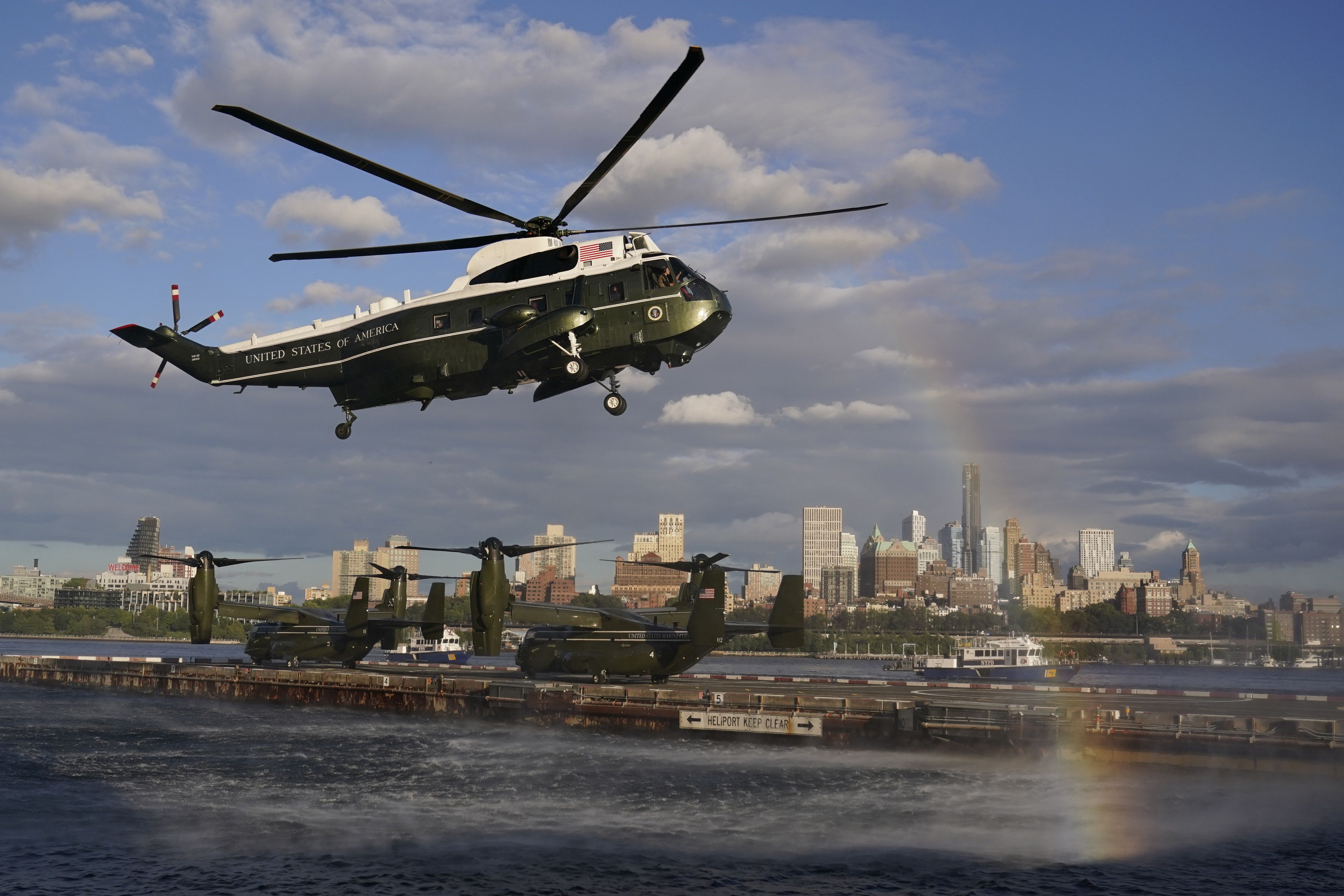 Above: Marine One arrives at the Wall Street landing zone in New York, where President Biden is attending a Democratic National Committee fundraiser tonight before his speech tomorrow at the UN General Assembly.
📬 Thanks for reading tonight. This newsletter was edited by Zachary Basu and copy edited by Kathie Bozanich.