Axios Seattle
March 23, 2023
☪️ Happy Thursday, and Ramadan Mubarak.
🌧 Today's weather: Rain, mainly after noon. Steady temperature around 45.
Today's newsletter is 864 words — a 3-minute read.
1 big thing: The challenge in fighting retail theft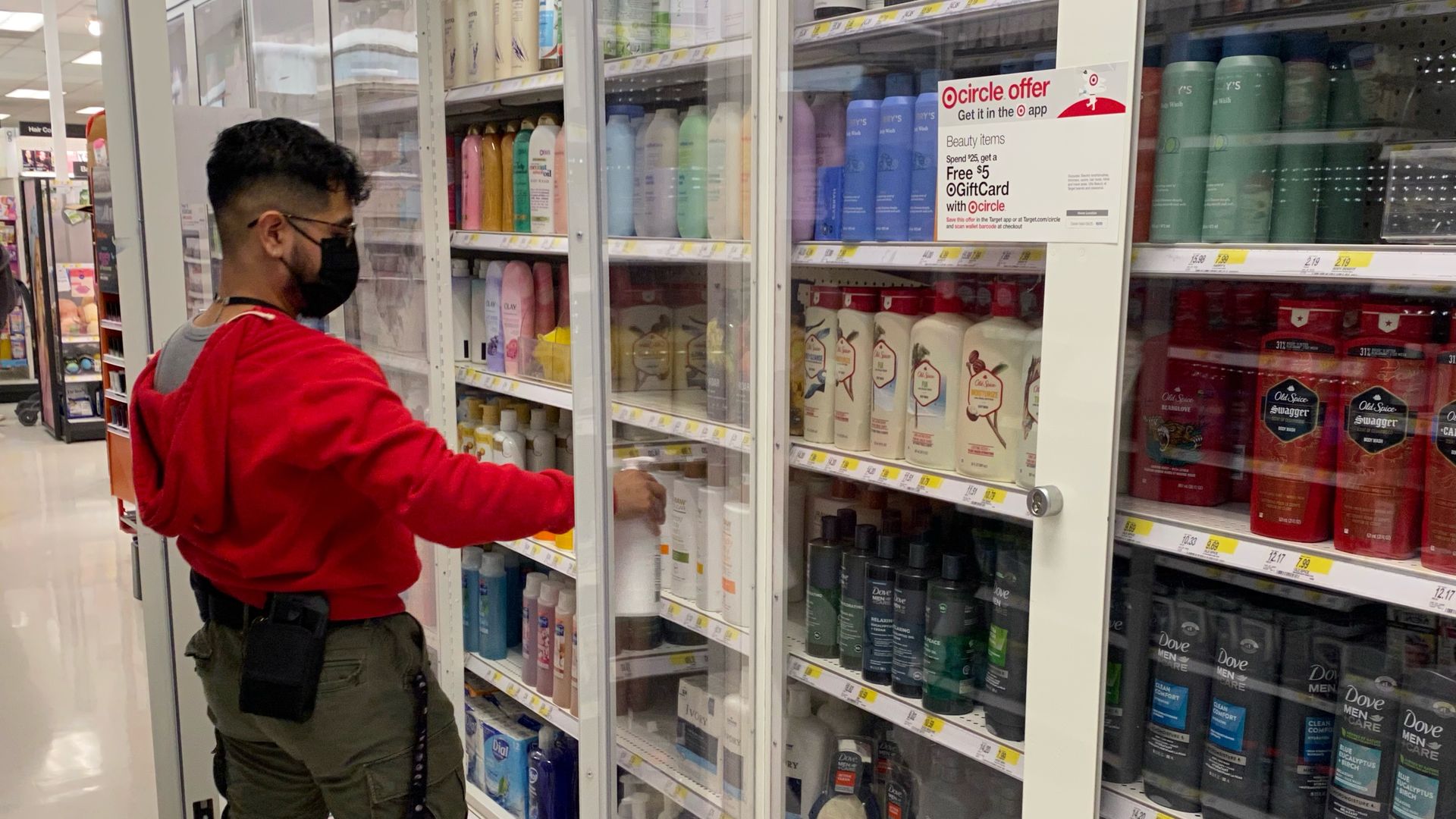 Seattle is among the top areas affected by organized retail theft, according to a recent survey, but efforts to combat theft can cause sales to drop.
Why it matters: Precautions to prevent a rise in retail theft mean everything from toothpaste to laundry detergent to baby formula is kept under lock and key. But these safeguards are deterring shoppers from making in-store purchases, Axios' Kelly Tyko reports.
State of play: Large metro areas where retail theft has been higher often have more inventory behind locked cases than rural areas — and Seattle's metro ranks eighth on the list of areas most affected by organized retail crime, according to the National Retail Federation's 2022 National Retail Security Survey.
Locked cases can cause sales to drop 15% to 25%, Joe Budano, CEO of anti-theft technology company Indyme, told Axios.
The inconvenience of locked cases — and having to find an employee to open them for things like razors, body wash and technology items — end up driving customers to shop online, GlobalData retail analyst Neil Saunders said.
Stolen merchandise is also often sold on online marketplaces like Amazon, eBay and Facebook, Saunders said.
By the numbers: The King County Prosecuting Attorney's Office told KING 5 there was a 100% increase in the number of retail theft charges last year over 2021.
The big picture: State officials are looking at ways to combat theft that go beyond individual retailers locking up products.
This year, Washington Attorney General Bob Ferguson is asking the Legislature to budget $1.5 million a year for a special unit focused on combating organized retail theft.
Retailers have also urged state lawmakers to provide a tax credit for businesses that invest in additional security measures, such as cameras and barriers that block vehicles from crashing into stores.
2. Seattle human composting startup opens $5M crowdfunding round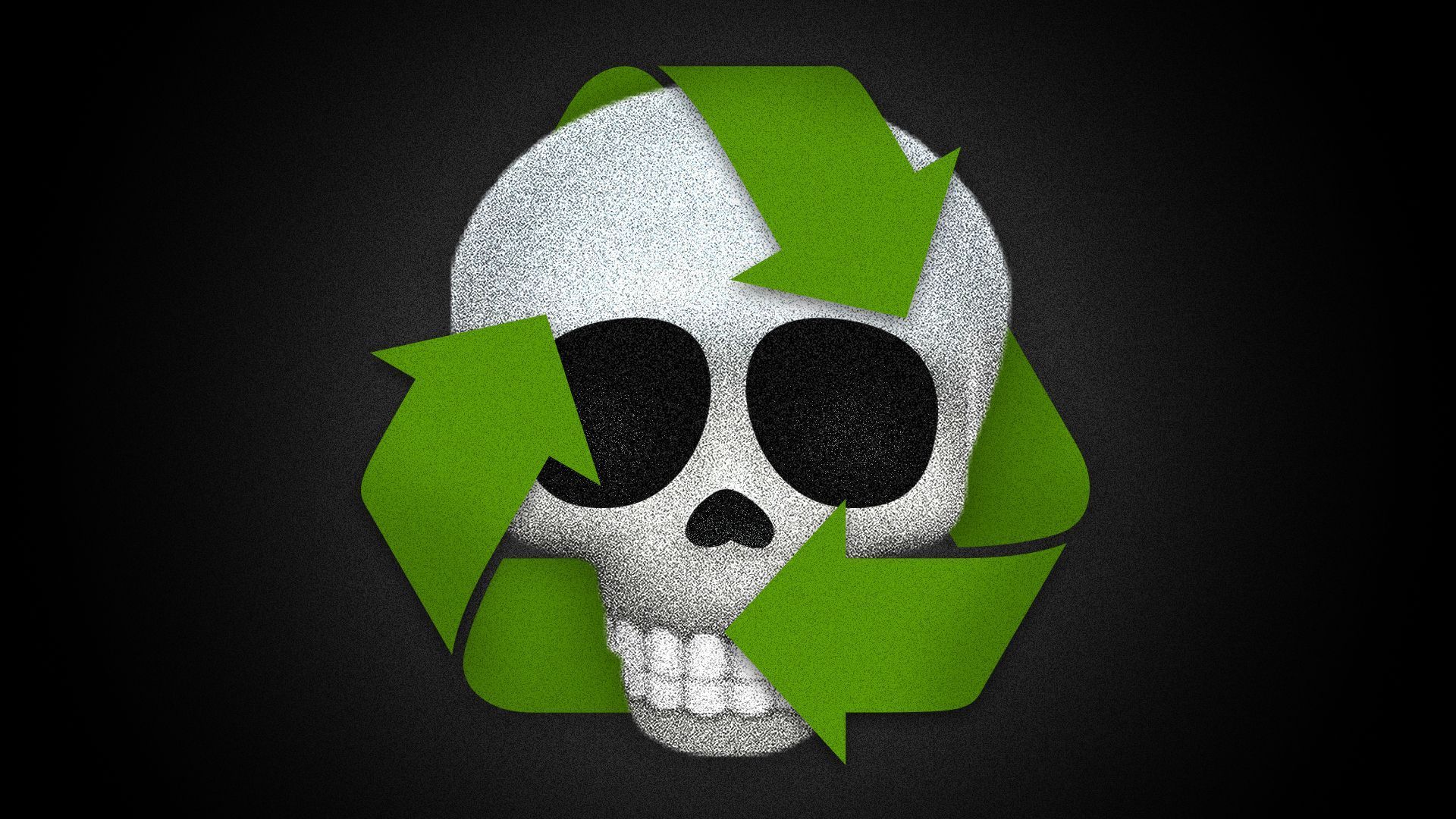 Recompose, the country's foremost human composting startup, is looking to raise $5 million in a crowdfunding round.
Catch up quick: The Seattle funeral home specializes in a novel form of post-life care in which human remains are turned into soil, which can then be used in a garden or forest.
More than 250 people have used Recompose's services so far, the company says, while more than 1,300 have signed up to be composted when they die, Axios' Alex Fitzpatrick writes.
Details: Recompose's new funding round is open to anyone willing to invest at least $1,000 in exchange for equity in the company.
As of 2021, U.S. startups can raise up to $5 million every year from everyday investors via Kickstarter-style "crowdfunding" campaigns, as Axios' Courtenay Brown reported.
The company previously raised $6.75 million in a 2020 funding round, and $10 million in a December 2022 round. Both were traditional rounds.
What they're saying: "We've basically built this whole new concept and piece of the funeral industry through community support and momentum, whether it's grassroots folks helping us with legislation, or just people getting behind this idea," Recompose founder and CEO Katrina Spade tells Axios.
"It's very much in line with our ethos as a company to raise money from our broader community."
What's next: That additional states are OK'ing the practice opens more markets for Recompose — but could invite new competition, too.
3. Gonzaga's big streak
Tonight will mark the Gonzaga Bulldogs' eighth straight Sweet 16 appearance. That's the third-longest streak ever, Axios' Kendall Baker writes.
What's happening: No. 3 seed Gonzaga is taking on No. 2 seed UCLA tonight in the third round of the NCAA Division I men's basketball tournament.
The teams are battling it out for a spot in the Elite Eight.
For those less versed in March Madness terminology, that's only two steps away from the championship game.
Why it matters: As the nation succumbs to basketball bracket fever, the Gonzaga Bulldogs are our only chance to have a team from Washington state win it all. And they're really good.
By comparison, the UW Huskies men's basketball team has made it to the NCAA tournament only once in the past 11 seasons, SI.com reports.
How to watch: The Gonzaga-UCLA game will be airing nationally on CBS at 6:45pm Pacific time.
4. Morning Buzz: Dozens of boats burn in storage blaze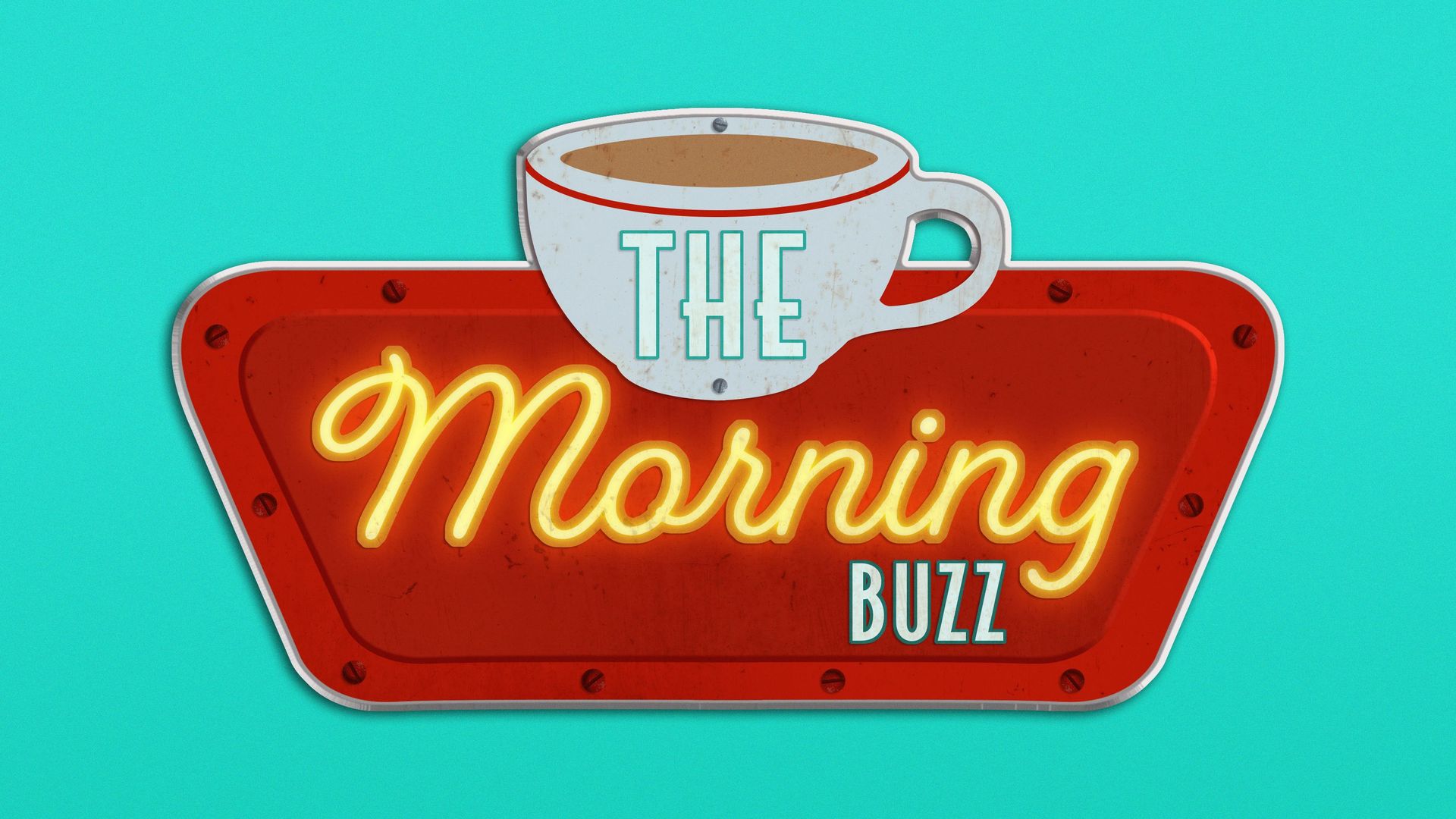 One person has been arrested in connection with an early Wednesday morning fire that burned as many as 30 boats at a dry storage facility near the Ship Canal Bridge. (KING 5)
⚾ Seen as a top contender in the American League, the Seattle Mariners enter the new season with a team built on the talent and stability that was sowed last year, Mariners president of baseball operations Jerry Dipoto said at spring training. (Seattle Sports)
🤧 A warming climate is making allergy season worse and last longer across the country. In Seattle, allergy season is lasting a month or so longer compared to a decade ago, Northwest Asthma and Allergy Center's senior partner Dr. Frank Virant said. (FOX 13)
A new career is waiting for you
5. 📸 Pic to go: Nice glass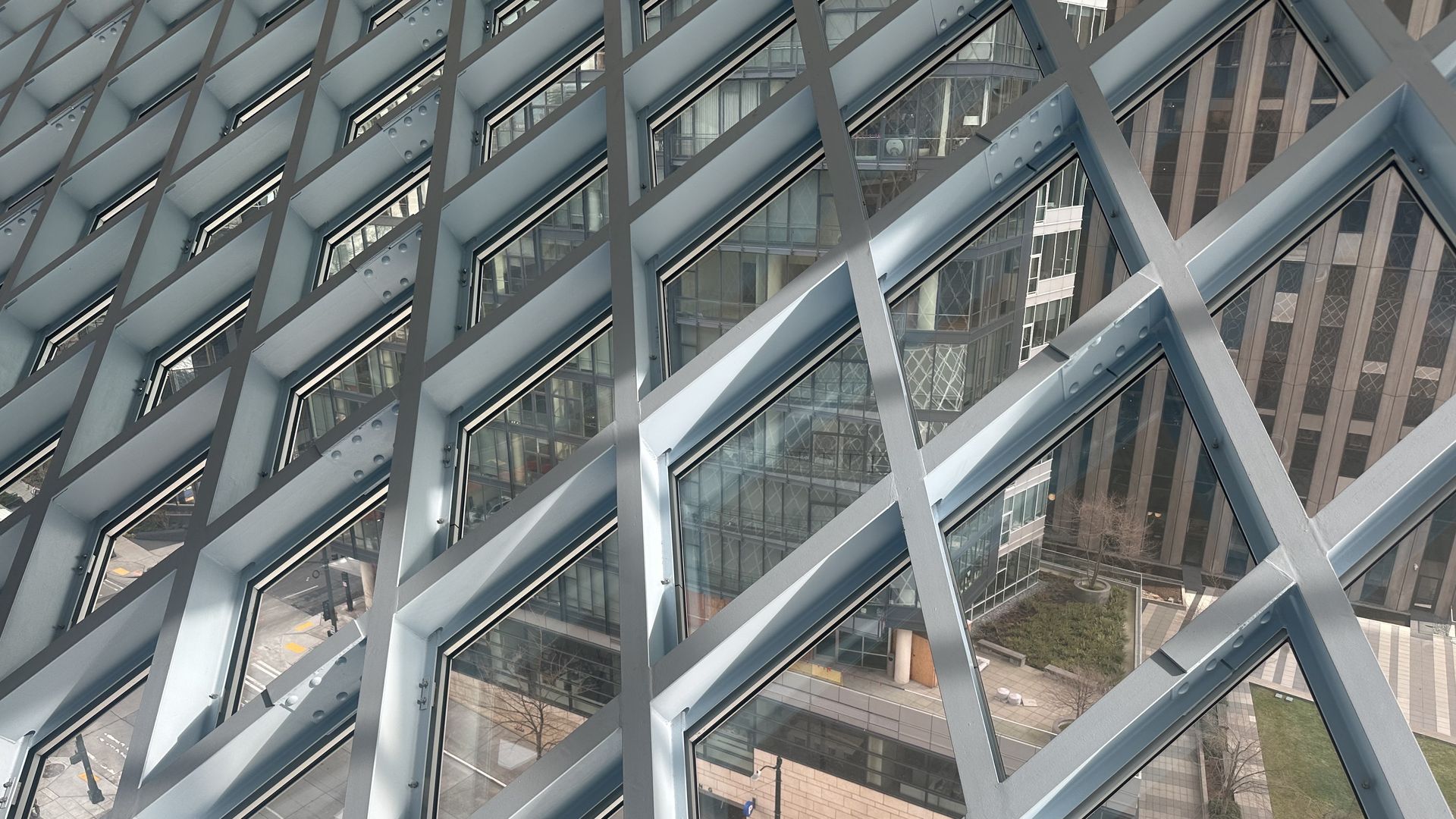 Sunshine glinted off the glass walls and windows of the Seattle Central Library branch this week in a way that showcased the best of spring in downtown Seattle.
By the numbers: The library building has nearly 10,000 windows, which in the past have required a three-week process to clean, the Seattle Times reported.
🤢 Melissa is still home with a sick child. There are Legos everywhere.
🧊 Clarridge is always surprised by how cold a regular rainy spring day feels after even a tiny taste of warmer weather.
This newsletter was edited by Rachel La Corte and copy edited by David Chiu.