June 24, 2022
☀️ Today's weather: Sunny, with a high near 74.
🚨 Situational awareness: The National Weather Service has issued a weather advisory about an incoming heatwave, which is expected to last through Monday.
Temperatures could reach 90℉ Sunday in parts of western Washington, according to the advisory.
Today's newsletter is 944 words — a 3.5-minute read.
1 big thing: Pro-impeachment Republicans under fire
Of the 10 Republicans who voted to impeach former President Trump last year, two are from Washington state.
Now, U.S. Reps. Jaime Herrera Beutler (R-Battleground) and Dan Newhouse (R-Sunnyside) face challengers from the right who are angry over how the two lawmakers voted.
Why it matters: Whether Herrera Beutler and Newhouse survive their primary challenges will provide clues about the direction of the state's GOP — and whether those who buck Trump's influence still have a place in it.
What's happening: Herrera Beutler, who represents the 3rd Congressional District in Southwest Washington, was particularly outspoken after the Jan. 6 attack on the U.S. Capitol, decrying the former president's actions as inappropriate.
Herrera Beutler's opponents now include three pro-Trump Republicans who have publicly disagreed with her impeachment vote: Vicki Kraft, a state representative; Joe Kent, a retired special forces officer; and Heidi St. John, a Christian author who promotes homeschooling.
All have questioned the validity of the 2020 election and suggested without evidence that the vote was fraudulent.
Meanwhile, Newhouse faces six GOP challengers in Washington's 4th Congressional District.
What they're saying: Peter Graves, a Republican consultant in Washington state, told Axios the state's top-two primary system is likely to help Newhouse and Herrera Beutler.
2. Wolves are making a comeback
Gray wolves are growing more abundant in Washington and seem headed toward recovery — but they're not out of the woods yet, state wildlife officials say.
By the numbers: Washington's wolf population grew for the 13th consecutive year in 2021, climbing to 206 wolves in 33 packs, according to the Washington Department of Fish and Wildlife.
Why it matters: Gray wolves have been on the state's endangered species list since 1980. Their recovery would mark a coup for successfully restoring a native species to the wilds of eco-friendly Washington.
The wolves also were federally relisted as endangered in the western two-thirds of Washington this year, after being taken off that list briefly last year.
Zoom out: The latest tally represents the highest count since the state started surveying wolves in 2008.
3. We're the most expensive state to hire a nanny
In 2021, Washington state was the most expensive state for hiring a nanny, per a new survey from Care.com.
Why it matters: High child care costs burden families and can make it difficult for some parents to work — especially if all or most of their income would go toward paying for the care.
By the numbers: According to the survey, hiring a nanny in Washington cost $840 a week in 2021.
That's 21% higher than the national average.
The only place with higher costs was Washington, D.C., where a nanny is estimated to cost about $855 per a week.
Daycare also was more expensive in Washington state than elsewhere — about 35% more than the national average.
That makes Washington the second most expensive state for child care centers, trailing only Massachusetts and D.C.
Melissa's thought bubble: The average rate listed for a day care center in Washington, D.C. — $419 per week — is about two-thirds what I pay for a modest daycare center in Seattle.
That makes me think that, if you compared Seattle and Washington, D.C. directly, Seattle's child care costs might eclipse the nation's capital.
4. Morning Buzz: Landmark status, plus a ban
🍽 A Wu Tang Clan-themed meal with 36 courses is being planned in Seattle. (Eater)
🐘 One of the pink signs from Seattle's Elephant Car Wash could become an official city landmark to be displayed in Belltown. (The Seattle Times)
❌ The FDA has banned Juul e-cigarettes and ordered the products be pulled from store shelves. (Axios)
🚊 Sound Transit, which runs light rail, commuter trains and buses across three counties, has picked Julie Timm as its new CEO. (Sound Transit)
😸 This Seattle man watches about 10,000 cat videos a year to find the best clips to showcase in a cat video festival. (The Seattle Times)
5. Brew stop: Aslan Brewing Company
👋 Melissa here.
I've been expanding my beer tastes lately, but typically there are a few options at any brewery that I just … would never order again.
Yes, but: I've yet to find that "thanks, but no thanks" pour at Aslan Brewing Company, a Bellingham-based brewery which opened its Seattle taproom a few months before the pandemic hit.
What's on offer: 10 beers on tap — plus, food prepared by the stellar seafood restaurant next door, Local Tide.
I like the Tateyama, a Japanese-style rice lager with notes of jasmine that kept me wanting to come back for another sip.
I also happily downed a Mountain Crisp — a pale lager— on a recent visit, along with the B'ham Brown, which was full of chocolatey, malty goodness.
The vibe: Murals make for a vibrant and welcoming setting to sip a beer.
The crowd skews young and cool, but so far no one has told me to take a hike or given me side eye as I imbibe in my disheveled mom clothes.
The verdict: I plan to keep on going and chugging the occasional beer before it's time to pick my son up from daycare.
Details: Aslan Seattle, 401 N 36th St., Ste. 102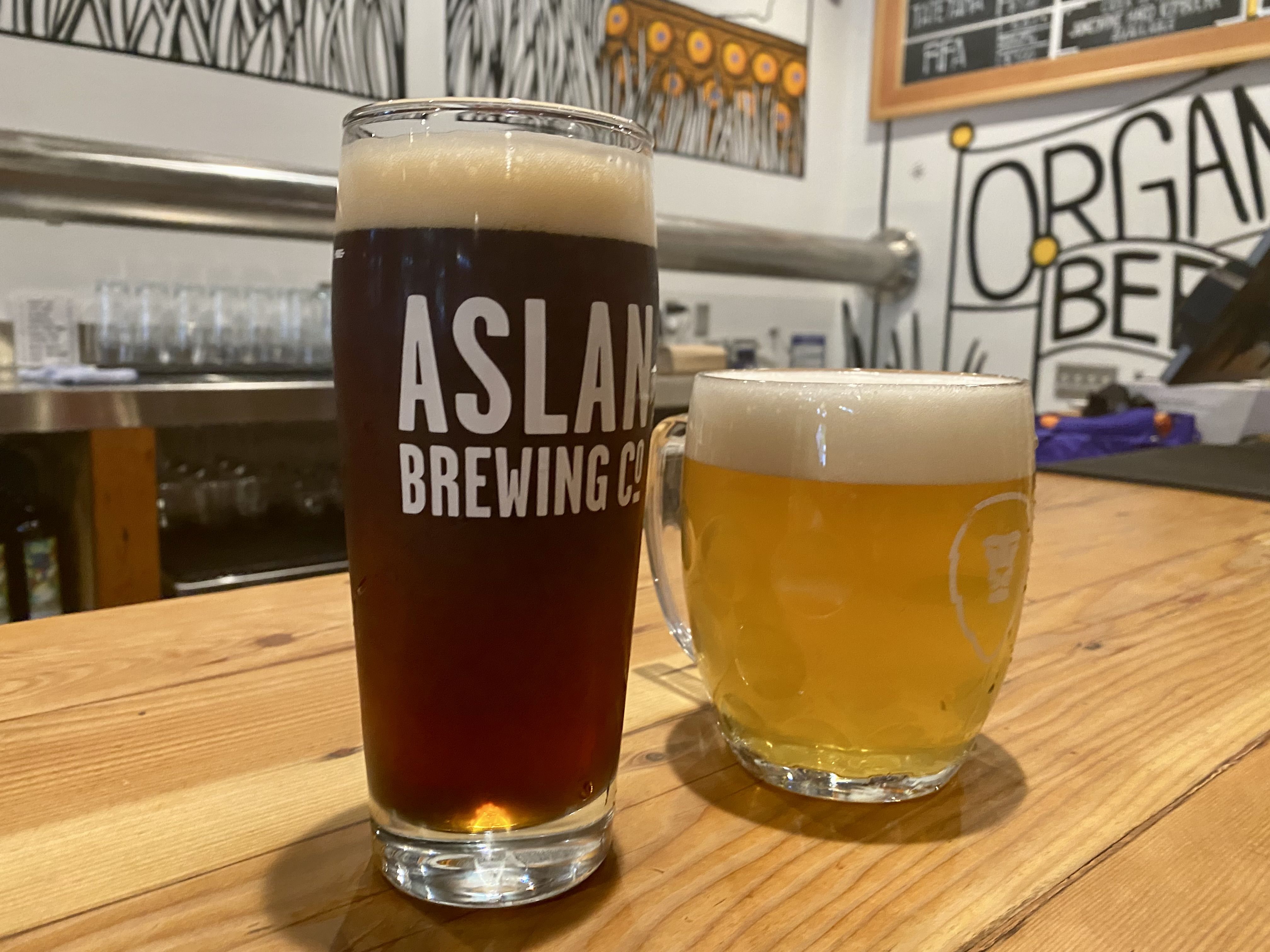 🗽Lewis is in New York City. He'll share more about his trip Monday.
⛱ Melissa is thinking about going paddleboarding this weekend, but might end up just reading a book at home instead to stay out of the heat.
Hope you have a lovely weekend! Same place — Monday.