June 21, 2022
It's Tuesday! Happy summer solstice and welcome back from what we hope was a restful weekend.
🌤 Today's weather: Mostly sunny with a high near 73. Sun for the first day of summer!
Situational awareness: Today is the longest day of the year in Seattle, with the sun rising at 5:11am and setting at 9:10pm. That's 15 hours, 59 minutes of daylight!
Today's newsletter is 961 words — a 4-minute read.
1 big thing: Making school lockdown drills less traumatic
A new Washington state law bans schools from holding active shooter drills if the exercise tries too hard to mimic the real thing.
Why it matters: Even after last month's school shooting in Uvalde, Texas, state officials say hyper-realistic enactments of school shootings aren't the best way to prepare kids and teachers — and may cause psychological harm instead.
A study published last year found that active shooter drills — which can include simulated gunfire, fake blood and even pretend attackers — increased students' levels of anxiety, stress and depression by about 40%.
What's happening: In March, Washington's legislature voted to ban such practice scenarios unless they are age-appropriate and trauma-informed.
What they're saying: Mike Donlin, school safety center program supervisor with the state Office of Superintendent of Public Instruction, told Axios that schools will still be required to hold regular safety drills, which include lockdowns.
But those exercises shouldn't include gruesome details or realistic reenactments.
"Doing those kinds of full scale exercises with blood and guts, and bullets and all that stuff — that's not good..." Donlin told Axios.
He added the state superintendent's office occasionally gets reports of those kinds of simulations at schools in Washington, although it's not an everyday occurrence.
The other side: State Sen. Mike Padden (R-Spokane Valley) said during a Senate floor debate in March that holding realistic shooter drills can help save kids' lives.
"Worse than trauma would be for some school student to be killed because they weren't properly prepared," said Padden, who voted against the measure, House Bill 1941.
The bottom line: Schools will still perform lockdown drills.
But their training will focus more on securing doors and getting familiar with safe evacuation routes, rather than trying to simulate the horror of a real-life shooting.
2. Inquest into Lyles shooting starts today
The long-awaited inquest into the 2017 fatal shooting of Charleena Lyles by two Seattle police officers begins at 9am today — and the public can watch it live.
The latest: In a ruling late Friday, inquest administrator Michael Spearman opted to allow a live public video feed, denying requests to ban it made by lawyers for officers Jason Anderson and Steven McNew.
The officers contended a live video feed could potentially subject them and their families to harassment.
A lawyer for Lyles' family countered it was necessary to meet the inquest's public transparency standards.
What they're saying: Spearman ruled that while the officers raised legitimate safety concerns, they "fail to establish how" banning the live stream would reduce potential threats or "warrant limiting the openness and transparency of the proceedings."
Why it matters: The inquest into Lyles' death, which was delayed for years, marks a key milestone in the post-George Floyd-era of police accountability reforms in Washington state.
It's only the second inquest so far under King County's newly overhauled rules for the formal inquiries, which determine facts surrounding law enforcement-related fatalities.
Lyles' inquest is scheduled through July 6.
Background: The officers fatally shot Lyles, 30, a domestic violence victim with mental health problems, after she tried to attack them with a knife when they responded to her 911 call.
Questions have since simmered about whether the two white officers had to use deadly force against the Black mother of four.
Yes, but: The officers have yet to indicate whether they'll testify or refuse by invoking their 5th Amendment rights.
If they take the 5th, Karen Koehler, a lawyer for Lyles' family, has signaled she'll seek to introduce the officers' video depositions from the family's civil case against the city, which led to a $3.5 million settlement.
3. Morning Buzz: Host money and hate groups
Fresh job openings around town
4. The word we can't spell
Washington's most searched word after the phrase "how do you spell..." is experience, according to a 2022 analysis by Google Trends.
Somewhere, Seattle's Jimi Hendrix and his bandmates are rolling in their graves.
But at least we're not as awkward as Oregon. That's just sorry (no offense, North Dakota!).
5. Coffee stop: Cafe Allegro
In a city and neighborhood where everything around it has changed, Cafe Allegro in the University District somehow stays the same.
Why it matters: That's always been part of Cafe Allegro's charm — a little bit of old Seattle amid things built up shinier and newer.
While the coffee shop is well known — it's been around since 1975 — you still feel like you are discovering something secret when you are here.
The spot: The cafe was down an alley when I was in college at the University of Washington, but now it feels even more tucked away, facing the back of a newer office building.
The exposed brick and ivy climbing the wall of the bookshop next door will make you feel like getting literary.
Pro tip: The place often looks full, but rest assured, there's more space.
After you buy your cup of coffee, head back outside and go through the big, black door, which leads to the cafe's upper floor and cozy balcony.
They're known for espresso, but I like their drip coffee, too. I often get it in a big glass mug and take it upstairs while I work.
Details: While the address is 4214 University Way NE, you'll have to go along NE 42nd Street to find the alleyway entrance.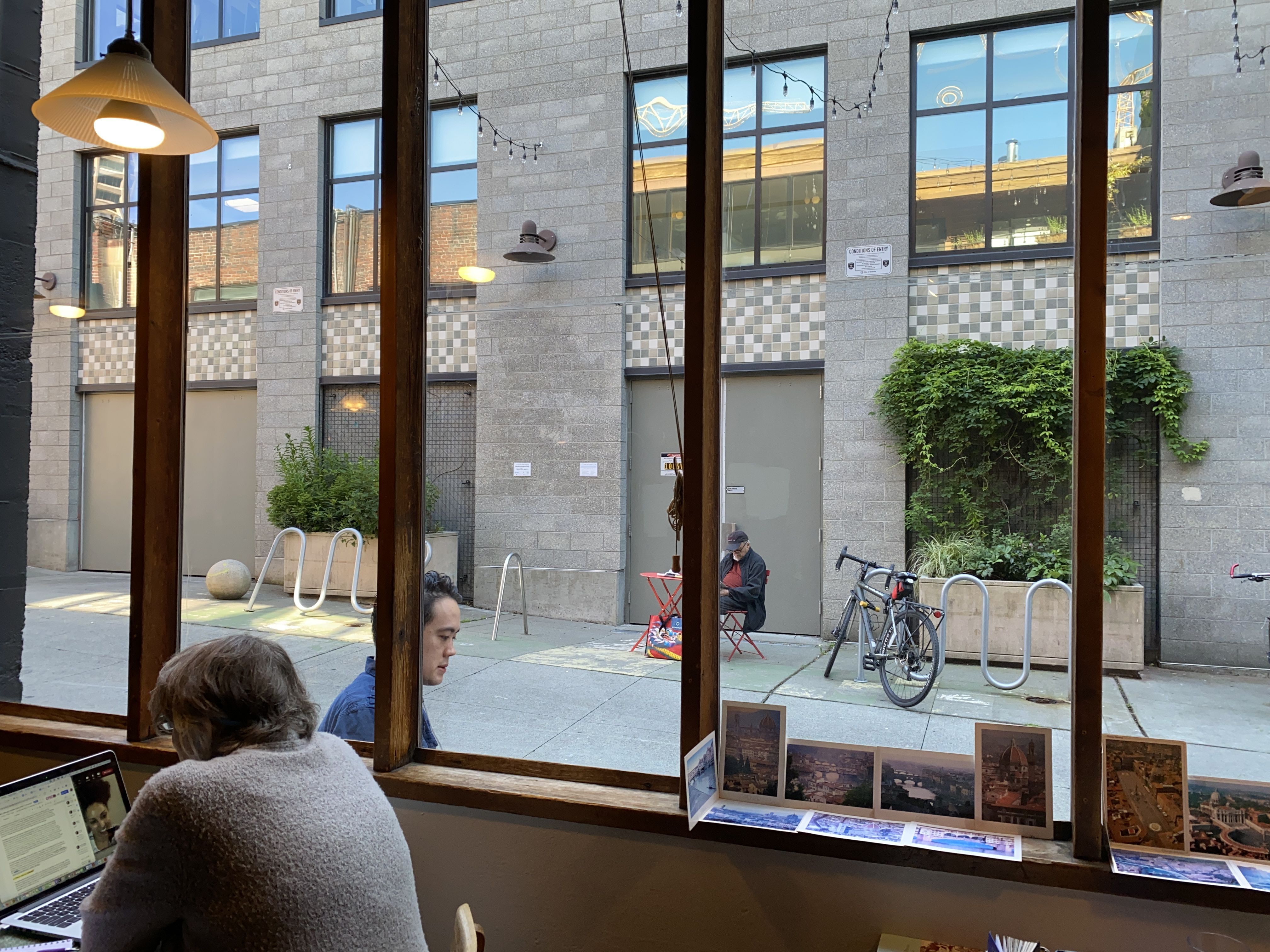 🌊 Melissa is trying to get back into the rhythm of the week after wandering Whidbey Island's beaches all weekend.
📷 Lewis captured this photo of a soaring eagle after mountain biking in Port Gamble on Father's Day. More bird pics!
Want free Axios swag? Refer your friends to Axios Seattle and get cool merch like stickers, totes, hats, T-shirts and more!
To ensure the newsletter reaches your inbox, please add [email protected] to your contacts. If you use Gmail, just drag this email to your "Primary" tab. For other mail clients, check out this page.