Thanks for subscribing to Axios Science. Please consider inviting your friends and colleagues to sign up. I appreciate any tips or feedback — simply reply to this email or send me a message at [email protected].
Situational awareness: Have you checked out Axios' Instagram yet? Follow us to see our latest illustrations, data visualizations and more.
1 big thing: Congo's deadly mix of conflict and disease
Health officials' longstanding fears about the potent mix of armed conflict in weak states — combined with a highly infectious disease outbreak — are being realized. In the Democratic Republic of the Congo (DRC), an Ebola virus outbreak is now at a tipping point and threatens to expand.
Background: The current outbreak began on Aug. 1 and appeared to be slowing down, as most of the new cases were contacts of known infected people. However, as security deteriorated, other cases emerged.
The latest: The World Health Organization met on Wednesday and decided not to declare the outbreak a "Public Health Emergency of International Concern," which could've triggered international travel restrictions. They determined such a step could actually hinder the international response to the outbreak.
But the security situation in DRC keeps getting worse — there were 8 major security incidents in north Kivu in the last 8 weeks, per WHO.
The violence has led to an interruption in public health initiatives — including efforts to quarantine those who may be infected, to vaccinate all "contacts" of people who were infected, and to educate pockets of people who are suspicious of health care workers.
There's been a spike in new cases — with special concern that roughly half of them are in people who are not on contact lists of previously known patients, meaning the outbreak is spreading.
As security deteriorates, cases of the disease are surging — 25% of all suspected and confirmed cases were recorded in the first 2 weeks of this month alone.
Details: The violence has been serious enough to cause the CDC to withdraw its Ebola experts from field work in that area.
The CDC says it moved an Ebola expert adviser, a vaccine expert and a border health expert to Kinshasa, which is more than 1,500 kilometers from the emerging epicenter of the outbreak in Beni.
Since the start of the outbreak, the U.S. has deployed more than two-dozen experts from USAID and the CDC to support preparedness and response in the DRC and neighboring countries.
CDC's experts "are still very involved in the response even from Kinshasa and the Ministry of Health has regular videoconferences with the CDC team in Atlanta. So no we do not believe this will hamper our efforts to contain the outbreak as many local and international experts continue their work in the field," DRC Health Ministry spokesperson Jessica Ilunga tells Axios.
Vaccination impact: The DRC's Health Ministry mobilized an experimental ring vaccination campaign a week after the first case was reported. Between Aug. 8 and Oct. 17, nearly 19,000 people were vaccinated, the DRC Health Ministry says.
Still, Julie Fischer, co-director of the Center for Global Health Science and Security at Georgetown University, tells Axios there's a "real risk this outbreak is ready to explode locally."
The bottom line: This outbreak is nowhere near over. The longer it lasts, the greater the chances of it spreading. However, the WHO says it has confidence that at-risk neighboring countries are prepared.
Go deeper: Read full story here.
2. Our cultural history is at risk from sea level rise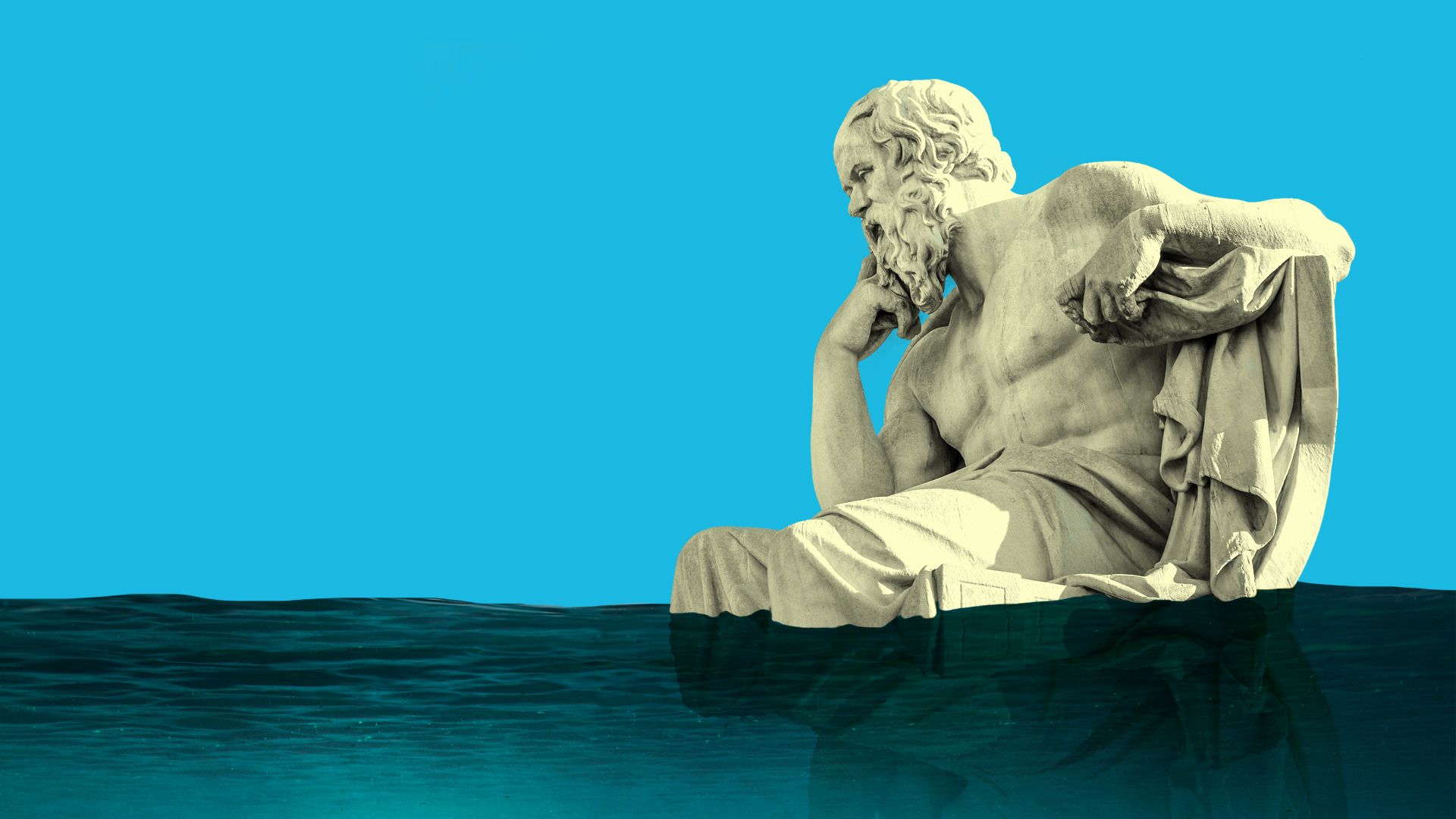 Sea level rise due primarily to global warming threatens to submerge dozens of the most culturally significant sites in the Mediterranean.
In Italy alone, at least 13 UNESCO World Heritage Sites are at risk according to a new study, published this week in Nature Communications.
"Mediterranean society has been centered on the coast and sea for millennia. Much of the cultural heritage is therefore in the hazard zone."
— Richard Tol, study co-author and professor at the University of Sussex
What they did: A team of researchers from European institutions produced the first-ever risk assessment of cultural UNESCO World Heritage Sites.
The team calculated the flood risk and exposure to erosion over the next 100 years under different scenarios involving low, medium or high greenhouse gas emissions for 49 World Heritage Sites located at the coast and within 10 meters, or 33 feet, above sea level.
Not surprisingly, the World Heritage Site most at risk to sea level rise is Venice and its lagoon, but costly protective measures are already being put into place there, in the form of a retractable barrier.
After Italy, Croatia and Greece are home to the most at-risk sites.
Only 2 out of the 49 sites in the study — Medina of Tunis and Xanthos-Letoon, an archaeological complex in Greece, were found to be safe from either flooding or erosion by 2100 under all of the scenarios studied.
What's next: The researchers note that adaptation options may be limited.
"It is relatively easy to protect a working city, although it may be expensive and the political will may be lacking," Tol tells Axios. "Heritage is more difficult as dikes and seawalls may ruin the very thing we seek to preserve."
Go deeper: Catch up with the NYT's project on covering climate change's threat to World Heritage Sites.
3. Axios stories worthy of your time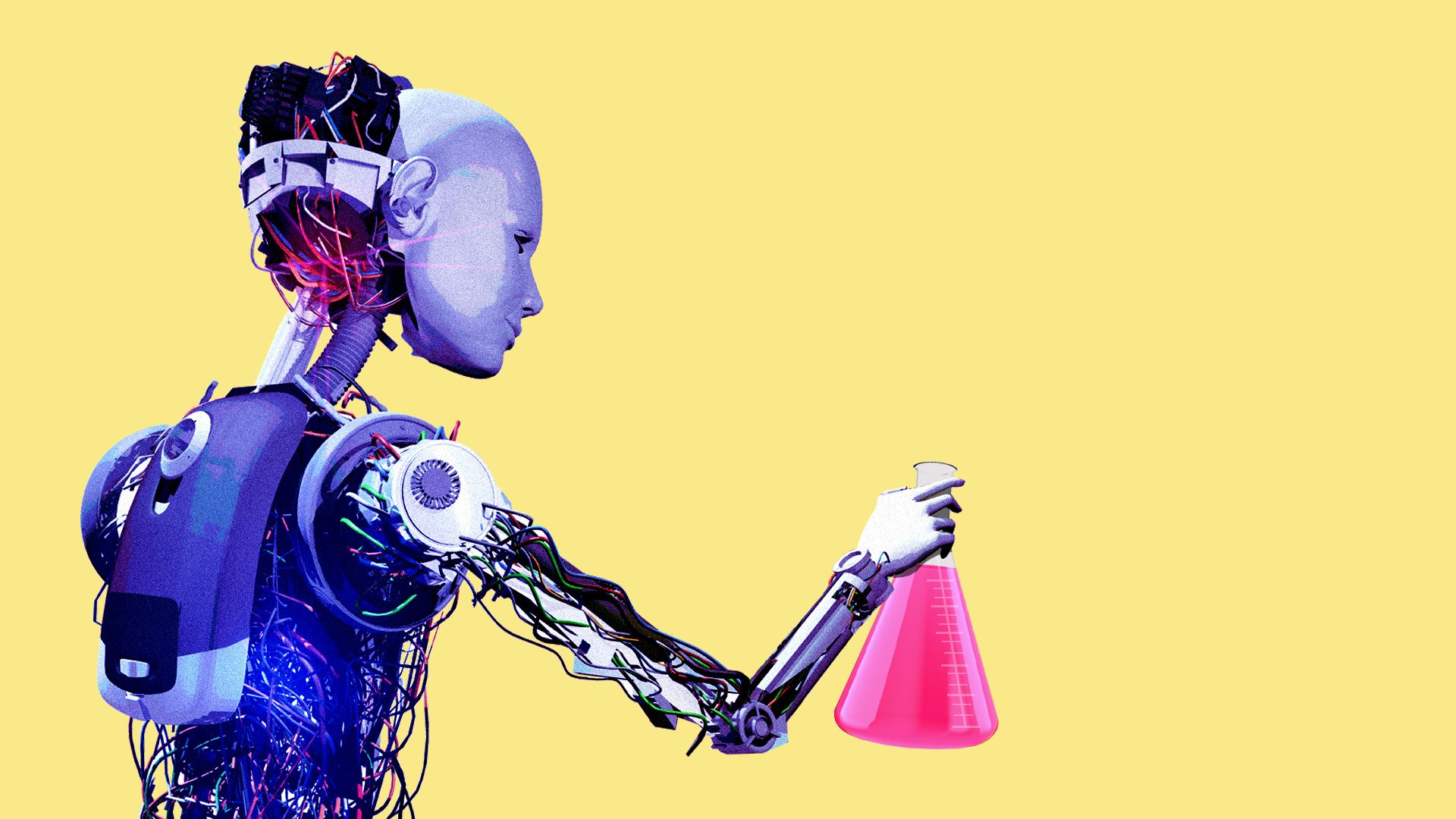 Automated science: Artificial intelligence and nimble robots are allowing scientists to do more experiments — and faster, Kaveh Waddell writes.
Mysterious illness: Public health officials are seeking the cause of an illness that causes polio-like partial paralysis in young children — one that is suspected of already causing 127 cases in 22 states this year so far, Eileen Drage O'Reilly reports.
Climate costs: Felix Salmon breaks down the cost of a 1.5°C increase in global temperature — and the case for taxing carbon. "Human civilization has reached the very end of reaping the dividends from a stable climate."
Birth costs: From the Axios video team, the average sticker price for childbirth in the U.S. is $32,093.
Climate divide: Ben Geman surfaces polling data showing the immense partisan gap on climate science and policy.
4. What we're reading elsewhere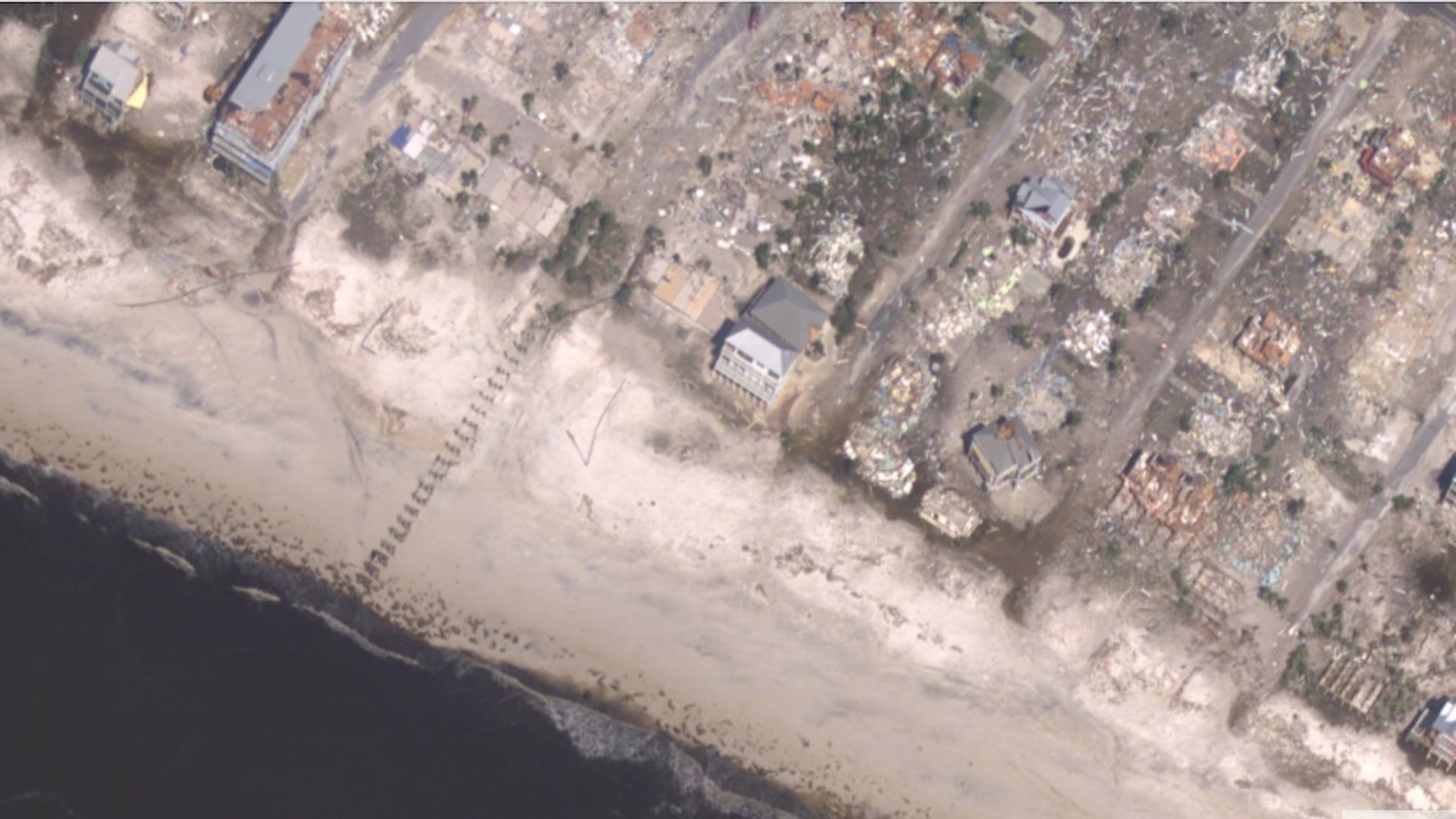 The house that survived: One house stands out among the decimated homes in Mexico Beach, Fla., following Hurricane Michael's rampage through that tiny community. The house was built to survive a powerful hurricane, and may lead to best practices for rebuilding, NYT's Patricia Mazzei writes.
Shrinking giant: A colony of roughly 47,000 quaking aspen trees in Utah — considered the largest organism on Earth — is being threatened by human encroachment and grazing animals that feed on the younger trees, NYT's JoAnna Klein reports.
Digital smell: Researchers in Malaysia are experimenting with electrically stimulating cells in the nose so that people perceive a particular odor, per IEEE's Eliza Strickland. Their goal: a "multisensory internet."
Origins: A debate is ignited about the nature of 3.7 billion-year-old formations in Greenland — Are they fossils from ancient bacteria? Or, are they ancient rocks exquisitely eroded? The answer could have implications for when and how life arose on Earth, Ed Yong writes in The Atlantic.
5. Something wondrous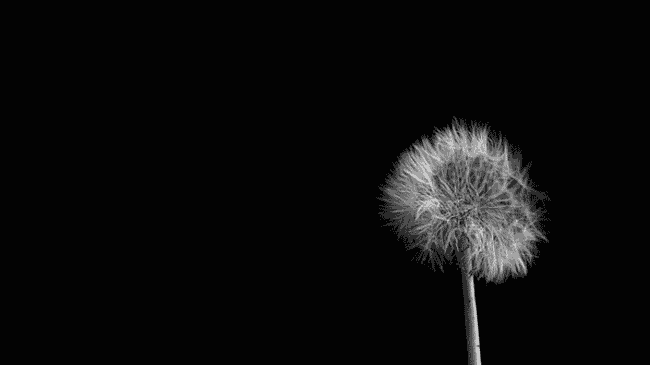 Dandelion seeds detaching from the seed head. Video: Oleksandr Zhdanov/University of Glasgow and Madeleine Seale/University of Edinburgh; GIF: Axios Visuals
How the dandelion seed sails through the air — often for meters but sometimes kilometers — is a feat of fluid dynamics unknown.
Using high-speed video, a vertical wind tunnel and mathematical models, researchers at the University of Edinburgh studied the pappus — the disc-shaped group of bristled filaments that helps dandelion seeds to stay in the air. They reported this week in Nature that the structure allows air through and, in turn, creates "an extraordinary type of vortex" — essentially a ring of air, formed and held between low pressure above the filaments and higher pressure below it.
The result? The porous pappus "delivers more than four times the amount of drag per unit area" compared to other structures for transporting seeds, such as wing-like formations.
The study results may be applicable well beyond just understanding how these plants work. "We found a natural solution for flight that minimises the material and energy costs, which can be applied to engineering of sustainable technology," study author Cathal Cummins told the BBC.
Thanks so much for reading. See you next Thursday.