Thanks for subscribing to Axios Science. Please consider inviting your friends, family and colleagues to sign up.
I appreciate any tips, scoops and feedback — simply reply to this email or send me a message at [email protected].
1 big thing: NASA Commercial Crew program nears major milestone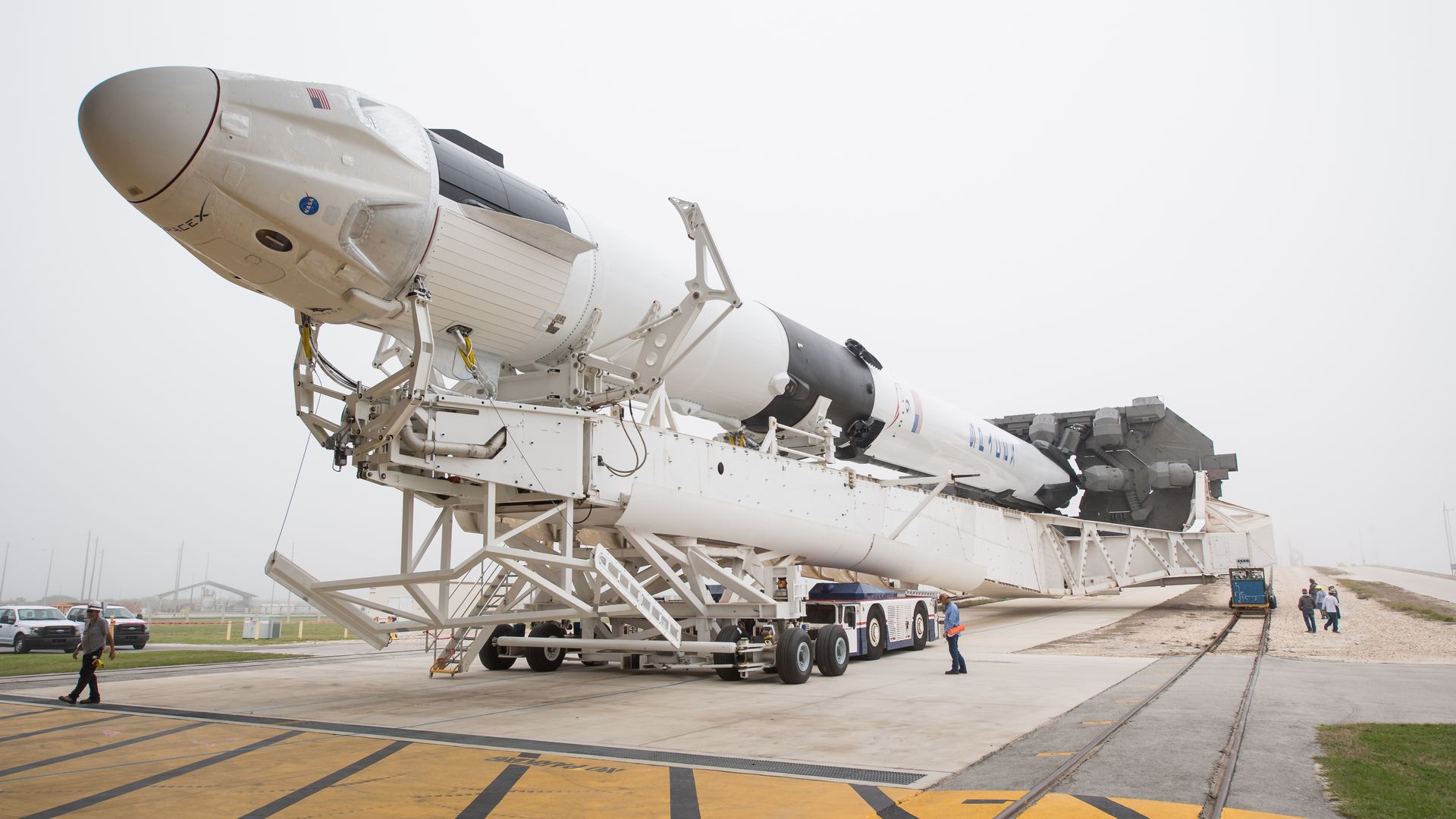 Early Saturday morning, the U.S. will take a key step toward restoring its capability to launch astronauts from its own soil when a SpaceX rocket blasts off from Cape Canaveral, Florida.
Why it matters: Being able to launch astronauts from U.S. soil for the first time since the Space Shuttle program ended in 2011 means NASA will no longer be dependent on Russian rockets for hitching rides to the Space Station, at a cost of about $75 million per seat.
The big picture: The launch at 2:49 am Saturday signals a passing of the baton from government-led space missions to public-private partnerships in which billionaires like Elon Musk, who founded and leads SpaceX, will share the credit for U.S. space exploration.
This will be the first time a privately built spacecraft designed to carry astronauts will launch to the space station.
No one will be riding in the capsule on Saturday, but it will include a heavily wired dummy named Ripley (in homage to "Alien").
Details: During the 6-day mission, SpaceX's Crew Dragon will attempt to dock autonomously with the ISS, thereby testing most of the capabilities of the crew transport system.
The demo launch is part of NASA's long-delayed Commercial Crew program, under which a combined $6.8 billion in contracts has been awarded to SpaceX and Boeing.
The capsule will include a test device containing sensors that will allow SpaceX and NASA officials to get a better idea of what a person would be exposed to in terms of G-forces and radiation.
Boeing will test its CST-100 Starliner vehicle in March.
The demo-1 flight is expected to reveal some flaws in the SpaceX system in order for them to be fixed before it carries humans.
"I fully expect we're going to learn something on this flight. I fully expect everything will not work exactly right, and that's cool. That's exactly what we want to do "
— William Gerstenmaier, the associate administrator for NASA's human spaceflight program
Yes, but: Before they can launch humans into space, SpaceX and Boeing must meet strict safety requirements, including limiting the risk of loss or permanent disability of crew to at or below a 1-in-270 chance.
Difficulty in meeting this safety requirement, as well as design and production challenges, have led to considerable delays in the Commercial Crew program.
NASA is hedging its bets against the possibility of further delays by considering the purchase of two additional Soyuz seats in 2019 and 2020, Space News reports.
What to watch: NASA is overseeing and certifying these companies, but it is now taking on the role of supporting player. This doesn't mean NASA will fade into the background, however, says Eric Stallmer, president of the Commercial Spaceflight Federation, which promotes the development of the commercial space sector.
"NASA is an iconic brand and is going to continue to do incredible things," Stallmer tells Axios.
"We're a commercially minded nation," he says. He called it "a national embarrassment" that the U.S. has gone about 8 years without the ability to launch its own astronauts.
What's next: An in-flight, uncrewed abort test will take place after the demo-1 mission. Assuming all goes smoothly and the company meets certification requirements, then the first crewed SpaceX test flight to the ISS, with astronauts Bob Behnken and Doug Hurley on board, could blast off as early as July. The Boeing timeline is proceeding at a similar pace.
2. Scientists try to monitor preterm babies wirelessly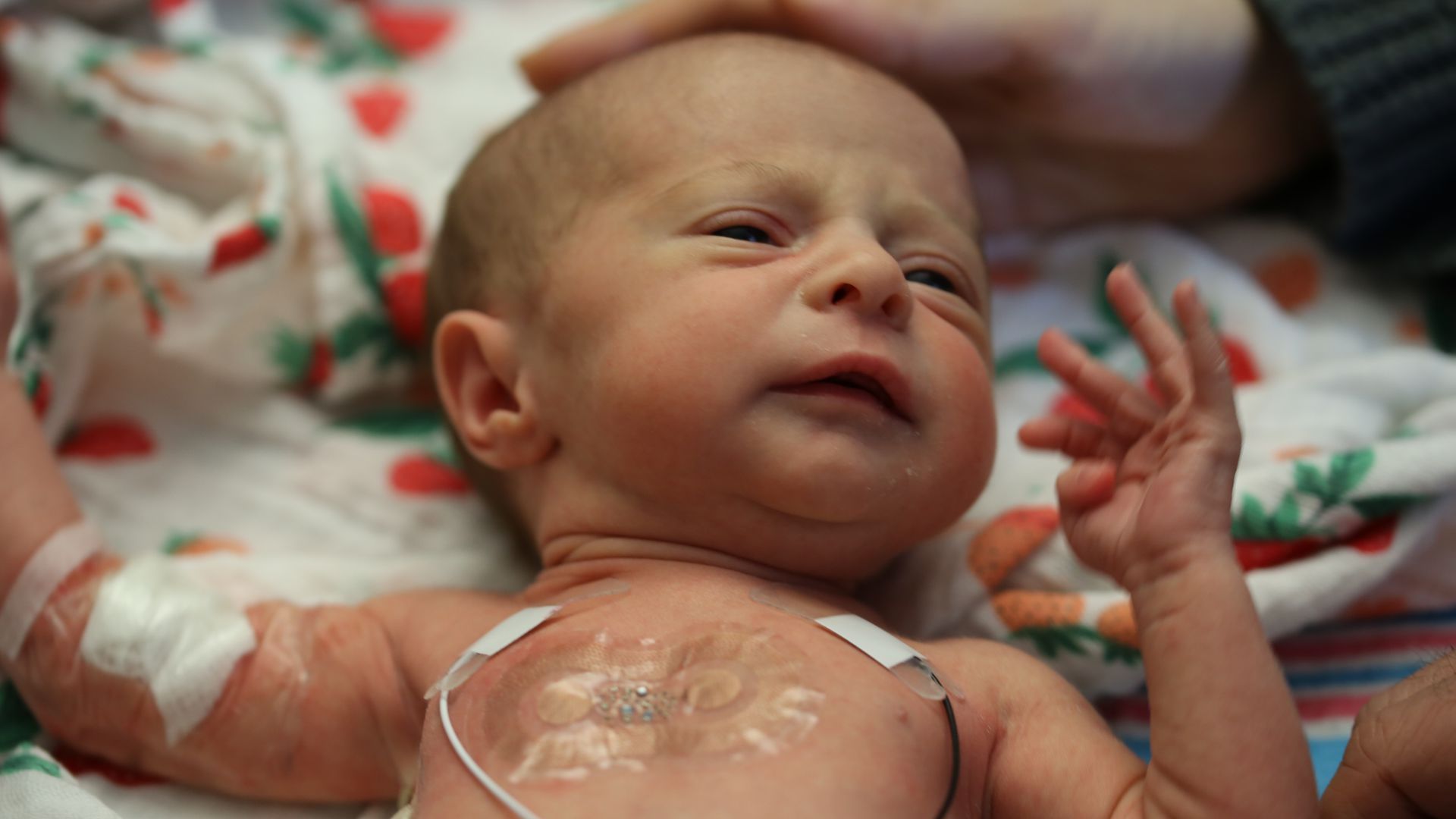 Researchers say they have developed a new way to monitor preterm babies using cordless, wafer-thin integrated technology and soft mechanics with little or no adhesive, according to a study published in Science Thursday, Eileen Drage O'Reilly writes.
Why it matters: While the technology is in the early stages of testing, this could give doctors and nurses better access and monitoring abilities, while allowing the baby to move more freely. Importantly, it would also offer parents a better bonding experience.
Background: Current technology, first developed in the 1960s, uses rigid electrodes with strong adhesives on the baby. These are connected to computing systems that monitor heart rate and oxygen saturation.
For those born with critical issues, more monitors are often added, such as those to check the levels of carbon dioxide breathed out, monitor other breathing parameters, and watch electric brain wave activity.
The adhesives can damage and even scar the underdeveloped skin of preemies, says study co-author Steve Xu of Northwestern University.
What they did: The researchers worked on developing soft mechanics and adhesives that wouldn't damage a baby's skin and creating the lightest technology that could operate without wires or batteries, but could still monitor and integrate vital signs, Xu says.
The outside of the sensor uses recent advances in materials science and biomedical engineering to create a skin-like silicone material encasing the technology.
Using near-field communication (similar to Apple Pay), the sensors collect vital signs data at high sampling frequencies and use a bluetooth chip to transmit the data to a mobile device.
The device is powered wirelessly through radio frequency energy.
They tested this on 21 preemies (while simultaneously using a traditional monitoring system) for the published study and conducted further testing on around 60 more babies, with the same results, says study co-author Amy S. Paller of Northwestern University.
What they found: Paller says they're "thrilled" at the accuracy of the sensors, the fact they work well when wet, and are compatible with advanced medical imaging techniques like MRI and CT scans. None of the babies have experienced any negative side effects, she adds.
"The technology is fascinating and an exciting example of applied engineering being formulated and utilized to assist the care of some of our littlest, most fragile infants."
— Lawrence Eichenfield, chief of pediatric and adolescent dermatology, Rady Children's Hospital-San Diego, who was not part of this study
What's next: Paller says the team is planning to start a large trial in Zambia, India and Pakistan later this year and will continue research in the U.S. If all goes well, she says they hope to have FDA approval in about 5 years.
Go deeper: Scientists try to monitor preterm babies' vitals wirelessly
3. Violence sets back Ebola treatment in the DRC
The World Health Organization Thursday said it was deeply concerned over 2 violent attacks on Ebola treatment centers in 2 cities in the Democratic Republic of the Congo this past week that resulted in fatalities, traumatized patients and health care workers, and destroyed key medical facilities, Eileen reports.
Why it matters: Doctors without Borders (MSF), one of the lead international organizations involved in the DRC's efforts to contain the deadly virus, is now suspending its medical activities in the heart of the outbreak in Butembo and Katwa after its treatment centers were attacked.
As seen with prior violence that halted health care efforts, interruptions in efforts to diagnose and treat infected people and vaccinate others can lead to an increase in new infections and deaths.
What's happening: A "toxic environment" has been created by a combination of people who don't believe Ebola exists and don't trust the government or international relief workers' efforts plus local politicians "promoting lies about Ebola," DRC spokesperson Jessica Ilunga tells Axios.
"Such attacks are deplorable for their immediate impact on lives and for the risk of spreading the disease further. They are profoundly disrespectful of the dedicated work of local, regional and international responders," WHO said in its statement.
What's next: MSF says it will continue its operations in other parts of the DRC, including in the towns of Kayna and Lubéru. The organization has also been supporting emergency preparedness in the city of Goma.
Meanwhile, DRC health officials are looking for some patients who are missing after the attacks — some with confirmed cases of Ebola and others suspected of being infected — who had been in the Butembo treatment center, Ilunga says
"We are of course extremely worried. Health agents should never be the target of violence. They have the right to be safe when they are saving lives."
— Jessica Ilunga, DRC Health Ministry
Go deeper: World Health Organization "deeply concerned" over attacks on Ebola clinics
4. Arctic Ocean could be seasonally ice-free as soon as 2030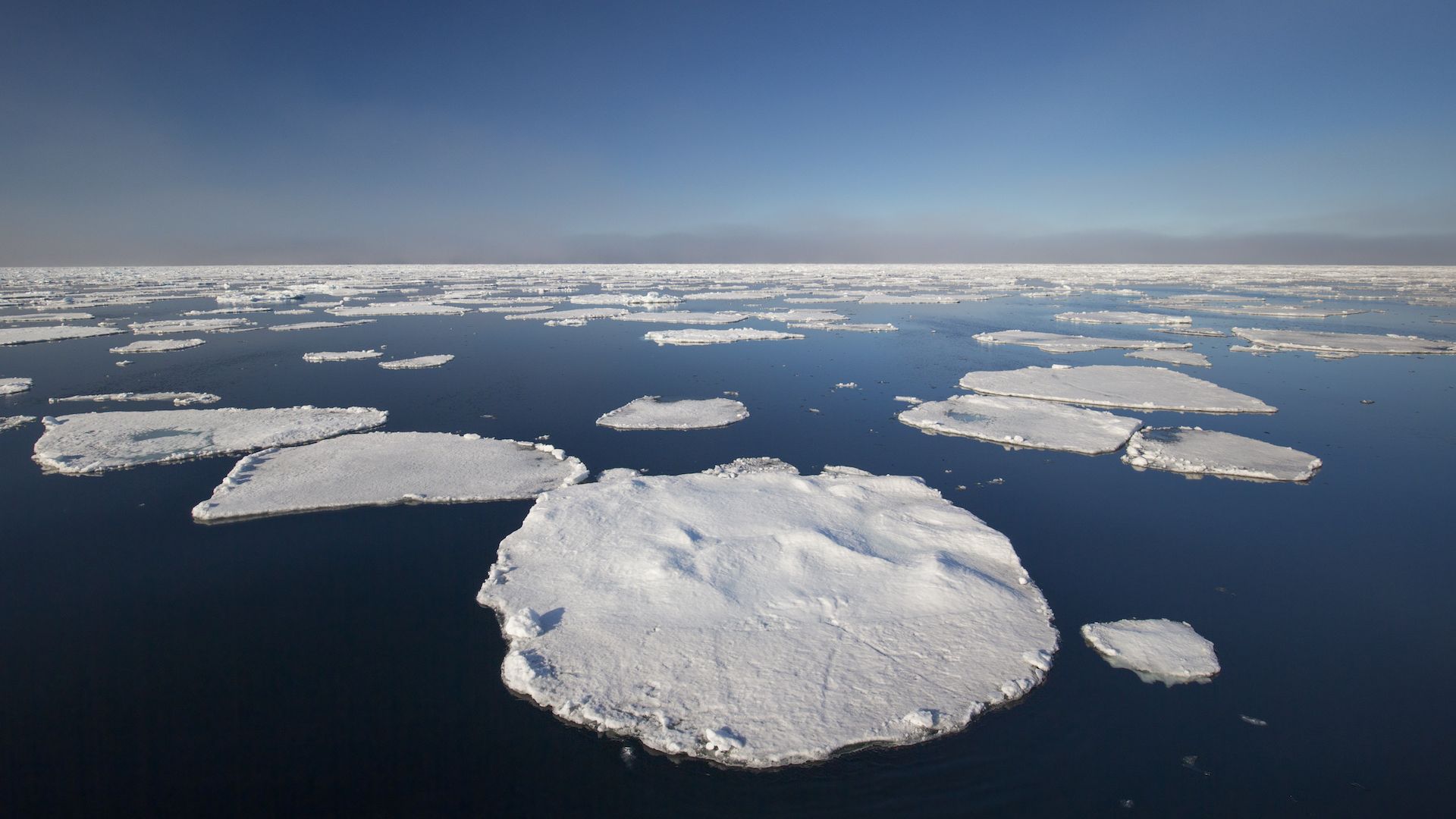 The Arctic Ocean could become seasonally free of sea ice on the earlier side of the 2030–2050 time period, due to the combination of global warming and natural variability, a new study finds.
Why it matters: The study zeroes in on the role played by a natural climate cycle in the Pacific Ocean, known as the Interdecadal Pacific Oscillation (IPO), which can transport more heat into the Arctic, quickening ice melt.
Details: According to the study, published in Geophysical Research Letters, Pacific Ocean variability influences when seasonally ice-free conditions will emerge.
It's human-driven climate change that's driving sea ice trends over the longer-term.
Ice loss occurs more rapidly when the IPO transitions from its negative to positive phase.
The IPO influences prevailing atmospheric wind patterns, which change the amount of heat transported into the Arctic from lower latitudes.
Details: In the past few years, the IPO has started to shift from negative to positive, and if this continues, the study shows, there's an increased chance of more rapid ice loss during the next few decades. This could cause ice-free summers to emerge as early as 2030, though this date isn't precise.
What they're saying:
"Based on our analysis the phase of the IPO implies that, all other things being equal, an ice-free Arctic is more likely to be on the earlier side of that 20-year window than on the later side," study co-author James Screen, of the University of Exeter, tells Axios.
"If the IPO gets into the right phase, we may see a seasonally ice-free Arctic Ocean sooner rather than later. But there is a deeper issue: Can we predict the phase of the IPO? As far as I am aware, we're not there yet," Mark Serreze, director of the National Snow and Ice Data Center, tells Axios. He was not involved in the new study.
But, but, but: Researchers didn't look at whether enhanced heat transport would occur via short, intense warm surges or longer-term, slower warm advection. In recent years, the Arctic has seen a sharp uptick in short-lived but disruptive warm surges, including this winter.
5. Axios stories worthy of your time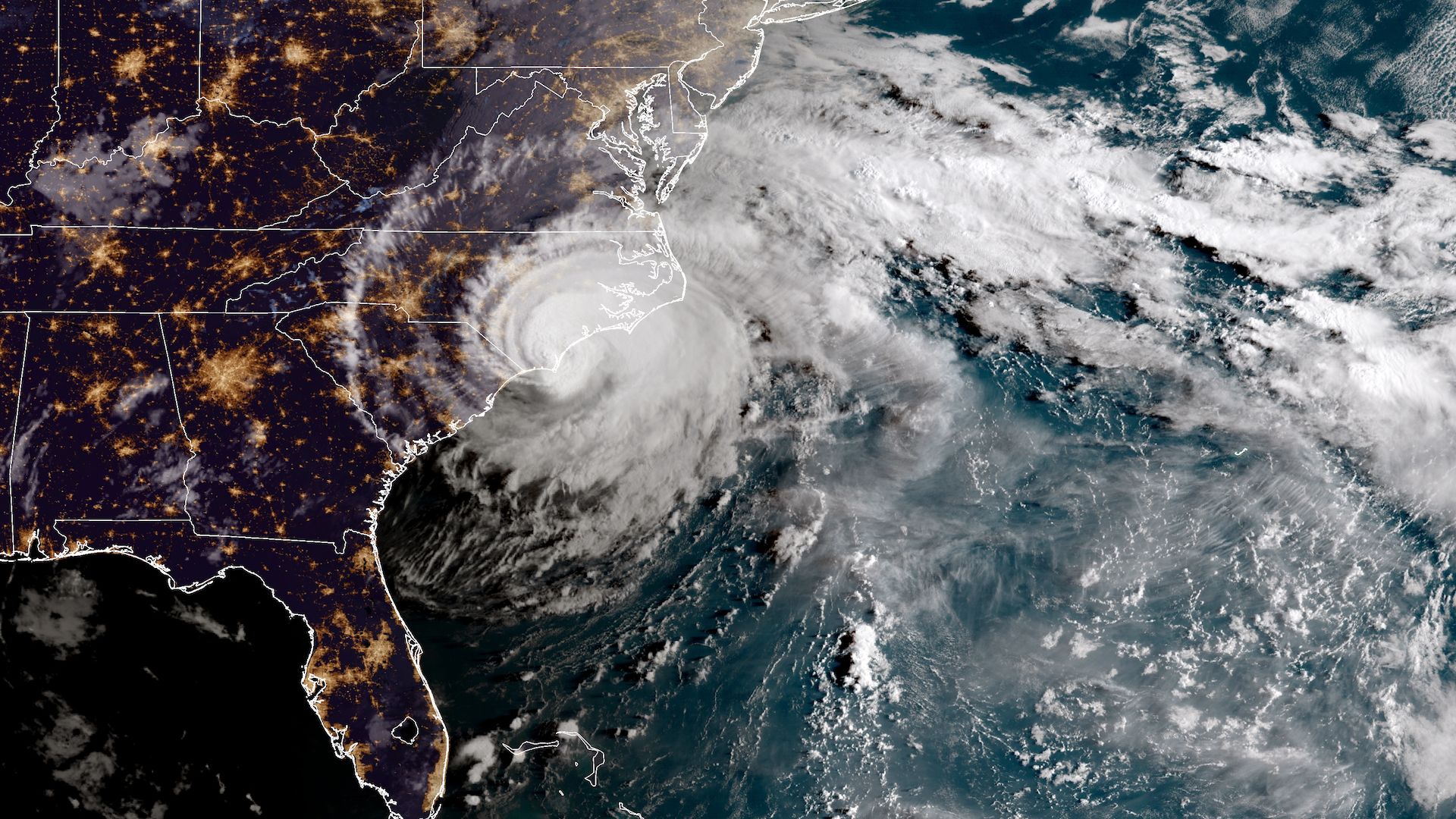 Sudden leadership shakeup hits NOAA: The nation's top oceans, weather and climate agency now has a new acting administrator.
Genetic testing firms share your DNA data more than you think: That DNA testing company you used may share your data with law enforcement or others, Kim Hart writes.
Congressman says climate change isn't real because ... plants: GOP Rep. Paul Gosar dismissed climate change concerns on the basis of photosynthesis.
Scientists slam report of White House climate change review panel: Scientists objected to the White House's plan for an "adversarial peer review" committee on climate.
6. What we're reading elsewhere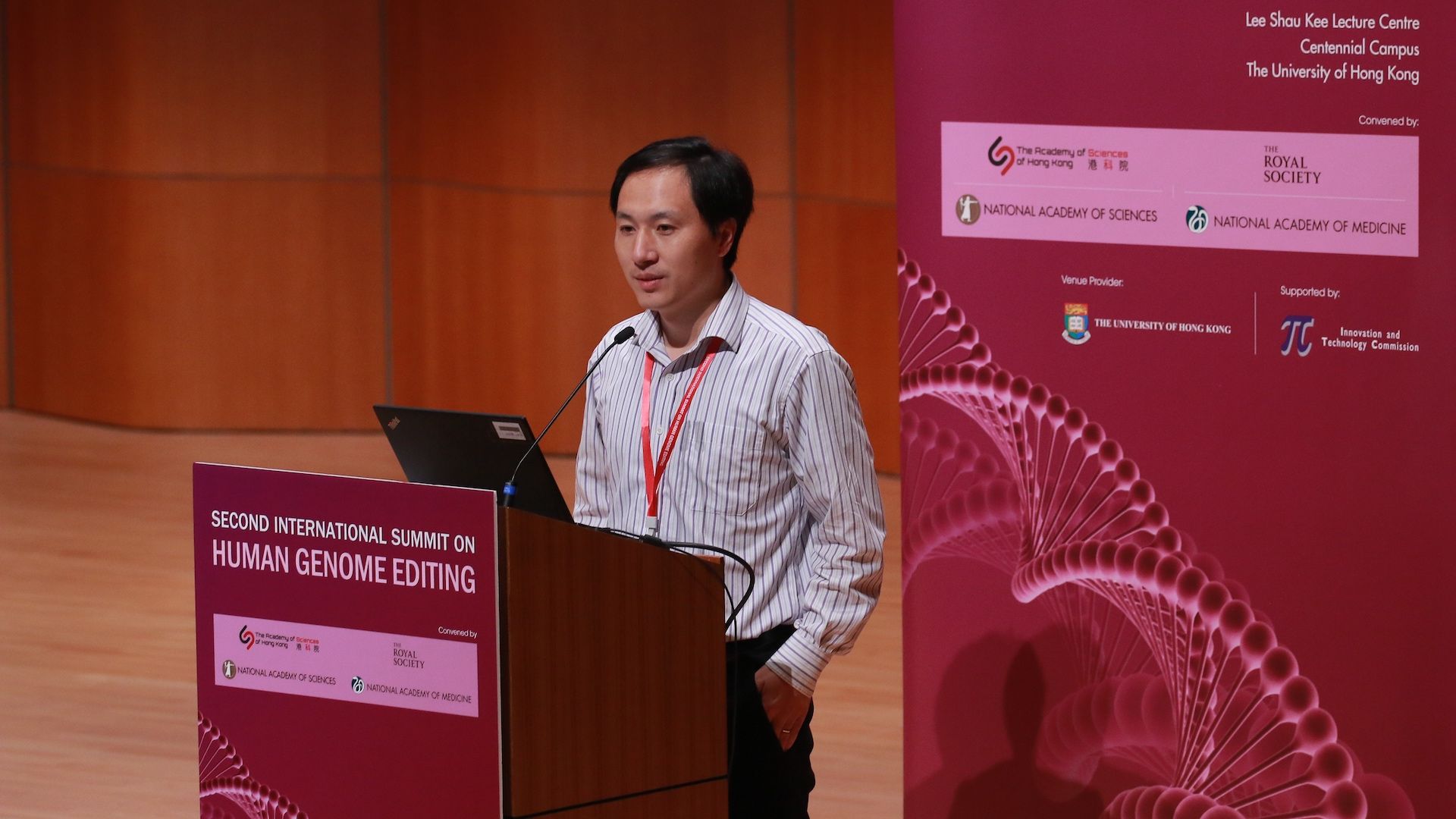 7. Something wondrous: How blue whales find food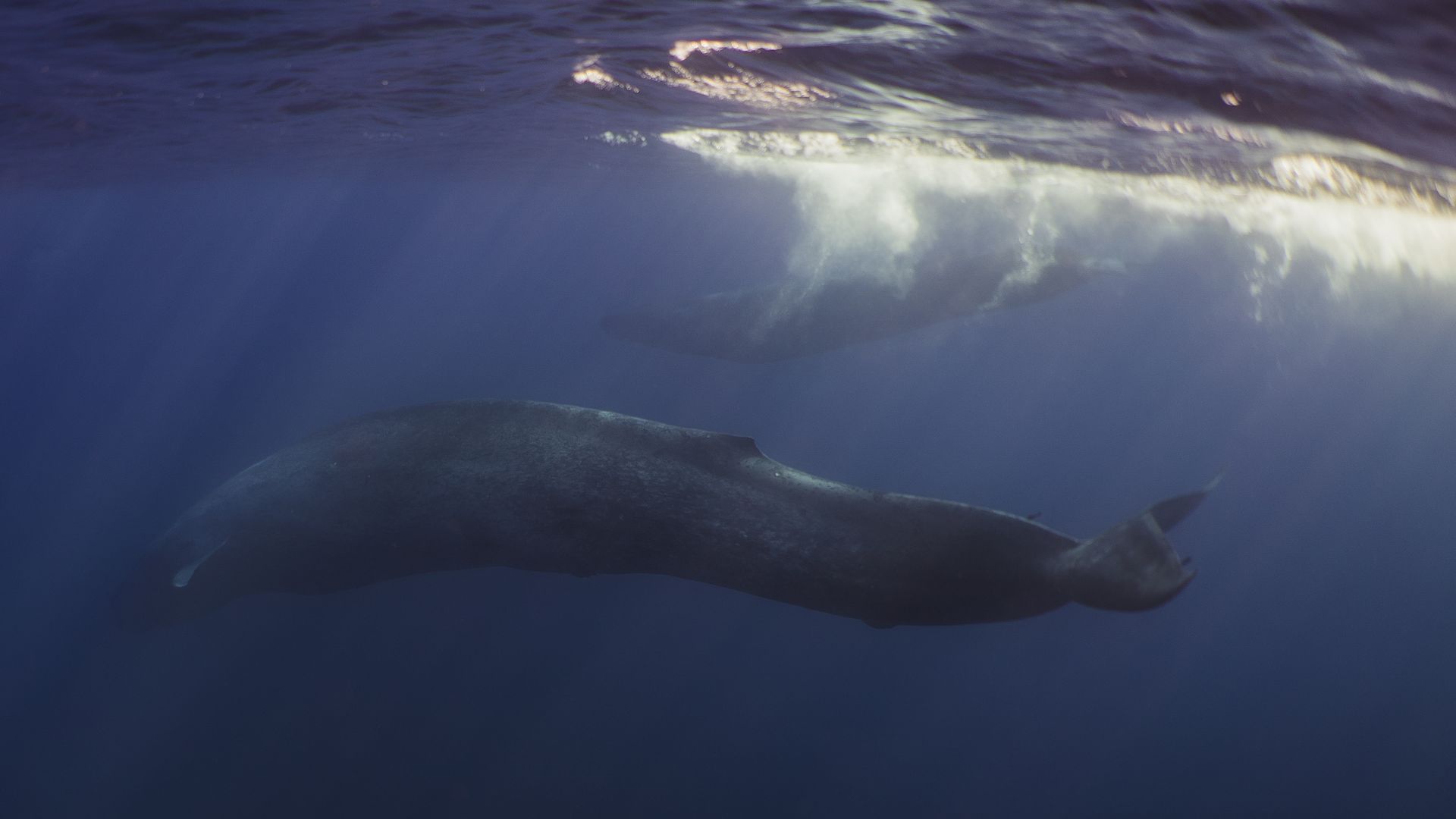 Blue whales, which are the largest creatures on Earth, rely on their memory of productive foraging sites in order to seek out prey.
Why it matters: This insight, which comes from a new study in Proceedings of the National Academy of Sciences, helps explain how these oceanic behemoths can reach such massive sizes. It also identifies a vulnerability that could challenge the species as warming and acidifying waters cause fish to shift in abundance and range, making historical knowledge less useful to the emerging reality.
What they did: Researchers examined 10 years of movement data for 60 blue whales, each of which was tracked via satellite tracking tags, in the California Current Ecosystem, as well as oceanographic conditions involving the emergence of waves of krill, a small, shrimp-like crustacean that serves as a key food source for blue whales.
What they found: Researchers learned that whale migration more closely matches the 10-year average location of the spring green-up in this region compared to the contemporaneous conditions, which varied more significantly.
In other words, as blue whales migrate thousands of miles across the world's oceans, they seek out areas that are their historical best bets, as if consulting a self-taught guidebook to eating krill.
Context: Researchers have long been able to examine timing of food availability along land migration routes, but assessing such interactions in marine ecosystems provides greater challenges.
"These long-lived, highly intelligent animals are making movement decisions based on their expectations of where and when food will be available during their migrations," says Briana Abrahms, a research ecologist with NOAA and lead author of the new study, in a press release.
Why you'll hear about this again: Phenology, which is the study of life cycle events in the natural world, is already revealing sensitivities to climate change, with changes in the timing of flowering plants posing challenges for pollinators that arrive too early or late, for example.
The new study leaves unanswered the question of what will happen to blue whale populations if warming and acidifying ocean waters from climate change cause food availability to change dramatically, making a history-based hunting strategy less effective.
Thanks so much for reading, and have a great week! See you back here next Thursday.