Thanks for subscribing to Axios Science. Please consider inviting your friends and colleagues to sign up. I appreciate any tips or feedback — simply reply to this email or send me a message at [email protected].
Exciting news! Axios' new autonomous vehicles newsletter has an expert (human) reporter at the wheel now (sorry, had to). Veteran auto reporter Joann Muller starts writing the newsletter this week, and you can sign up here.
1 big thing: Stark reality awaits new IPCC report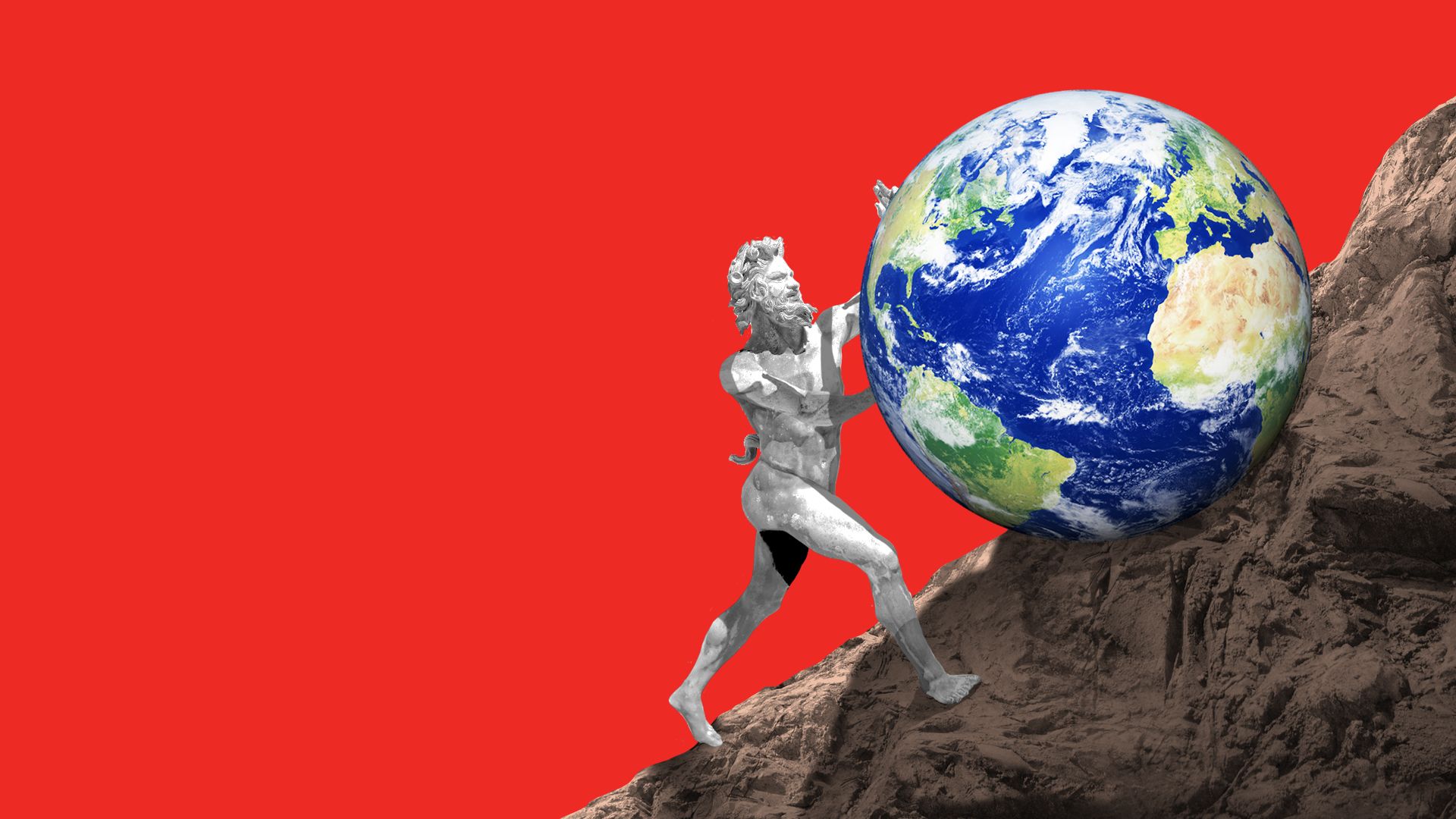 On Sunday evening eastern time, the U.N. Intergovernmental Panel on Climate Change is scheduled to release its special report on the risks and benefits of limiting global warming to 1.5°C, or 2.7°F, above preindustrial levels.
Why it matters: The report is expected to contain sobering findings about how difficult it will be to meet the 1.5-degree target, which is an aspirational goal contained in the Paris Agreement on Climate Change. Every country in the world — except the U.S. — intends to honor the 2015 agreement, and the report will help inform negotiators in the next round of climate talks, set for December.
By the numbers:
We are currently on track for global warming of between 2.7 to 3.7°C by 2100, according to Kelly Levin, a scientist with the nonpartisan World Resources Institute.
To meet the 1.5-degree target, we'd need to reach net zero emissions by mid-century, and negative emissions thereafter, using carbon removal technologies.
Emissions in 2030 would also need to be about 50% less than 2010 levels.
Yes, but: Current emissions projections show the world is on track to increase emissions through 2030.
Between the lines: Some climate scientists are making clear that the 1.5-degree target, which is seen as low-lying island nations' best hope for long-term survival, is effectively out of reach.
"Overall, the idea that we can limit warming to 1.5°C is so ridiculous that it doesn't seem to even merit thinking about it."
—
Andrew Dessler, climate scientist at Texas A&M University
"It is technically feasible for me to fly to the moon in the next 10 years, but it is clearly not feasible in a broader sense. With 1.5°C it is potentially feasible from a technical perspective, but unless the political, social and technical aspects of feasibility are aligned, it is not going to happen."
—
Glen Peters, research director at the Center for International Climate Research in Norway
Tom Damassa, climate program director at Oxfam America, told Axios that even 1.5 degrees of warming will cause hardships for millions: "1.5 [degrees] was never going to be some sort of magical threshold. I hope what the report makes clear is there is no safe level of climate change."
2. Flu hits smaller cities harder
Smaller cities — especially those that aren't very humid — tend to have higher flu epidemic intensity than larger cities, scientists say in a new study published in Science on Thursday. Conversely, large cities with extensive transportation systems tend to have longer, more consistent flu seasons, they found, Eileen Drage O'Reilly reports.
Why it matters: As seen last season, flu epidemics can be quite deadly and their intensity is caused by several factors. When smaller cities, like Nashville and Atlanta shown above, experience sharp spikes in flu cases, there is a bigger burden placed on their health care systems, which may call for implementing "surge capacity" in treatment centers, study author Cecile Viboud said.
Background: Seasonal flu epidemics are complicated, and there's growing evidence that "outside factors" may play a role.
What they did: The researchers looked at 6 years of medical claims for weekly incidence of influenza-like illnesses in 603 regions of the U.S. They compared the levels of such illnesses with factors believed to play a role in transmission: population size, humidity, residential crowding, median household, vaccination coverage and income.
What they found:
Epidemic intensity (or the peak level of infections) is actually higher in cities with smaller populations, less residential crowding and lower incomes, co-author Benjamin Dalziel tells Axios.
Densely populated, upper-income, larger cities, on the other hand, showed lower epidemic intensity despite being a "transmission hub."
In large cities, what impacts epidemic intensity is the organization of movement patterns and the "hot pockets" of infection.
In small cities, humidity plays a bigger role, Dalziel says, because the virus droplets have more time to infect people.
Outside perspective: Outside researchers say this is an interesting look at possible factors affecting flu intensity and should inspire further research.
Katelyn Gostic, disease ecologist and Ph.D. candidate at UCLA, tells Axios the study shows interesting patterns.
"[T]his study shows that influenza epidemics in smaller cities burn hot and fast, while epidemics in big megacities burn at more of a year-round smolder," she said.
What's next: Jacco Wallinga, of the National Institute for Public Health and the Environment in the Netherlands, writes in Science Perspectives:
"This is important for policy-makers because it indicates that metropolitan areas should focus on reducing influenza spread, whereas small towns should focus on reducing harm."
3. Security situation hindering Ebola fight
Violence in the Democratic Republic of Congo is sporadically stopping public health measures against Ebola — effectively allowing the infectious disease to take foothold again. The situation is triggering stronger moves by the U.S. and international organizations to prevent the virus from spreading to other countries.
What we're hearing:
"To say it's fragile would be an understatement. We've never had such an explosive combination of rebel activity and spread of the virus, particularly in some populations that don't believe in traditional public health measures."
— Michael Osterholm, director, University of Minnesota's Center for Infectious Disease Research and Policy
What's happening now: There's been a recent uptick in violence in DRC's North Kivu area, which borders Uganda and Rwanda, where there's been been a civil war raging. Another problem is that there have been pockets of resistance to traditional public health measures.
On Wednesday, villagers attacked an ambulance, injuring 3 Red Cross workers and halting their assistance in burials. This could increase the risk that the virus will spread, as the virus remains infectious in the body after death.
On Sept. 22, 21 people were killed in a raid in a city in North Kivu called Beni, allegedly from Ugandan Muslim militants. This halted public health efforts for several days.
In addition, DRC Ministry of Health spokesperson Jessica Ilunga tells Axios they continue fighting elements of ignorance and suspicion that cause possibly infected people to resist quarantine and treatment protocols.
The U.S. Agency for International Development has deployed an elite disaster assistance response team to the DRC.
The World Health Organization raised its warning of the virus spread to the region to a "very high" risk earlier this week. WHO director Tedros Adhanom Ghebreyesus on Wednesday requested help from the UN Security Council to help secure health operations there. He tweeted:
"Security is a big challenge for the #Ebola response in #DRC. We're at a critical point. Following the recent attack in Beni, our operations were in lockdown — but when we are in lockdown, Ebola is not. The virus gets an advantage. We appeal the #UNSC to ensure full access for ops."
4. Axios stories worthy of your time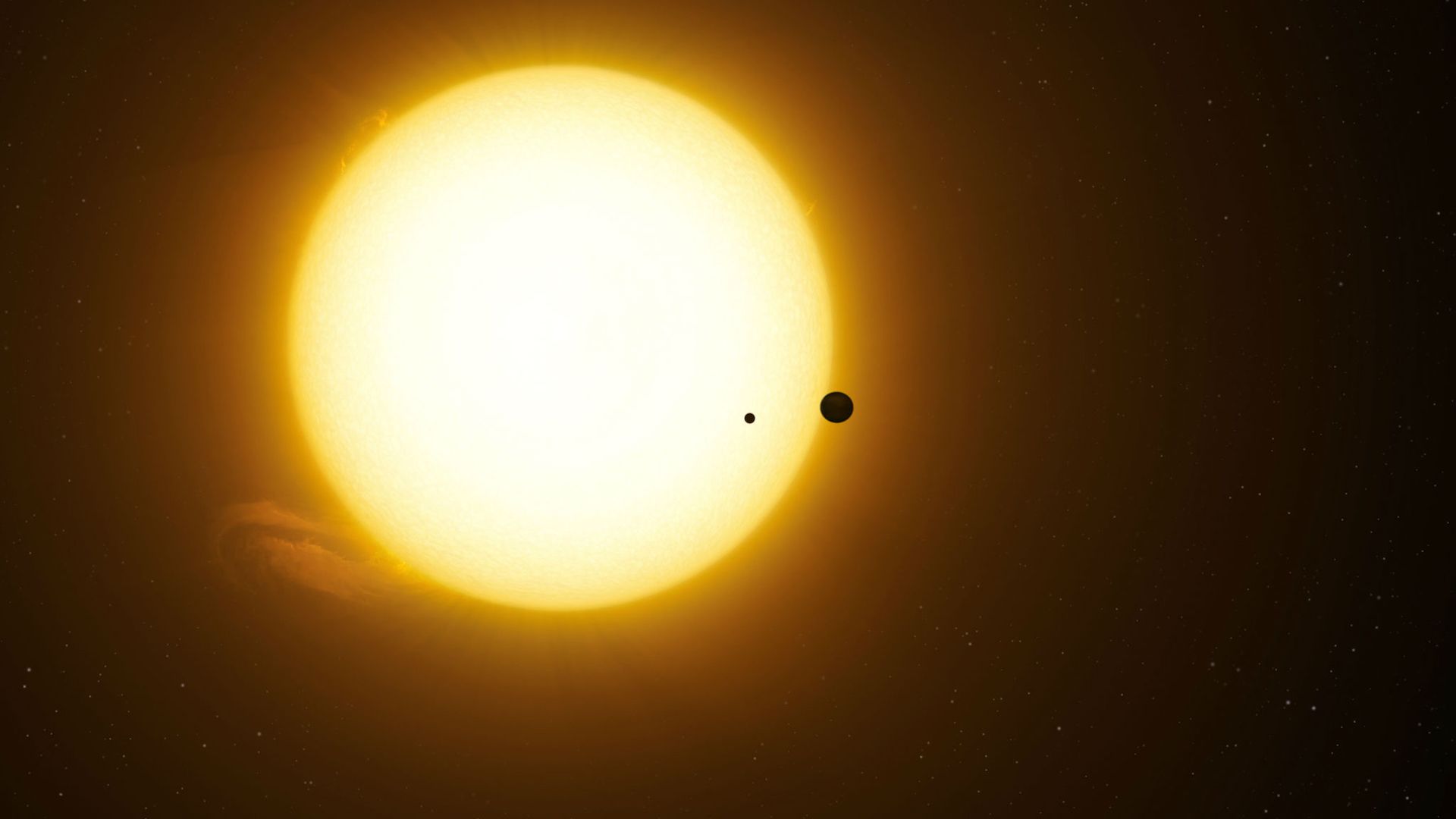 An exomoon: Scientists may have found the first moon known to be orbiting a planet outside our solar system, and if true, the find may require a re-examination of models explaining how moons form.
Combating outbreaks: Social media networks, such as WhatsApp, can help public health officials monitor disease outbreaks, such as Ebola, Eileen writes.
Indonesia, before and after the quake: Satellite photos show the staggering scope of the damage from the 7.5 magnitude earthquake in Indonesia and resulting tsunami, which took place on Sept. 28.
Famine-fighting tech: Google, Microsoft and Amazon have developed a famine alert system in conjunction with the World Bank and other agencies, aimed at averting food shortages in Africa, Kaveh Waddell writes.
Nobel Prize is a long time coming: This year's Nobel Prize in Physics went to a trio of scientists for their work with lasers, including Donna Strickland. She became the first woman since 1963 to win this top scientific prize, Zach Basu writes.
5. What we're reading elsewhere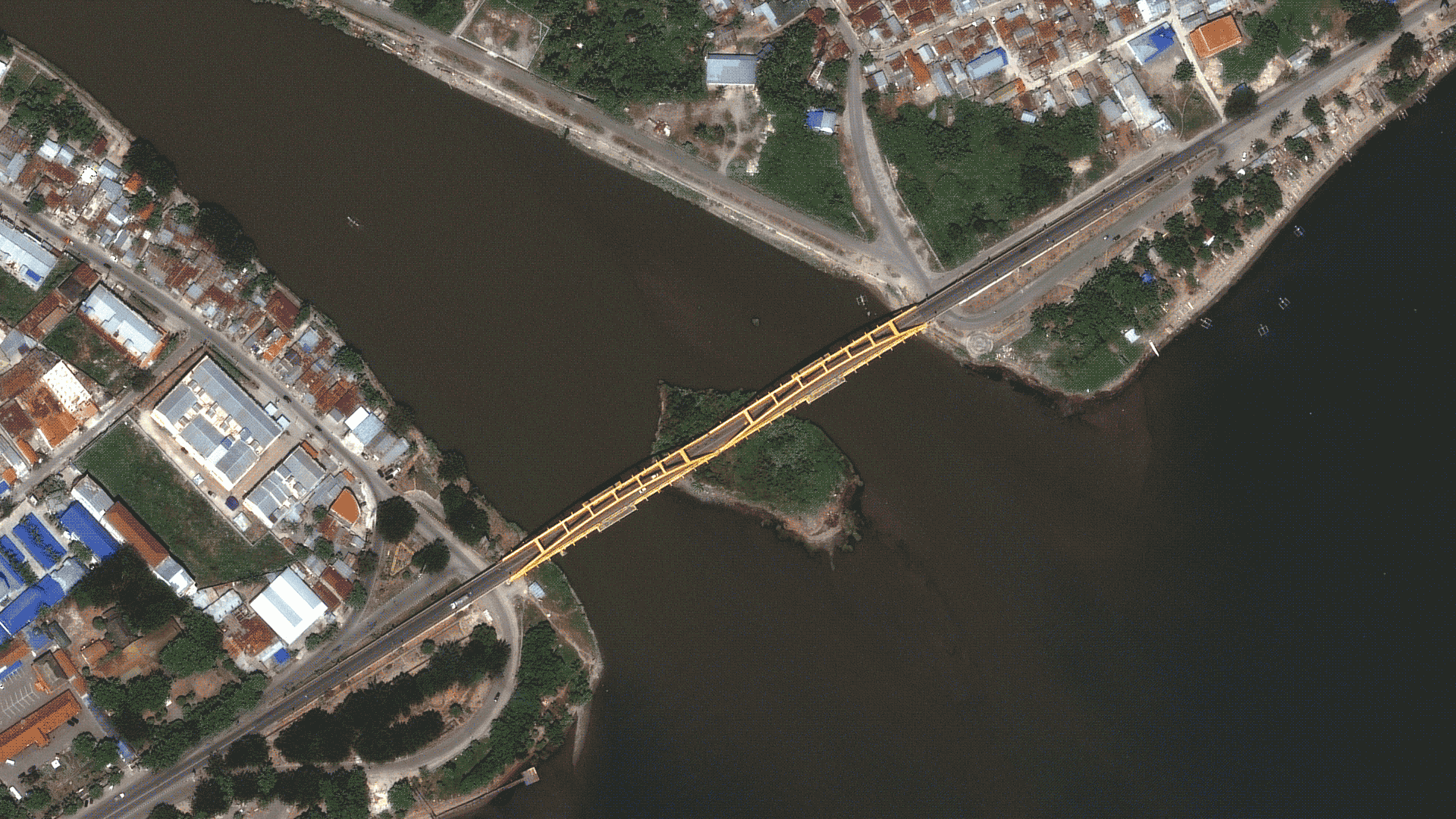 Before/after photos of a bridge in Palu, Indonesia, showing earthquake and tsunami damage. Satellite image ©2018 DigitalGlobe, a Maxar company
The Indonesia tsunami, explained: Geography, specifically a narrow, long bay, may have doomed the hard-hit city of Palu, Indonesia, by setting in motion a devastating tsunami after the 7.5 magnitude earthquake, Henry Fountain writes for the New York Times.
Wildfires are a water pollution hazard, too: Larger and more frequent wildfires are a threat to rivers and water supplies, not just air quality, Ed Struzik reports for Yale E360.
Thank Neanderthals for part of your immune system: 2–3% of the DNA of non-African humans comes from Neanderthals, thanks to mating between the two. Neanderthal viruses and defenses against those viruses were passed on to non-African humans, Sarah Zhang reports for The Atlantic.
6. Something wondrous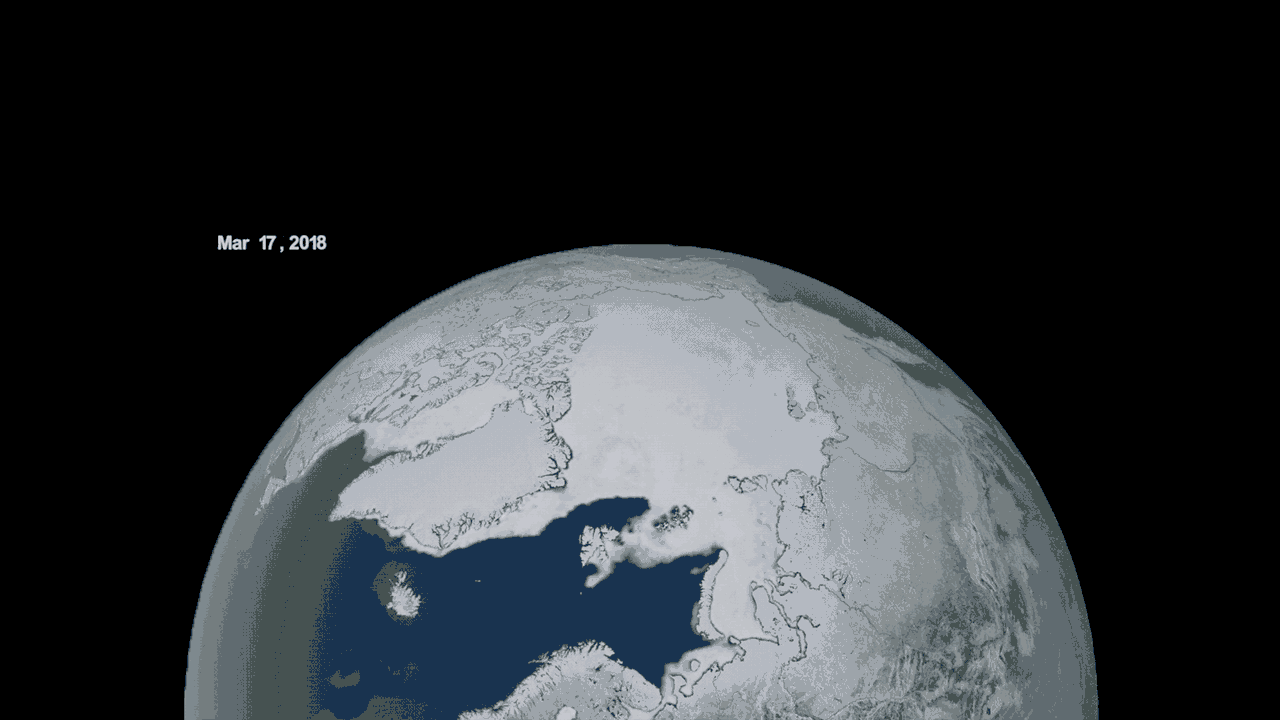 Summer sea ice extent during the 2018 Arctic melt season, as seen from space in this NASA visualization. Credit: NASA/NSIDC.
Winter is coming. Sea ice is once again starting to form in the Arctic, but it's beginning from a thin, sparse baseline after reaching its sixth-lowest extent on record on Sept. 19 and 23.
By the numbers: Sea ice reached a low of 1.77 million square miles, tied with 2008 and 2010 for the sixth lowest minimum extent in the nearly 40-year satellite record. 
This was 629,000 square miles below the 30-year average between 1981 and 2010.
The 12 lowest extents in the satellite era have all occurred in the last 12 years.
By 2050, the Arctic Ocean will likely be ice-free, or largely ice-free, during the summer months, according to recent studies.
The sharp plunge in Arctic sea ice extent is unprecedented in at least 1,500 years, according to a 2017 federal climate report.
Weird events can happen as a result of low sea ice conditions. For example, a record strong high pressure system helped yield a record warm and sunny September in Alaska.
Scientists linked this to virtually ice-free conditions in the Bering and Chuckchi seas, with far above average sea surface temperatures in these areas, as well as typhoons in the Northwest Pacific that helped usher milder air toward Alaska.
Thanks for reading! See you next Thursday.