Axios Science
August 06, 2020
Welcome back to Axios Science. This week we look at CRISPR and COVID-19, deforestation's damage, the brightest fluorescent material and more.
Today's newsletter is 1,644 words, a 6-minute read.
1 big thing: CRISPR gets a pandemic push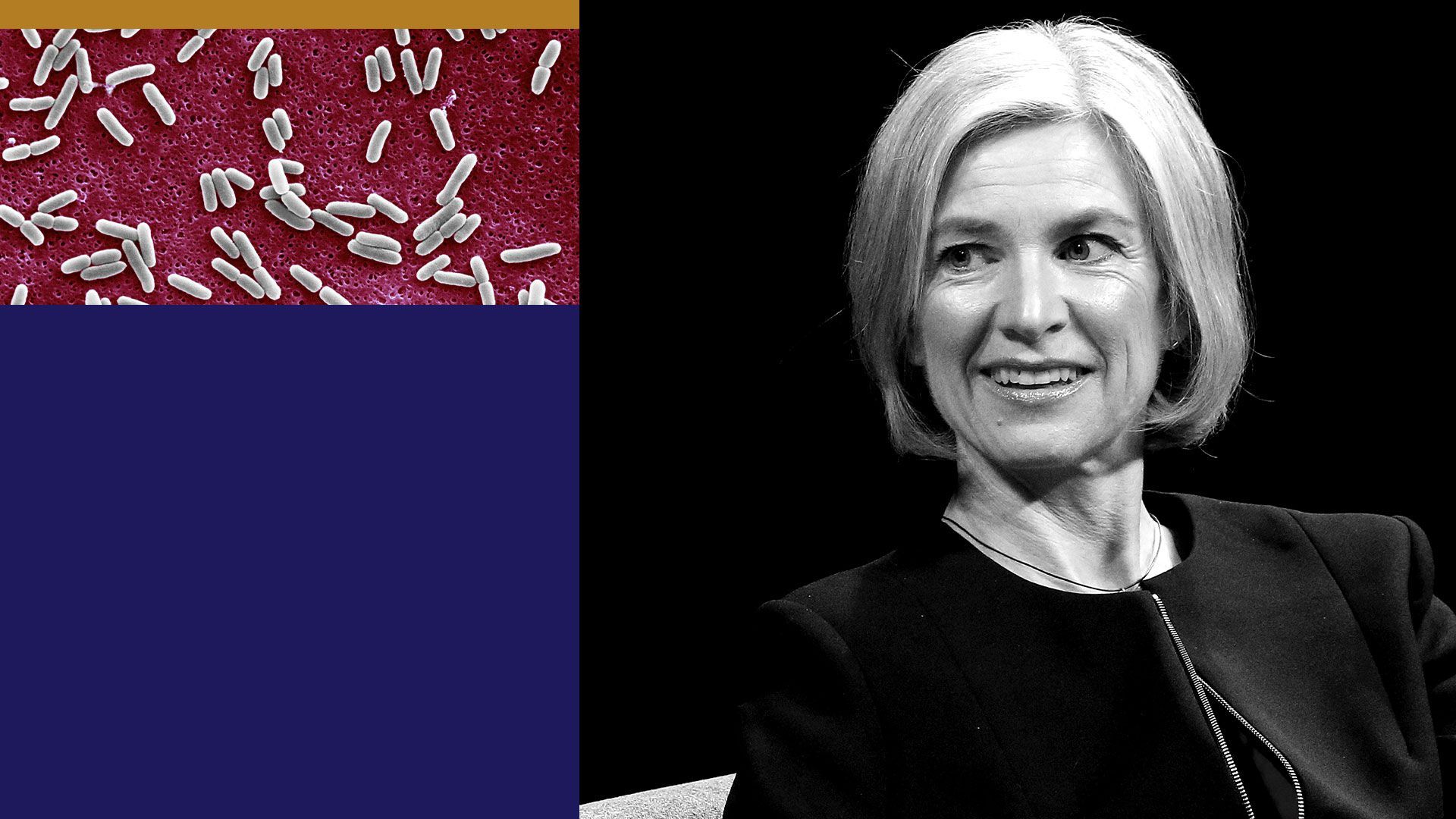 The coronavirus pandemic is accelerating the development of CRISPR-based tests for detecting disease — and highlighting how gene-editing tools might one day fight pandemics, one of its discoverers, Jennifer Doudna, told me in an interview.
Why it matters: Testing shortages and backlogs underscore a need for improved mass testing for COVID-19.
Diagnostic tests based on CRISPR — which Doudna and colleagues identified in 2012, ushering in the "CRISPR revolution" in genome editing — are being developed for other diseases (like Ebola and dengue), but a global pandemic is a proving ground for these tools that hold promise for speed and lower costs.
Driving the news: Last week, the NIH awarded $250 million for the development of COVID-19 diagnostic tests to a handful of companies, including Mammoth Biosciences, which is working on a CRISPR-based test that CEO Trevor Martin says will deliver 200 tests per hour per machine.
Another CRISPR-based test, developed by Sherlock Biosciences and CRISPR pioneer Feng Zhang, received an emergency use authorization (EUA) from the Food and Drug Administration in May — the agency's first for any CRISPR-based technology. (Mammoth has since received an EUA for another CRISPR-based test.)
"In a way, the timing of the pandemic coincided with this technology being ready to address this emerging need," says Doudna, a co-founder of Mammoth and a biochemist at UC Berkeley.
The challenge now is "getting it into a format where it can be used easily either in a laboratory or at the point-of-care," like the doctor's office or home, she says.
How it works: Clustered Regularly Interspaced Short Palindromic Repeats, or CRISPR, are sequences of genetic code that bacteria naturally use to find and destroy viruses.
Diagnostic tests work by programming CRISPR to search for a particular stretch of RNA or DNA in a virus. If the pathogen is found, enzymes guided by the CRISPR sequence put out a signal.
CRISPR can also lead enzymes to a gene that the enzyme then precisely snips or edits, turning it on or off or changing its function.
That editing ability is viewed as having vast potential for treating disease, a nascent use of CRISPR.
But there are concerns about off-target editing and unknown long-term effects of gene editing, and challenges with getting the sizable CRISPR system through the membranes and to the DNA of the cells that need editing.
Last month, Doudna's team reported finding a compact form of CRISPR that she suspects may be easier to get it into cells, potentially driving the cost of therapies down.
That's "the bleeding edge" of the field, says Doudna.
The intrigue: CRISPR could one day be wielded in future pandemics.
It might become possible to edit immune cells in the body so they are less susceptible to becoming exhausted by a disease, says Doudna.
Or CRISPR could be used to program immune cells to recognize regions of a type of virus and be ready for a pathogen before it shows up, she says, pointing to the use of CRISPR to prime the immune system to attack cancer.
Bonus chart: Pandemic research money
Vaccines and diagnostic testing are receiving a larger proportion of funding during this pandemic compared to past outbreaks of Ebola and Zika, according to the COVID-19 global R&D tracker compiled by Policy Cures Research.
Of $6.4 billion in funding for specific COVID-19 products, vaccines received roughly 74%, diagnostics 11% and therapeutics 13%.
Efforts to quell the Ebola outbreaks in West Africa and the Democratic Republic of the Congo and the Zika epidemic in South America saw about 4% of funding directed to diagnostic testing.
"The increased focus on diagnostics for COVID-19 follows broader acknowledgment of the critical importance of testing to control this pandemic," per the report released today.
2. Catch up quick on COVID-19
Coronavirus infections are falling or holding steady across the U.S., "but don't be fooled: The U.S. still has a very long way to go to recover from this summer's surge," Axios' Sam Baker and Andrew Witherspoon write.
The White House coronavirus task force will look at how SARS-CoV-2 is transmitted via aerosols, Eileen reports.
30% of people with COVID-19 in a study in South Korea didn't develop symptoms, but have similar amounts of the virus in their body as those with symptoms, per the NYT's Apoorva Mandavilli.
3. Deforestation's damage in the Amazon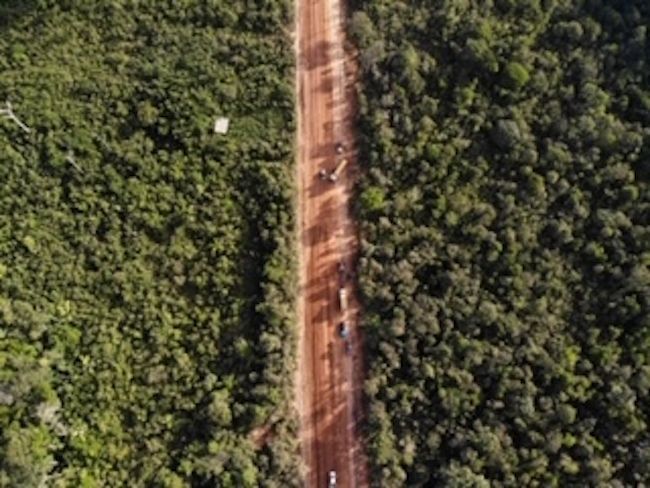 Paving a Brazilian highway that runs through the Amazon without environmental studies could lead to massive deforestation and the release of carbon dioxide into the atmosphere, two scientists warn in a letter published in Science Thursday, Eileen reports.
State of play: Brazil's administration is facing a rampant COVID-19 pandemic, the probability of its worst recession ever and criminal investigations. Estimates of soaring illegal deforestation have led to a global backlash over not protecting the Amazon.
The backstory: The BR-319, sometimes called "Brazil's worst highway," is a 500-mile mostly dirt road from Porto Velho through the Amazon forest to the city of Manaus in the middle.
While a judicial decision had previously ruled that environmental studies must be carried out before paving the highway, President Jair Bolsonero has started moving forward, according to letter co-author Lucas Ferrante, a post-graduate student at the National Institute for Research in Amazonia (INPA).
Why it matters: These moves will "likely accelerate anthropogenic climate change" and negatively impact Indigenous communities, per the letter, which was co-authored by INPA professor Philip Martin Fearnside.
Planned reconstruction includes many secondary roads, including some the authors consider "illegal," which together are projected to lead to more than 138,000 square kilometers of deforestation by 2100 — an increase of cumulative deforestation of 1,291%, when compared with the area cleared by 2011, Ferrante says.
What they're saying: John Miller, a carbon scientist at NOAA Global Monitoring Laboratory, says the letter describing the situation is "concerning" and the overall point is true.
But he adds further data should be presented behind some of the "grand statements," such as the 1,291% increase from 2011.
Still, he says deforestation simultaneously releases carbon dioxide that has been locked in trees and strips the forest's capability of absorbing more carbon.
"That's the spirit of their statement," says Miller.
4. How emerging tech raises the risk of nuclear war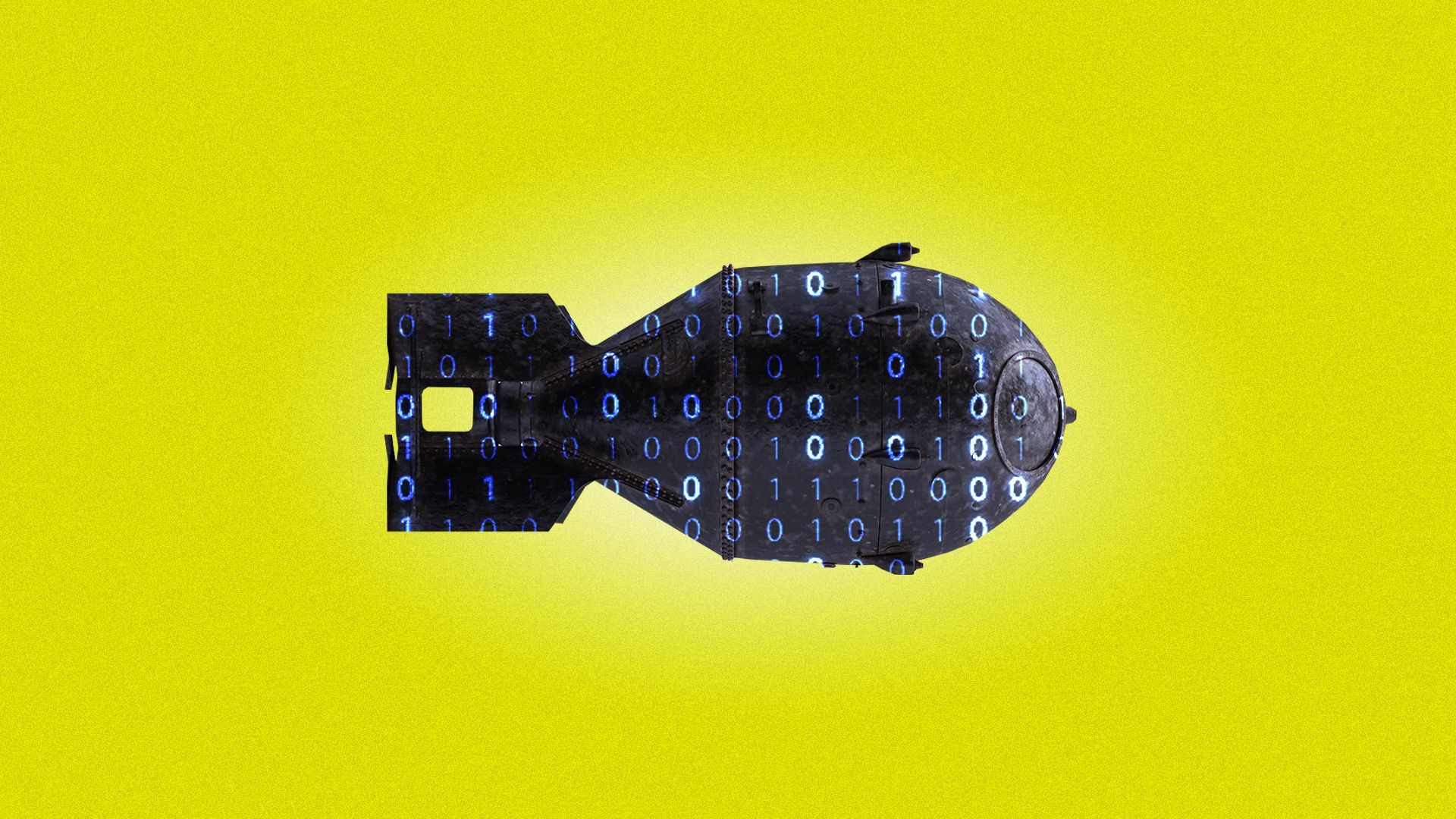 75 years after Hiroshima and Nagasaki, some experts believe the risk of the use of a nuclear weapon is as high now as it has been since the Cuban missile crisis, my colleague Bryan Walsh writes.
The big picture: Nuclear war remains the single greatest present threat to humanity — and one that is poised to grow as emerging technologies, like much faster missiles, cyber warfare and artificial intelligence, upset an already precarious nuclear balance.
What's happening: A mix of shifting geopolitical tensions and technological change is upsetting a decades-long state of strategic stability around nuclear weapons.
As concerning as rising tensions are between the U.S. and Russia, or between the U.S. and a more assertive China, experts worry even more about the destabilizing effect of emerging technologies like cyber warfare and AI.
"The black box of AI in the future of war makes it almost inherently unpredictable," says P.W. Singer, a strategist at New America and author of "Burn-In" — and unpredictability is anathema to a nuclear balance held in place by predictability.
AI is only in its infancy, but depending on how it develops, it could utterly disrupt the nuclear balance.
Even in its nascent stages, AI is likely to make offensive cyber hacking of all kinds more effective, increasing the risk that a cyber conflict could turn nuclear.
AI may eventually help war planners more effectively target an enemy's nuclear weapons. That would make an opponent more vulnerable — and potentially more willing to use nuclear weapons first out of a fear they might lose them.
As Singer notes, "just like any human, AI can suffer from various biases" — especially since there is no real-world nuclear war data to train it on.
But unlike a human, the smarter AI gets, the harder it is for humans to understand how it works, and whether it's making a mistake in a realm where there is no room for mistakes.
Read the full story, and sign up for Bryan's Axios Future newsletter.
5. Worthy of your time
'The biggest monster' is spreading. And it's not the coronavirus. (Apoorva Mandavilli — NYT)
It looked like a scientist died from COVID — then people started taking the story apart (Peter Aldhous — BuzzFeed News)
An exception to the rule that there are no marine insects (The Economist)
NOAA's new hurricane outlook shows so many storms, we may have to turn to the Greek alphabet (Andrew Freedman — Washington Post)
6. Something wondrous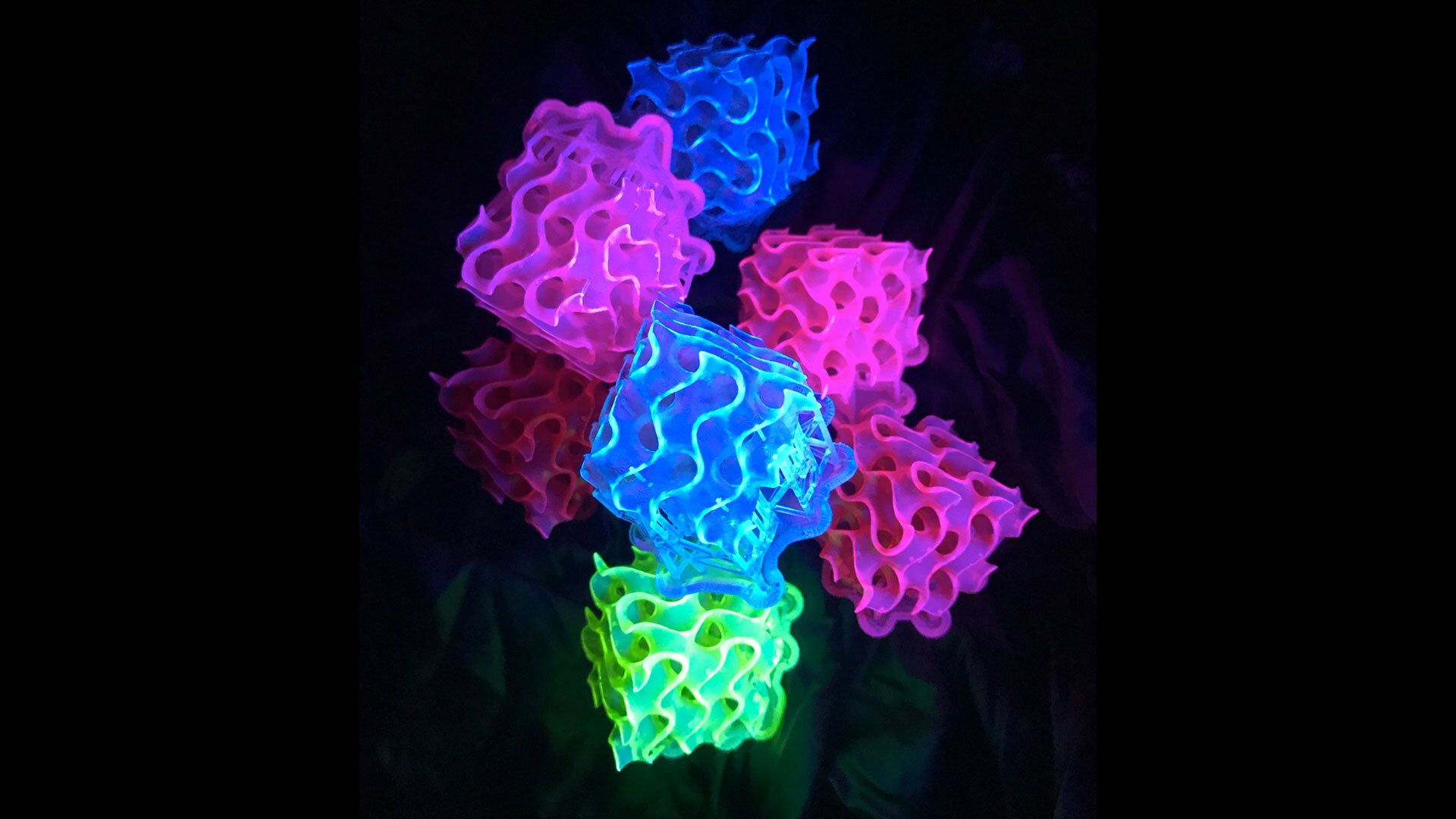 The brightest fluorescent material has been created by chemists, solving a problem that's persisted in the field for more than a century.
Why it matters: Improved fluorescent materials could lead to more efficient solar cells, medical diagnostics and organic LEDs.
The problem: Fluorescent dyes glow beautifully in a solution, but when they are crammed together in solid materials, the dye molecules can interact and become less bright or change their color in unpredictable ways.
What they did: Amar Flood of Indiana University and his colleagues mixed colored fluorescent dyes with a colorless solution made of a doughnut-shaped receptor of carbon, nitrogen and hydrogen atoms.
The positively charged fluorescent dye is attracted to the negatively charged receptor, producing crystals called SMILES — small-molecule ionic isolation lattices.
The fluorescent parts of the dyes are isolated from one another in the crystal structure and don't interfere with each other, the researchers report in the journal Chem.
The mixture can then be added into melted polymers or the liquid solvent removed to create powders that can be incorporated into solids.
What's next: The researchers intend to study the limits of the materials — "all fluorescent compounds frequently fade with time. We don't pretend to solve that problem," says Flood.
The big picture: For 150 years, there's been no rhyme or reason for people in industry to convert dyes into materials, says Flood.
The team reports that the new system allows different dyes to be plugged in and their organization controlled in a predictable way.
"He has a nice lever to do that," says MIT chemistry professor Timothy Swager, who wasn't involved with the work and suspects there will be "quite a few applications to come out of it."
"It's a framework for creating new materials and the knowledge for those that make new dyes that they can directly create a material," says Flood, who has applied for a patent and is a co-founder of a company related to the research.
"Previously, they had to pray to the appropriate crystallization god and their prayers were answered 1 in 1,000 times. Now, they're answered every time."