Thanks for subscribing to Axios Science. Please consider inviting your friends and colleagues to sign up. I appreciate any tips or feedback — simply reply to this email or send me a message at andrew.freedman@axios.com.
🚨D.C. readers:🚨 Please join Axios Science Thursday, Dec. 13, at 6pm for a conversation with 3 top climate scientists: "Finding Hope and Courage Amidst the Climate Crisis." RSVP here. Hope to see you there!
1 big thing: Greenland's insidious meltwater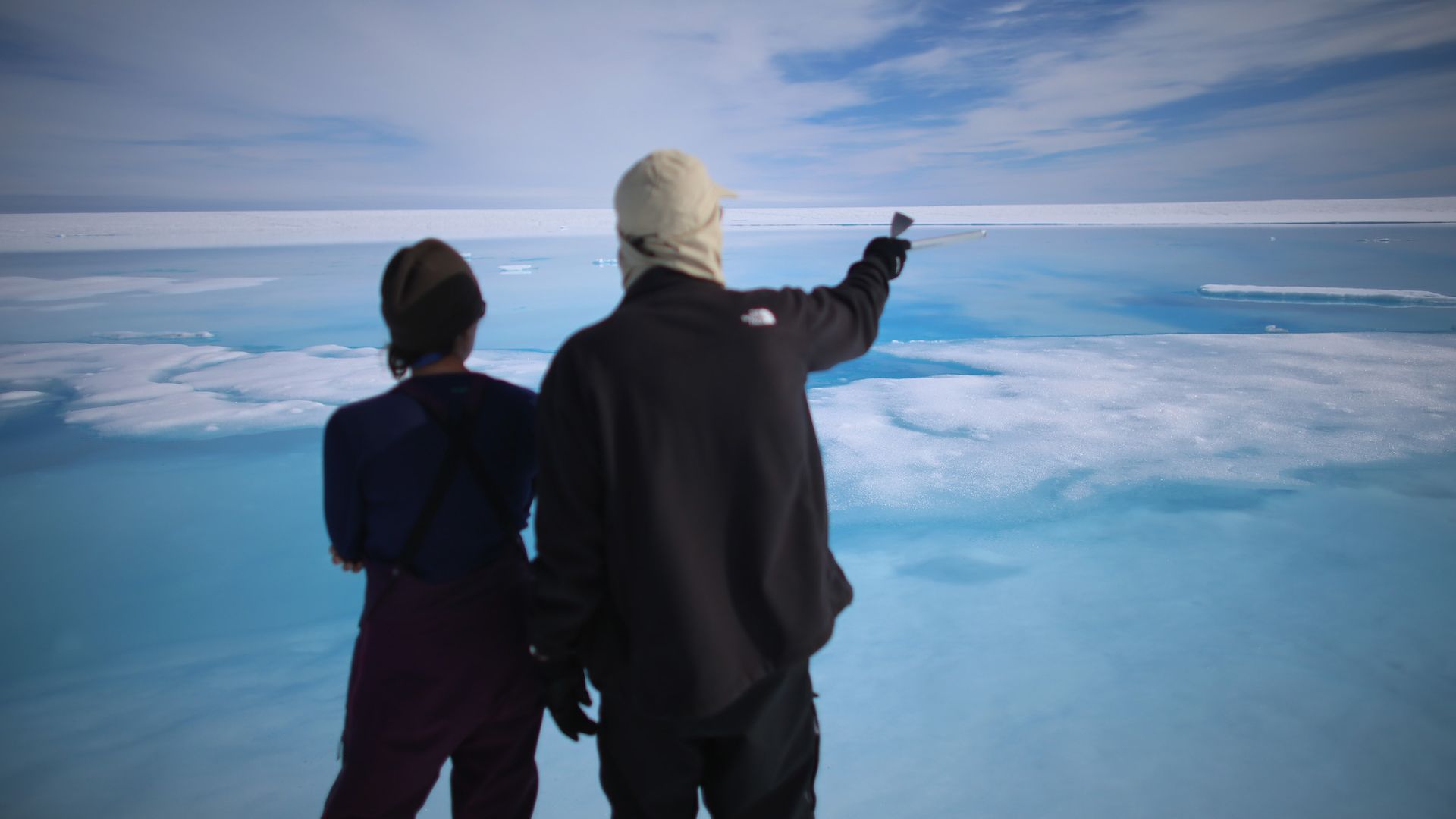 The magnitude of recent Greenland Ice Sheet melting is "exceptional" compared to the historical records for the past 350 years, according to a new study by a team of researchers from the U.S. and the Netherlands.
Background: When it comes to Greenland and sea-level rise, the basics are well known — air temperatures are rising, causing ice to melt from above. The water percolates down through the ice, and eventually flows into the ocean, where it adds to sea level. At the same time, glaciers are accelerating their flow into the sea as warming ocean temperatures eat away at them from below.
Yes, but: The big question is — to what extent is the level of summer surface melting unusual?
Why it matters: Refining the dynamics of sea-level rise would help scientists to predict how much damage to expect in coastal regions of the world. It would also help them determine what to anticipate from a slowdown in a crucial ocean current that draws heat north from the equator, changing ecosystems and weather patterns.
What they did: The researchers collected and analyzed ice cores from Central West Greenland and a coastal location on the Nuussuaq Peninsula in 2015.
They were able to detect when the ice melted and refroze, and how often and significantly it did so through time.
These observations provide a critical window into how ice melt varies over time, as well as the intensity of the melt and how much water runs off the surface, which are the main ways the ice sheet is losing mass.
The study co-authors put together a 330-year record of melt, percolation and refreezing in the west-central region of the island, as well as a 364-year record of the same variables at the more coastal location.
What they found: In recent decades, there was a clear departure toward more melting, water percolation through the ice, and refreezing each winter.
The study found a 250%–575% increase in melt intensity in the last 20 years, compared to the pre-industrial era.
And, the most recent decade had a more sustained and significant magnitude of melt than any other 10-year period in the ice core records.
The core records matched with computer model simulations and satellite observations of the ice sheet as a whole.
The study concludes that as ice melts, the surface darkens, absorbing more heat and melting more ice. While this process has long been known, the new study underscores its significance, since it means the surface of the ice sheet can be extremely sensitive to seemingly small upticks in summer air temperatures.
"As a result, Greenland is more sensitive to temperature change today than just a few decades ago. Warming matters more than ever."
— Luke Trusel, study lead author,
said on Twitter
The bottom line: "This is a climate record you can easily put alongside a history book — clearly seeing [the] humans fingerprint on the Greenland Ice Sheet," Robin Bell, a research professor at the Lamont-Doherty Earth Observatory at Columbia University, tells Axios. Bell was not involved in the study.
2. Ebola outbreak is far from over in the DRC
Public health officials have the tools to fight the deadly Ebola outbreak that continues to rampage the Democratic Republic of the Congo, but the fight is not going well, Eileen Drage O'Reilly writes.
The problems: A "perfect storm" of deadly disease combined with civil unrest, violence against health care workers, other diseases like malaria, and some cultural practices have caused this to become the world's second-worst Ebola outbreak on record, according to WHO spokesperson Tarik Jasarevic. It will take dogged persistence to contain it, he tells Axios.
"At the end of the day, we know how to stop Ebola, and there are new tools in terms of vaccines that are almost certainly beneficial and treatments that are likely beneficial. ... [But] fundamentally they can't do what we know needs to be done."
— Arthur Reingold, head of epidemiology, UC Berkeley
What's happening:
WHO has roughly 300 and the DRC's Ministry of Health and its partners have about 800 people on the ground, working to trace contacts and contain the outbreak, Jasarevic says.
The disease is spreading to new locations, including Butembo, a city of 1 million. "We're expecting this outbreak will last for a while, and we must increase our efforts to get it under control," Doctors Without Borders said in a statement.
Clinical vaccine trials continue, with the addition of a fourth investigational treatment, known as REGN-EB3, as soon as possible, according to the National Institutes for Allergy and Infectious Diseases.
What needs to happen:
Teaching the local health clinics how to watch for and treat Ebola. Unsafe practices at the local clinics are suspected of being one of the causes for the larger number of babies and children with Ebola than normal, Jasarevic says.
Persuading families and communities to practice safe burial, since Ebola stays contagious in dead bodies for a period of time.
"This is against traditional practices of washing the body, guarding it and being present with the body to bring it to the next life," Reingold explains.
Encouraging the U.S. to rejoin direct public health efforts, since experts have left the epicenter due to its insecurity. NIAID tells Axios: "U.S. government workers, including a handful from NIAID, are working in Kinshasa, the capital city." However, the WHO says they can "cover it" without the U.S.
The lack of a major U.S. role in this outbreak is striking given the lead role the country played in the 2014–16 West Africa outbreak.
3. Where emissions climbed the most in 2018
When it comes to cutting the greenhouse gas (GHG) emissions that cause global warming, the world isn't just failing — we're stepping our foot on the gas pedal, a new report finds.
The big picture: On Wednesday, scientists reported in a series of studies that global emissions of GHGs from fossil fuels are likely to hit record levels in 2018. China and India are responsible for much of that growth. This is erasing optimism from just a few years ago that China's emissions might be peaking.
It's also tempering optimism that renewables were growing so quickly in India that they might slow emissions growth.
Elsewhere, virtually no country is reducing emissions fast enough to balance out the growth.
Details: The emissions are growing by a best estimate of 2.7% compared to 2017, according to the reports by the Global Carbon Project, which studies the carbon cycle and closely tracks emissions worldwide.
China and India's massive increases have been driven by continued coal use and economic growth drove the increase.
China is expected to see an estimated 4.7% increase in emissions for 2018.
India, too, is now expected to see a steep increase, despite the rapid deployment of renewables in that nation. GHG emissions from fossil fuels are expected to grow by 6.3% in 2018.
In the U.S., emissions had declined at 1.2% per year since 2007, but in 2018 there is expected to be an increase of about 2.5%.
The bottom line: China's reliance on coal is a big problem — and it's not going to end anytime soon. "Coal is likely to dominate the Chinese energy system in the next decade, even if the skyrocketing growth seen in the mid-2000s is unlikely to return," said Jan Ivar Korsbakken, senior researcher at Center for International Climate Research in Oslo.
Go deeper:
4. Axios stories worthy of your time
Polio-like illness: The cause of a mysterious and rare polio-like illness that has infected at least 458 children since 2014 is frustrating the CDC, Eileen writes.
Plastics in sea turtles: A new study found that every sea turtle found in several ocean basins contained microplastic pollution in their digestive systems, Michael Sykes reports.
SpaceX: The company re-used a rocket to launch a whopping 64 small satellites at one time, the most ever from a U.S. launch vehicle.
AI: Talent in the field has not been monopolized by Big Tech companies, and may be more dispersed than thought, Kaveh Waddell writes.
5. What we're reading elsewhere
15 "damning details": From problems with informed consent to operating in secrecy to ignoring ethical advice, The Atlantic's Ed Yong lays out the issues with a scientist's claim of gene-editing embryos. 
Silent epidemic: Viral hepatitis killed 1.4 million people in 2016 — more tuberculosis, HIV or malaria, Ian Graber-Stiehl reports for Nature News. Stigma, vaccination gaps, and lack of screening and access to retroviral drugs are among the challenges in sub-Saharan Africa where the crisis is "flying under the radar."
Security nightmare: Experts call for advances in encryption to keep pace with the development of quantum computers that could conceivably crack conventional encryption algorithms, Martin Giles reports for MIT Technology Review. 
Disappearing plastics: We know roughly the amount of plastics that are entering the oceans each year. However, what is happening to plastics once they are in the water and encountering sea life is a big and important mystery, which has given rise to a major citizen science research project, Matthew Halliday writes for Hakai.
6. Something wondrous
On Dec. 3, the NASA spacecraft OSIRIS-REx arrived at its destination of the near-Earth asteroid Bennu. During the next year, it will orbit the asteroid to search for the best places to land and scoop up samples before eventually returning them to Earth in 2023.
Why it matters: Analyzing Bennu may help scientists learn more about the asteroid's composition, which could lead to new discoveries about how life evolved in the universe.
But there's another reason researchers are interested in the contents of this space rock: They want to learn more about how they might have to, on short notice, divert, deflect or destroy an asteroid that's on a potentially devastating collision course with Earth.
The multi-institution research team has modeled a possible planetary defense mission against Bennu, based on the limited information they had about the small space object, according to Cathy Plesko, a research scientist in applied physics at Los Alamos National Laboratory.
They did this to help improve their modeling, not because they truly believe Bennu to be a threat to Earth, she adds.
The computer models they used, Plesko tells Axios, gave them a good guess at the shape and composition of the asteroid.
New data from the close encounter with Bennu can allow the team to refine their models.
Already there are some surprises, Plesko says, including the finding that the surface of Bennu is comprised of rubble tile with big boulders. The textured surface was not in the team's initial models and will require adjustments to be made in their models.
What's next: A basic task for scientists is to determine how uncertain their models are, just in case they're needed to save humanity from an extinction-level asteroid.
In all, there are 2 dozen groups of researchers working on this problem, with Los Alamos, Lawrence Livermore and Sandia National Laboratories all involved.
Plesko says planetary defense is a new field but has made progress in detecting potentially destructive asteroids, for example.
However, without a mission-ready spacecraft or plan, if we were to find an object on a collision course with Earth tomorrow, Plesko says, "We'd still be pretty hard-pressed to stop it from happening."
Thanks for reading, and see you here next Thursday.