Welcome back, and thanks for subscribing to Axios Science. Please consider inviting your friends, family and colleagues to sign up.
I appreciate any tips, scoops and feedback — simply reply to this email or send me a message at andrew.freedman@axios.com.
1 big thing: Invasive species could hitch ride on China's Belt and Road
China's ambitious Belt and Road Initiative, a program to fuse Asia with Africa and Europe via land and maritime networks, has the potential to forever alter the biodiversity of key habitats on multiple continents, a new study warns.
Why it matters: By connecting regions through large infrastructure projects — including ports, railways and telecommunications networks — scientists fear the project could accelerate the spread of invasive species.
Such species, once established in a region, could harm biodiversity in ways that are difficult or impossible to reverse.
Background: The Belt and Road Initiative has been championed by Chinese President Xi Jinping and is viewed by many as a modern version of the Silk Road that was set up during the Han Dynasty.
What they did: The new study, published Thursday in Current Biology, uses a comprehensive risk analysis to find the areas most vulnerable to the introduction and spread of 816 different invasive species — including amphibians, reptiles, birds and mammals.
The researchers, including authors from the state-run Chinese Academy of Sciences (CAS), quantified the risks by looking at 2 factors: "introduction risk" on whether an invasive species could hitch a ride to a new location and "habitat suitability" on if a species could thrive in a particular spot.
They combined these to identify 14 invasion hotspots in 68 countries, from the Caribbean to Southeast Asia and Africa.
What they found: Most of the high-risk areas fell along the 6 corridors that have been proposed for the project, study co-author Yiming Li, CAS professor of animal ecology and conservation biology, tells Axios. Some of the species studied include...
The African clawed frog, or Xenopus laevis, is an invasive species that destroys native populations of frogs.
The ship rat, or Rattus rattus, has "directly caused the extinction of many species including birds, small mammals, reptiles, invertebrates, and plants, especially on island ecosystems," according to Li.
The authors recommend that a fund be established to help countries monitor for the spread of invasive species and to combat them, Li says.
What they're saying: Bill Laurence, a distinguished research professor at James Cook University in Australia, who was not involved in the study, said, "This study reveals a potentially massive hidden cost of the Belt & Road — one that's received almost no attention. In that sense it's an unusually valuable analysis."
Yes, but: Laurence dismissed the idea of a fund to fight the invasive species, saying it would be "like treating cancer with a Band-Aid."
The better solution, he says, is to limit human access in the first place. "That's the only thing that really works."
Go deeper: Read the full story.
2. Zeroing in on possible Alzheimer's triggers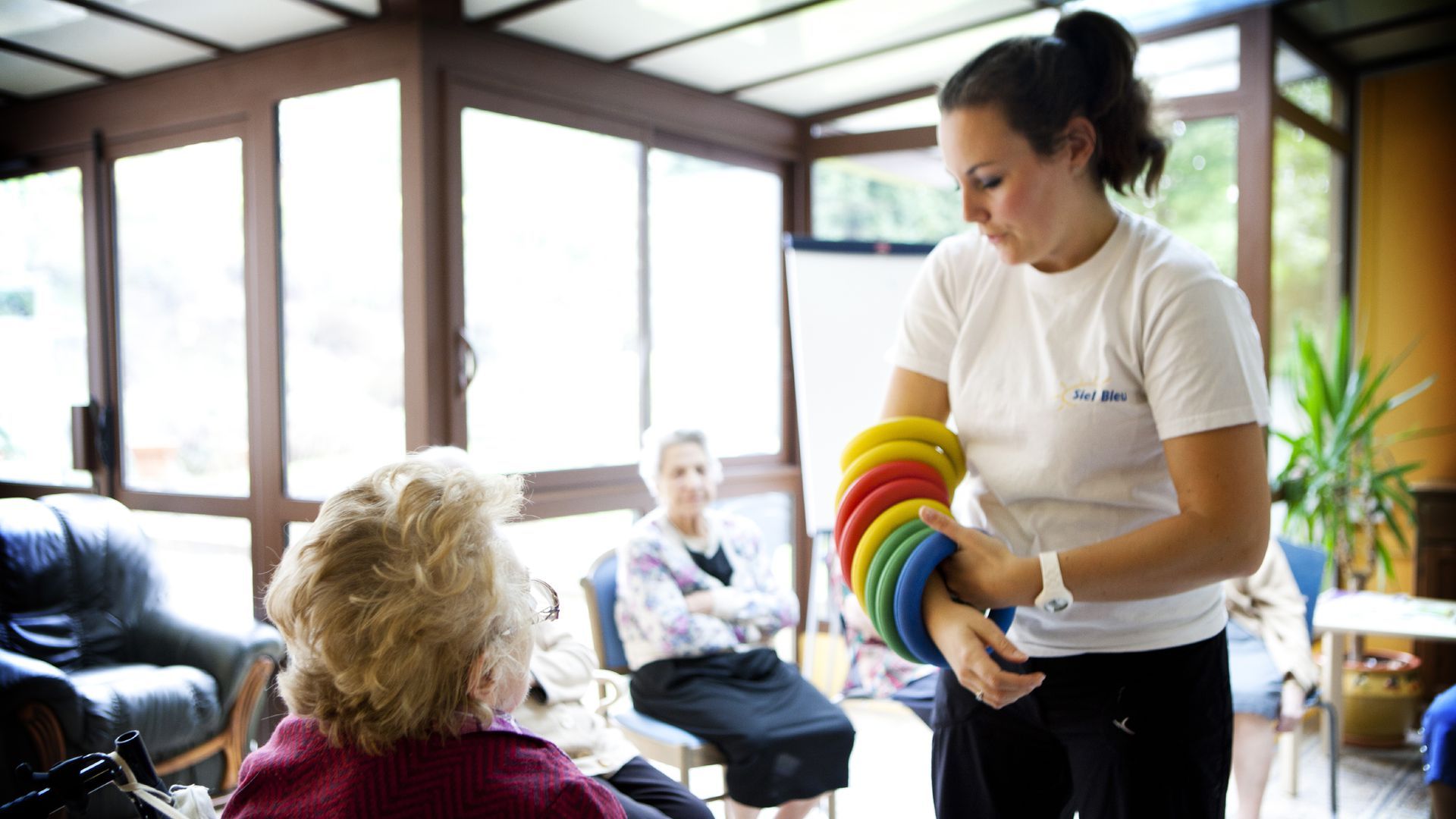 A dramatic increase in funding for Alzheimer's research in recent years is spurring hope that scientists will be able to discover the elusive biological causes of the disease, Eileen Drage O'Reilly reports.
Why it matters: A total of 5.7 million Americans currently live with Alzheimer's and, as baby boomers age, 14 million are expected to develop the illness by 2050.
What's new: Recent research looks at possible causal links, including...
1. Bacteria and viruses. A study out Wednesday says there could be a connection to bacteria that causes gingivitis, Porphyromonas gingivalis.
The bacteria causes toxic enzymes, called gingipains, that were found to cause dementia-like symptoms in mice and have been discovered in the brain samples of Alzheimer's patients.
But not everyone's convinced it causes Alzheimer's. Rebecca Edelmayer, director of scientific engagement at the Alzheimer's Association, says several studies are examining the role of bacteria and/or viruses found in the brain of patients — the problem is that larger studies are needed.
2. Lifestyle. Researchers at Washington University School of Medicine announced Thursday they found sleep deprivation increases two proteins — tau and amyloid-beta, which have been linked to brain damage and dementia.
Edelmayer says there's been connections found between Alzheimer's and a failure to maintain a healthy lifestyle.
"The point is that there are things we could be doing today that could lower the risk of cognitive decline," Edelmayer says.
3. Genetic mutations. There have been many genes linked to the disorder, and now there are take-home blood tests that could look for genes linked to Alzheimer's, like APOE-4.
But Edelmayer points out there are the rare inherited genes that cause familial Alzheimer's and there are multiple genes that may only indicate a greater risk for Alzheimer's.
AA's stance is that people taking home tests for genetic markers should do so with a genetic counselor who can explain what the results really mean.
4. Inflammation. There may be a role played by inflammation of blood vessels, including those in the blood-brain barrier that protects the brain.
Go deeper: Read Eileen's full story.
3. Ebola outbreak in Congo worsens
The Ebola outbreak simmering in the Democratic Republic of the Congo (DRC) is worsening in some ways, despite major successes in combating the illness in some parts of the country.
Why it matters: The ongoing outbreak is the second largest on record worldwide. A top official with the World Health Organization — which along with several nongovernmental organizations has been at the vanguard of the Ebola fight — said last week that it will likely continue for at least another 6 months.
This is despite more than 400 WHO personnel on the ground and what's been considered a successful start of a vaccination campaign there.
The big picture: The WHO has pointed to the success in reducing Ebola virus transmission in Beni, a city in conflict-ridden northeastern Congo, as an example of what can be done to combat the outbreak in other parts of the country.
Yes, but: Experts say the gains in Beni, which came despite difficult circumstances, don't necessarily mean Ebola can be squelched elsewhere without a different approach or major increase in resources.
Right now, for example, health workers are pursuing a ring vaccination strategy, which requires tracking down every person that an Ebola patient came into contact with when they were ill and inoculating them to stop its spread. It also requires following up with known contacts.
However, there are clear signs that circumstances are preventing contact tracing from working, including the fact that many community cases keep popping up. These are people who weren't already known to health workers.
What they're saying: "There's still no way out of this without complete and thorough contact tracing," says Jennifer Nuzzo, public health expert at Johns Hopkins Center for Health Security. "It's hard to argue against the value of the vaccine, but a vaccine alone is not going to get us out of here."
Go deeper: Axios' full Ebola coverage
4. Axios stories worthy of your time
Blue Origin flight test: Jeff Bezos' Blue Origin successfully launched 8 science experiments into suborbital space on Wednesday. The company recovered both the New Shepard rocket and the crew capsule for reuse.
CRISPR: Scientists were able to alter an enzyme from a thermophilic bacteria so it can be used by CRISPR to edit human genes more effectively, per a study published in Nature Communications, Eileen writes.
Hot 2018: Because of the shutdown, government climate scientists may not be able to make their announcement, but the independent science group Berkeley Earth found that 2018 was the fourth-warmest year on record worldwide, Ben Geman reports.
About that 12-year climate deadline: Climate scientists say the world won't fall off a climate "cliff" if we don't act to cut emissions sharply within 12 years, but there are other valid ways to frame options.
Autonomous vehicle tech: A look at the market for startups that are building the lidar technology needed for self-driving cars to "see" properly, Joann Muller writes.
5. What we're reading elsewhere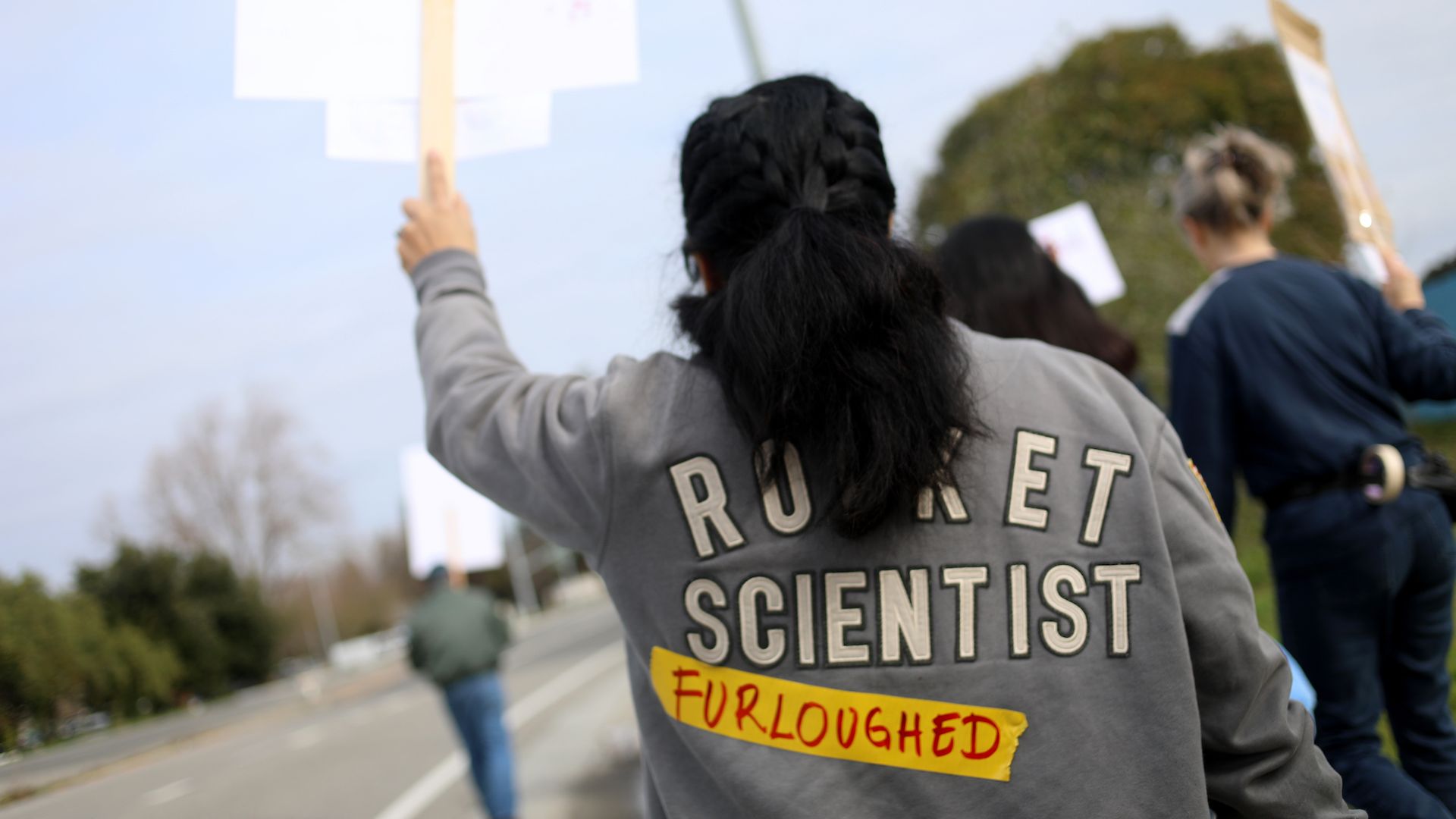 Science and the shutdown: Thousands of scientists are furloughed or anxiously awaiting word on grant applications due to the partial government shutdown, Chris D'Angelo writes for HuffPost. The NSF hasn't provided any grant funding since Dec. 22, and it would've normally doled out more than $100 million since then.
Hunting for illegal fishing: Closely tracking bunker fuel vessels, which are used to refuel other ships at sea, could prove to be a key way to crack down on illegal fishing, according to a new Australian study, Kimberly Riskas reports for Hakai Magazine.
Get ready to freeze: An extremely severe cold snap is projected to occur in the Midwest and eastern U.S. next week, reports meteorologist Jason Samenow for the Washington Post's Capital Weather Gang blog.
How fake news spreads on Twitter: The overwhelming majority of fake news spread on Twitter in 2016 was sent by a "tiny fraction of Twitter users," writes AP's Seth Borenstein. A new study in Science finds that conservatives and older people shared misinformation more.
6. Something wondrous: The eclipse impact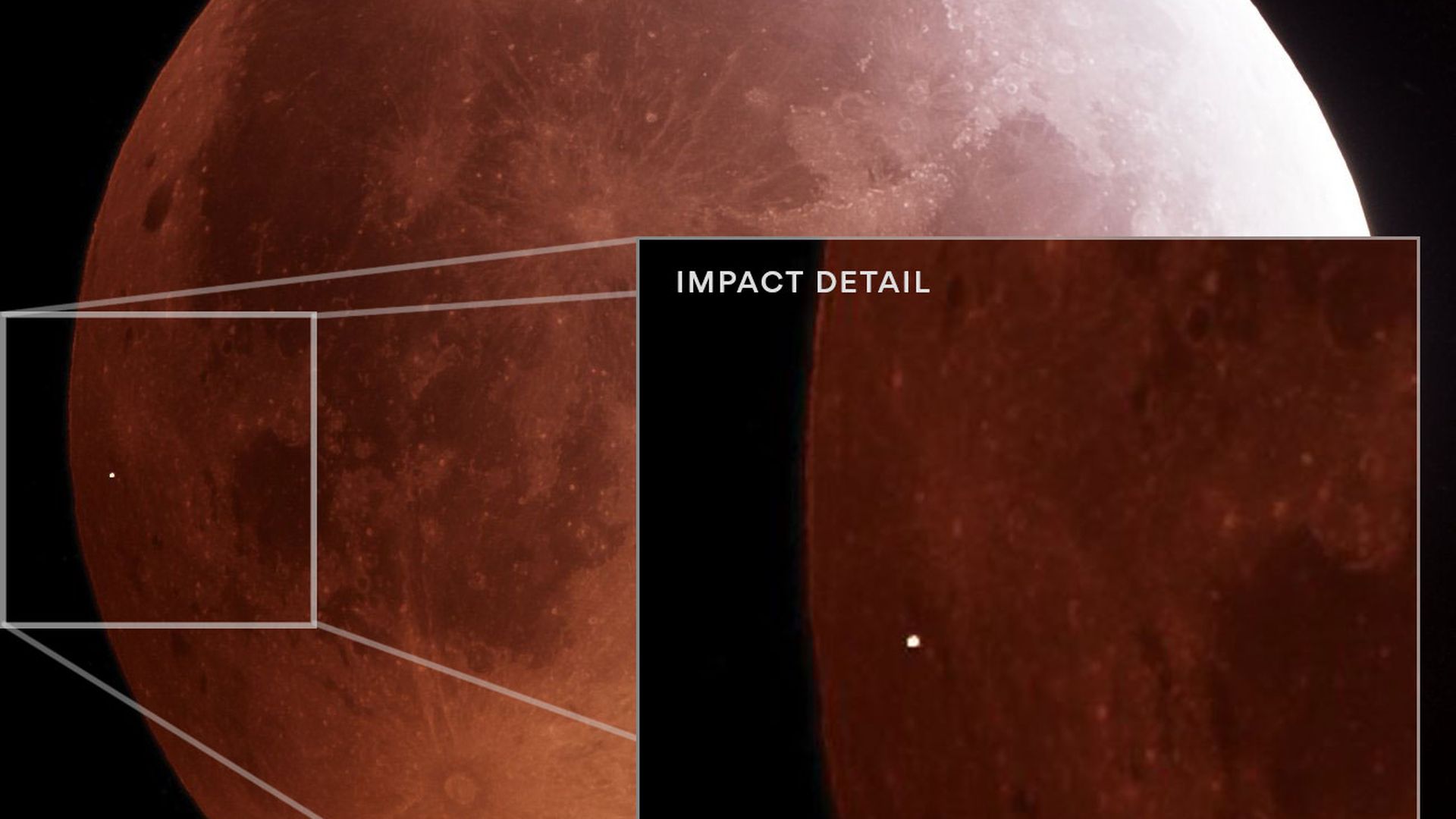 While many of you gazed at the total lunar eclipse on Jan. 20, you probably had no idea you were witnessing something unprecedented. Amateur astronomer Christian Fröschlin of the Netherlands peered up at the skies, and along with some others around the world, he caught a quick glimpse of a bright flash on a corner of the reddish-tinted moon.
Why it matters: While scientists have observed meteorite collisions on the moon before, this appears to be a first to be observed during a total lunar eclipse. According to Nadia Drake, reporting for Scientific American, the moon gets hit on a daily basis by what are typically small meteorites. (Unlike Earth, the moon lacks an atmosphere where such rocks can burn up before hitting the ground.)
Details: While Fröschlin caught some particularly stellar imagery of the collision, many astronomers and sky gazers caught sight of the impact via livestreams of the eclipse from various observatories around the world. Some, as Drake and others wrote, debated the significance of the flash on Reddit and Twitter.
Fortunately, one of the observatories involved in the Moon Impact Detection and Analysis System (MIDAS) observed the impact flash, according to a Twitter posting by Jose Maria Madiedo, an astronomer at the University of Huelva in Spain. That seemed to settle the debate.
"The impact flash has been recorded by telescopes operating in the framework of MIDAS survey from Europe," he announced via Twitter. Madiedo included a link to a video of the event captured by the observatory.
The next time you look up and think you spot something unusual, you might just be right. Just ask Fröschlin.
Thanks so much for reading! I look forward to seeing you back next week.