Thanks for subscribing to Axios Science. Please consider inviting your friends, family and colleagues to sign up.
I appreciate any tips, scoops and feedback — simply reply to this email or send me a message at [email protected].
1 big thing: Sea ice has vanished from the Bering Sea
For the second straight year, the Bering Sea — a turbulent and bountiful stretch of the northern Pacific Ocean — is virtually ice free at a time of year when it should be gaining ice.
Why it matters: The ice pack's ebb and flow each year has far-reaching consequences for the broader Bering Sea ecosystem, including determining the reach and abundance of prized fish species such as Alaska pollock and Pacific cod. This is the richest fishing ground in the U.S., featured in the Discovery Channel's "Deadliest Catch."
The big picture: Scientists who keep close tabs on this region say the ice's early melt is upending life in the Last Frontier. It also portends consequences for the Lower 48 states and beyond.
In a new study published in Earth's Future on Thursday, scientists warn that Arctic climate change is already reverberating far outside the region.
By the end of February, Bering Sea ice extent was lower than it has been since written records began in 1850.
The March 6 departure from the long-term average shows an area of ice equivalent to California and Montana combined is missing from the Bering Sea.
Details: Rick Thoman, a scientist at the Alaska Center for Climate Assessment and Policy, tells Axios that a combination of unusually mild ocean waters and a persistent, anomalous weather pattern combined to decimate the region's sea ice cover. A similar dynamic led to the previous record low set last year.
"One year maybe is a fluke, two years sure looks like we've crossed a threshold now."
— Rick Thoman, University of Alaska at Fairbanks
Since Jan. 23, a series of 16 powerful low-pressure systems have moved north from the Pacific into the Bering Sea region, bringing heavy precipitation and mild southerly winds.
These winds have vaulted warm, moist air into the region and northward into the Arctic. They've also broken up the thin ice cover.
The impact:
The sea ice loss makes hunting animals like walrus and seals, which serve as key food sources for native Alaskans in coastal villages, now far riskier.
Communities exposed to high seas are seeing severe erosion and threats to their infrastructure.
Diana Haecker, a reporter for the Nome Nugget newspaper in Nome, Alaska, tells Axios in an email: "The disappearance of sea ice and the ensuing weather is not only impacting our lives, it is disrupting life and is forcing each one of us, hunter or not, to refocus our energy on sheer survival."
Context: Zack Labe, a Ph.D. candidate at the University of California at Irvine, says that although the past two years have brought historically low Bering Sea ice conditions, year-to-year trends can fluctuate considerably.
Labe says some years may see temporary upticks in Bering Sea ice extent, but that overall, climate change is now in the driver's seat.
A study published last year found that a marine heat wave in the Bering Sea and Gulf of Alaska in 2016 cannot be explained without including human-caused global warming.
The bottom line: The loss of sea ice could change ocean temperatures, salinity and currents enough to alter the distribution and abundance of commercially valuable fish in this region. The stakes are high, as the Alaska pollock fishery alone was worth $413 million in 2017.
Go deeper: Read the full story.
2. Humans threaten chimpanzees' behavioral diversity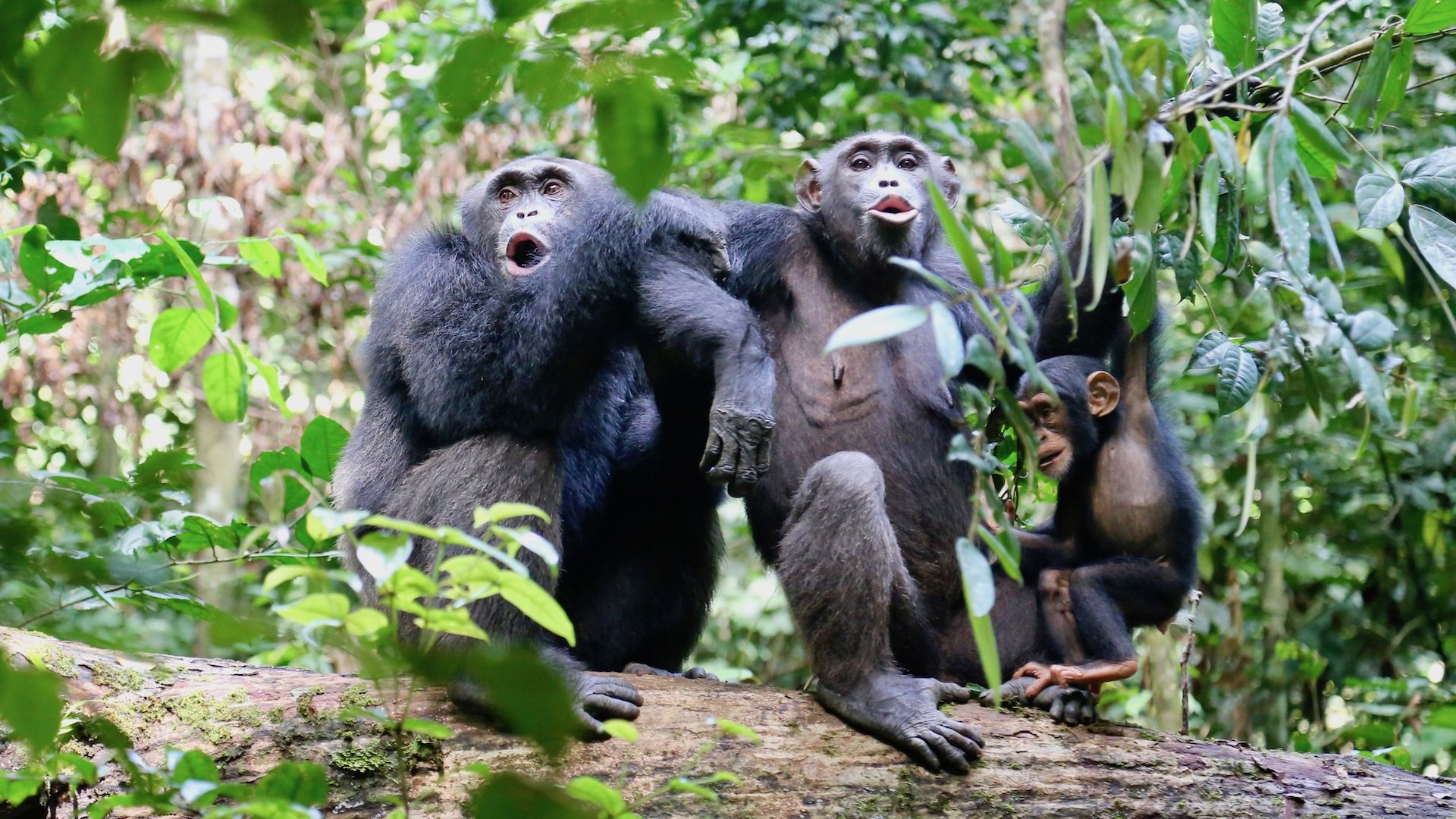 Human disturbance that is shrinking the habitat for chimpanzees is also reducing their behavioral diversity, a key component to biodiversity that previous studies had not examined.
Why it matters: Like humans, chimpanzees learn new skills, including the use of tools for feeding and communication gestures, in group settings. By shrinking their habitat in equatorial Africa through deforestation and reducing their numbers through poaching and other activities, a new study published Thursday in Science shows that we may be reducing an under-appreciated aspect of chimpanzee biodiversity: how animals behave.
What they did: In the study, an international team of researchers examined 31 chimpanzee behaviors across 144 chimpanzee communities. This involved field work in more than 40 locations including multiple sites in Uganda.
They measured the degree of human disturbance for each community to try to determine if more disturbed populations show less behavioral biodiversity than populations under less stress.
The behaviors examined in this study include:
The extraction and consumption of termites, ants, meat, algae, nuts and honey.
The use of tools for hunting or digging for tubers.
The use of stones, pools and caves.
What they found: The researchers found that chimpanzees living in areas with high human impact had an 88% reduction in the mean chance of occurrence of the behaviors they were looking for, compared to the areas with lowest human impact.
What they're saying: "The impact of humans on the environment is not only causing the loss of species and populations, but also the loss of unique animal cultures and behavioral diversity," study co-author Ammie Kalan, of the Max Planck Institute for Evolutionary Anthropology, tells Axios.
"Although this has been theoretically predicted, our study provides empirical evidence of this by putting together an unprecedented dataset on one of our closest living relatives."
What's needed: The study suggests that conservationists should consider behavioral and cultural diversity when pursuing conservation management plans. Specifically, the authors put forward the concept of Chimpanzee cultural heritage sites to protect populations with rare or diverse cultural behaviors, Kalan says.
3. Infections in pregnant moms can raise autism risk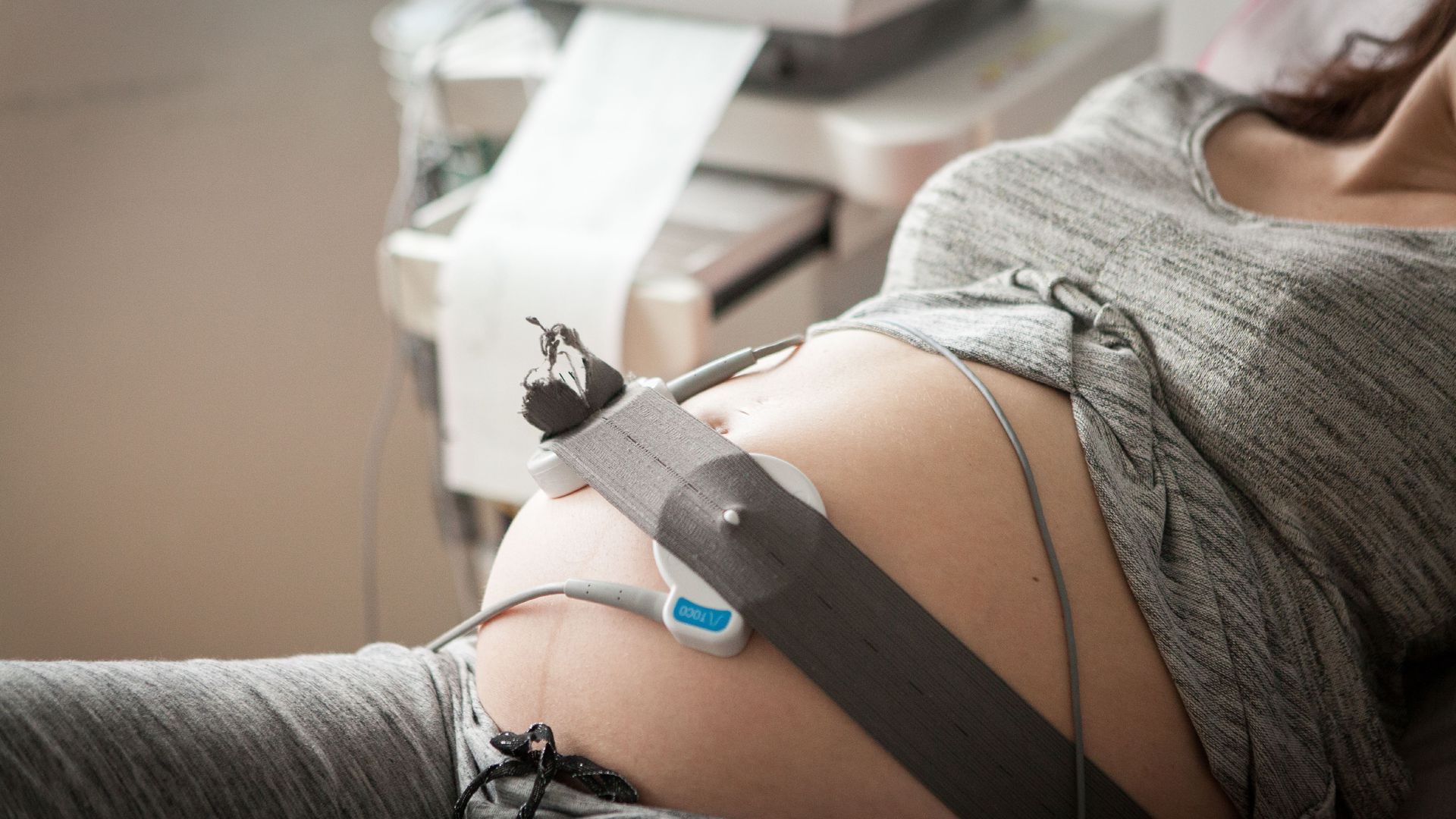 Children of women who had been hospitalized with infections like the flu, pneumonia and sepsis while pregnant may have a much greater risk of having depression or autism spectrum disorder (ASD), according to a study published Wednesday, Eileen Drage O'Reilly reports.
Why it matters: There's been some debate in the scientific community on whether infections in utero could be a factor in the development of ASD. This large and long-term study in JAMA Psychiatry — which showed a 79% increase in ASD risk and a 24% increase in depression risk in those children — offers further evidence there may be a relationship, plus new information that this could also be a factor in depression, study author Kristina Adams Waldorf tells Axios.
What they did: The researchers used a large dataset of almost 1.8 million Swedish children born between January 1973 and December 2014 who were observed for up to 41 years.
"The real power in this study is found in the large numbers of subjects evaluated," Vanderbilt University Medical Center's David Aronoff, who was not part of this study, tells Axios.
Data were culled from inpatient hospital records on maternal infections and psychiatric outcomes.
The infection types they considered included: maternal infections, urinary tract inflections (UTIs) and severe infections, like sepsis, meningitis or encephalitis, pneumonia, influenza, pyelonephritis or chorioamnionitis.
The psychopathological conditions they looked for included ASD, bipolar disorder, depression and psychosis, including schizophrenia.
The team also sought to check if the type and severity of the infection affected the level of risk for psychiatric conditions.
What they found:
Fetal exposure to any maternal infection at the hospital — including UTIs — increased the risk of autism and depression.
"We analyzed the information in many ways," says Adams Waldorf, a professor at the University of Washington School of Medicine."We found an increased rate of suicide in adults [born from this group] ... which helped corroborate our depression data."
Caveat: Study limitations include the fact that these are only based on women who were hospitalized — "this is not the case for the common cold," Adams Waldorf says — and only on people in Sweden.
Another limitation, Aronoff adds, is that these population-level data do not allow close study of patient-level information, such as how individual maternal infections were diagnosed or managed.
Go deeper: Read the full story.
4. Ebola outbreak passes 900 cases amid new warnings
The Ebola outbreak in the Democratic Republic of the Congo has now passed 900 cases, and community mistrust and endemic conflict in the region continues to slow progress despite the availability of promising new treatment options.
Why it matters: This is the 2nd-largest outbreak of Ebola on record, and the first to occur in a country experiencing violent conflict, which is complicating response efforts.
The latest: On Thursday, Doctors Without Borders (MSF) held a press conference to warn of the failure to date of bringing the outbreak under control.
Despite treatments and a new vaccine, the NGO warned, more than 40% of new cases since the start of the year are community cases where the infected people are dying at home rather than in hospitals.
"In Katwa and Butembo — the epicenter of the epidemic — 43 percent of patients in the last three weeks had no known links to other cases, making it difficult for health actors to determine transmission patterns," MSF said in a press release.
"We have a striking contradiction," said Joanne Liu, MSF International president, in the press release.
"On the one hand, we have a rapid and large outbreak response with new medical tools such as vaccines and treatments that show promising outcomes when people come early. On the other hand, people with Ebola are dying in their communities, and do not trust the Ebola response enough to come forward."
— Joanne Liu, MSF International president
Between the lines: Last week, MSF was forced to halt its Ebola treatment activities in two locations of North Kivu province after attacks against its treatment centers. Security incidents have ticked up in February, MSF says.
The organization cites a variety of political, social and economic grievances in causing the volatile security situation, including the influx of resources solely to fight Ebola in a region with many other basic health needs, as well as the conduct of security forces working with health care workers.
"Ebola is a brutal disease, bringing fear and isolation to patients, families, and health care providers," Liu said. "The Ebola response needs to become patient- and community-centered. Patients must be treated as patients, and not as some kind of biothreat."
Go deeper:
5. Axios stories worthy of your time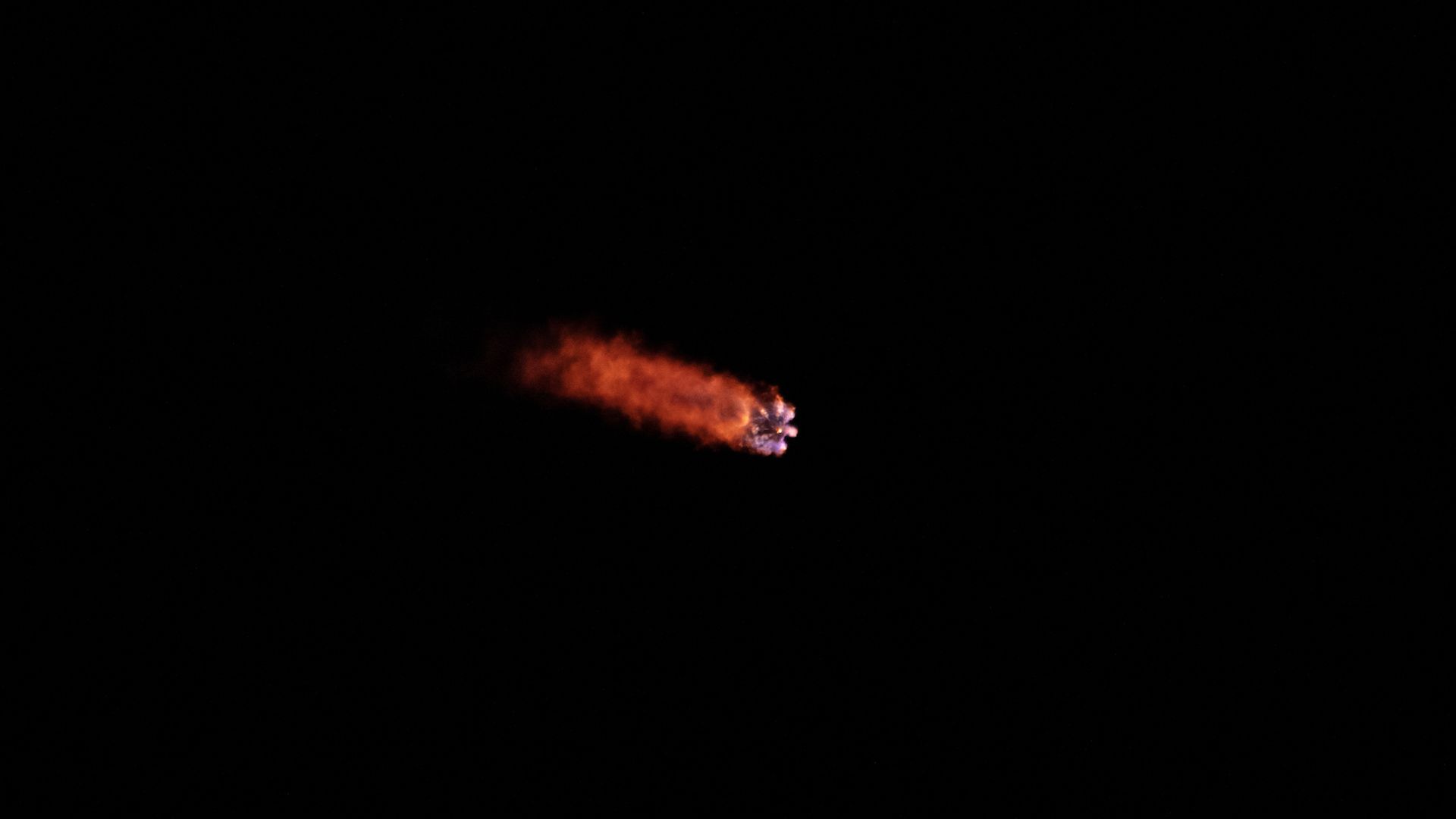 6. What we're reading elsewhere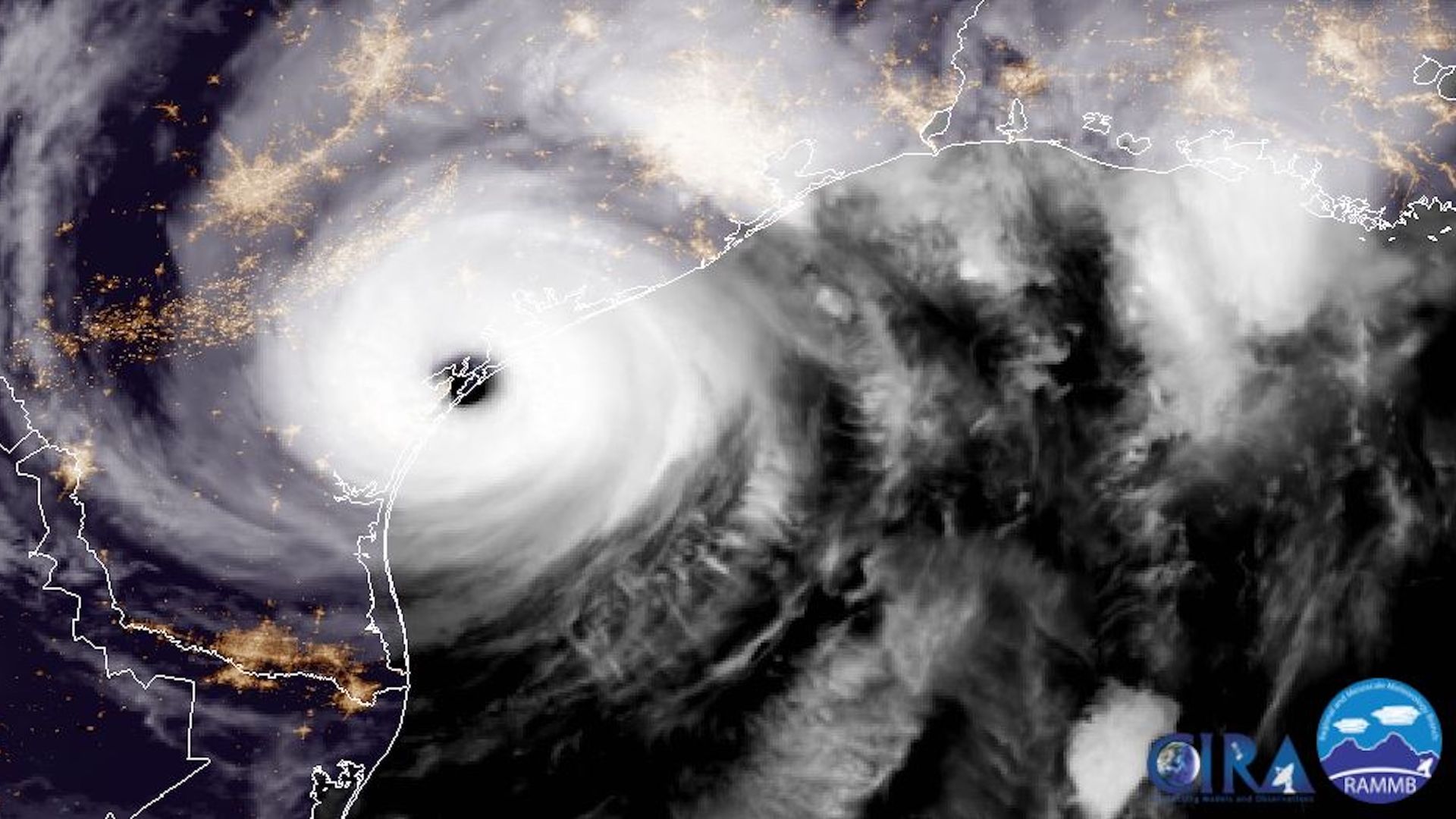 7. Something wondrous: What the sound barrier looks like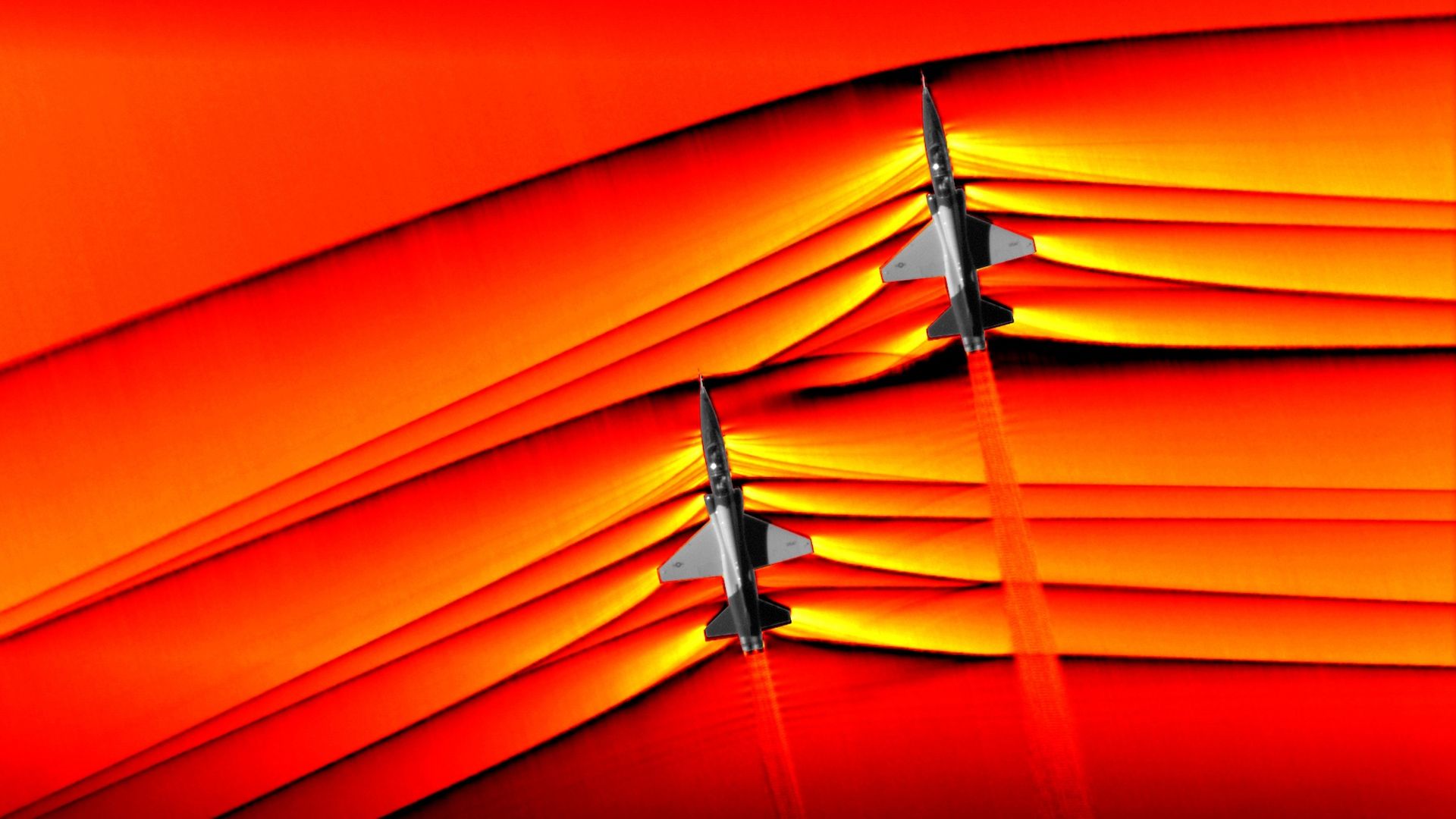 You may have heard the deep, sudden "boom" generated when an aircraft breaks the sound barrier. But most of us have never seen what it looks like from a fluid dynamics perspective.
Turns out, it's gorgeous.
Why it matters: NASA is in the process of developing and extensively testing a quiet supersonic aircraft that, if successful, could usher in a new era of domestic air travel.
What they did: Recently, NASA tested an air-to-air photographic technology, known as the schlieren photography technique, to capture the first-ever images of how shockwaves from two supersonic aircraft interact in flight. This technique relies on how light rays are bent when they encounter changes in the density of a fluid.
"We never dreamt that it would be this clear, this beautiful," says physical scientist J.T. Heineck of NASA's Ames Research Center in California, in a press release.
Flying above the California desert, the test flights resulted in the successful demonstration of an imaging system that can capture high-quality images of shockwaves, which are rapid pressure changes produced when an aircraft flies supersonic. NASA is interested in sonic booms because it is trying to create designs for quieter supersonic aircraft.
Details: The images show a pair of T-38 training aircraft flying in formation at supersonic speeds. According to NASA, the T-38s in the photo were flying approximately 30 feet away from each other, with the trailing aircraft flying about 10 feet lower than the leading T-38.
What they're saying: "What's interesting is, if you look at the rear T-38, you see these shocks kind of interact in a curve," Neal Smith, a research engineer at NASA Ames' fluid mechanics laboratory, said in the release.
"This is because the trailing T-38 is flying in the wake of the leading aircraft, so the shocks are going to be shaped differently. This data is really going to help us advance our understanding of how these shocks interact."
Thanks for reading! See you again next Thursday. Have a great week.