Axios San Francisco
August 01, 2022
Welcome to the first edition of Axios San Francisco! Megan and Nick here. We are very excited to start this conversation on what's happening in our city and why it matters.
But more about us later. Onto the news.
🌁 Situational awareness: It's August! AKA "Fogust" here in the city. Today expect a high of 70° and a low of 57°.
Today's Smart Brevity™️ count is 893 words — a 3.5-minute read.
1 big thing: City hopes state of emergency will bring more vaccines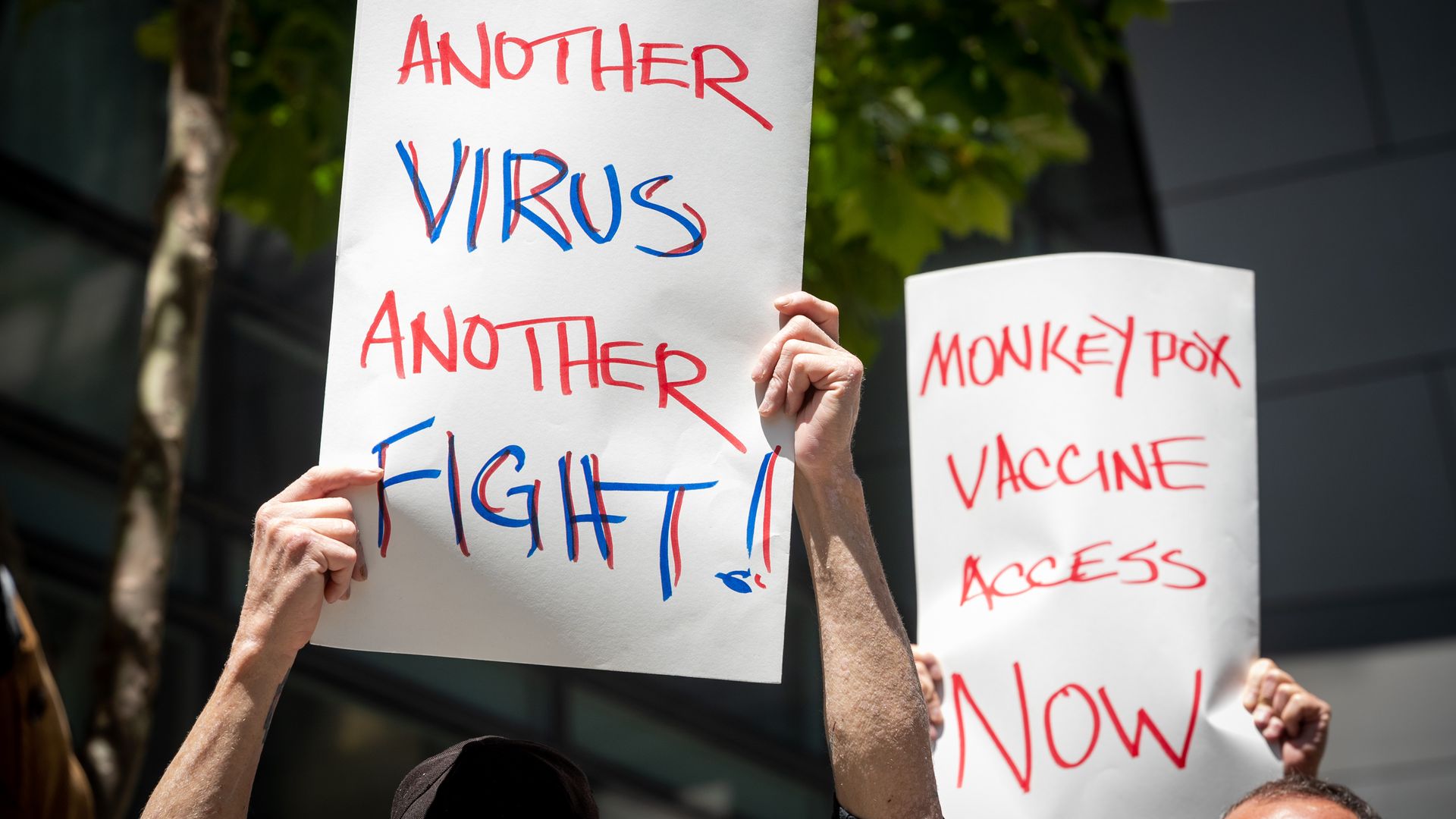 With one of the highest infection rates in the country, the city of San Francisco declared a state of emergency last week in response to its monkeypox outbreak.
Why it matters: One of its main objectives is to "send a signal" to the federal government that the city needs urgent help — namely, more vaccines, District 8 Supervisor Rafael Mandelman told us.
The city initially requested 35,000 vaccines, but has received around 12,000. Mandelman said the city needs closer to 70,000 to reach those most at-risk.
While most cases in the city have been among men and trans people who have sex with men, the disease can be spread non-sexually and anyone can contract it.
Details: City officials say they want the declaration to communicate the seriousness of the disease to residents, and to help set up additional vaccination sites faster.
Though not life threatening in most cases, Mandelman called monkeypox "a big deal" based on the health complications and the scarring it can cause.
By the numbers: San Francisco's 305 monkeypox cases as of Friday, account for nearly 40% of known cases in California.
Over 97% of those who have tested positive in SF identified as male, and over 85% identified as gay or bisexual. Of those who tested positive, 12% declined to provide sexual orientation information.
Nearly 27% identified as Latino — almost double the percentage of the city's overall Latino population. Public health officials said they are working with Latino community groups to disseminate information on resources.
What they're saying: "For many of us in the gay community, the response has felt chaotic, confusing, and to be blunt, homophobic," resident Mike Marcus told us. "It's hard not to wonder what the response would be if this were happening in a majority community."
What's next: Health officials are now distributing the 4,220 doses it received late last week to vaccine sites across the city.
The San Francisco AIDS Foundation is hosting a town hall today at 6pm on the current outbreak and how residents can demand more vaccines.
2. Hospital pauses patient transfers amid deaths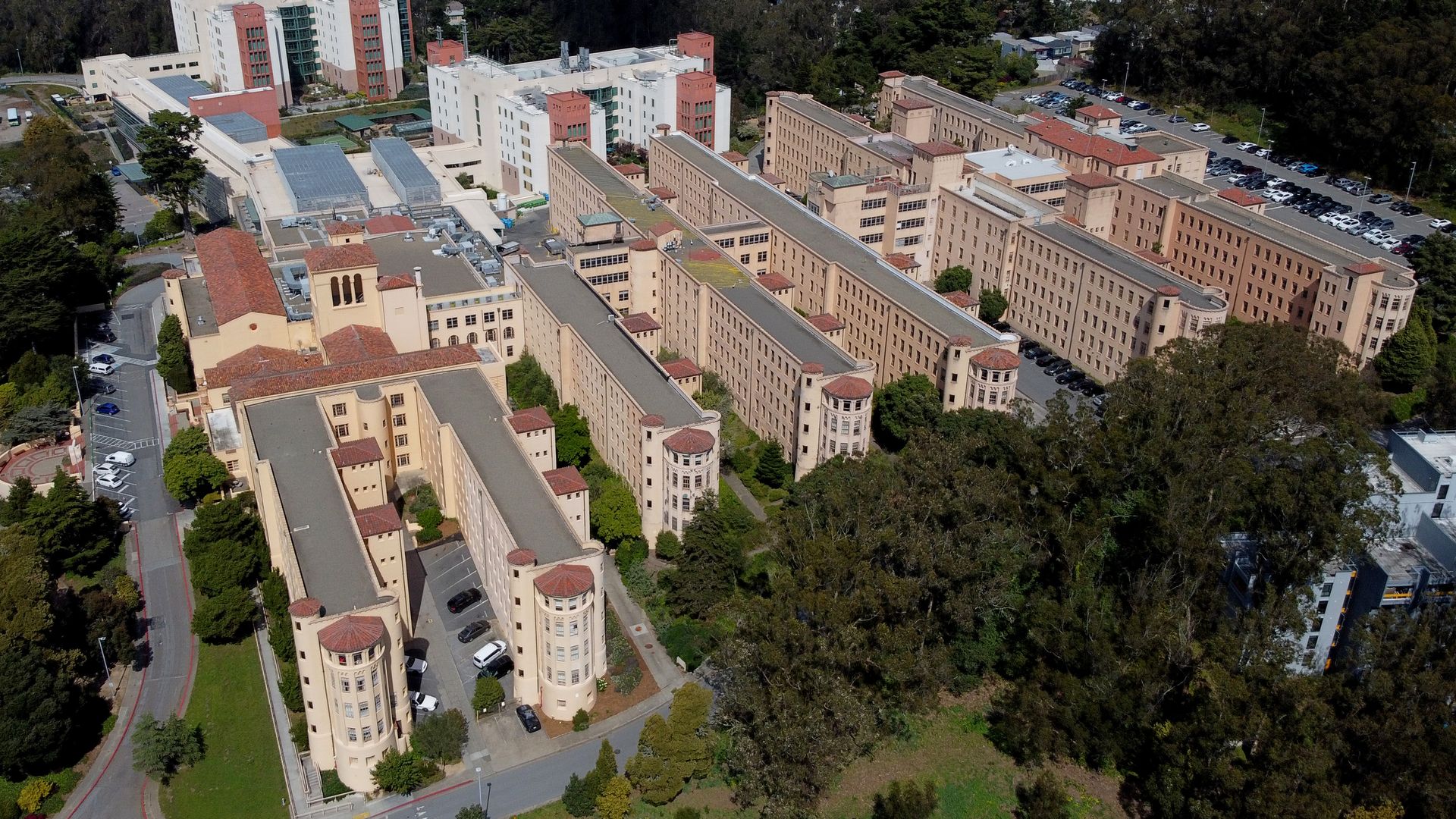 Federal regulators on Thursday paused the transfer of hundreds of residents from Laguna Honda Hospital and Rehabilitation Center following the deaths of at least four patients after being moved to other facilities.
Why it matters: Halting transfers means the 600+ patients — the majority of whom are low-income — may not be able to relocate to preferred, nearby facilities, which means they may not get the care they need.
Catch up quick: The Centers for Medicare and Medicaid Services revoked Laguna Hospital's certification in April, after determining the facility did not comply with a number of federal safety requirements, including inspections and uncovering illicit substances on site.
Federal regulators mandated the facility discharge or transfer all patients by Sept. 13 — the earliest possible date of the hospital's closure if recertification efforts were unsuccessful. Laguna Honda needs CMS certification to care for patients on Medicare or Medicaid insurance plans.
What's next: Laguna Hospital is working to get recertified, but CMS has not indicated how the process is proceeding, the San Francisco Chronicle reported.
3. The Wiggle: Navigating the news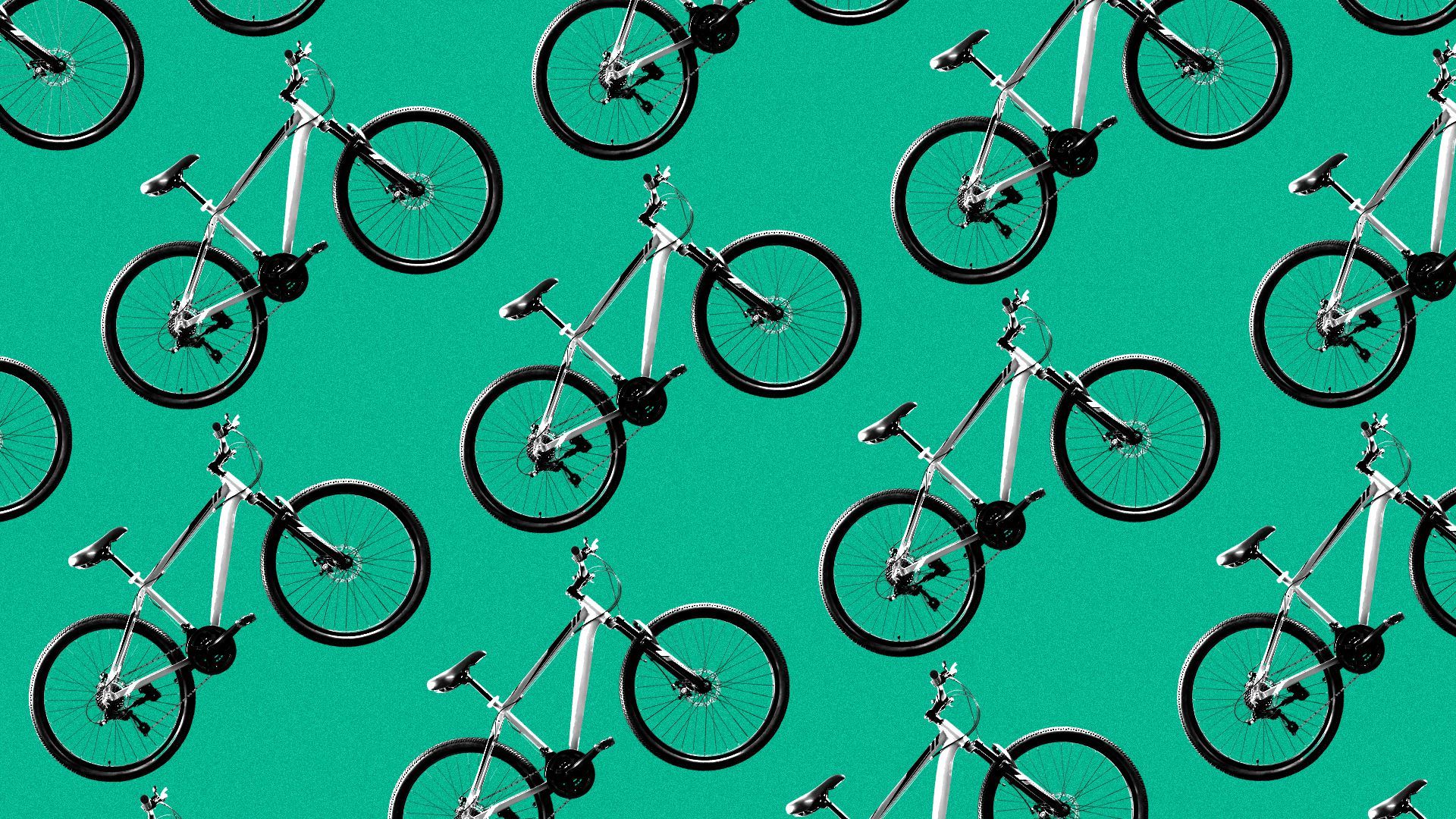 🎵 Outside Lands released set times for the festival this weekend. Check 'em out.
🚈 ICYMI: BART is once again requiring masks on trains at least through Oct. 1. (SF BART)
⚖️ A San Francisco Superior Court judge on Friday revoked the right for noncitizen parents to vote in school board elections.
Judge Richard Ulmer ruled that the ability for green card holders, work visa holders, refugees and undocumented immigrants to vote is "contrary" to the California constitution and state statutes. (San Francisco Standard)
4. Giants attendance drops
Average attendance for Giants games at Oracle Park was down 6.2% heading into last month's All Star break compared to the same time period in 2019.
Yes, but: The Giants are not alone.
23 of 30 MLB teams have seen attendance drop this season — a league-wide decrease of 6.4%.
The Oakland A's saw the steepest decline at 54.6%.
What they're saying: "Fan engagement is not only measured by the attendance in our building," Mario Alioto, the Giants' executive vice president of business operations, told us.
"But with that said, part of our goal now is [figuring out] — how do all of us get back to going to live events like we did pre-pandemic?"
What's next: Deals.
For this week's series against the rival Los Angeles Dodgers, the Giants are offering a "Family 4-Pack" of tickets for $79.
The deal expires at 10am this morning.
Is a new job in your future?
5. Welcome — We're so glad you're here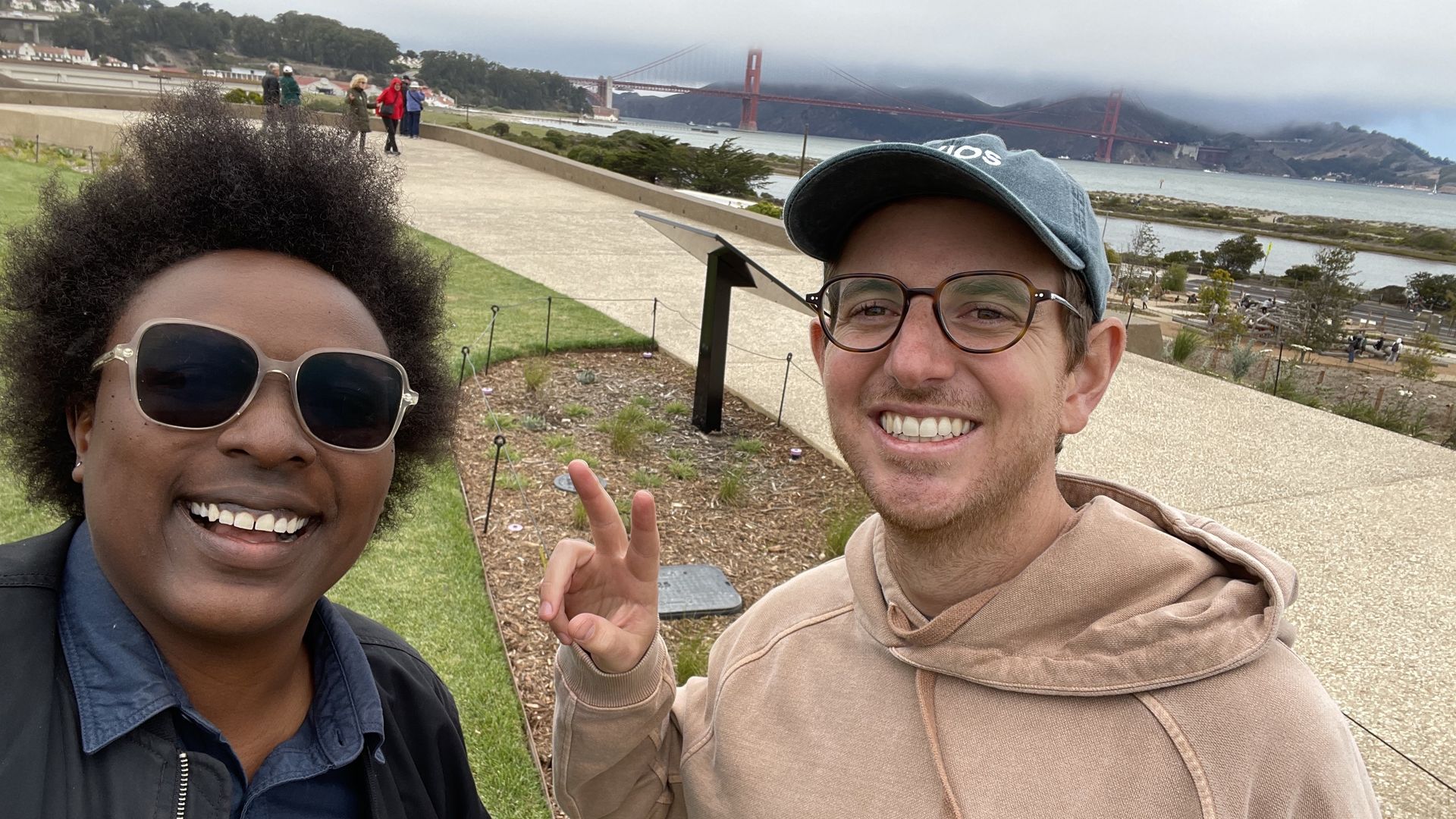 Before we go, we want to tell you a little about ourselves and what you can expect from this newsletter.
Why it matters: So much happens in San Francisco on any given day that it can be hard to make sense of what really matters. We're here to help you with that every Monday through Friday.
About us:
Nick is from LA but quickly realized that SF is objectively the better city. He founded The SF Minute, a local Substack newsletter that Axios acquired earlier this year. He lives near Alamo Square Park with his wife, 10-month-old son and GSP pup named Olive.
Megan was born and raised in SF and currently lives in Russian Hill with her partner and extremely senior dog, a maltipoohuahua named Frosting. She's a recovering tech journalist who's excited to cover her hometown.
🛼 Megan is excited to try out her new roller blades … if UPS decides to actually deliver them.
🎸 Nick can't believe Outside Lands is here already and will be living vicariously through all you lucky folks who are going.