Axios San Francisco
September 22, 2022
Welcome to Thursday!
Today's weather: Sunny, high of 74. ☀️
Today's newsletter is 934 words — a 3.5-minute read.
1 big thing: What your supervisor thinks about police surveillance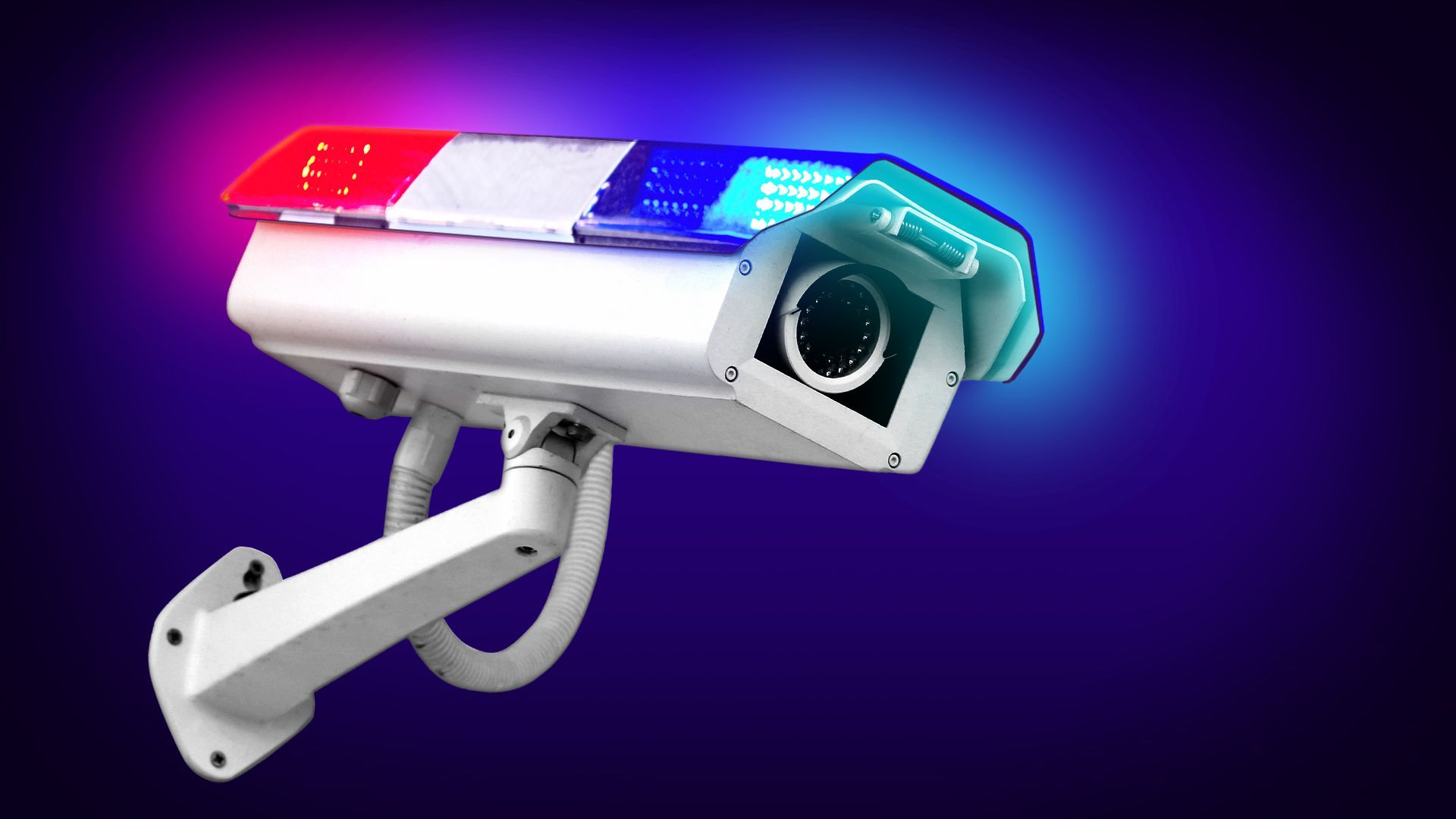 San Francisco's Board of Supervisors sparred this week over an ordinance to allow the police department to request access to live surveillance technology from private parties.
Why it matters: The proposed legislation has ignited controversy around privacy rights and the potential for misuse of the technology.
Driving the news: The board voted Tuesday 7-4 to approve the measure, which has a sunset date of 15 months from implementation.
How it works: The legislation would allow the SF Police Department to seek permission to access private cameras during life-threatening situations, mass events that may require law enforcement, and criminal investigations.
If permitted, police could access the live feeds for up to 24 hours.
What they're saying:
Each member of the Board of Supervisors had a chance to comment prior to Tuesday's vote. Here's a taste:
Aaron Peskin (D3, yes)
"What we have been endeavoring to do in our evaluation of this use policy is to balance the very, very important, fundamentally American values and rights to privacy in the public realm, to protect our civil liberties and to allow law enforcement to, with rules, utilize certain technologies to make San Francisco safer..."
Shamann Walton (D10, no)
"Even as a law-abiding Black man, my civil liberties have been violated. This is dangerous, even with the provisions and best intentions."
What's next: The BOS still must give the legislation final approval, but that process is typically perfunctory.
Mayor London Breed then would have to sign off within 10 days.
2. Travelers don't totally hate SFO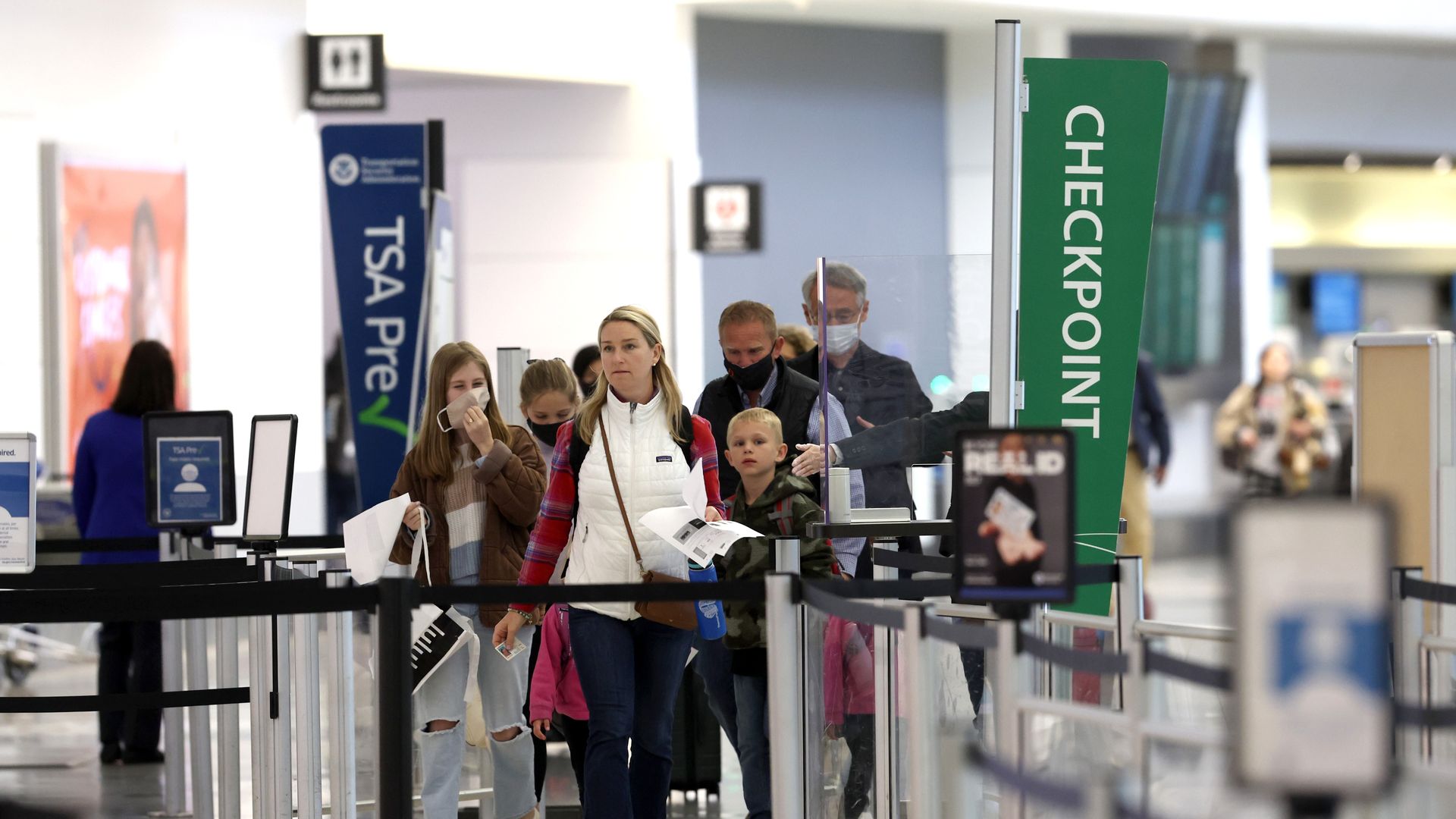 For airline travelers, it's 2019 all over again, Axios' Joann Muller reports.
What's happening: After a brief, blissful period during the pandemic when passengers could breeze through security checkpoints and baggage claims and easily dine at on-site restaurants, airports are again a source of frustration, according to J.D. Power's latest annual Airport Satisfaction Study.
Driving the news: Overall customer satisfaction with North American airports fell 25 points, for a score of 777 out of 1,000 this year, as passenger volume returned to near normal, J.D. Power found.
Details: The Airport Satisfaction Study looks at six factors: terminal facilities; airport arrival/departure; security check; check-in/baggage check; baggage claim; and food, beverage and retail.
This year's findings include:
Crowds are back to pre-pandemic levels: 58% of airport travelers described the terminal as severely or moderately crowded, nearly in line with 2019.
Inflation hit the airport: 24% of travelers said they didn't buy food or beverages due to high costs, up from 20% in 2021, and 23% in 2019.
Yes, but: Among "mega" airports — those with 33 million+ passengers annually — SFO had the second-highest passenger satisfaction score.
💭 Nick's thought bubble: I've long felt a sense of pride for SFO and often wonder — why can't the rest of our city look so clean or function so well?
Here are a few things I love about our airport:
🚰 Water bottle filling stations everywhere, especially right after you get through security. Why doesn't every city do this?
➡️ Arrows for entering/exiting the bathrooms. In most cities, people entering the bathroom and those leaving often run into one another. But not in civilized San Francisco, where our bathrooms have arrows directing the flow of foot traffic.
3. Local kayaker reaches Hawaii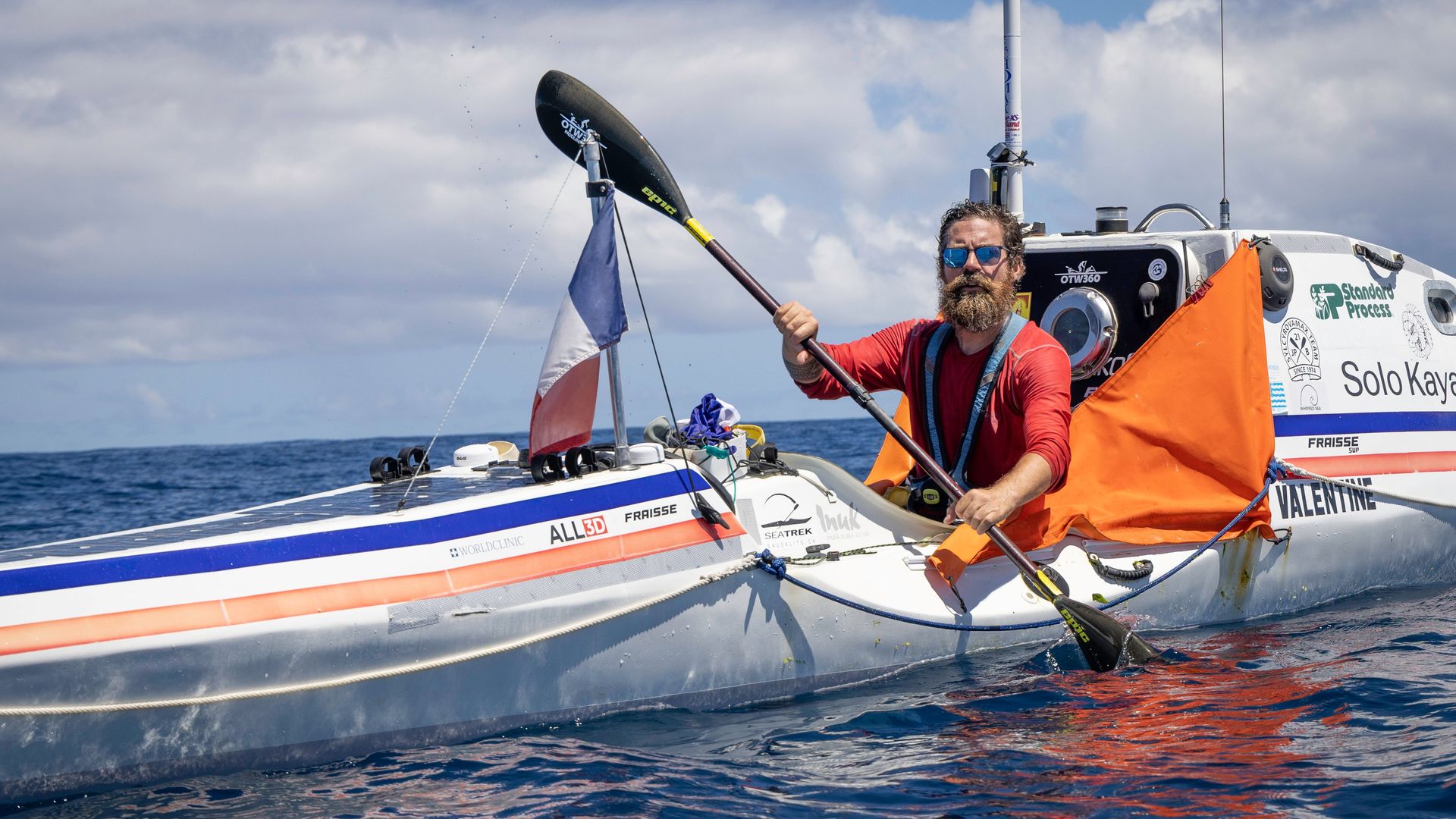 Cyril Derreumaux did something Tuesday that no person had done before — kayak solo from California to Hawaii under his own power.
What's happening: The Marin-based kayaker left Monterey in June, and 92 days later, he arrived in Hilo.
The historic trip follows Derreumaux's failed attempt last year, when rough waters led him to call for help after six days at sea.
What he's saying: "It's been a spiritual experience," Derreumaux, 46, told the Chronicle.
Be smart: Legendary kayaker Ed Gillet completed the 2,400-mile trip in 1987, but his craft was aided by a kite, the Chronicle writes.
Plus: Gillet didn't have any GPS or communication devices.
At sea, Derreumaux wrote in his daily, online journal that he started imagining Gillet paddling in a kayak beside him.
"I guess this is what happens when you haven't seen a face in 22 days," he said.
4. The Wiggle: Navigating the news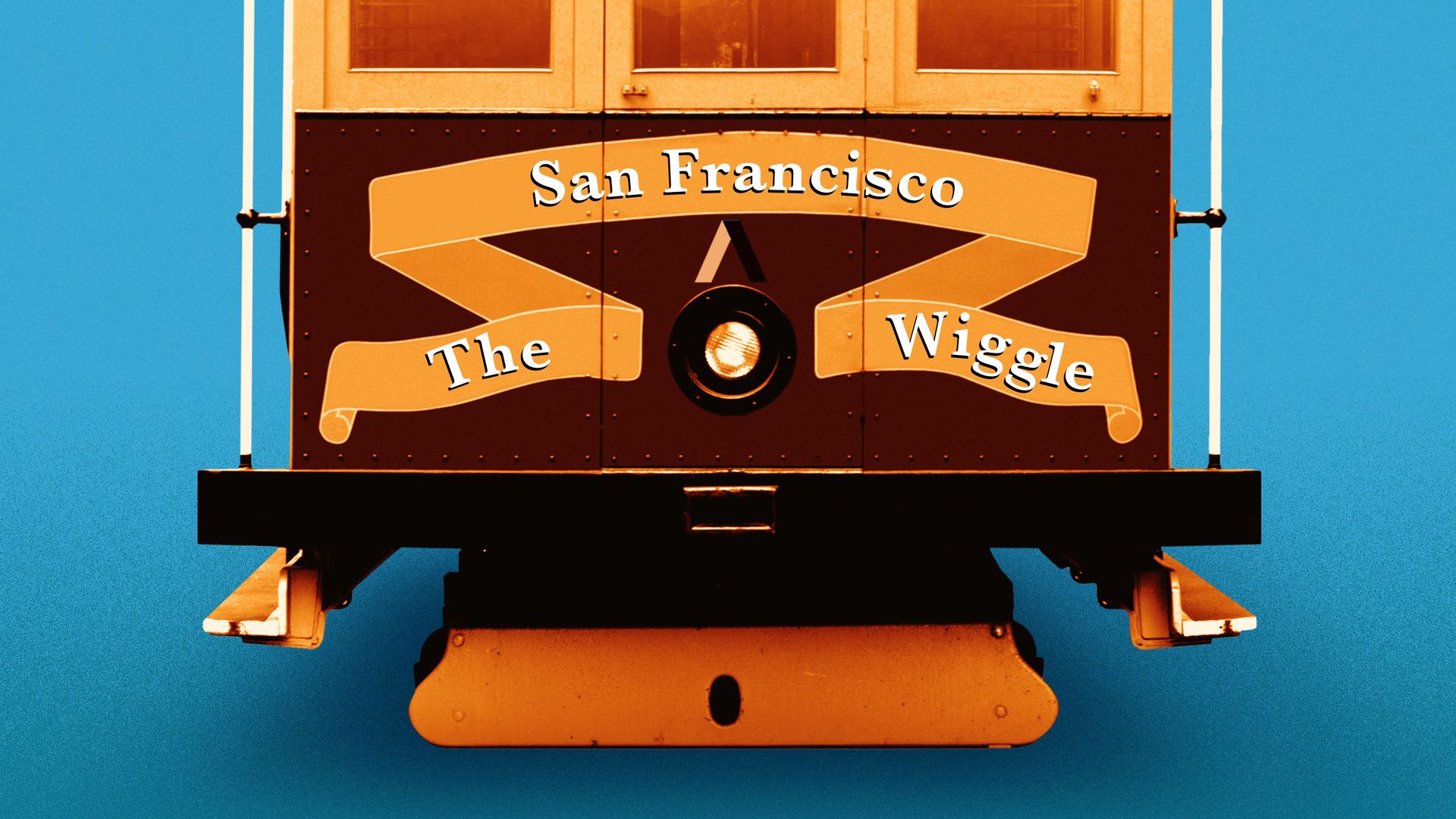 ⚾️ Buster Posey, an ex-catcher for the SF Giants, recently bought a stake in the baseball team. (New York Times)
🫔 The Mission's Roosevelt Tamale Parlor is closing after over 100 years. (Mission Local)
✌️ Japantown's Peace Plaza redesign has received $6 million from the state, with construction expected to begin in early 2024. (KRON 4)
5. SF pizzerias crack top 50 list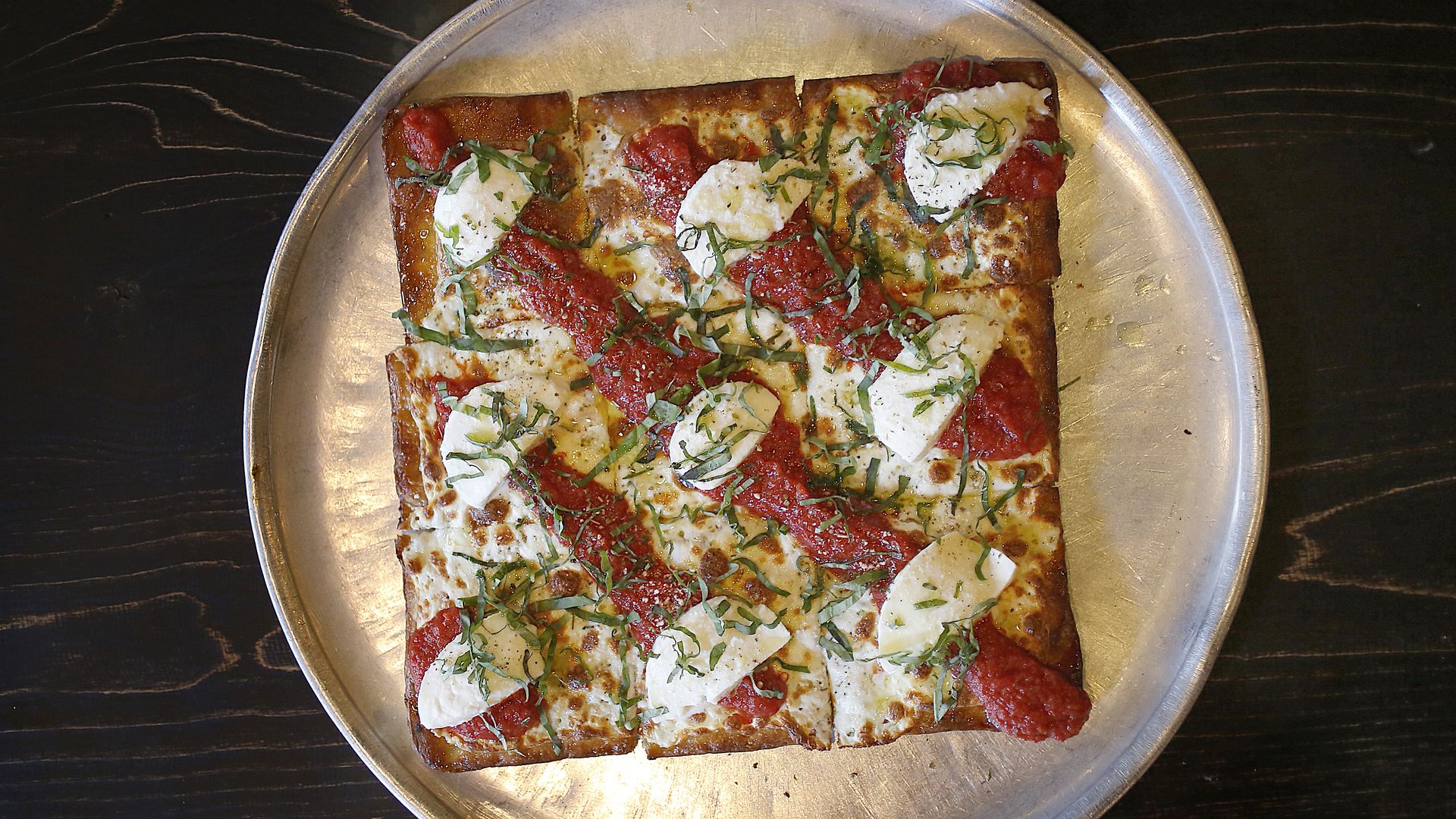 👋 Nick here.
Pizza is often on my mind — but especially with the new "Chef's Table" season dedicated to our sacred slices.
What's happening: No San Francisco spots are highlighted on the Netflix series' pizza season, but a handful of local joints made this list of the top 50 pizzerias in the U.S.
Details: Top 50 Pizza put the list together and said the final ranking was the "fruit of a long and painstaking work by [its] inspectors who, for an entire year … examined an enormous number of pizzerias spread around the entire country."
San Francisco had an impressive showing, including:
💭 My thought bubble: All these spots in San Francisco are good, but Tony's as No. 2 in the entire country? I'm not even sure it's the second best in the city.
My favorite pizza here — Pizzetta 211 — didn't make the list, but that's OK. It can be my (and now your) little secret.
Share with a pizza connoisseur. Hit reply and tell us about your favorite slice in the city.