Axios San Antonio
January 23, 2023
Hello, it's Monday. Welcome back.
Today's weather: Sunny, with a high of 62°. Wind gusts up to 20 mph. Showers likely in the evening.
🛣️ Situational awareness: The San Antonio Water System will begin work at Mission Park today to rehab sewer mains along Mission Parkway. Expect a partial lane closure on one side of the road.
Today's newsletter is 973 words — a 4-minute read.
1 big thing: Local institutions still hold Indigenous remains
Some government agencies, universities and museums in Texas continue to hold the remains of Indigenous people, despite a 1990 federal law that requires they work to return them to tribes.
Why it matters: Native American artifacts and gravesites were looted for many decades, often with the federal government's encouragement, ProPublica reported in a recent, detailed investigation.
By the numbers: The University of Texas at San Antonio's Center for Archaeological Research has the fourth largest collection of unrepatriated Native American remains in Texas, with the remains of 297 Indigenous persons that have not been made available for return to tribes.
The Witte Museum has the remains of 70 Indigenous persons that have not been made available for repatriation.
UTSA is working to return the remains and is in full compliance with federal law, Joe Izbrand, the university's chief communications officer, tells Axios.
In Austin, the University of Texas Archeological Research Laboratory has the 17th largest cache of unrepatriated Native American remains in the country and largest in Texas.
The remains of 341 Native Americans, or 15% of the university's collection, have been made available for return to tribes, according to ProPublica.
Lab officials say they have completed comprehensive inventories of the remains, and the disposition of the remains and associated objects "will be determined by each tribe."
Yes, but: The Miakan-Garza Band, a Coahuiltecan tribe local to Central Texas, recently renewed its push to get the lab to return three sets of remains found in Hays County.
What they're saying: "That spirit has been in agony, waiting," Maria Rocha, an elder of the Miakan-Garza Band, said during a September prayer. "UT is saying that spirit can wait three or four more years, 10 more years in agony. So I'm saying to myself, if their parent or grandparent was in agony, would they just postpone it for a few more years? No, no."
2. 🥸 Chatbot's breakfast taco acumen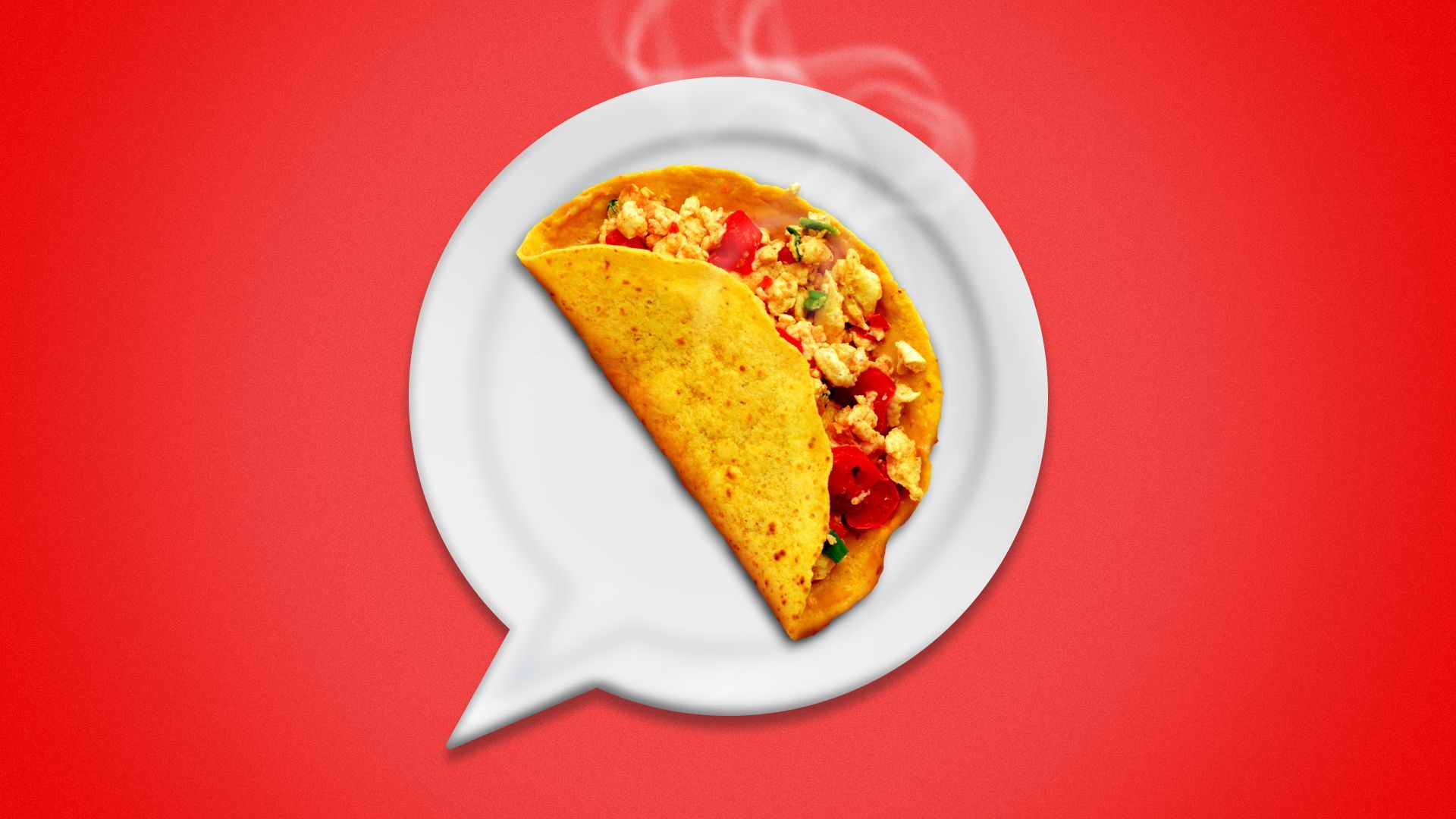 ChatGPT, the artificial intelligence chatbot, is making its way around the internet. We thought it'd be fun to test its savvy with a classic question about our breakfast tacos.
Why it matters: Maybe it doesn't. We all have our favorite breakfast taco spots already. But we were curious what the chatbot knew about the San Antonio delicacy.
We asked ChatGPT where to find the best breakfast tacos in San Antonio. Its answer:
There are many delicious breakfast taco spots in San Antonio! Here are a few recommendations:
Tacos Garza: This spot is known for its delicious breakfast tacos and has received rave reviews from both locals and tourists.
Ray's Drive Inn: This classic drive-in has been serving up delicious breakfast tacos for decades and is a must-try spot for anyone visiting San Antonio.
The Original Donut Shop: This popular spot serves up breakfast tacos that are filled with all your favorite breakfast items, like eggs, bacon, and cheese.
Henry's Puffy Tacos: This popular spot is known for its puffy tacos, but they also have a great selection of breakfast tacos on their menu.
The Dapper Donkey: This trendy spot has a variety of breakfast taco options, including vegetarian and vegan options.
💭 Megan's thought bubble: Not bad! I'm a fan of the Original Donut Shop. Ray's and Henry's are certainly well-known, but more for their puffy tacos than for breakfast.
Has anyone heard of the Dapper Donkey? We can't seem to locate it. Hit reply and tell us if you have any clues to share.
3. Inside the Loop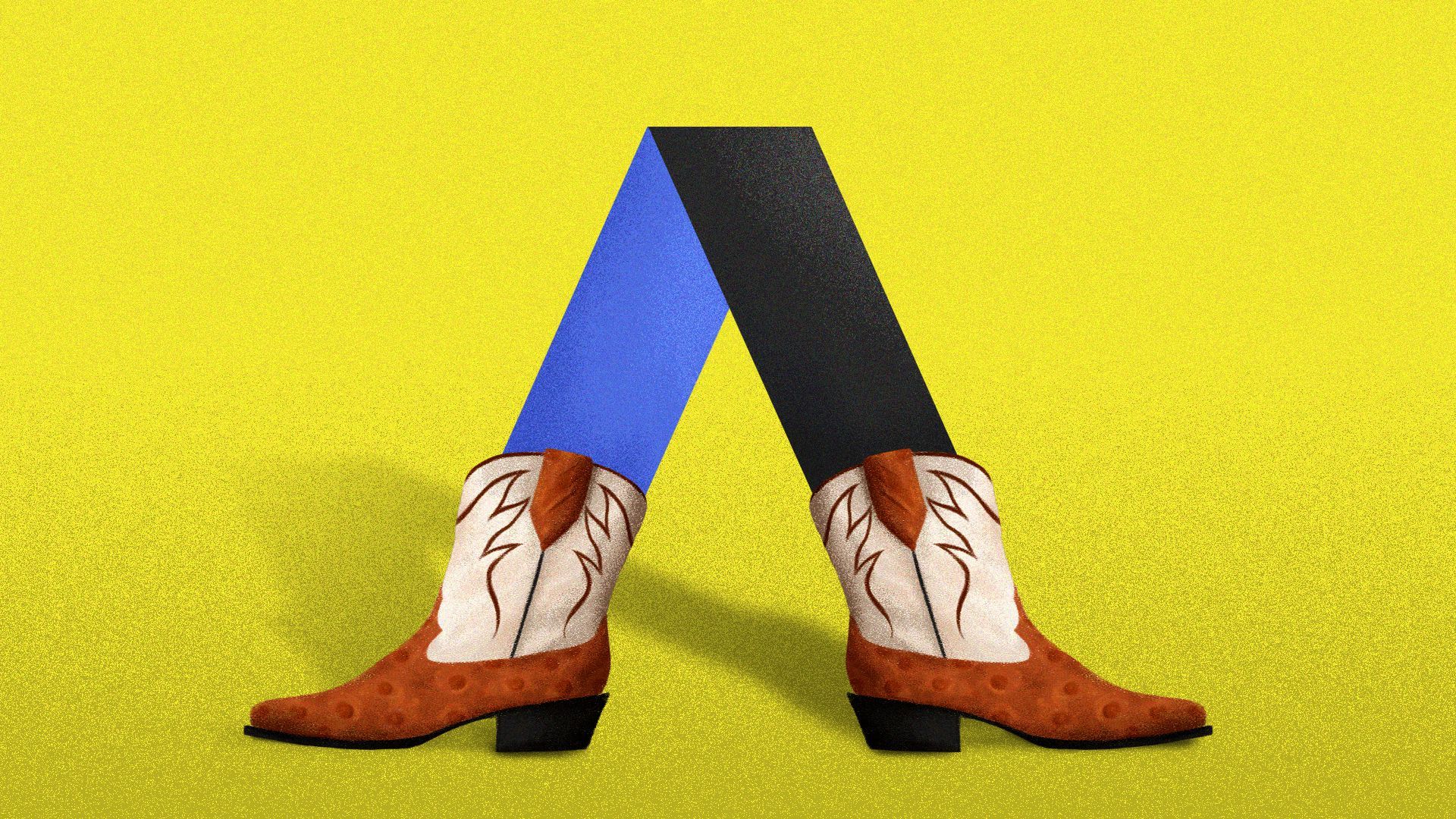 🪧 Multiple rallies were organized throughout the weekend to mark the 50th anniversary of the Roe vs. Wade Supreme Court decision, which was overturned in June. (San Antonio Express-News 🔒)
🐇 Jefferson Bodega celebrated the Lunar New Year on Saturday with a massive block party that featured more than 50 vendors and live art performances. (MySA.com)
🎭 The Tony Award-winning musical "Chicago" comes to the Majestic Theatre April 14-16. Tickets are on sale at the theater's website or at the box office. (SA Current)
4. Hard to find a "Spare"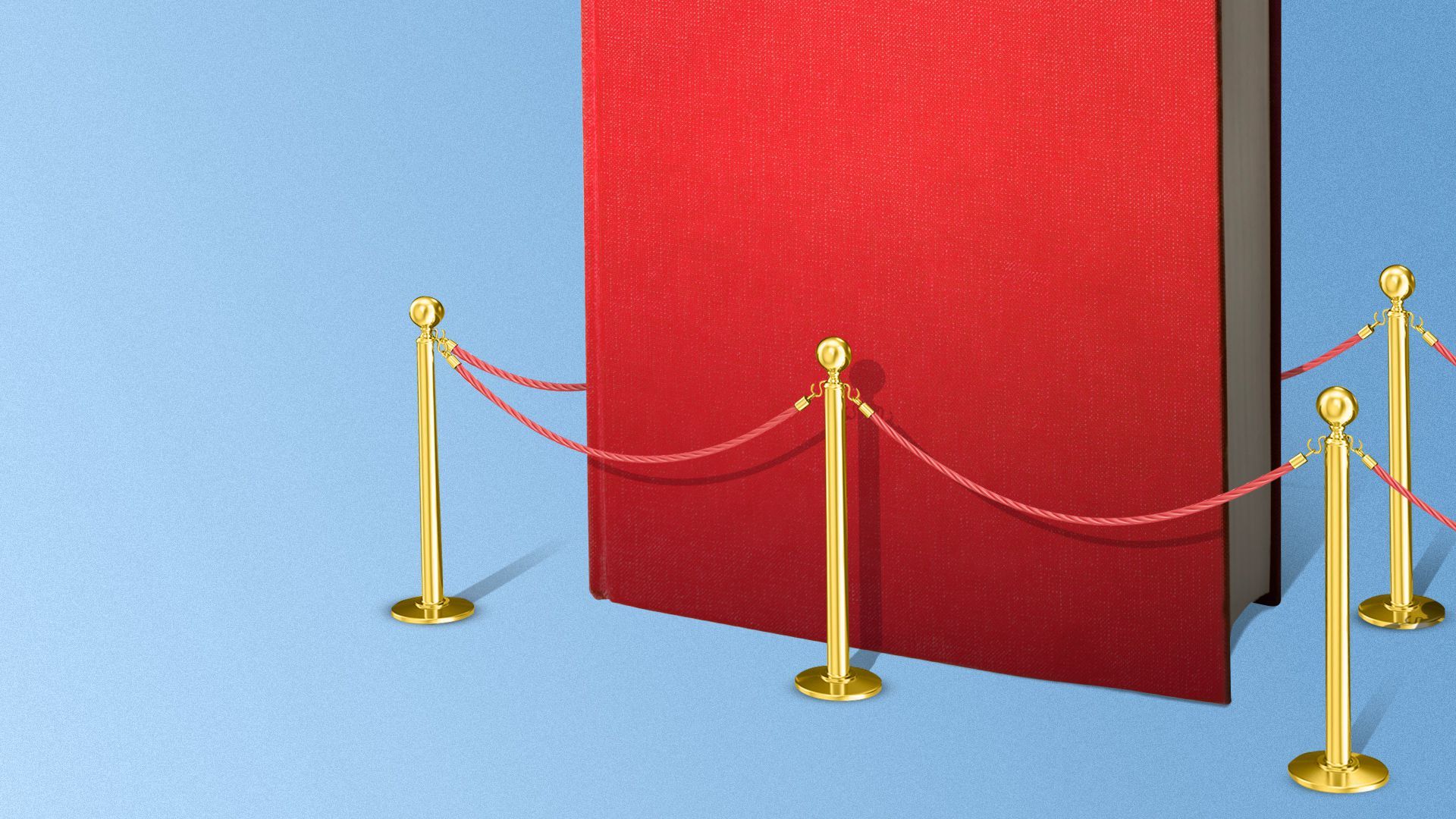 If you're looking to borrow a copy of "Spare," Prince Harry's bestselling tell-all memoir, you're going to have to wait.
Driving the news: The last time we checked San Antonio Public Library's catalog for "Spare," there were more than 2,500 holds on books, e-books and audiobooks.
What they're saying: Troy Hoyles, the library's collection strategist, tells Axios that 675 copies are currently in rotation.
"Over 2,500 holds on five different formats is probably a record — we do not track record holds, but I cannot recall a title having this much demand, or demand this quickly," he said.
5. 📷 Pic du jour: SAFC love leaves a mark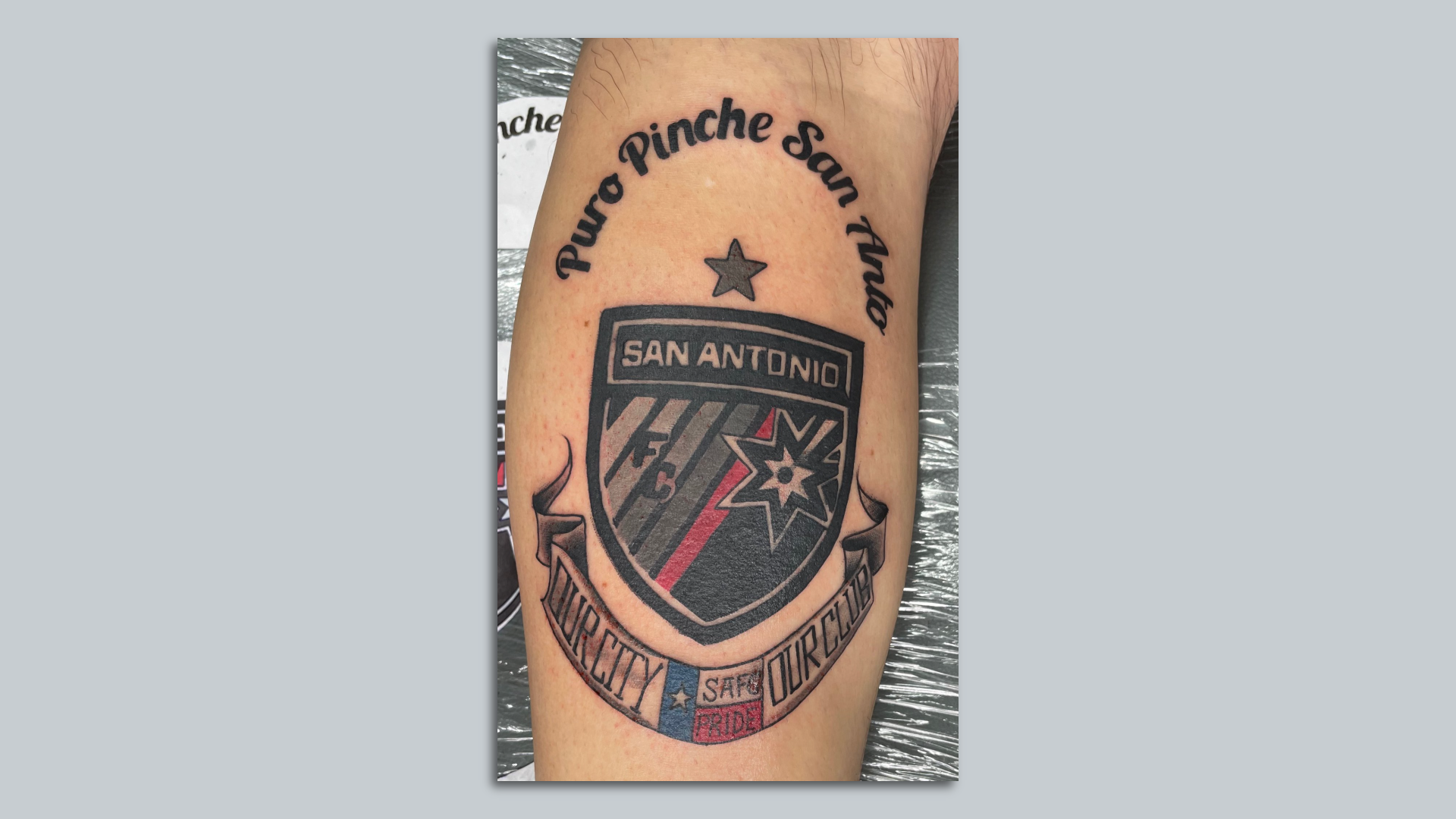 Robert Rankin solidified his love for San Antonio FC with a tattoo of the USL soccer team's logo on Wednesday.
Details: The team won the USL Championship in November. Rankin, who has about a dozen tattoos mostly dedicated to the Minnesota Vikings, says he promised to get an SAFC tattoo if they won. Gina Canalez at Eccentric Tattoos helped him make good on his word.
The tattoo features "Puro Pinche San Anto," which Rankin says is a credo for SAFC fans, a star denoting the title and a depiction of the scarf he takes to each game.
What they're saying: Rankin says figuring out where to add the star was the biggest hurdle in the design process. If the team wins another title and he adds a second star, the two stars would not be centered.
"I hope that the future leads to another championship, and I'll face the dilemma of where to put the second star. That's a good problem to have," he says.
What's next: SAFC's season kicks off March 11 against Oakland Roots SC at Toyota Field. See the schedule here.
Thanks to our editor Bob Gee and copy editors Judith Isacoff and Keely Bastow.
😴 Madalyn is recovering from a whirlwind weekend of travel.
🎼 Megan is reading the SA Current's Q&A with Angel Olsen, who is performing at the Tobin Center tonight.