Axios Raleigh
June 14, 2022
Hiya, Tuesday. Let's all keep drinking water and wearing sunscreen.
Weather: As Zach's father would say: "It's going to be hotter than Hades." We'll have a high near 101° and a heat index around 111°. Possible showers and thunderstorms after 2pm.
Situational awareness: The Raleigh City Council passed a $1.1 billion budget yesterday.
It includes a 2-cent increase to the property tax rate, a 2% cost-of-living adjustment for city employees and a raise for council members.
Today's Smart Brevity™ count is 900 words — a 3.5-minute read.
1 big thing: 🥇 The Triangle's new James Beard winner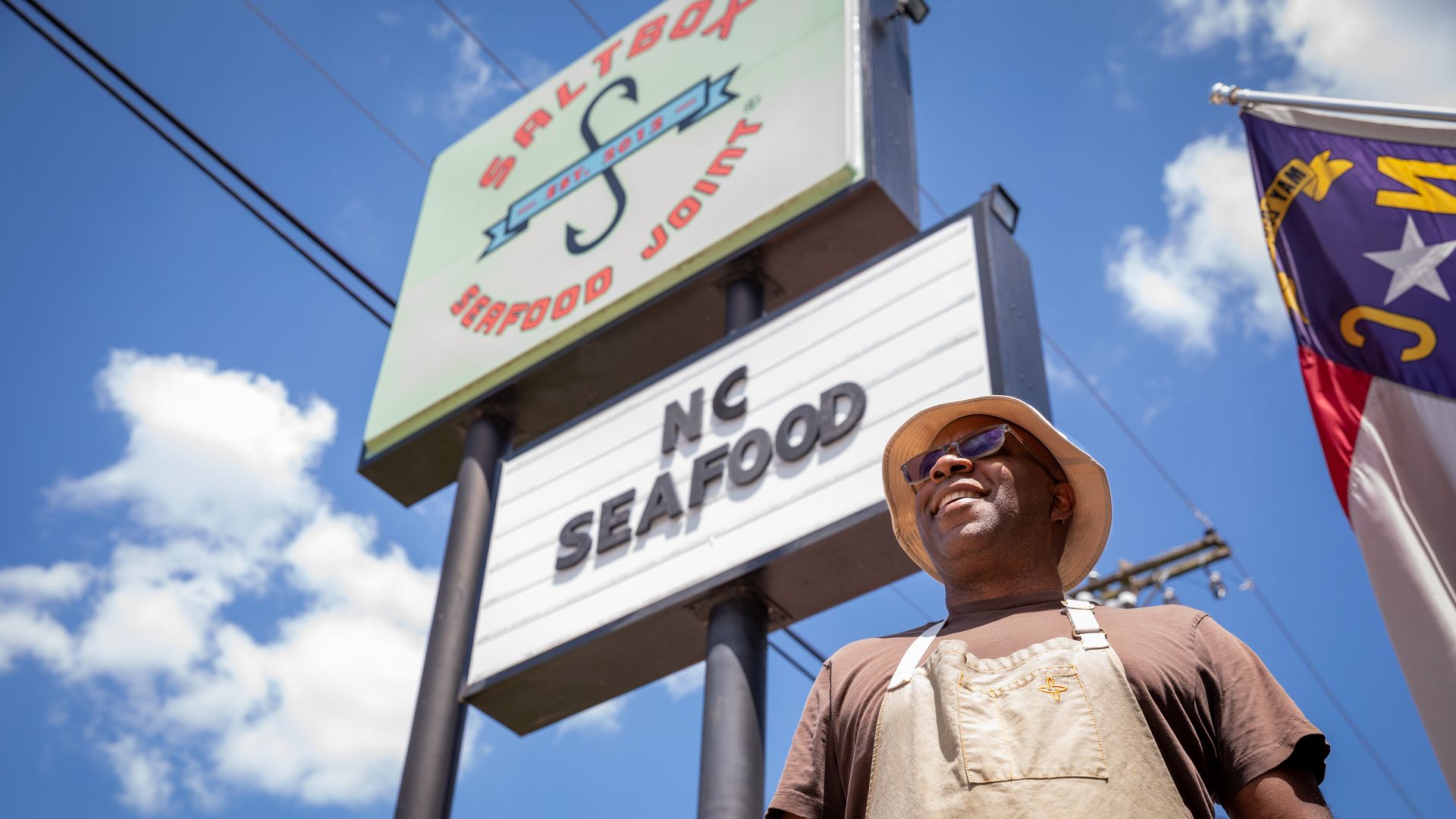 Chef Ricky Moore of Durham-based Saltbox Seafood Joint is officially a James Beard Award winner. He took home "Best Chef: Southeast" on Monday night.
If you're unfamiliar, the James Beard Awards are to chefs as the Oscars are to actors.
Why it matters: Moore started serving fresh North Carolina seafood in a 200-square-foot shack off Mangum Street in 2012, and has turned the business into a restaurant with national recognition.
He becomes the third Triangle chef to win the award since 2011.
What he's saying: "Bull City, North Carolina!" Moore said on stage after accepting the award. "I opened up a place that celebrates North Carolina seafood so I'm going to shout out North Carolina fisher folk, which means fishermen and women."
Moore also gave multiple shout-outs to his "home team, North Carolina," which had several restaurants nominated for "Best Chef Southeast," including Cheetie Kumar, chef at Raleigh's Indian-and-Asian restaurant Garland.
Of note: Durham's Alley Twenty Six, nominated for Outstanding Bar Program, lost out to Houston's Julep.
Full story: Durham chef Ricky Moore of Saltbox wins James Beard Award
2. While we're in Durham... Your guide to the Bulls games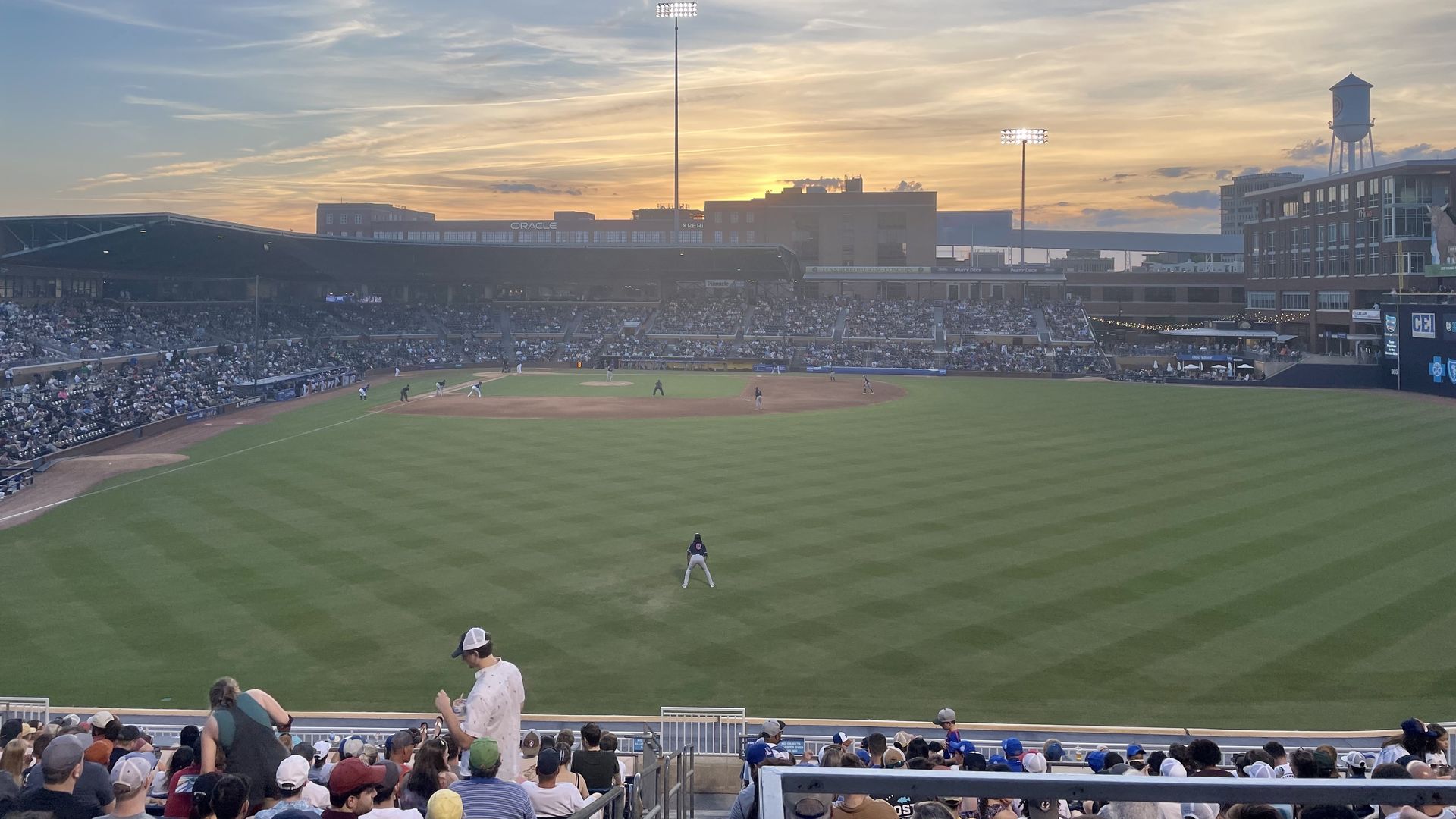 After you rush to Saltbox today, you might think about hitting up the Bulls game for tonight's Pride Night. We have some ideas for how to make it a memorable evening.
First things first: Don't forget sunscreen.
Before the game: If you're coming from Raleigh, consider parking in the deck at 555 Mangum Street for $7. You can usually pay with cash or card.
Pro tip: Lucille has had to pay with cash in this parking garage, so it doesn't hurt to have some on you just in case. She's also parked in this lot for free on the weekend.
During the game:
Lucille's picks: I love to grab a Bull Durham Light Ale — either at a small stand near the main entrance of the park or from the full patio bar near the outfield, Jackie's Landing — before I head to my seat. (Beer snobs: Yes, I know, you hate my choice of beer.) When I'm sitting in the outfield, I get some Two Roosters ice cream at the beginning of the game before the line gets long, and a veggie dog or two!
Zach's picks: My favorite place to sit in the stadium is along the third baseline, which will usually keep you out of the direct sun for evening games and is a great angle for all of the action. And you can always find me with a Bright Leaf hotdog and either a Bull Durham Kölsch or a Red Oak lager.
After the game, grab some ice cream downtown from one of the many options in Durham like:
If you aren't ready to head back indoors, the city has plenty of great spots to hang outside. Try:
Or go play pool at the site of some Durham Bulls lore, The Green Room, where one of Bull Durham's best scenes was filmed.
3. The Tea: Headlines worth sharing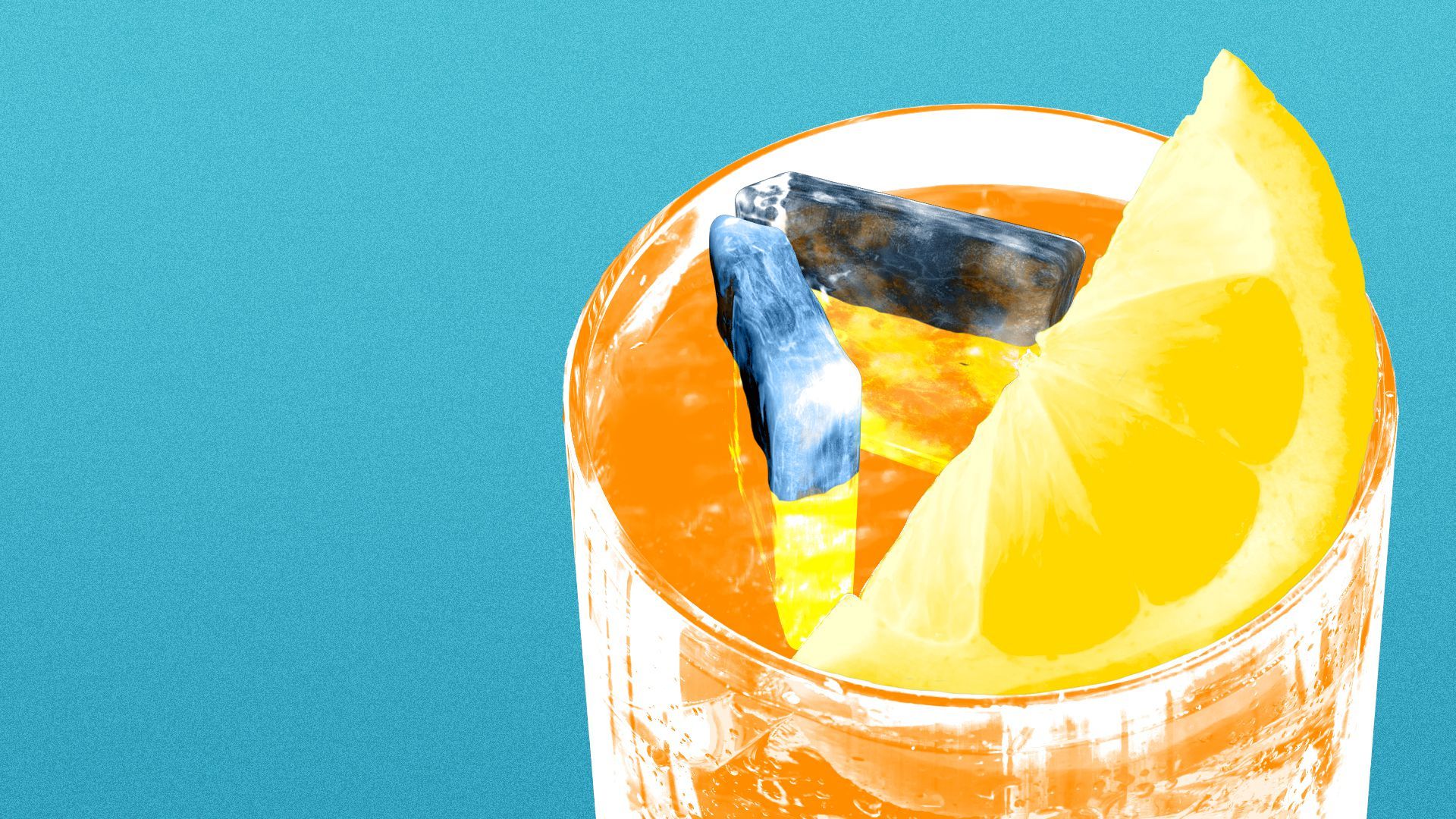 Durham DA will not charge officers who fatally shot three people this year. (News & Observer)
♻️Wegmans will eliminate the use of plastic bags at its North Carolina stores starting July 1. Paper grocery bags will continue to be available for 5-cents per bag.(Wegmans)
☕️ Durham's Jetplane Coffee has permanently closed, its owners said Sunday. (Instagram)
4. Triangle law enforcement agencies buck national trend
Law enforcement agencies around the Triangle performed better than many counterparts across the country in reporting annual crime statistics to the FBI last year, according to data provided to Axios in partnership with The Marshall Project.
​​Why it matters: Law enforcement agencies in Chapel Hill, Raleigh, Durham and others bucked a trend that will result in a data gap that makes it harder to analyze crime trends and fact-check claims politicians make about crime, per The Marshall Project.
By the numbers: In North Carolina, more than half of the roughly 531 jurisdictions submitted crime statistics covering all 12 months of 2021.
Durham, Durham County, Apex, Chapel Hill, Orange County, Wake County, Raleigh, Cary, Fuquay-Varina, Garner and Holly Springs all submitted 12 months of statistics.
Go deeper: What can FBI data say about crime in 2021? It's too unreliable to tell
5. Where to cool off during the Triangle's heat wave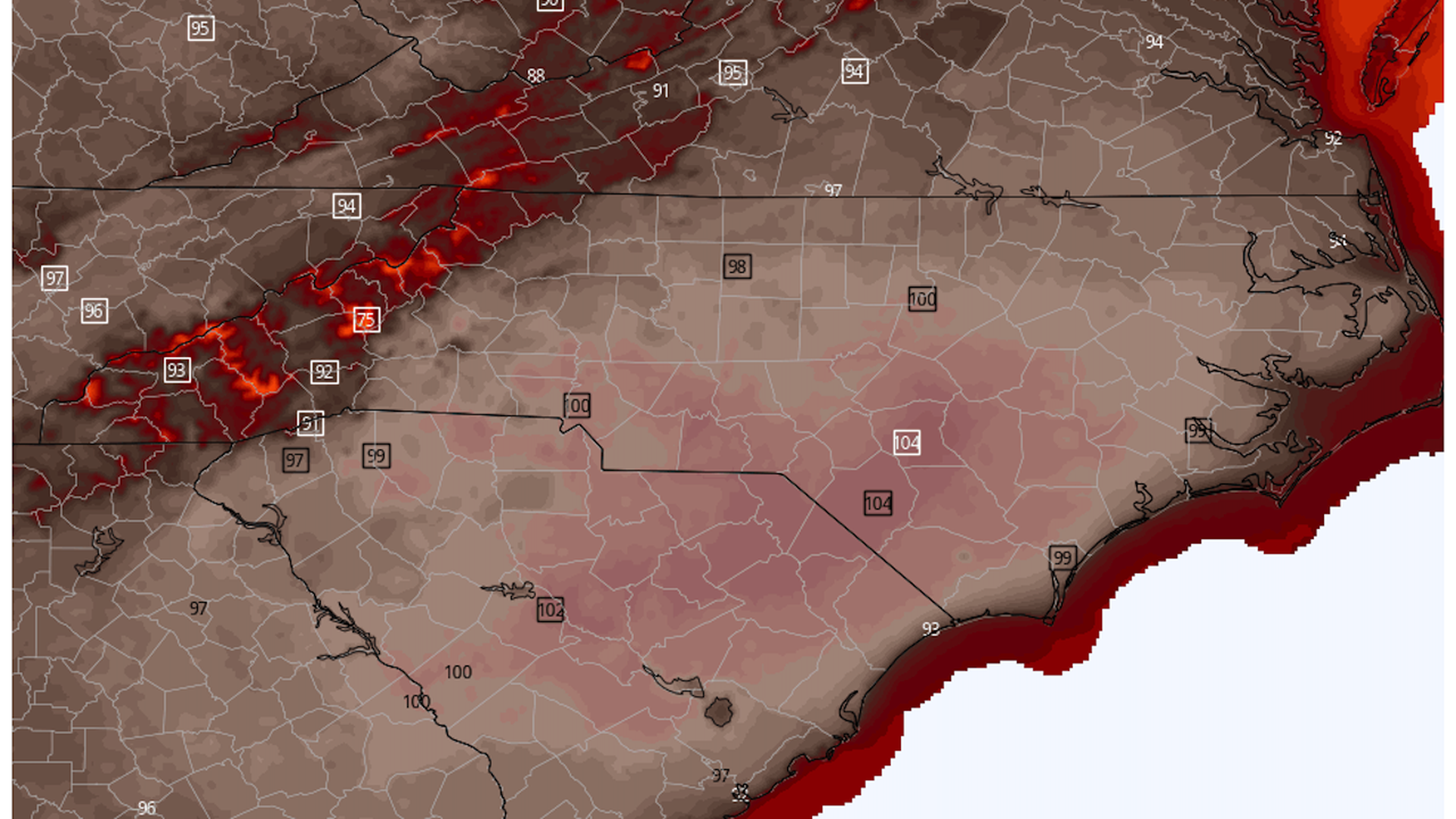 In response to the heat wave, Triangle counties are opening up cooling stations for residents who don't have a way to escape the heat.
What's happening: Wake County said yesterday it would open cooling stations at four different locations:
Neighboring Durham County said it is also opening four cooling locations at its Main, South and Southwest & East libraries.
Fresh job openings around town
6. Price hike du jour: The local taco truck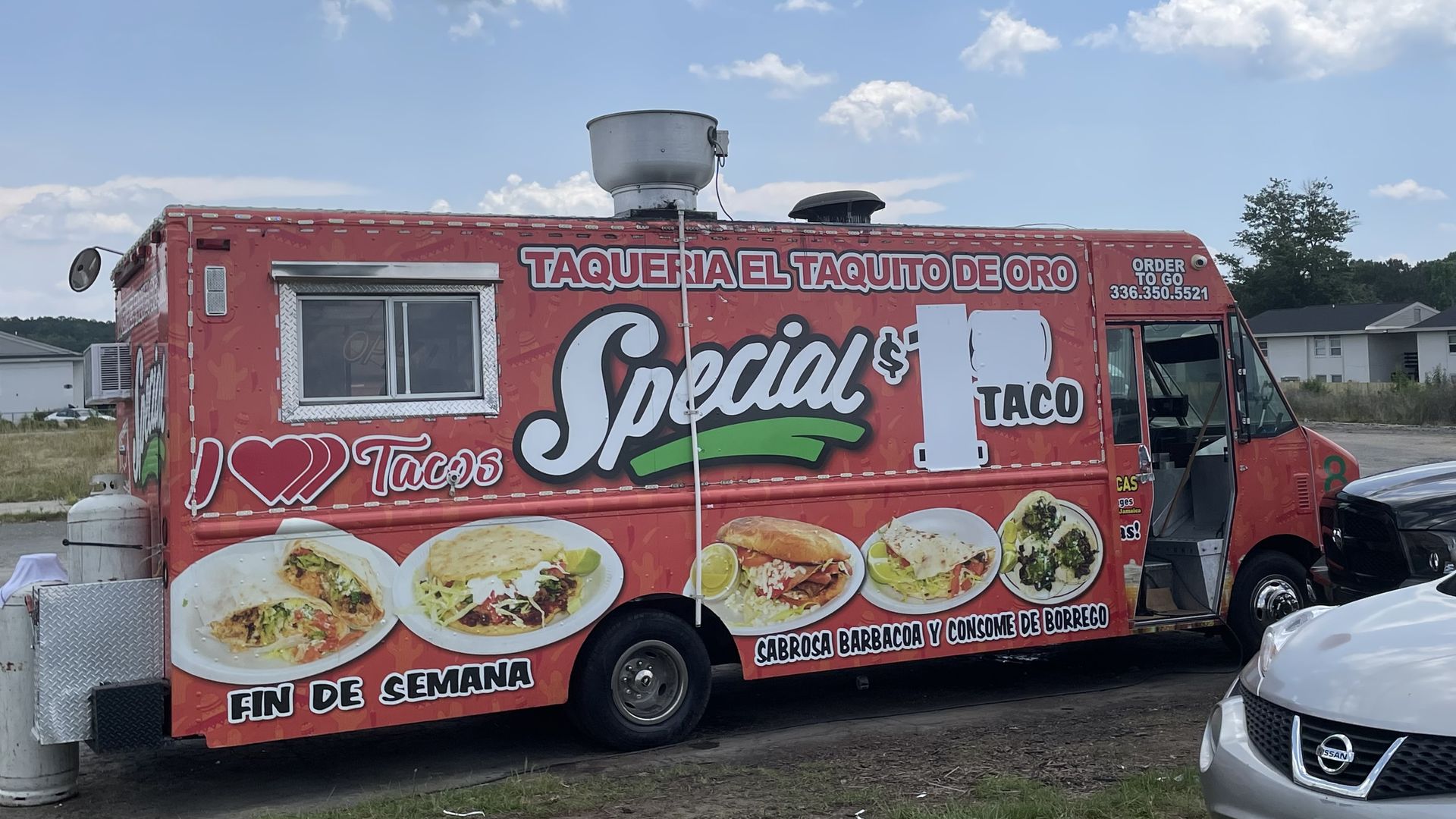 Taqueria El Taquito de Oro has long advertised its $1.50 taco special on the side of its truck.
But nowadays, the large $1.50 painted on it is covered up.
What's happening: The price of a taco at Taquito de Oro is now $2 — a 33% increase at the cash-only truck — to counteract soaring meat prices.
Tyson Foods, one of the nation's largest meat producers, reported last month that the average price of its products rose 17.6% in the quarter that ended April 2, compared with a year earlier.
The price of Tyson beef was up 23.8%, while chicken rose 14.4% and pork jumped 10.8%.
Yes, but: The barbacoa tacos still taste great.
Read more: Tyson Foods reports soaring meat prices as inflation continues
🥵 Zachery wants to know your favorite Southern expressions for a hot day.
🍓🌝 Lucille is excited for tonight's strawberry moon. Make sure you go outside later and look up.